This post is sponsored by The Bentonville Film Festival; while the views expressed here were genuinely mine, consideration was paid to me to produce this post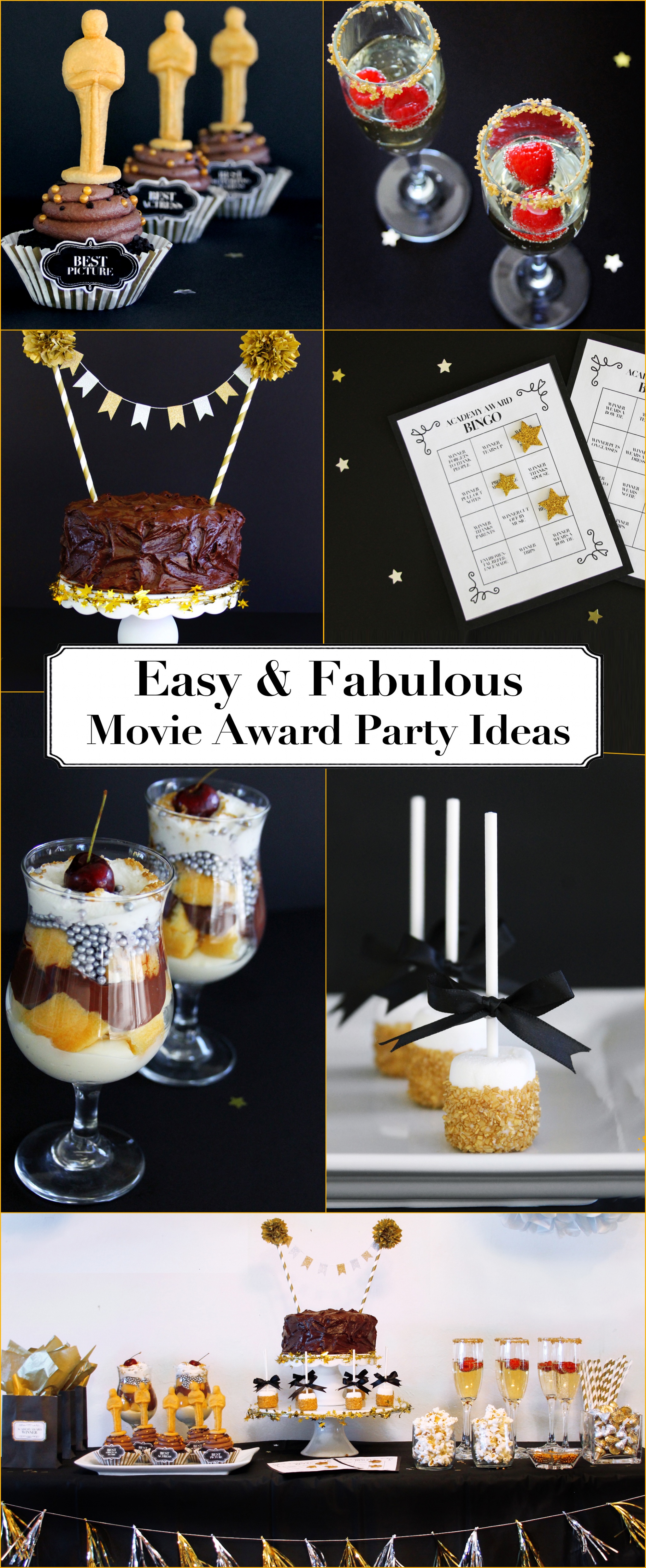 I love watching movies, there is just something about going to the movie theater and being transported to a different place as you immersed yourself in the movie's story and get to know the characters.  Through movies I have gotten to travel to far away places I've never been to, I've immersed myself in different cultures, I've hopped on a time machine to get a peek at what life was and I have let my imagination run wild with movies about fantasy worlds and futuristic cities.
I have wonderful memories of watching the movie awards ceremony on TV with my parents, it was a family event and one of the few times during the year that my Dad would let us watch TV while we had dinner, which made it so special.  I loved looking at all the actresses with their glistening gowns and listen to all of the winners' emotional acceptance speeches and I imagined myself being there in the audience.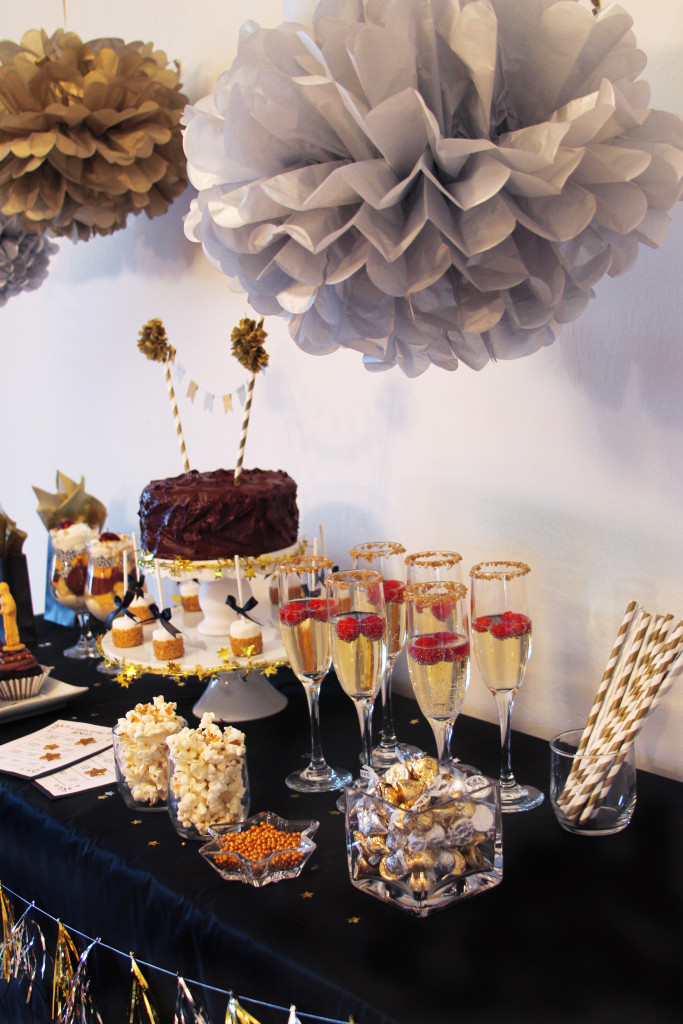 Now that I have my own children we enjoy our weekly movie night together and at least a couple of times per month we go to the movie theater and I still I look forward to the awards ceremony every year and to sharing my love for the movies with my kids. As a woman, a Latina and as a mom it's very important for me to see diversity being represented in the films both through leading characters in the movie and also by films that are directed, written and produced by minorities that bring a diverse stories and points of view to the screen. This is why I am so excited to tell you about the Bentonville Film Festival, a unique film festival that champions women and diversity in film.  Co-founded by Academy Award Winner® Geena Davis and entrepreneur Trevor Drinkwater in 2015 the BFF uses research to raise awareness about the importance of diversity in the film industry. The Bentonville Film Festival  accepts films into its competition having two or more of the following characteristics:  Female or Minority Lead, Female or Minority Director, Female or Minority Writer, Female or Minority Production Company, Gender and Diversity Balanced cast, and/or Gender and Diversity Balanced crew and guarantees full distribution to its winning films in the Best Narrative Jury Award, Best Family Film Award, and Audience Award categories.  The second annual Bentonville Film Festival will be held May 3-8, 2016 in partnership with founding Sponsor Walmart, presenting Sponsor Coca-Cola and distribution partners AMC Theatres and Lifetime.
As the next movie awards ceremony approaches I am getting ready to enjoy it by throwing a little party with friends and family to celebrate movies.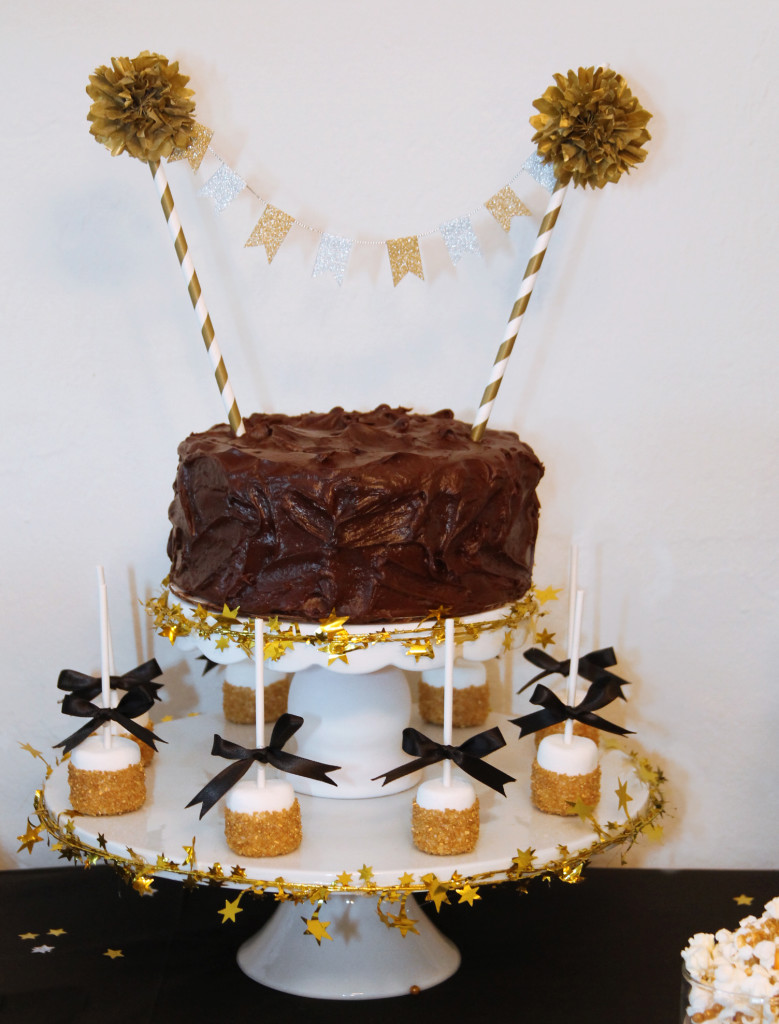 Everything that I did for my Movie Awards Party was easy and did not cost a lot of money; you see you don't have to spend a fortune or spend all day in the kitchen to throw a fabulous party!
How To Throw A Last Minute Movie Awards Party
Choose your color palette. besides a theme you will need a palette of colors to go along with the theme. The palette of colors will make it easier to decide what your decorations and foods will be. For this party I chose a black, white and gold color palette as I was going for an elegant Hollywood feel.
Work with what you have. I dived into my Christmas decorations bin and found some tinsel and some silver and gold tissue paper as well as some garlands all of these items had that glitzy movie star feel that I was going for so I got all of the things I thought I could use out first and then figured how I could incorporated into the idea I had for my dessert table setup.
Make the food and other elements in your party part of the decoration. Setting up an beautiful dessert or appetizer table that can be the focus point of your party makes decoration the rest of the room easier. For my party I set up a dessert party
Don't feel bad about taking short cuts.  Party planning can be stressful and a lot of work but you don't want to get so stressed and tired planning for your party that you will miss out on the fun! For my party I bought the cupcakes and the cake at my neighborhood grocery store and just gave them my personal touch.
Get everyone involved in the party planning fun. There is no reason to do everything yourself, getting all the family involved makes party planning so much fun. You can also host a pre-party get together with your friends to make some of the dishes and decorations.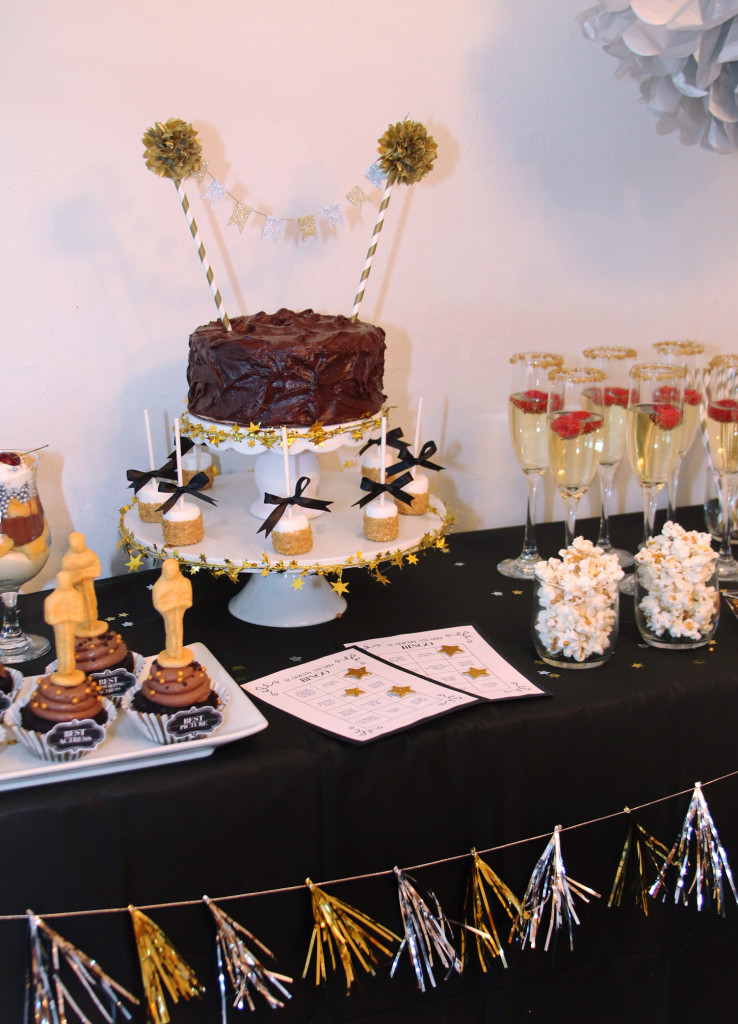 Easy Recipes, Decorations And Games For A Movie Awards Party
Movie Award Cupcakes
Ingredients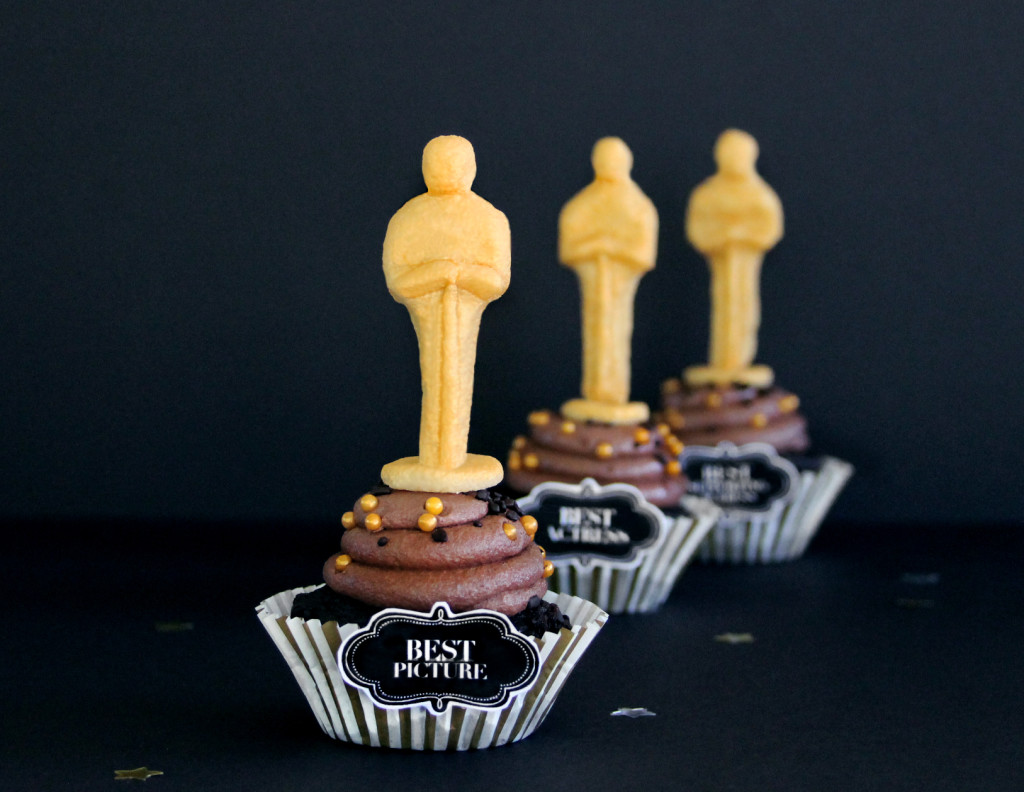 Instructions
Using the marzipan create movie award statues, it's as easy as playing with playdoh. Then inserted a skewer in the statues and spray painted them with edible gold color mist. Sprinkle gold sugar pearls on the frosting and insert the statues in the center. Place the cupcakes in gold striped or gold cupcake liners. Download the Movie Award Party printables HERE and glue the different award titles to the front of your cupcake liners.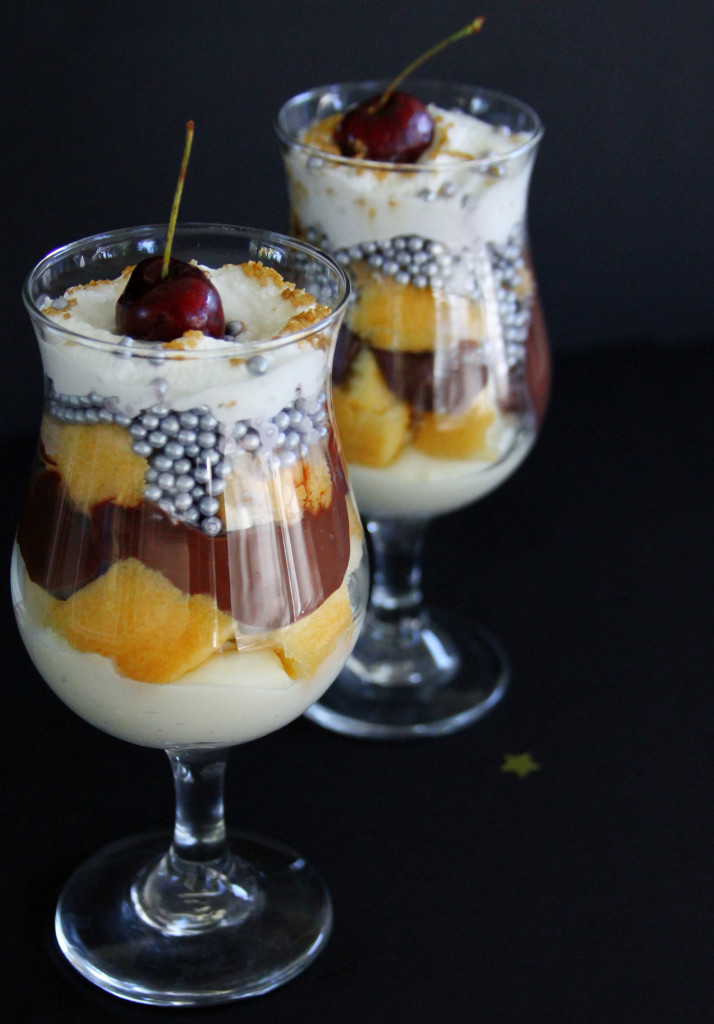 Chocolate & Vanilla Parfaits
Ingredients
Instructions
In a tall cup or glass layer the vanilla pudding, pieces of cake, chocolate pudding, yellow cake and silver sugar pearls. Top with whipped cream and garnish with a cherry and gold pearlized sugar.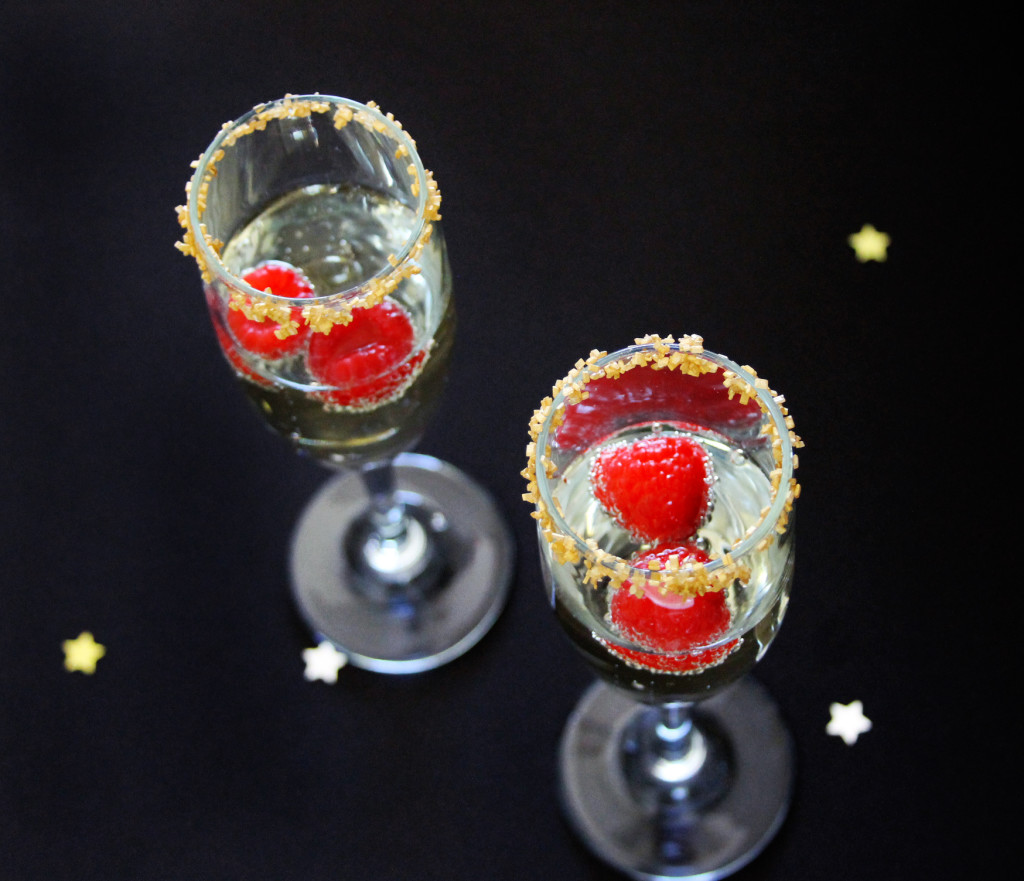 Raspberry Champagne Cocktails
Ingredients
Instructions
Pour some gold pearlized sugar on a plate. Wet the rim of your champagne flutes and then dip it into the gold pearlized sugar. Add two or three raspberries to each flute and poor the cold champagne over them.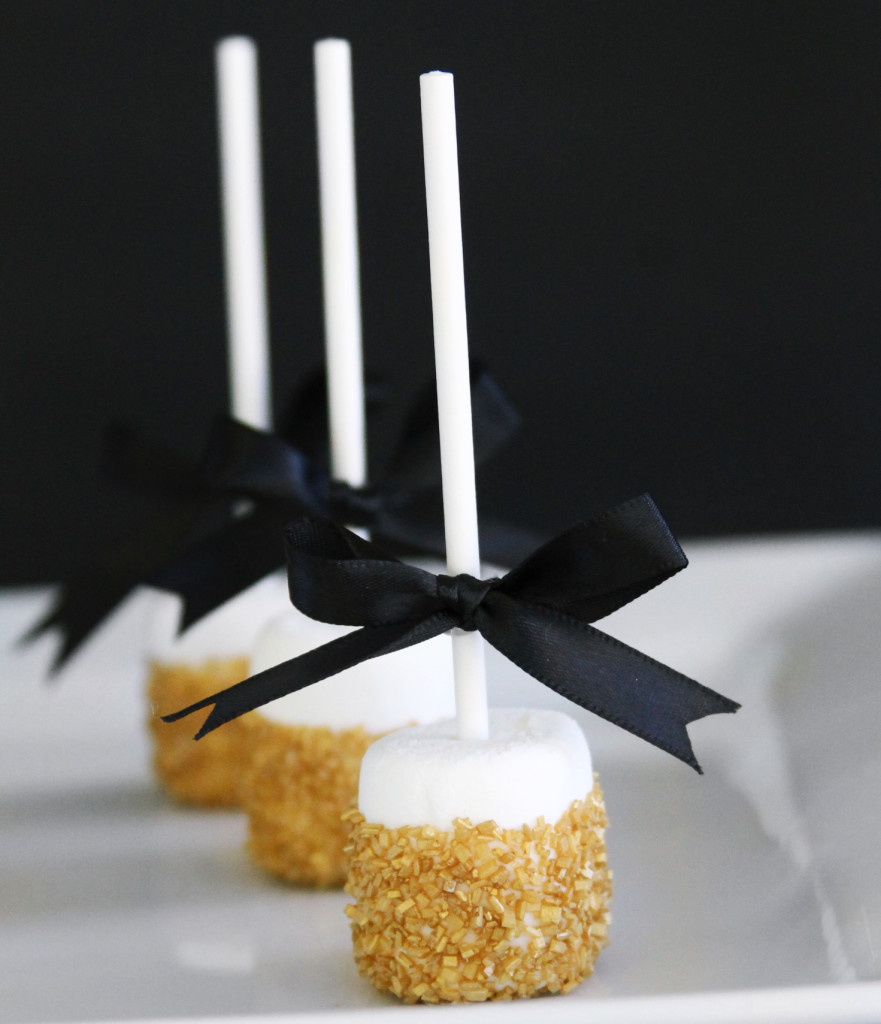 Gold Marshmallows
Instructions
Instructions
Insert the lollipop sticks into the center of a marshmallow. Fill a cup with about half an inch of water. Dip the marshmallow in the water; the water should cover about two thirds of the marshmallow when you dip it. Place marshmallow over a bowl and slowly pour the gold pearlized sugar over it turning it until two thirds of the marshmallow are covered. Place on waxed paper and let dry. Make a small bow with the black ribbon and glue to the lollipop stick with hot glue.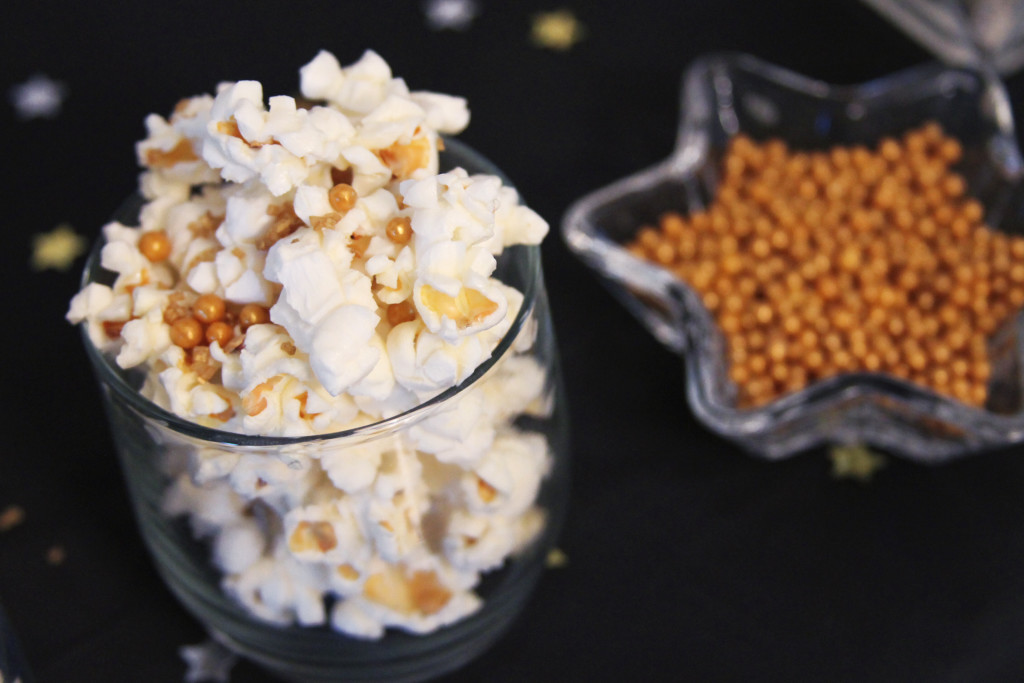 Gold Popcorn
Ingredients
Instructions
Pop the popcorn in the microwave. Spray just a little olive oil spray, place in a bowl or individual containers and sprinkle with gold pearlized sugar and gold sugar pearls, the olive oil will give it a nice shine and will help the sugar and pearls stick to it.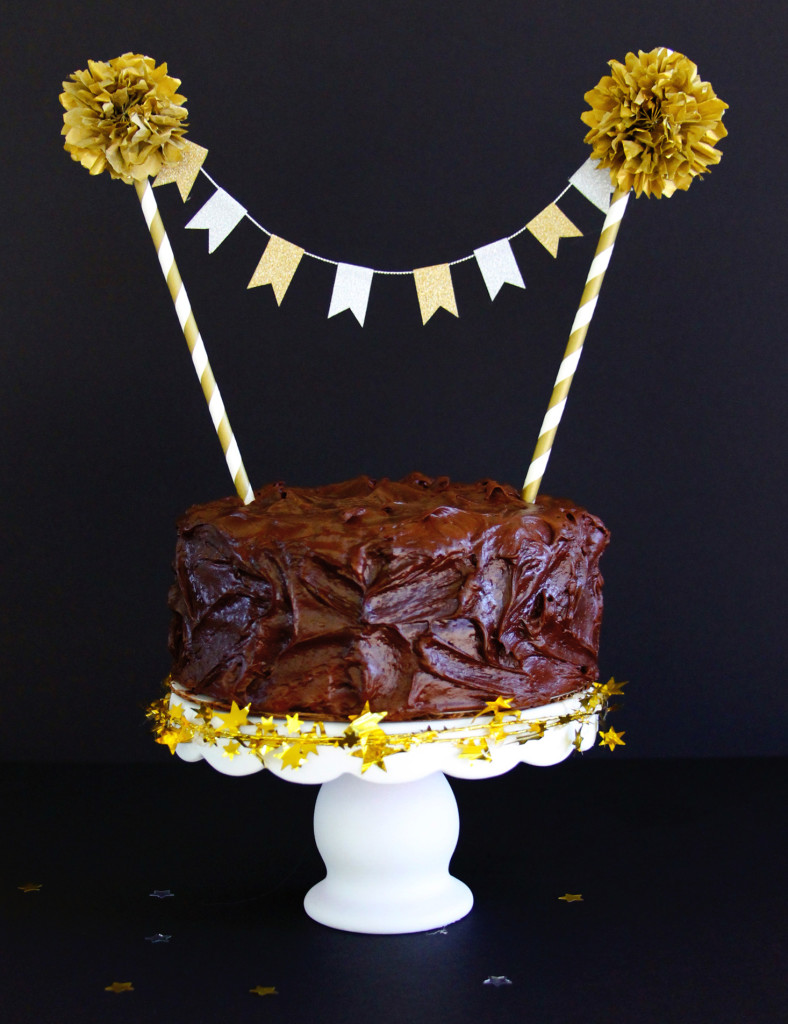 Decorations & Games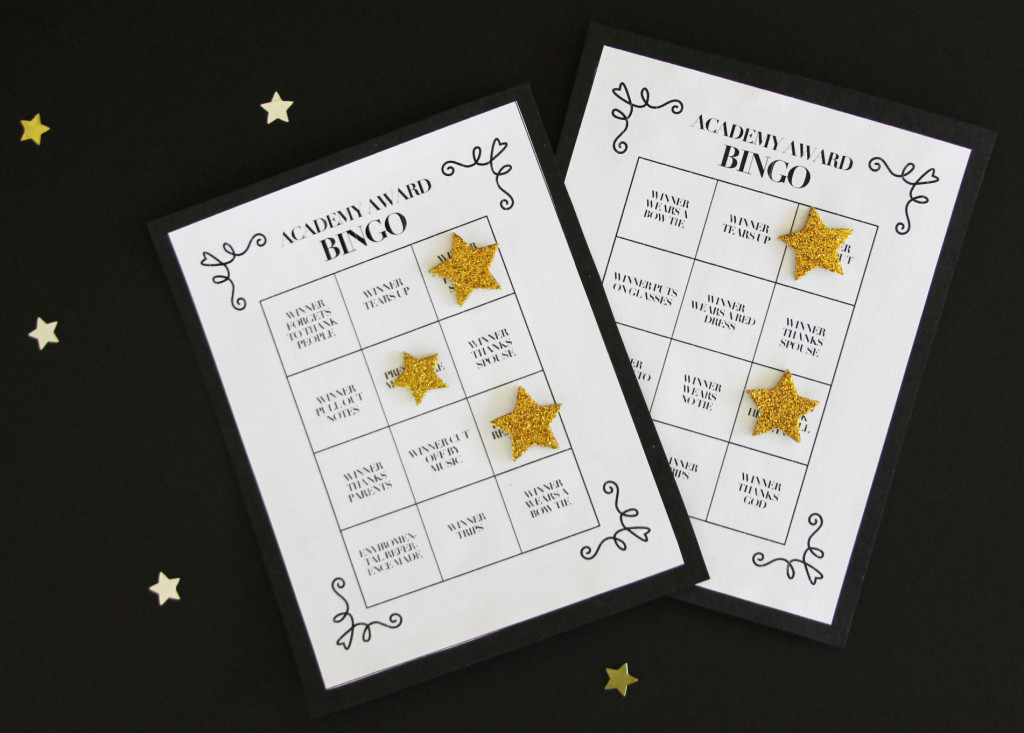 This year I am not only celebrating my love of movies with a movie awards party but I am also promoting and supporting diversity in movies. We know that there is a lack of diversity in movies that are nominated for the movie awards but people are noticing and speaking up and I am hoping that this along with organization that are championing for more diversity in the big screen like the Bentonville Film Festival we will be seeing more films lead, directed, produced and written by minorities being recognized and acknowledged!  Check out the Bentonville Film Festival's website where you can find ways to support them. Like BFF on Facebook and follow @BFFfestival on twitter to stay up to date with their mission.