If you're looking for the best desserts for Easter you can't go wrong with some sweet Easter cookies. Whether you're making cute sugar cookie chicks, bunny bums, Easter baskets, or bird nests these delicious Easter treats are not just easy but super fun to make.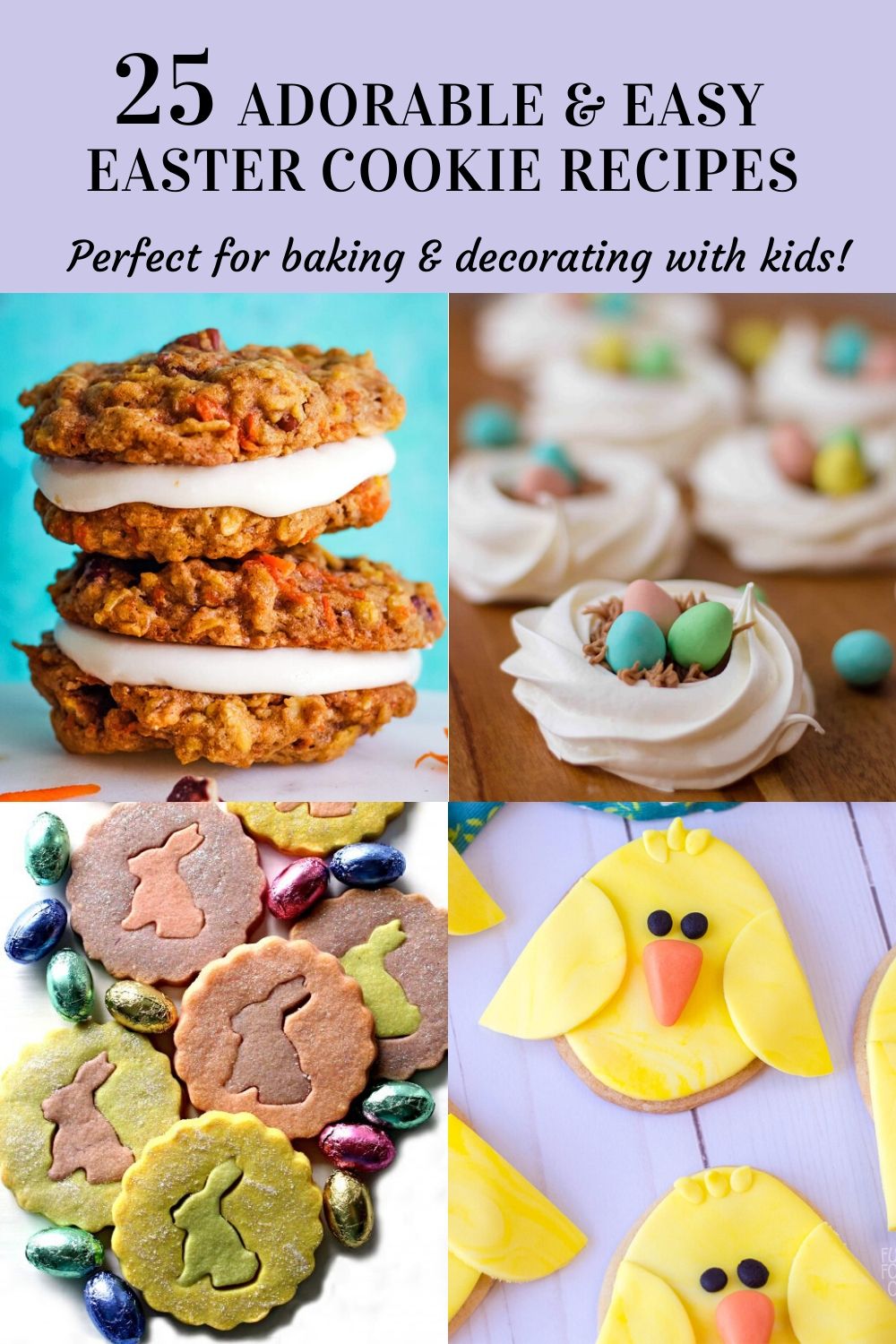 Baking and decorating cookies for Easter has always been an Easter tradition for us. And now that we're spending so much time at home and the kids are not going to school we're baking cookies every few days. We're getting ready to throw a little Easter party, even if it's just the four of us this year. After an egg hunt in the backyard and having Easter brunch we'll be decorating cookies and doing fun Easter crafts and maybe we'll even watch a fun Easter movie later in the day.
Easy Easter Cookie Recipes
Baking cookies with my kids is a great way to bring some joy and lots of sweetness into our daily routine. We've already started the Easter cookie baking marathon so I decided to compile my favorite easy Easter cookie recipes. There's something for everyone here from easy cookie decorating projects and easy cookie recipes to super cute bunny and chick cookie recipes
These cookies are perfect for adding to the kid's and the adult's Easter baskets or as an Easter brunch dessert. Yes, I make myself an Easter basket filled with my favorite sweet Easter treats, don't judge me.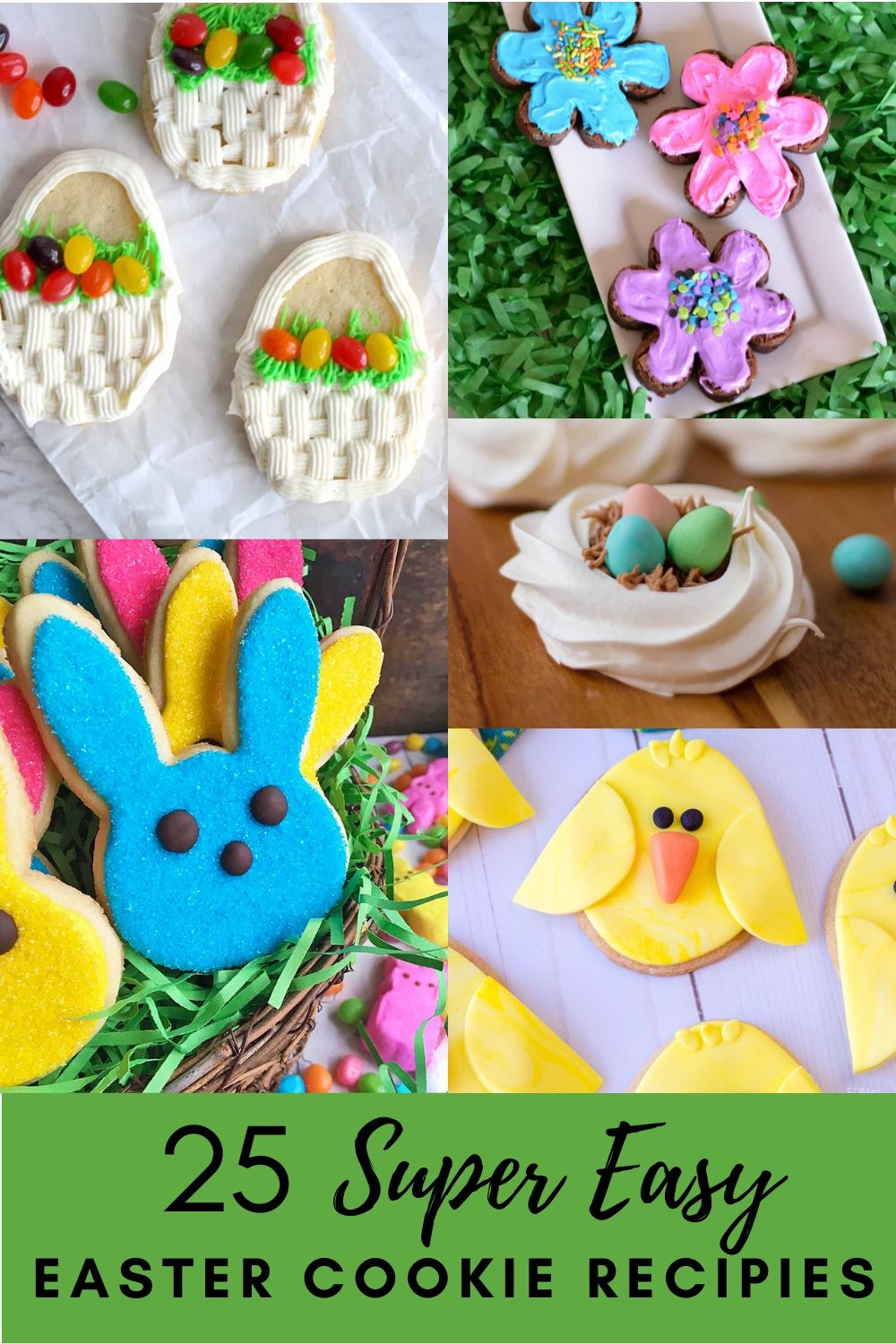 I'm sure you'll find your new favorite Easter cookie recipe here so check them out and let me know if you have a favorite Easter cookie or tradition.
These Easter basket cookies are more of a cookie decorating project than an actual cookie recipe. You start off with egg-shaped sugar cookies which you can make at home using a basic sugar cookie recipe or by buying sugar cookies. Decorating these is pretty simple and there is no need for royal icing, so you can use any icing including store-bought.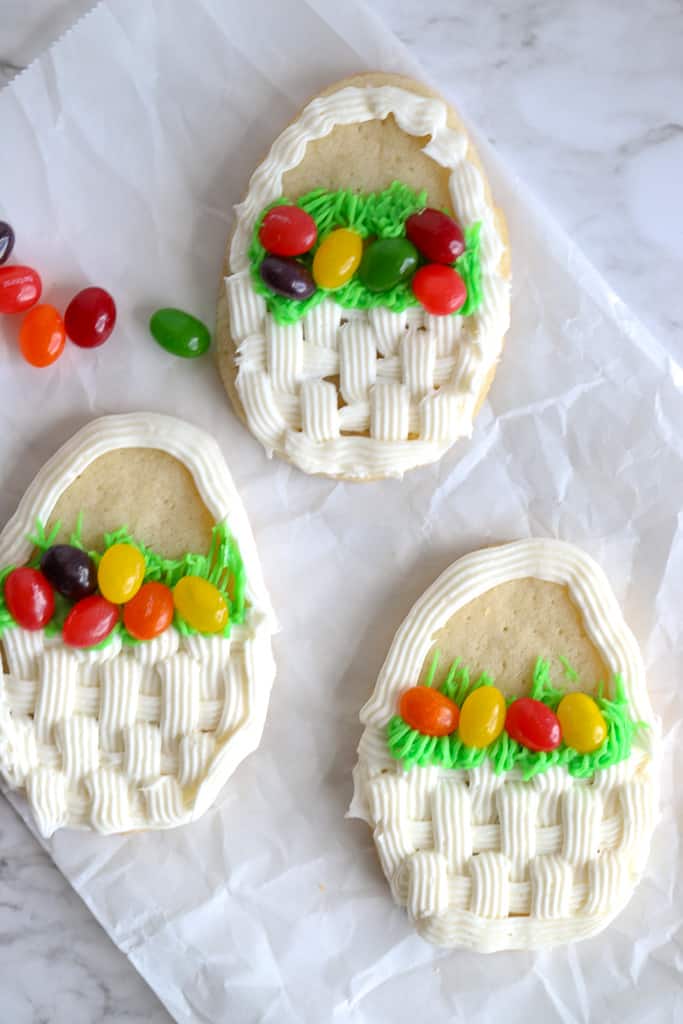 Filled with delicious frosting these carrot cake sandwich cookies are not just delicious but they're also vegan. So if you're looking for an amazing vegan Easter cookie recipe these cookies are it!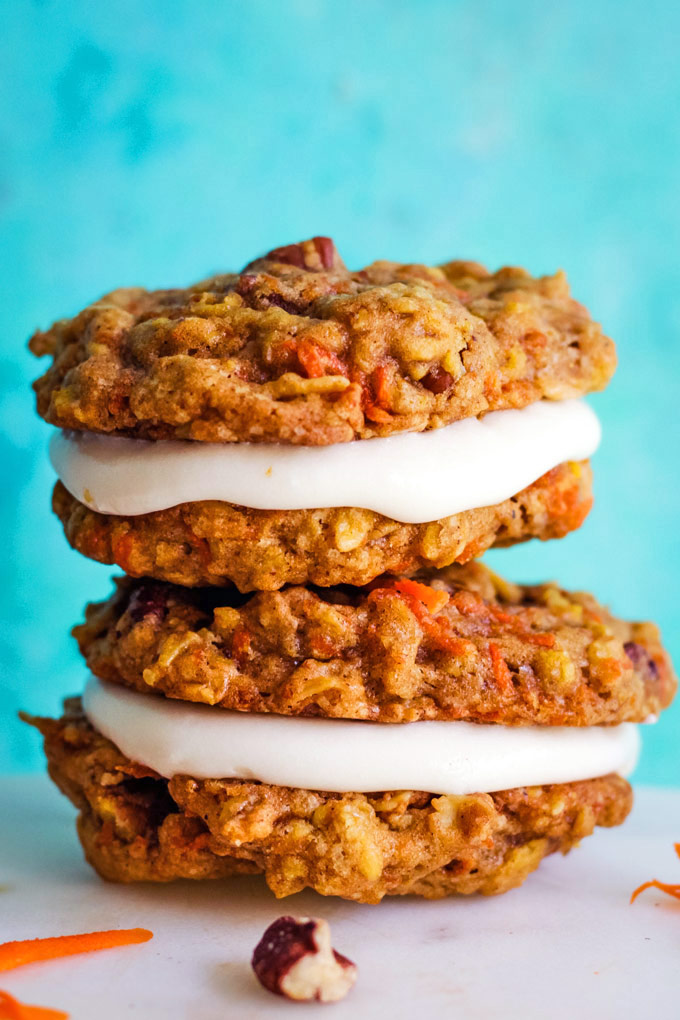 It doesn't get much cuter than these chick sugar cookies. Decorating these is pretty simple yet the result is so adorable!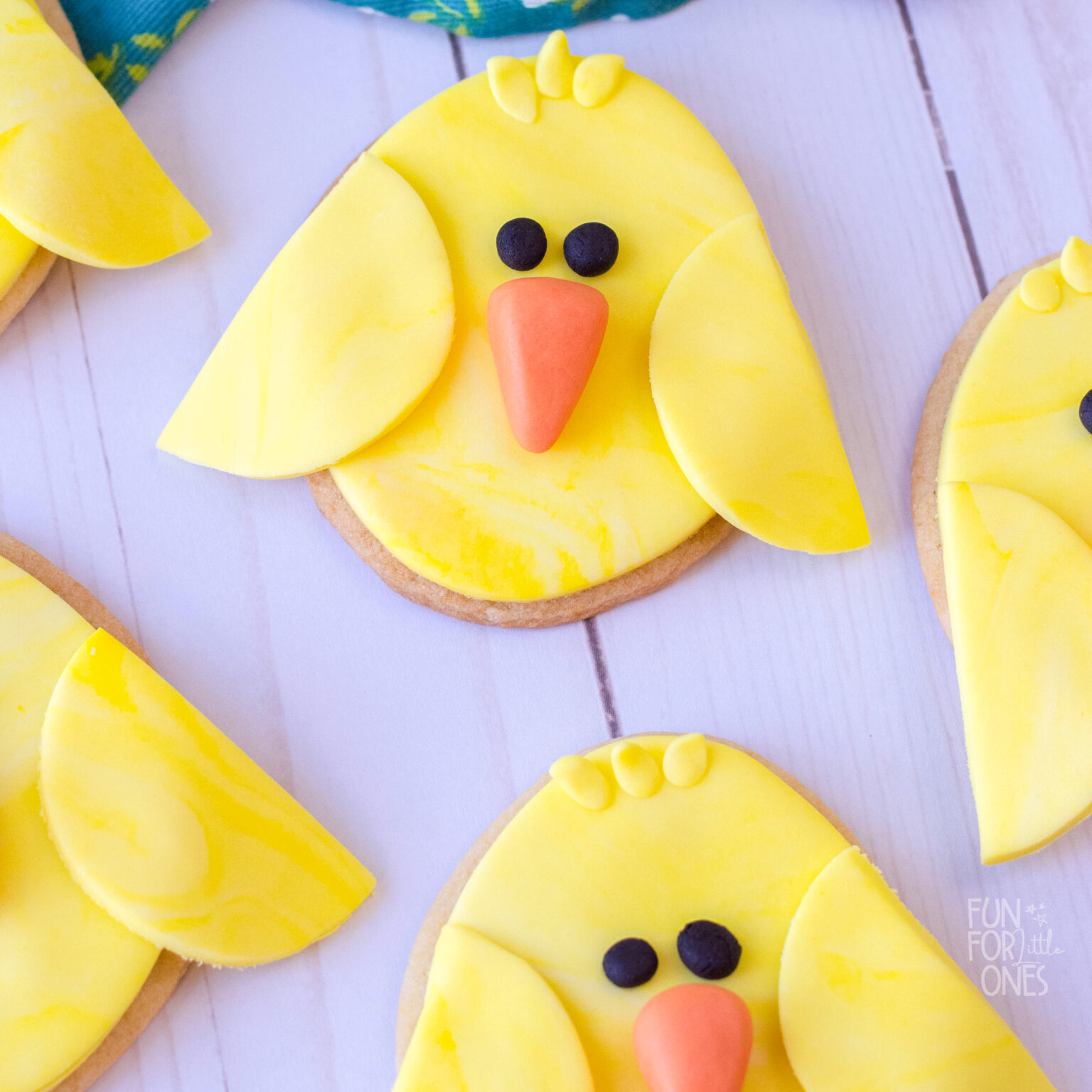 If you're looking for a no-bake option it doesn't get easier than these delicious coconut balls. Sprinkle with pastel-colored sprinkles and you have the perfect Easter treat.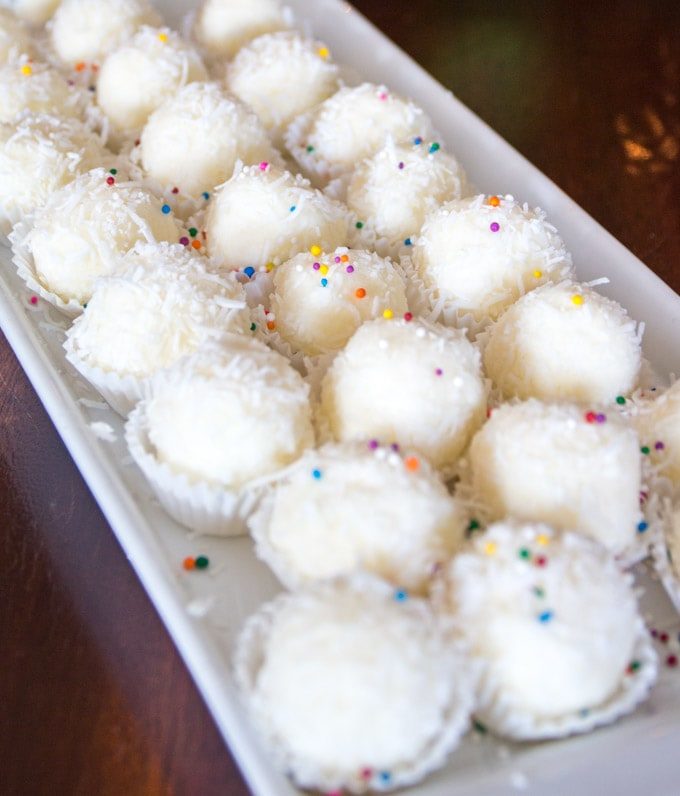 The tanginess of these lemon drop cookies decorated with Easter M&Ms makes them quite unique yet easy to make. If you like your cookies sweet and tangy these fit the bill.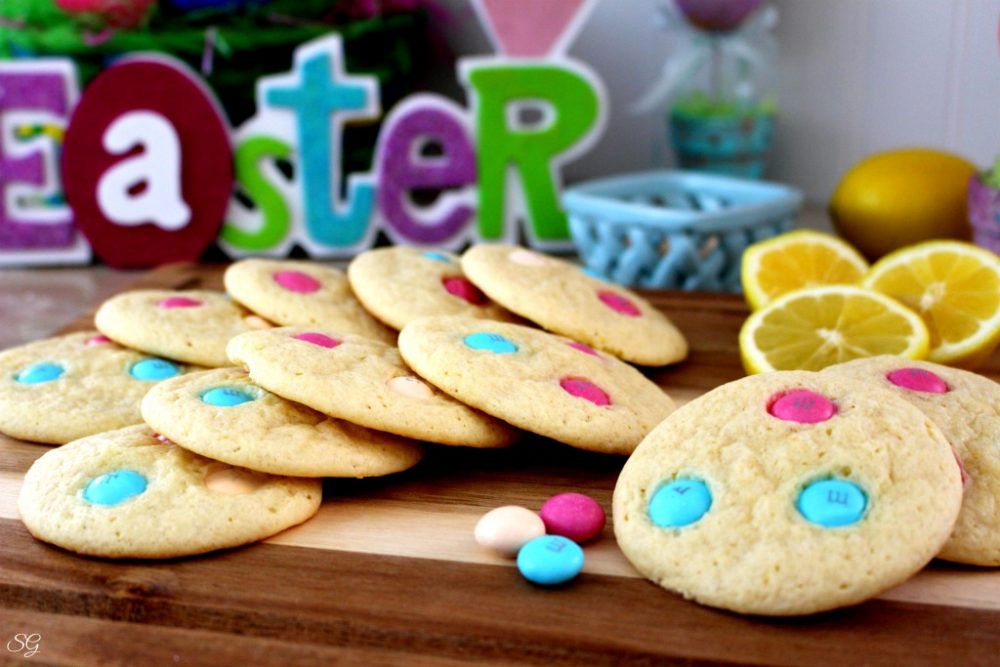 Yes, you read that right, chocolate plus more chocolate. These delicious, decadent and gooey cookies are perfect for chocolate lovers.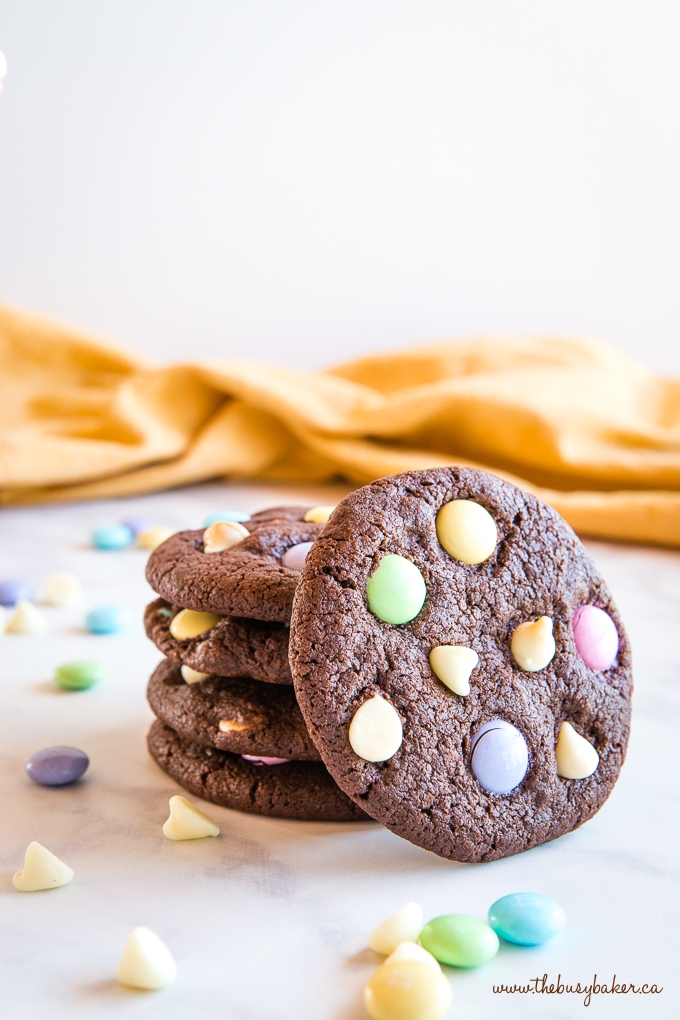 These easy-to-make sugar cookies are super fun and simple for kids to make and decorate. These ones are sure to become one of your kids' favorites for sure.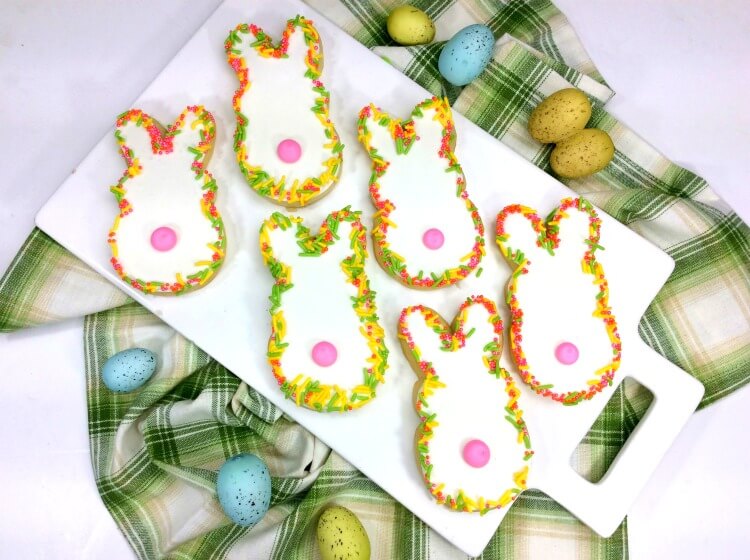 These cookies are adorable and easy to make. They're perfect if you're looking for a cookie recipe that doesn't require icing and much decorating but is still cute and perfect for any Easter celebration.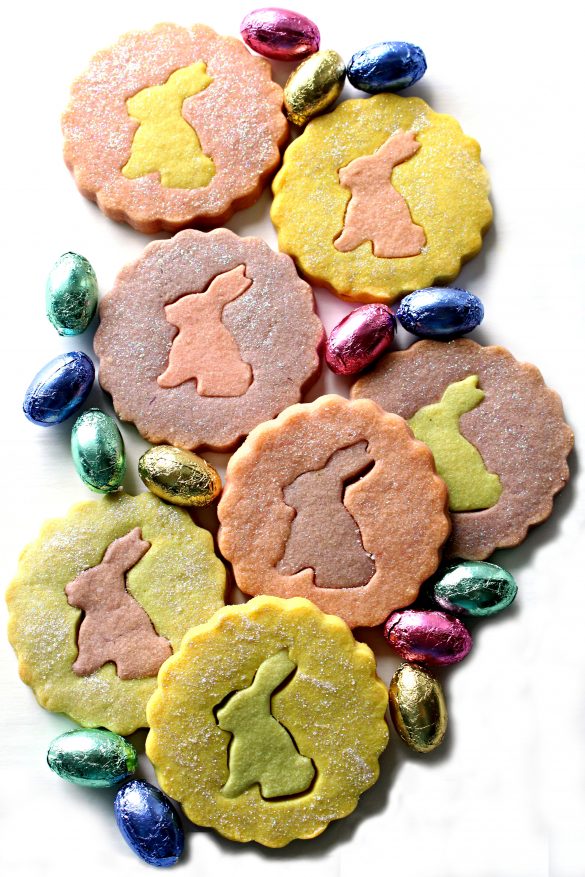 These Easter cookie cups resemble tiny robin nests and can be filled with any tiny chocolate eggs.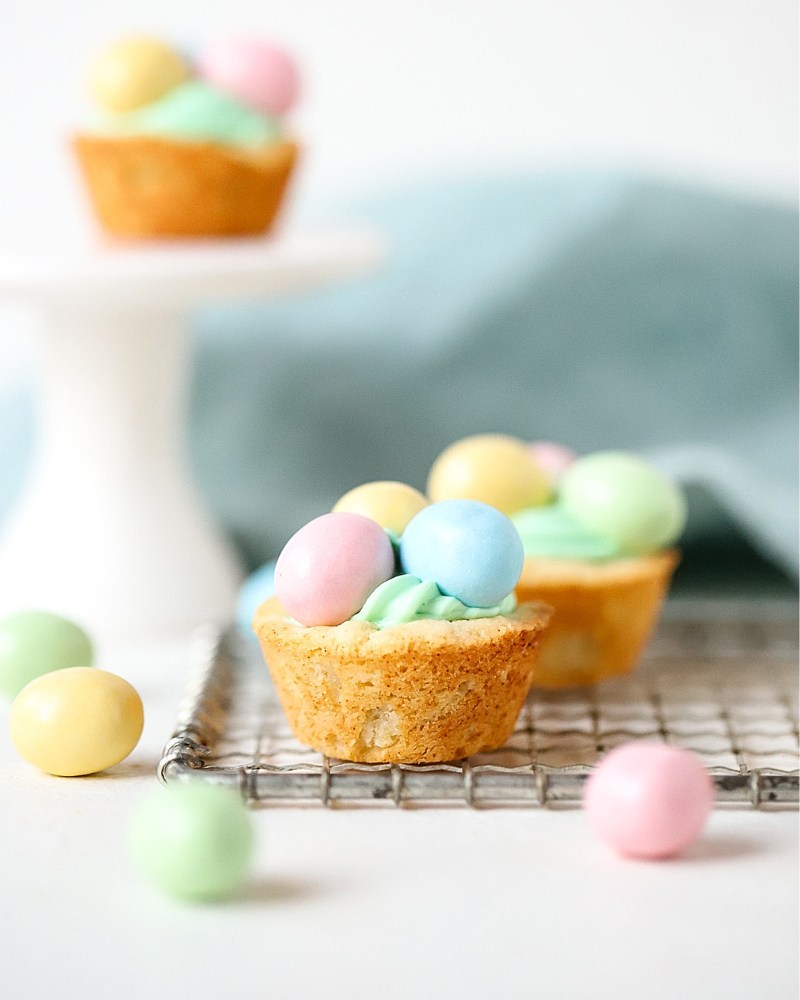 These brownie bunny faces are so pretty and they're a lot easier to make than you would think. They make a truly memorable and festive Easter dessert.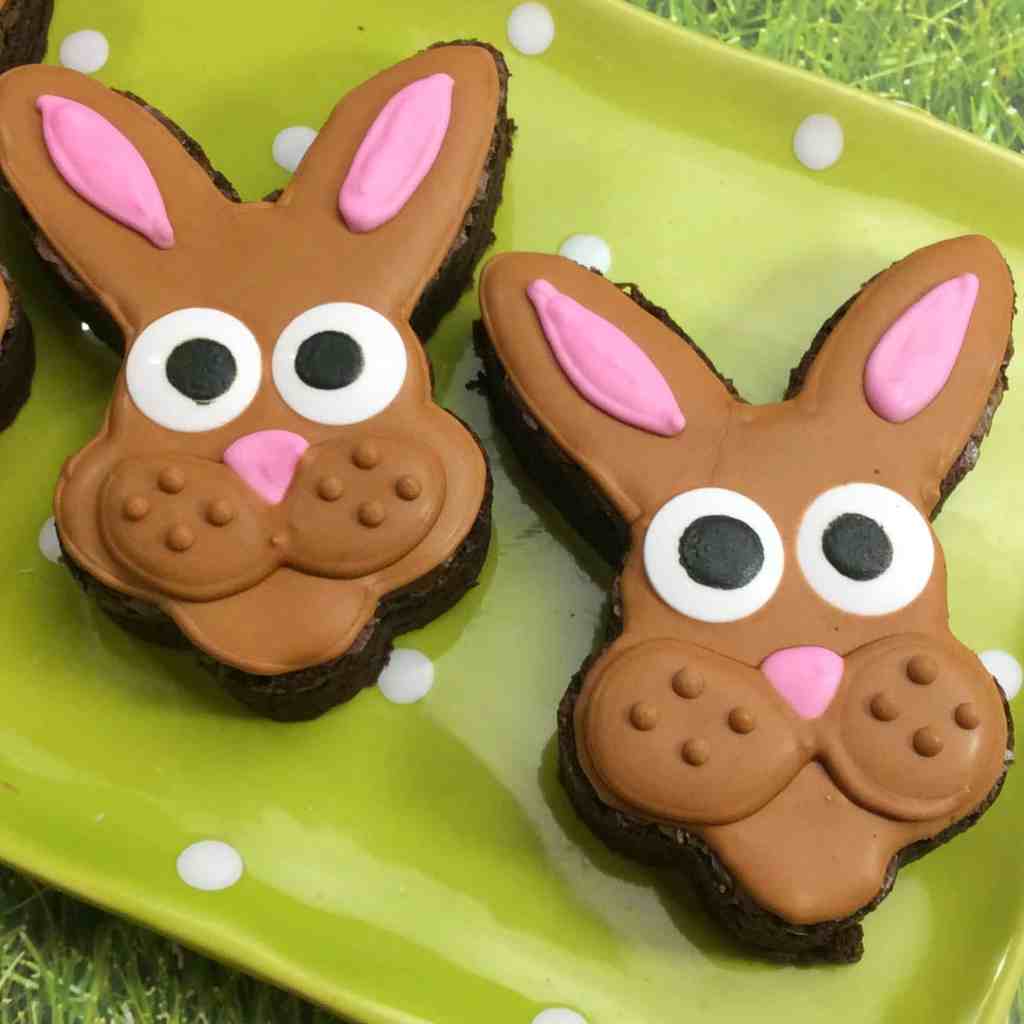 This is another cookie decorating project that is perfect for kids. You start off with Easter Oreos which are egg-shaped but you can probably use any other egg-shaped cookie or make your own egg sugar cookies.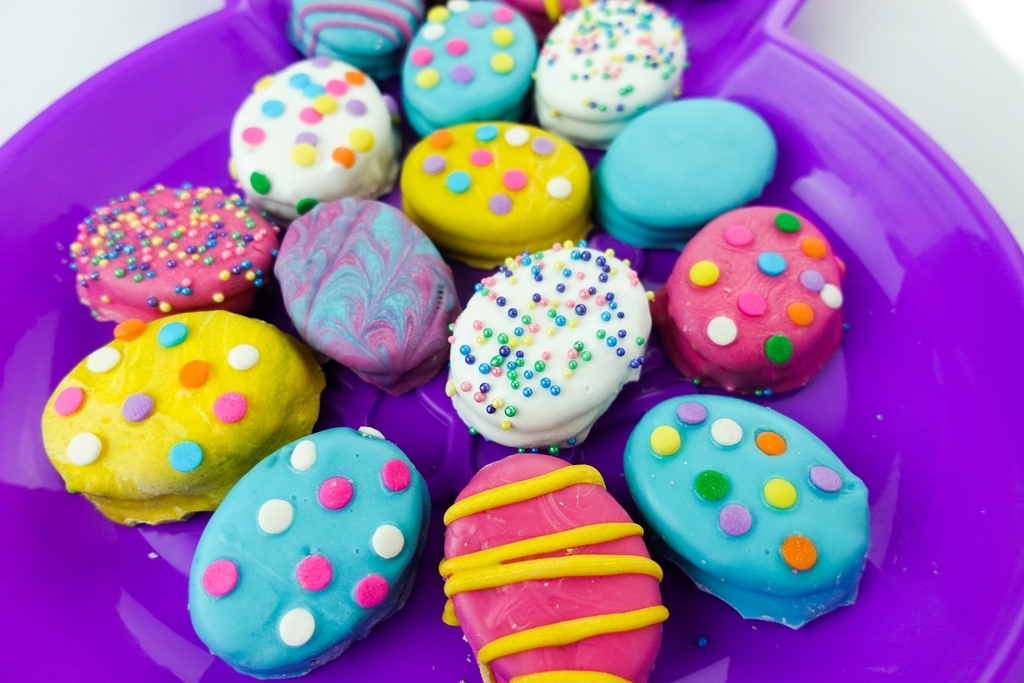 These spring cookie bars make for the perfect Easter dessert and they are sure to be a hit with the kids. They're also great for making after Easter if you have some leftover Easter M&Ms or other small chocolate candy.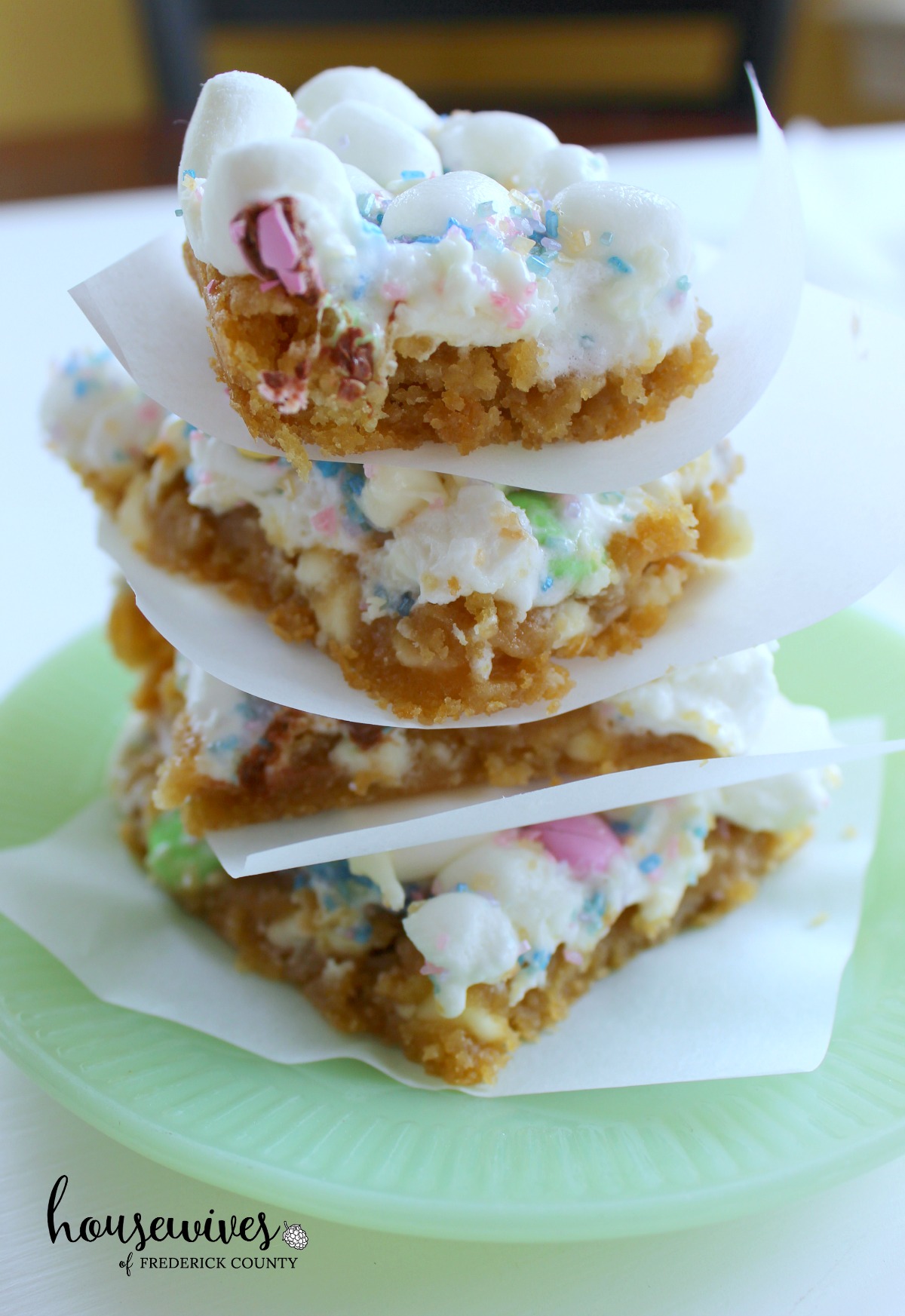 These sugar twists cookies are easy to make with only 8 ingredients. Yes, they resemble a bunny silhouette from behind, so cute!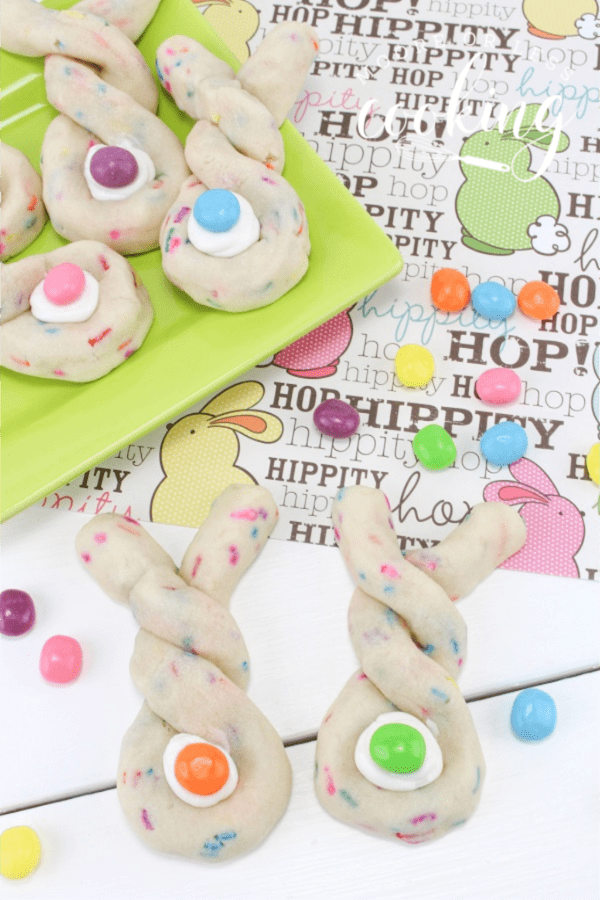 These cute Easter bunny cutout cookies are made using a white cake mix. So yes all you need is a white cake mix box and a few other ingredients and a small bunny cookie cutter and frosting. It doesn't get easier than this!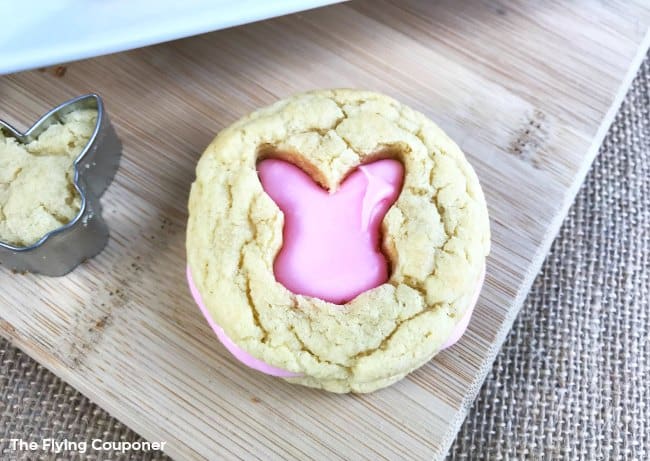 This Easter, bake up these cute little bunny bums and I can guarantee your kids will think they are adorable. The best part? They are super simple to make!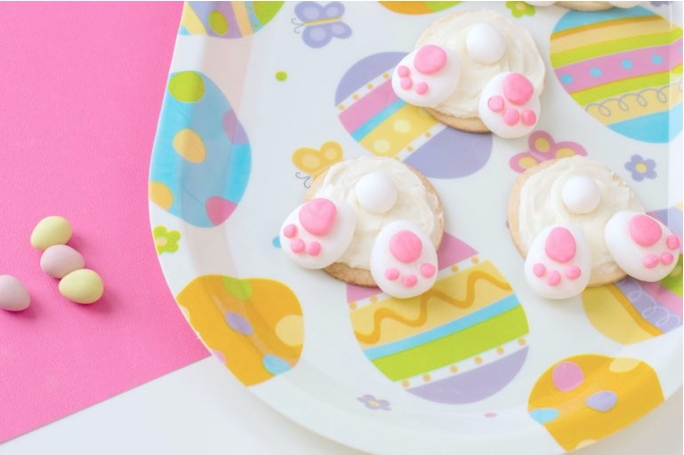 These meringue nests filled with chocolate frosting and mini Cadbury eggs are a show stopper. They're perfect for an Easter party or just as a beautiful Easter brunch dessert.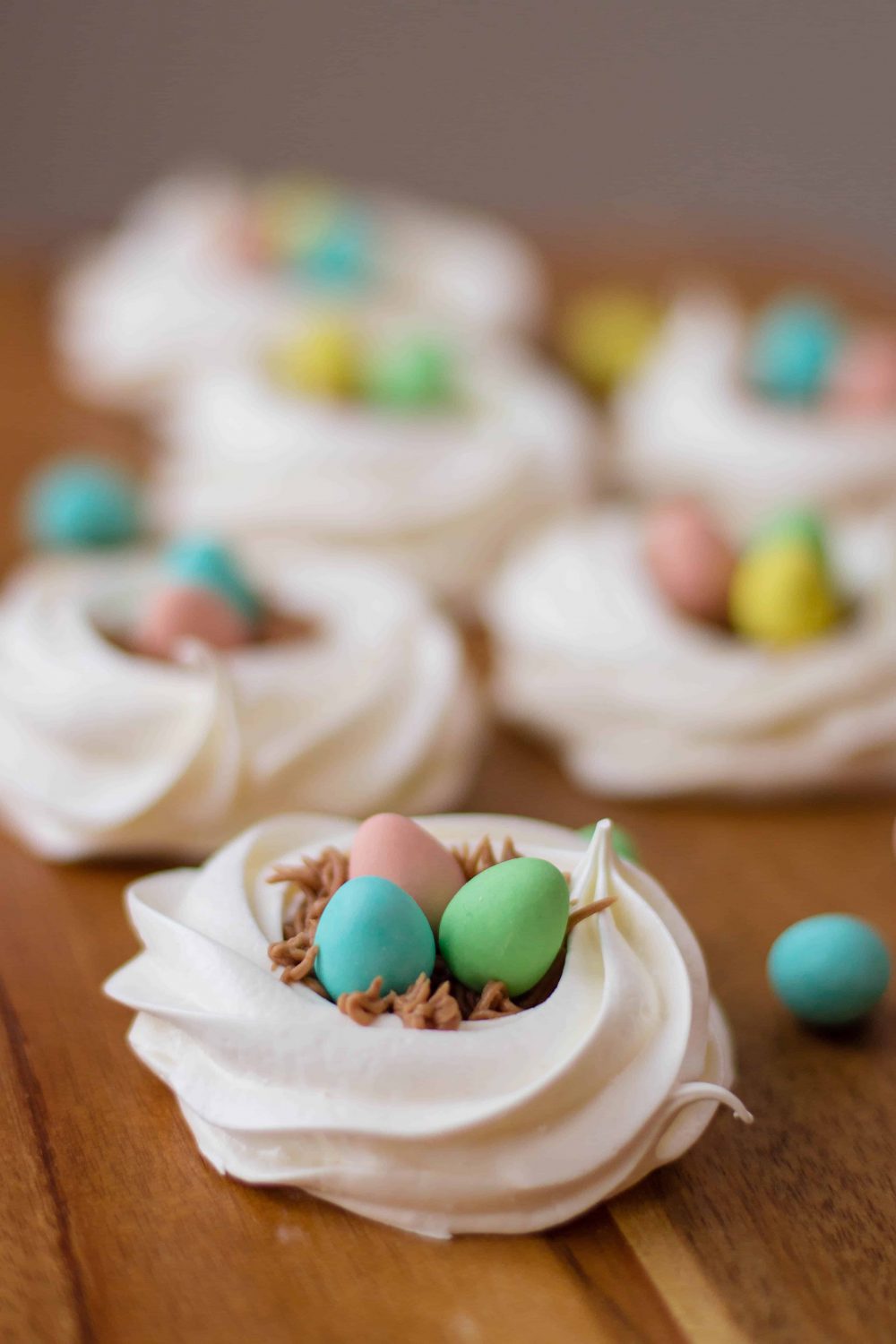 These pretty brownie flowers are so easy to make. Just grab your favorite brownie recipe or make some brownies from a box and use a flower cookie cutter and frosting to decorate these fun brownie blooms.
There's nothing quite like Italian cookies. These Italian Easter cookies are slightly sweet with a crunchy sugar icing and a slight citrus flavor. These are also ideal for a care package.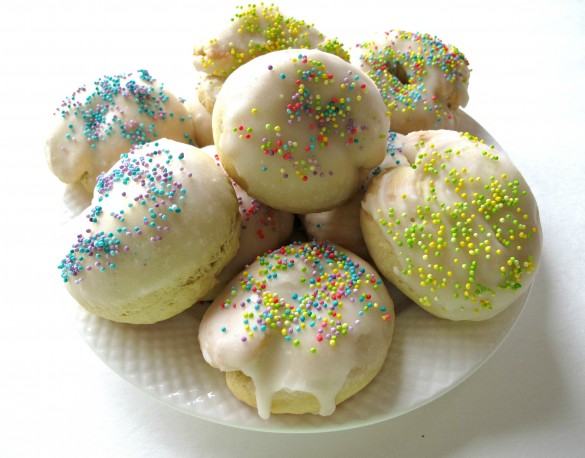 Blondies are one of my favorite cookie bars and these blondies are decorated in such a fun way. The best part is that you can make these from scratch or use a boxed blondie mix from your pantry.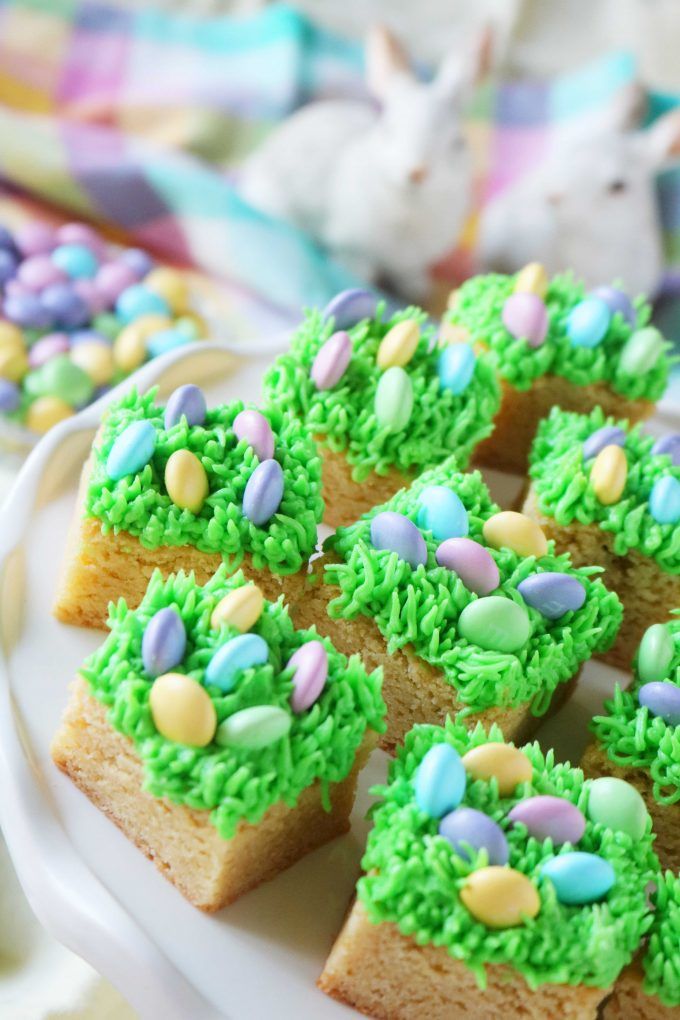 I personally love meringue cookies and lemon so it's no wonder these are one of my favorite spring cookies. These are perfect if you're looking for a cookie recipe that is not too sweet.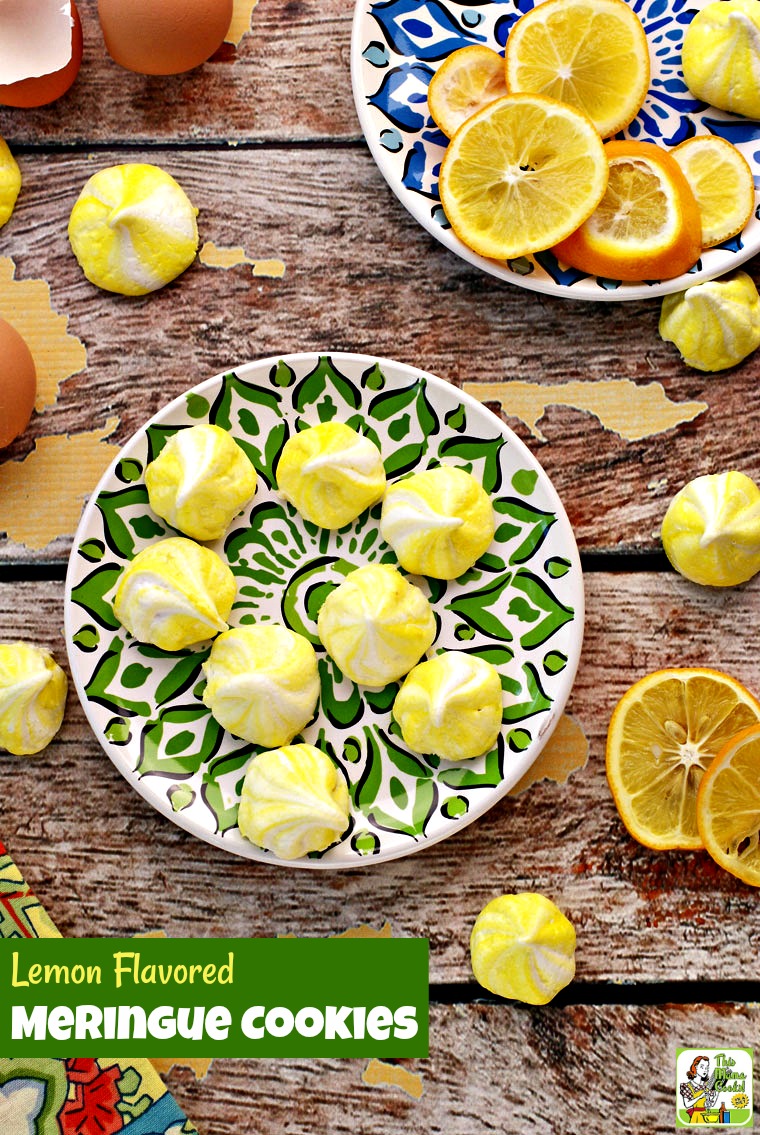 These flowerless sugar cookies and delicious and I love the pastel colors. They are super simple to make and they are so soft, chewy and good!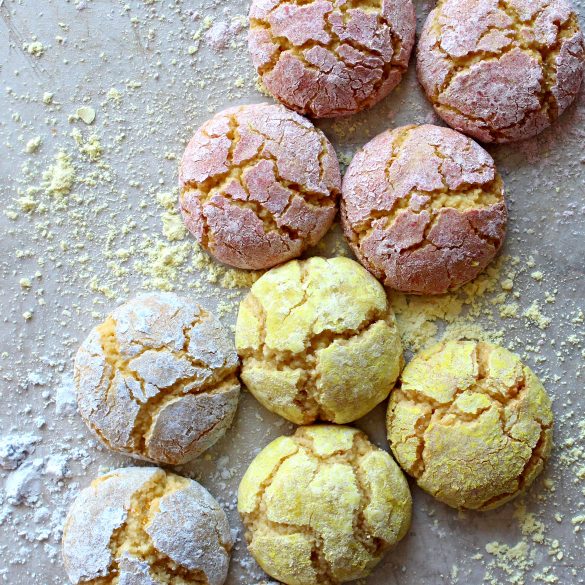 If you're looking for cookies to decorate Milano cookies are a great option. Choose your favorites and turn them into cute decorated Easter eggs.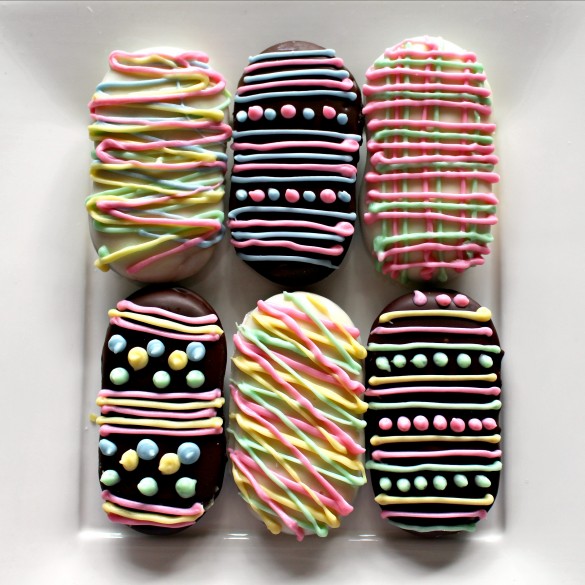 Lemon might just be my favorite spring flavor, it's so refreshing and the perfect flavor for the icing on these sweet and tart sugar cookies.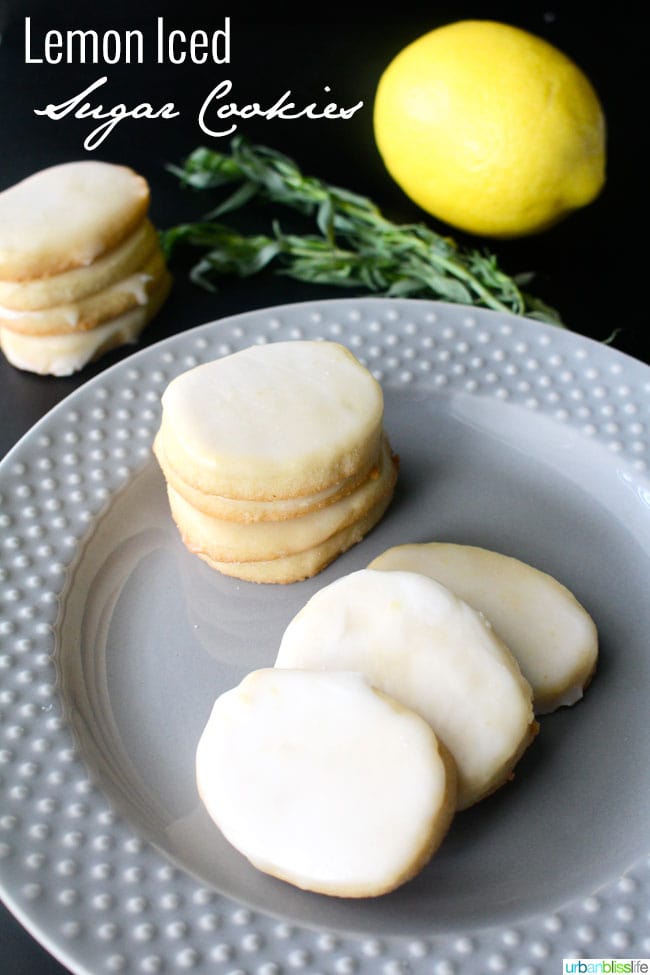 These neon-colored Easter bunny sugar cookies are so festive and fun. They are also super simple to make and decorate.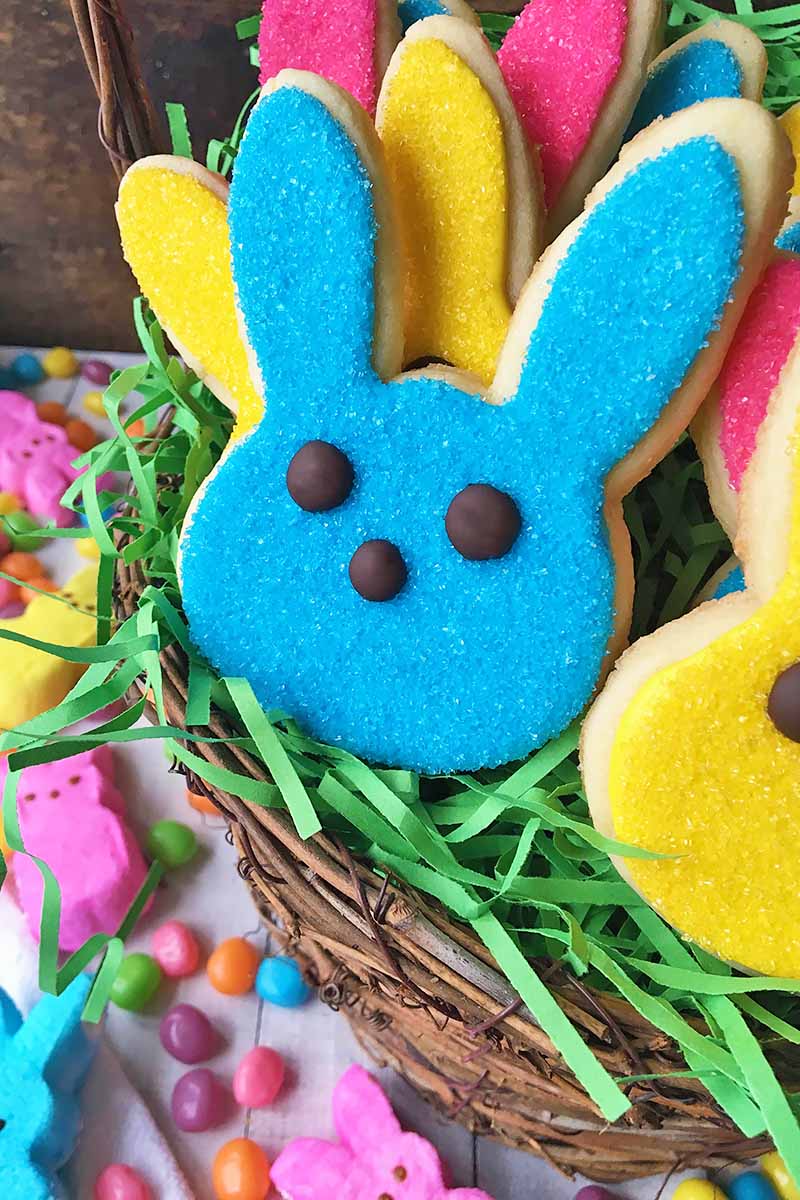 a homemade melt-in-your-mouth cream wafer cookie filled with coconut buttercream! Yummy!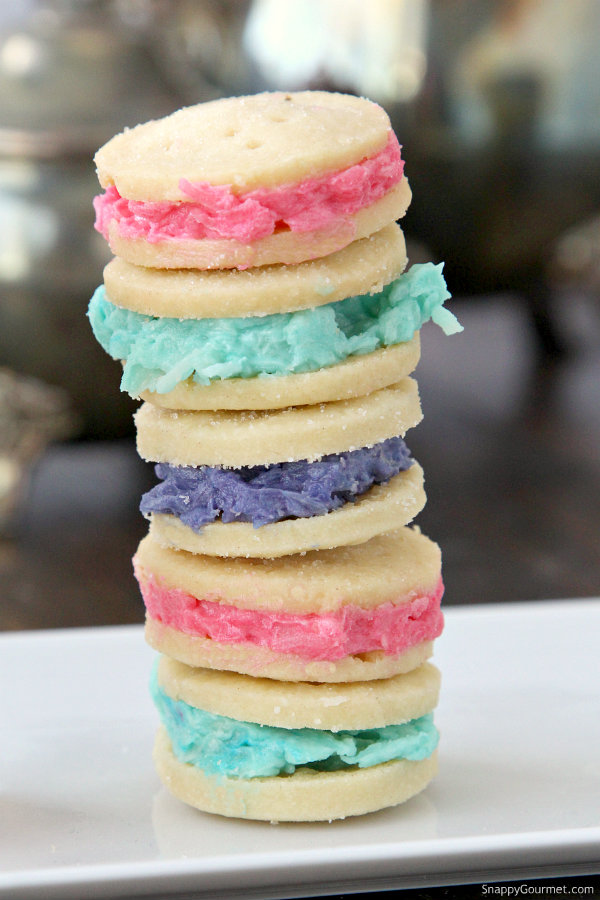 Other Easter Recipes and Articles
10 Kid-Friendly Easter Party Ideas: From adorable party favors, fun party activities, and Easter party foods, these kid-friendly party ideas will help you create a unique Easter party your kids will remember for years to come.
10 Adorable Easter Desserts: Whether you enjoy eating candy or grabbing a cute Easter-themed treat, there's something on this list for you! These adorable Easter desserts are the perfect way to celebrate the holiday this year.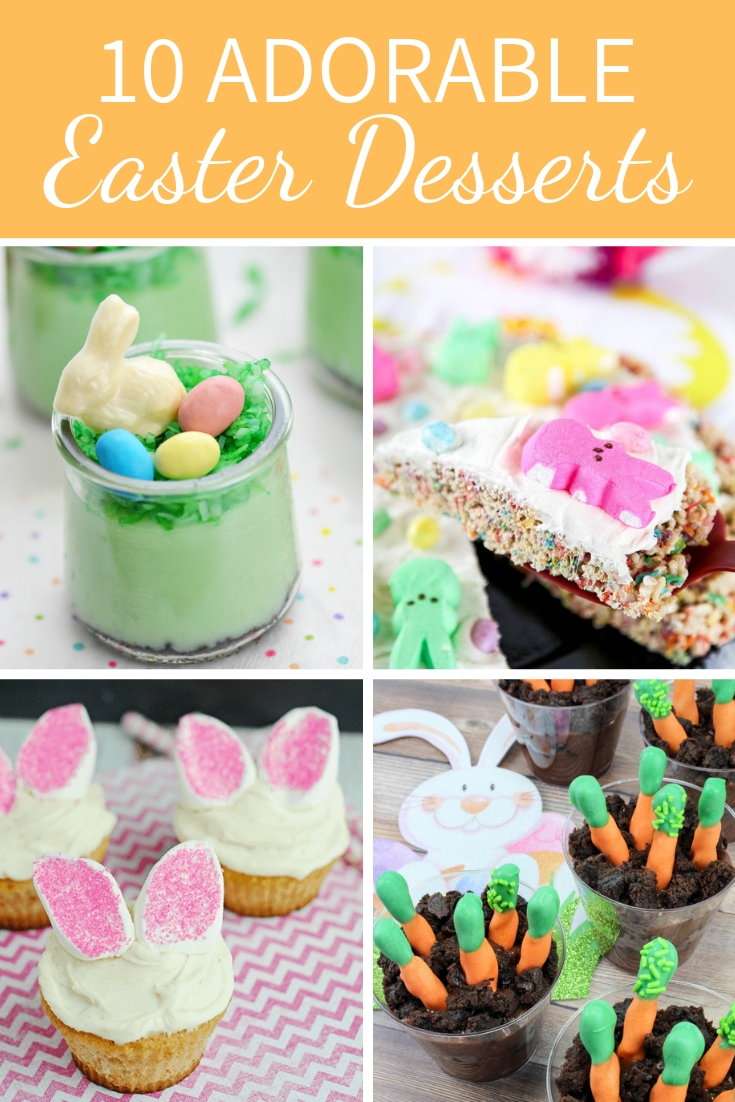 10 Fun Easter Basket Ideas for Boys: Lots of Easter basket ideas for boys of all ages, and you're sure to find something your little one will love. From slime and candy to Star Wars and Marvel-themed Easter baskets, there is something for everyone.
10 Refreshing Mocktails Perfect for Easter: If you're looking for new ideas for spring mocktails, look no further! Here is an excellent selection of non-alcoholic drinks, both delicious and beautiful. They pair perfectly with any Easter brunch or spring celebration.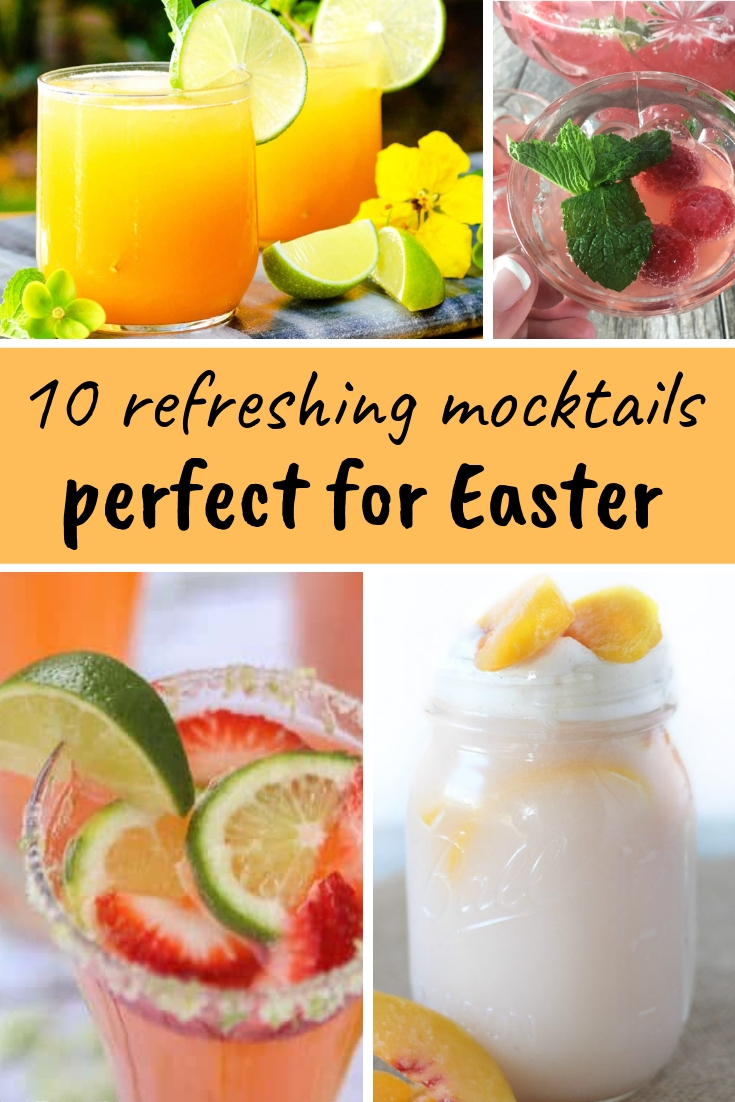 10 Fun Easter Crafts for Kids: You'll love all these adorable crafts on the list – from cute spring animals to Easter egg projects, there's something for everyone! Your kids will love these fun Easter crafts.
15 Creative and Unique Ideas for Decorating Easter Eggs: Check these unique out-of-the-box creations to decorate your Easter eggs. You can easily make them at home as these give so many possibilities of what you can do with eggs.
Easter Picnic Brunch Ideas and Recipes: Having a picnic for Easter is a perfect spring activity, as we can combine our brunch with a family Easter egg hunt. Here you will find lots of Easter picnic ideas, recipes, and menu ideas.