This post is also available in: Español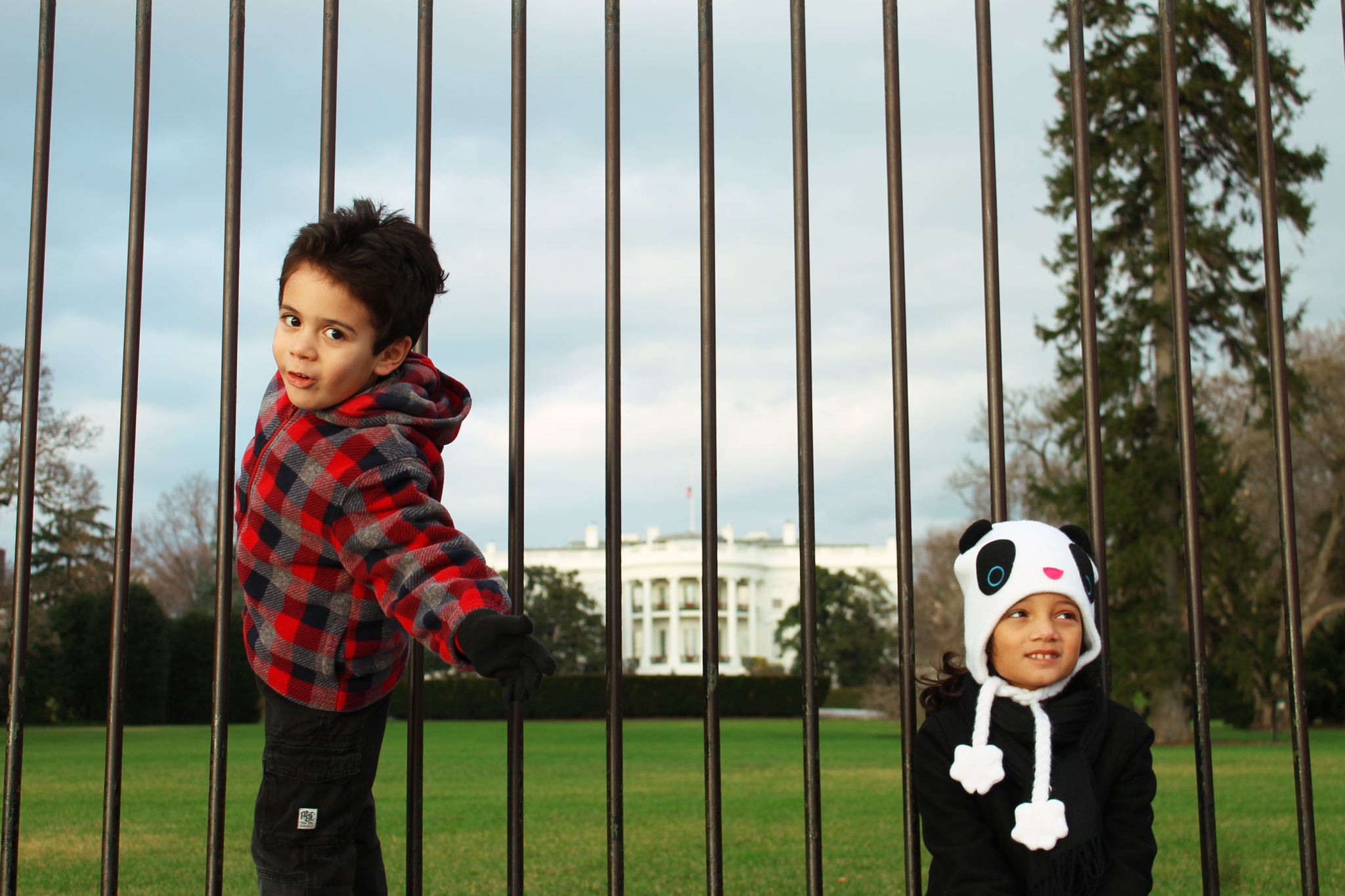 When it comes to a city that offers countless opportunities for fun and education, Washington D.C. is atop the list.  Filled with monuments, historic sites and museums there is always lots of things to do.  I have been traveling to Washington D.C. since I was a kid to visit family there so when we took the kids this winter I had a pretty good idea of where I wanted to take them. I wanted the activities to be fun but also to have some educational value and be meaningful so I planned our itinerary with that in mind, always leaving enough room to be flexible which is so important when you travel with children.
I will share with you our favorite things todo with kids in Washington D.C., these include a good mix of activities for that will keep kids of all ages happy and interested.
1. The Smithsonian National Zoo is one of the oldest zoos in the country and often has exhibits of many endangered species and animals. This free zoo is open every day, except Christmas, and the recent upgrades to the layout make it a great place to spend the day.  The starts of the zoo are the two giant pandas in loan from China through 2015, my kids loved watching Mei Xiang and Tian Tian while they enjoyed their meal of bamboo shots.  Another one of the highlights of the zoo was the Great Ape house, and Amazonia: a 15,000-square-foot rainforest exhibit with a 55,000-gallon aquarium. The Kids' Farm offers smaller children the opportunity to interact with animals.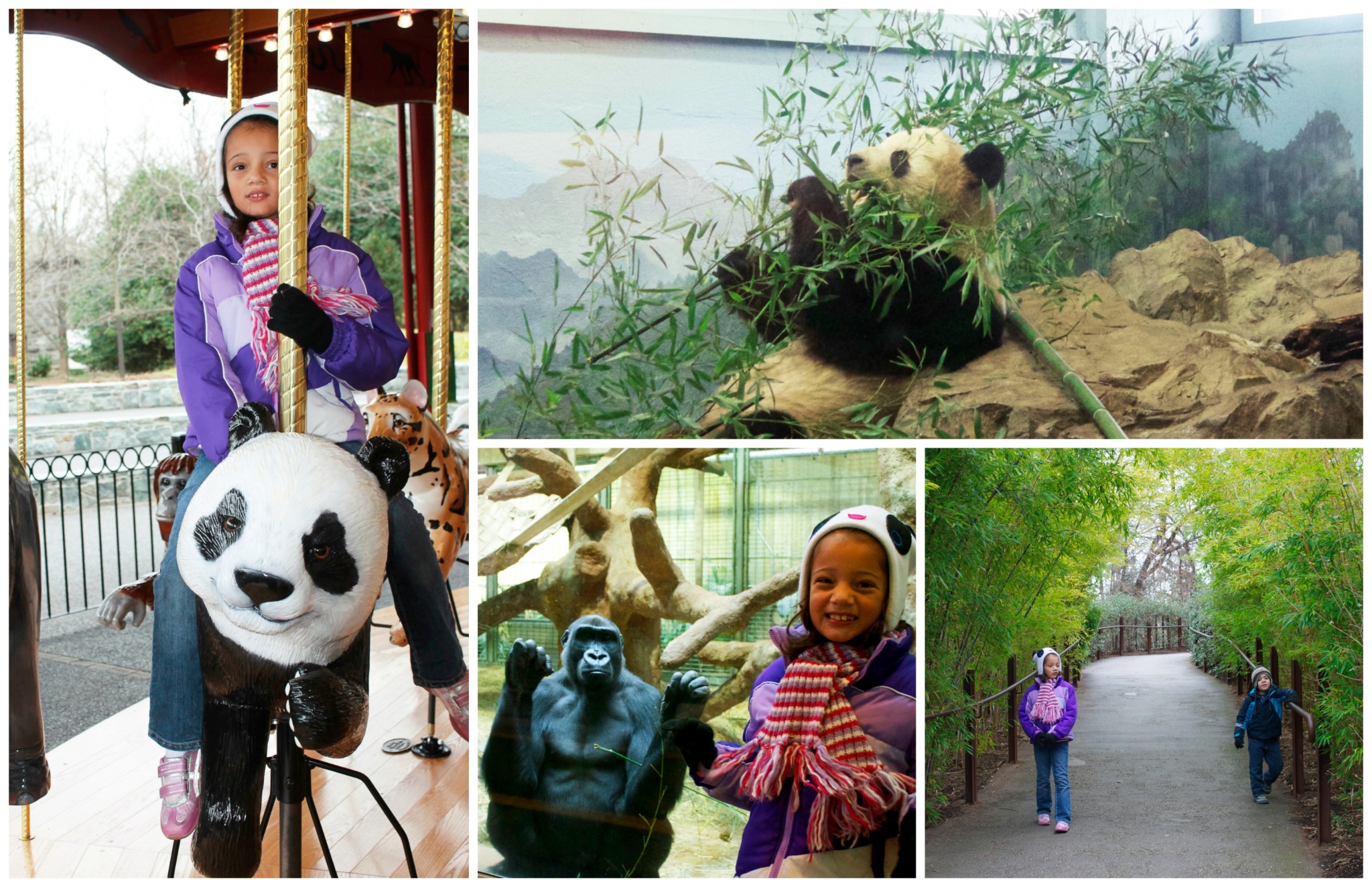 2. The National Museum of Natural History is a great follow up trip to the zoo. As a Smithsonian Institution, it is where millions of specimen collections of inanimate objects, such as rocks and minerals, as well as formerly live plants and animals are displayed for observation and study. The museum is also open every day except Christmas and does not charge admission.  When you enter you are welcomed by the 13-foot Fénykövi elephant from Angola that sits under the central dome of the rotunda.  My kids really enjoyed seeing fossils and bones of many different types of dinosaurs and for for $6, you can also visit Butterfly Pavilion to view hundreds of live butterflies and moths.
After exploring the museum exhibits we headed to the Imax theater that shows nature movies on a six-story-high screen, we enjoyed a movie about dinosaurs as my little man is really into dinosaurs lately.
3. The National Air And Space Museum is a sure hit with kids and will be a topic of conversation for hours after leaving. Allow your kids to explore the wonders of air and space and understand the parts and mechanics of fighter jets, airplanes, and spaceships.
The Air and Space museum has two locations, one on the National Mall and the other at the Udvar-Hazy Center. I wojld recommend that you visit both, the huge hangar at the Udvar-Hazy Center houses the Enterprise, NASA's first space shuttle, a full-scale prototype of the Mars Pathfinder Lander and Pegasus, the first aircraft-launched rocket booster to carry satellites into space along with more than 150 aircrafts and 154 spacecraft.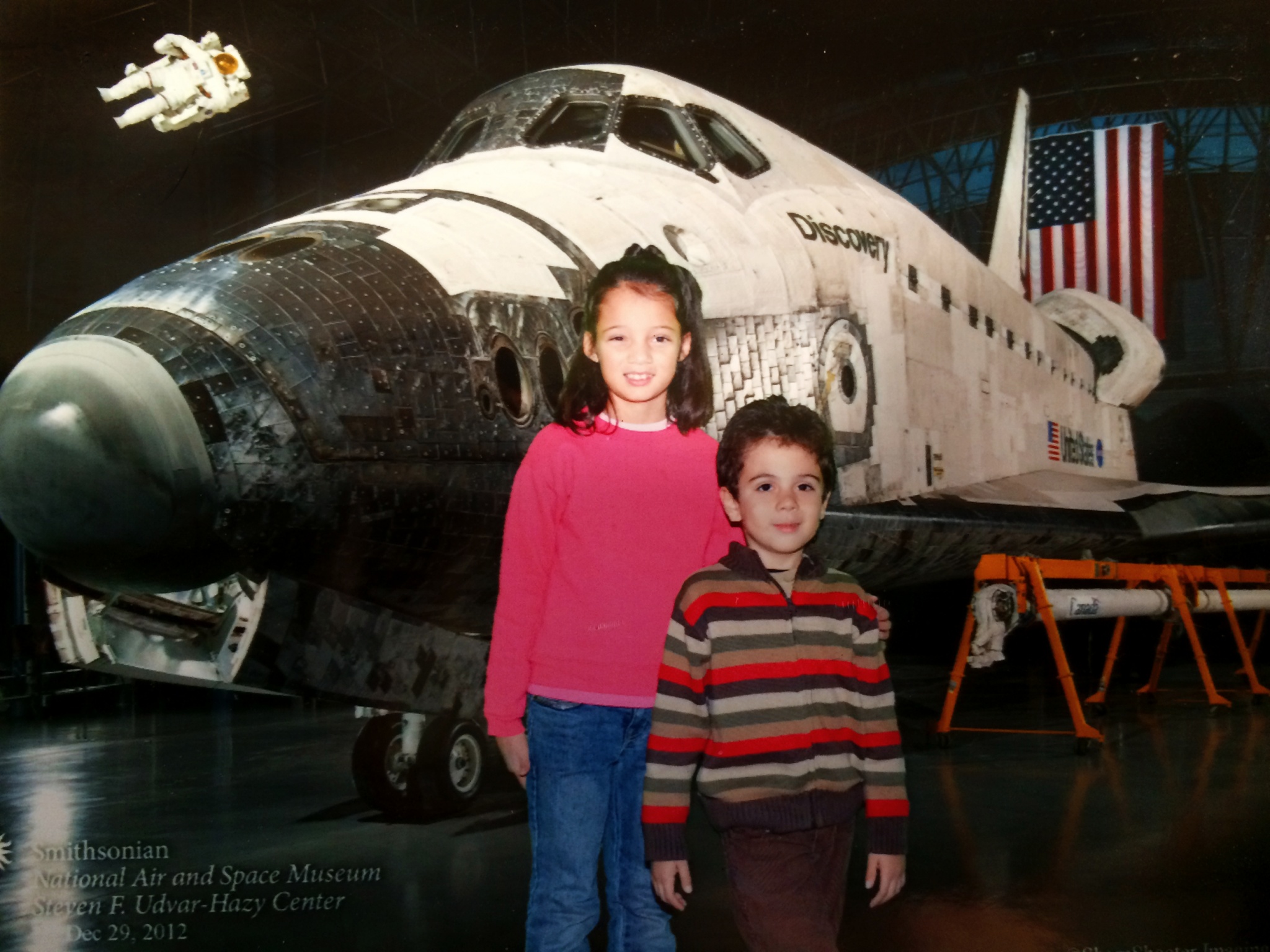 4. If you prefer to spend the day outside, take your kids for a stroll along the National Mall. Enjoy sites like the capitol building, the Lincoln memorial, and the Washington monument.  It's a great way for the kids to burn some steam after visiting the museum.  The kids, and adults, can also enjoy riding the oldest carousel in DC, which is located in front of the Smithsonian Castle on the Mall, and is open 10 AM to 5:30 PM daily.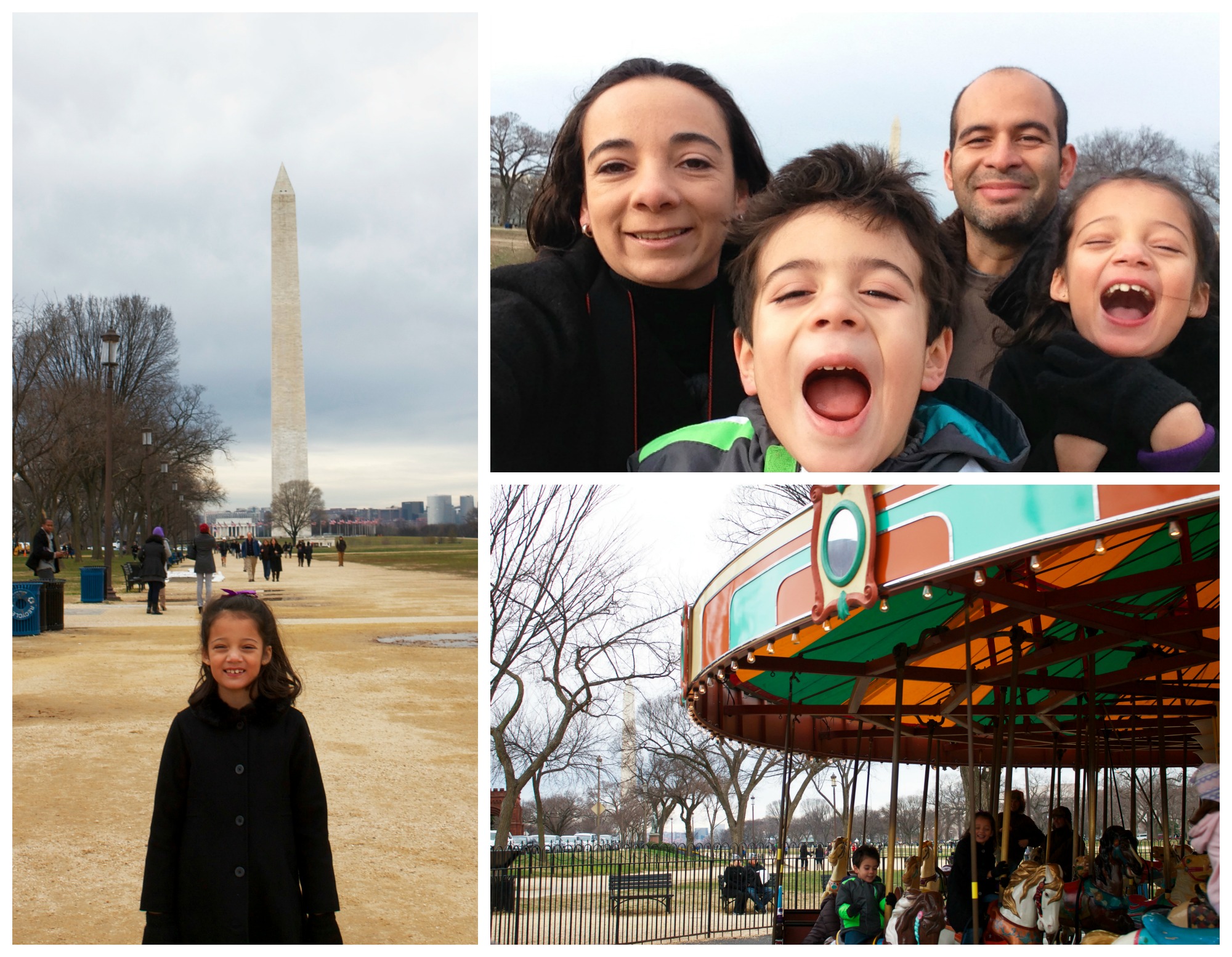 5. The National Children's Museum, perfectly designed for kids is a wonderful stop along your trip. Kids learn through play in this interactive museum and the museum even has activities and exhibits for those under age 3.  The museum features hands-on exhibits and activities to inspire children to care about and improve the world.  Even though this museum is fairly small it is packed with activities and interactive exhibits and many of them have a focus on teaching children about other cultures, languages and ways of life.  As we where about to leave the kids where trilled to get to see Cookie Monster as they are big Sesame Street Fans.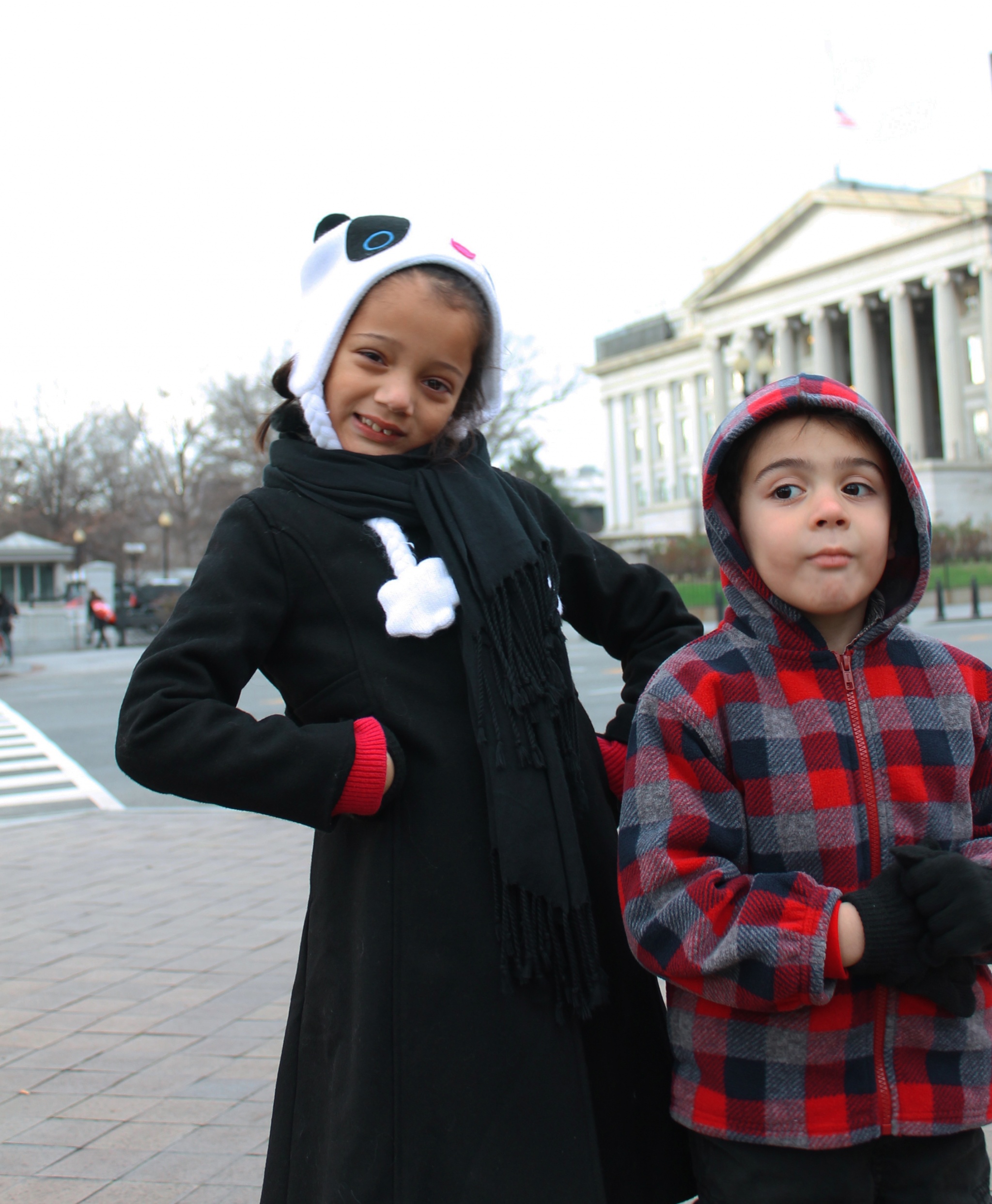 Our trip to Washington D.C. with the kids was filled with adventures and they learned so much about history and about the National capital while having lots of fun.  I loved that this city has so many activities for kids that have no cost and the museums and monuments are truly beyond compare. My children where really excited to see the president's home and the monuments, almost as excited as they where to see a live panda and the Enterprise space shuttle at the Air and Space Museum.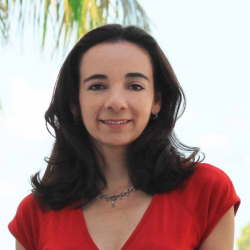 Latest posts by Paula Bendfeldt-Diaz
(see all)