We where invited to visit St Agustine by Florida's Historic Coast as part of press trip, however all opinions are sincere and are my own. #ViajaSanAgustin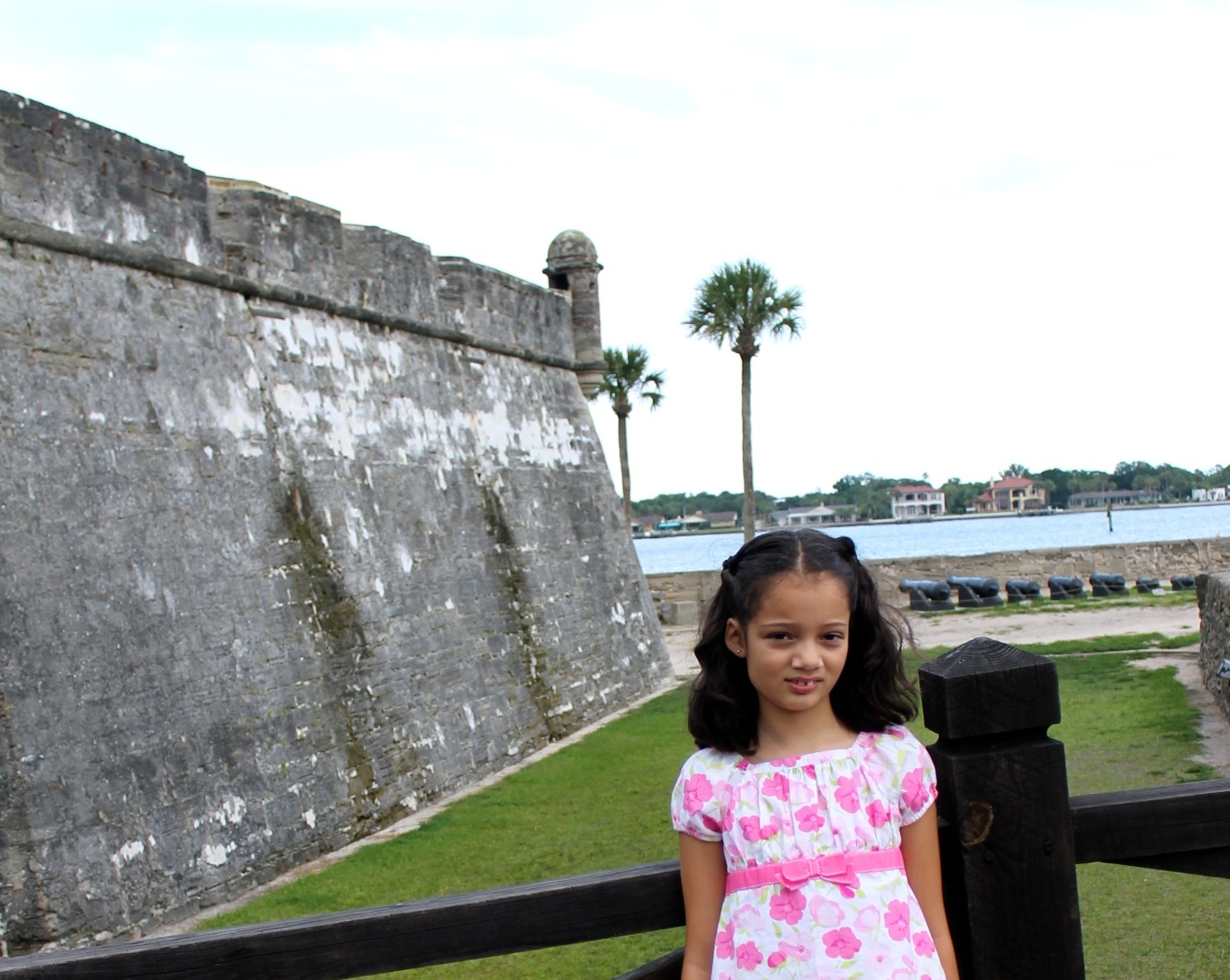 Saint Augustine is the oldest city in the US. By the time the first English settlement in the New World was established St Augustine has been a thriving coastal town for 40 years. Saint Agustine was founded by the Spanish and just like our family it was speaking Spanish before learning to speak English.
At home I am always trying to find new ways to teach my children about their Latino roots and the best way to do this is by letting them connect with things that they can relate to.  They are growing fast and sometimes I will get some resistance, after all speaking two languages is not easy and they often wonder why they have to speak in Spanish or learn about the Latino culture when they live in the US and their friends and classmates only speak English.   So when we where invited on a media trip to St Augustine recently I was so excited not only because St Augustine is considered to be one of the most beautiful towns in the US but also because it would be a great opportunity for my children (and for us) to learn about the Latino Spirit that was born in St Augustine and see with their own eyes (they don't have to take mom's word for it) that the Spanish language and Latino culture are a very important and real part of American history!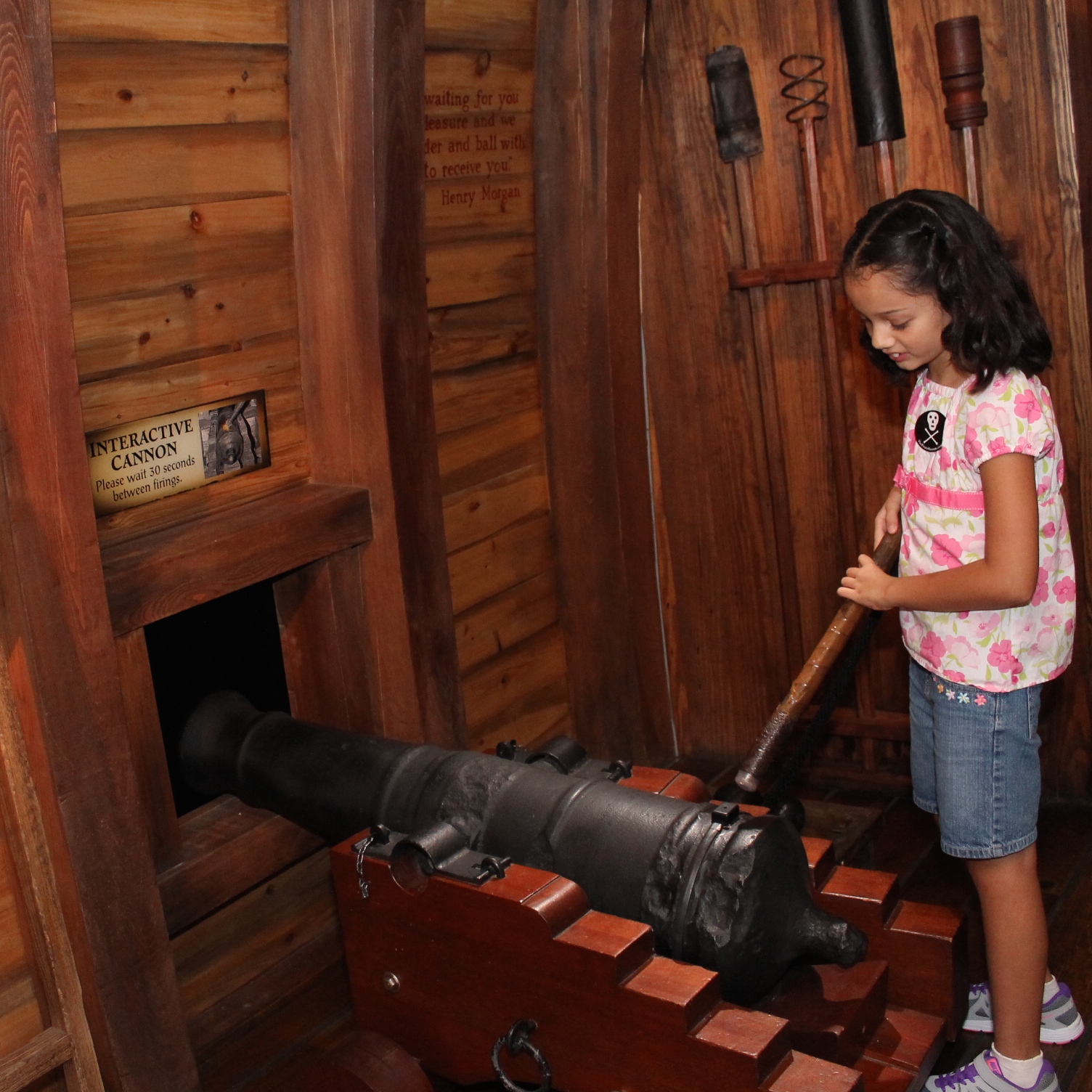 Many people, specially kids, hear the word history and cringe thinking: "Oh this will be boring!". But nothing could be further from the truth, you only have to make sure that your kids get to feel, taste and relive history in an interactive way and they will have the time of their lives and they will love it!
Before visiting Saint Agustine we did a little research, we visited websites and talked about Florida's history and it's Hispanic Heritage.  There is nothing more exciting for a child than to experience something that he has read and heard about before. After learning about it's history my kids where eager to see this city that had been founded by Pedro Menéndez de Avilés.   There are countless attractions and ways in which you can explore Saint Augustine's Latino Spirit but I will share with you five ways in which you can help your children learn about the city's Hispanic roots in a fun way.
Visit the Spanish Forts
The coquina fortresses in St Augustine serve as an imposing reminder of the Spanish Empire who once ruled these cobblestone streets.
A bastion of the largest empire ever created, the Castillo de San Marcos is a massive fortress, which took more than 20 years to build (1672- 1695) and helped protect Spain's treasure fleets from the English and pirates. Designed by Ignacio Daza, a Spanish engineer living in Cuba, it is the oldest masonry fort in the United States, the only existent 17th century fort in North America and was designated as America's first national monument.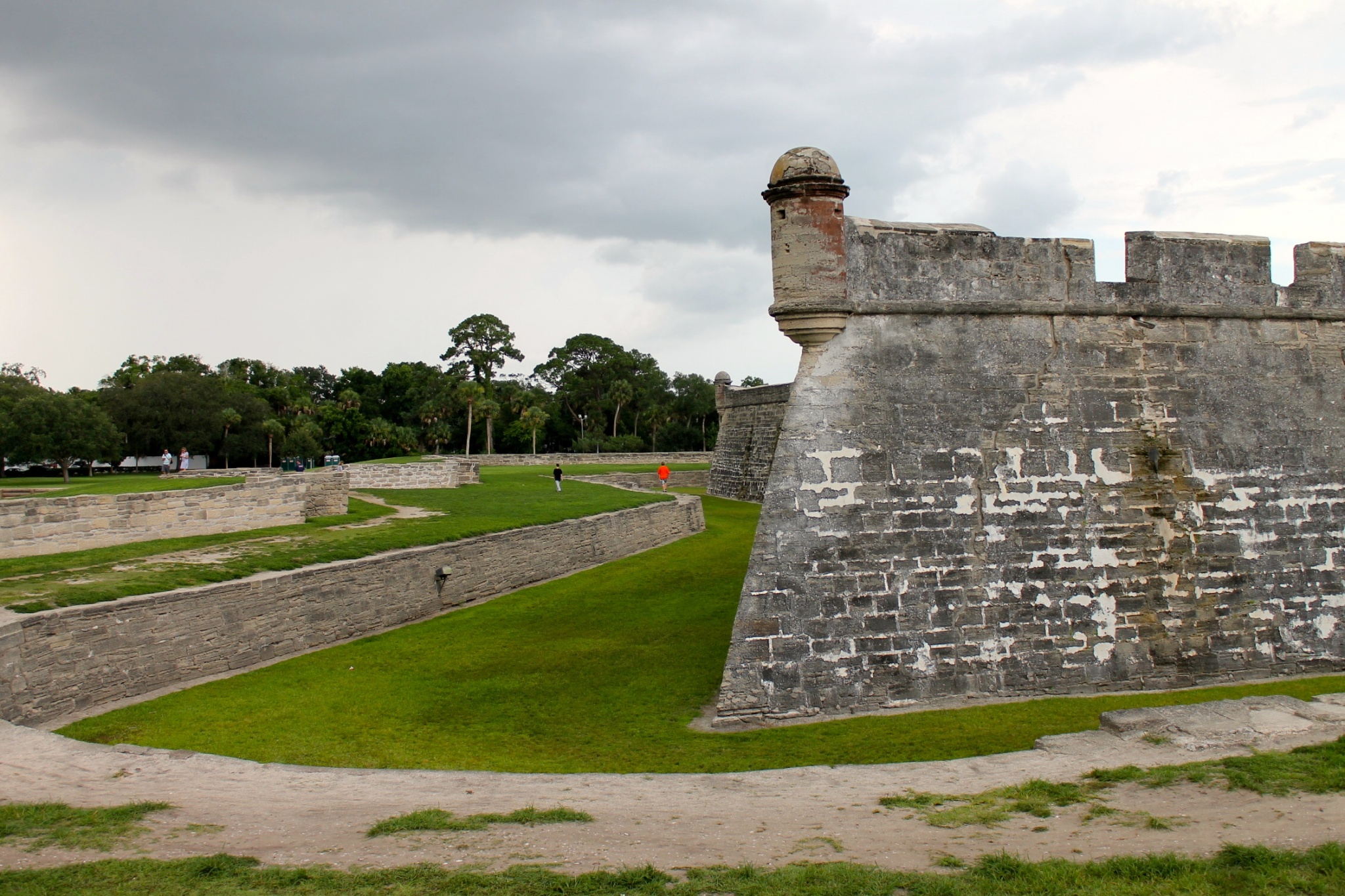 The Castillo comes alive through a diverse range of programs which include Ranger talks, museum exhibits, historical weapons demonstrations, living history reenactments and special events.   We explored the fortress on a self guided tour, letting the kids take the lead, wandering through the fort's casements and taking in the exhibits we found there. I was thrilled to see that all of the exhibits have information in both English and Spanish.  For more information about the Castillo de San Marcos you can visit NPS.gov/casa
After its construction in 1740, Fort Matanzas served as a protective fortress for the Spanish colony of St Augustine. You can explore the Fort and think about what life during the Spanish colonial period might have been like.  An interpretive ranger, dressed in period attire gave us a talk during our trip and told us a little about the history of this 270 year old Spanish watch tower fort. Admission is free including the ferry ride to and from Rattlesnake Island. For more information visit www.nps.gov/foma 
Get Immersed in 300 Years of History at the Colonial Quarter
History truly comes alive at this 2-acre living history museum that recreates St. Augustine's past, going through three centuries of history in under an hour.   We took a guided tour and learned so much about the history of Saint Augustine.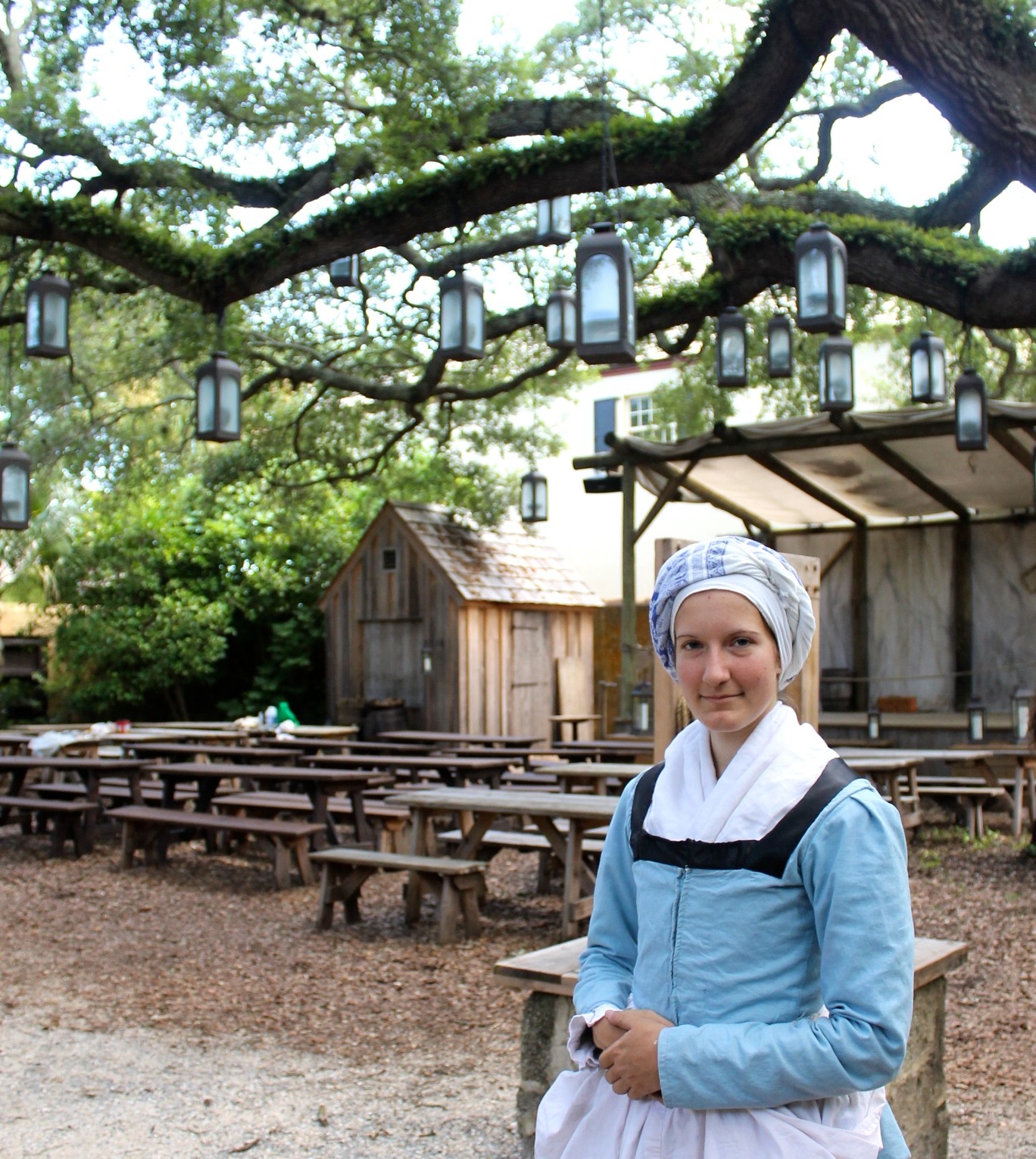 Dedicated historians and re-enactors give you a glimpse of life from every era of St Augustine's colorful past.  I have never seen my son so interested in history as I did during our visit to the Colonial Quarter and it was all thanks to our phenomenal guide.  He was fun, engaging and interesting showing kids how to fire a musket, mixing history with fun facts and jokes and getting the children in our group involved on each and every exhibit.  You can visit the Colonial Quarter website for more information.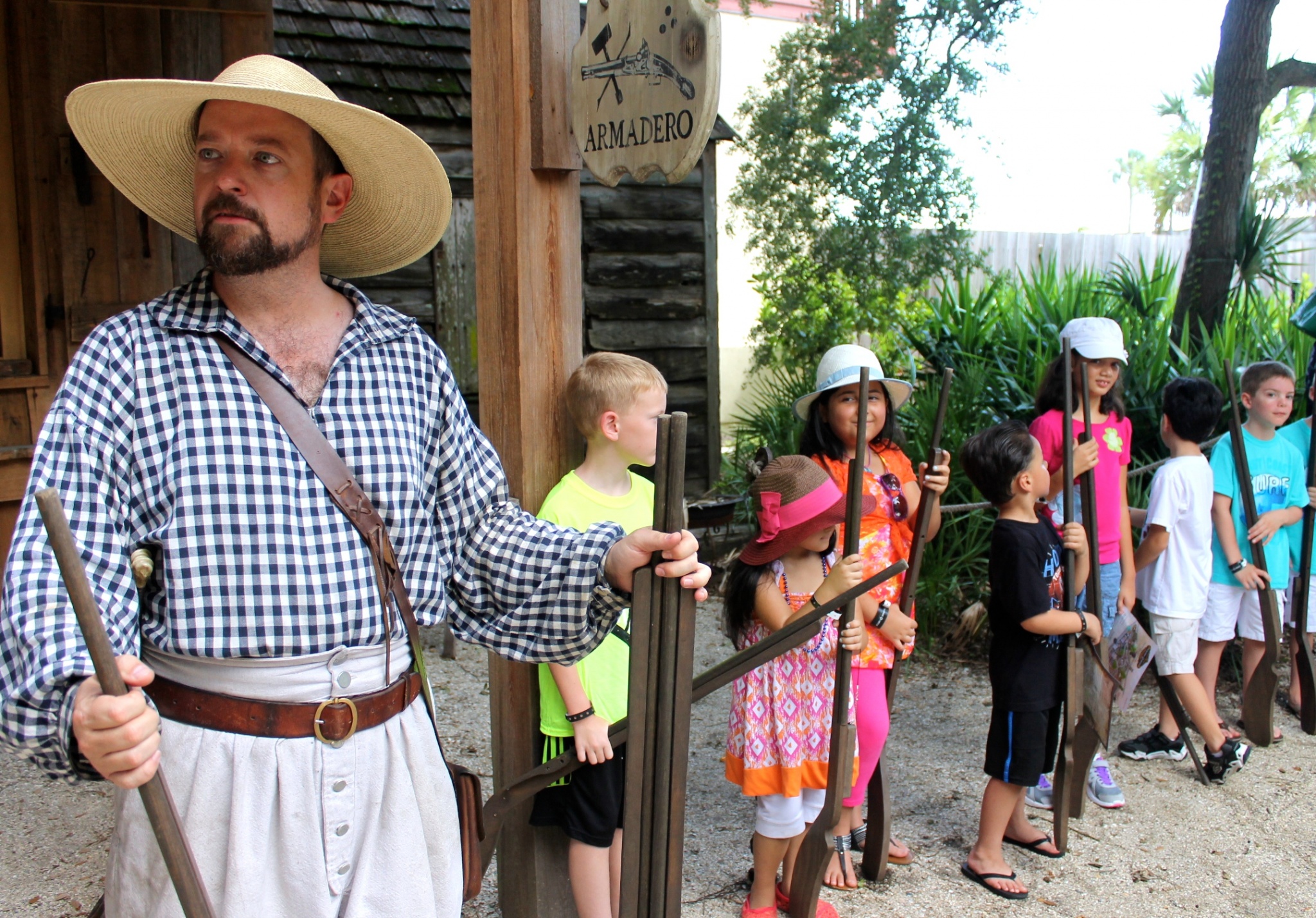 Enjoy Traditional Spanish and Latino Foods
The local heritage on Florida's Historic Coast has inspired many local restaurants to incorporate the Spanish culinary culture into their menus.  Saint Augustine is filled with outstanding restaurants where you will find Spanish, Cuban and Latino inspired dishes.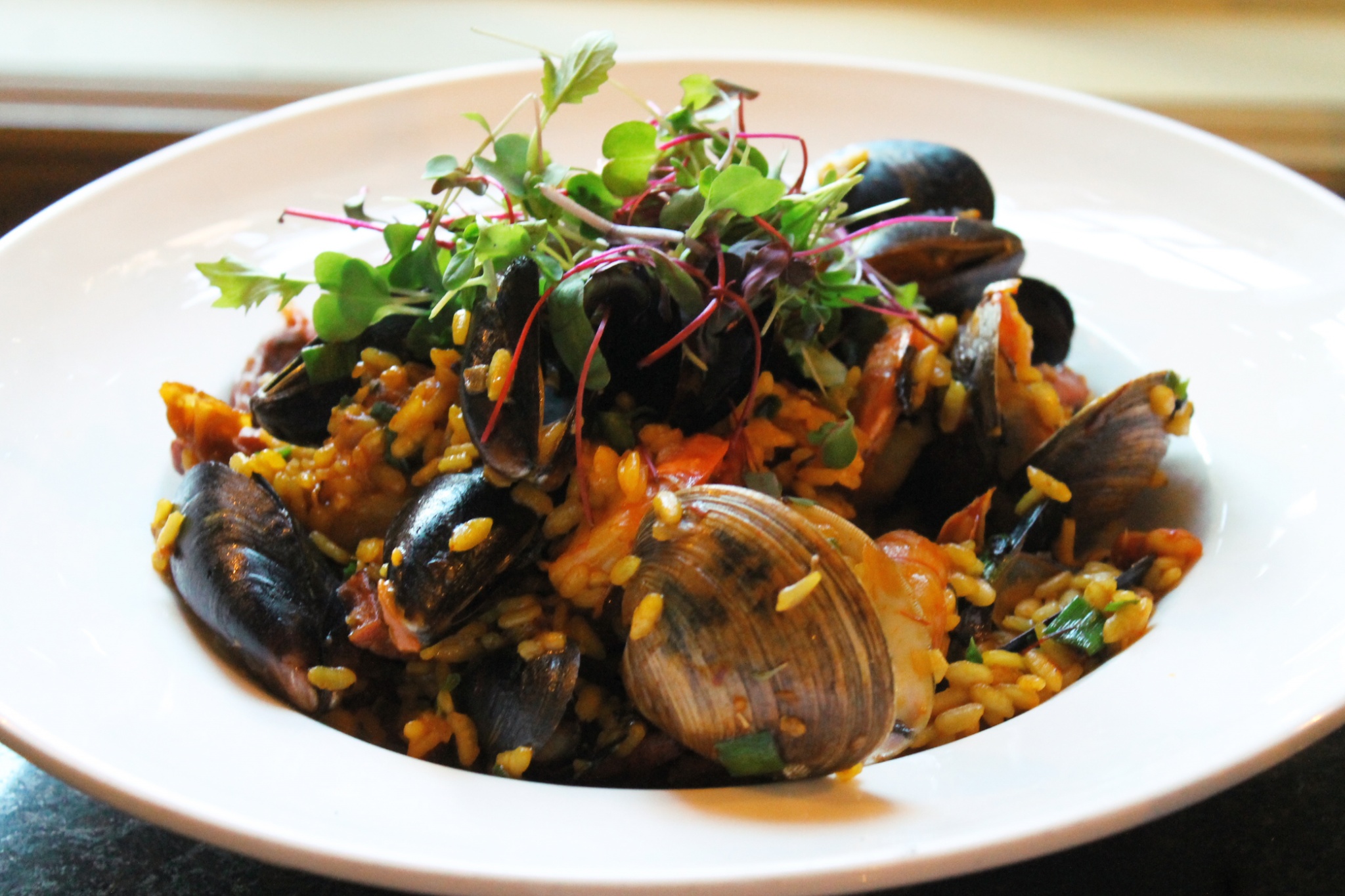 We had lunch at the Taverna del Caballo, a Spanish themed restaurant located in The Colonial Quarter where you will find many traditional Spanish dishes and tapas. We took advantage of the opportunity to continue our conversation about the Spanish and Latino history that is such an in important part of St Augustine and Florida in general.  My kids ate guacamole, tapas and skewers with Chimichurri sauce as well as arroz con pollo.
We also enjoyed Spanish inspired dishes at the Avilés restaurant located at the Hilton St Augustine Historic Bayfront, where the paella was phenomenal!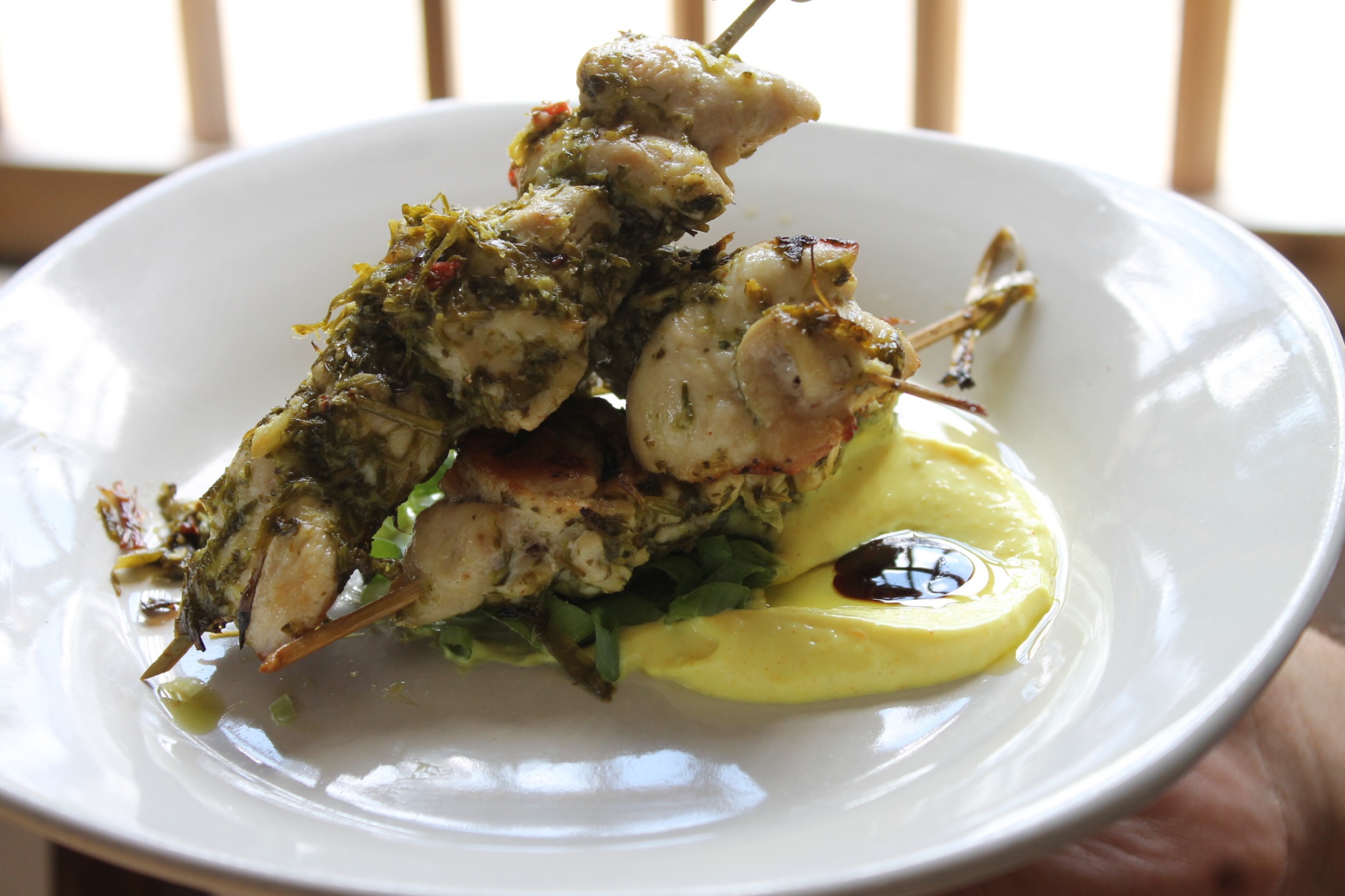 Learn About Pirates and Their Treasures  
Saint Agustine's history is filled with pirates. English privateer Sir Francis Drake seized St. Augustine in 1586. Following Drake's attack Saint Agustine was raided in 1668 by pirate John Davis triggering the construction of the Castillo de San Marcos.  The Pirate and Treasure Museum is the perfect place to learn all about Saint Augustine's pirates and its packed with interesting information and interactive exhibits. A section is designed like the inside of a pirate ship, there are cannons that the kids can shoot and interactive computers where you can learn the history of all of the famous pirates. The kids can do a scavenger hunt and look for different clues that involve all of their senses; there where some exhibits where you had to smell to guess what the ship was carrying.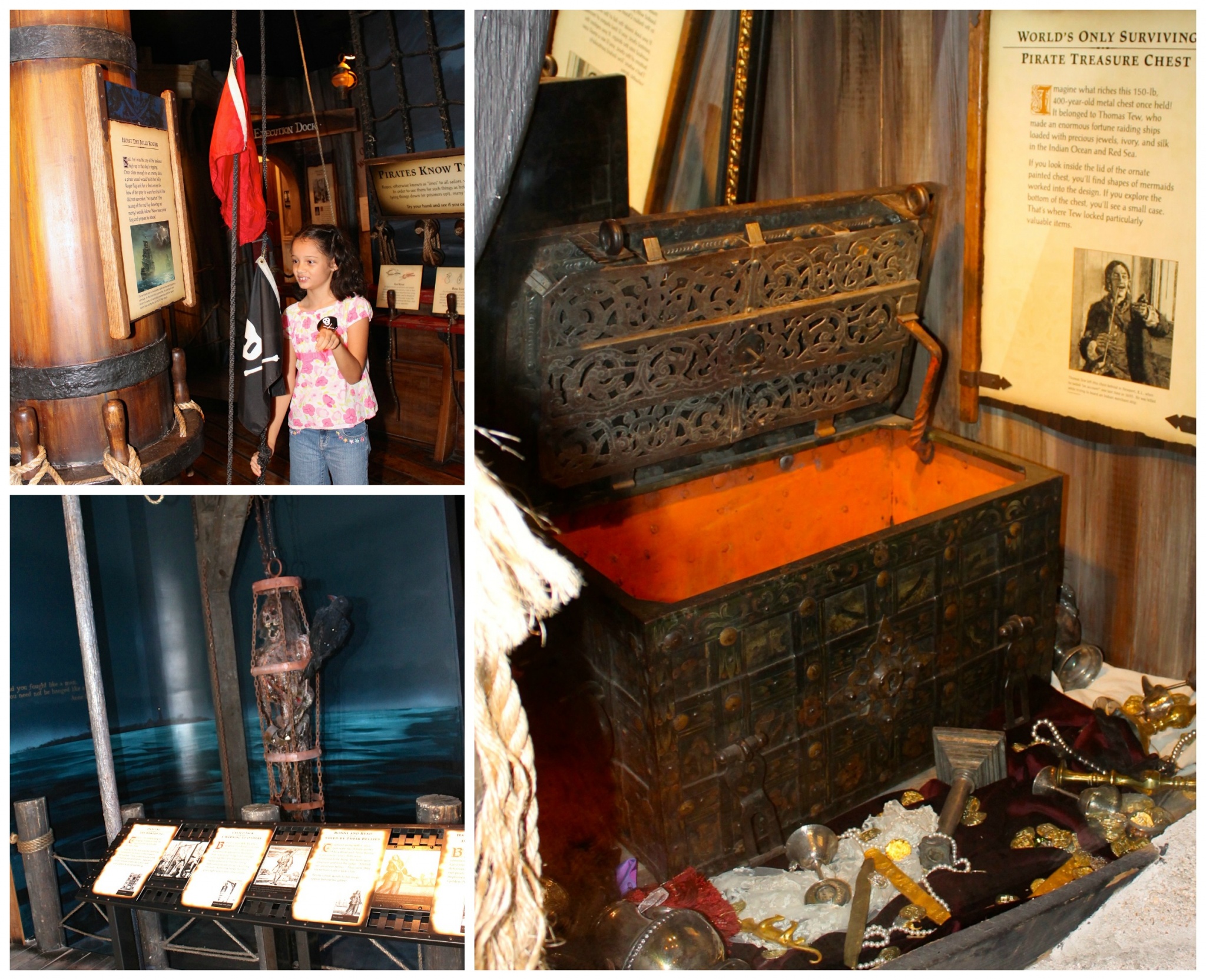 Tour a Spanish Galeon
This summer El Galeon and the Nao Victoria where docked at Saint Agustine's Municipal Marina where you could tour both boats. El Galeón is a replica of the vessels that traveled the coasts of Florida between the 16th and 18th centuries, transporting men, goods, culture and ideas, creating ties between America and Europe. Nao Victoria is a replica of the first ship to successfully circumnavigate the world.
El Galeón recently left St. Augustine, but it will return in 2015 for St. Augustine's 450th anniversary year. The Nao Victoria is in St. Augustine until September 2014, and it will also return in 2015. You can visit the St Augustine 450 website for more information regarding ship tours and tickets.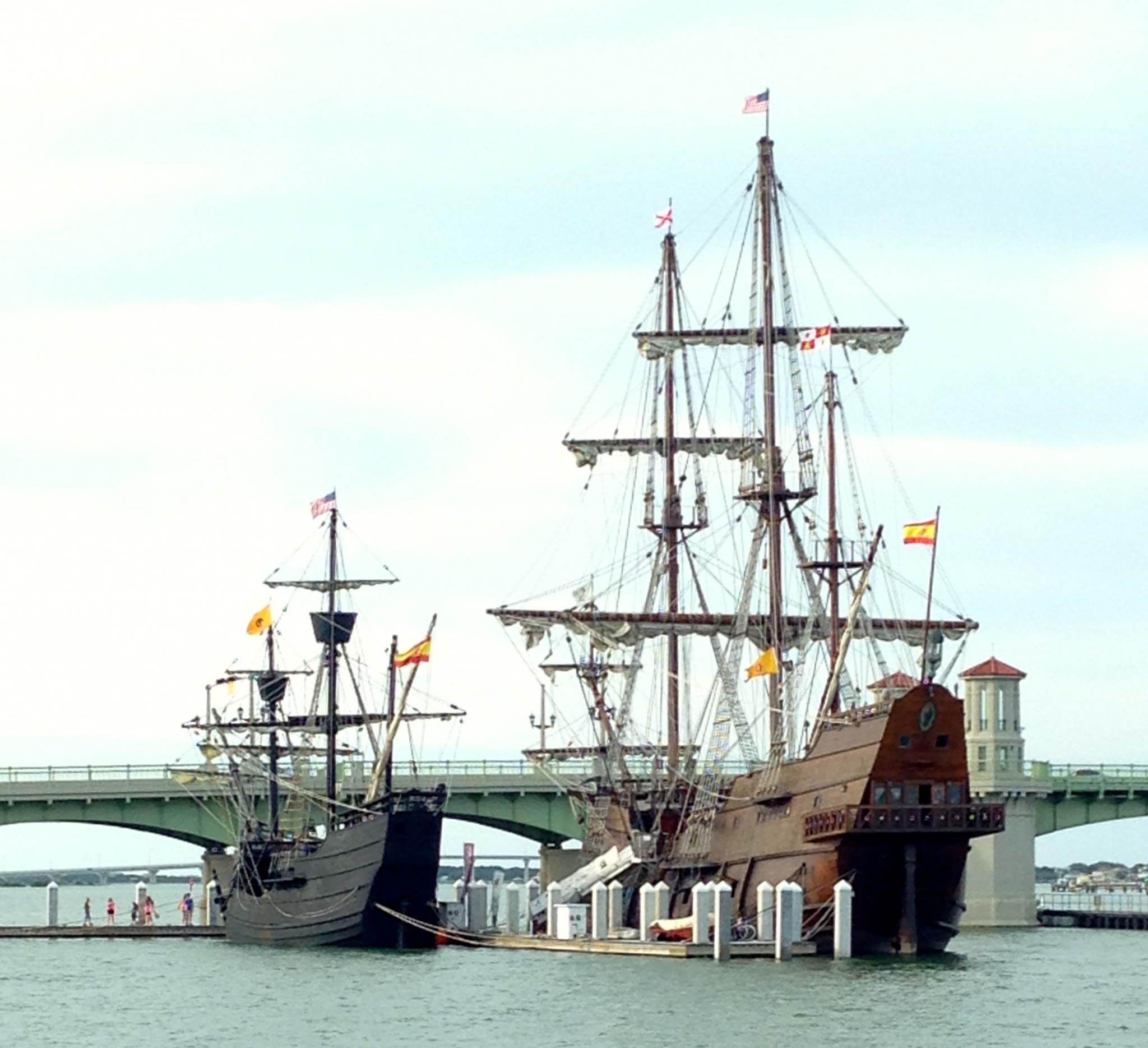 For more information on events, activities, holiday getaway and vacation opportunities in St. Augustine, Ponte Vedra & The Beaches, go to the Visitors and Convention Bureau website at www.FloridasHistoricCoast.com, like Florida Historic Coast on Facebook and follow @FlHistoricCoast on Twitter to stay informed of the latest events in St Augustine. To learn more about Saint Agustine's Latino Spirit like Mi Latino Spirit on Facebook and follow @ViajaSanAgustin on Twitter.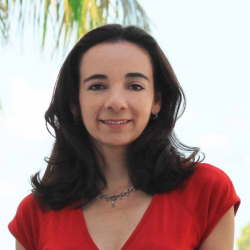 Latest posts by Paula Bendfeldt-Diaz
(see all)