It's grilling season and one of my favorite things to throw on the grill are brats. That's why I am excited to partner with Coleman Natural on this sponsored post. Their Budweiser BBQ Collection brats are made with all-natural pork infused with the classic taste of Budweiser lager beer. For this summer meal, I used the Coleman Natural Budweiser Bratwurst in the Beer & Cheese flavor but you can also try the Classic Beer Bratwurst flavor or Spicy Jalapeño Cheddar Flavor to give your summer BBQ a burst of flavor!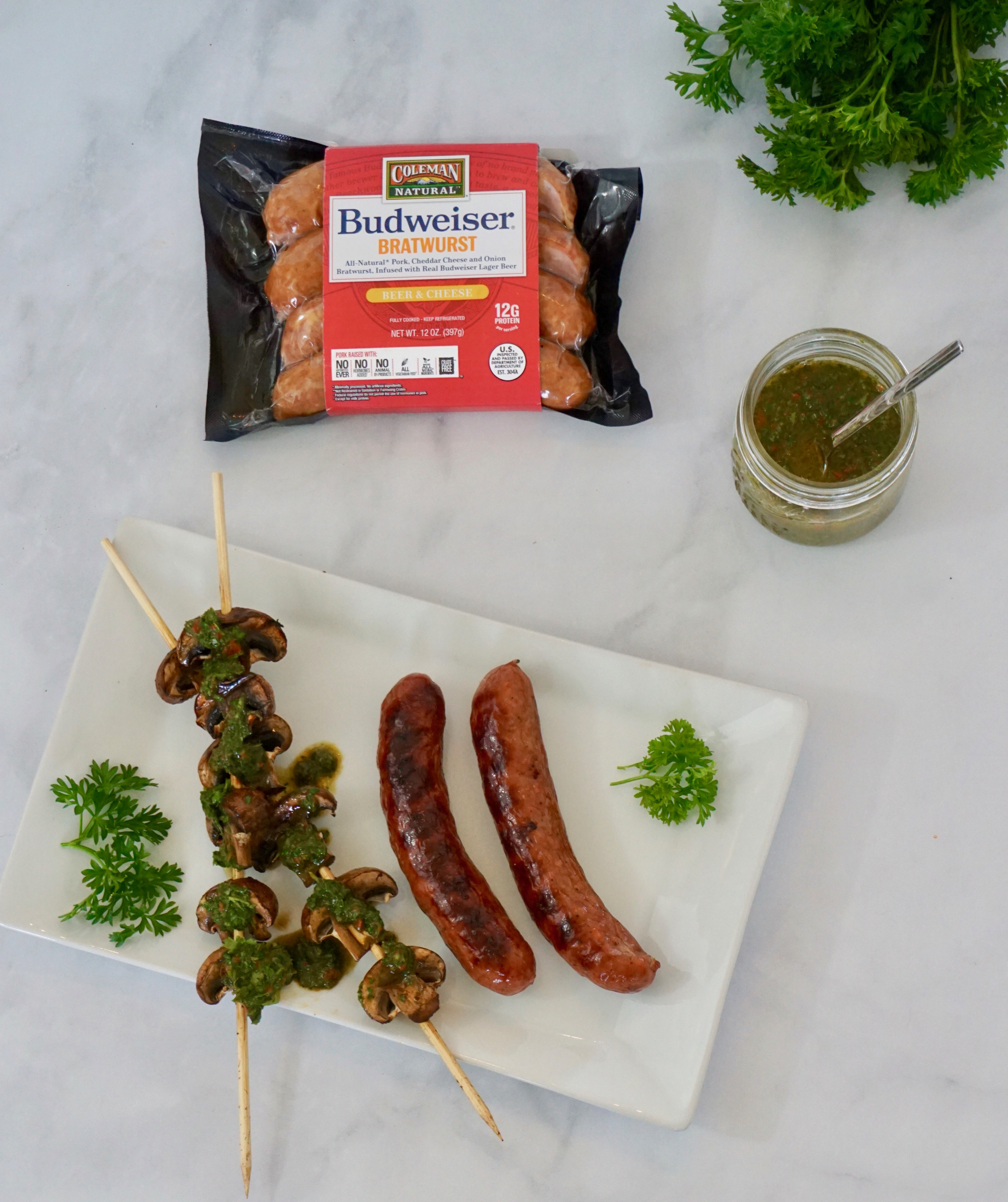 If you're looking for a great side to serve with Coleman Natural Budweiser Bratwurst, this recipe for grilled mushrooms with chimichurri sauce are my go-to! I use baby Bella mushrooms marinated with soy sauce and balsamic vinegar, and drizzled with chimichurri sauce made from parsley and cilantro.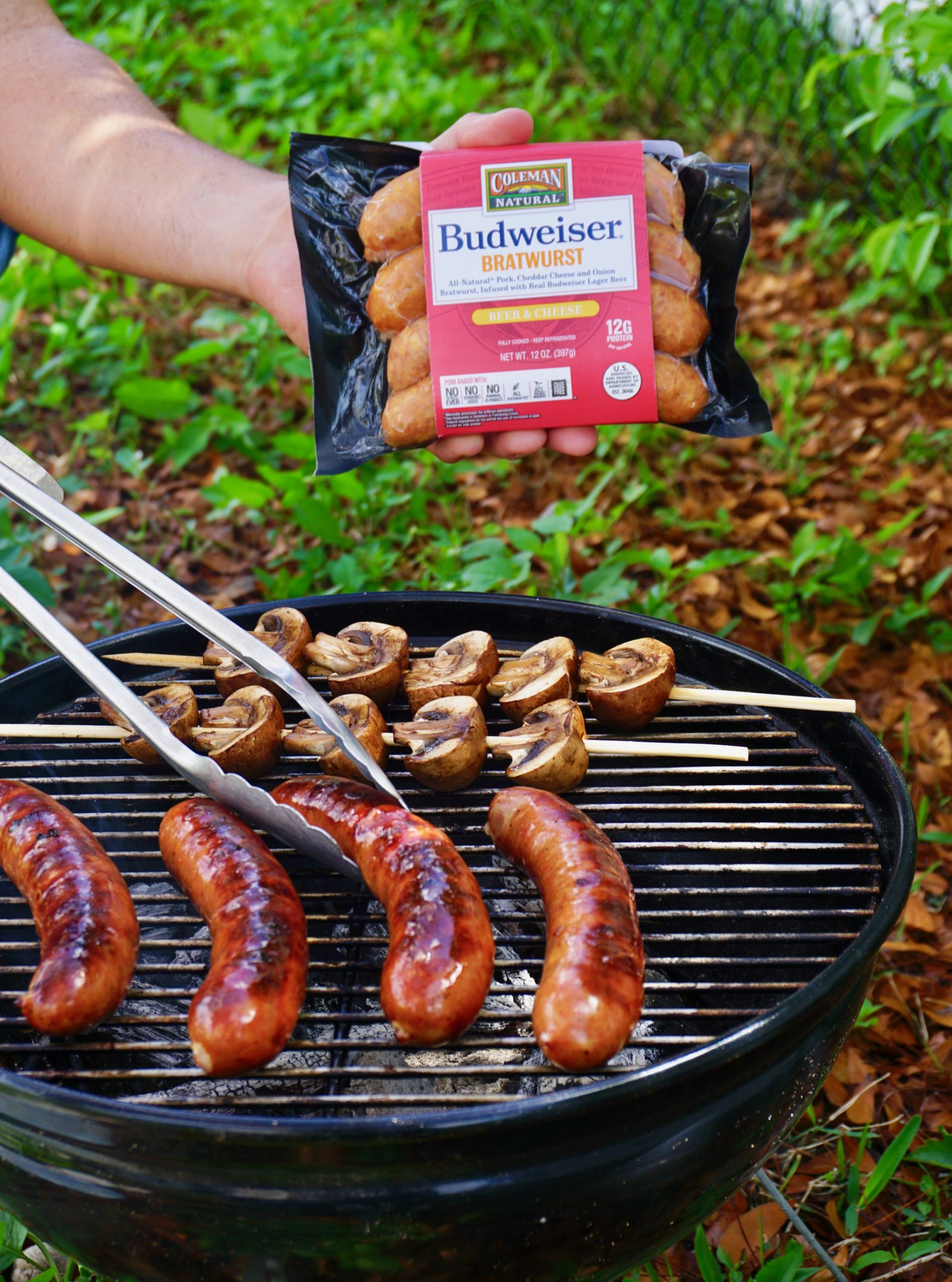 Tips for Grilling the Best Brats
When it comes to grilling, I'm a fan of charcoal grills and always use lump charcoal. Lump charcoal imparts the food with a delicious flavor that comes from the natural wood as it burns. You can grill brats on any type of grill, but I love using a charcoal grill and feel that this gives them that unmistakable "grilled" flavor that takes me back to those family BBQs when I was a kid. Here are some of my best tips for grilling the perfect Bratwurst:
Use a great quality and flavorful brat.

After trying them recently, I am a huge fan of the

Coleman Natural Budweiser Bratwursts

!

Beer and brats have always gone well together, and now you can get the satisfying taste of both together in just one delicious bite. The Coleman Natural Budweiser BBQ Collection features all-natural pork infused with real Budweiser lager beer taste, there's no other brat quite like it! (The lager flavor in the brats pairs really well with the mushrooms and chimichurri sauce.) I get mine at ALDI but you can check out

www.BudweiserBBQ.com

to find out where to get them in a store near you.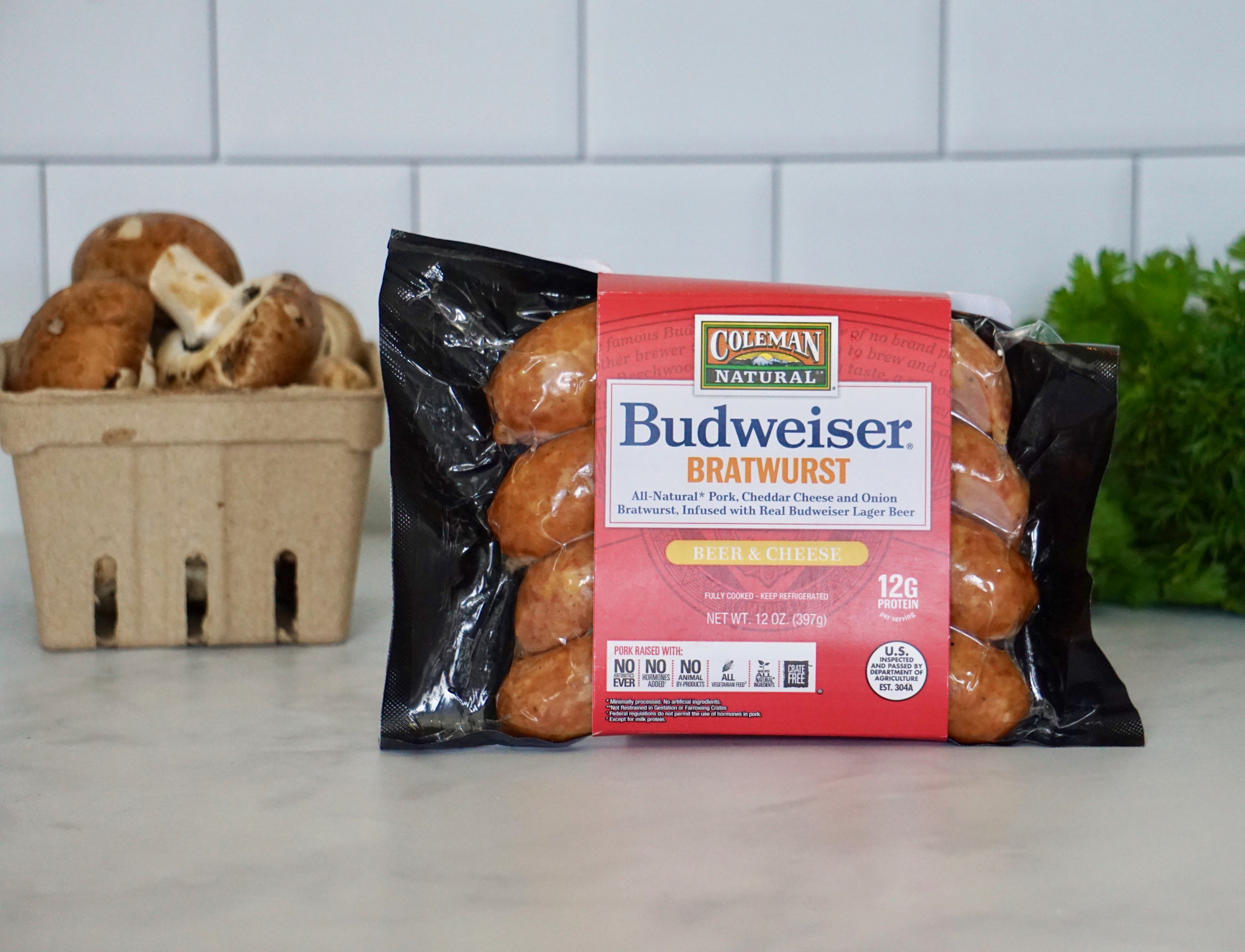 Grill slowly over medium-low heat

on the indirect side of the grill at a temperature of about 350F. This should take between 18-20 minutes. You can finish off your brats by putting them over direct heat for a minute on each side to get that crisp exterior.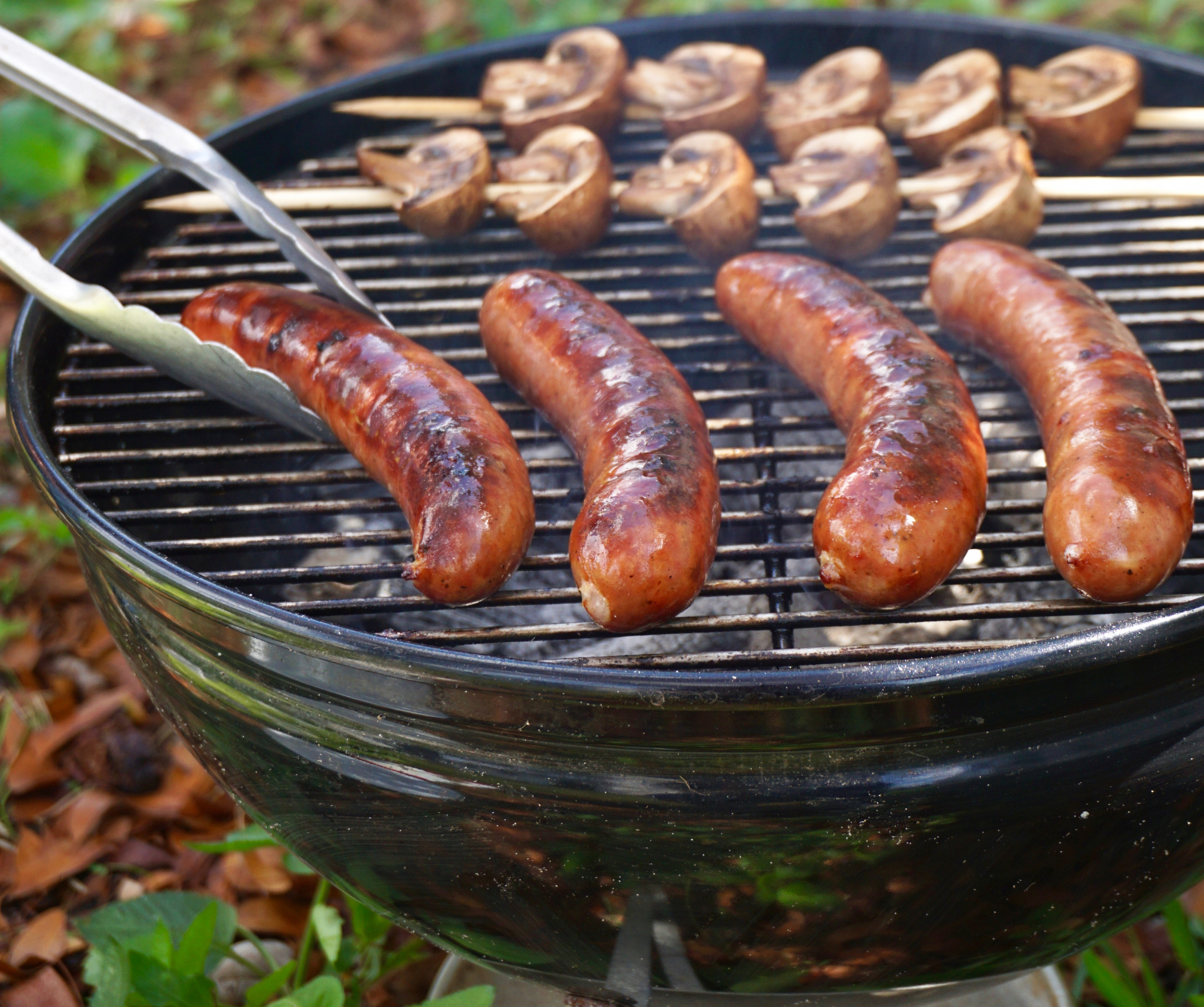 Turn them often

to make sure all sides are caramelized and cooked through.
Don't prick your brats

with a fork! You want to keep all of the juices and flavor inside so they don't dry out!
Use a meat thermometer. If you are using fresh brats that do not come fully cooked, use a meat thermometer and make sure they have reached an internal temperature of

150F-155F. Insert the meat thermometer, slide the probe through the center of the brat through the end where the casing is already open to avoid piercing the casing and letting the juices escape!

NOTE: Coleman Natural Budweiser Bratwurst are fully cooked so you can just grill to warm up and not have to worry about checking the internal temperature. So quick and easy to prepare, and ready in just a few minutes.
Best Mushrooms for Grilling
Mushrooms are one of my favorite things to grill. When I was a kid, we used to spend many Sundays at my grandfather's farm in Guatemala. In the rainy season he would get fresh mushrooms from the local market and would throw them on the grill with a bit of lime and salt and pepper. The taste of grilled mushrooms still takes me back to those days, standing around the grill helping my grandfather.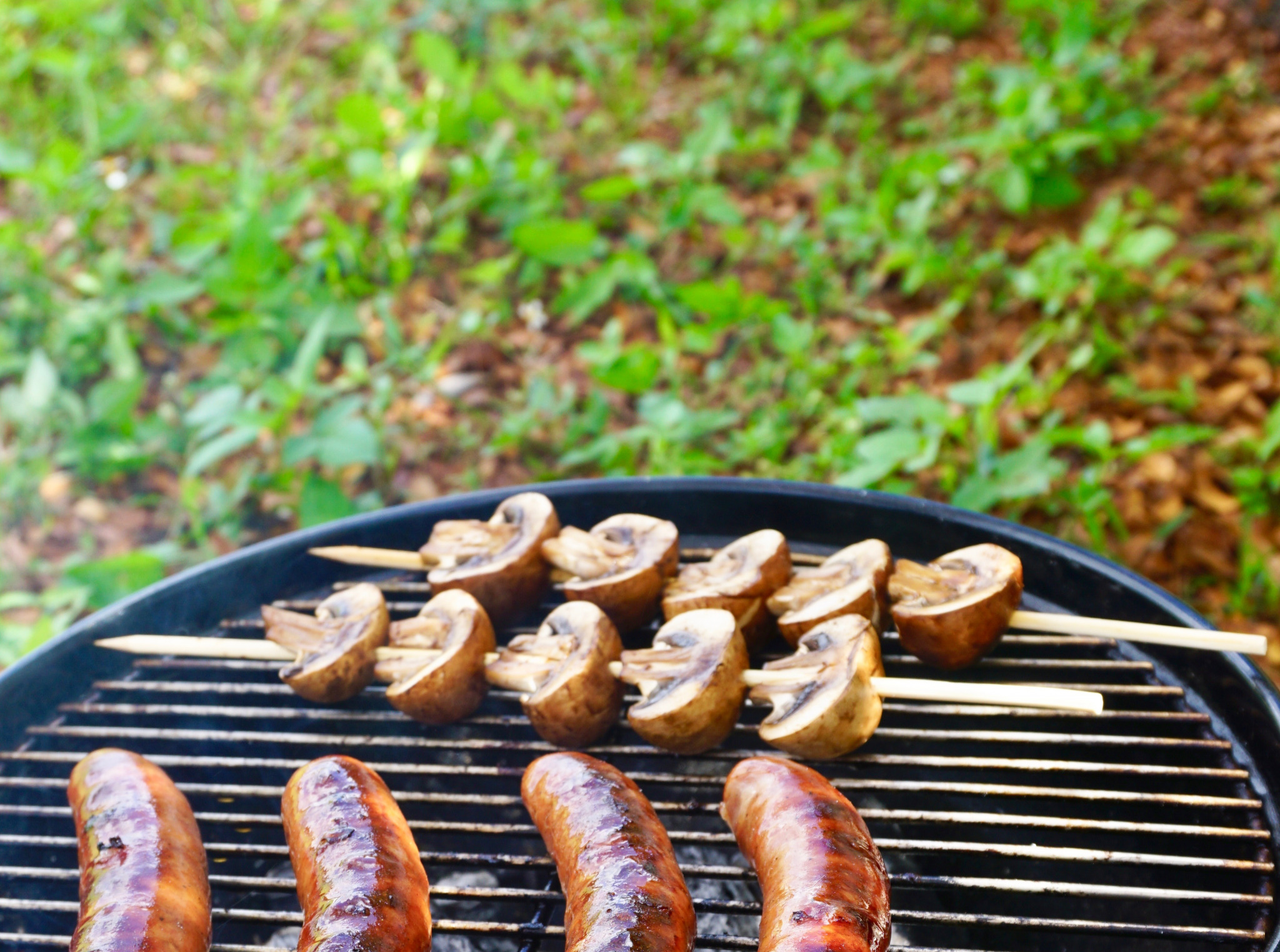 In general mushrooms are great for grilling, especially large mushrooms. Some of my favorite varieties of mushrooms to throw on the grill include:
cremini

baby Bella

portobello
For this recipe, since we're grilling the mushrooms in a skewer, I chose baby Bella's, which I cut in half. Large cremini mushrooms are also a great option.
How to Grill Mushrooms
In order to achieve grilled mushrooms that are flavorful and juicy there are a few rules to follow.
Marinate the mushrooms: marinating the mushrooms overnight with an oil-based marinade is a great way to infuse them with flavor and add some additional moisture so they don't dry out when you grill them.

Don't over dry them while grilling: direct heat is not always the best way to go when grilling mushrooms, especially larger or thicker mushrooms that may need more than a couple of minutes to cook all the way through

.
Grilled Mushrooms with Chimichurri Sauce
Ingredients
1 lb. baby Bella or cremini mushrooms, cut in half

¼ cup balsamic vinegar

2 tablespoons of soy sauce

1 tablespoon lime juice

1 teaspoon garlic powder

1 bunch of fresh parsley

1 bunch of fresh cilantro

1 clove of garlic, minced

1 lime, zested and juiced

½ cup olive oil

2 tablespoons apple cider vinegar

½ tsp salt

½ chili flakes

Pepper to taste
Instructions
In a large bowl whisk together the balsamic vinegar, soy sauce, lime juice and garlic powder.

Place the marinade and the mushrooms in a flat glass container and marinade for 20-30 minutes, turning the mushrooms a couple of times in the marinade.

While the mushrooms are marinating, add the parsley, cilantro, and garlic to a food processor and pulse a few times. Add the apple vinegar, lime juice and olive oil, salt, pepper and chili flakes and pulse until well combined.

Heat grill to medium-high or create a two zoned grill if you're grilling with charcoal.

Thread mushrooms on four metal or soaked wooden skewers.

Place the mushrooms in indirect heat and grill 3-5 minutes on each side depending on the thickness of the mushrooms.

As the mushrooms cook, baste them with the leftover marinade mixture every few minutes and again every time you flip them.

Serve the mushroom skewers drizzled with chimichurri sauce.

Plate with grilled Coleman Natural Budweiser Bratwurst.
This is a sponsored post written by me on behalf of Coleman Natural.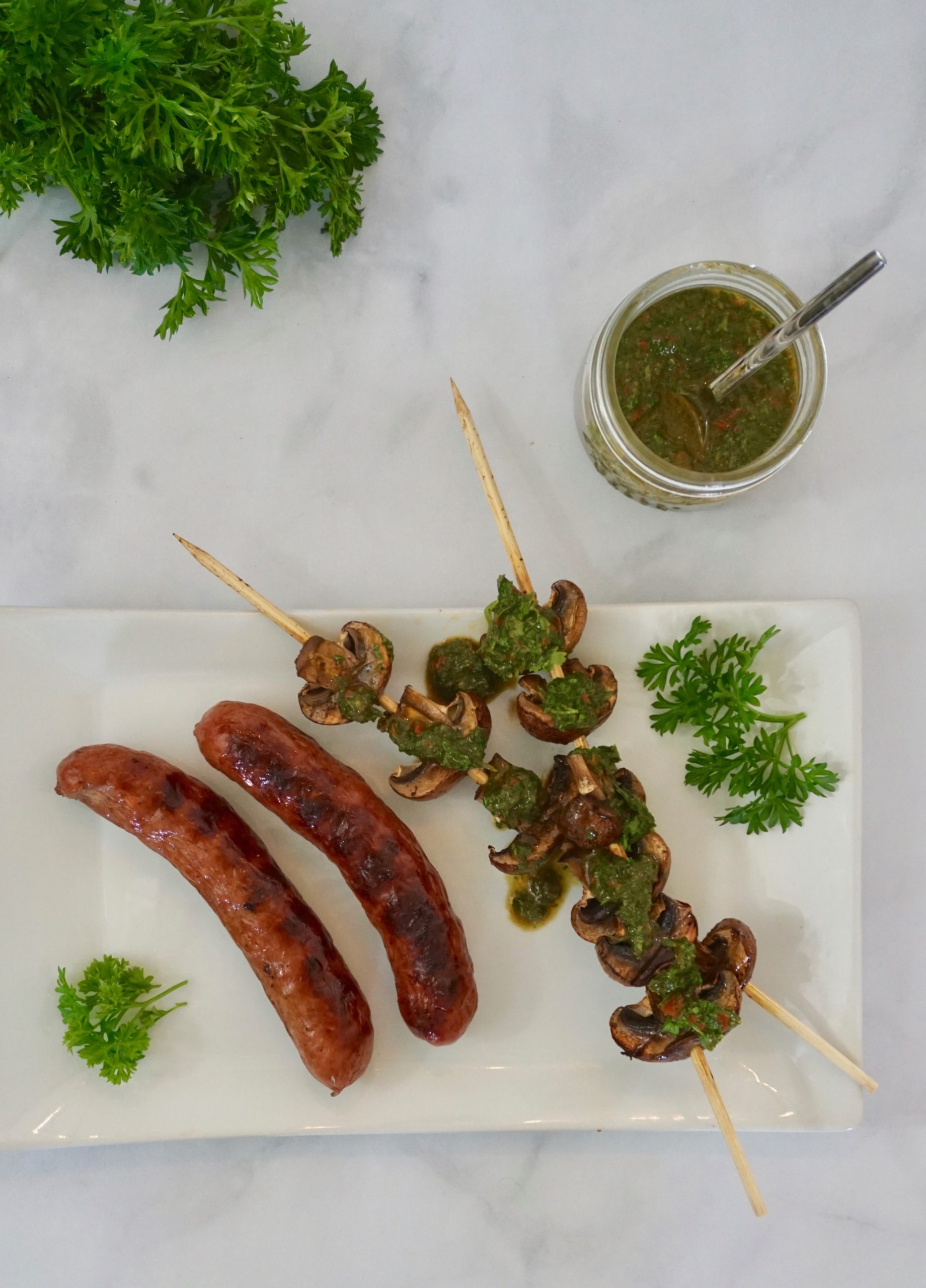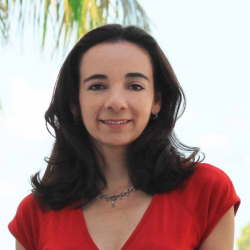 Latest posts by Paula Bendfeldt-Diaz
(see all)