The LEGO Mindstorms EV3, originally developed at MIT, has revolutionized the way we think about robotics making it possible for kids to create, build and control their own LEGO robots. With LEGO Mindstorms EV3 you can progressively learn about various areas of robotics and the intuitive icon-based drag-and-drop programming interface is easy and fun to learn even for younger kids.
When it comes to the LEGO Mindstorms EV3 the possibilities are only limited by your child's creativity and imagination, and maybe by the LEGO pieces they have to work with and their knowledge of coding.
The LEGO Mindstorms EV3 is recommended for kids 10 years and older but it really depends on the child, if your child already has some understanding of coding and some experience building LEGO Technic sets then they can start earlier. We got the LEGO Mindstorms EV3 for my son last year when he was 9 and he jumped in with minimal support and I believe we could have gotten it for him a year before. Once my son had built the LEGO Mindstorms EV3 robot he moved on to the bonus robots available on the LEGO Mindstorms website but he did not want to stop there. He wanted to learn about more ways to create robots and machines with his Mindstorms EV3 so we started researching books that would expand his knowledge and help him build and program new creations.
If you're looking for books that will teach kids beginning and intermediate coding, programming and engineering concepts using the LEGO Mindstorms EV3 and LEGO Technic,  these are some of the best books out there and they're great for adults too! But most of all these books have so many awesome building ideas and techniques that will expand your LEGO building knowledge letting you build more amazing creations and have loads of fun!
This is the ideal book for beginners and is perfect for expanding on your robot creations and programming skills after building the EV3 basic robot. The LEGO MINDSTORMS EV3 Discovery Book: A Beginner's Guide covers essential building technics that you will be able to apply when inventing your own creations and it has more than 150 challenges. I love that it's really easy for kids to understand. The book starts with basic building concepts including experimenting with motors, sensors, and EV3 programming. Then you can move into building a series of increasingly sophisticated robots that will teach you how to work with advanced programming techniques like data wires, variables, and custom-made programming blocks as well as essential building techniques like how to use beams, gears, and connector blocks effectively in your own designs.
I got this for my son, who is just turning 10, a year ago along with his first LEGO Mindstorms EV3 (he's saving to get a second one) and he has used the book all year long independently and he has learned so much. Even though he has now ready to move on to other books he keeps going back to this one to use some of the building techniques and functions on his new creations. In terms of gifts, this may be the best investment I have made.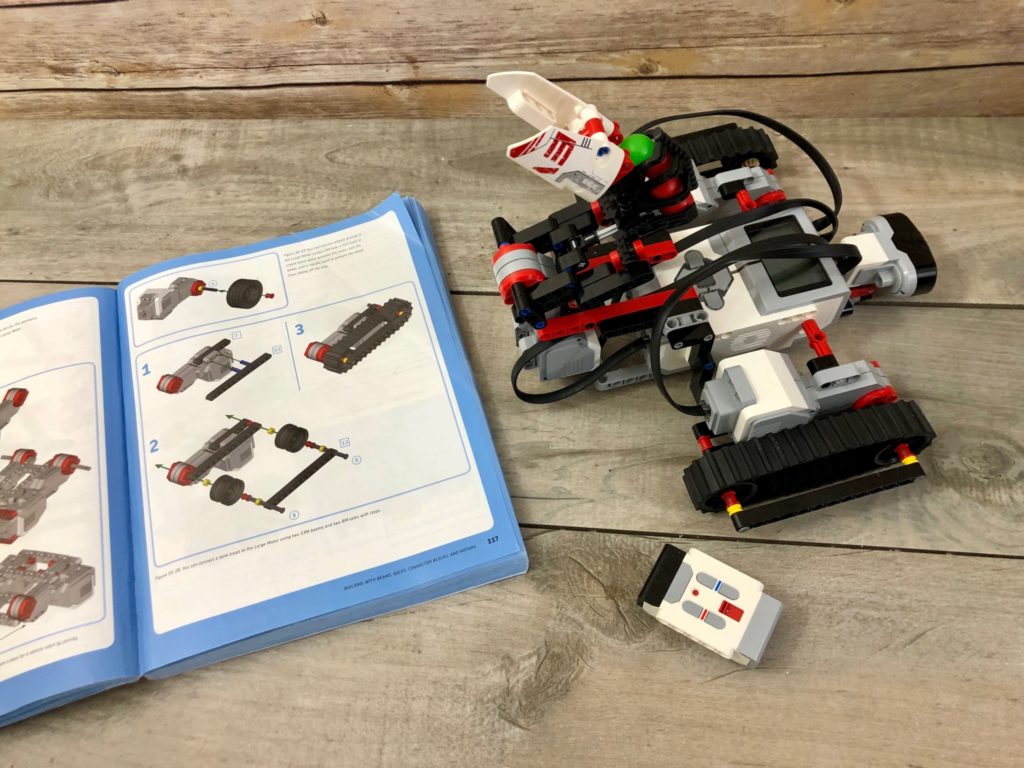 This book is a great compliment to the EV3 Mindstorms set. It includes instructions for building 5 robots as well as a series of challenges using the EV3 pieces and software. You don't need prior knowledge as this book starts at the beginning walking you through an in-depth step-by-step explanation of the EV3 hardware and software. It teaches you how to use gears, beams, motors, sensors, and programming blocks to create sophisticated robots that can avoid obstacles, walk on two legs, and even demonstrate autonomous behavior.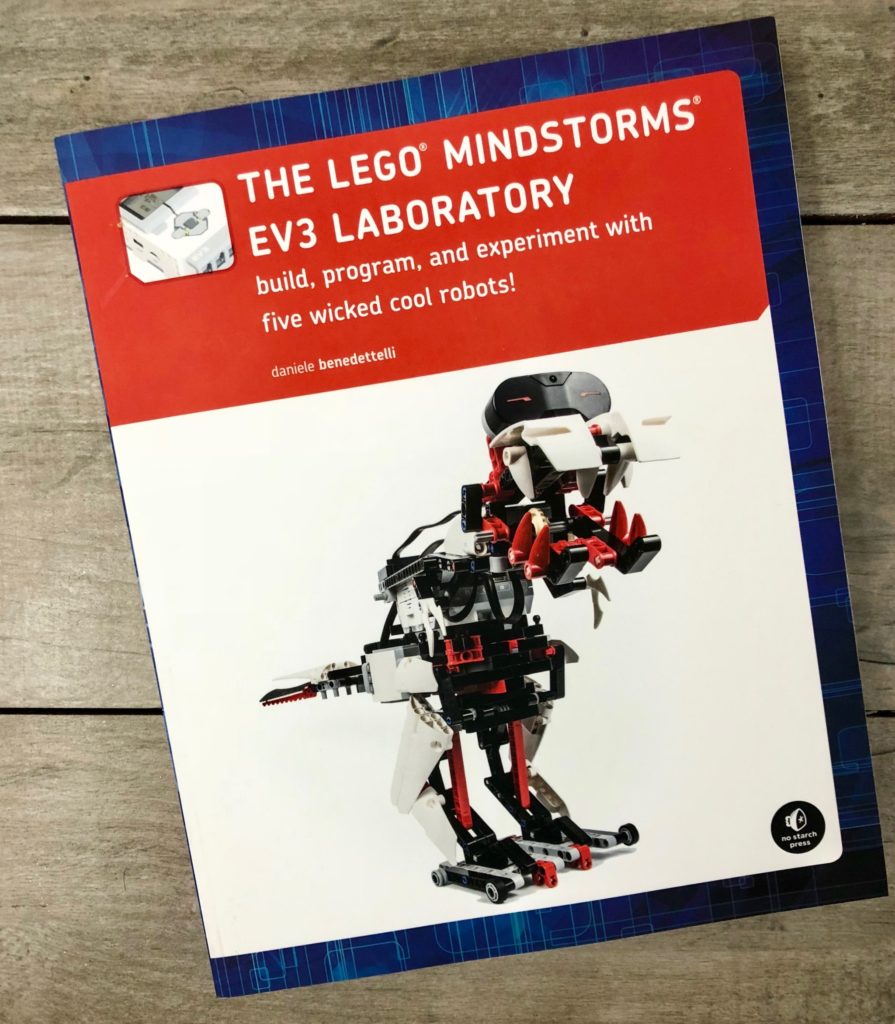 The instructions are easy enough for middle school-aged children (or maybe even younger kids depending on their knowledge of coding, programming and LEGO building techniques) to follow independently. With a mixture of building techniques and combinations for creating different movement outputs and programming along with science and math concepts tied into the lessons, The LEGO MINDSTORMS EV3 Laboratory: Build, Program, and Experiment with Five Wicked Cool Robots not only provides the instructions for building 5 robots but expands on robotics concepts that will help you create and build your own awesome robots.
The robots and missions are challenging and fun to build and the book also includes comics which make the book more interesting for kids and give it a very different twist from other books that only have building techniques. Some adults may find the comics annoying and unnecessary but my son loved this about the book and if you don't like it you can just skip that part.
This book provides very clear and specific descriptions of the LEGO programming blocks and core EV3 elements. It is also an excellent tutorial for programming in general covering everything from the basics of making your first robot move to advanced topics like PID line following and memory management.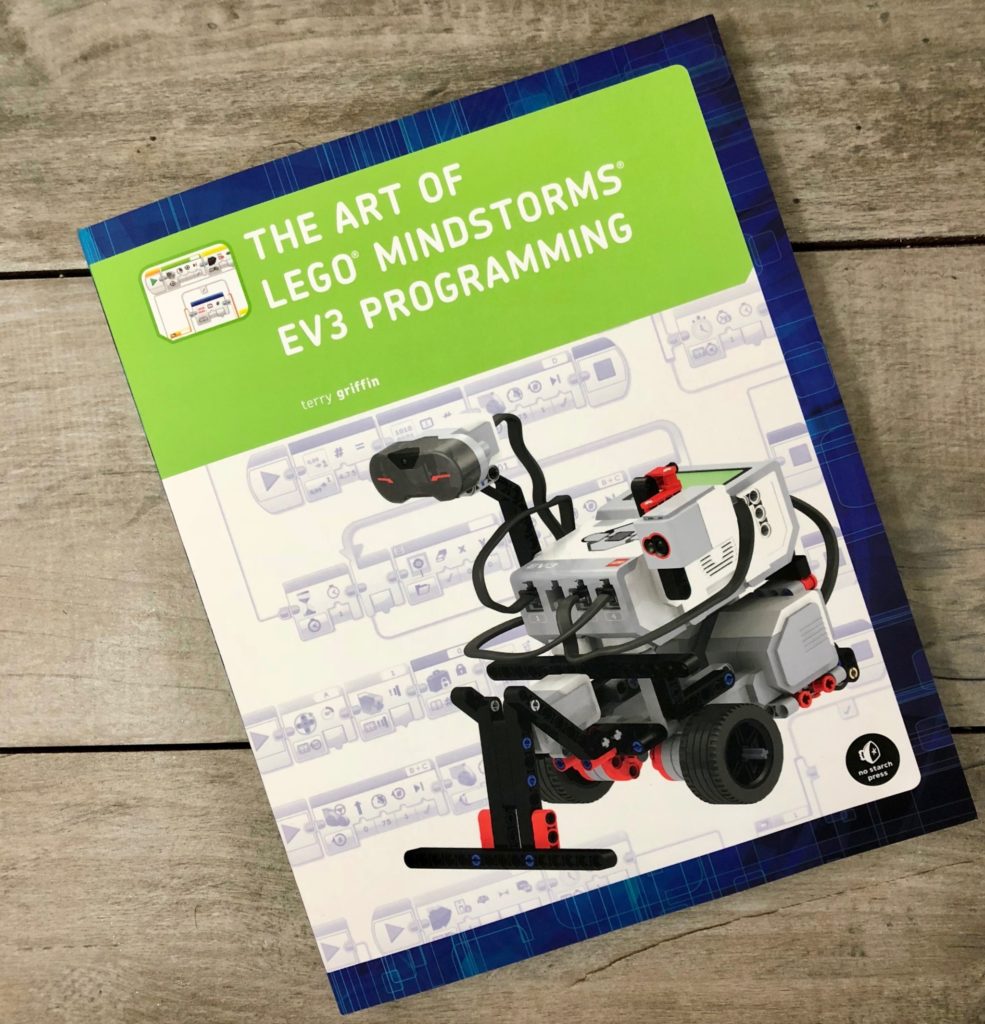 The Art of LEGO MINDSTORMS EV3 Programming is filled with great little projects that are specific enough to keep kids engaged while learning to program efficiently. We really like the full-color illustrations that make following instructions a lot easier than some other books with black and white illustrations.
The best part about this book is all of the great information that lets you understand more about the behavior of Lego EV3 motors and sensors, it contained explanations that we have not seen anywhere else. It also contains a lot of debugging techniques, which is pretty awesome and lets you solve many nagging and recurring problems you may be experiencing as you build and program your Mindstorms EV3 creations.
As the title implies the LEGO MINDSTORMS EV3 Idea Book contains a plethora of ideas for creating simple machines and contraptions. The book contains no text and no information regarding programming, instead, you will find a series of increasingly complex models, each of them demonstrating different mechanical principles and building techniques.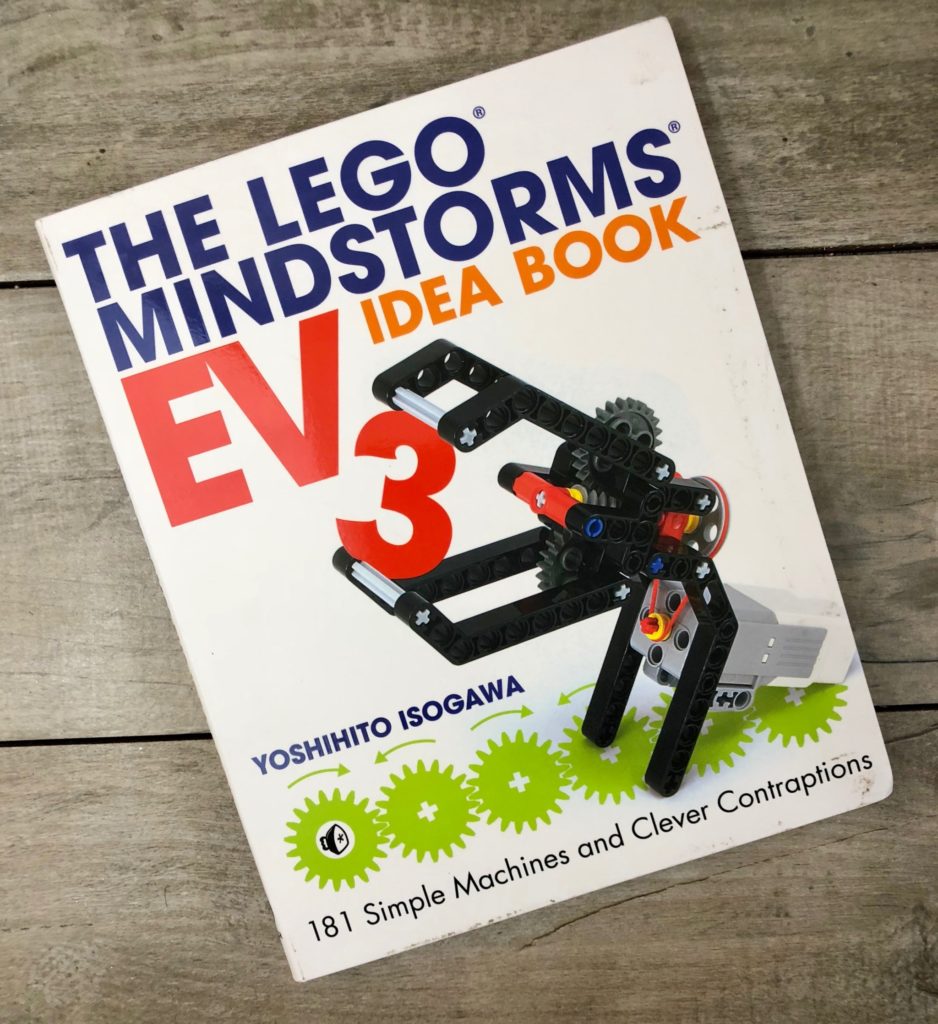 The LEGO MINDSTORMS EV3 Idea Book: 181 Simple Machines and Clever Contraptions is the ideal book for those looking to expand their knowledge of mechanics using the LEGO EV3 and Technic LEGO sets. The book has lots of ideas that will help ignite your creativity giving you the knowledge you need to engineer your own robot creations.
The LEGO Power Functions Idea Book is different from most of the other books in this list in that it does not focus on the Mindstorms EV3 set. This book showcases small projects to build with LEGO Technic gears, motors, gadgets, and other moving elements. It's filled with hundreds of clever, buildable mechanisms, each one demonstrating a key building technique or mechanical principles from sliding doors, grasping claws to rack-and-pinion mechanisms and ball-shooting devices!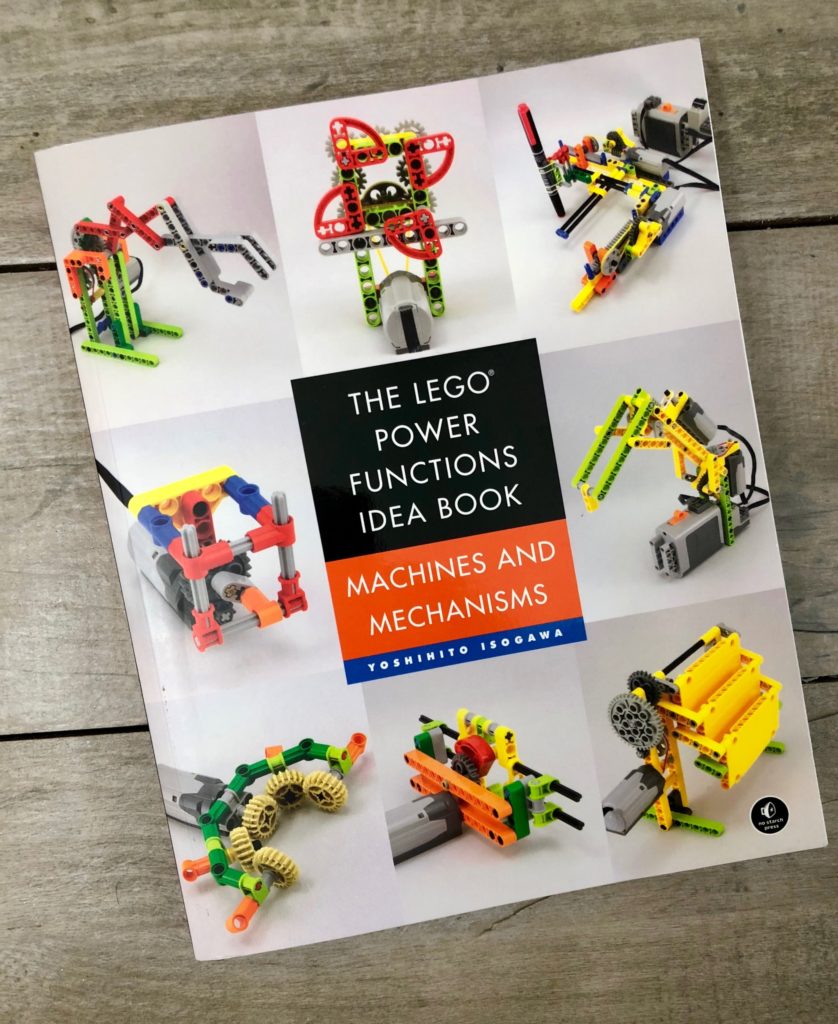 The LEGO Power Functions Idea Book is a great resource for creating a plethora of mechanisms and functions with a variety of gear types, worm drives, turntables, etc.
The book includes a series of color photographs that guide you through building each project build without the need for step-by-step instructions.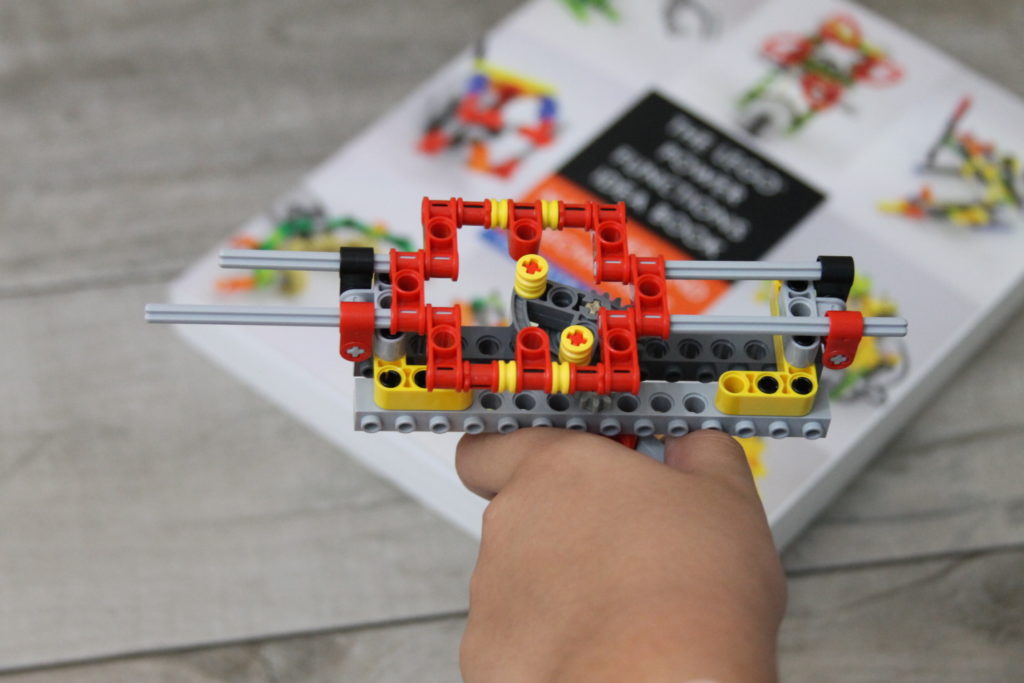 The Power Functions book utilizes the Lego Power Function Motor Set, but can be used with Mindstorms EV3. There is a list of parts at the end, however, it does not have the numbers of the parts and although many of these are in the EV3 set many of them are not. We did go to the LEGO website and looked for many of the parts in other sets but we were unable to find a few of these parts, so do take that into account. We found most of the parts in the following sets:
We did not buy the sets but bought the individual parts from these sets on the LEGO website. If you have a few of the bigger and more complex LEGO Technic sets as well as the Mindstorms EV3 set you should already have most of the parts used in the book, and getting creative and finding replacements for some of the parts can add to the fun as it makes you use your creativity.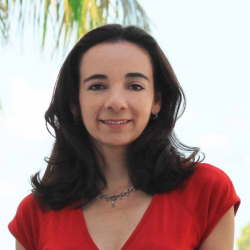 Latest posts by Paula Bendfeldt-Diaz
(see all)