This is sponsored post in collaboration with IMUSA. However, all opinions and this delicious cheesy chipotle seafood quesadilla recipe are all mine! #IMUSA #IMUSAMoments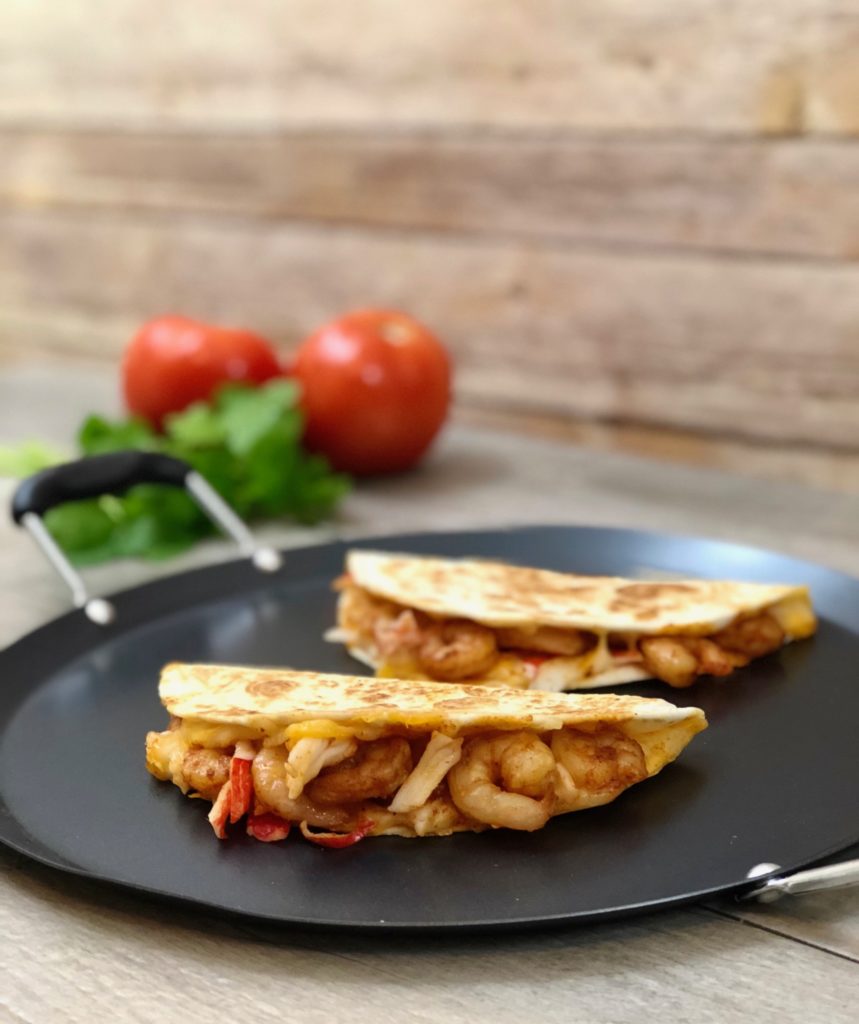 Quesadillas are always one of our go-to recipes for quick weekday dinners. This seafood quesadilla is filled with shrimp, crab and lots of flavor and it makes for a delicious lunch or dinner and it's also perfect for entertaining guests when homegating and enjoying a football game with friends and family.
I love that these cheesy chipotle seafood quesadillas are so easy and quick to make and because we used the carbon steel comal from IMUSA we didn't really need to use any butter or oil to make them, so they are healthier. The IMUSA comal's non-stick surface makes it ideal for heating and making tortillas, quesadillas, fajitas and french toast. It's also super easy to clean and heats up quickly.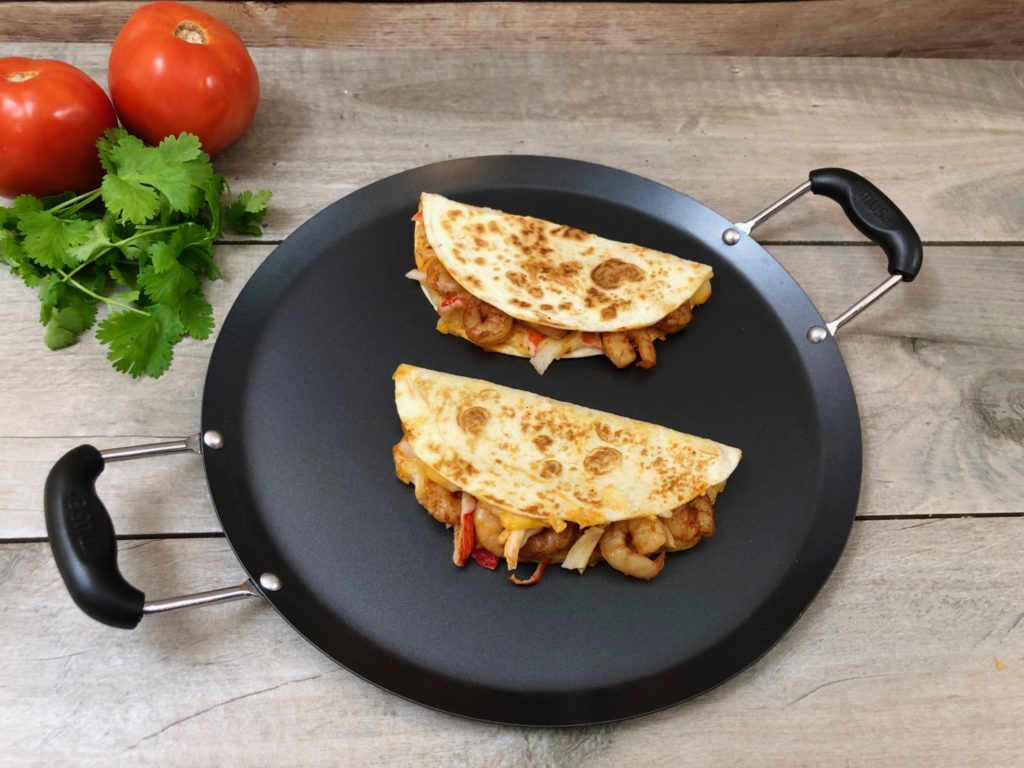 Shrimp and Crab Chipotle Quesadillas
Ingredients
1 1/2 lbs shrimp, peeled and deveined, tails removed
1/2 lb crabmeat
1/2 teaspoon cumin
1/4 teaspoon kosher salt
1/4 teaspoon black pepper
1/4 teaspoon paprika
1/4 teaspoon dried cilantro
½ teaspoon garlic powder
1 tablespoon chipotle adobo sauce
1 tablespoon olive oil
the juice from 1/2 a lime
2 tablespoons freshly chopped cilantro
3 cups shredded cheese
8 large flour tortillas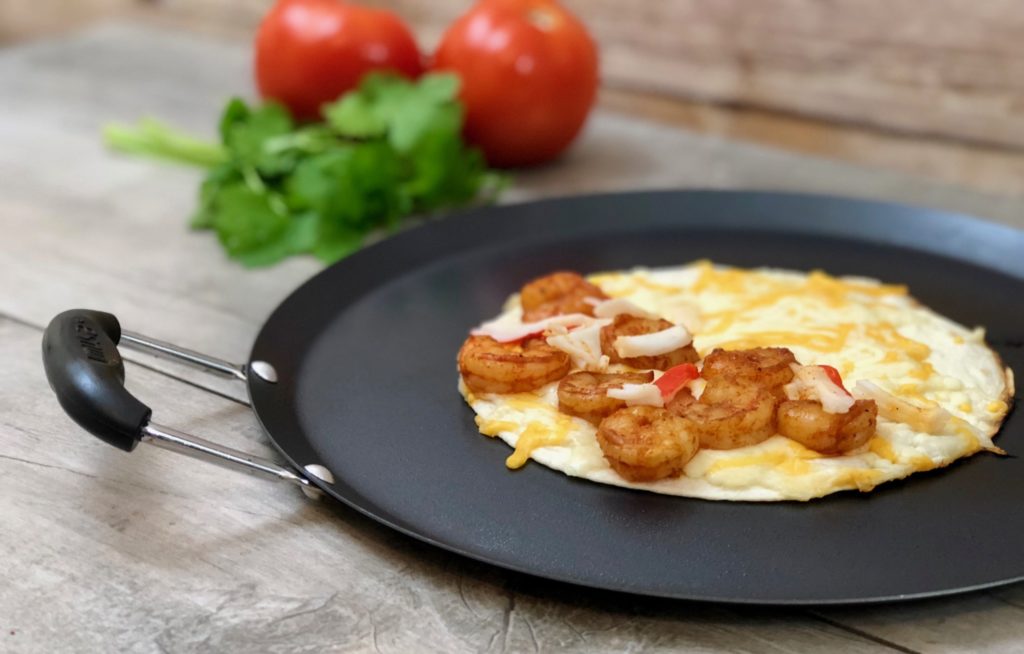 Instructions
Add shrimp, cumin, kosher salt, black pepper, paprika, dried cilantro, garlic powder and chipotle in a large bowl. Toss well to coat.
Add olive oil to a large skillet. Sauté shrimp until it just starts to turn pink. Add lime juice and mix well. Remove from heat.
Add crab to the shrimp and mix together well.
Heat up your IMUSA comal on medium heat, place the tortilla on the pan. There is no need to add oil or butter since the IMUSA comal won't stick and this makes the quesadillas less greasy and healthier.
Add a layer of cheese to the tortilla.
Add about ¼ cup of the seafood mixture over half of the tortilla.
Once the cheese starts to melt, and the edges of the tortilla have turned golden brown fold the quesadilla in half using a spatula.
Slide the quesadilla to a cutting board and slice into wedges.
You can serve it with guacamole and pico de gallo.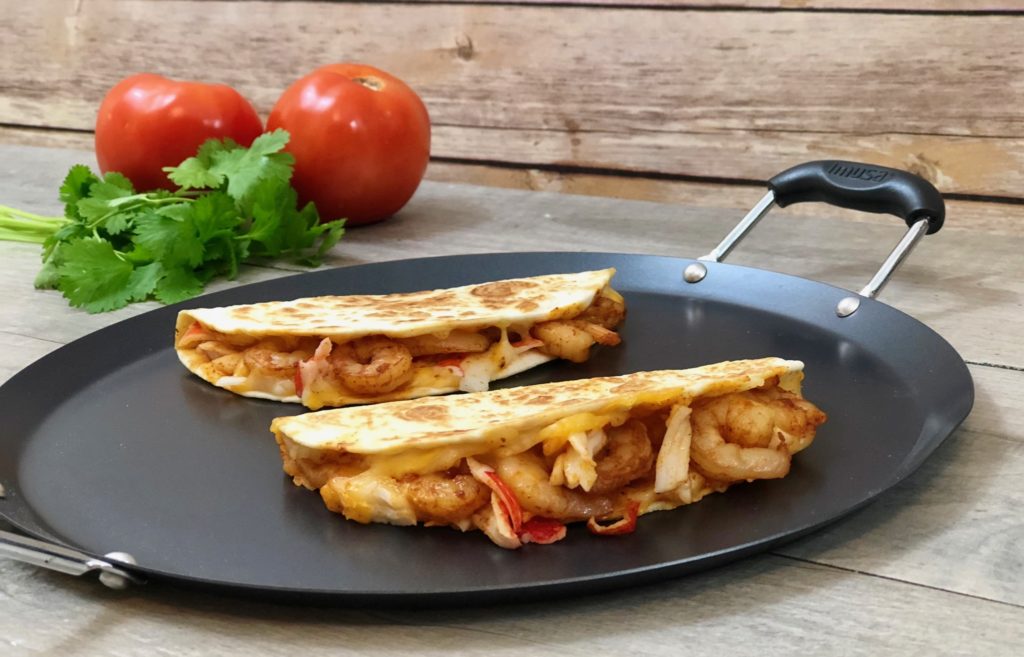 These cheesy seafood quesadillas are so easy to make and they are the perfect comfort food for those cooler fall and winter months. These seafood quesadillas make an easy and delicious weekday dinner recipe.