Kraft Fresh Take is a meal kit that includes different blends of cheese and bread crumbs.  Kraft shredded cheese is a staple in our house and we use it a lot so I knew that the new Kraft Fresh Take would be a hit with everyone in my family.
I went to Walmart to purchase Kraft Fresh Take and I have to admit I had a very hard time choosing one from all of the great options , so I had to buy a few.  You can see all of my shopping experience in my Google + Album HERE.
The Kraft Fresh Take meal kits are ideal for preparing fish, chicken or pork giving meats a cheesy and crunchy crust that is irresistible.  But there are so many other ways in which you can use Kraft Fresh Take, just get creative and think of now ways  to add Kraft Fresh Take your favorite dishes to make them go from good to amazing!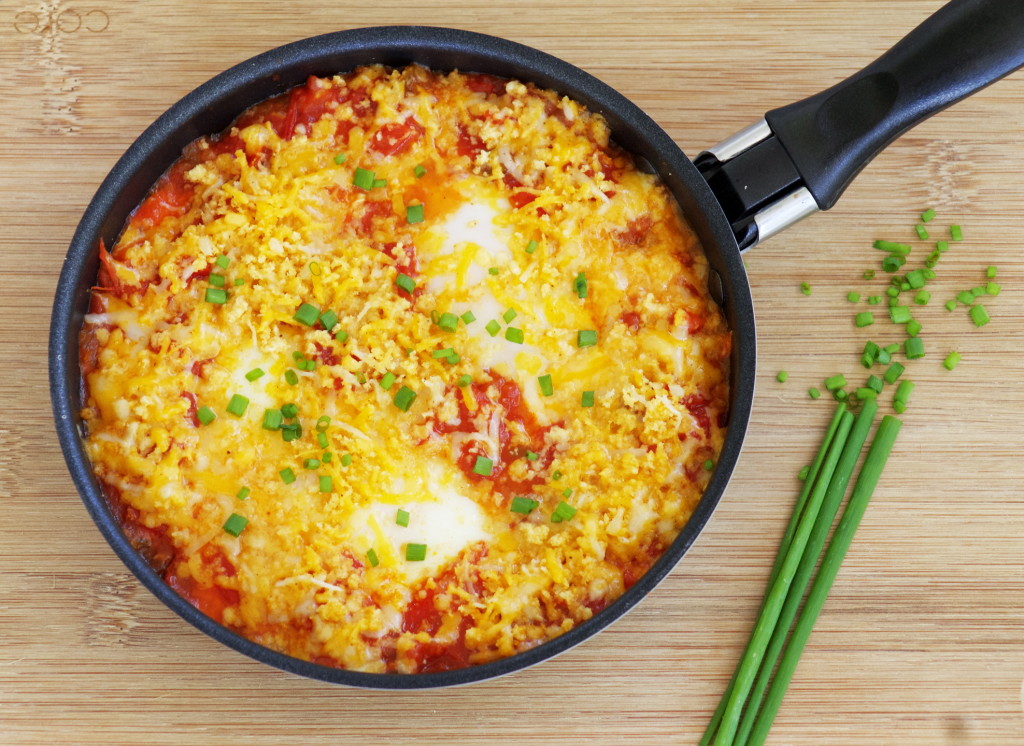 If you have read my blog before you know that our Latino roots are very important to us. We speak Spanish at home and we try to expose our kids to the Latino culture and tradition as much as we can. Cooking is one of the main ways in which I can share with my children what my Guatemalan culture means to me and give them a "real taste" of what life in my home country would be like, even though they rarely get the opportunity to visit. Living in the United States we combine and blend many traditions, just as our heritage is a mix and blend of ethnicities and cultures.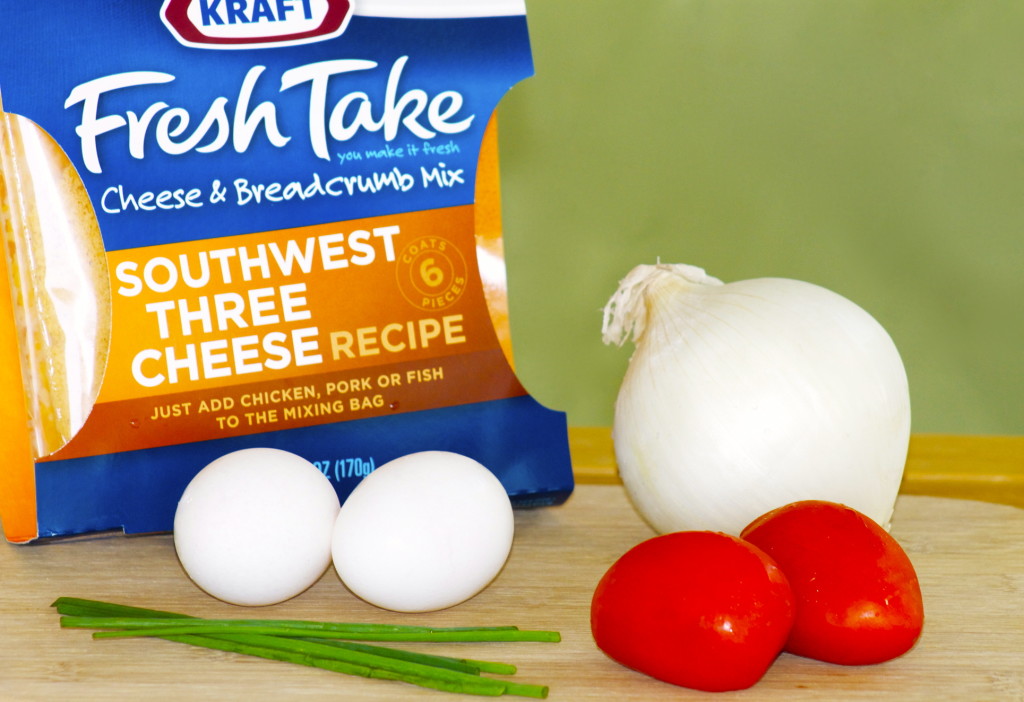 That is why I decided to use the Kraft Fresh Take Southwest Three Cheese to give one of my favorite dishes, traditional Huevos Rancheros a cheesy makeover. I wanted to create a dish that blended traditions and flavors, just like we do, and make it more attractive for the kids who, I have to admit, are not too fond of the traditional version.  What could be wrong sunny side eggs covered in a freshly made tomato sauce resting on a warm tortilla, I don't know, but I was determined to turn huevos rancheros into a dish my picky kids could not resist!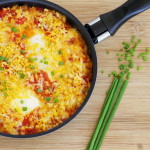 Cheesy Huevos Rancheros Skillet with Kraft Fresh Take
Cheesy Huevos Rancheros Skillet Recipe
Ingredients
8

eggs

10

medium ripe tomatoes

1

onion

1

green sweet pepper

roasted, skin removed

Kraft Fresh Take Southwest Three Cheese

1

teaspoon

garlic powder

2

tablespoons

of olive oil

fresh chives for garnish

salt to taste
Instructions
Finely chop the onion and tomatoes.

On a large skillet, at medium heat, heat one tablespoon of olive oil and add the onion. Cook for a couple of minutes until the onion turns translucent and the edges start to turn golden.

Add the second tablespoon of oil and add the tomato.

Cook for five minutes, stirring constantly until the sauce is almost, but not quite, at the desired consistency. If you like a thinner sauce add a few tablespoons of water.

Break the eggs right on to the skillet, so they are lying at the top of the tomato sauce. Reduce the heat, cover and let the eggs cook for about two minutes or until they reach the desired doneness. I like my yolks runny, but my kids and my husband like them firm so once the sauce was almost done I transferred a little to a smaller skillet and did mine separate.

Remove from the heat, sprinkle Kraft Fresh Take Southwestern Three Cheese cover and let stand for a one minute just until the cheese melts but the crumbs are still crunchy.

Sprinkle with fresh chives and serve.
The Cheesy Huevos Rancheros recipe turned out to be a total success.  I didn't even mention these where Huevos Rancheros until my kids had devoured them and they just loved the crunchy, cheesy crust that really turned this breakfast dish into the perfect dinner or brunch recipe.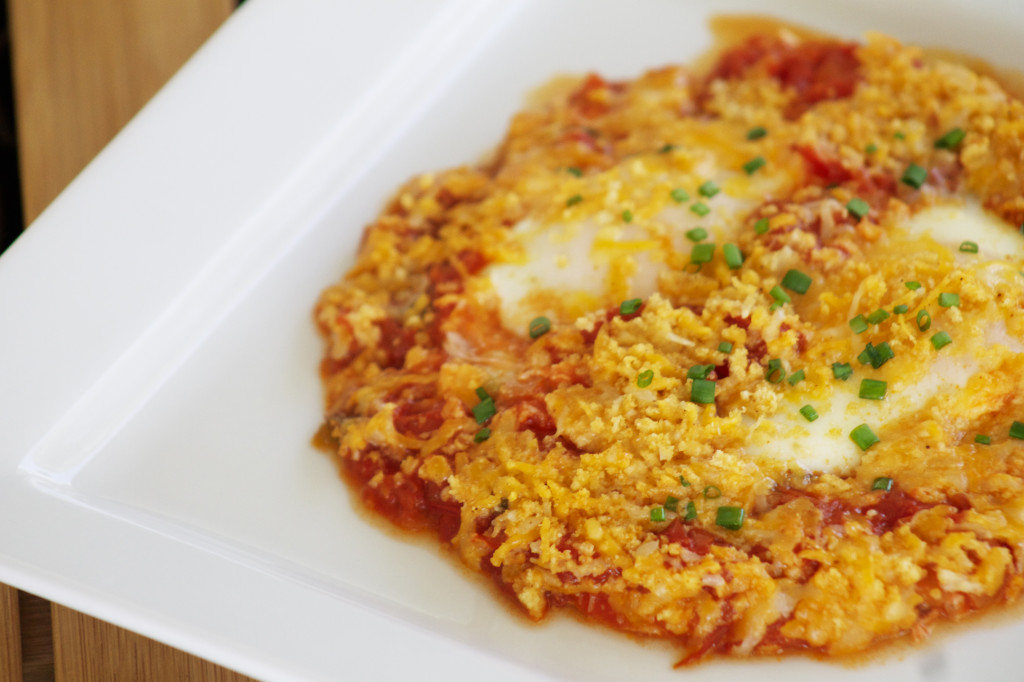 How will you useKraft Fresh Take Kraft Fresh Take to make your favorite dishes go from good to amazing?
Watch for the Kraft Fresh Possibilities Tour truck which will be making stops across the country from March through the end of July. To see if they are making a stop in your town you can check this website: Fresh Possibilities Tour: http://www.tryfreshtake.com/tour.htm
Visit  www.KraftFreshTake.com to find lots of great recipes and ideas for quick and delicious meals using Kraft Fresh Take.
Disclosure:  "I am a member of the Collective Bias®  Social Fabric® Community.  This shop has been compensated as part of a social shopper insights study for Collective Bias®  and Kraft Foods. However all opinions are my own."  #FreshTake #cbias #SocialFabric