October is American Diabetes Month and Colgate Total is promoting awareness about oral health and its association with diabetes.  Many people are not aware about the link between diabetes and oral health.  My mother was diagnosed with diabetes just a couple of months ago. This is especially hard because she lives in Guatemala and I don't see her often. I am starting to learn about diabetes and did not know that people with diabetes are not only twice as likely to develop serious gum disease but also, according to the American Diabetes Association, gum disease may have the potential to affect blood glucose control and contribute to the progression of diabetes.
It also worries me that according to statistics form the Department of Health Latinos are almost twice as likely as non-Hispanic whites to be diagnosed with diabetes by a physician.  They have higher rates of end-stage renal disease, caused by diabetes, and they are 50% more likely to die from diabetes as non-Hispanic whites.  This means that as Latinos, we have to take care of our health and if you have already been diagnosed with diabetes you have to take proactive steps to live a healthier and that includes eating healthy and taking care of your mouth.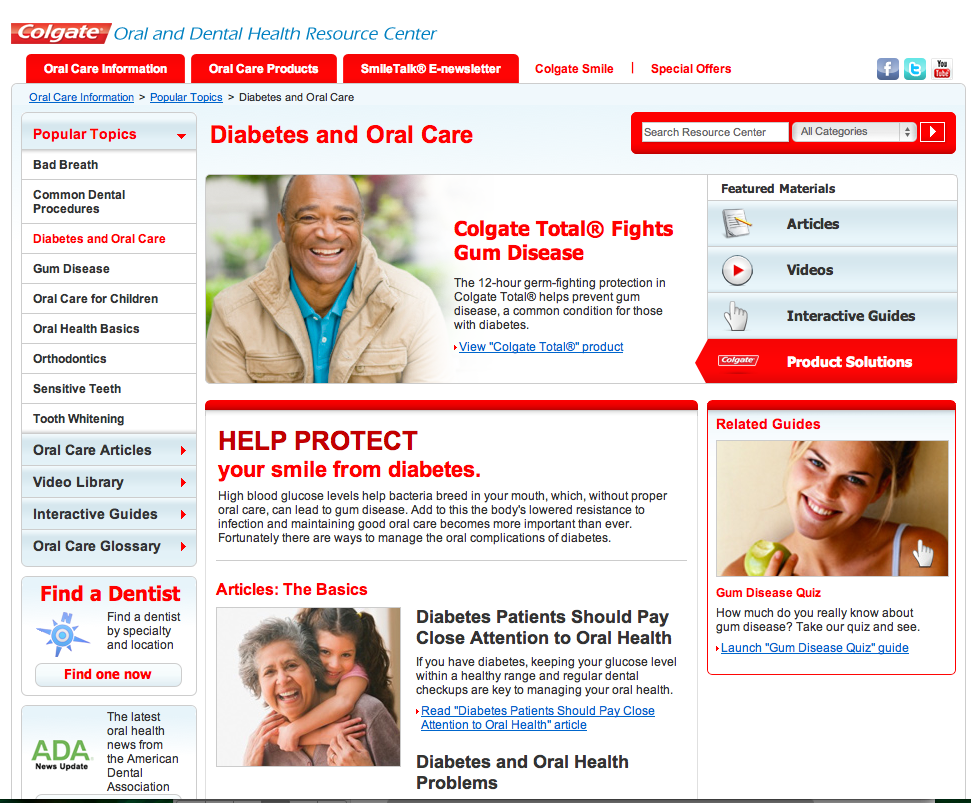 Gum disease is the leading cause of tooth loss. Contact your dentist if you see any of the following signs of bum disease:
 your gums bleed when you brush
your gums are red or swollen
your teeth are sensitive
you experience bad breath
To learn more about diabetes and oral health, including ways to prevent and manage oral health complications like gum disease visit Colgate's Website HERE.
To spread awareness of this connection between diabetes and gum disease Colgate has placed special Colgate Total displays in many Walmart Neighborhood Markets.  Colgate Total is the only toothpaste approved by the FDA to help fight gingivitis and the only toothpaste that is a national strategic partner of the American Diabetes Association. In the display you will find a oral care guide for people with diabetes with oral care tips for people with diabetes, which also includes a coupon for $1.00 off Colgate Total.  The display also has a QR code that you can scan and it will link you to a site with information and tips.  You can see all the pictures of my shopping trip to Walmart in my Google+ Album HERE.  Look for this display in your neighborhood Walmart to learn about good oral health as to get your $1 coupon today!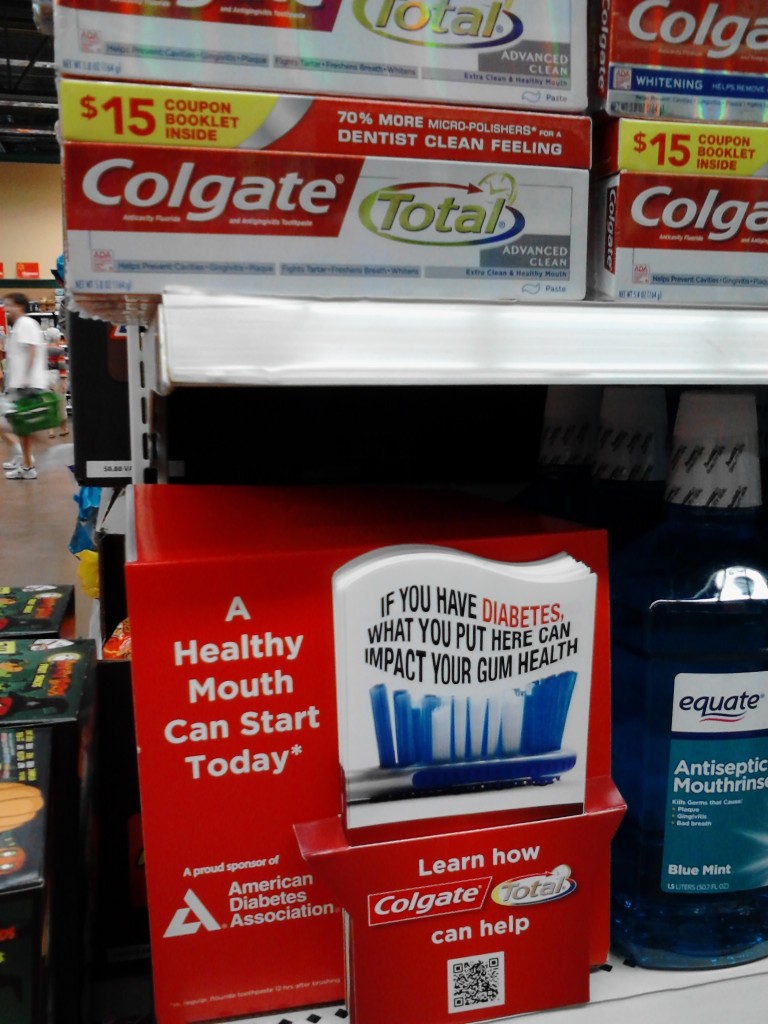 I put together a healthy tips oral care basket to give to someone with diabetes. Since I can not send it to my mother in Guatemala I will give it to Michael, a senior who volunteers at the non-profit I work for.  He is a great man who has helped other people all of his life and now he and his wife are going through a rough time and he is volunteering while he looks for a job.  It's amazing how giving to someone who really needs it truly fills your heart with joy and happiness like nothing else can. I will also be sending a booklet to my mom in Guatemala so she can learn more about the connection between diabetes and gum disease and so that she can have the tools and the information she needs to care for her gums and prevent any oral health problems in the future.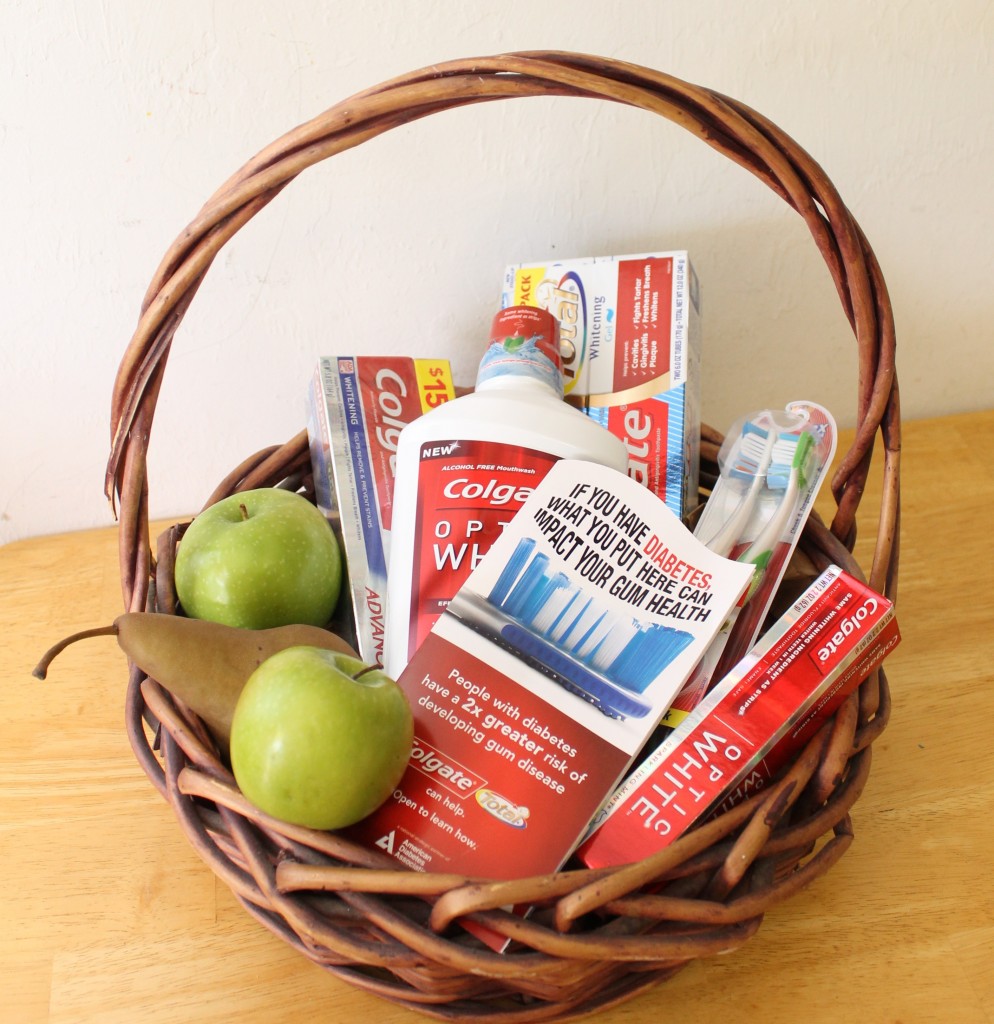 In my basket I included Colgate Total toothpaste, Colgate Total toothbrushes for both Michael and his wife, Colgate Whitening Mouthwash that included a free whitening toothpaste and apples and pears as a healthy treat.  I also include two oral care guides for Michael.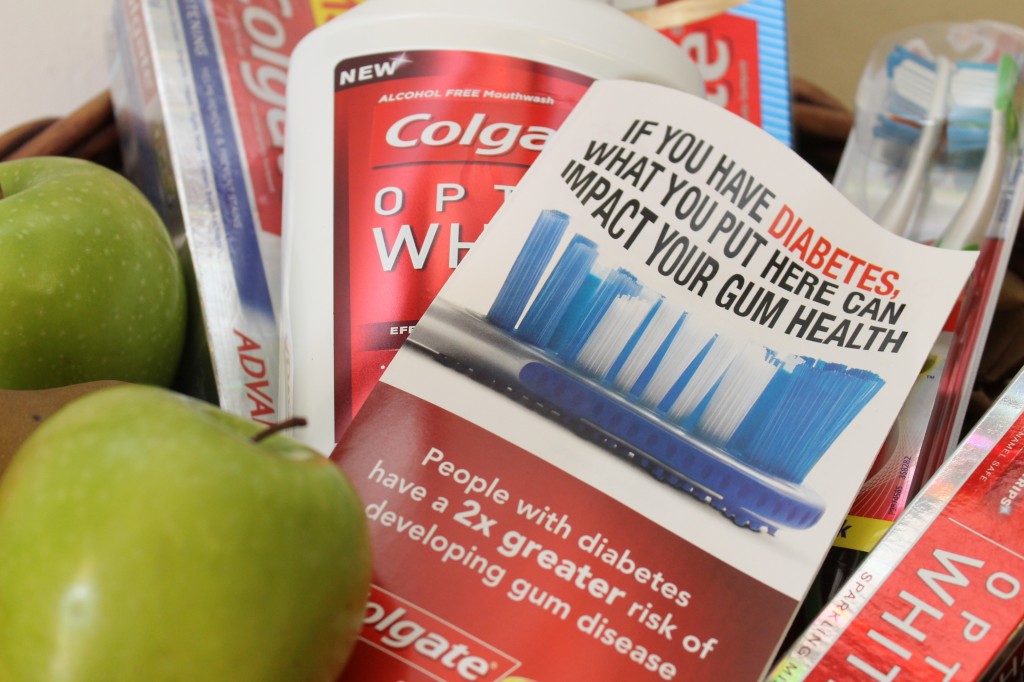 For more information and oral care tips visit Colgate's Website, follow Colgate on Twitter and like Colgate's Facebook Page. #ColgateTotal4Health
Disclosure: I am a member of the Collective Bias™ Social Fabric® Community.  This shop has been compensated as part of a social shopper insights study for Collective Bias™ and Colgate. However all opinions are my own. #CBias #SocialFabric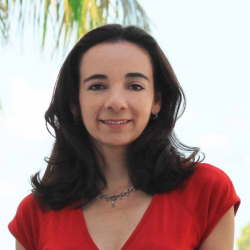 Latest posts by Paula Bendfeldt-Diaz
(see all)