This post is also available in: Español
Thanks to TurboTax for sponsoring this post, and for empowering Latinos to file their taxes with confidence and ease by providing bilingual information and support!
For salaried employees filing taxes can be a very straightforward process but when you are self-employed things can get a bit more complicated. With a full-time remote job and a blogging side business, I thought my taxes where too complicated to file them on my own. I had so many questions from how to deduct all the expenses of my home office to figure out how much to deduct when I traveled combining business and family vacation. I didn't have the time to spend hours researching on the internet to find the answers to my tax questions. I thought I would have to spend hundreds of dollars hiring a CPA. Then I was introduced to TurboTax Live and I was able to do my own taxes, save money and get my tax return reviewed by a live CPA!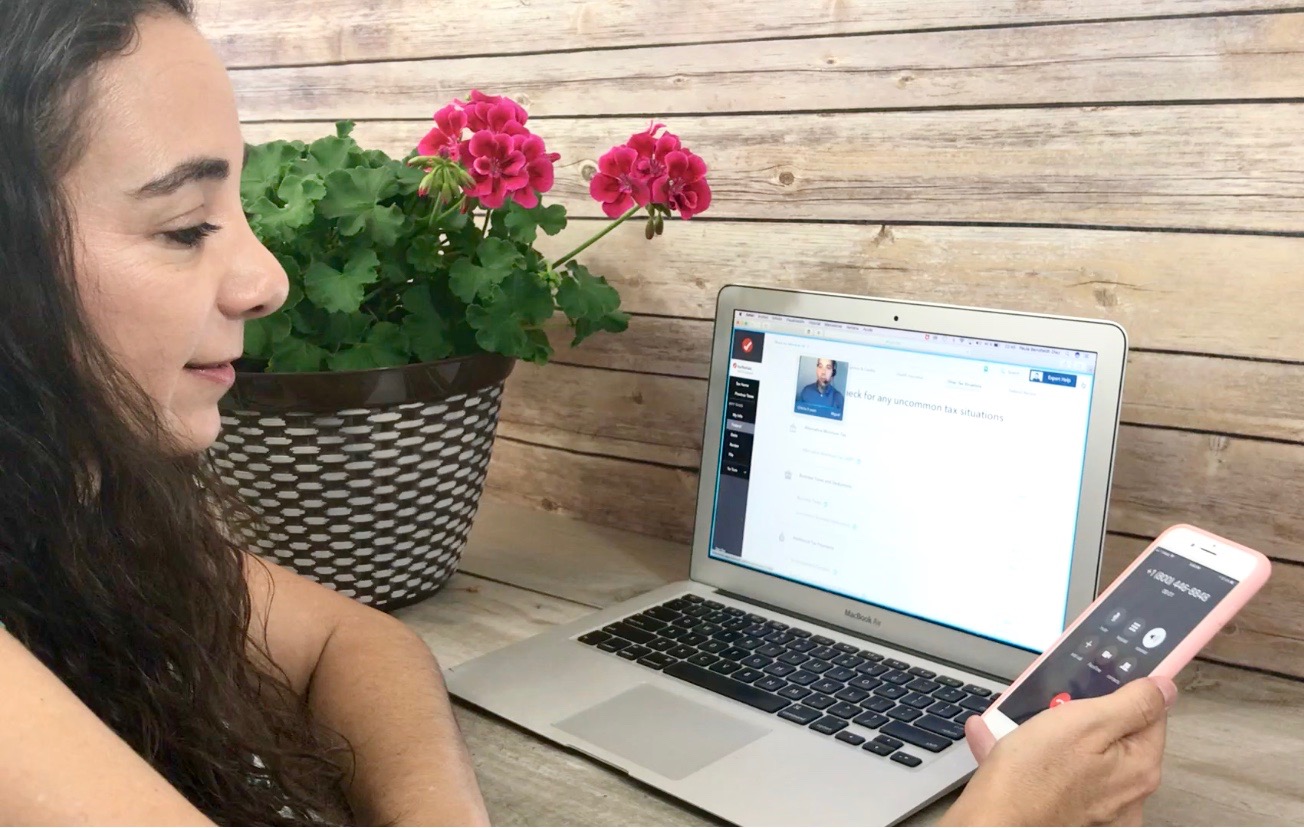 Filing with TurboTax Live
By answering simple questions TurboTax will recommend the best service for you. I chose TurboTax Live which gives me the option to connect live to a CPA from my computer to answer those more complex tax questions and get my taxes reviewed, without needing to leave the comfort of my own home!. This really gave me peace of mind and motivated me to dive right into my taxes and get them done!
As I worked on my taxes on my computer I connected live to Miguel, a bilingual CPA, and was able to ask him questions about my deductions and expenses as I prepared my taxes. I could see him on my screen as we worked on my taxes together and have a live conversation. And don't worry, with TurboTax Live it's a one-way video conversation and although you can see the tax expert they cannot see you, so you can be comfortably doing your taxes while sitting in your couch wearing PJs!  He not only answered questions I had about travel-related deductions and home office deductions, but he even told me that I could be eligible for tax relief due to hurricane Irma, which I had not even thought about. As some of you know we were affected by hurricane Irma and we are still living at my in-laws because our rental was damaged, and we have been unable to find a new place. Last year was rough and I was so happy to see that I was getting all of the deductions I deserved in order to pay only what I needed and nothing more!
It gave me so much confidence to have access to an expert every time I had a question.  When you're done your CPA or EA will review your work and make any necessary changes. And once you get their approval to file you also get TurboTax's 100% Accuracy Guarantee!
5 Things I Learned About Filing Taxes for Bloggers!
If you're a blogger like myself filing your taxes can seem overwhelming; you're not only self-employed but you probably have many different streams of income that stem from your blog and you work from home. After blogging for over four years I want to share with you some of the things I have learned along the way (sometimes the hard way) as well as some tips I learned from working with Miguel from TurboTax Live. I am no tax expert so please make sure you consult with a tax expert; if you're using TurboTax Live you can get connected to a CPA or EA live with one simple click!
1. Report all of your income and deduct all of your expenses. There are many different ways in which you can make money online, whether it's writing content, earning money from affiliate marketing, attending events or selling your photography or recipes. Make sure that you are reporting all of your income, this includes products and services you get in exchange for sharing on your blog or social media channels.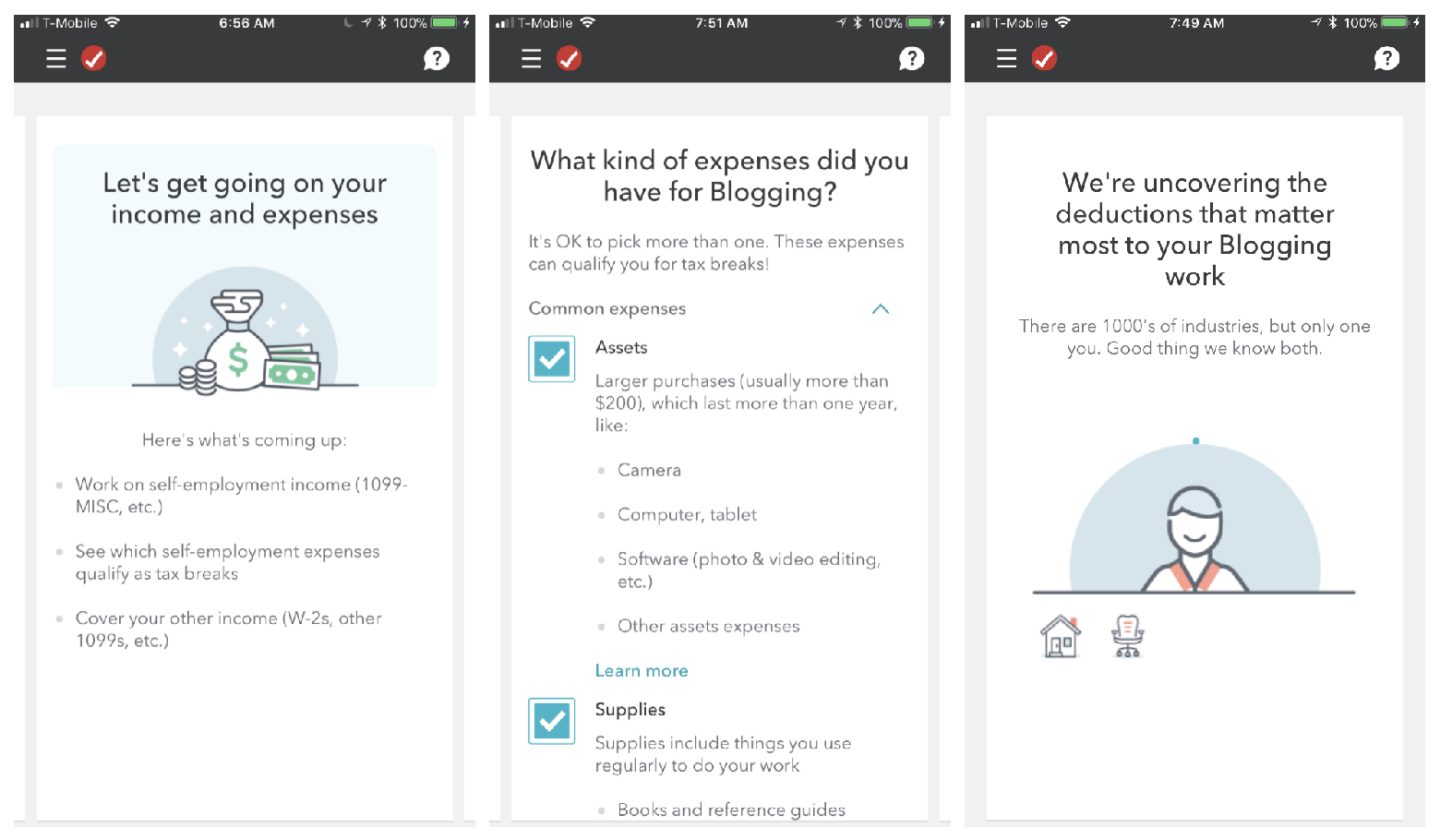 Sometimes as a blogger working from home it can be hard to figure out what can be considered a business expense from hosting and domain names to Facebook advertising fees and VA services. Working with TurboTax made this super easy because as soon as I put in that my business was blogging I was provided with a list of expenses I could deduct.
2. Deduct travel expenses and assets correctly. If you have a camera, a computer and any other assets or gear that you use for both personal use and business you can deduct or depreciate the portion or percentage of the asset that is business-related. For example, if you use your camera for the blog 80% of the time, you are able to depreciate 80% of the cost of the camera.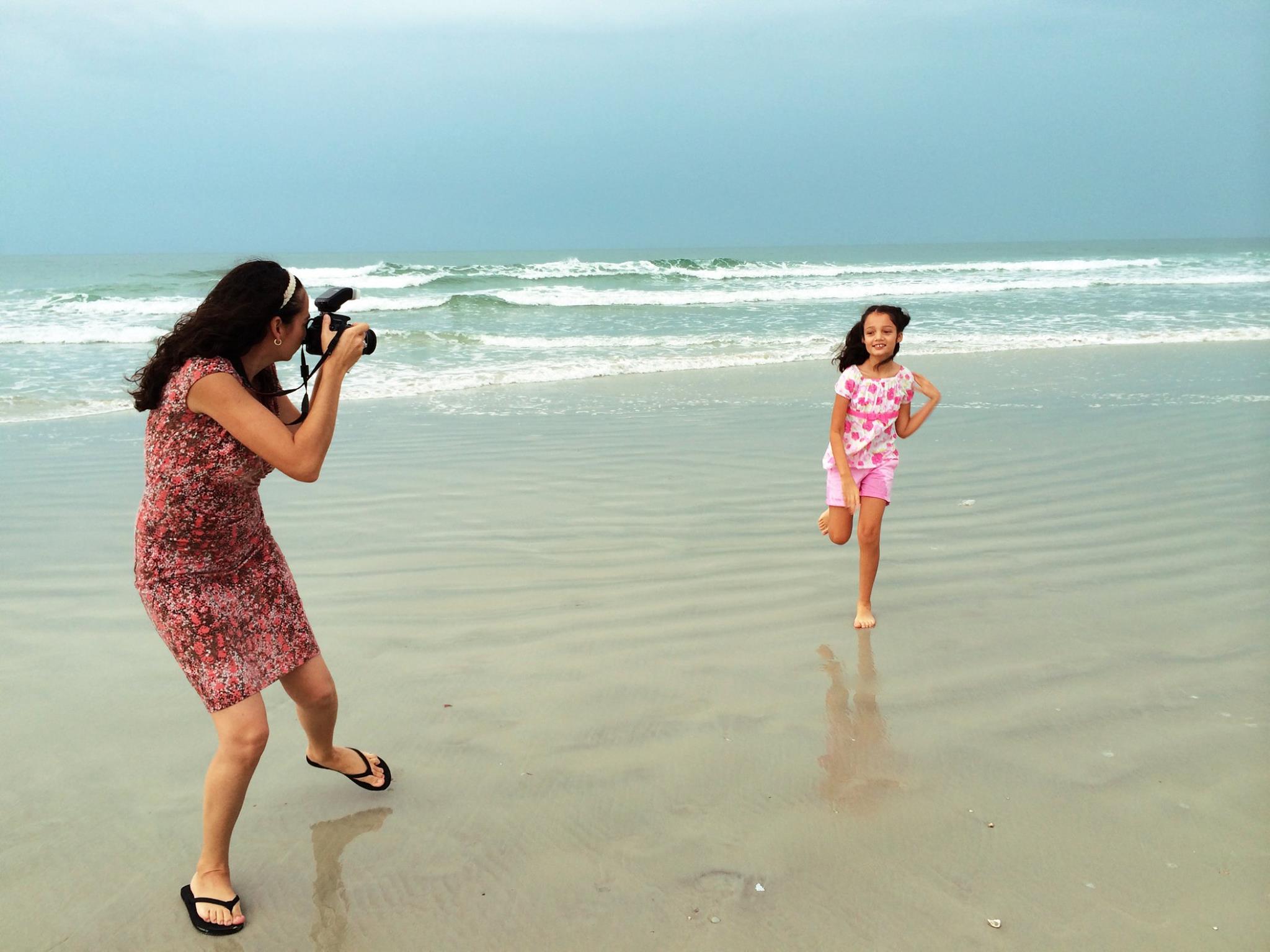 The same goes for travel. If your travel is 100% for business, for example when you attend a blogger conference, you can deduct all of your travel expenses. However, many bloggers, like myself, often combine vacation with work. When this is the case it's important to determine the "business percentage" of your travel or activity. For example, I traveled to Stockholm for a travel conference for 6 days but decided drop by and visit my brother in Spain on my way back for 4 days. This means I can deduct 60% of the cost of my flight. When it comes the hotel, I can deduct 100% of the hotel costs during the conference. In all trips, consider the business percentage of what you are doing and deduct accordingly. It's important to note that if you're traveling to Disney with family for a week and will be working only a few hours this trip will be considered personal. For you to be able to deduct travel expenses a large percentage of the time spend traveling needs to be work-related.
3. If you work from home, make sure that you fulfill the requirements to claim a home office deduction. The last time we moved one of the most important things I was looking for in our new home was for it to have an extra room for my office. Even if you work from home you can only claim the home office deduction if your home office is used exclusively for business purposes and is your principal place of business. This means you can't use this room or space for anything else. There are also other requirements so make sure you consult with a tax expert.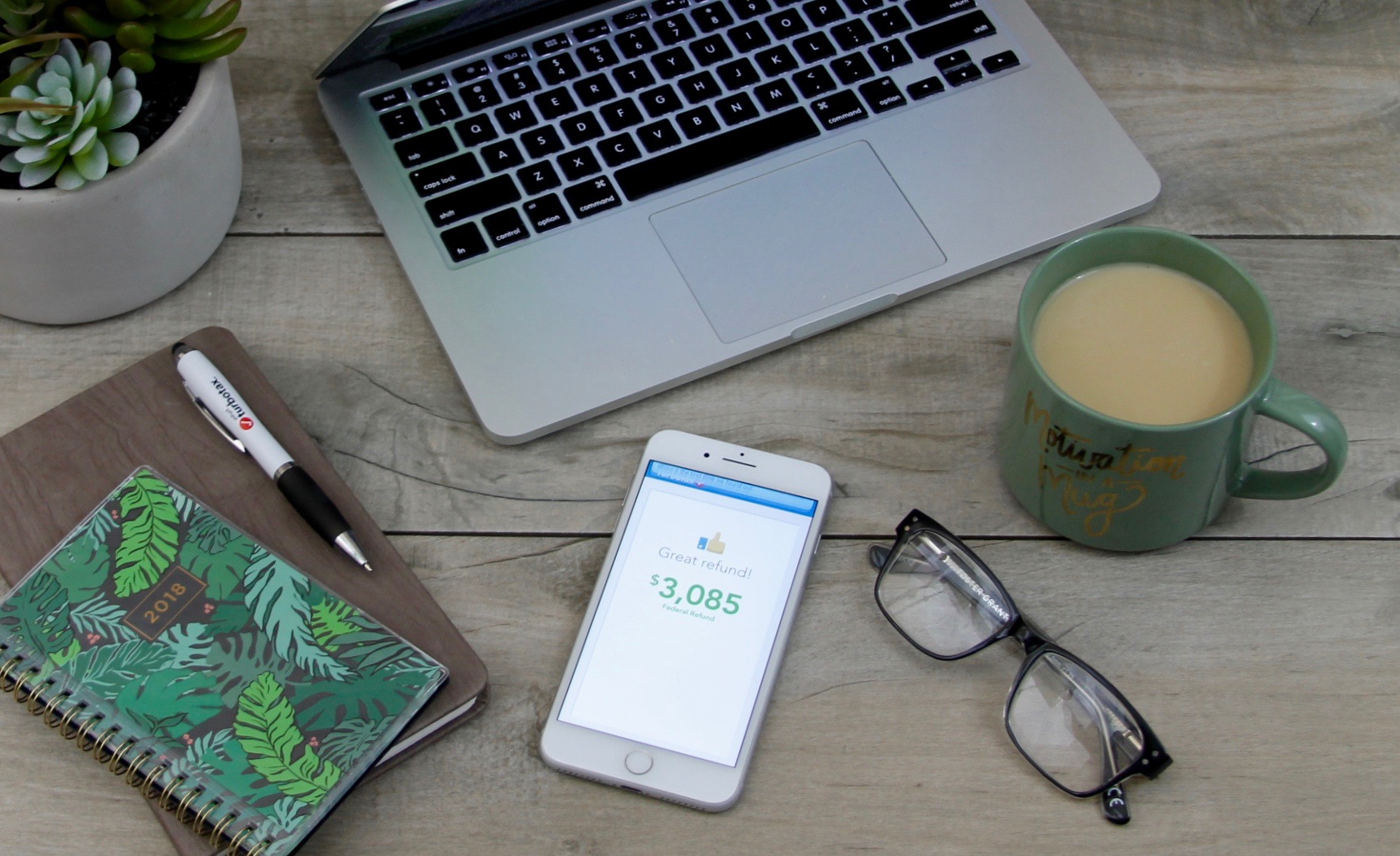 4. Have separate bank accounts for your blogging business. Learn from my mistakes and keep your personal and business separate. I didn't start doing that until recently and taxes have been a headache because it was always so hard to separate personal from business expenses. Having a business bank account and business credit or debit card will let you keep all of your finances in order and make tax time so much easier!
5. Use the right tools. Last year I really suffered getting everything in order. I spend all day in front of a computer but for some reason, I was still keeping my invoices in a filing cabinet, crazy! This year I have turned things around and things are so much easier now that I have everything digitally. Here are some of the tools you can use to make things easier and help you run your blogging business more efficiently!
Thanks to TurboTax Live I not only got my taxes done and feel great, but I learned so much and next year my taxes will be a breeze as the CPA also gave me lots of recommendations on how to get my finances in order so that filing will be easier next time.
If you've never filed with TurboTax you will surprised to realize how easy the process is and if you've filed with TurboTax before you'll love the new TurboTax Live! The best part is that you can try TurboTax for free! What are you waiting for? Tax day is almost here! Try TurboTax out for free, no strings attached and pay when you're ready to file!
Disclosure: I am not a tax expert and I am sharing tips and information I learned from my blogging business as I filed my taxes with TurboTax. I am not a tax expert and you should consult with a CPA if you have any questions.
This is a sponsored conversation written by me on behalf of Intuit. The opinions and text are all mine.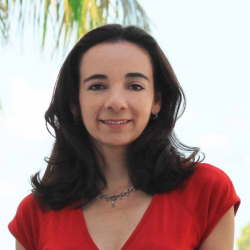 Latest posts by Paula Bendfeldt-Diaz
(see all)