This is a sponsored conversation written by me on behalf of Cricut. The opinions and text are all mine.

This fun Dia de los Muertos stormtrooper sugar skull iron-on DIY project is easy to make using the Cricut Explore Air 2 and Cricut Easy Press 2 machines. I have included the stormtrooper Day of the Dead Cricut cut file so you can make it at home.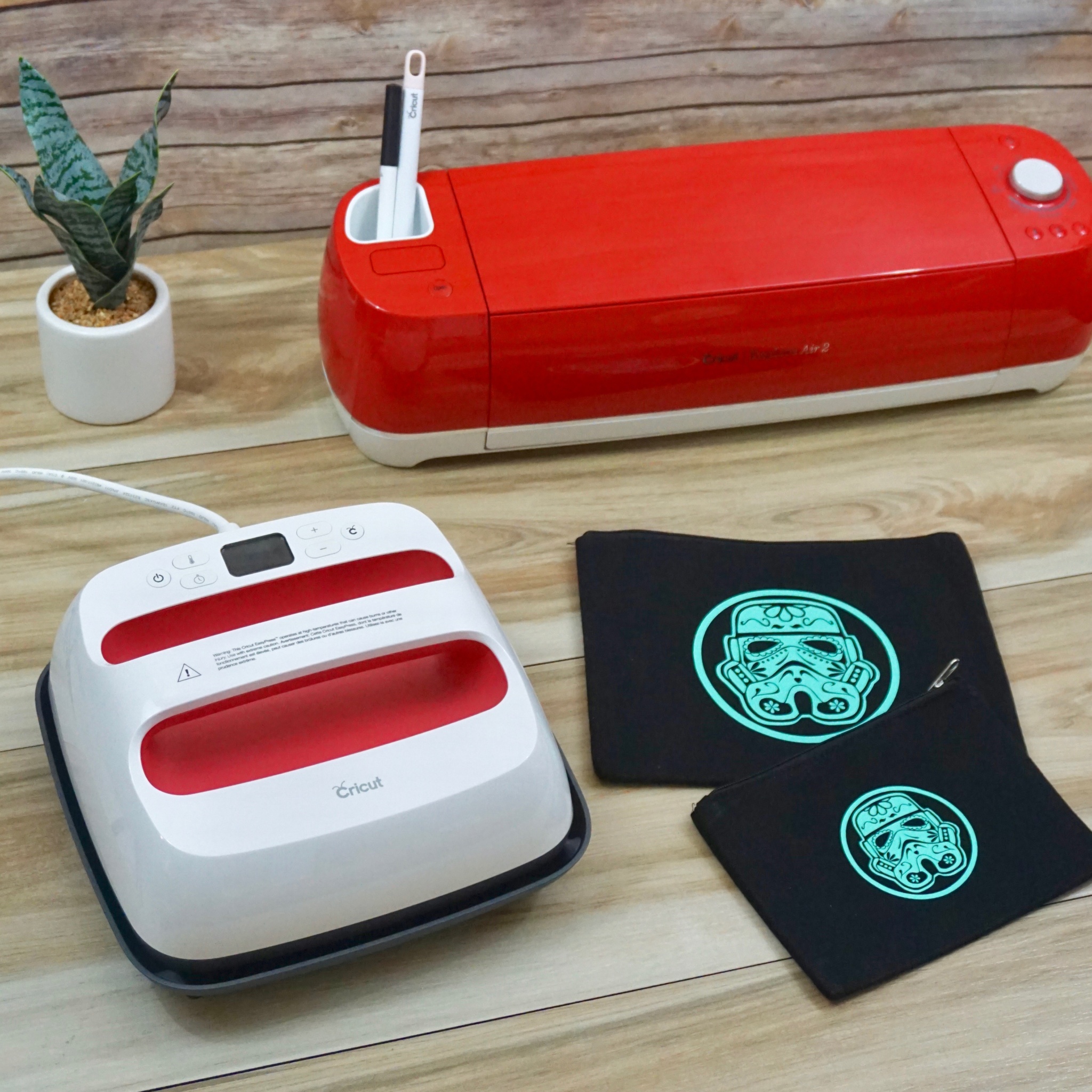 I am loving my new Cricut EasyPress and I'm excited about all of the iron-on projects I will be making this holiday season. The Cricut EasyPress is the perfect companion to my Cricut Explore Air 2. With these two machines, I am planning on making most of my holiday gifts at home this year. Not only will I be saving a lot of money but I love that I can make personalized gifts for everyone.
Why you should use a heat press instead of an iron for your heat transfer projects?
Iron temperatures are uneven and can vary up to 200°F. This makes creating quality heat transfers nearly impossible because one side of your heat transfer may be receiving the heat it needs while another may be receiving too little or too much. Besides you can't really measure the exact temperature at which your iron is heated at and that changes from moment to moment.
On the other hand, when you're using the Cricut heat press you can set up the machine to the exact temperature you need for the material you are using. The dual heating elements and the ceramic-coated plate deliver dry, even heat through the entire surface from the center to the edge. This means you get consistent results for the perfect looking heat transfer projects.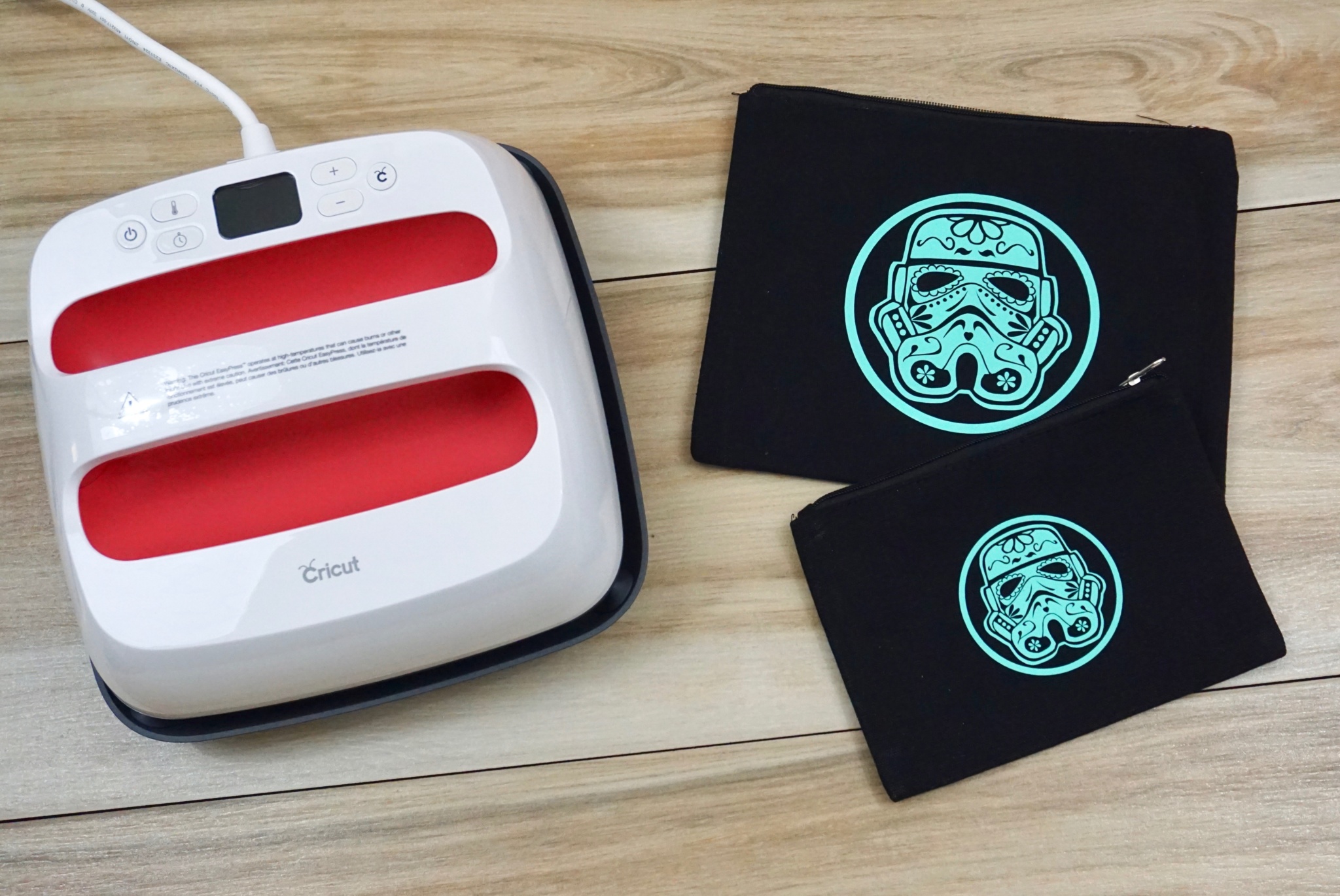 Iron-On Projects Are Easier with Cricut Easy Press
I've done a few iron-on projects before using my iron and honestly, I was not impressed. The vinyl would not stick to the surface evenly. Now that I'm using the Cricut Easy Press 2 every single project I've done, and I've done a few already, it has come out amazing! I've tried it on canvas and t-shirts so far and can't wait to try it on other materials.
The Cricut Easy Press is so easy to use! Simply set the temperature and the time. There is no guesswork! Once the Easy Press is heated to the desired temperature just press the button and the timer starts counting down giving off a gentle alarm when the time is up. It doesn't get easier than this!
Day of the Dead Stormtrooper Sugar Skull Iron-on Vinyl Project
For this project you will need the following materials:
Cricut Everyday Iron-on also referred to as Heat Transfer Vinyl or HTV
Canvas makeup bags, (you can also put this design on a t-shirt, a onesie, a canvas bag or an apron)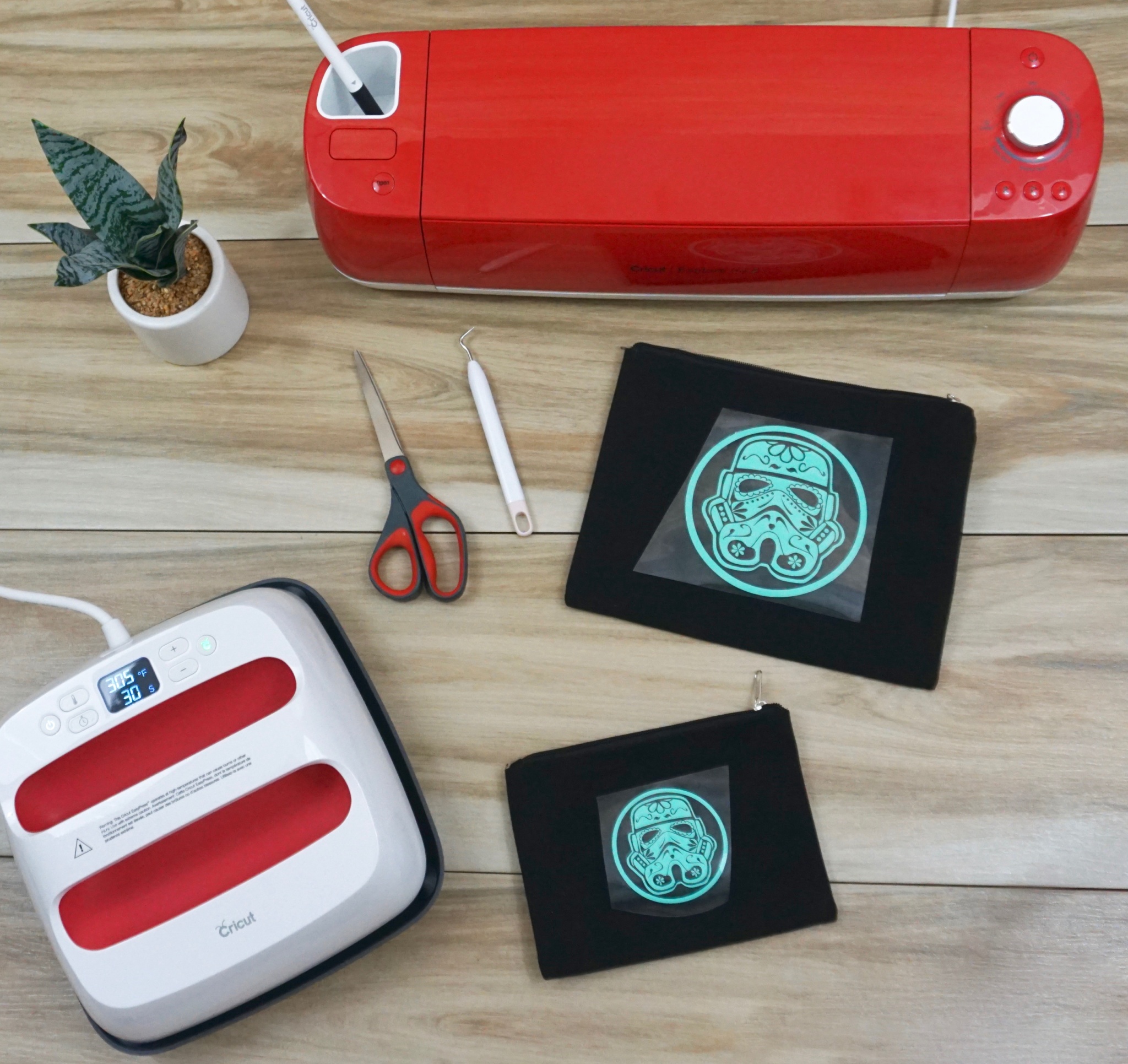 You will also need:
Cricut Explore Air 2 or Cricut Maker
Cricut grip mat
Cricut weeding tool
Cricut EasyPress
Scissors
Directions
Step 1. Start by downloading the stormtrooper sugar skull design here and upload it to Cricut Design Space.
Step 2. Once the image is on your canvas resize it to whatever size you need for the project. I used two different sizes on the same canvas so I could cut them together to make both makeup bags.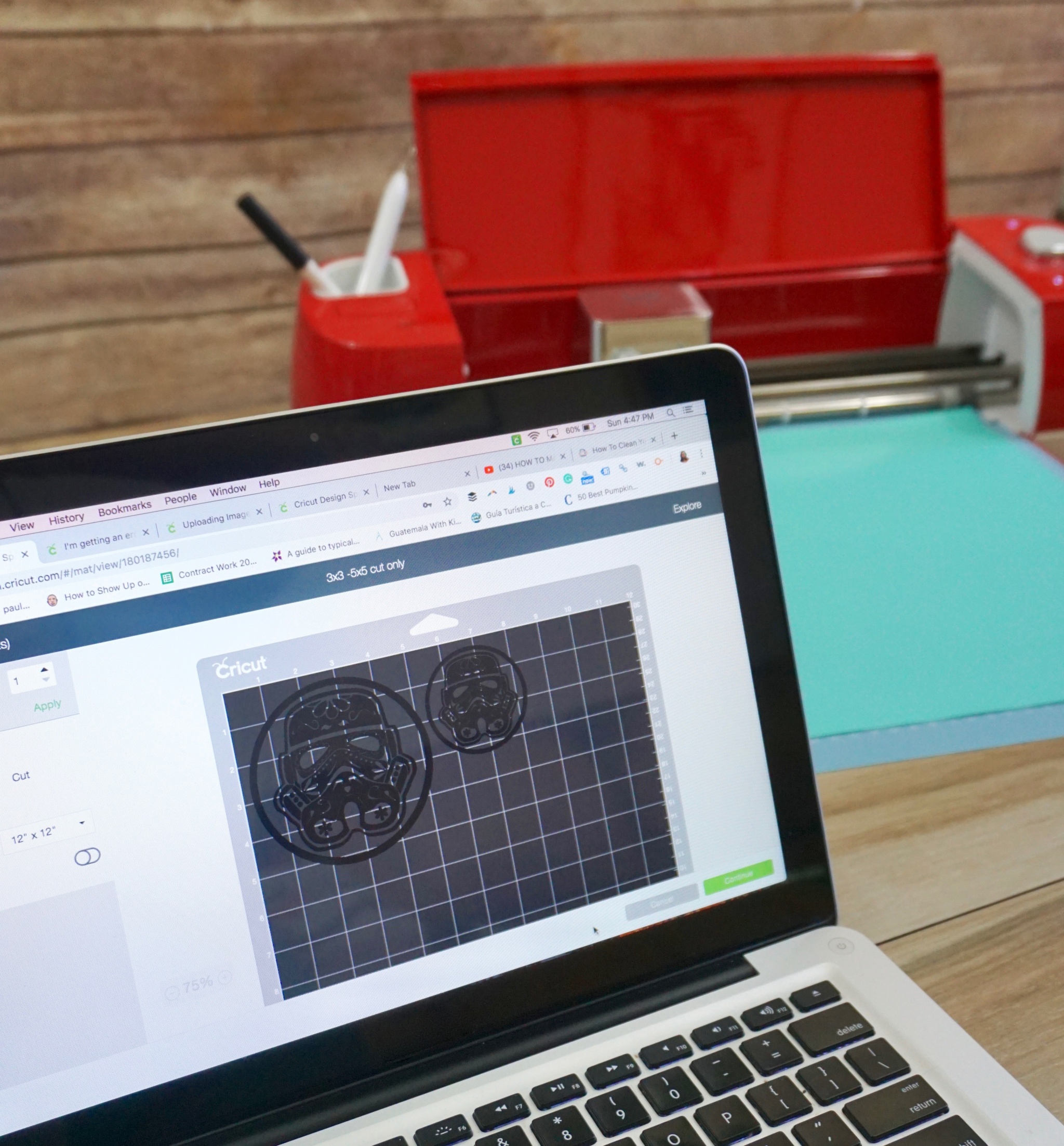 Step 3. When your image or images are ready click "Make It". This image doesn't have any writing on it so it's not necessary to click "Mirror" but if you are using an image that has writing or is not completely symmetric like this one you need to press "Mirror". Otherwise, your image will be cut backward.
Step 4. Click "Continue".
Step 5. Connect your Cricut Explore Air 2 machine and set the dial to "Iron On".
Step 6. Place your iron-on vinyl on the cutting mat with the plastic side facing down.
Step 7. Insert the matt into your Circut Explore Air 2 machine. Then press the arrow button on your Cricut machine.
Step 8. Once your Cricut machine has griped your cutting matt with the vinyl on it you can then press the blinking "C" on your Cricut machine and it will start cutting your design.
Step 9. When your Cricut machine is finished cutting click the arrow button for the machine to release the cutting mat.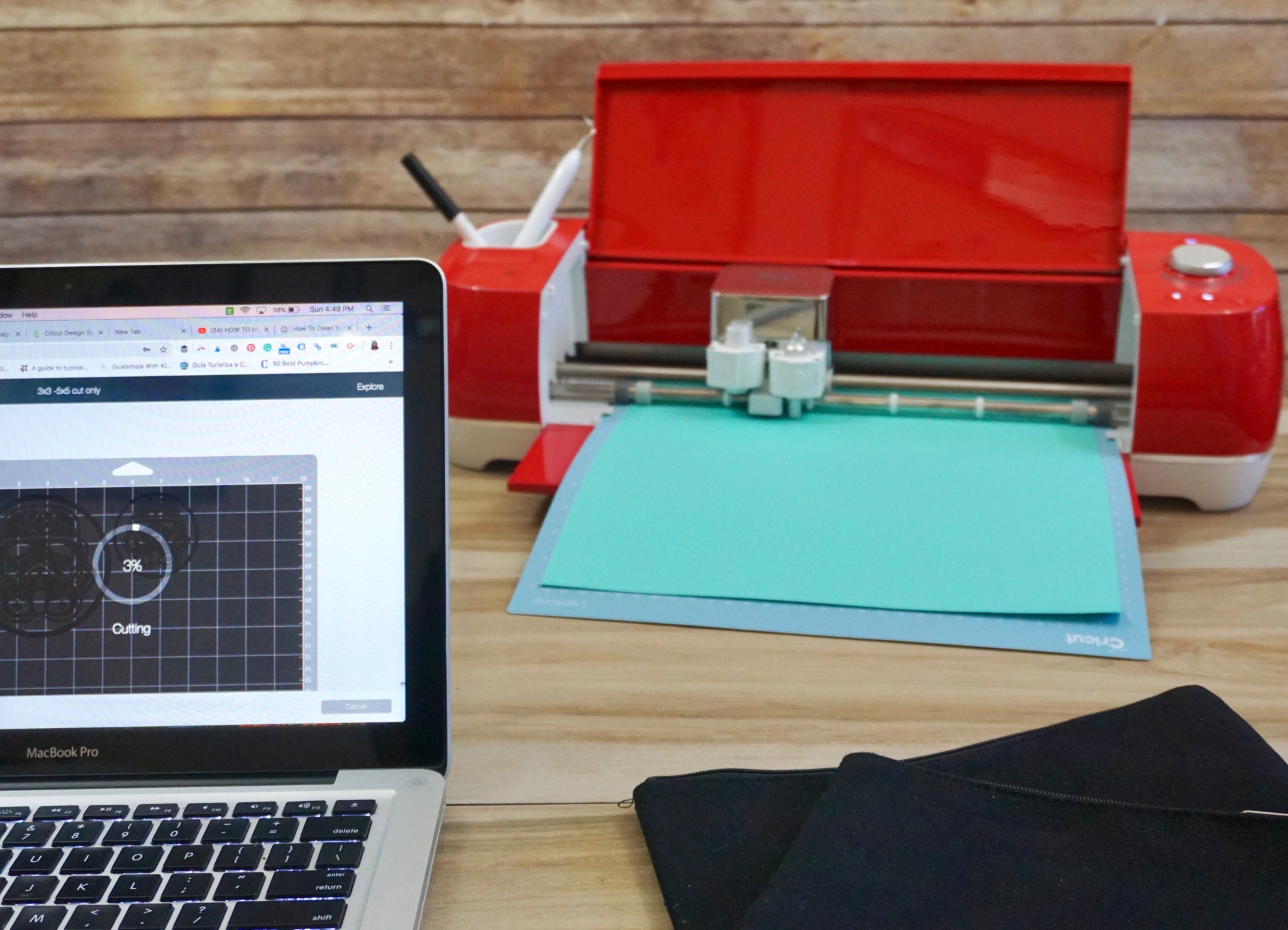 Step 10. Remove the vinyl from the mat first then place the vinyl with the plastic facing down and use a Cricut weeding tool to remove the iron vinyl that is not part of your design.
Step 11. If you have two separate stormtrooper sugar skulls on the same vinyl page like I did cut around each one of them so you end up with two separate designs as each one will go on a separate bag.
Step 12. You can start by inserting the tip of your weeding tool into the center of an area that is not part of your design and needs to be removed. Then pull gently on it. Once you have removed a part of this piece of material from the plastic you can continue gently pulling it with your fingers.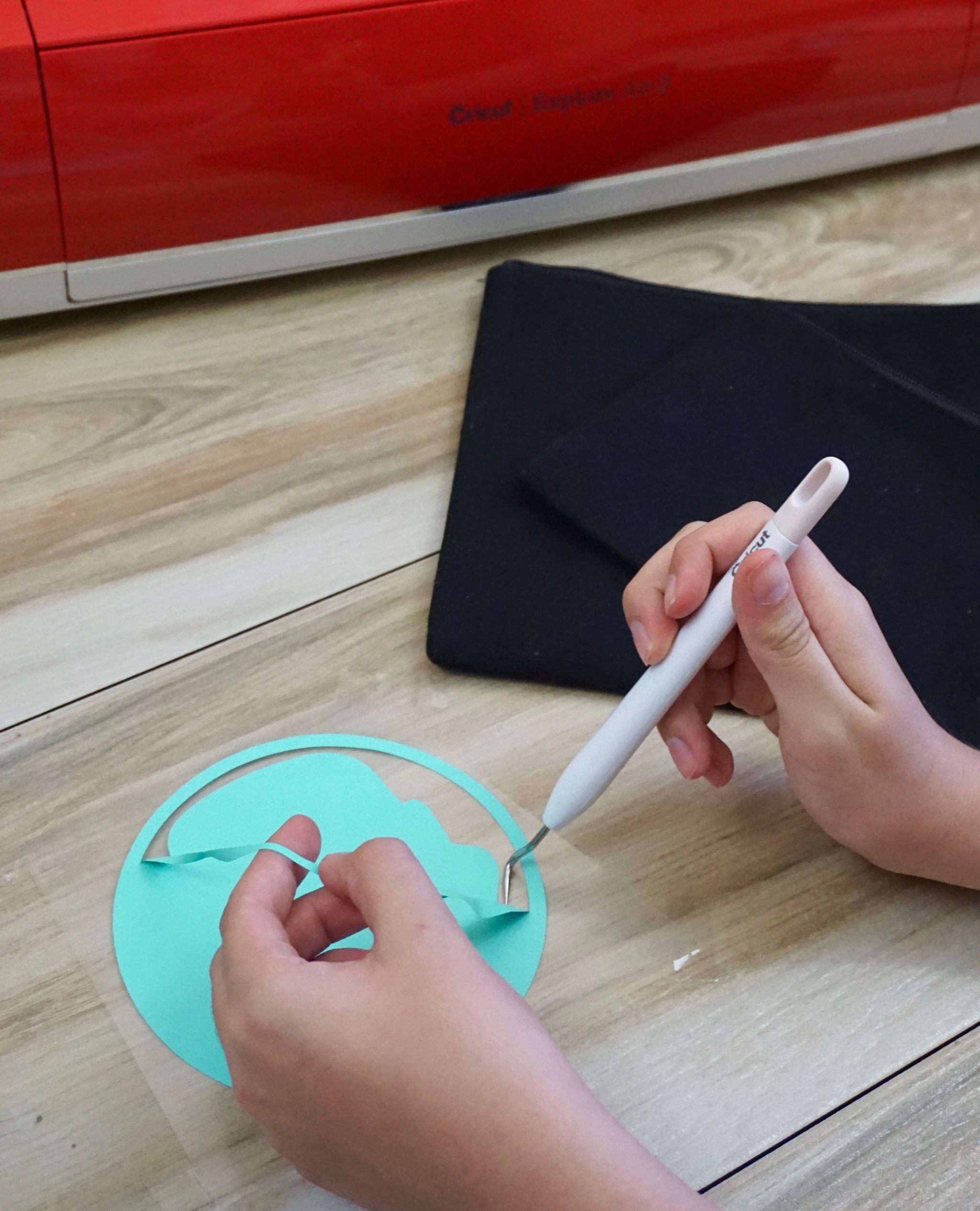 Step 13. Do this for every piece of vinyl that needs to be removed until.
Step 14. Now you're ready to transfer the iron-on vinyl to your makeup bags.
Step 15. Turn the decals around and make sure you removed all of the pieces of vinyl that are not part of the design.
Step 16. Place the decals where you want it on your bags. Make sure that it's straight and centered.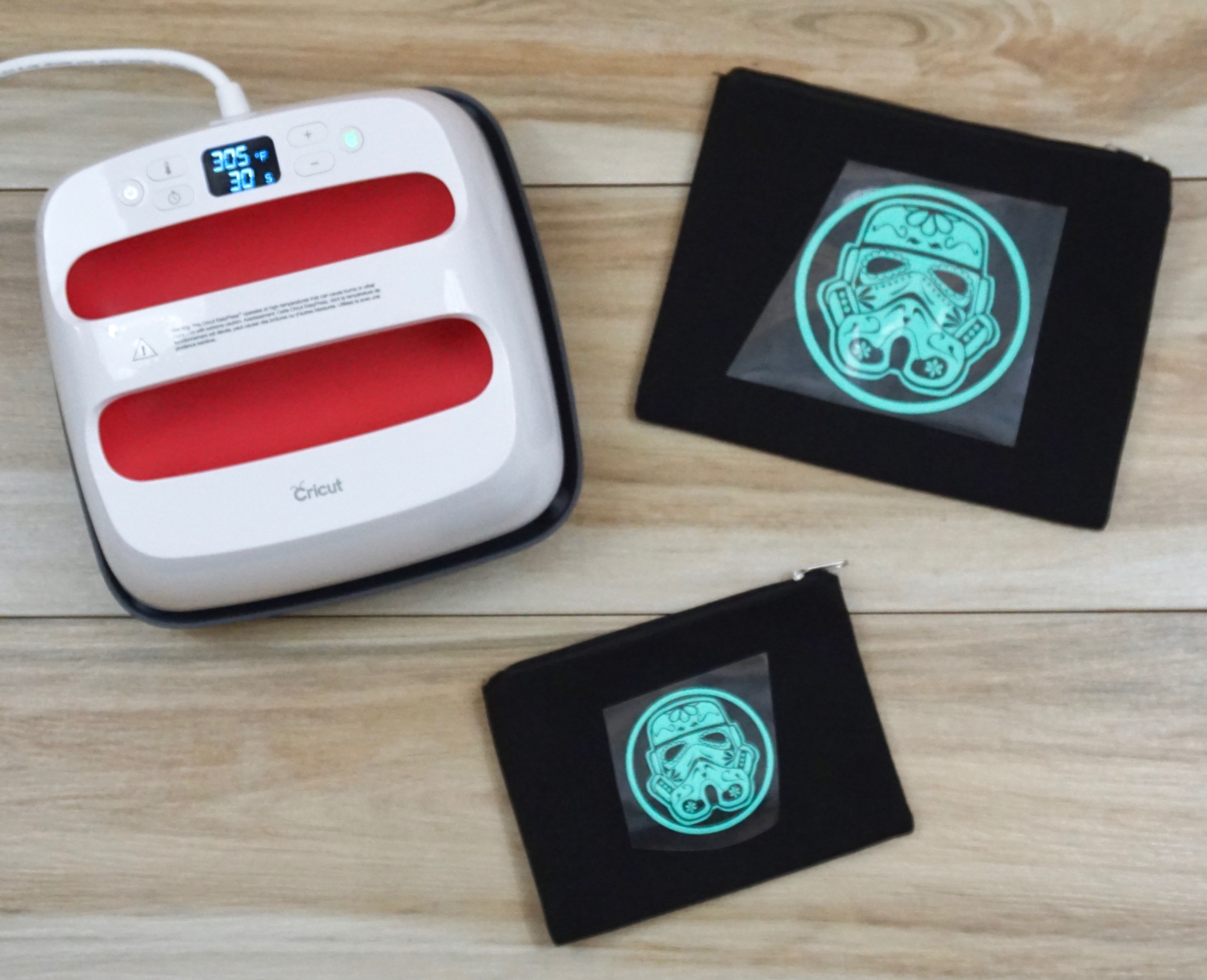 Step 17. Check the Cricut online heat transfer guide to choose the setting that best fits the type of material you're ironing your decal on. For this project I choose the setting for canvas which is 305F for 30 seconds.
Step 18. Turn on your EasyPress, put the settings for temperature and time and let it reach the desired temperature.
Step 19. Place the bag with the decal design on the center of your EasyPress matt.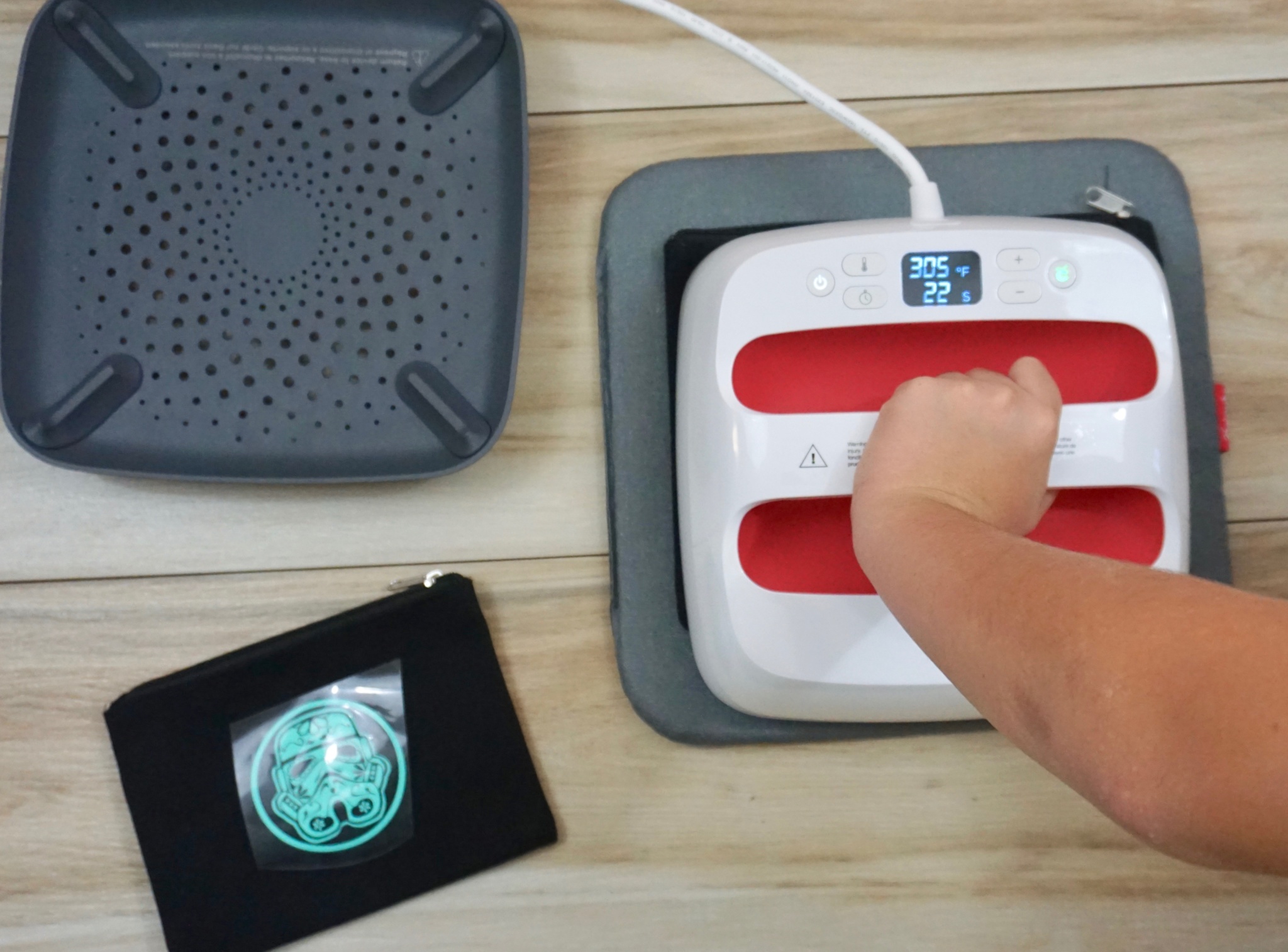 Step 20. When the EasyPress has reached the desired temperature place it over your decal applying gentle pressure. Press the green "C" button and your EasyPress will count down the 30 seconds.
Step 21. Once the 30 seconds have passed return your Cricut EasyPress to its safety base.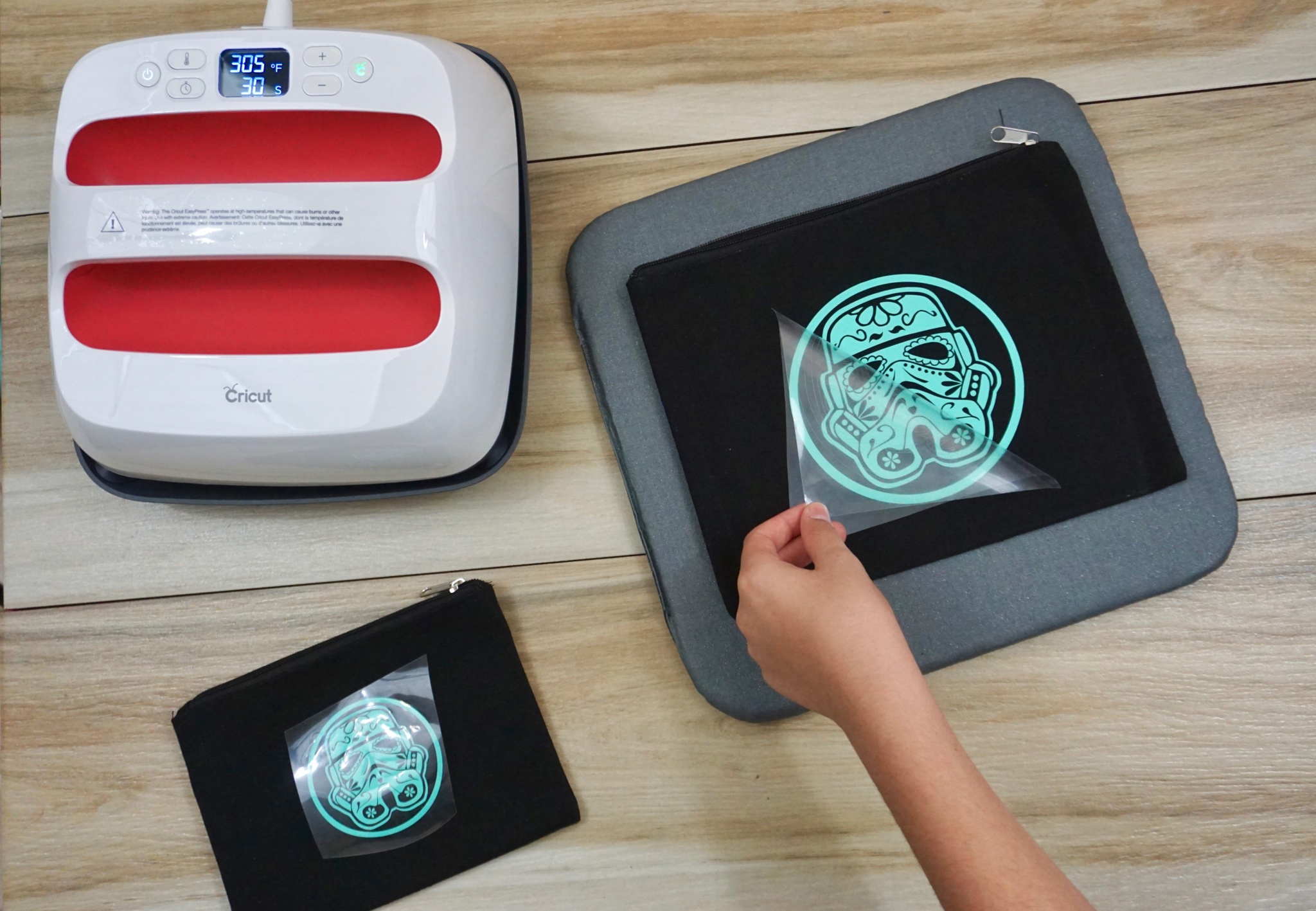 Step 22. Wait a few seconds before peeling back the plastic carrier sheet. Do this carefully and slowly.
Step 23. Repeat the steps 19 to 22 for the second bag.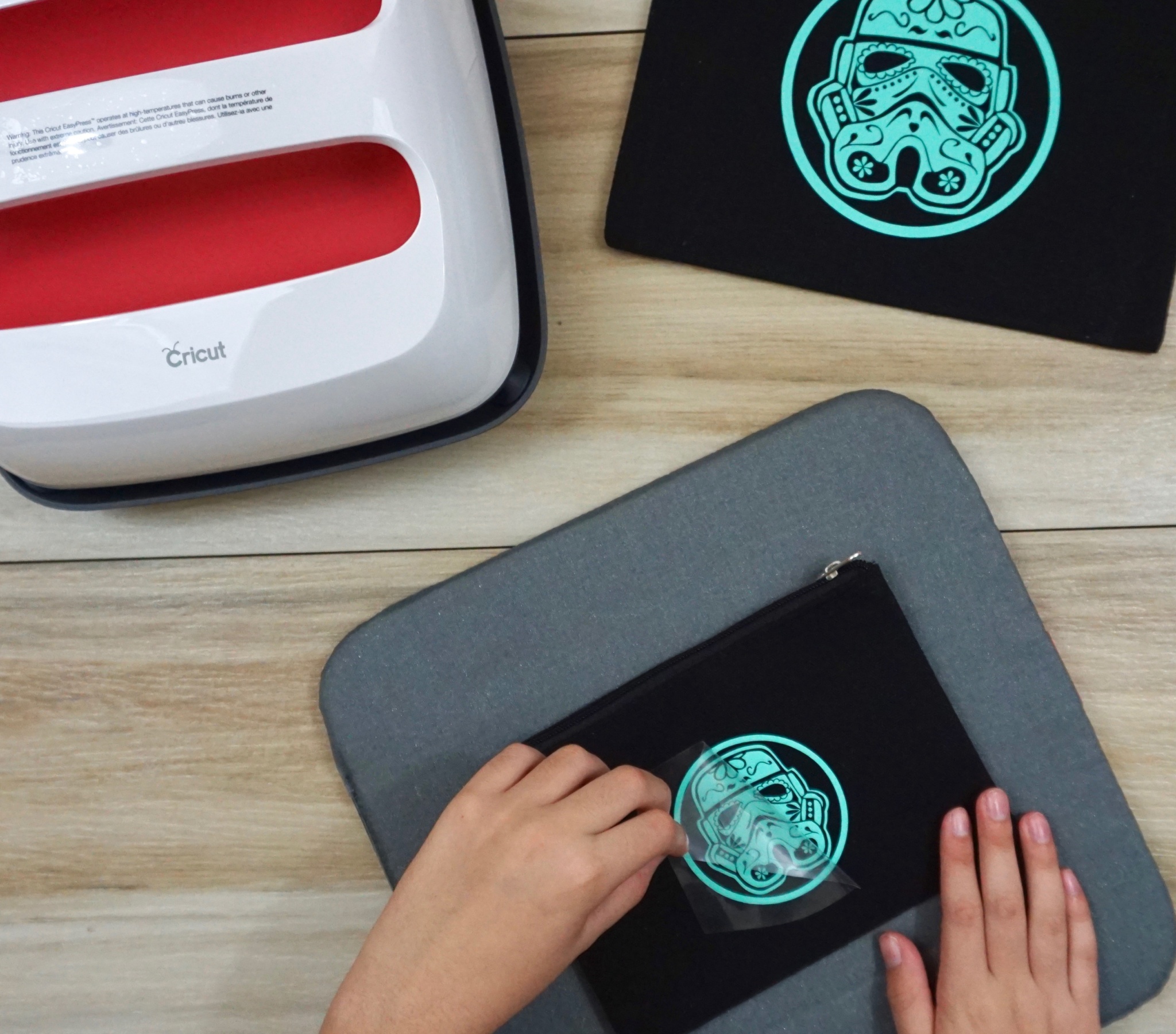 I am so excited about how amazing my first project with the Cricut Explore Air 2 and Cricut EasyPress 2 machines came out. Be sure to check out my review of the Cricut Explore Air 2 and why I think it's the best gift for someone crafty or for yourself.
I can't wait to start making more projects. I'm so excited that I will be able to make so many gifts myself this holiday season. There is nothing better than giving handmade, personalized gifts! And the best part is that the Cricut iron-on projects are so easy and fun to make!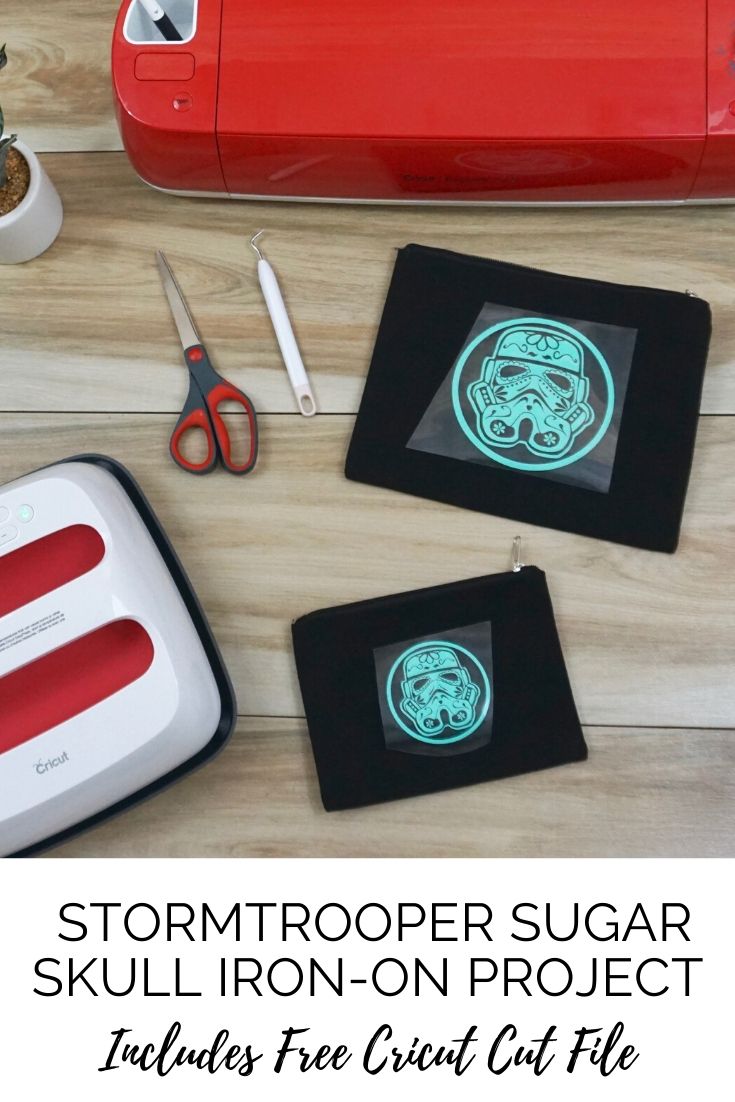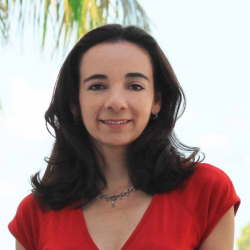 Latest posts by Paula Bendfeldt-Diaz
(see all)