This apple cranberry monkey bread is an easy holiday dessert that the entire family is sure to love. I partnered with General Mills to create this delicious and easy pull-apart bread recipe using apples, cranberries and Pillsbury Cinnamon Rolls.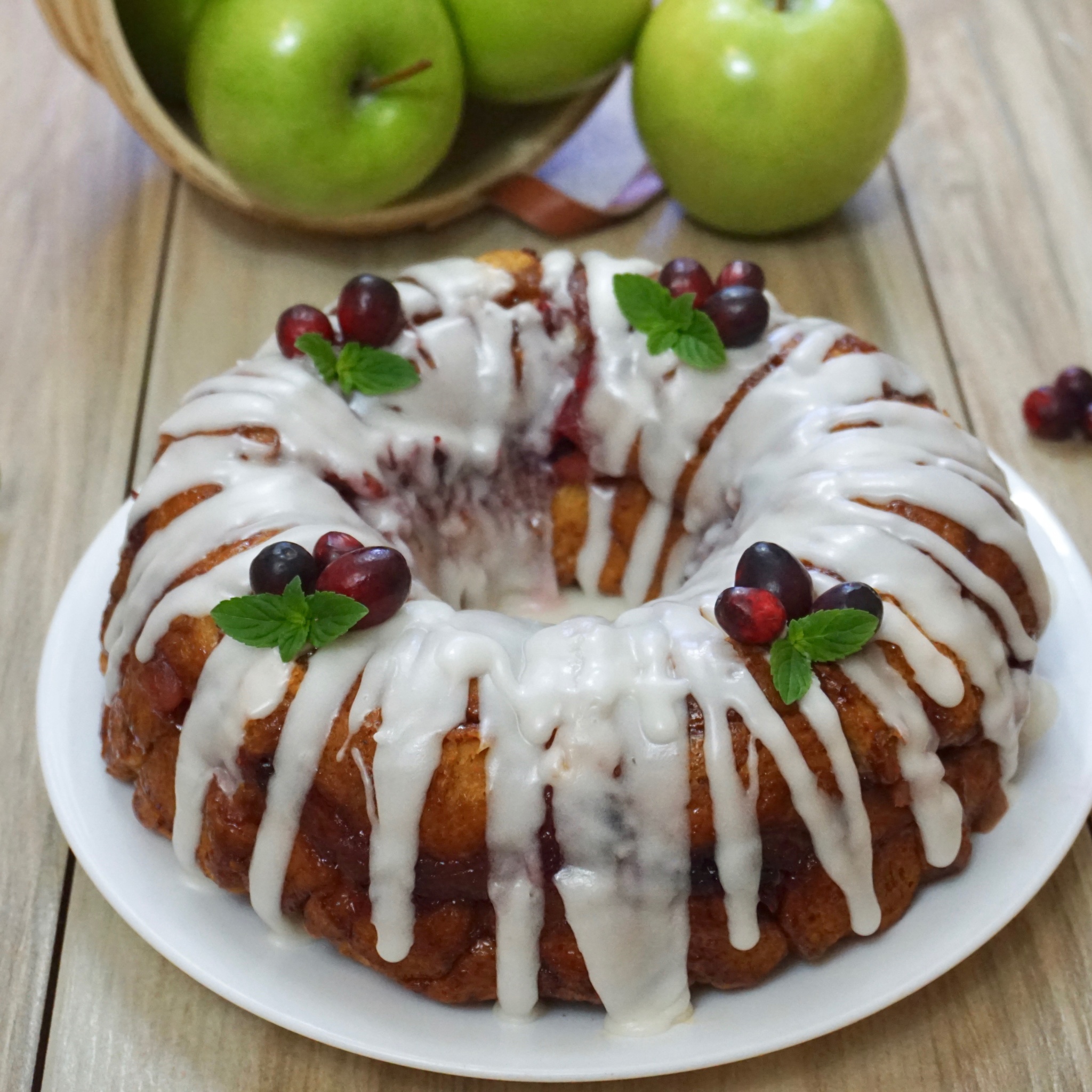 One of my favorite things about fall, besides the fact that the temperatures here in Florida finally go below 80, is fall baking. There is nothing that fills my heart with more joy than the smell of warm baked apples and tart cranberries.
Baking delicious fall treats is my way of making my family feel loved and cozy during the cooler weather months. And also a great way for us to pretend that there is actually a fall season here in Florida. Hey, one cal always dream, right?
The only thing that I don't love about baking is that it sometimes can be really time-consuming. That is why I wanted to create a fall treat that was delicious yet quick and easy to make. And that is how I came up with the idea of making this easy apple cranberry monkey bread using
Pillsbury Cinnamon Rolls
I bought at
Sam's Club
.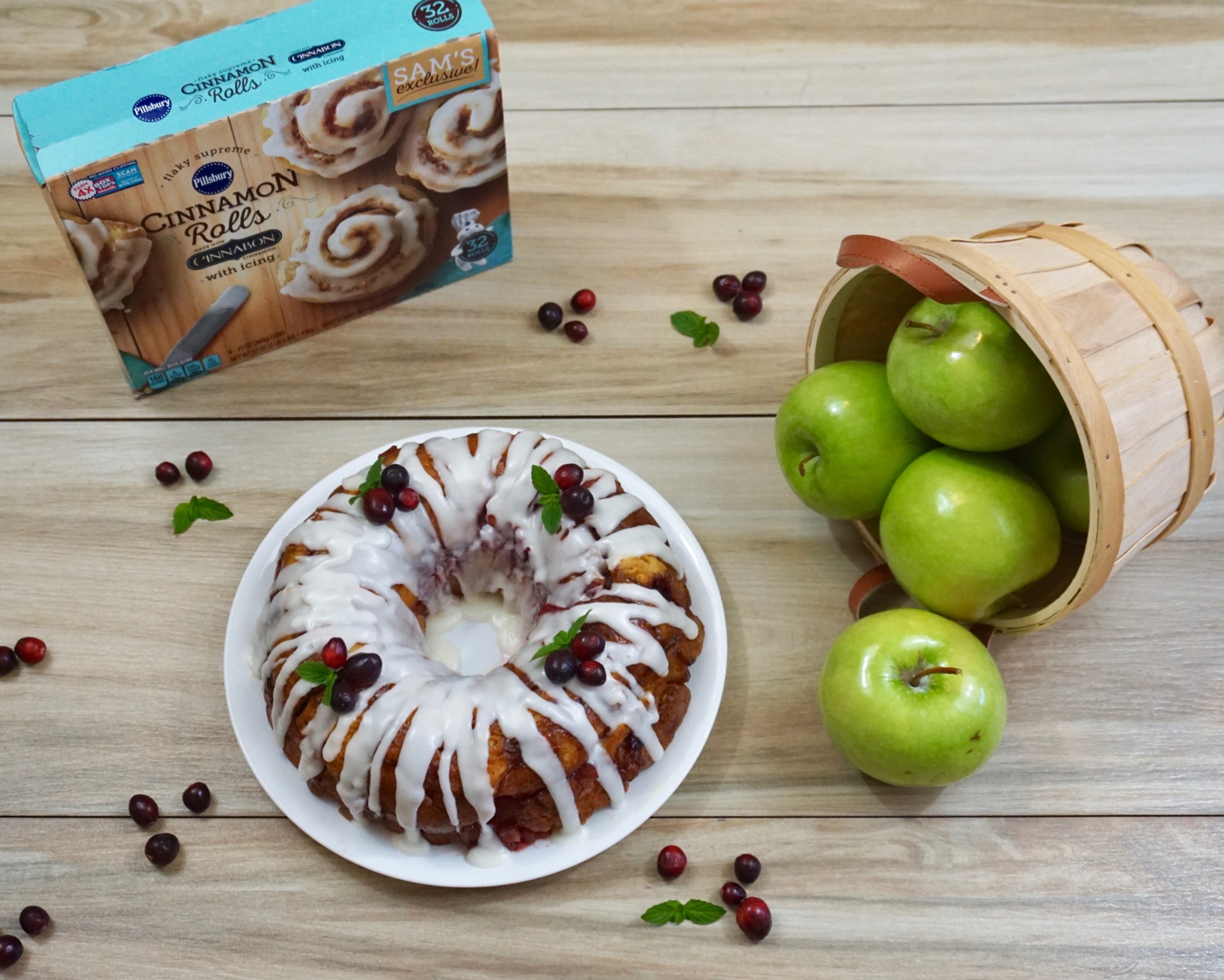 With just a few ingredients and minimal prep time, this apple cranberry monkey bread is sure to become one of your favorite fall treats. It's apple pie taken to the next level. Sweet and gooey it combines that sweet apple pie sweetness with the tartness of cranberries.
I can assure you that you will be unable to keep your hands off this yummy pull-apart bread. But after all, that is why it's called pull-apart bread, isn't it?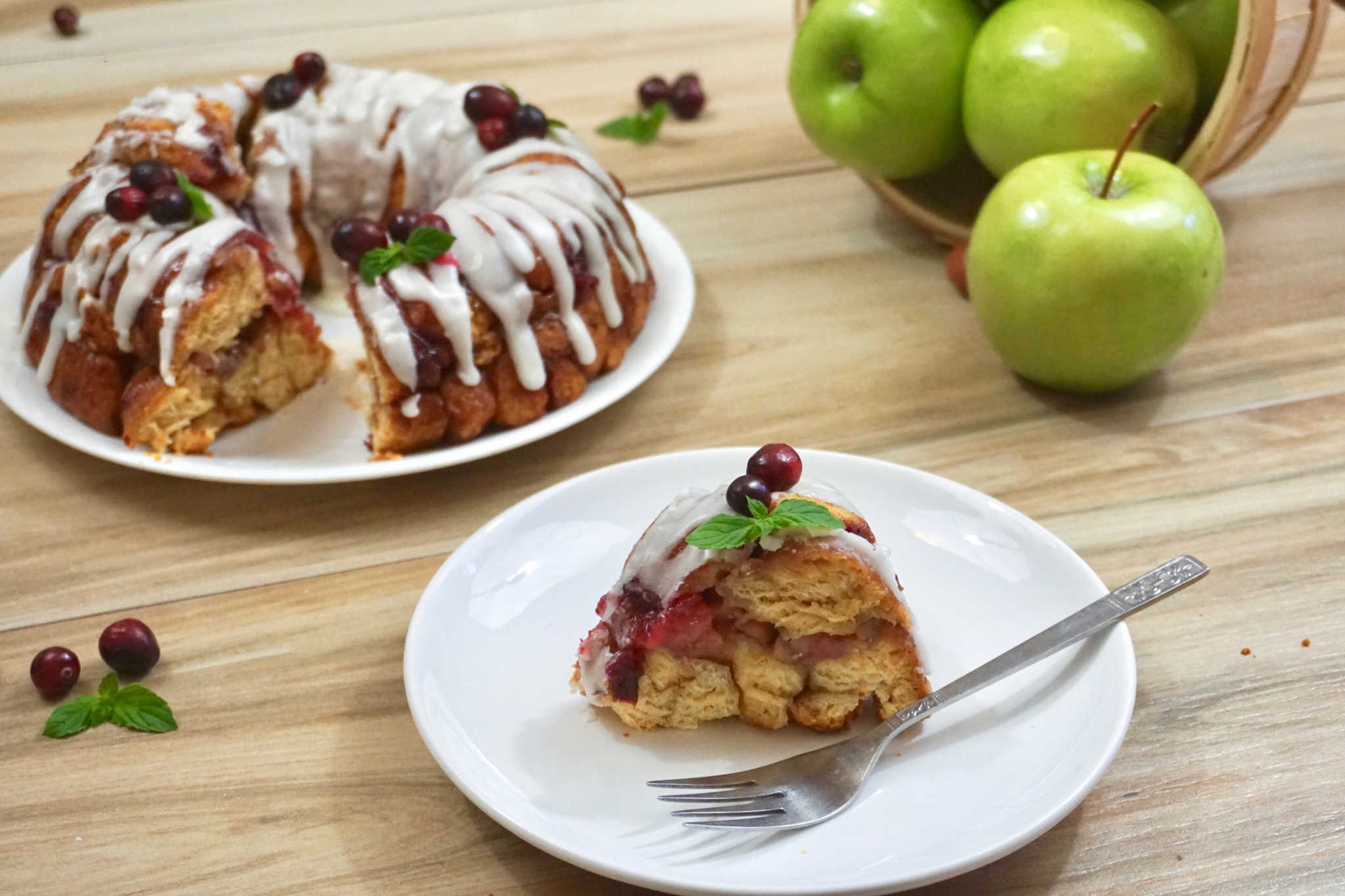 This recipe is perfect as a dessert to share with family for holiday dinner or as a special fall brunch dis. I love that it tastes just like apple cranberry pie. But unlike a pie, this apple cranberry pull-apart bread is much easier to make. And because it's made with Pillsbury Cinnamon Rolls it can still be considered a breakfast recipe. So yes, you're pretty much-having apple cranberry pie for breakfast. You're welcome!
So start celebrating fall and all things holiday with this delicious recipe which is sure to make you the merrymaker in your family. Because what better way is there to spread joy than by cooking a delicious dish with love.
Easy Apple Cranberry Monkey Bread
Ingredients
2 13 oz cans Pillsbury Flaky Supreme Cinnamon Rolls with Icing
1 medium tart apple, peeled and cut
1/2 cup of sugar
1/2 cup cranberry sauce (I make my own but you can use store-bought cranberry sauce)
1 teaspoon of cinnamon
1/3 cup butter, melted
Fresh cranberries and mint leaves for topping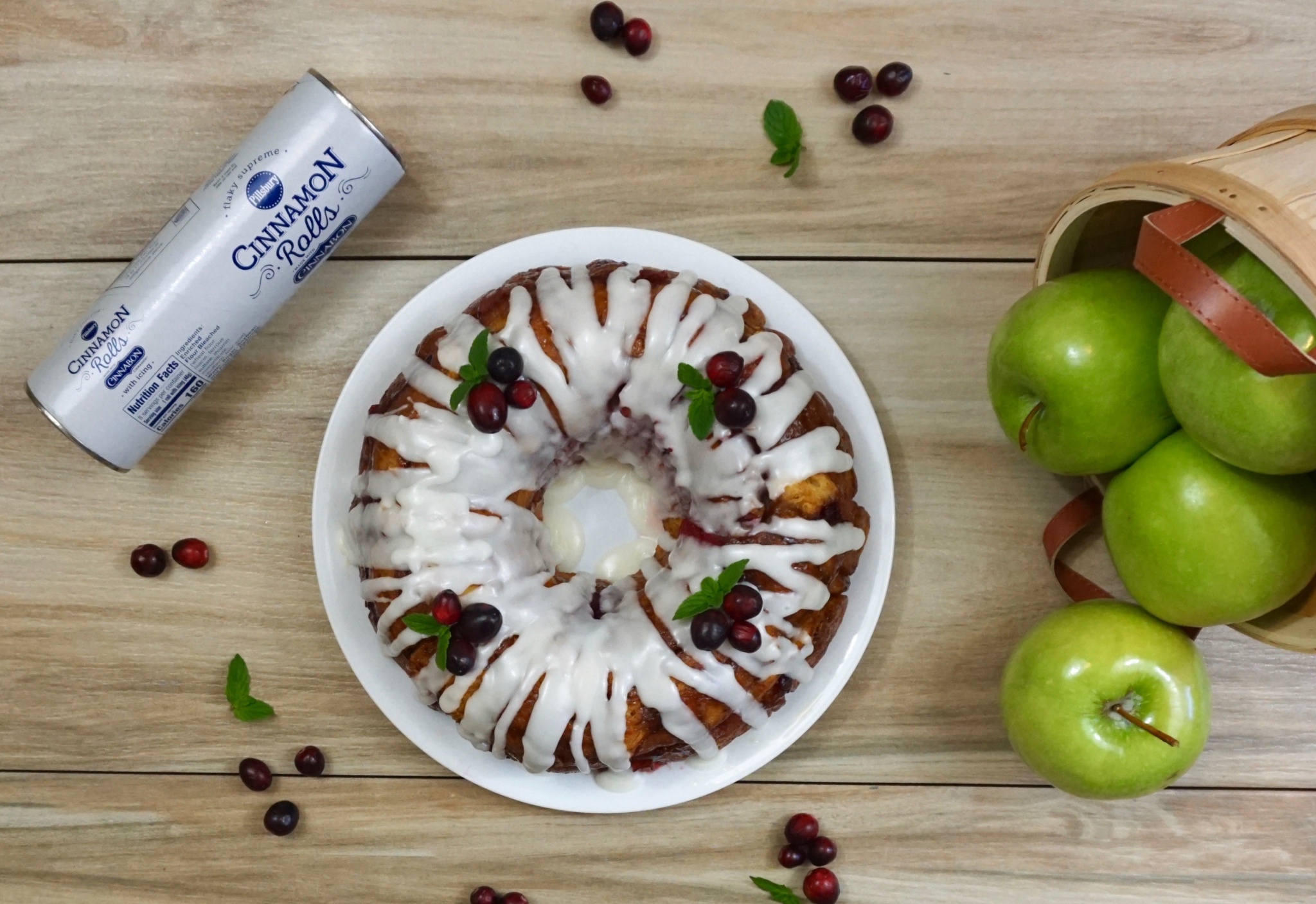 Instructions
Preheat oven to 350F. Apply cooking spray to a 12 cup fluted tube cake pan.
Set the icing from the cinnamon rolls aside.
Separate each can of dough into rolls. Cut each roll into quarters.
In a medium bowl toss half of the dough pieces with 2 tablespoons of sugar. Once they are well-coated place them in the pan.
In the same bowl toss the remaining dough pieces with 2 tablespoons of sugar until well coated. Set aside.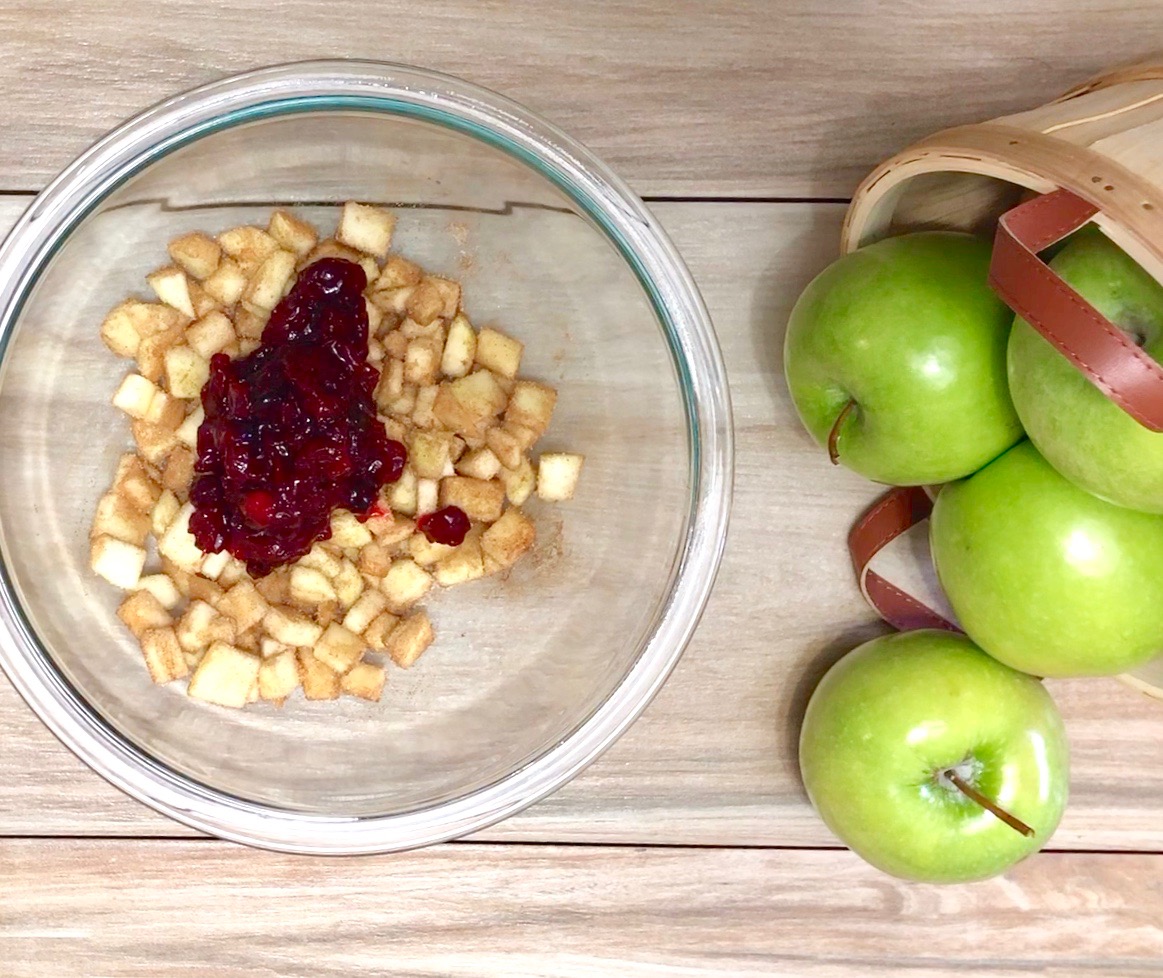 Mix the remaining 1/4 cup of sugar with the cinnamon and add to the apples, tossing to coat well.
Add the cranberry sauce to the apple mixture and mix until combined.
Add the apple and cranberry mixture to the pan.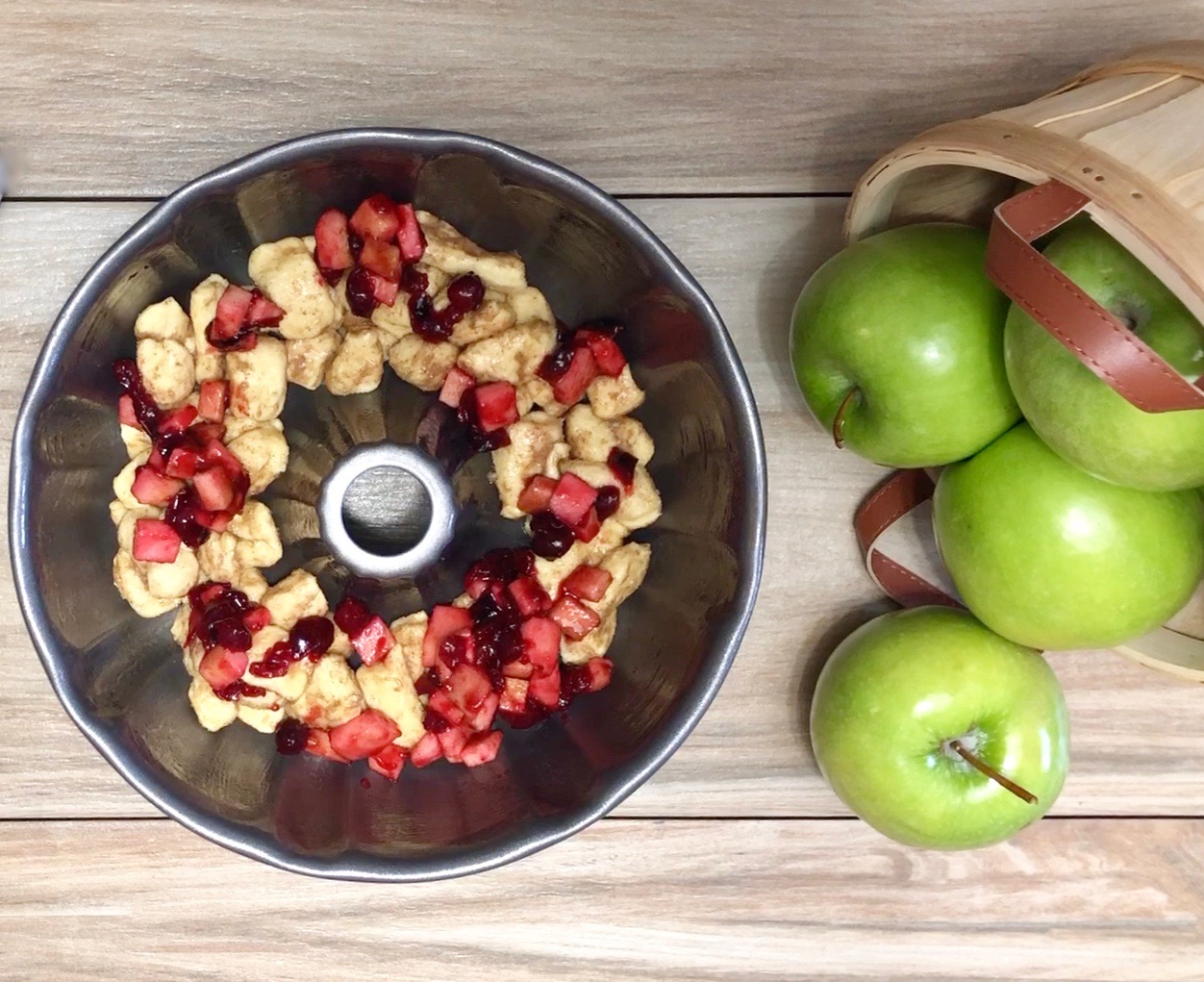 Top with the rest of the cinnamon roll dough pieces.
Sprinkle with any remaining sugar and pour the melted butter over the top.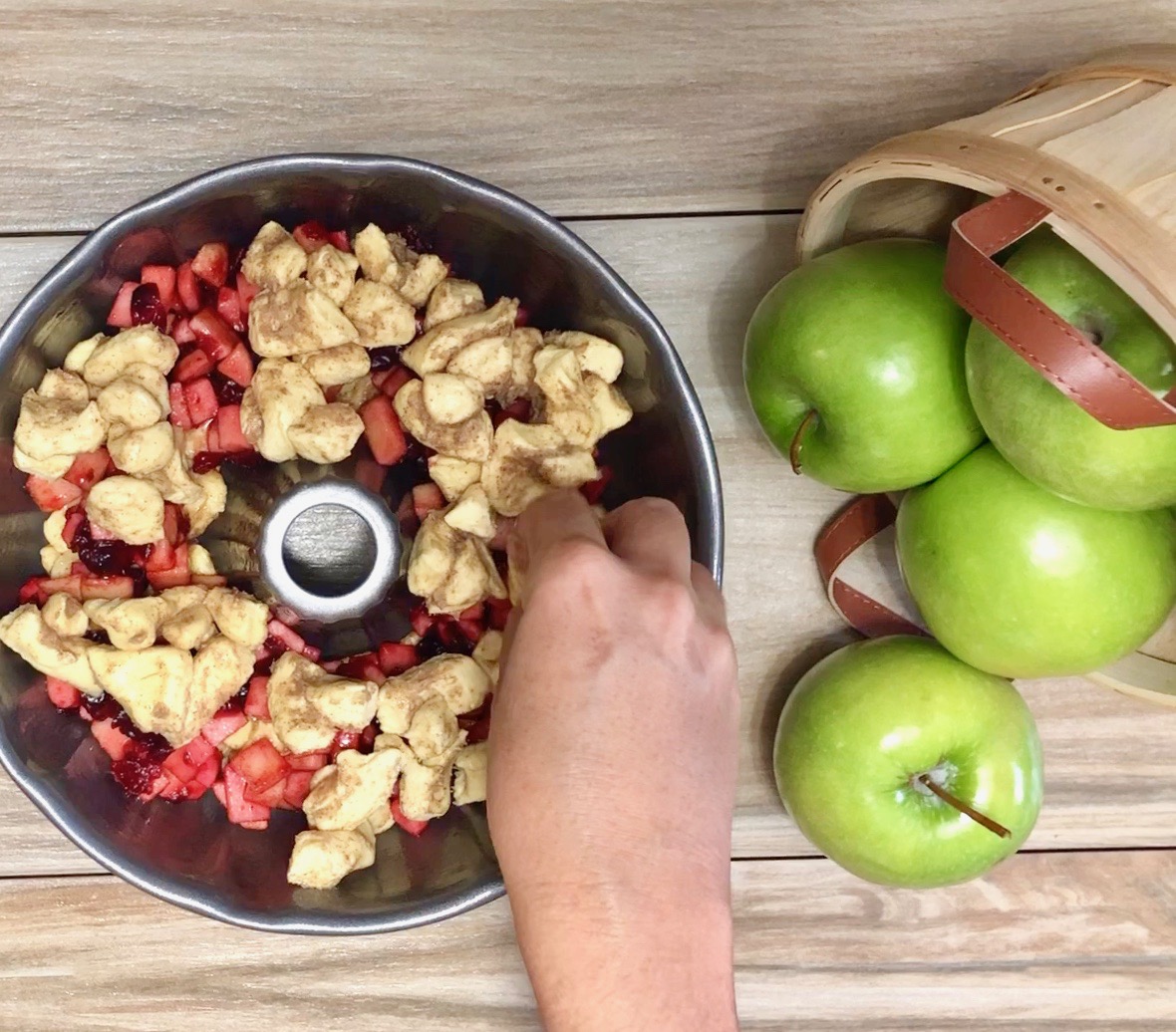 Bake for 40-45 minutes or until deep golden brown on top. Let cool for 10 minutes.
To remove from pan run a knife around the age of the pan to loosen. Place a serving plate over the pan and turn over. Tap several times all around the pan to finish loosening it.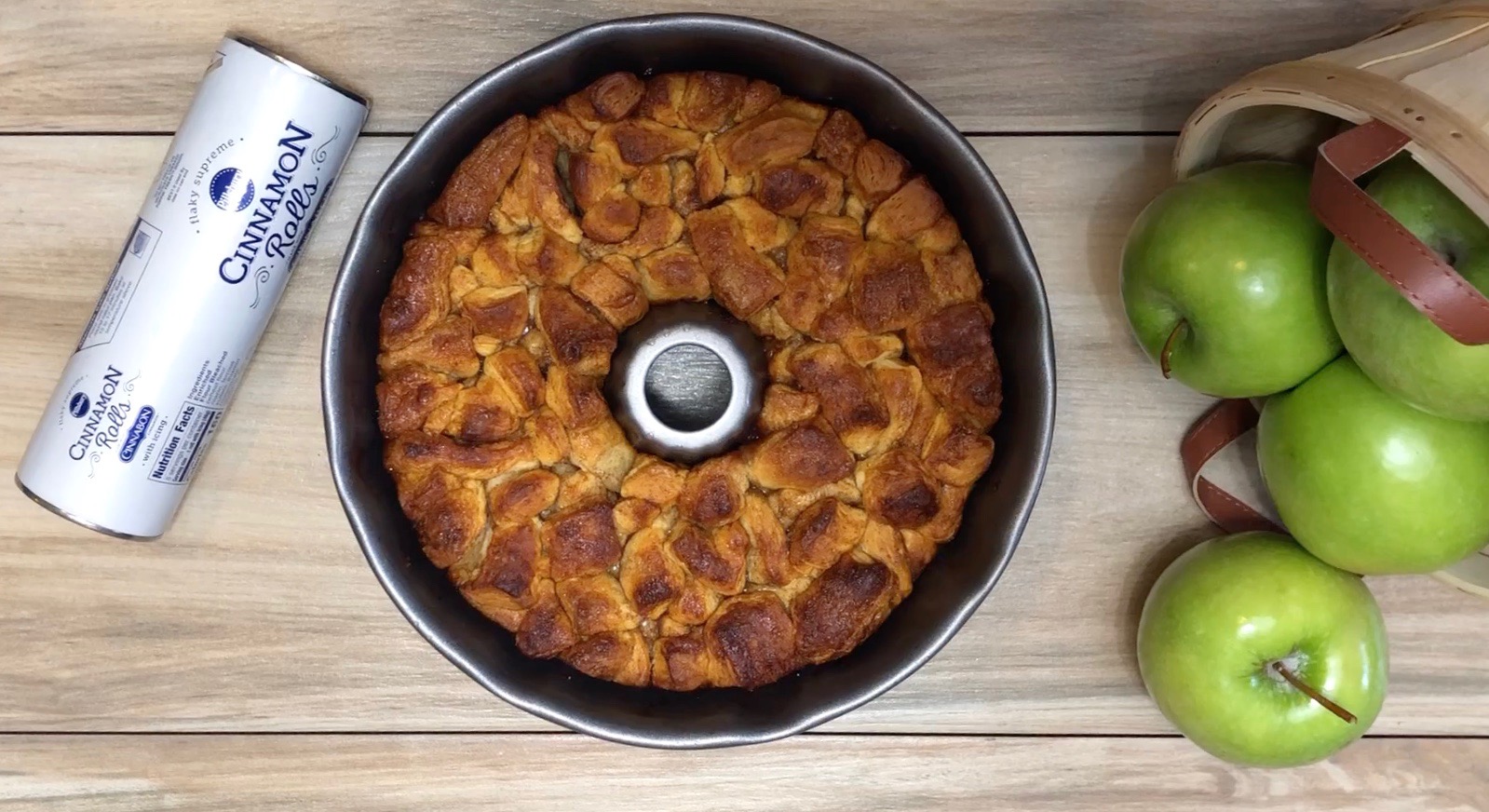 Remove pan and let cool for 10 minutes.
Drizzle reserved icing.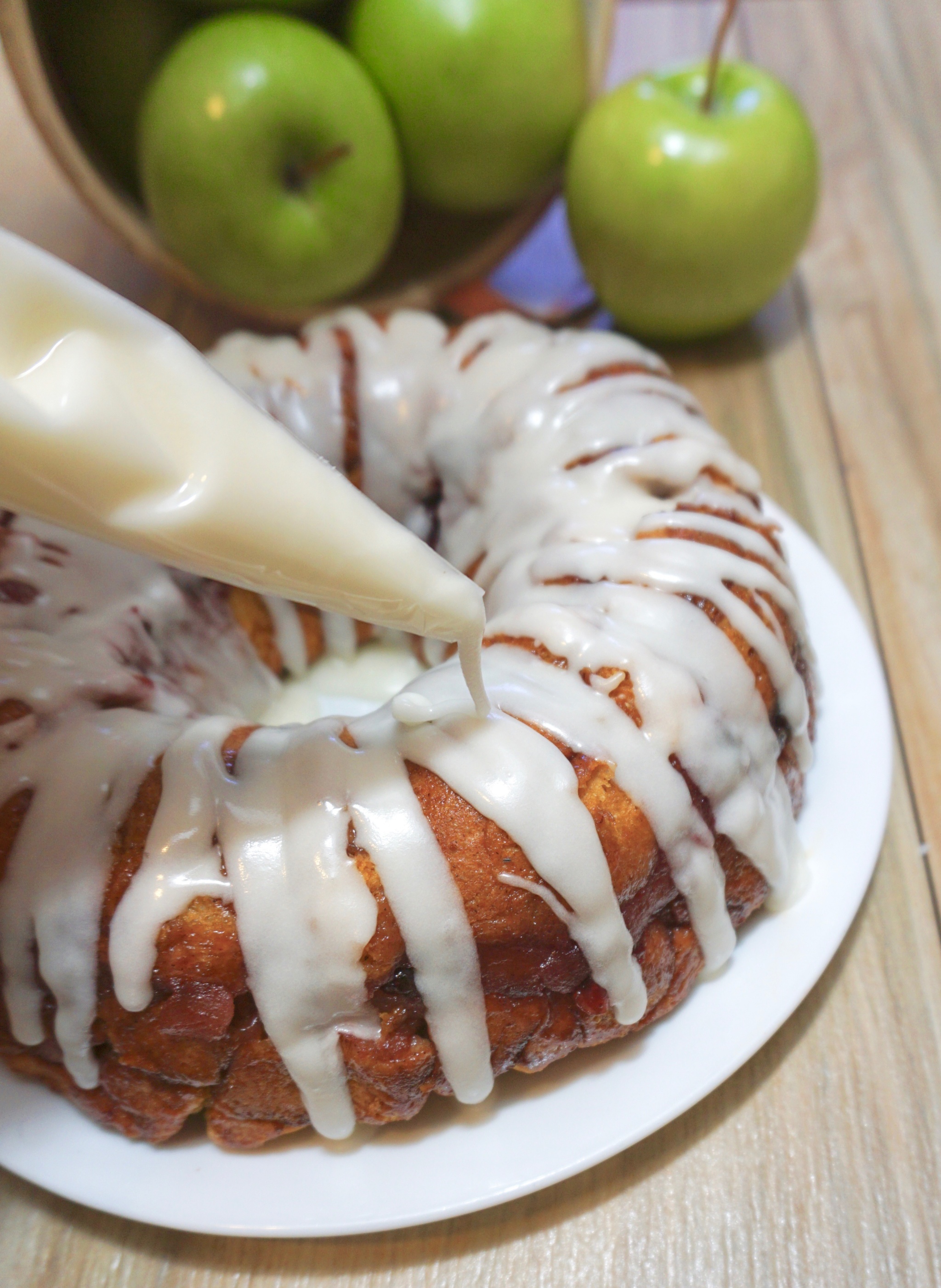 Top with fresh cranberries and mint leaves. Serve warm.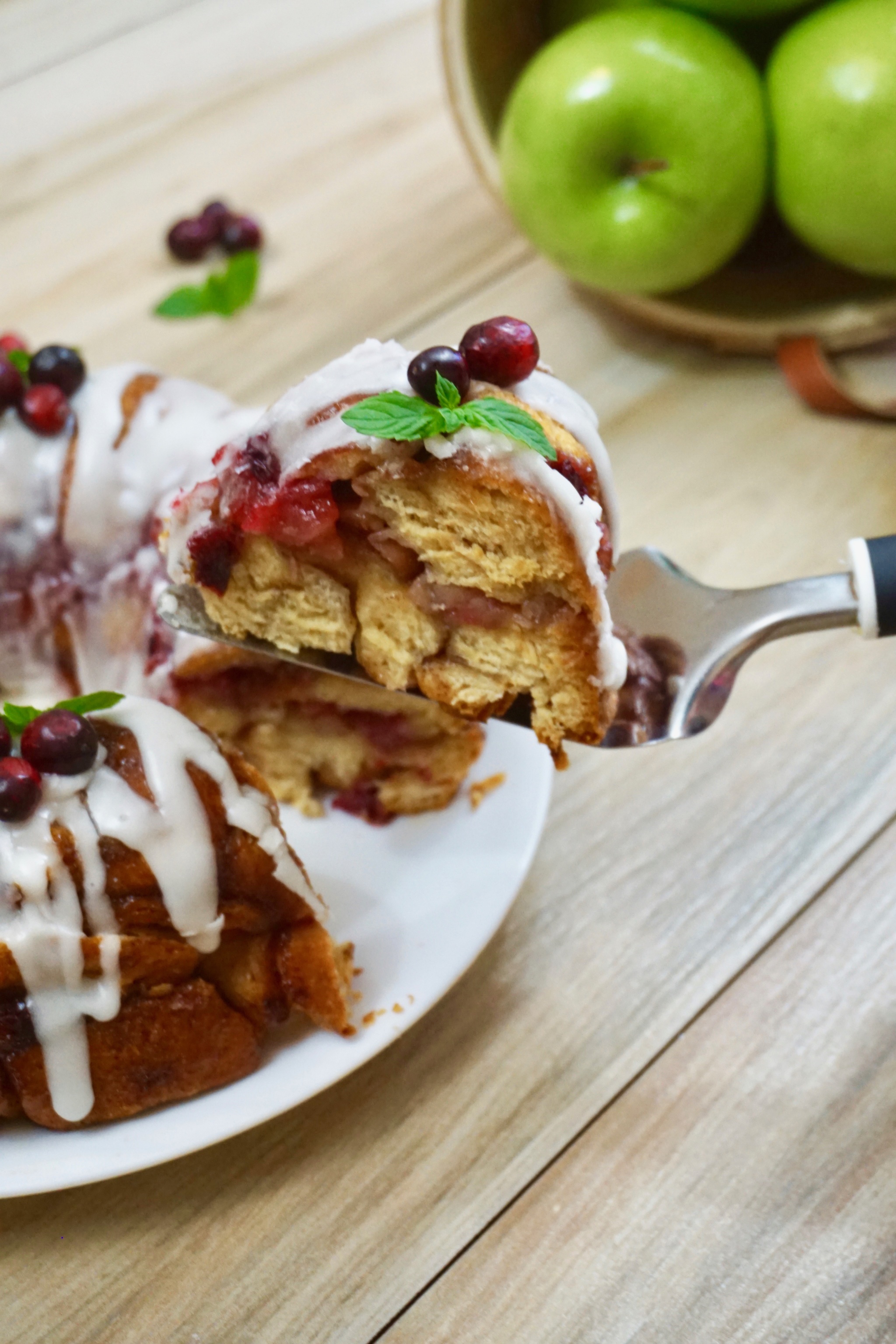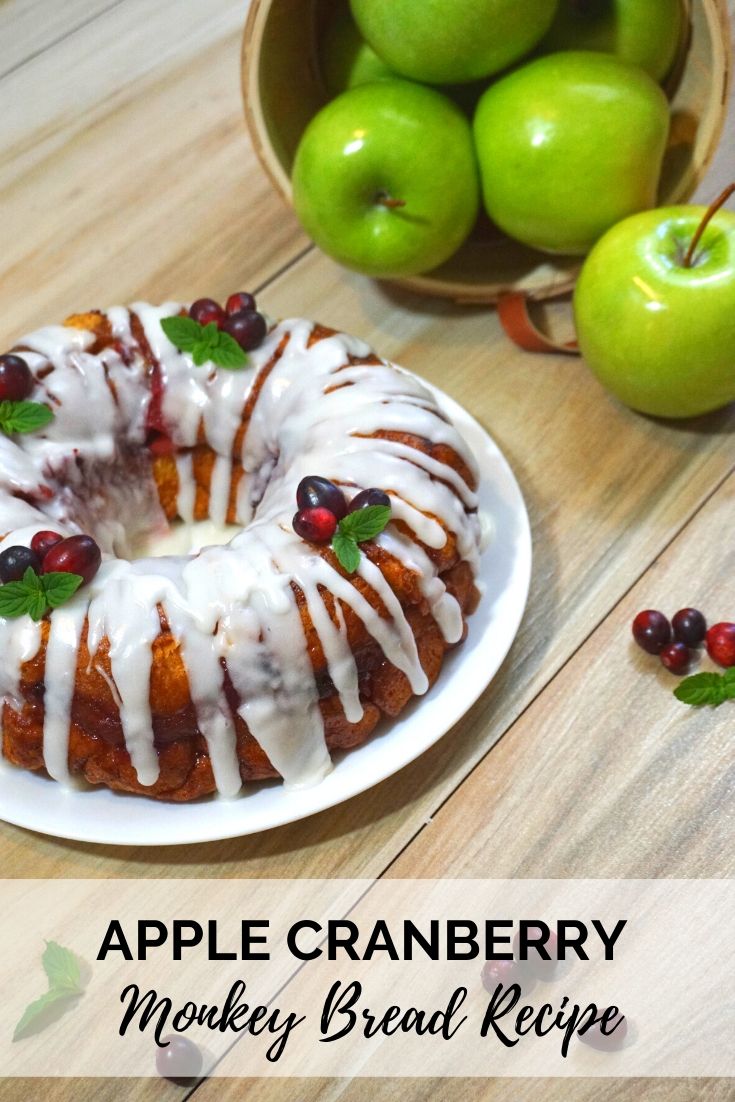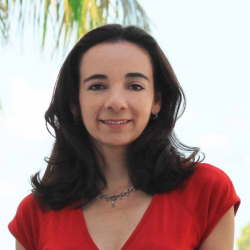 Latest posts by Paula Bendfeldt-Diaz
(see all)