This shop has been compensated by Collective Bias, Inc. and its advertiser. All opinions are mine alone. #NewMovieNightTraditions #CollectiveBias
The Goosebumps 2 movie is the perfect Halloween activity. I'm sharing some fun Halloween party ideas and snacks inspired in the Goosebumps 2 movie for a fun Halloween movie night party!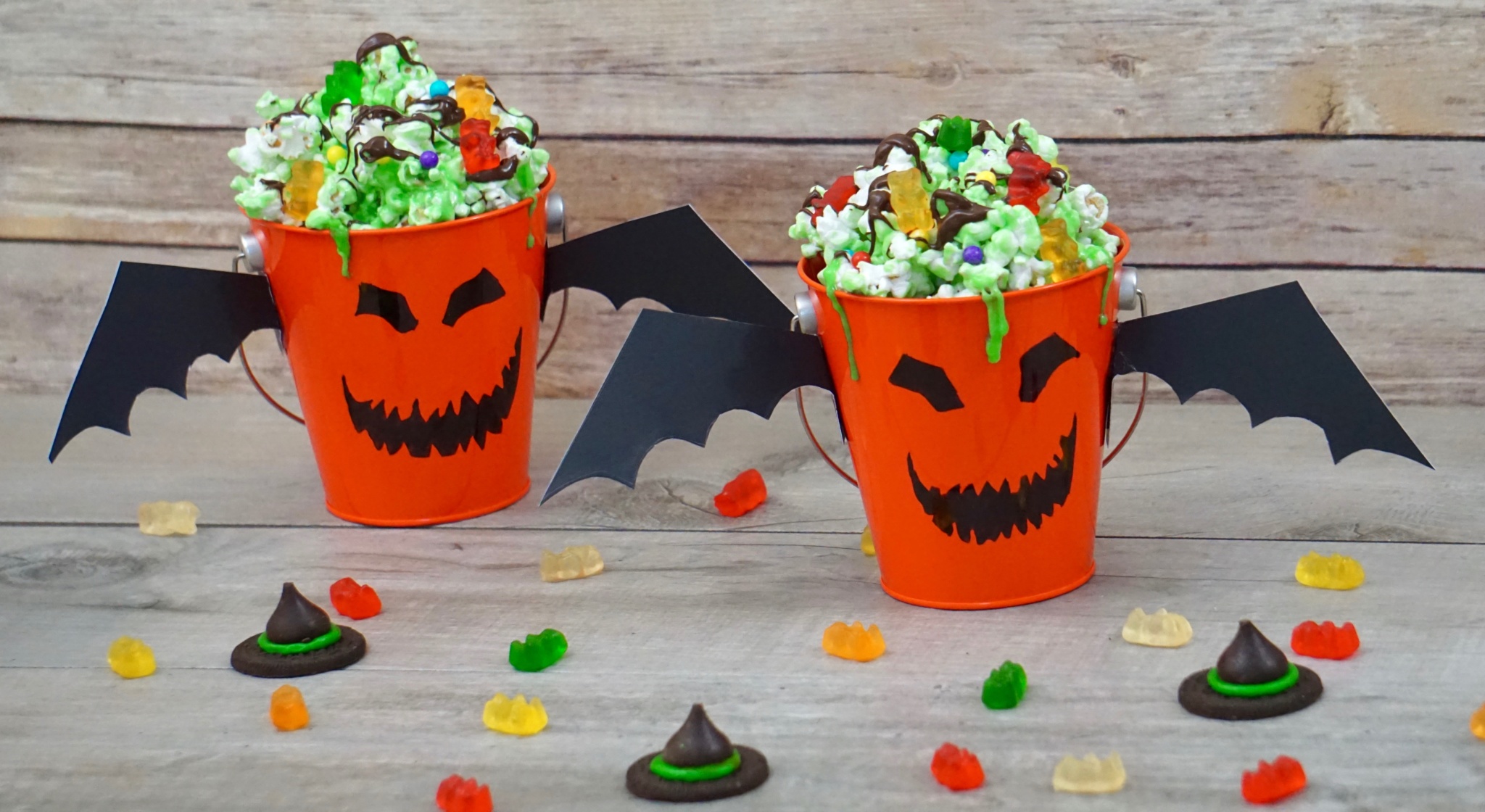 This year I'm focusing on spending more time with family and being present. A big part of that is sharing with my kids those things that they are passionate about and immersing myself in their world. We have a family movie night tradition where we watch family movies together. My son is a huge fan of the Goosebump books by R.L Stein. Yes, he's read most of them already! And we loved both of the Goosebumps movies.
He was so excited about the Goosebumps 2 Blu-ray, DVD and Digital Combo Pack now being available at Walmart I decided to throw a special movie night Goosebumps 2 party! We included some super fun Goosebumps 2 inspired party snacks and spent a fantastic family night together.
Hover over the photo in order to click through and buy the Goosebumps 2 movie!
For those of you not familiar with the Goosebumps 2 movie, this is the second installment of the family-friendly franchise based on R.L. Stine's beloved book series. Starring Jack Black, Wendi McLendon-Covey, Chris Parnell, Ken Jeong, Madison Iseman, Jeremy Ray Taylor and Caleel Harris. Bonus features include a gag reel full of hilarious hijinks, three all-new deleted scenes, and five featurettes.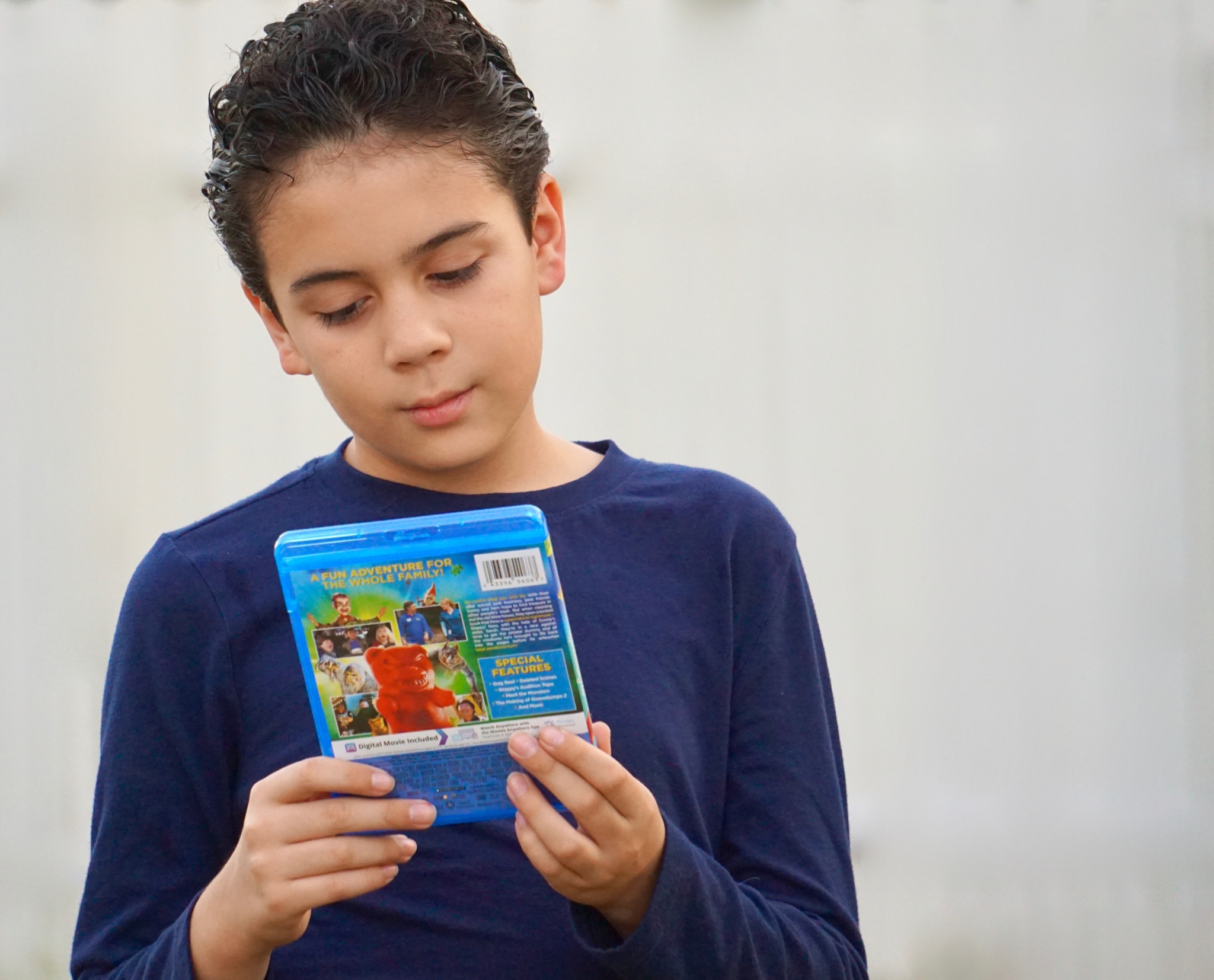 The movie is rated PG and is perfect for elementary school kids, tweens and teens. Spooky and fun-filled, Goosebumps 2 is a movie everyone in your family is sure to enjoy. And if your kids liked the first Goosebumps movie they are sure to love this one!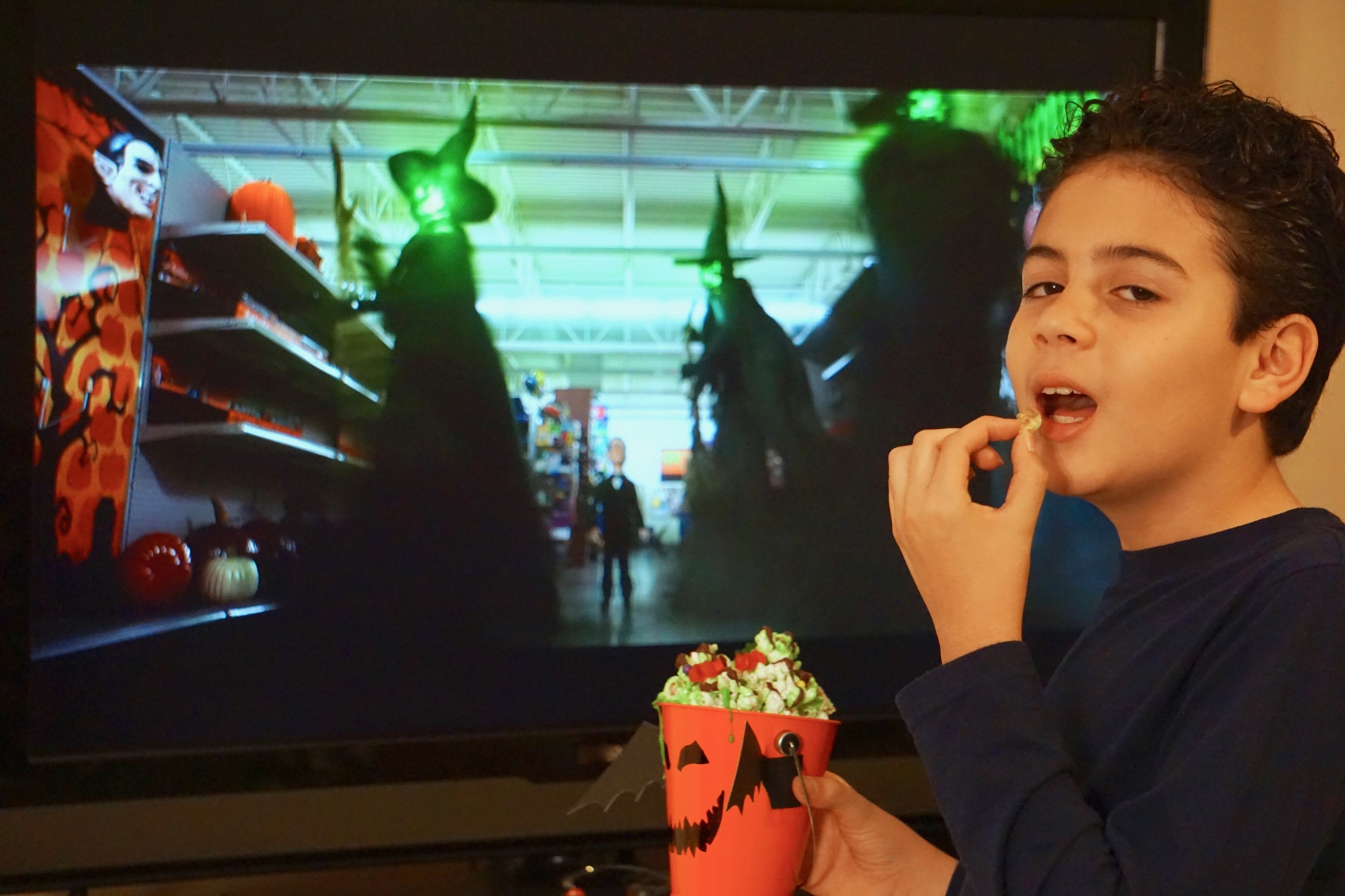 If you're already a fan of the Goosebumps movies or are looking for an awesome option for family movie night you can also get the Walmart Exclusive Goosebumps 1 and Goosebumps 2 movie collection on Blu-ray!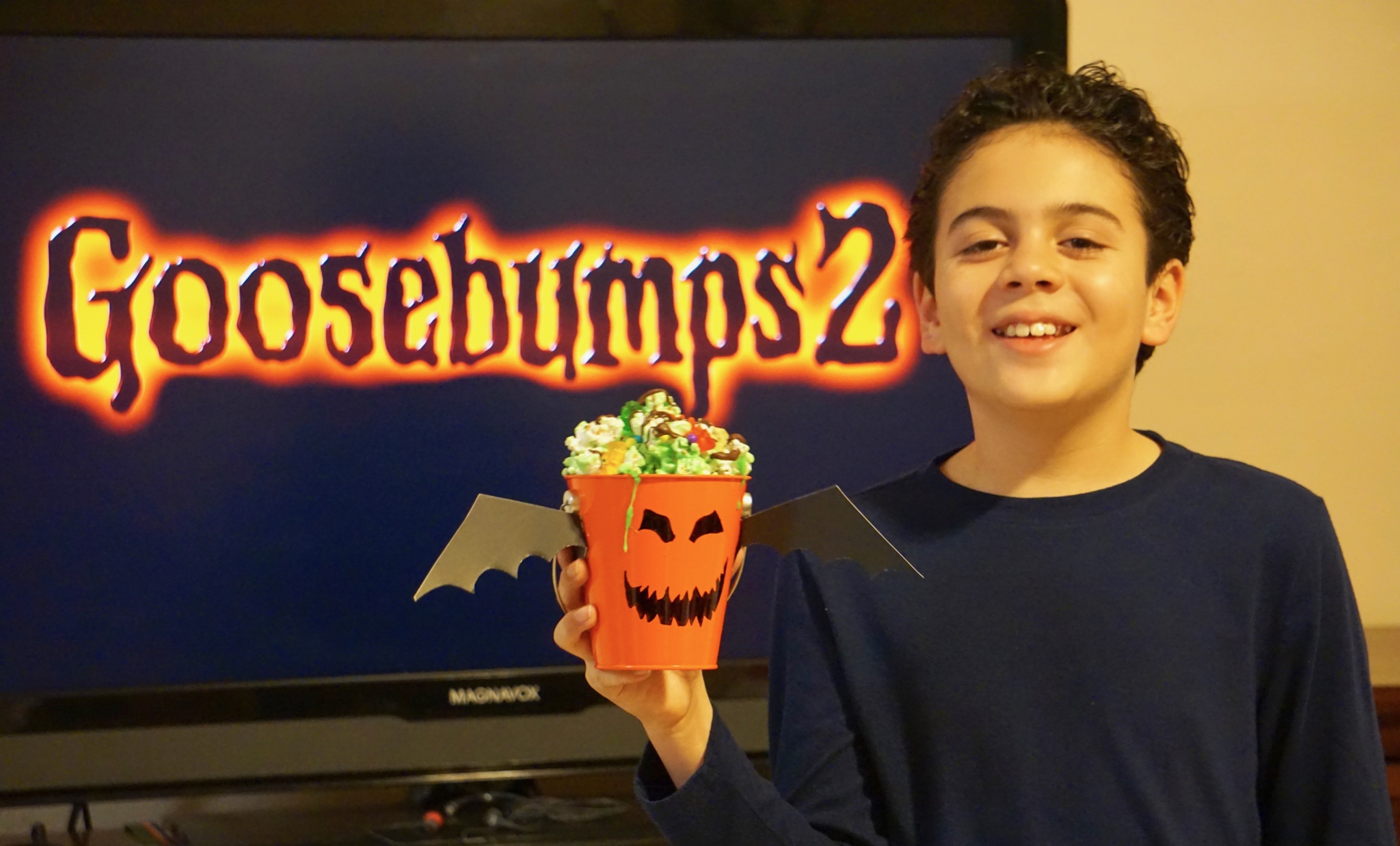 Fun ideas for a Goosebumps 2 movie night party
No spoilers here but the Goosebumps 2 movie is all about Halloween. Halloween is one of our favorite holidays so I was thrilled with the opportunity to get back into the Halloween spirit. For our little family movie night party, I created pumpkin bat buckets for the popcorn, made Goosebumps 2 inspired green popcorn snack with gummy bears and also made some super easy witch hats.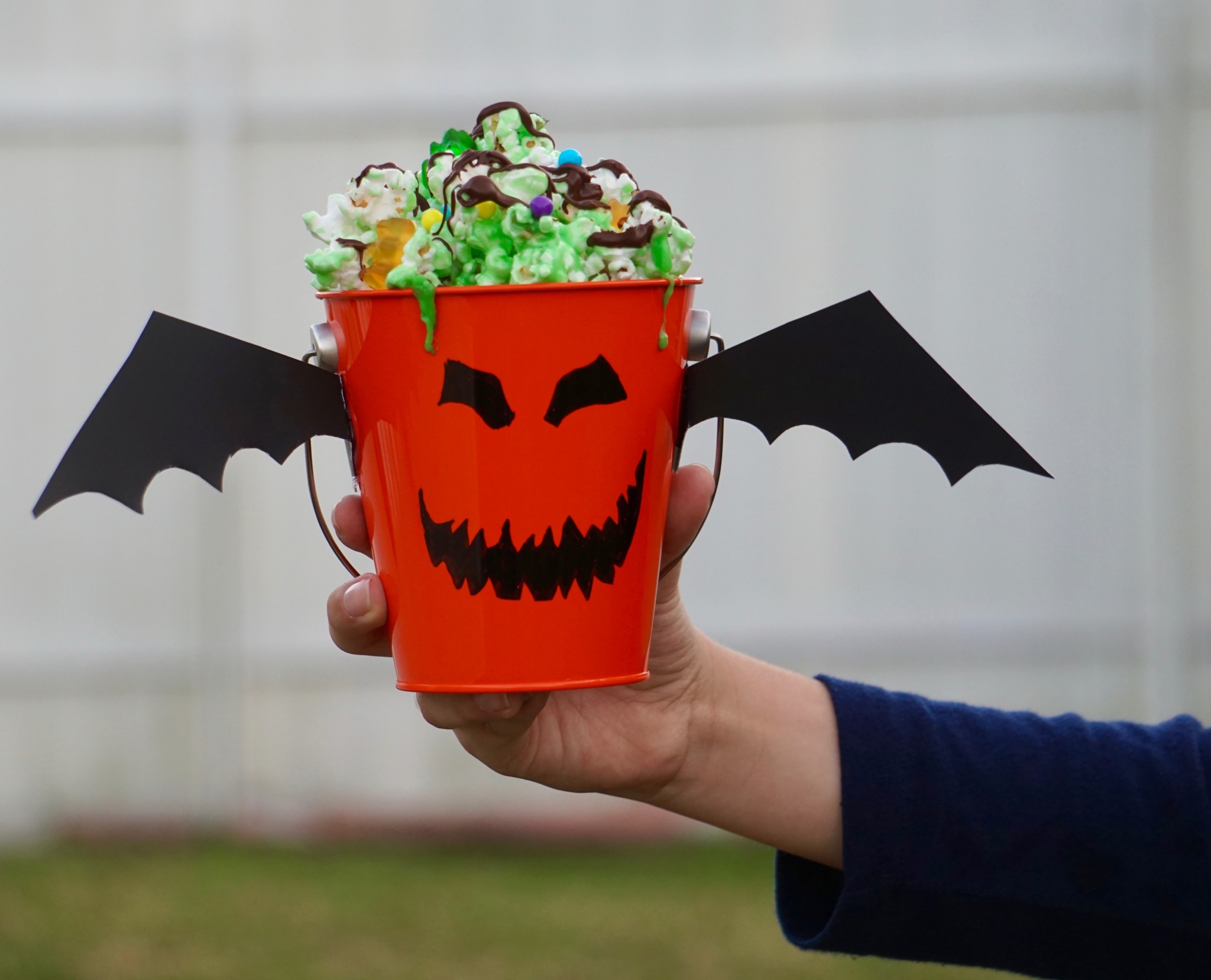 Bat Pumpkin popcorn buckets
These bat pumpkin buckets are ideal for a snack like popcorn or for party treats too. They are so easy to make you can make one for each kid.
Materials
Orange metal or plastic buckets
Black permanent marker
Black cardstock paper
Scissors
Glue gun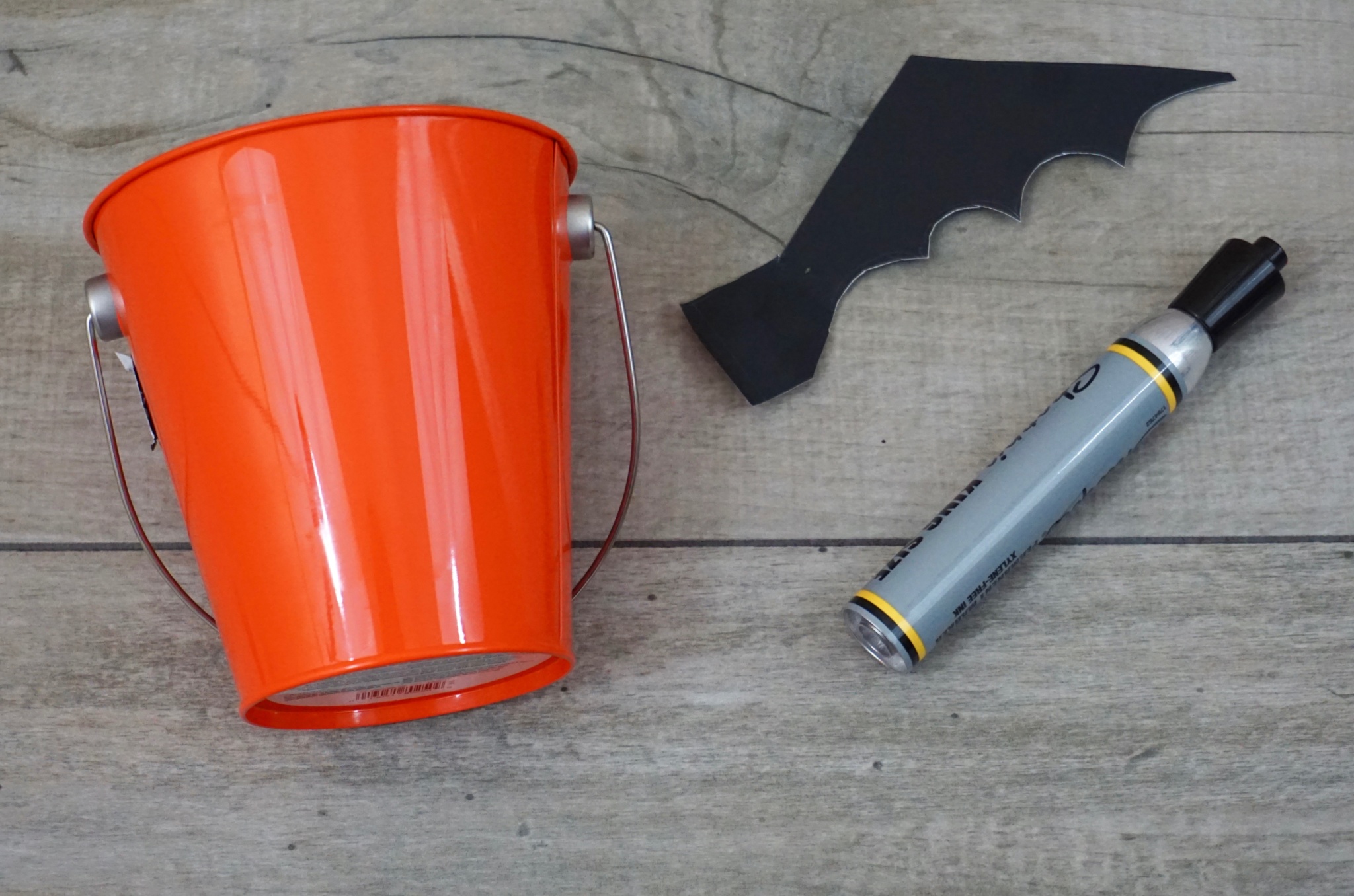 Instructions
Draw the pumpkin face on the bucket with the permanent marker.
Cut out bat wings from the black cardstock paper.
Glue the bat wings on each side of the bucket using a hot glue gun.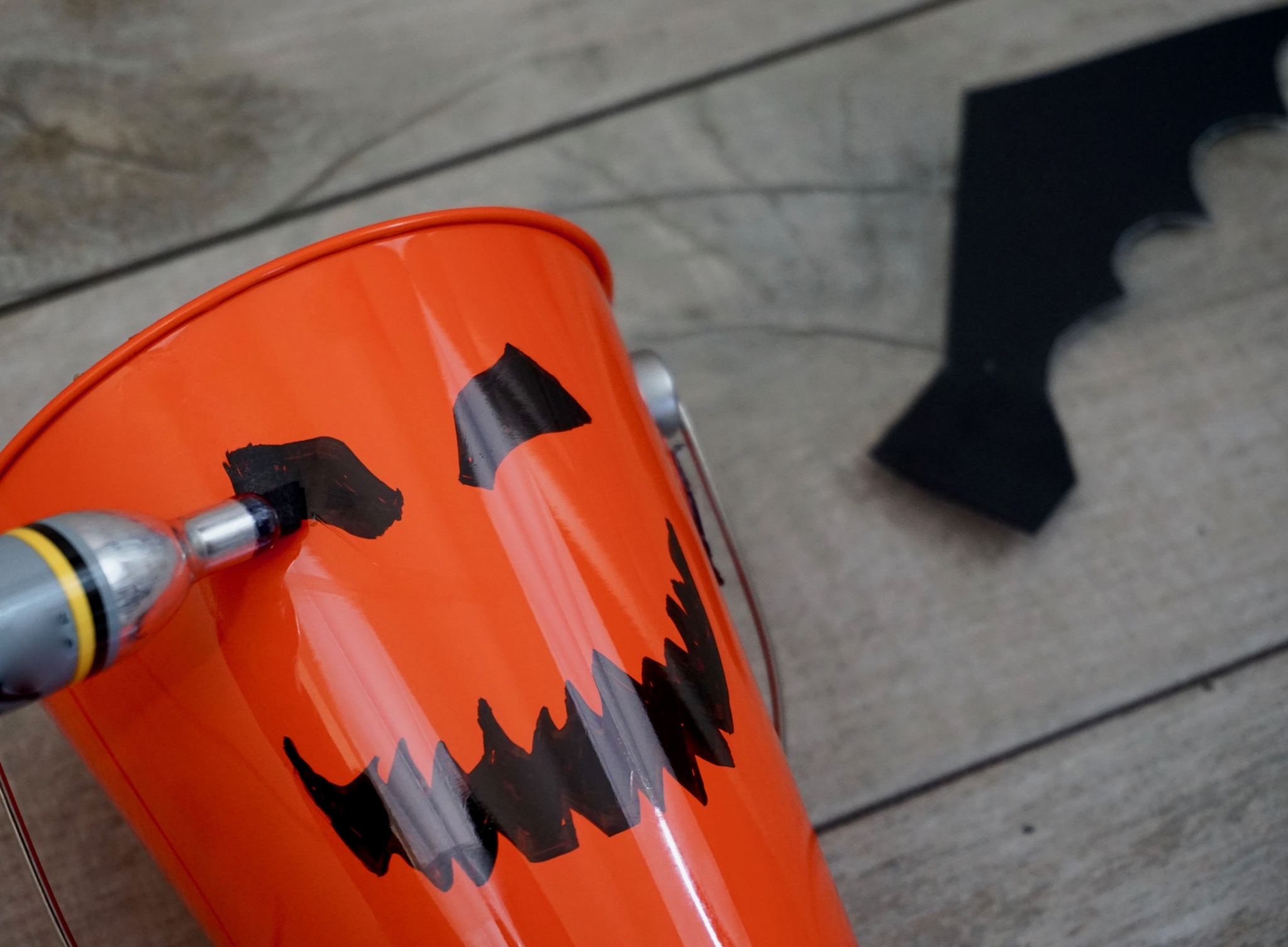 Goosebumps 2 green gooey popcorn recipe
This salty and sweet snack is perfect to enjoy while watching the Goosebumps 2 movie. The green gooey marshmallow makes them just a bit spooky and the gummy bears give it that unique touch inspired in the movie.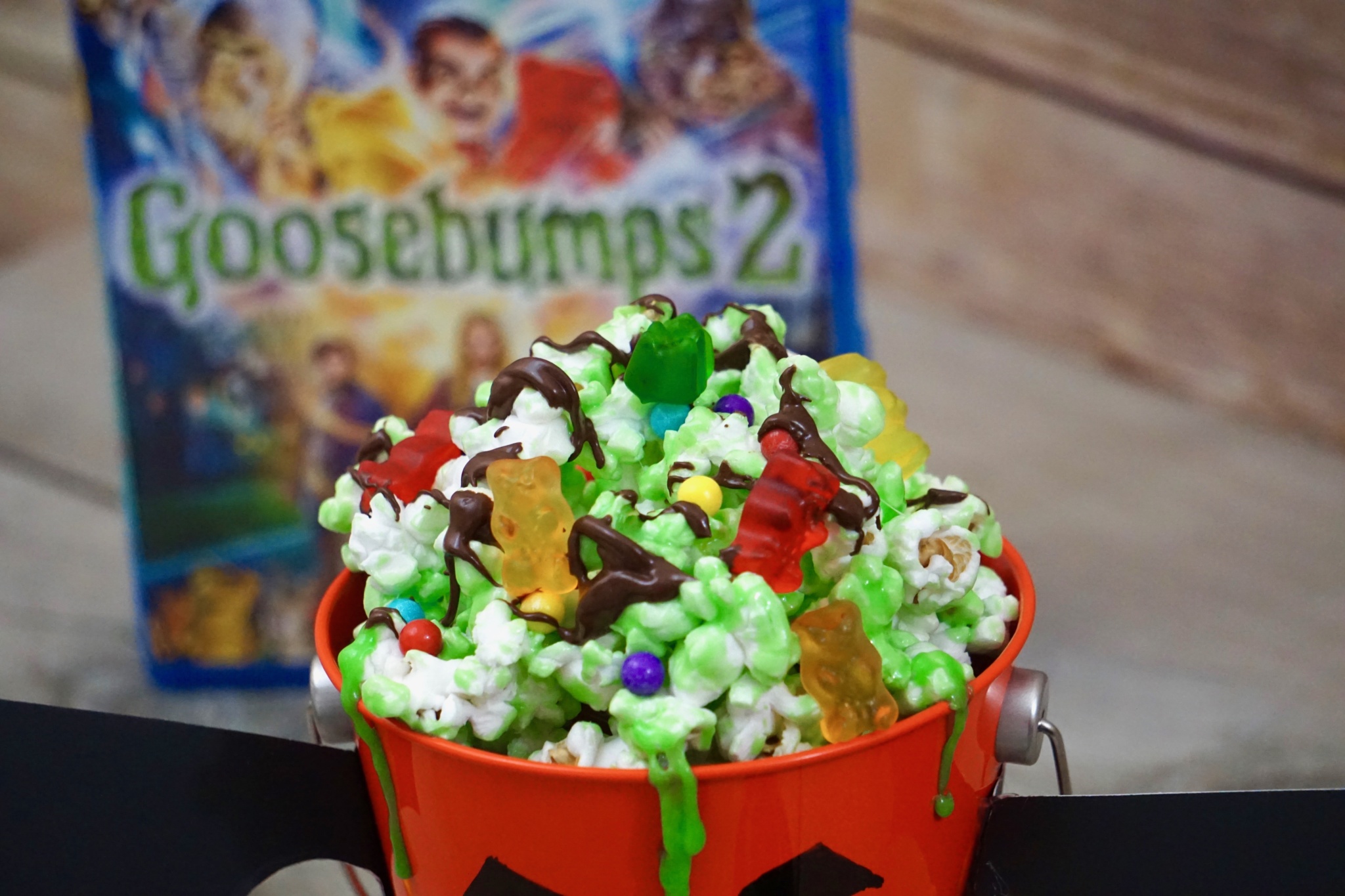 Ingredients
1 10 ounces bag of mini marshmallows
5 tablespoons of butter
5 cups of popcorn, popped
1/2 cup of semi-sweet chocolate chips
Colored candy or chocolate
Gummy bears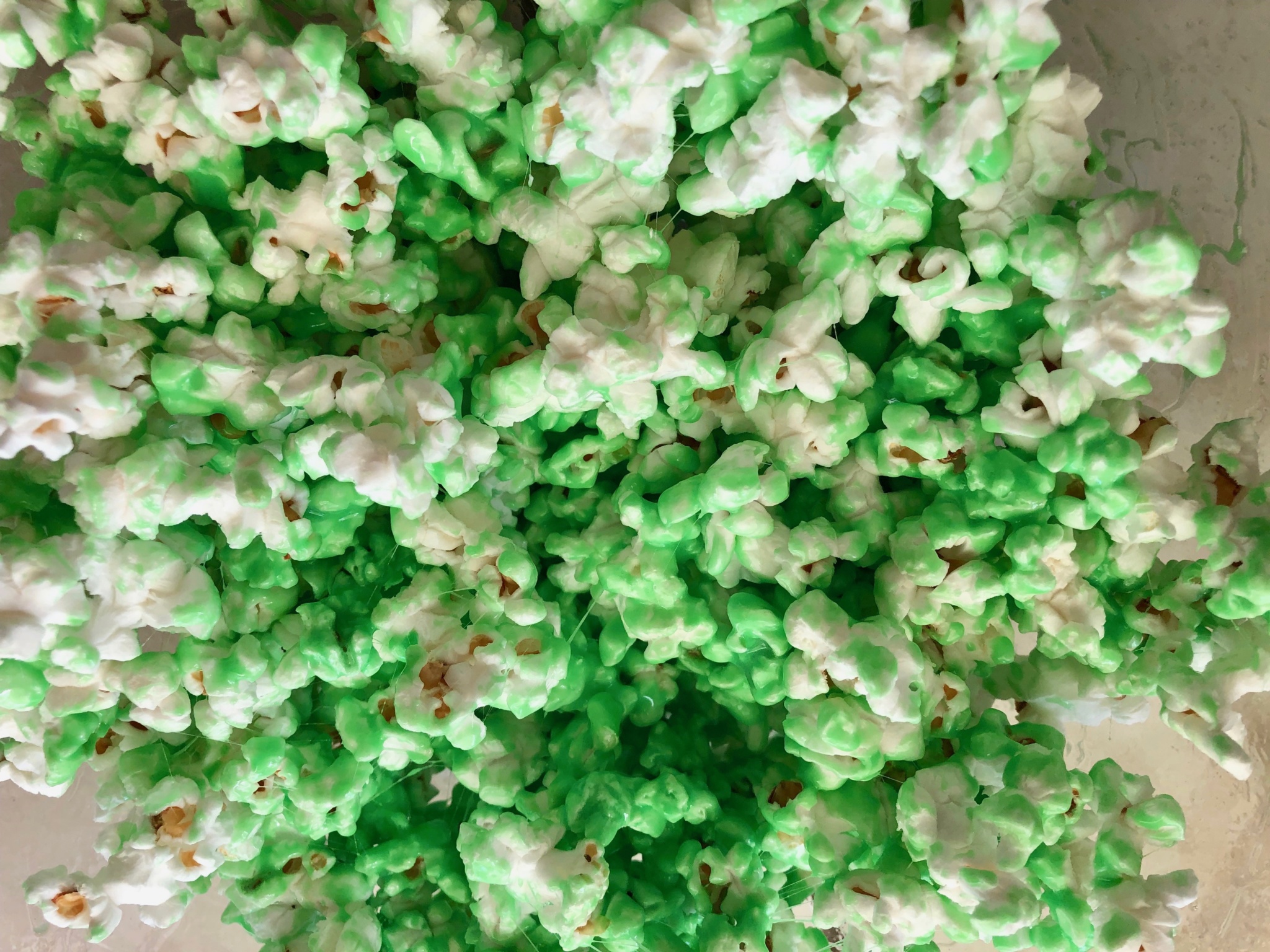 Instructions
Place the popcorn in a large bowl that has been sprayed with no-stick spray.
In a large saucepan, over medium, melt the butter. Add the marshmallows and stir until melted.
Remove the saucepan from the heat and add the green coloring. Mix until combined.
Fold the green marshmallow mixture onto the popcorn until the popcorn covered in it.
Add gummy bears and colored candy or chocolates and mix well.
Transfer the popcorn mixture into the pumpkin bat buckets.
To melt the chocolate chips in the microwave heat for 30 seconds intervals, mixing and checking the chocolate chips each time unitl melted.
Drizzle melted chocolate on top of the popcorn.
Easy Witch Hat Cookies
These witch hat cookies can be made in just minutes!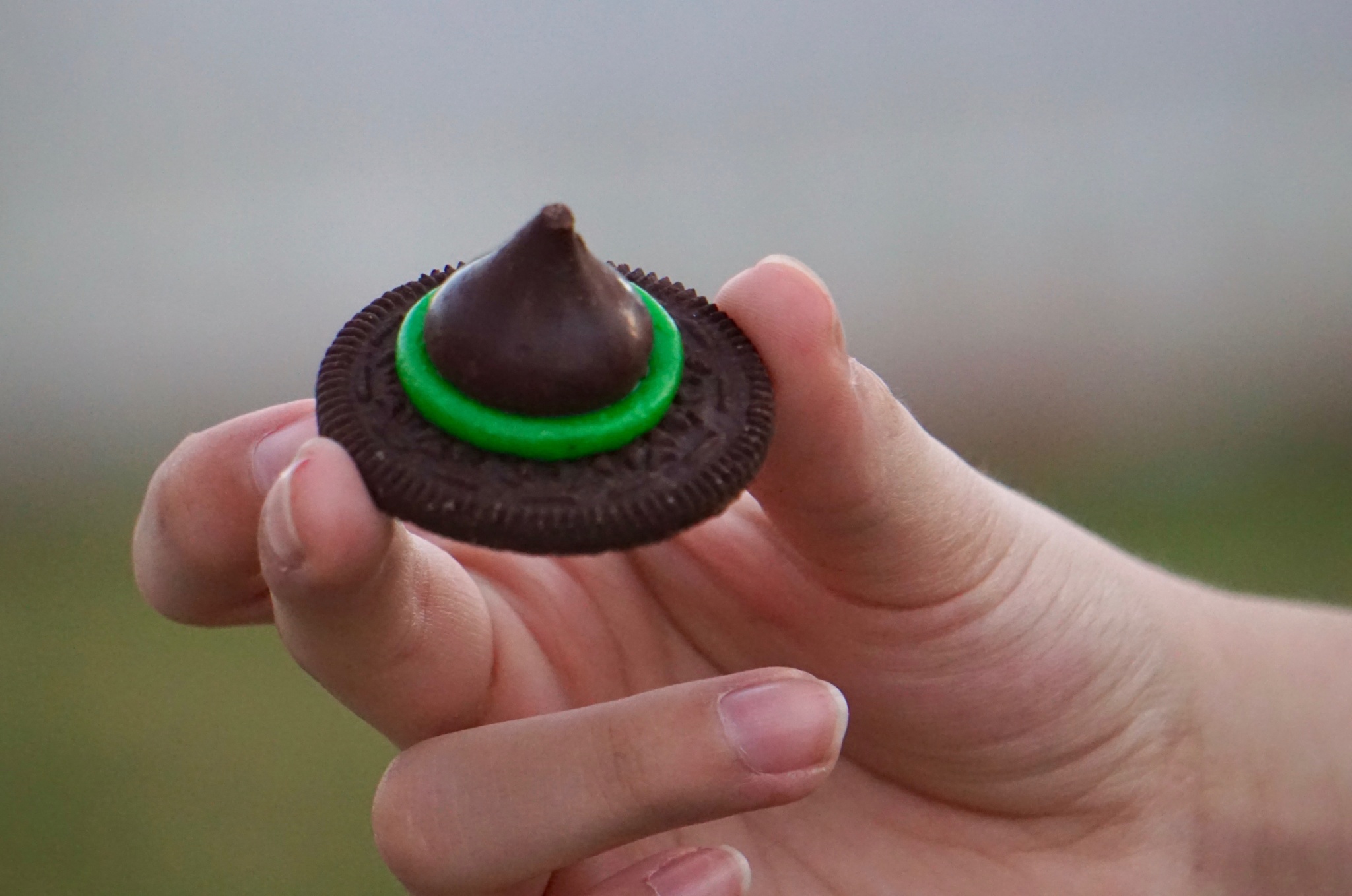 Ingredients
Store bought chocolate cookies.
Kiss shaped chocolates.
Green frosting.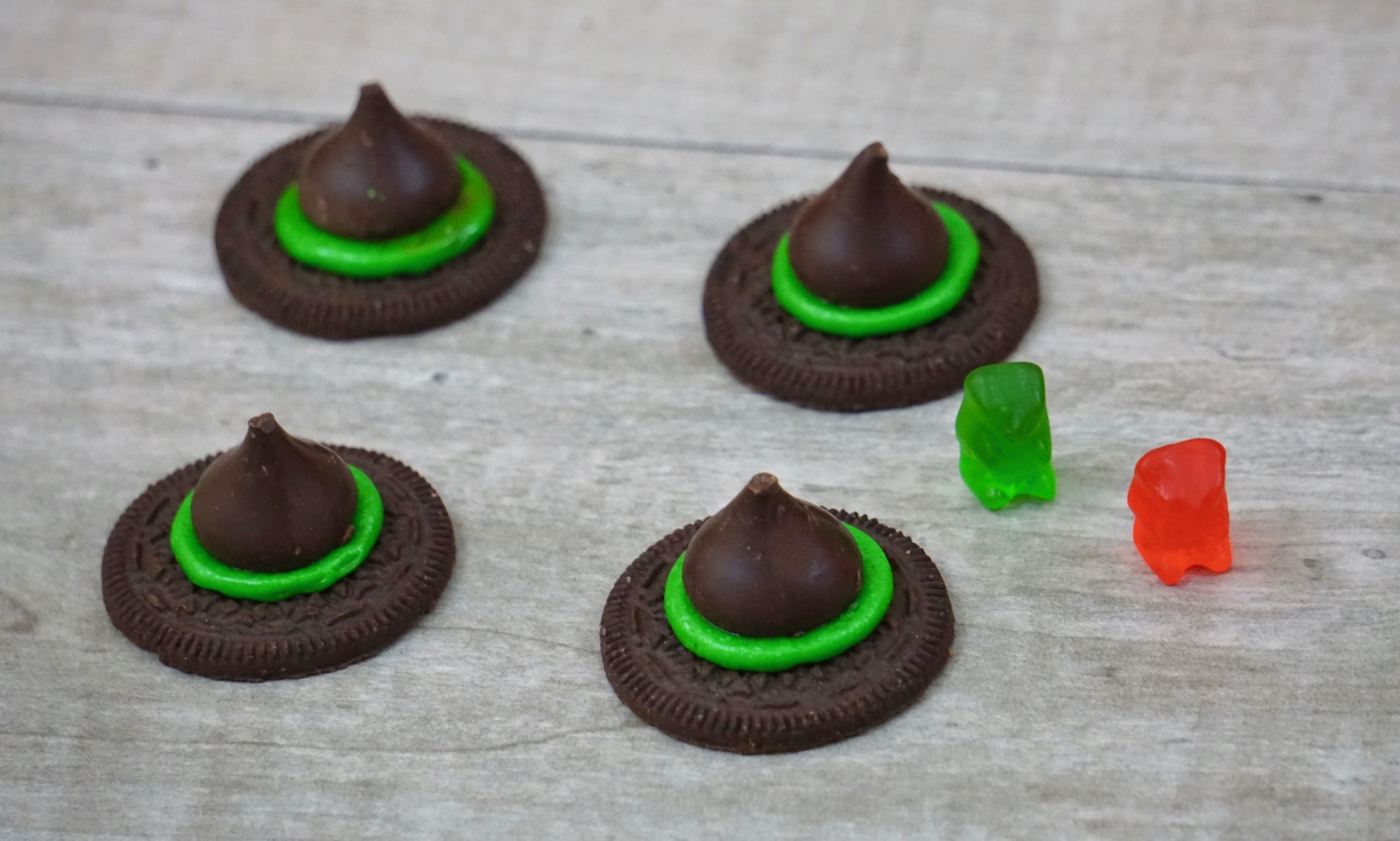 Instructions
Add a dollop of green frosting in the center of each cookie.
Press one chocolate into the center of the frosting.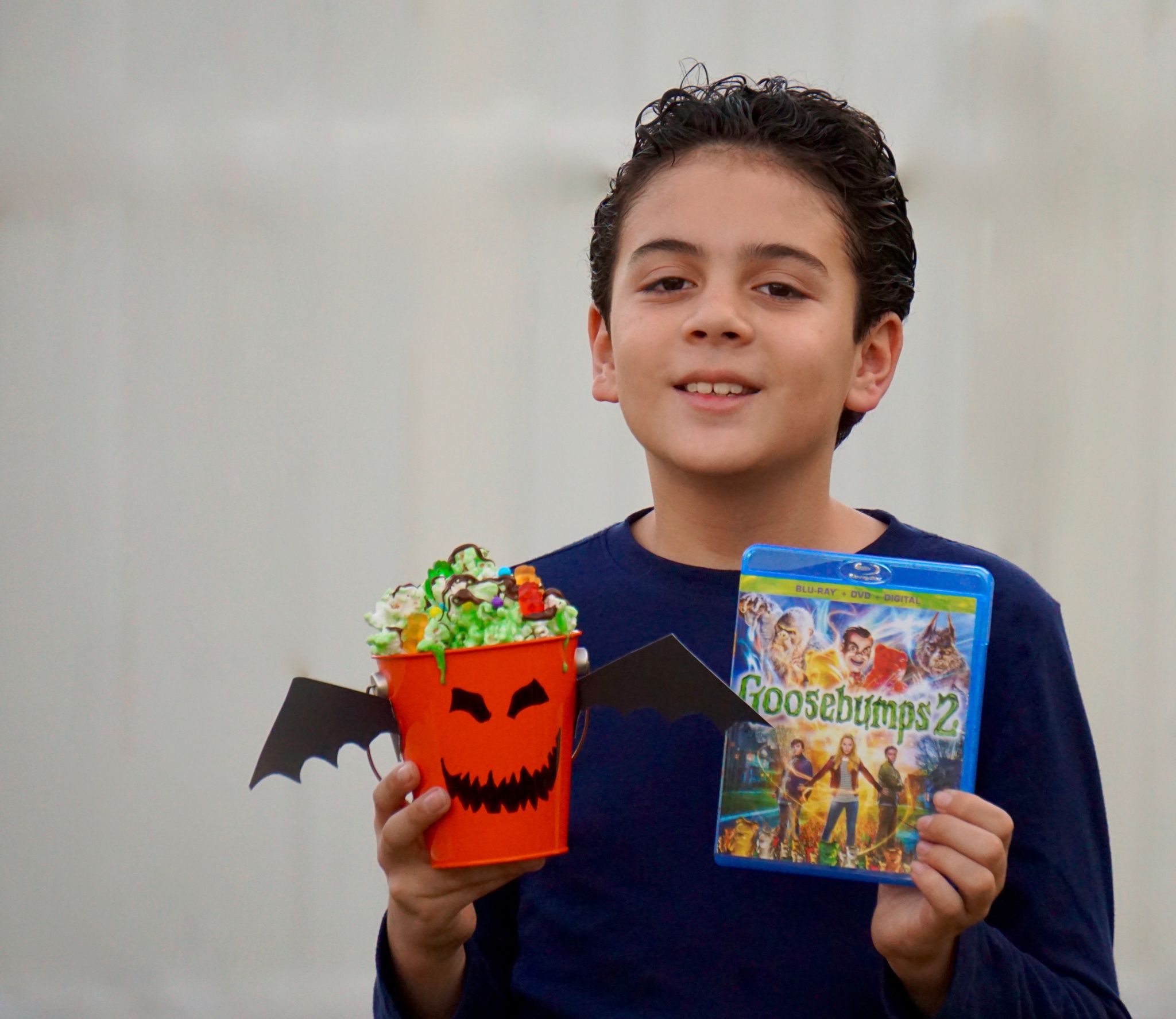 We had so much fun watching Goosebumps 2 and enjoying the movie inspired snacks. My kids are sure to remember this special movie night for years to come. I love that we're making memories and enjoying family time together. Family movie nights are one of my favorite family traditions!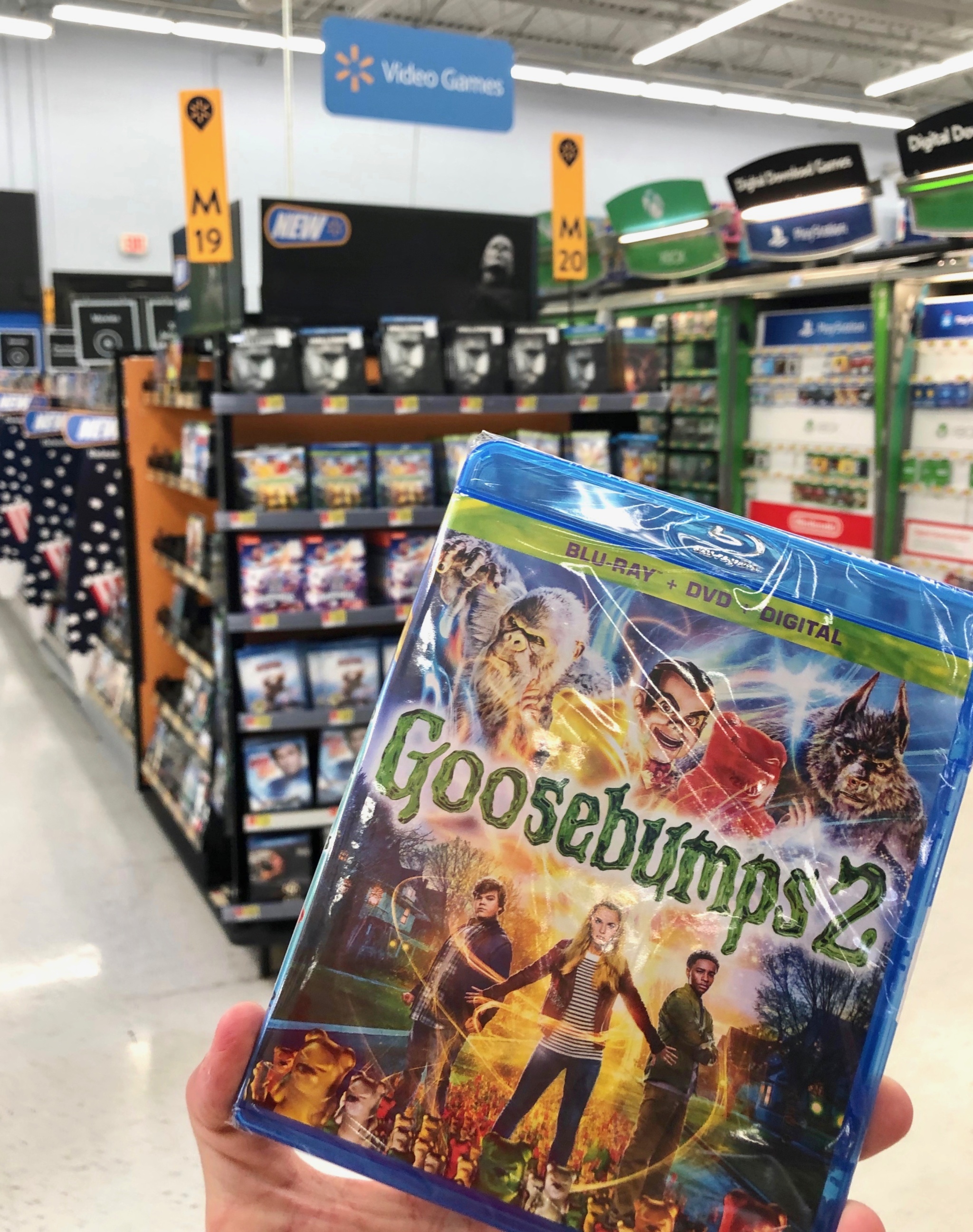 If you're looking for a fun family activity this weekend get to Walmart to grab your copy of Goosebumps 2 Blu-ray, DVD and Digital Combo Pack or get the Walmart Exclusive Goosebumps 1 and Goosebumps 2 movie collection on Blu-ray and throw an awesome Goosebumps themed party or movie night tonight!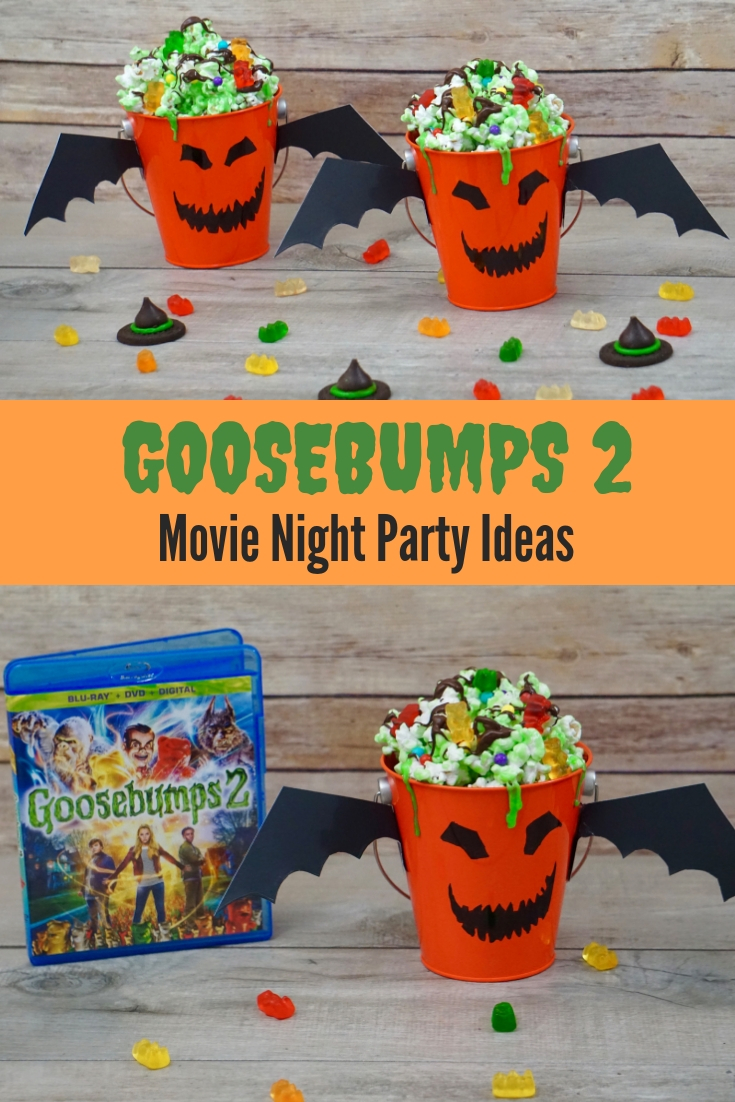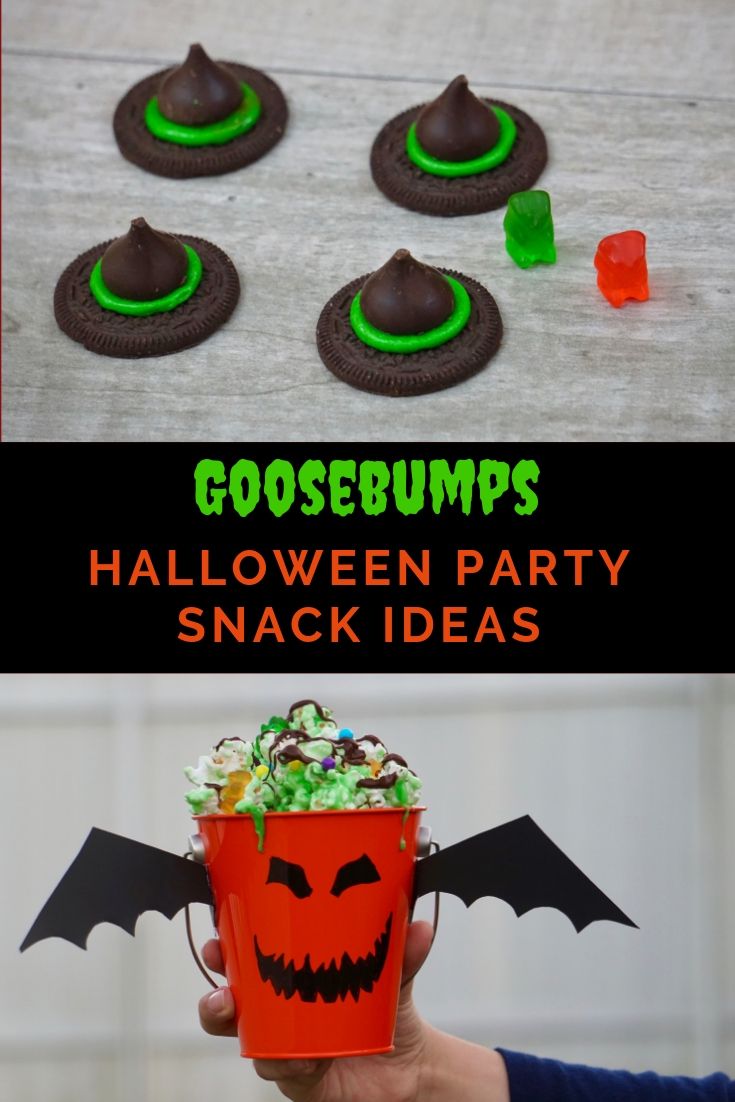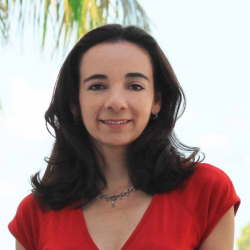 Latest posts by Paula Bendfeldt-Diaz
(see all)