Today, September 15th, Guatemala celebrates her independence from Spain in 1821 along with four other Central American countries: Costa Rica, El Salvador, Honduras and Nicaragua.  In the United States September 15th marks the start of Hispanic Heritage Month.
Photo by phossil. Creative Commons License.
In our family September 15th is always a very special day, a day to remember the country where we where born, a day to remember our family and friends there and to be thankful and proud for coming from a country with so much passion, warmth, tradition and color.  For me Guatemala is and will always be the most beautiful country in the world, mi tierra.
This year September 15th is more special than ever for us because just a few days ago I became an American citizen.  Even though we have called the United States our home for almost 5 years now and even though my children hardly remember Guatemala, my little man was only 3 months when we moved and my little girl was 2 years old, it wasn't until this week that the whole family officially became American.  This is the first time that I will celebrate my country's independence day as an American citizen.
As I stood along with 90 other immigrants from 37 different countries and we all took and oath to renounce allegiance to our countries of origin and to support and defend the Constitution and Laws of the United States you could see a room full of faces filled with so many emotions all mixed up together.  My own heart was filled with a combination of happiness, excitement and nostalgia.   I will proudly defend the United States, the country we call home, the country that has opened it's doors and it's arms to us and has given us new opportunities and new hope for the future of our children but my heart will always be in Guatemala.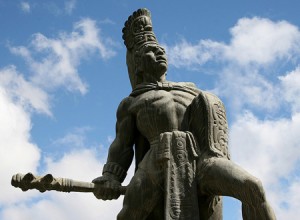 Tecun Uman national Hero. Foto from Harry Diaz. Used under Creative Commons License.
Today I celebrate Guatemala's independence as an American and I have to say I have never been so proud about my roots and my culture.  While I lived in Guatemala I took all of this for granted but now that I am far away my love for the land that gave birth to me and made me who I am today has become stronger than ever.
I am an American citizen now but I have always been and will always bee proud to be chapina!
 Te amo Guatemala. ¡Feliz Día de la Independencia!
 Here are some fun ideas of things you can do to celebrate El Día de la Independencia at home: