This shop has been compensated by Inmar Intelligence and its advertiser. All opinions are mine alone. #FluShotAtSamsClub
Being proactive about staying healthy is important to me, especially as flu season approaches this year. I want to be ready for flu season as well as protected and that is why I'm making getting the flu shot a priority.
How I'm Preparing for Flu Season This Year
Cold and flu season are around the corner, and this year I want to make sure I'm prepared and I'm doing everything I can to prevent sickness at home. One effective way to prevent and fight cold and flu symptoms is through the cold and flu IV therapy . By receiving an infusion of essential vitamins, minerals, and fluids directly into your bloodstream, you can boost your immune system and help your body fight off infections more effectively.
Check out other things I'm doing to get my home and my family ready for flu season.
Getting the flu shot at Sam's Club
Anyone can get the flu shot at Sam's Club and you may even have a $0 copay with insurance.
Making cleaning a priority
Even though cleaning and disinfecting everything has pretty much been the theme for 2020, as flu season approaches and as kids are now back in school I'm doubling down on my cleaning efforts. I'm focusing on disinfecting all of those surfaces that get touched a lot. That is why I'm disinfecting door knobs, remote controls, cell phones and car keys daily.
Everyone in our house has gotten a lot better at washing their hands this year. Something that has really worked for us has been to make hand washing part of our routine. Everyone washes their hands as soon as they come in the house and before each meal. And we're really stressing the importance of washing. As cold and flu season approach, I'm making sure that we have lots of hand soap, surface disinfectants, hand sanitizers and paper towels.
Stocking up on all things cold and flu season
Prevention is the best medicine but sometimes getting sick is inevitable. It's important to be prepared and stock up on all of the cold and flu essentials. I started off by checking my medicine cabinet and making sure that I have all of the medications my family uses when they are fighting a cold or the flu. My flu season preparedness list included pain relievers, fever reducers, decongestant and cough syrup as well as tissues, hand sanitizer, hand soap and paper towels.
I got everything I needed at Sam's Club and it was so convenient to simply order it online and pick it up at the club. Then I just ran inside for a to get my flu shot which took just a few minutes!
Staying active
Leading an active lifestyle is important for staying healthy. I have never liked gyms so I focus on things I can do at home and outdoors. From walking my dog in the afternoons and doing yoga in the morning to hiking, trail running or kayaking in the weekends. I try to find activities I enjoy so that exercising is something I actually look forward to.
Managing stress
Managing stress is a big one for me. This year has been especially hard and I have been dealing with lots of anxiety. Stress can lower your defenses so it's been important for me to prioritize taking care of myself and finding ways to reduce stress as much as I can.
Some of the things that really help me reduce stress include making sure that I set time for myself, meditating and doing yoga every morning and staying in touch with loved ones.
Why I'm getting my flu shot at Sam's Club
From tissues and hand sanitizers to vitamins and cough medicine I'm stocking up on everything we will need this flu season. And most importantly I am not skipping out on getting the flu shot this year! I want to be prepared and I love that when I buy everything I need to get my family through cold and flu season at Sam's Club I can save a lot. Not only do I get savings by buying in bulk but I also get discounted rates at the Sam's Club pharmacy.
Sam's Club is my one stop shop for everything I need to stay healthy and be prepared for cold and flu season. And I really love the convenience of shopping at Sam's Club & getting your flu shot at the same time.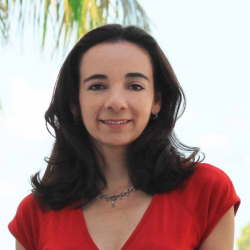 Latest posts by Paula Bendfeldt-Diaz
(see all)