Thanksgiving is such a fun holiday to celebrate with your family! And one of the best ways to celebrate any holiday is with a couple of fun Thanksgiving desserts to enjoy. From cute turkey cupcakes to marshmallow acorns, dress up your holiday table with easy Thanksgiving desserts and treats for kids. These Thanksgiving desserts for kids are a great way to celebrate with your family this holiday season.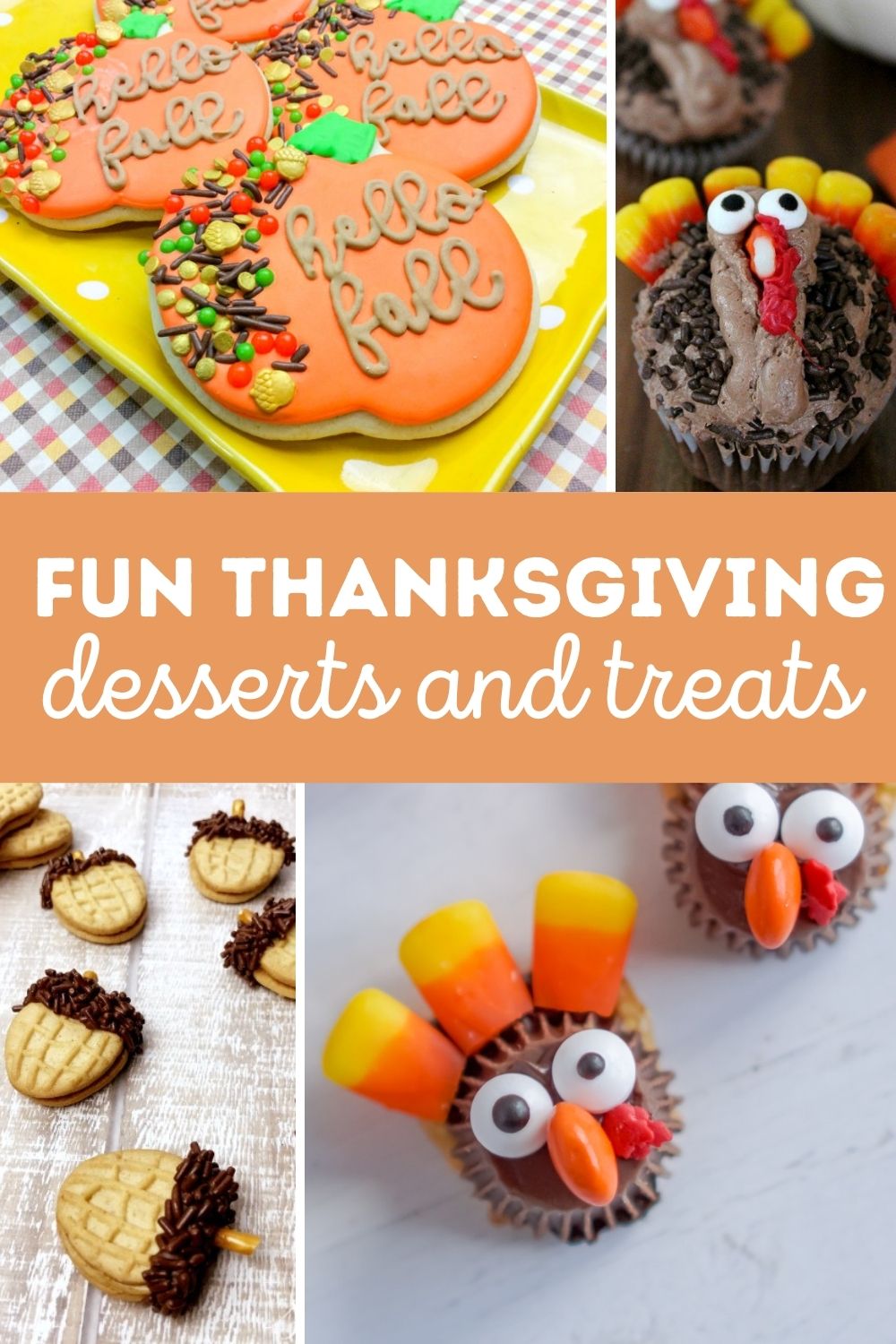 Fun Thanksgiving Desserts For Kids
When it comes to Thanksgiving, the turkey, mashed potatoes, and cranberry sauce usually get all the attention. But for my family, having something sweet after the big feast is a must. We love cooking easy Thanksgiving desserts that are fun to make as much as they taste good. And no matter how stuffed we get, we always have room for a few Thanksgiving treats!
Cooking brings us closer together, merging old traditions with new ones. We love Thanksgiving recipes full of Latino flavor that remind us of home. And I love that these great Thanksgiving dessert recipes are easy, kid-friendly, and fun to make. They are a great way to get kids excited about Thanksgiving, making it extra fun for the little ones.
Best Thanksgiving Dessert Recipes To Make Turkey Day Extra Sweet
From delicious maple leaf pies to adorable turkey pumpkin pastries, here is a Thanksgiving dessert list that is almost too cute to eat! So try one or two of these tasty treats that will wow your guests of all ages. They are the best Thanksgiving desserts for the sweetest holiday yet!
You can't celebrate Thanksgiving without a turkey! So add a few cute turkeys to your dessert table this holiday by making this fun Thanksgiving treat. Moist chocolate cupcakes, topped with chocolate fudge frosting and decorated to look like a turkey, are a great Thanksgiving dessert!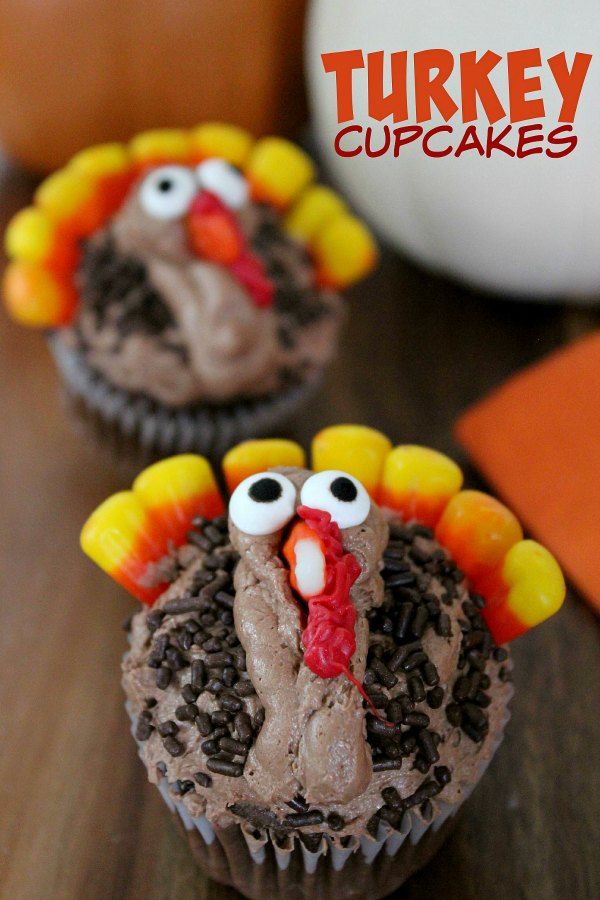 You don't need complicated dishes to celebrate this Thanksgiving! These cute marshmallow acorn pops are an easy Thanksgiving dessert everyone will love. It is a no-bake recipe (other than heating the chocolate melts in the microwave), so it is more of an activity than cooking. Perfect for teaching kids to cook, assembling these yummy treats is a fun activity!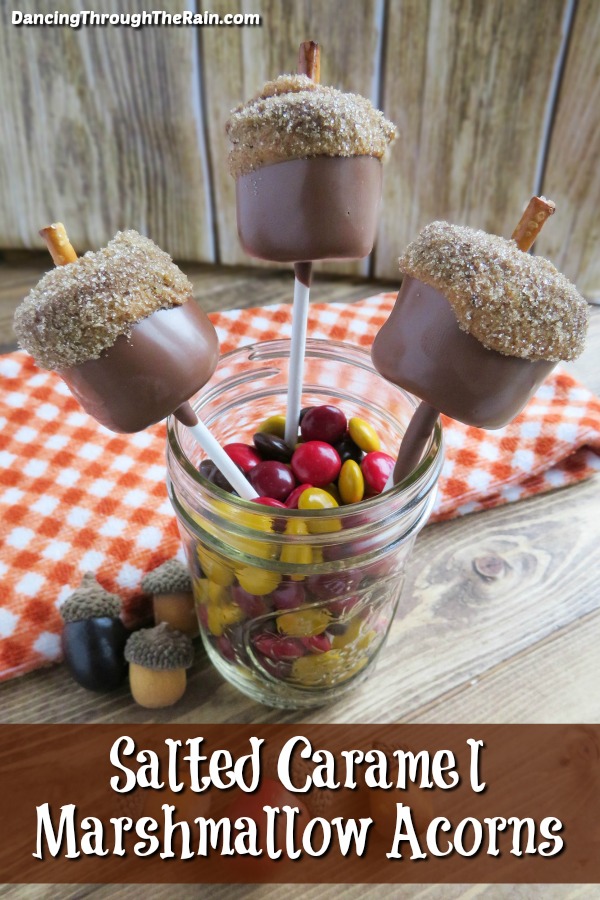 Turn pretzels into adorable turkeys with this fun Thanksgiving snack idea. These no-bake pretzel turkeys are a cute way to enjoy a treat this Thanksgiving. This easy Thanksgiving dessert recipe is also fun to bring to the table as an option for those who are not into pies. The pretzel's salty bite, along with the sweet chocolate, really makes the perfect festive treat!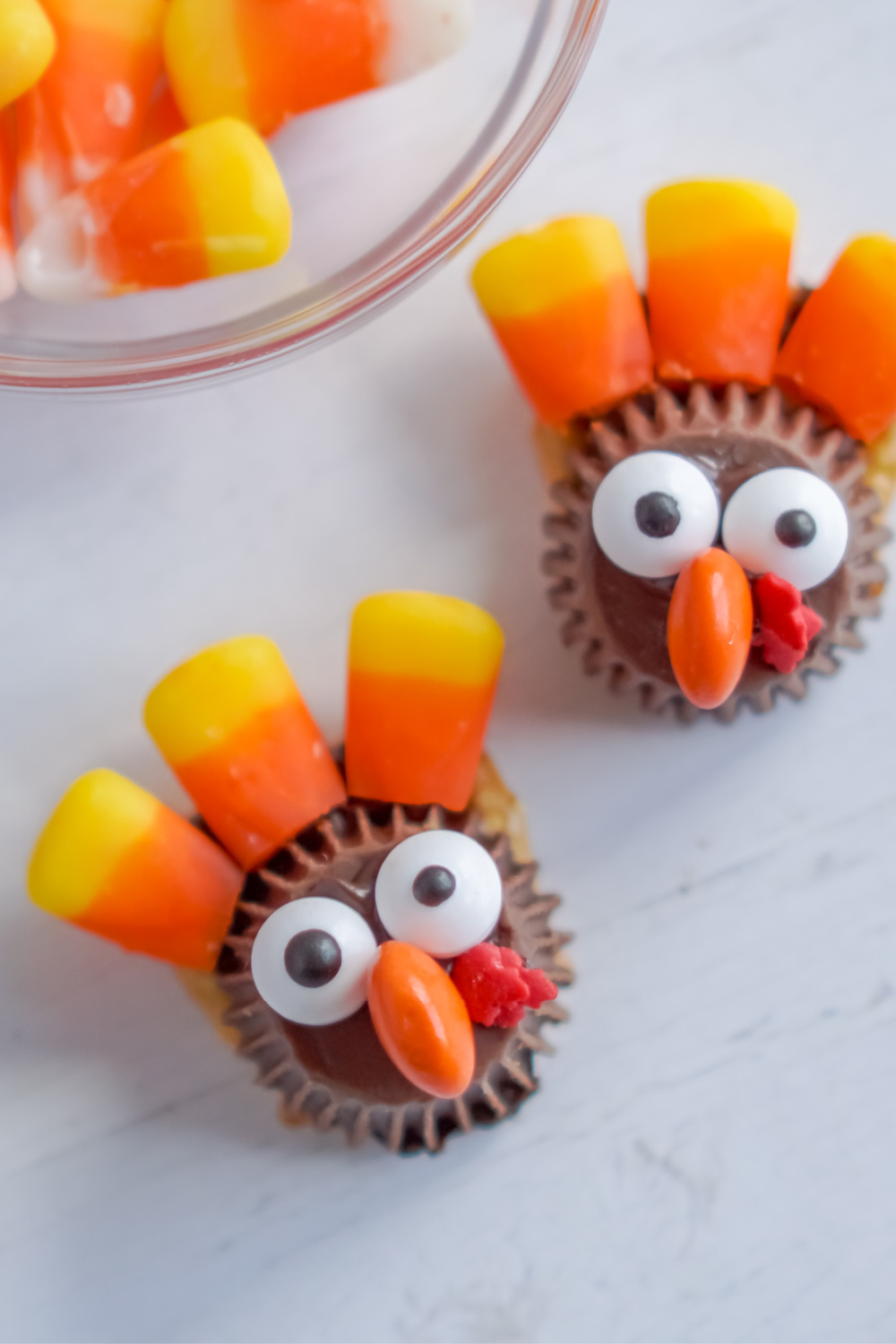 With the help of cookie cutters, you can turn plain pies into cute maple leaf pie pops! This simple Thanksgiving recipe is a great way to add fall flair to your dessert table. These tasty pumpkin pie pops are so easy to make and a great way to use up an extra pie crust from your holiday baking.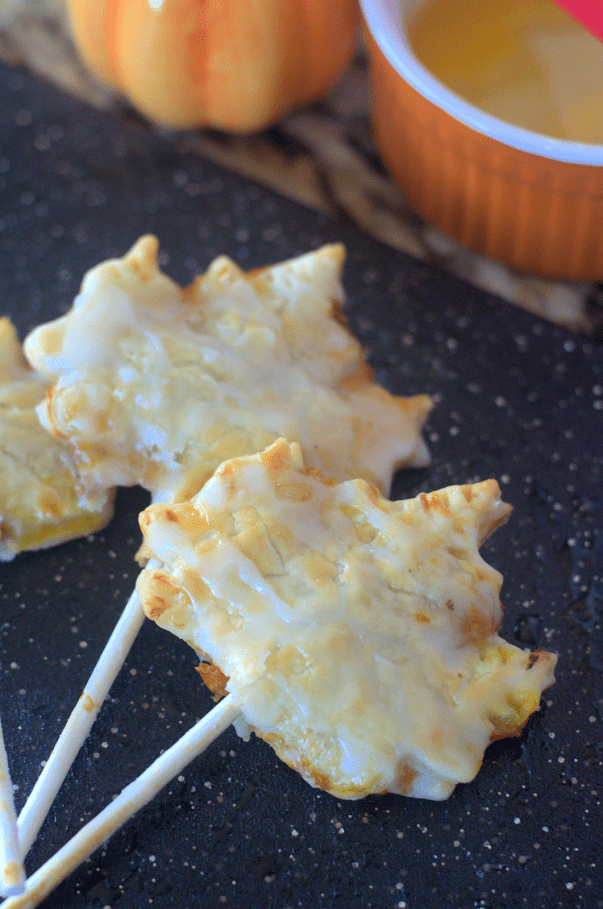 Who doesn't love owls? These super cute owl treats are the perfect fall dessert or sweet treat. They are the perfect fall snack or fall activity to do with kids. To make these adorable fall snacks, you only need five ingredients. And yes, they come together in just a few minutes!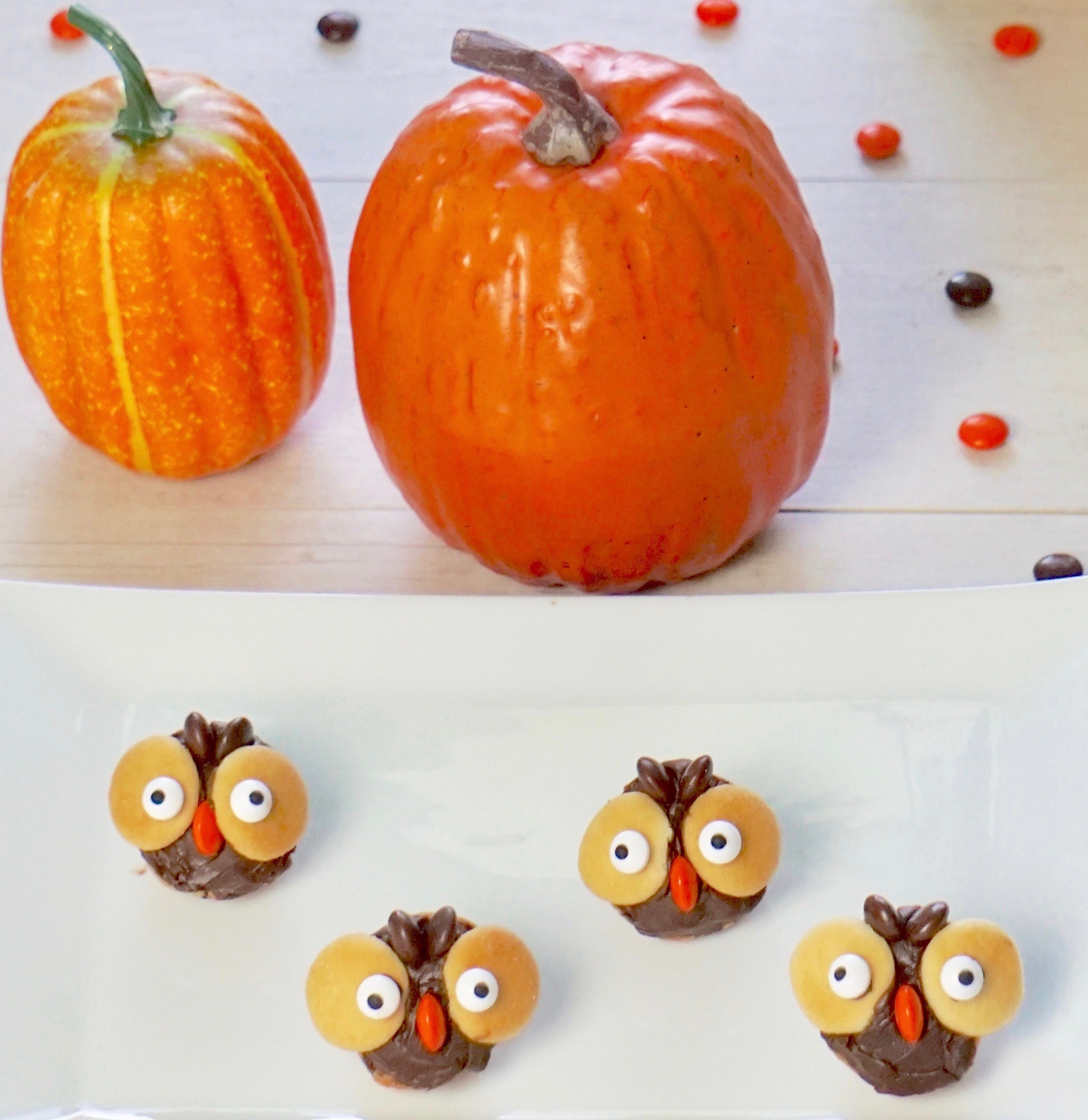 Enjoy a variety of snacks on Thanksgiving with this fun turkey snack board. This Thanksgiving charcuterie board can be made in minutes and is a cute addition to the appetizer or dessert table. You and the kids will have a blast putting it together!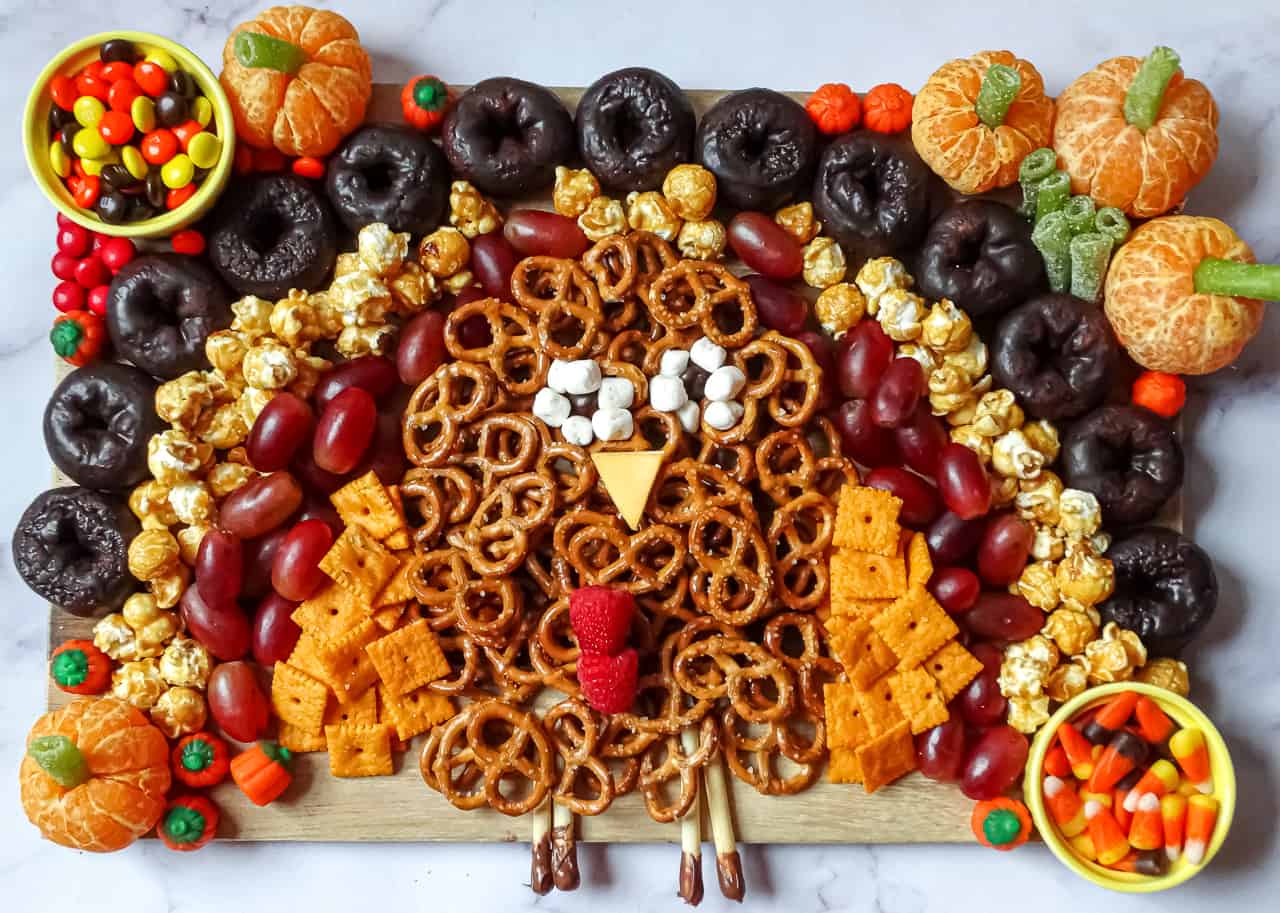 Thanksgiving Turkey-shaped charcuterie boardFirst, choose your favorite brown, red, orange, and yellow foods. Then arrange the snacks to create the best turkey-shaped appetizer. Finally, this easy Thanksgiving dessert will give your snack table a festive touch.
Transform a store-bought pumpkin pie into adorable turkey-themed desserts. Use this turkey pumpkin pie tutorial to decorate pie slices with cookies and candy. Turkey-fying a pumpkin pie is easy, layering the orange, brown, and yellow candies and switching them up.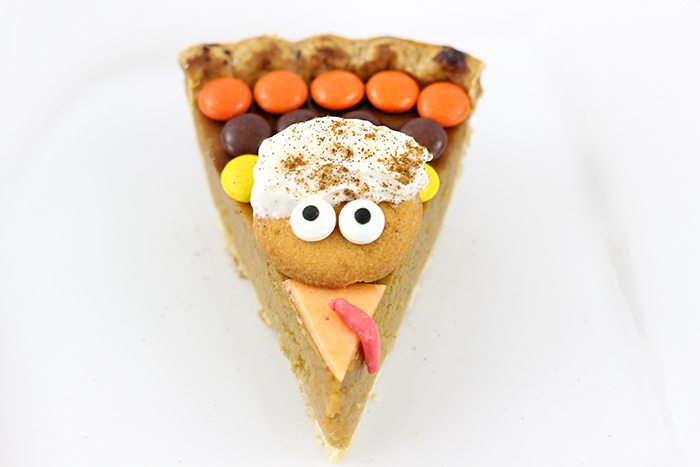 Plus, combining chocolate and peanut butter with pumpkin is surprisingly delish, too. A seriously tasty way to serve up your next Thanksgiving dessert!
You can't go wrong with Rice Krispies treats on any holiday! Turn plain goodies into cute turkey treats with this easy recipe that your kids can help decorate. If you know how to make Rice Krispie treats, you're already halfway to making these easy Thanksgiving treats.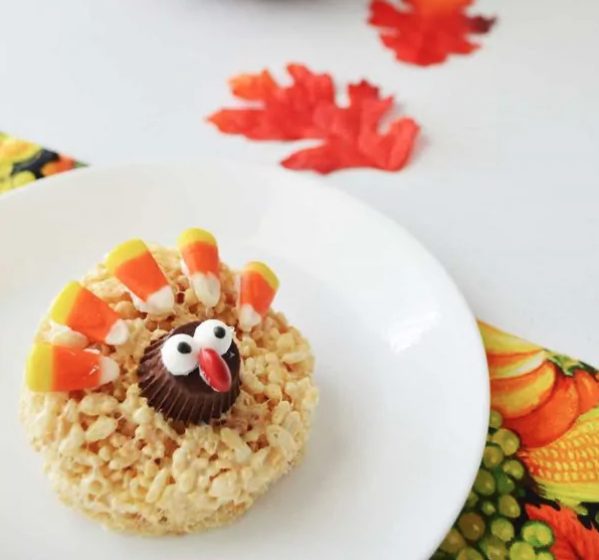 All you need to do is cut into circles and then decorate using peanut butter cups, candy eyes, M&M's, and candy corn. These easy-to-make, no-bake turkey treats are sure to be a hit on the dessert table this Thanksgiving – especially with the kids!
Decorating cookies for the holidays is a great way to use a classic recipe. And what kid doesn't love making cookies? So this Thanksgiving, make cute pumpkin cookies using sugar cookie dough with this recipe. With just a magical mix of sprinkles and some pretty letters, you have a gorgeous Fall-themed cookie with a gourmet look.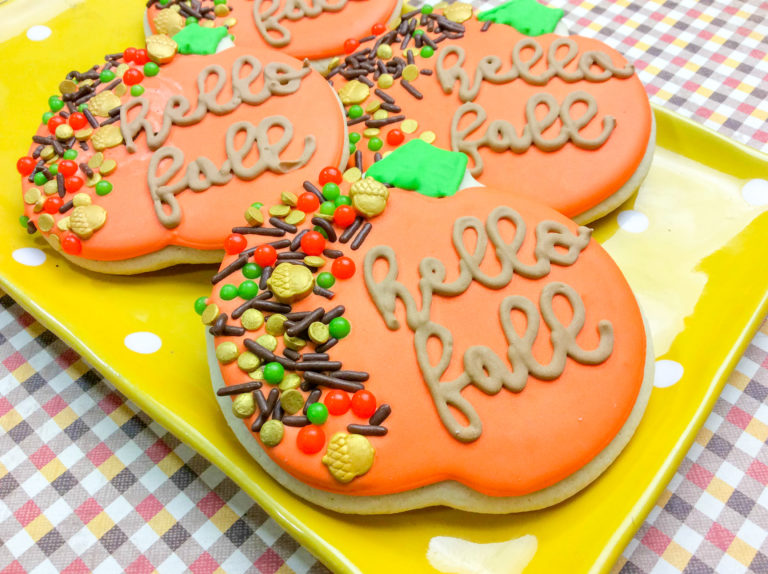 Enjoy a delicious snack while waiting for Thanksgiving dinner to cook with the help of this pumpkin spice snack mix from Lemon Blossoms. The mix includes classic Thanksgiving flavors, including pecans and candy corn.
This Thanksgiving dessert recipe is sweet, a bit salty, and totally addicting! Cinnamon and a touch of pumpkin spice make this easy party mix the perfect treat for fall.
Easy no-bake desserts are a great way to make baking on Thanksgiving easier, especially for the kids. And with this cute Thanksgiving dessert, you won't have to bake anything to have an adorable treat to serve your guest. These fun and easy Thanksgiving cookies are the perfect little fall snack because they are not only darling but delicious! Aren't they the cutest!?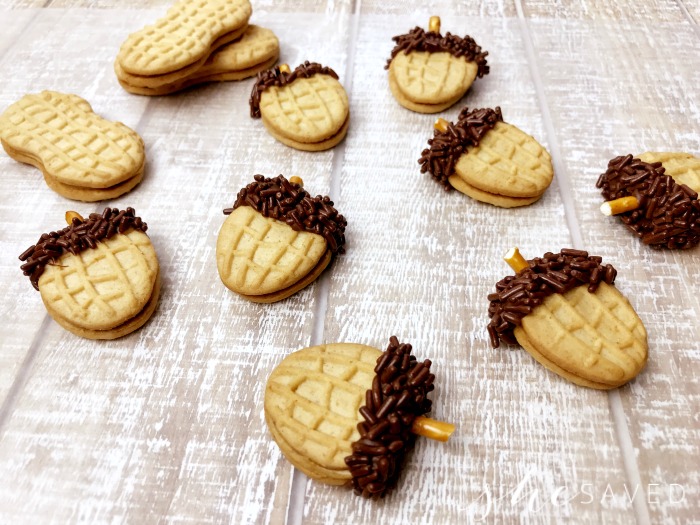 More Creative Thanksgiving Ideas For Kids
These fun Thanksgiving recipes to make with kids are the perfect way to enjoy time with your family while celebrating the holiday this year. I've included many of our family's favorite Thanksgiving recipes, from pumpkin desserts to healthy Thanksgiving recipes and even some vegetarian options like a fun turkey veggie platter.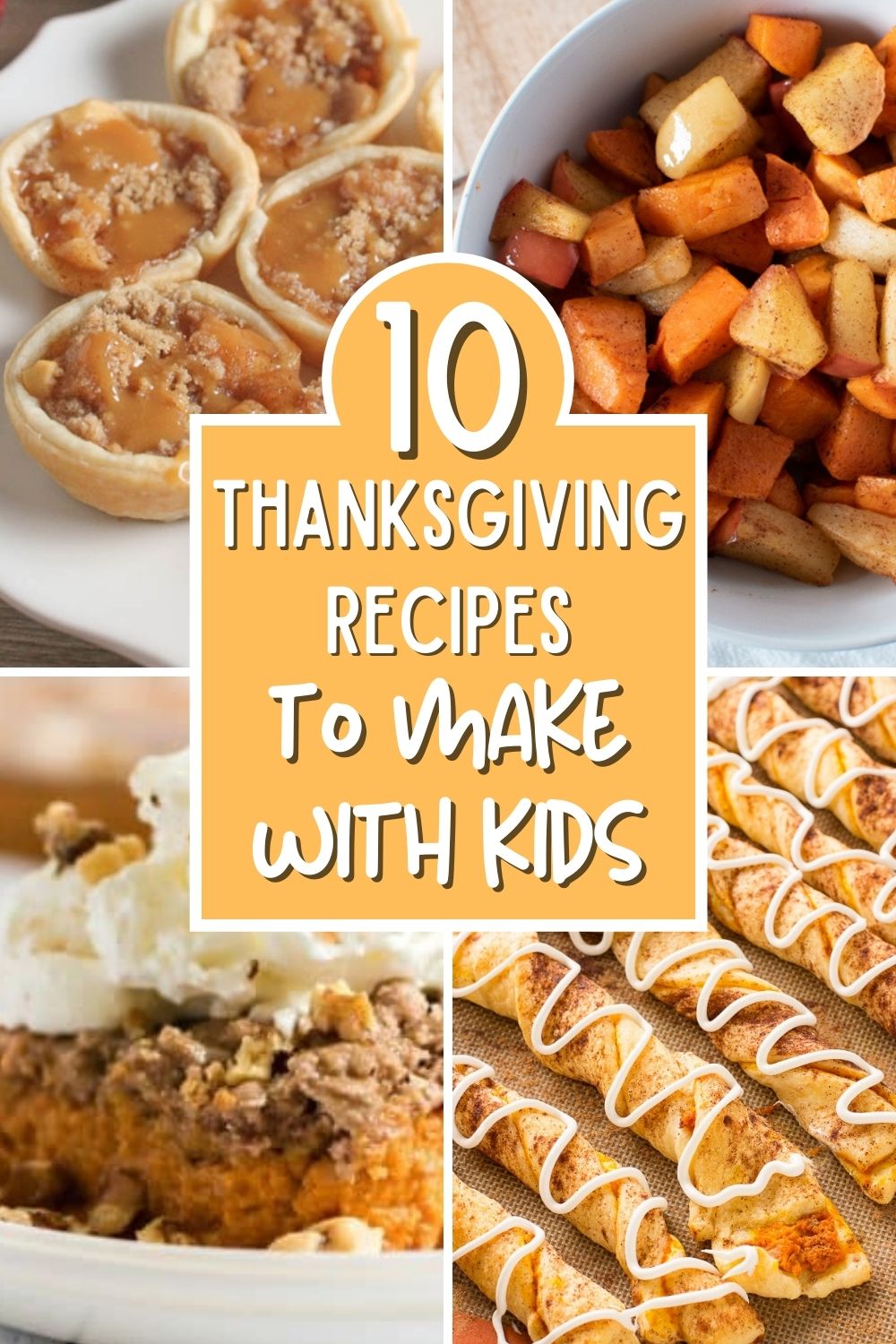 Inspired by fall and Thanksgiving, we decided to give our Hot Pockets a festive makeover. How do you ask? Well, we turned these warm pockets of delicious goodness into fun birds! These turkey and owl Hot Pockets are a fun way to make snack time more festive during the holiday season. They are also a great option to entertain family and friends who show up unexpectedly or to feed the hungry munchkins after a playdate.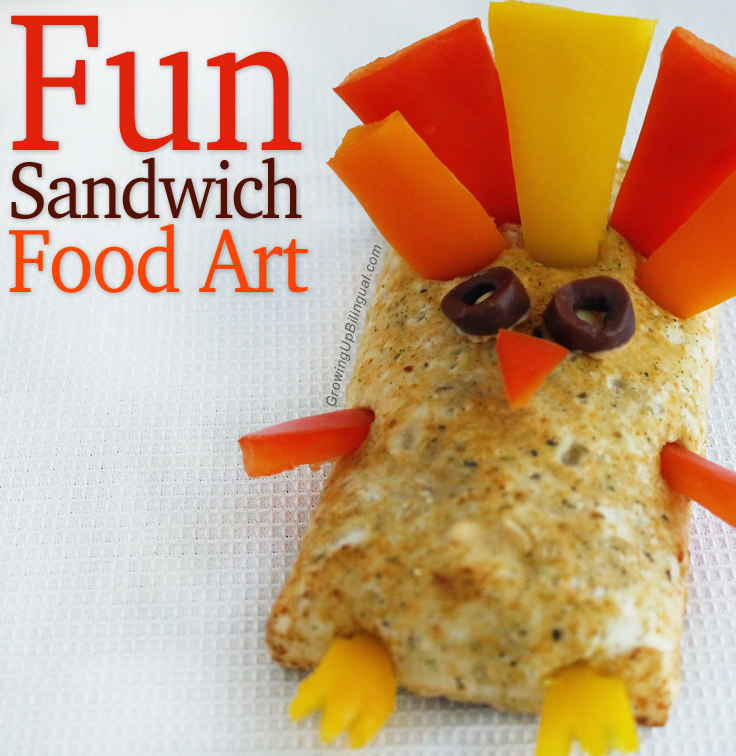 If you're looking for fun Thanksgiving activities with kids, check out these super cute Thanksgiving crafts. Whether you're looking for a way to keep the kids occupied during Thanksgiving dinner or a fun activity for your kids to do before the holiday, you're going to love all these adorable kids' crafts.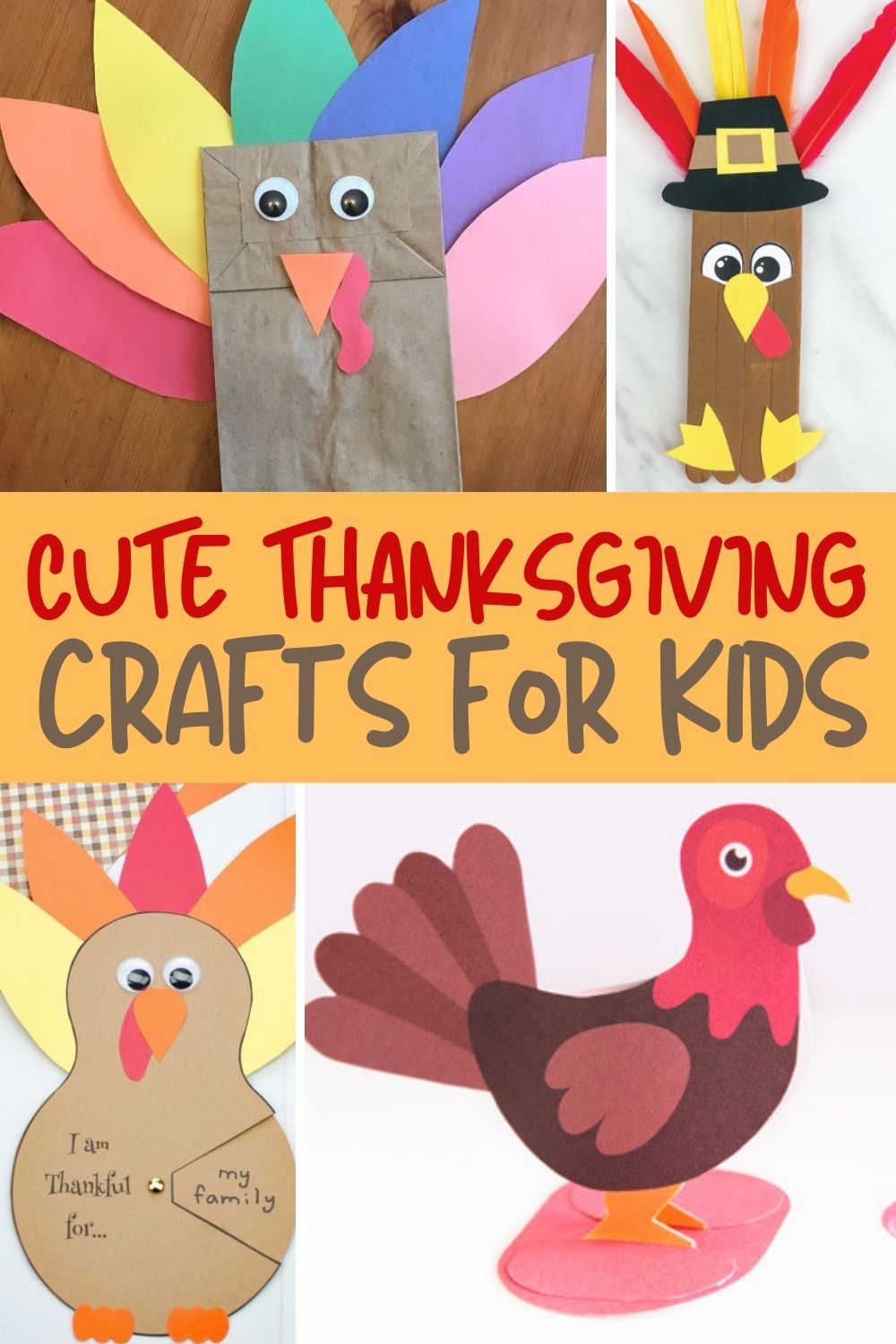 If you're looking for fun Thanksgiving party ideas for kids, check out my recipe for this terrific Thanksgiving turkey pizza. It is also a great snack idea for a classroom Thanksgiving party. It's fun to make with kids; my kids just loved it. I think this is now their favorite Thanksgiving food.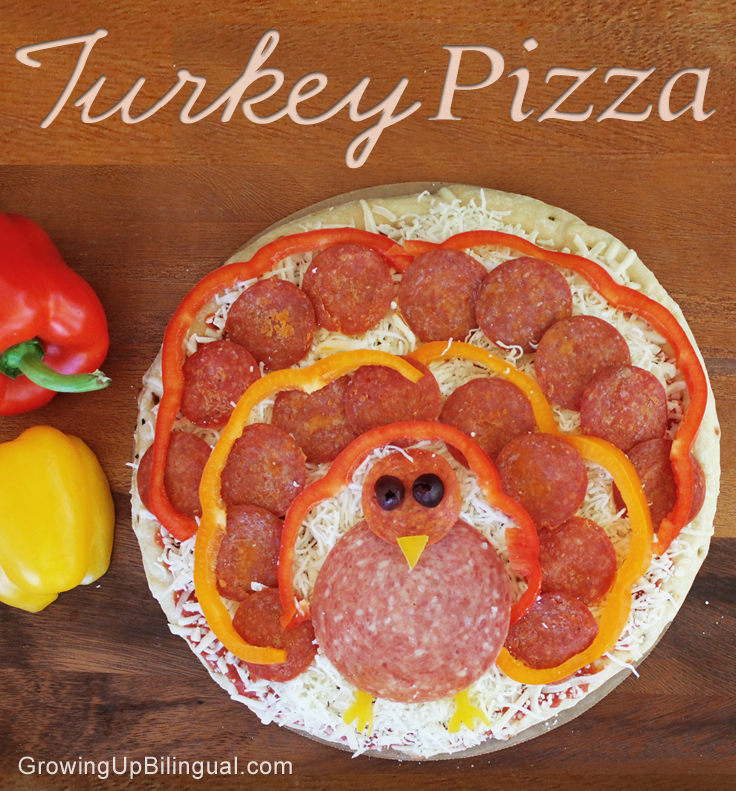 I love cooking a homemade Thanksgiving dinner, cranberry sauce, and all. And a post-Turkey dessert is a great way to finish a delicious meal. But no one likes to be stuck in the kitchen for days baking traditional pies. So, I decided to look for easy Thanksgiving desserts to make with the kids. And as a bonus, making these fun Thanksgiving desserts and treats stretches the time you spend as a family.
So, whether you prefer a cute treat or a whole dessert charcuterie board, there's a Thanksgiving dessert recipe on this list that I guarantee your kids will love. And since it is the holiday season, there's no reason to limit your dessert table to just one! So, make a couple of these Thanksgiving dessert recipes, and you'll have everyone feeling extra thankful.
Happy Turkey Day!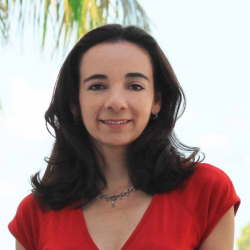 Latest posts by Paula Bendfeldt-Diaz
(see all)