I am so excited about sharing with you all about our experience with the
Echo Dot Kids
 and how you can use it to help kids learn, be more independent, manage their time this summer and prevent summer slide!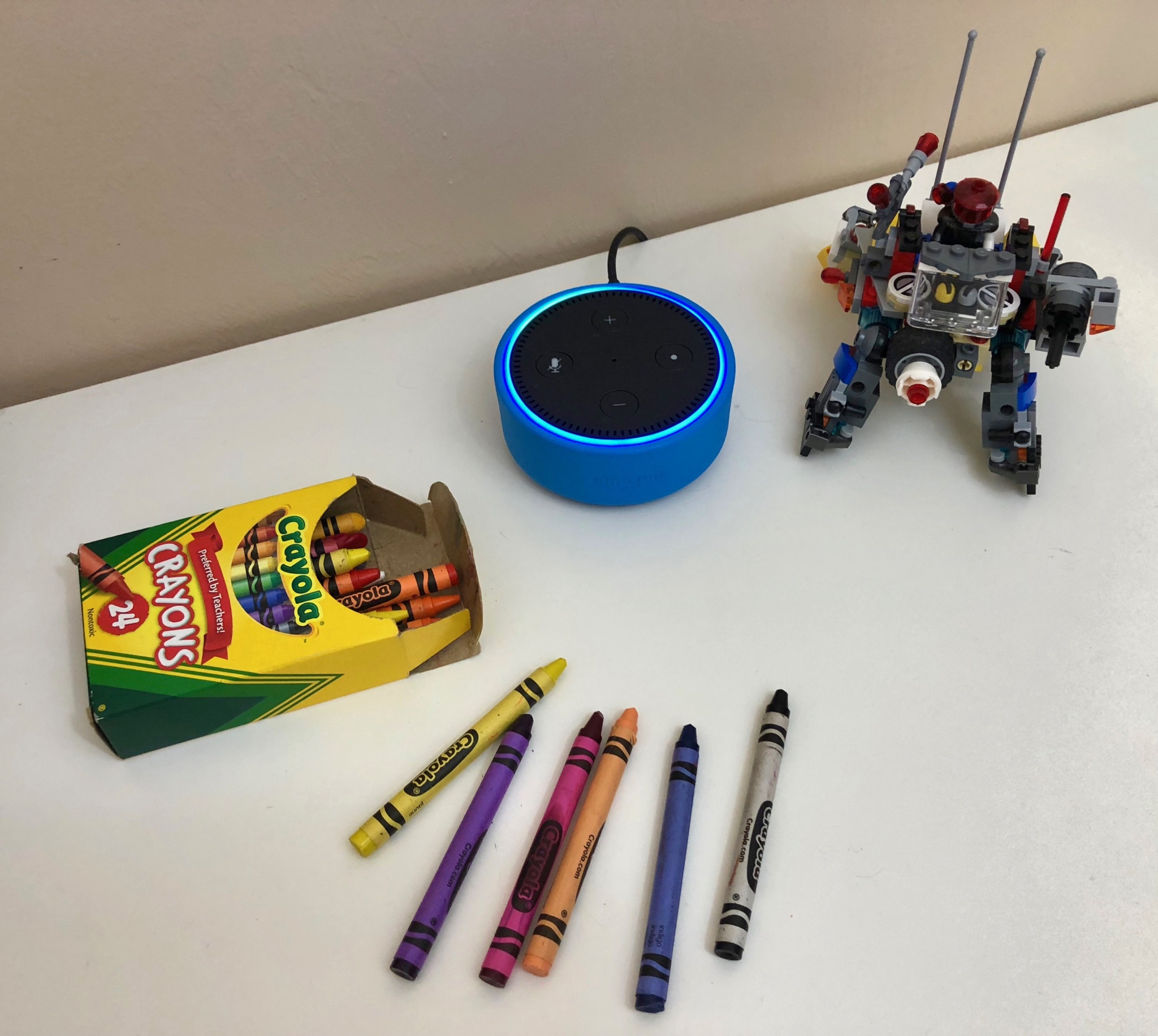 We have an Echo Plus at home which my kids have been using regularly for the last couple of years, so we are not new to Amazon Echo. Alexa has helped us so much providing them with the tools they need to schedule their own activities throughout the day, support them with homework and keep them entertained. But now with
Echo Dot Kids
and FreeTime Unlimited, there are so many more fun and educational activities and options specifically focused on kids and parents can have peace of mind thanks to parental controls that let you choose what your kids have access to!
What Makes Echo Dot Kids Edition different? 

    
Echo Dot Kids has a kid-friendly colorful rubber case, that protects your Echo from kid's rough use and it's fun colors compliment any kids room.
A two-year worry-free guarantee – if anything happens, you can return it and get a free replacement, no questions asked! Talk about peace of mind, I love that I don't have to worry about my kids breaking it or spilling juice on it anything else that might happen in the hands of kids.
One year of FreeTime Unlimited family subscription plan.
What is FreeTime on Alexa?
Let me tell you that FreeTime on Alexa is amazing, bringing all-new Alexa features and parental controls toEcho Dot Kids Edition. It's also available to add to your existing Echo, Echo Dot, or Echo Plus devices at no cost. FreeTime on Alexa includes:
Amazon Parent Dashboard – Lets parents monitor what skills their kids use, manage parental controls, set bedtimes, and more. You can access the dashboard at parents.amazon.com
Time Limits – Set bedtime time limits to protect against kids talking with Alexa late into the night, or simply pause Echo devices for dinner or homework time.
Parental Controls – FreeTime on Alexa automatically turns off voice purchasing. You can use the Amazon Parent Dashboard and Alexa app to choose what services and skills kids can use, and filter out explicit songs on Amazon Music.
Explicit Lyric Filters – Both in the Alexa experience and FreeTime on Alexa experience, parents with Amazon Music now have the ability to filter playback of songs with explicit lyrics.
Activity Review – Amazon Parent Dashboard allows parents to see their kid's FreeTime on Alexa activity, plus review their voice recordings in the Alexa app. This means you can see what your kids have been doing on Alexa. I have loved checking out what skills they are using and have been pleasantly surprised at how much time they have spent using educational skills that teach them new things.
Magic Word – The new Magic Word feature offers positive reinforcement when kids use the word "please" while asking questions of Alexa. Telling your kids to "say please" gets really tiring, it's one of those things you have to repeat over and over again but now that they have to ask Alexa to do things using the magic word I see them using please and thank you a lot more often with everyone.
Educational Q&A – Kids can ask Alexa questions about science, math, spelling, definitions, or any other topic that piques their curiosity. Since Alexa is built in the cloud and always getting smarter, she'll continue to learn new information every day.
Alexa Speaks "Kid" – Alexa has age-appropriate suggestions at the ready, all kids have to say is, "Alexa, I'm bored." Kids can also ask for knock-knock jokes, ask Alexa for a song, and more. The more they use Alexa, the smarter she will get.
Household Communications – Gone are the days of shouting up the stairs for the kids to come down to dinner. FreeTime on Alexa allows for household announcements, calling, messaging, and intercom within the home; so much better than texting your kids on their phones, especially since my kids don't have phones yet (yes I'm one of those parents). And having Alexa ask them to come to dinner brings a smile to their faces as opposed to theme complaining and winning because they are playing and don't want to come, which is the response I used to get every single night.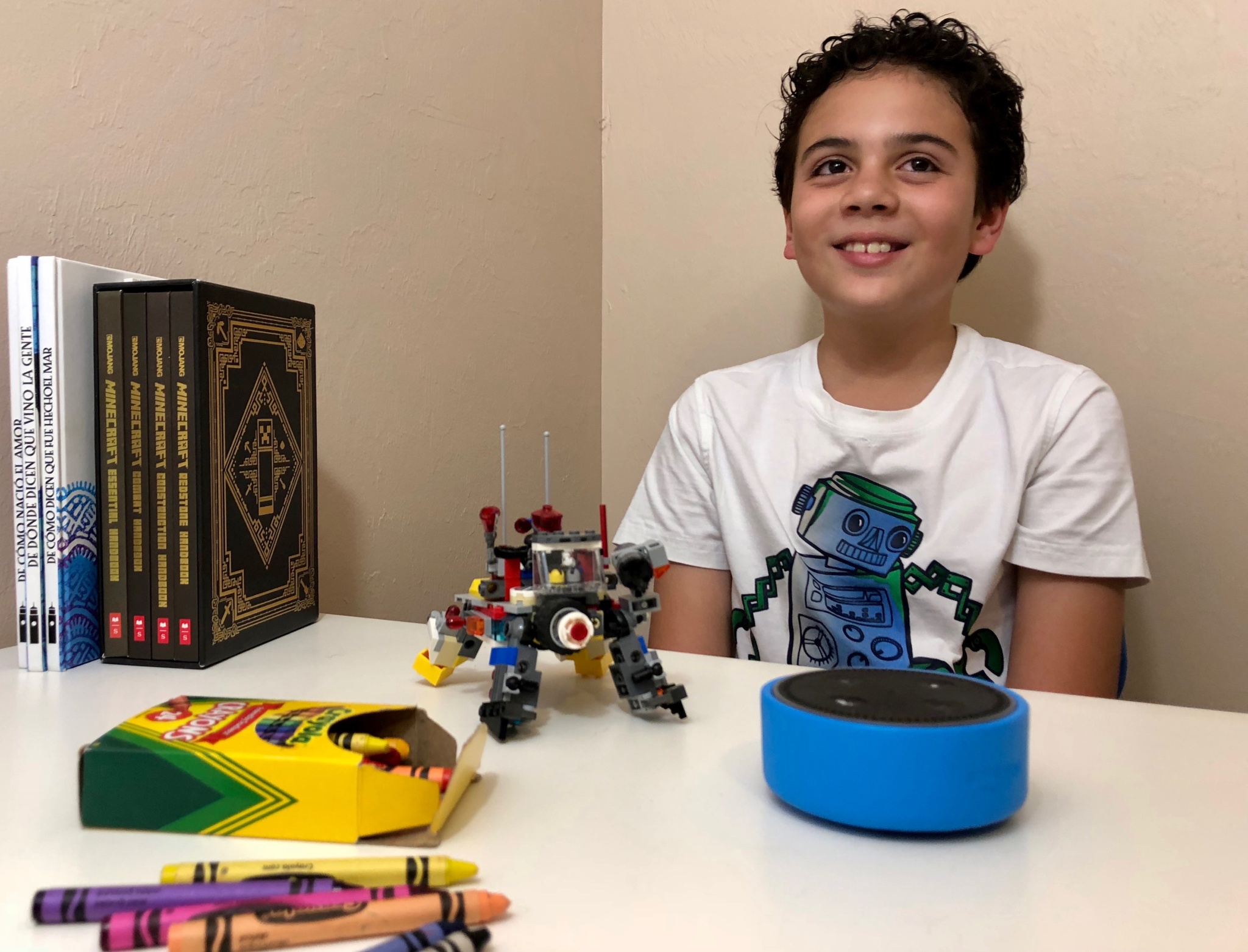 What is FreeTime Unlimited on Alexa?
One year of FreeTime Unlimited family plan is included with the Echo Dot Kids Edition. FreeTime Unlimited on Alexa takes the best of Amazon's existing all-in-one FreeTime Unlimited subscription and adds Alexa-specific content such as Audible books, kid-friendly premium skills, and more. With FreeTime Unlimited on Alexa, parents can get access to all of the FreeTime parental controls and features mentioned above, plus get unlimited access to kid-friendly content including:
Over 300 Audible Books – Kids will enjoy hours of entertaining and educational Audible books narrated by some of their favorite characters and authors such as Goosebumps, Magic Treehouse, Velveteen Rabbit, and more.
Ad-Free, Kid-Friendly Stations & Playlists from iHeartRadio Family – From Kids Hits to Radio Disney, kids will love the thousands of songs from playlists and custom stations available.
Premium Alexa Kid Skills from Top Brands – With all-new Alexa skills like Disney's Disney Stories, Nickelodeon's No Way That's True, and National Geographic's This or That, kids can explore Alexa skills developed by the best in kids entertainment and education.
Wake Up to Favorite Characters – Kids can start the day with alarms featuring their favorite characters from Disney, Nickelodeon, and more.
One Subscription, Unlimited Possibilities – With a FreeTime Unlimited on Alexa subscription kids can also access thousands of games, apps, videos, books, and more on Fire tablets, including Fire Kids Edition tablets, Android tablets, and Android phones.
How To Use Alexa to Bust Summer Boredom And Prevent Summer Slide
We have been using 
Echo Dot Kids
for over a week now and we're so happy to see a huge difference from our regular Echo. Both of my kids love the 
Echo Dot Kids
, there are so many ways in which we are using it and I know that the Echo Dot Kids Edition will be a fantastic tool for keeping my kids excited about learning, having fun and scheduling their daily activities this summer. So I thought I would share some great ways in which 
Echo Dot Kids
can help bust boredom this summer and keep your kids entertained and learning new things:
Encourage reading and limit screen time. I work from home and I usually enroll my kids in a couple of camps each summer but I don't want to spend money on camp every single week. One of my favorite things about the Echo Dot Kids is that you can set educational goals and you can even block entertainment so your kids cannot access it until they have, for example, read for 30 minutes. You can also set times for Alexa to turn off, so my kid's Alexa is set so it can't be accessed after 8pm or before 6:30am. There are even different settings for weekdays and weekends so you can change bedtimes and schedules on weekends!
Scheduling your child's day is really easy using Alexa by setting up alarms, timers, and reminders for reading time, chores and screen time. For example, my kids have to read in English for at least 20 minutes and in Spanish for at least 20 minutes each day before they can earn 20 minutes of screen time. They will set up a timer on Alexa while on the computer or tablet so they don't go over and I don't have to be nagging them. They love setting up the timers and alarms with fun voices from their favorite characters like Sponge Bob or Disney's Merida.
Encourage family time.
My kids won't sit down long enough for us to play most board games but they love to play games with Alexa. I really love some of Alexa's skills, like
Would You Rather for Families
and
Twenty Questions
, that are based on all-time favorite games and are not only fun but also spark conversations and encourage quality family time.
Play games that make them think. 
Alexa has lots of interactive skills that encourage kids to think, make choices and problem solve. Some of our favorites include
The Magic Door
 which embarks kids on interactive adventures where they chose between different options that give direction to where the adventures will take them.
Learn about science in a fun way.
From fun science podcasts on the
Science Kid Radio
skill to science trivia like
Science Buddy
(for older kids), there are lots of skills that make learning about science fun, engaging and entertaining.
Make them laugh.
Nothing squashes boredom like a good laugh. Alexa has lots of kid-friendly skills and voice commands that will appeal to a young one's sense of humor. From asking Alexa to tell a joke to using the
Silly Things
skill where Alexa asks kids to do random silly things like acting as like a fish out of water, Alexa can really make kids giggle. My kids loved that now Alexa's jokes include some of their favorite characters like Chewbacca and Sponge Bob, and I don't know if I have just gotten used to Alexa's super silly sense of humor or what, but I felt like the Echo Dot Kids' jokes where funnier.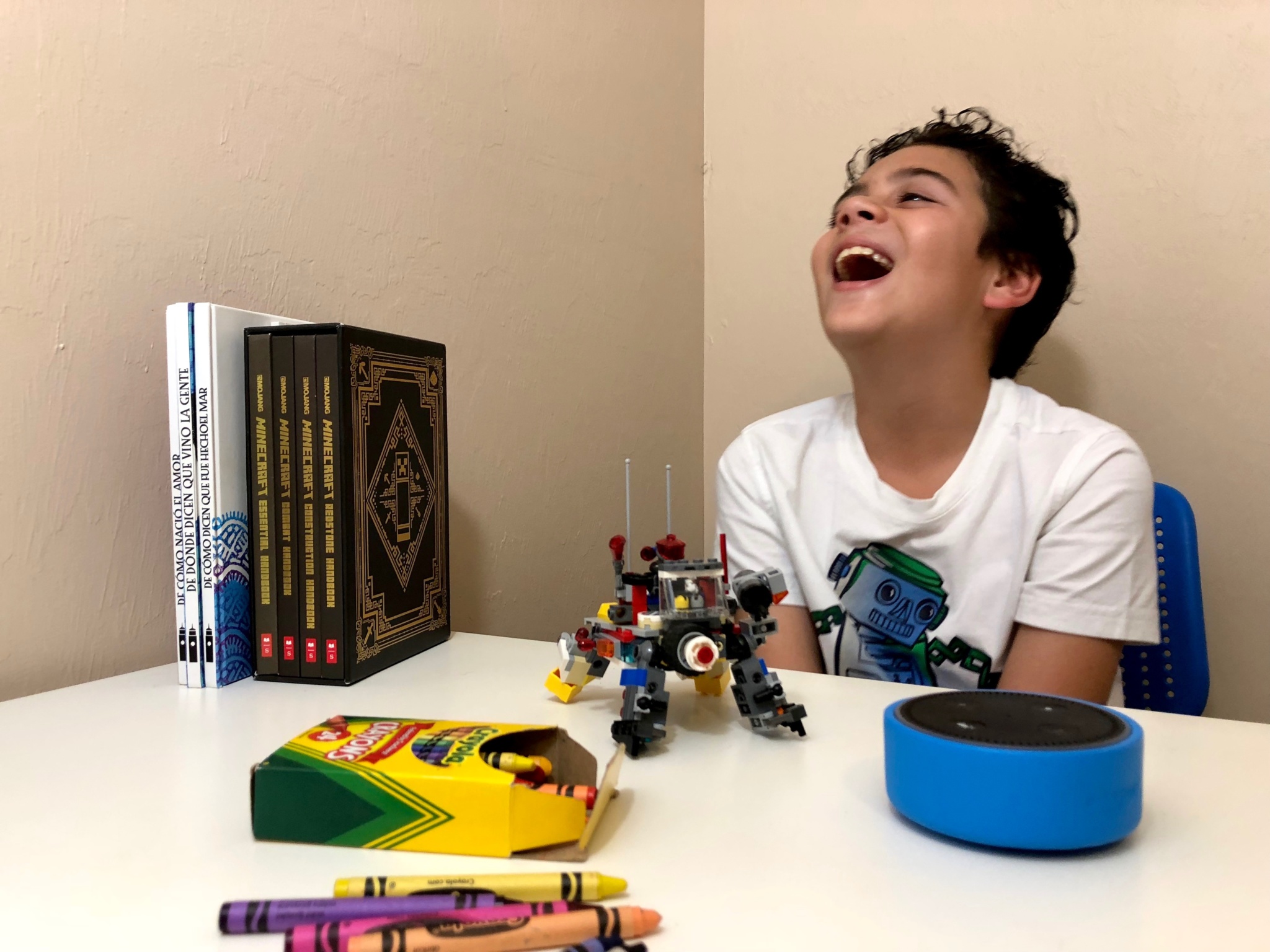 Flex those memory muscles.
Boosting a child's memory capacity is important and it has been proven that increasing memory also improves self-awareness, self-confidence and communication and social skills. Trivia games do much more than test your knowledge about a subject, they are a great "brain exercise" that helps to improve your knowledge. Alexa has lots of trivia skills about all the things kids love from space to
cats
and
dogs
.
 My kids love the Disney and Star Wars trivia skills and the Teen Jeopardy game is fun for the entire family to play!
Brush up on math skills.
Skills like
1-2-3 Math
and the interactive adventure skill
The Queens Mathematician
lets kids reinforce math knowledge and learn new math skills in a fun and engaging way that sneaks learning into a fun game.
Improve their spelling.
If your kids need to improve their spelling get your kids a personal tutor with the
Spelling Teacher
or turn spelling into something fun by having them play a live
Spelling Bee
game.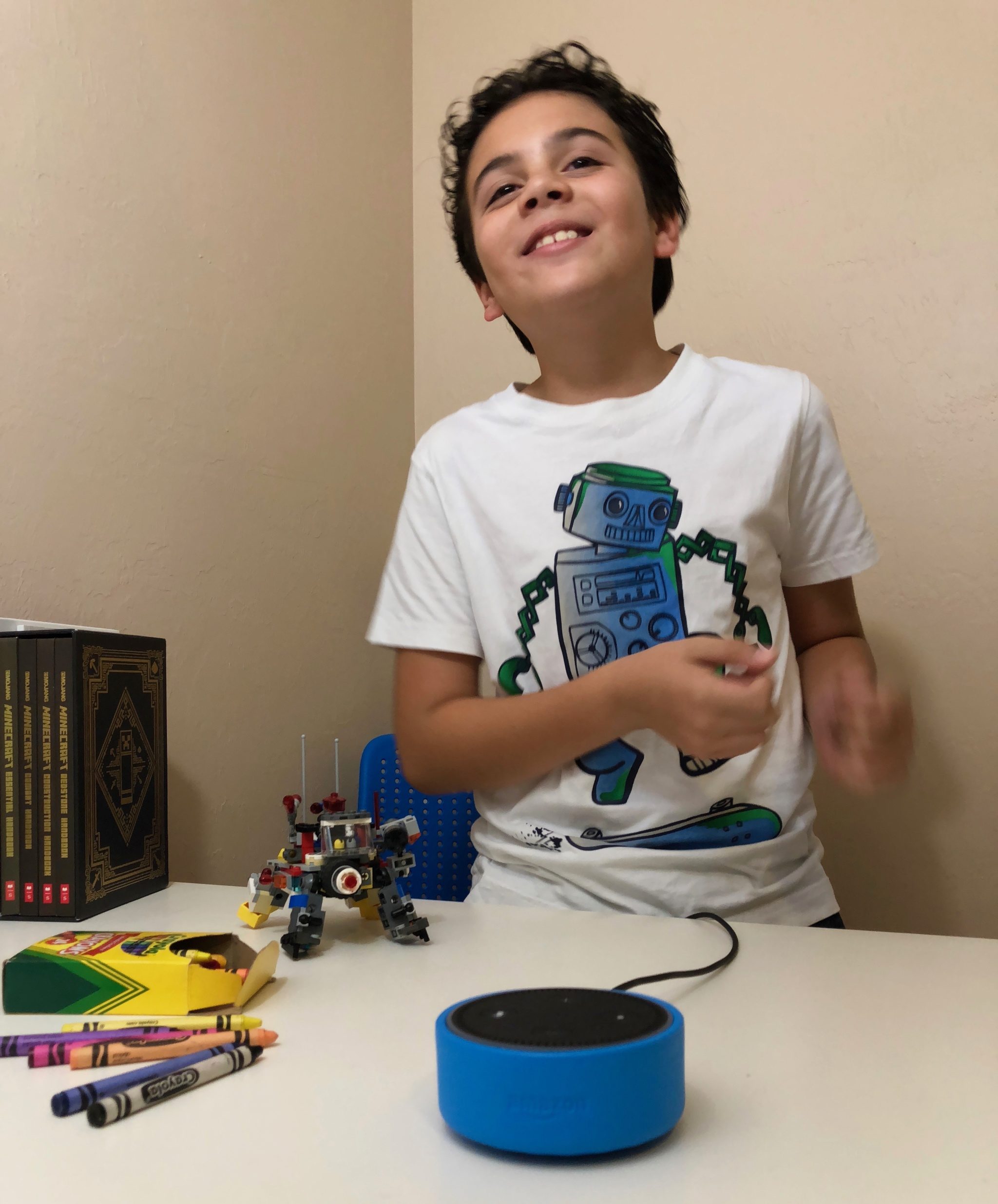 Get them moving.
From kid-friendly music that will have them dancing to fun games that encourage them to move, there are lots of Alexa skills that will get your kids off the couch and keep them active.
Music Bop Adventures
is one of our favorites, asking kids to jump and act out different adventures in space, the jungle or the ocean. They can also try
Freeze Dance
and
Animal Workout
, there's even a skill for
young yoginis
.