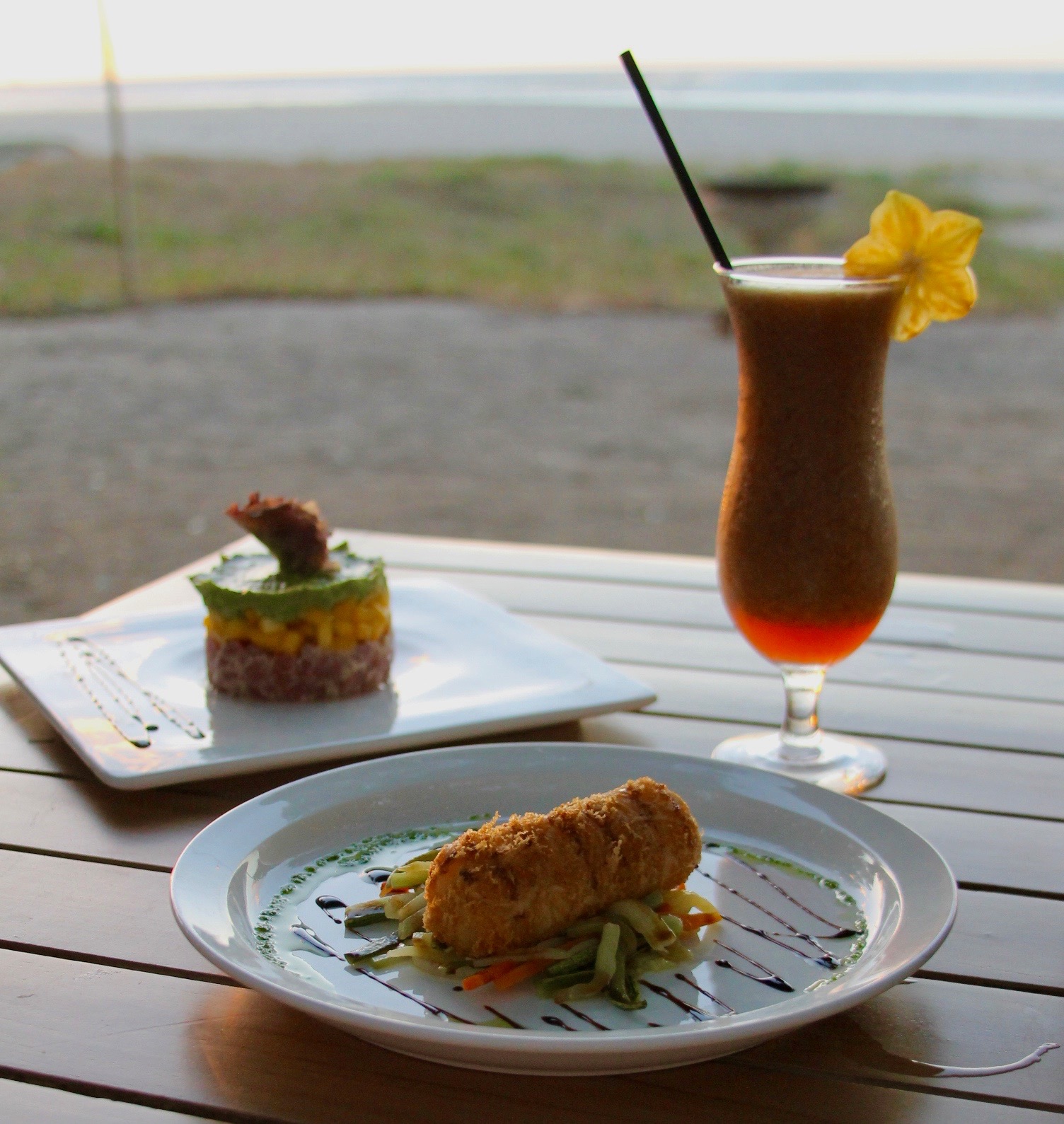 Playa Tamarindo boasts some of the finest food in Costa Rica. Due in part to its development as a favorite tourist destination countless restaurants and bars have sprung up in the last few years and there is no shortage of great places to dine at.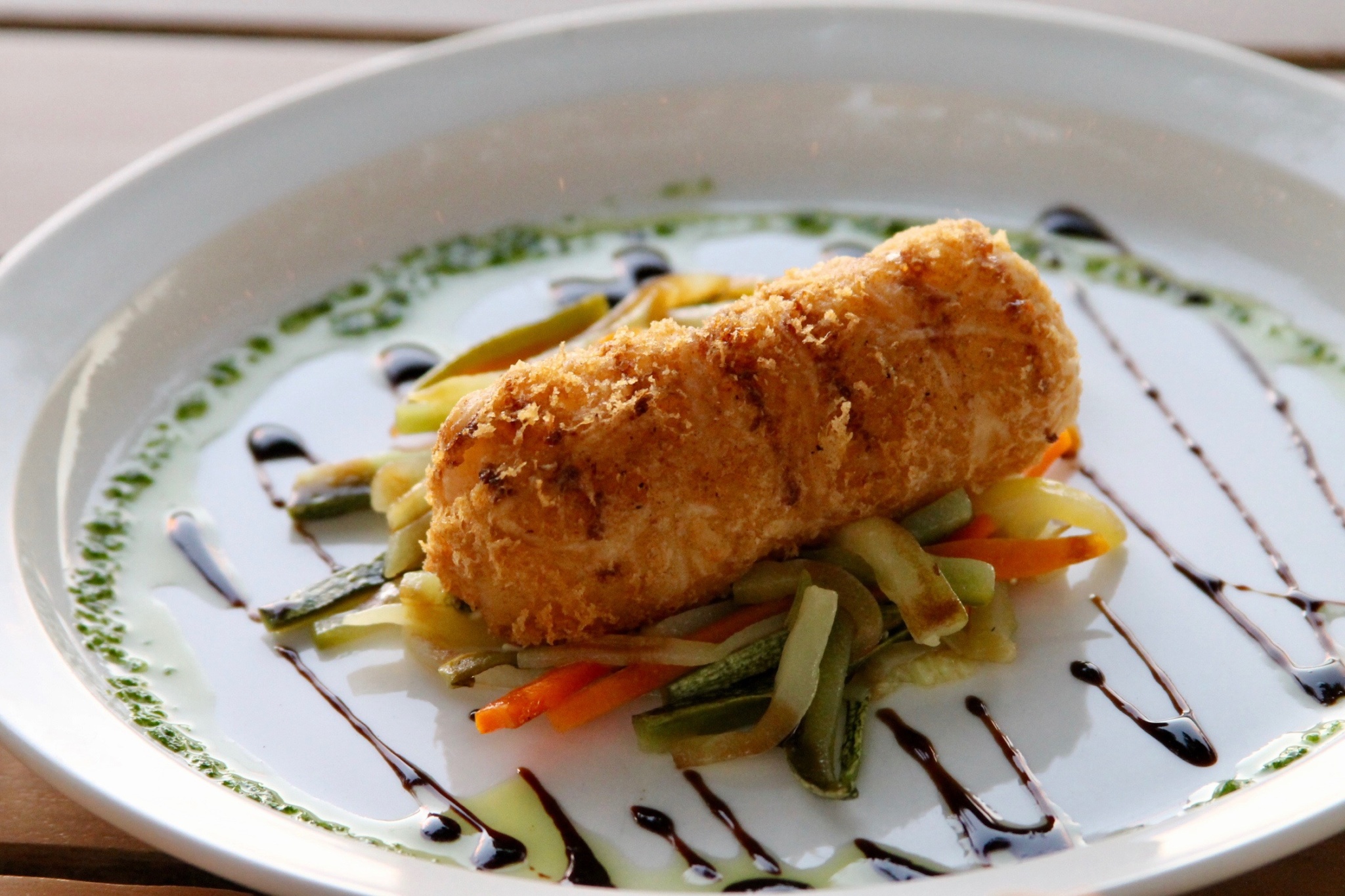 Whether you're looking for a gourmet experience or a relaxed eatery you can find it in Tamarindo, where most restaurants have a laid-back ambiance in line with this beach town's surfing vibe.
Consistently Awesome Food: Dragonfly Bar and Grill
A charming open-air space, lively atmosphere and fantastic food have made Dragonfly Bar and Grill one of the favorite eateries in Tamarindo. The menu includes creative dishes with Asian and Caribbean inspiration made with locally sourced and fresh ingredients. Dragonfly Bar and Grill also offers a wide array of imaginative cocktails including a blackberry mojito and a tamarind rum cocktail.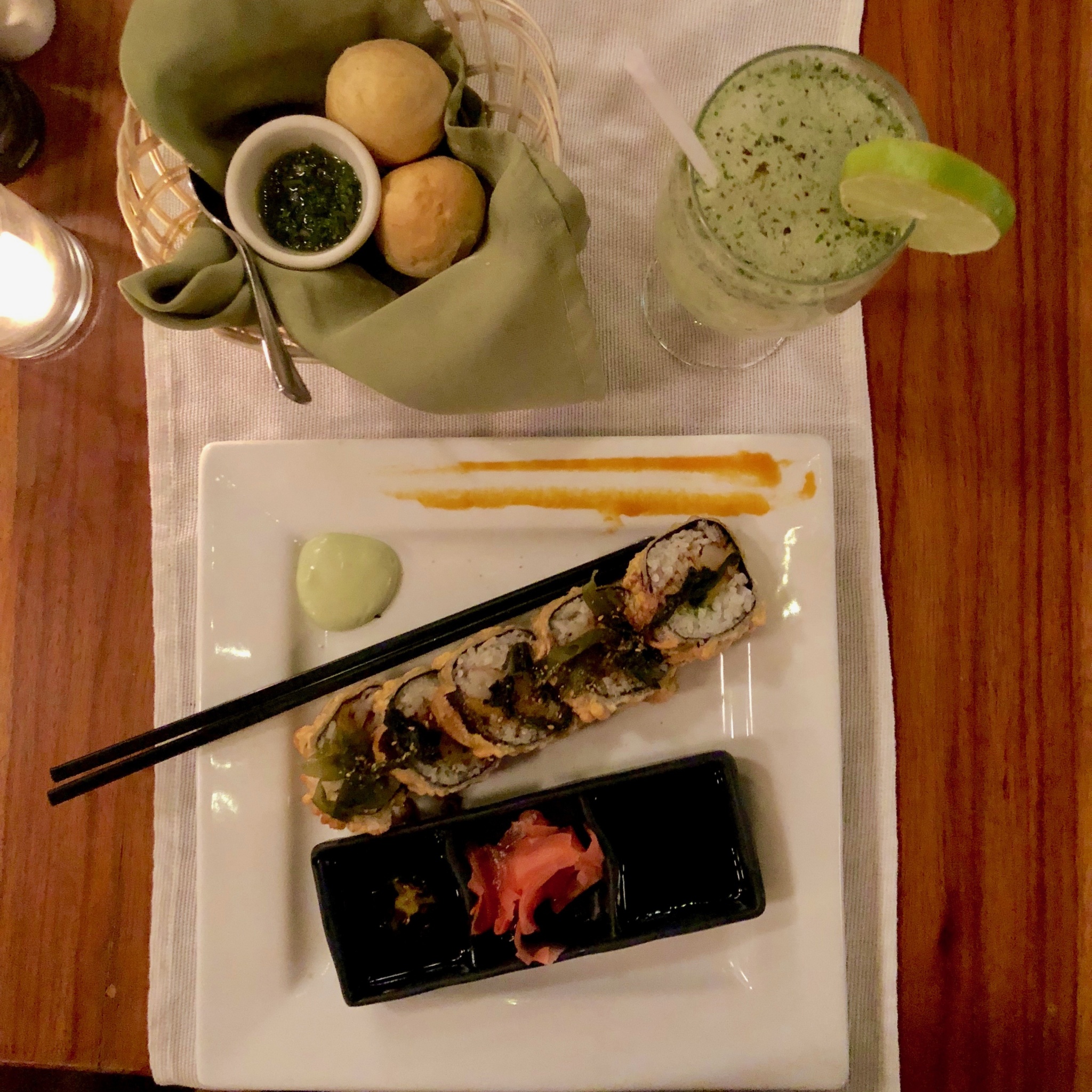 I started off with the tempura shrimp roll with sweet plantains and avocado, an imaginative combination that did not disappoint! I then ordered the sesame seared tuna which was fresh and cooked just right. I accompanied my meal with a refreshing cilantro lemonade and freshly baked bread.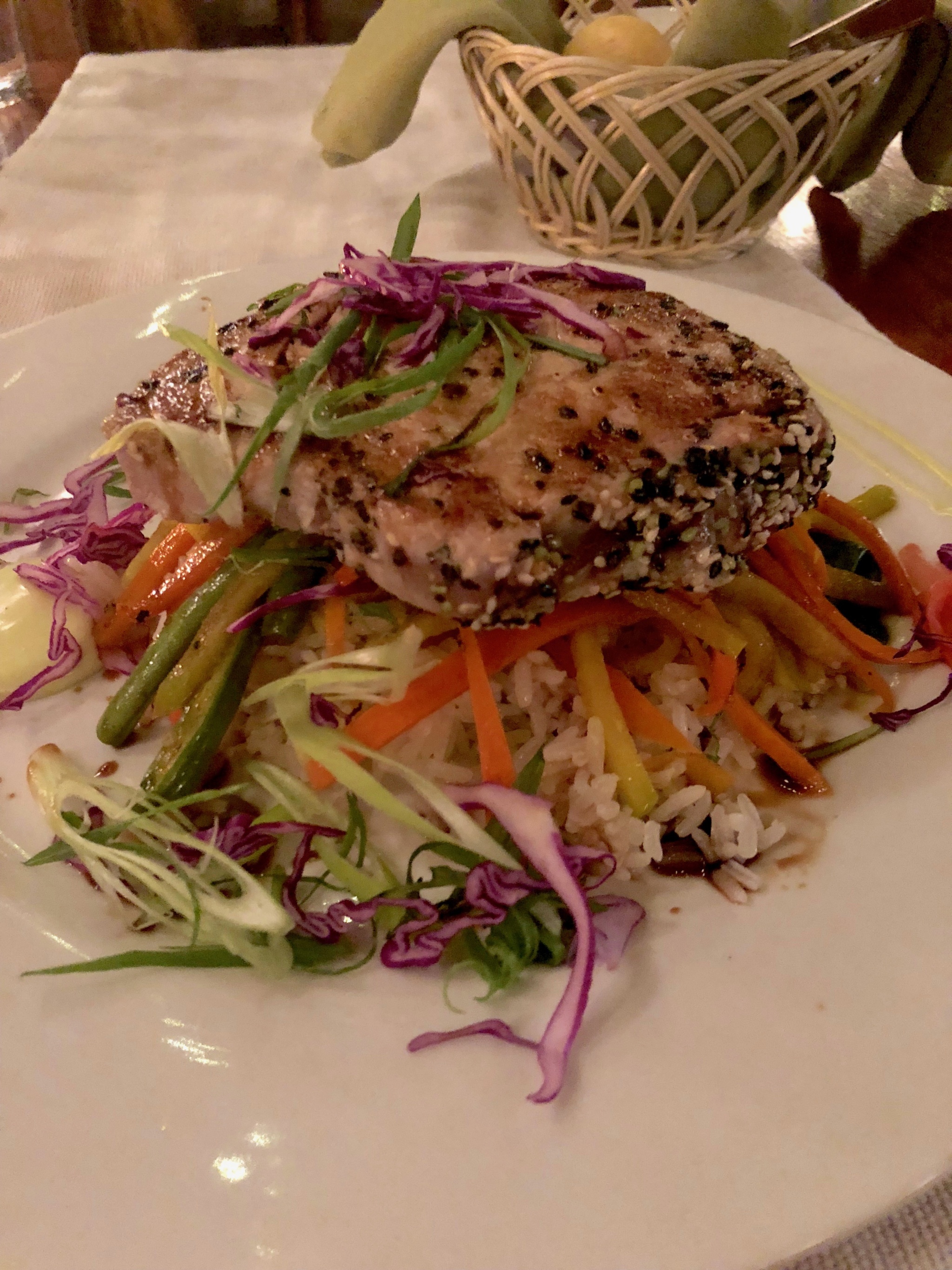 I ended my meal with a traditional Costa Rican tres leches cake. I am a tres leches snob as this is one of my favorite desserts and I have to say that this tres leches was exceptional!
The restaurant was busy on the night I visited yet the service was still exceptional and the food was delicious and arrived promptly. If you're visiting Tamarindo Dragonfly Bar and Grill is definitely a must, it's one of the best meals I had in Tamarindo!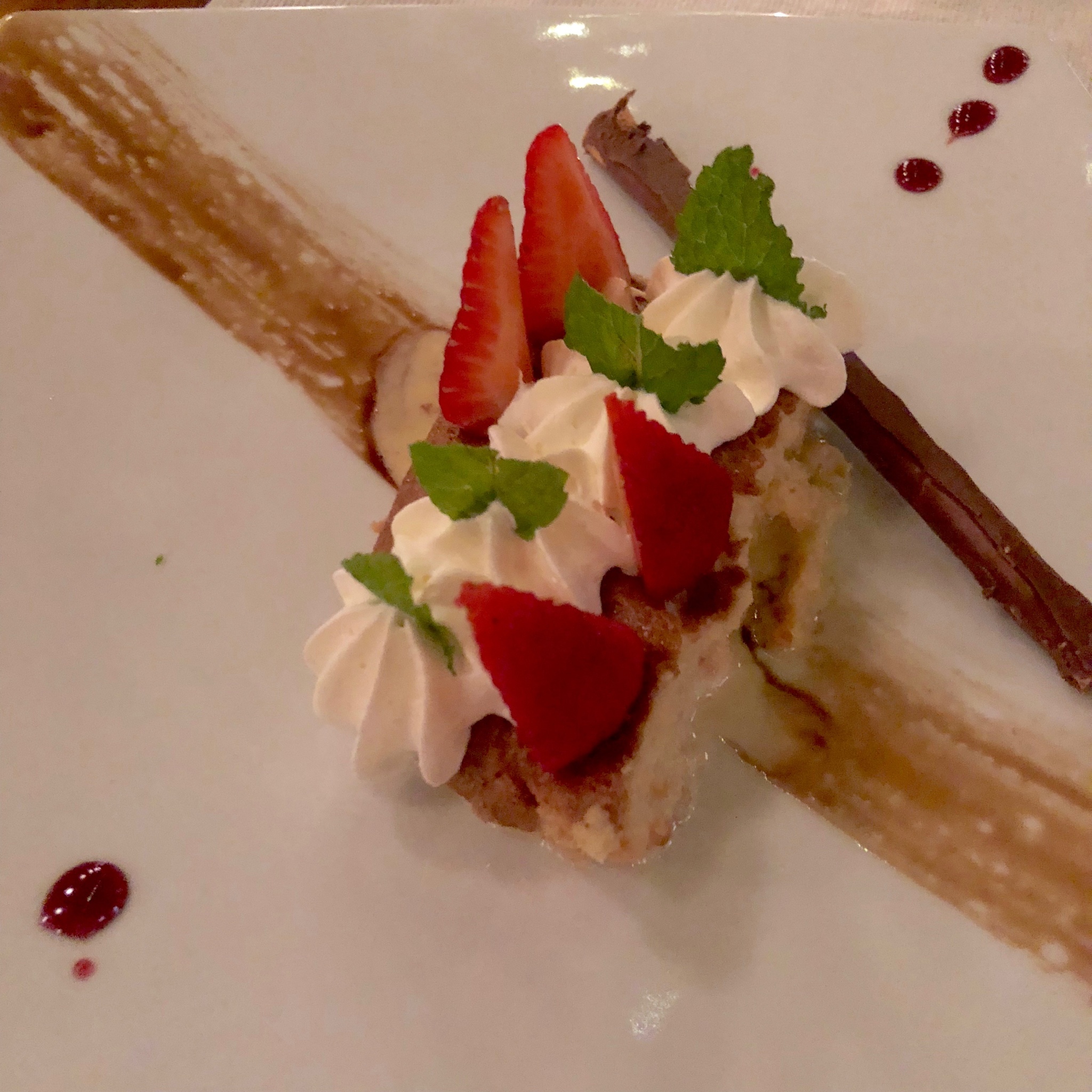 An Unexpected Gem: The Shrimp Hole
When it comes to small, hole in the wall type of restaurants and street food The Shrimp Hole takes things to a different level and raises the bar. This tiny restaurant on the side of a lively Tamarindo street just a short walk from the beach. Wood, pastel tones, live plants, and Latin music create a great ambiance with an island vibe. As its name suggests shrimp are the specialty here and the menu is creative and modern with Asian and local influencers.
You can choose to sit in one of the three tables or the handful of stools; the small restaurant seat less than 20 people, or you can grab your food to go and enjoy a picnic on the beach under the shade of the trees.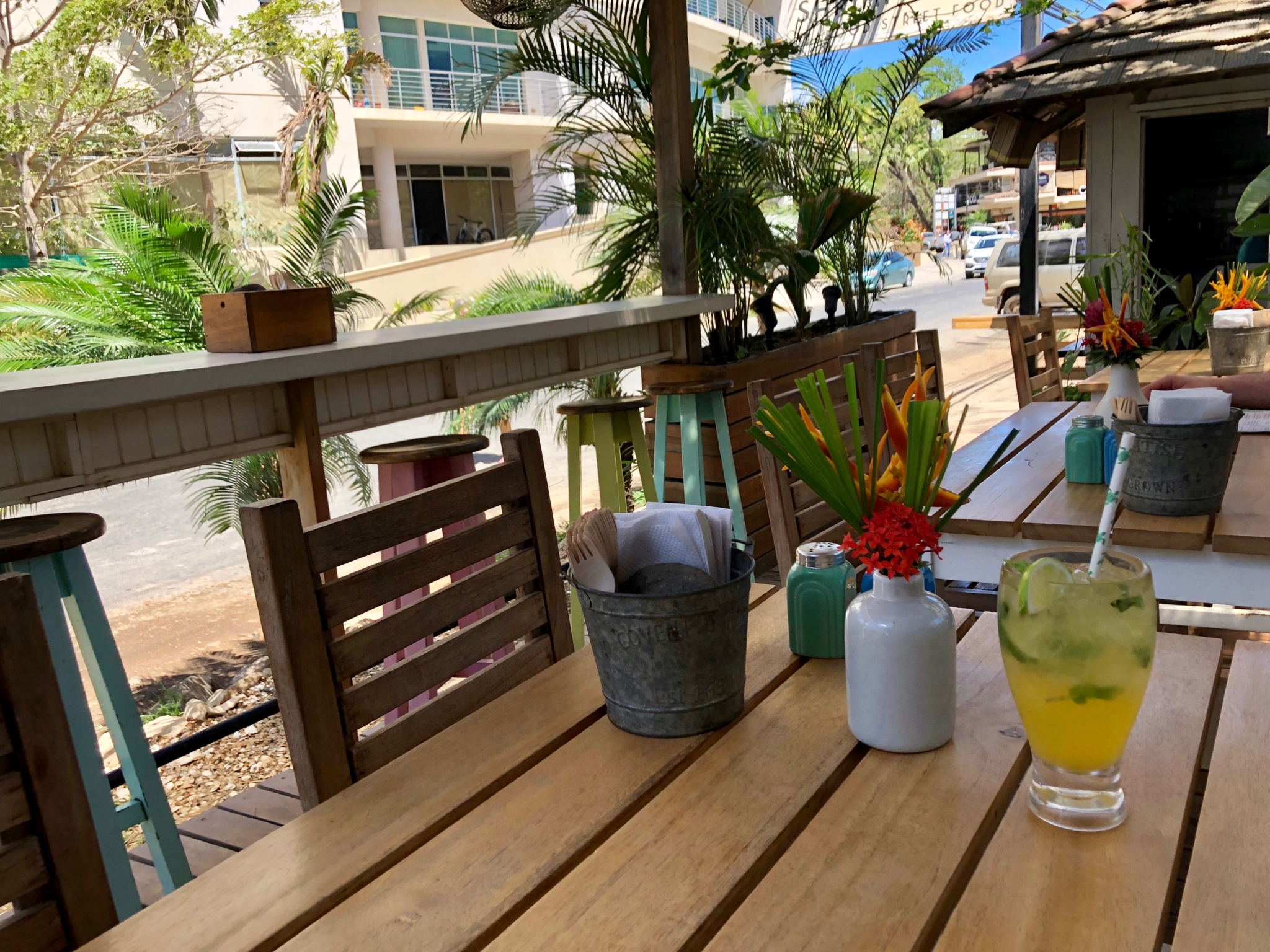 From the kitchen, the size of a small shed, a variety of shrimp and seafood dishes appear as if by magic; I can not understand how there is enough space in the tiny shack to cook these delicacies.
I started off with a tuna poke bowl; incredibly fresh and flavorful it was the perfect dish for the warm beach weather. I accompanied with a deliciously crisp and refreshing tropical passionfruit lime punch.
As its name suggests Ths Shrimp Hole specializes in shrimp dishes; I tried their Thai shrimp with a creamy green curry sauce served over a bed of rice served with green beans and peppers. The shrimp was fresh and the dish was flavorful and delicious, with just the right amount of heat.
After two amazing dishes, I honestly didn't think that dessert could possibly be as good as the appetizer and main course, boy was I wrong! I ordered a key lime pie and living in Florida I was skeptical, would it measure up to the key lime pies back home? As I took the first bite my lips puckered up, luscious, creamy and deliciously tart this key lime pie was simple but bursting with flavor. My biggest complaint when it comes to key lime pies is that most are just too sweet and not tart enough, but this key lime pie had just the right balance of sweet versus tart and it was the perfect way to end a delightful meal.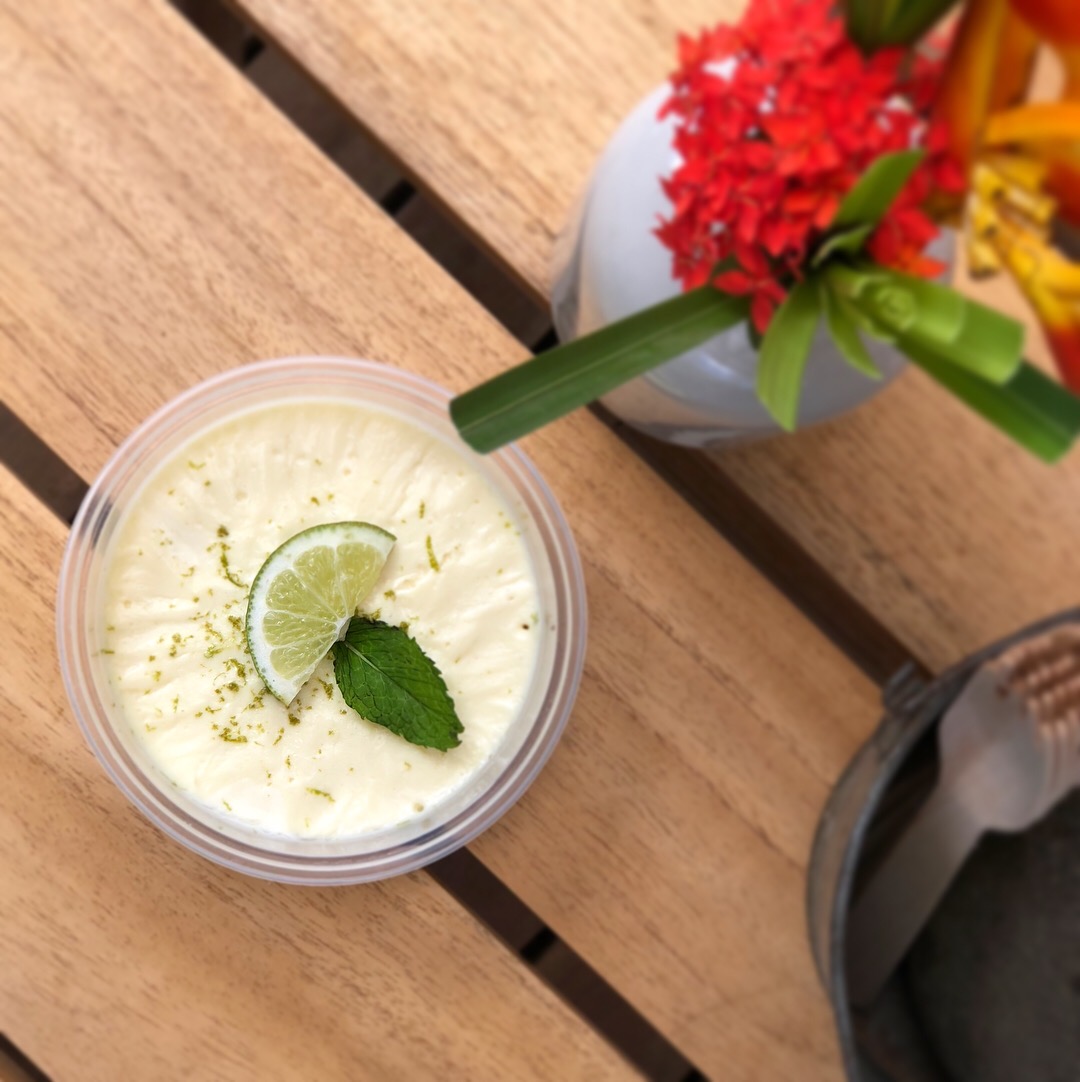 The Shrimp Hole is a local favorite and a must visit restaurant if you are in Tamarindo. I love that the dishes are made from scratch using locally sourced ingredients and The Shrimp Hole make a real effort to be green and conscious of the environment using wooden sporks and paper straws.
Most Romantic: Sunset at the Beach Dining at El Barco 
Located at El Capitan Suizo Hotel, El Barco restaurant overlooks the beautiful pool and lush gardens of the hotel. You can dine al fresco poolside under the shade of a luscious beachside forest or right on the beach while you enjoy the sun setting behind the waves. Far from the hustle and bustle of downtown Tamarindo this is the perfect place for a romantic, intimate dinner.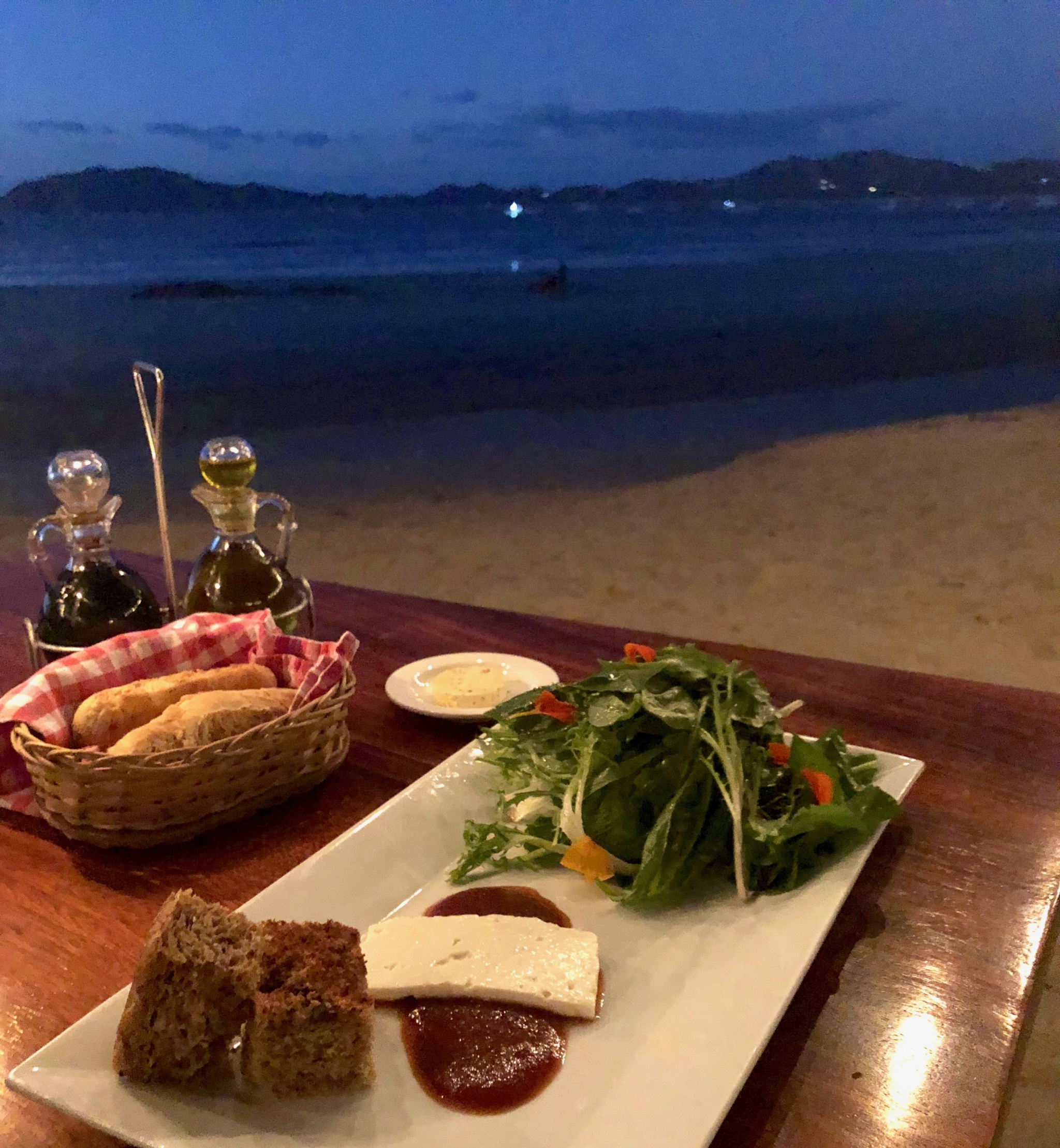 The menu at El Barco features a variety of international and local offerings incorporating organic, locally-sourced and made from scratch ingredients.
I embarked that night on an exciting and delicious dining adventure which started with a warm local goat cheese from Playa Avellanas over homemade tomato marmalade and accompanied by a fresh arugula and chicory salad.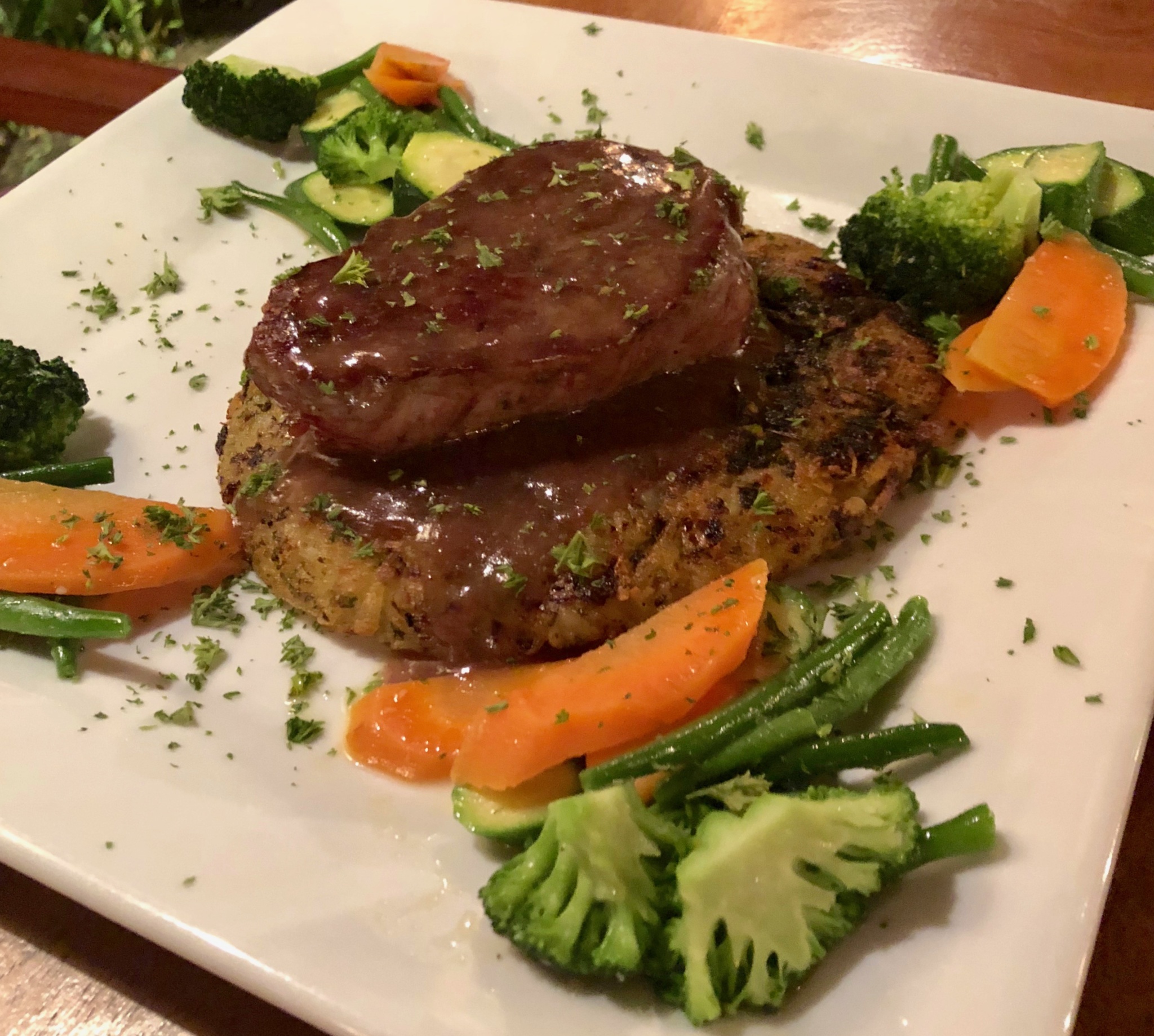 I had a hard time deciding what to have as a main course with choices like Mahi-Mahi with pineapple and basil pico de gallo, Caldereta de Mariscos, the Linguini Frutti di Mare and chicken pineapple curry. I ended up choosing the beef tenderloin (or lomito) with a tamarind sauce served overl Roland's Rösti which was as delicious as it was creative.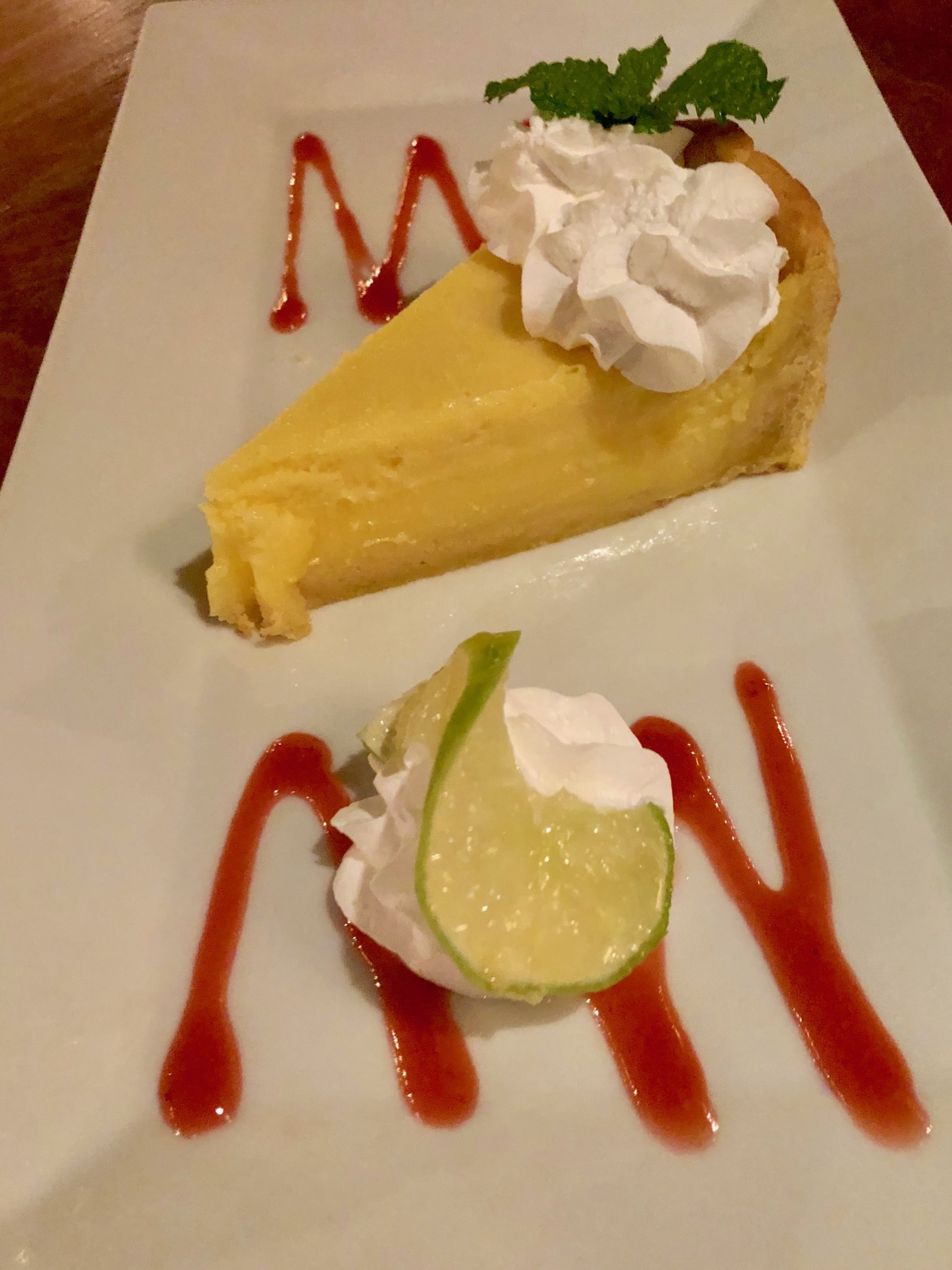 For dessert, I had the pie de limón, a soft and delicious lime cheesecake creation that had just the right balance of tarness and sweetness.
Although beautifully and creatively presented the food has a fresh and unpresumptuous home-cooked feel about it, which I really loved.
My dining experience at El Barco was outstanding; the combination of the delicious food with the enchanting tropical ambiance made for a truly unforgettable night, my only regret was not being able to share this with anyone but even though I was dining solo the staff made me feel special and right at home.
A Laid Back Feet-in-the-Sand Dining Experience: Panga's Beachclub
Located right on the beach Panga's Beach Club's casual elegance combines with a relaxed beach ambiance for a dining experience that is the epitome of Tamarindo's laid-back tropical atmosphere. Sit at one of the comfortable oversized lounge chairs under the shade of lush trees and sink your toes into the warm beach sand while you enjoy a tropical cocktail and watch the sunset color the sky and the water every shade of pink.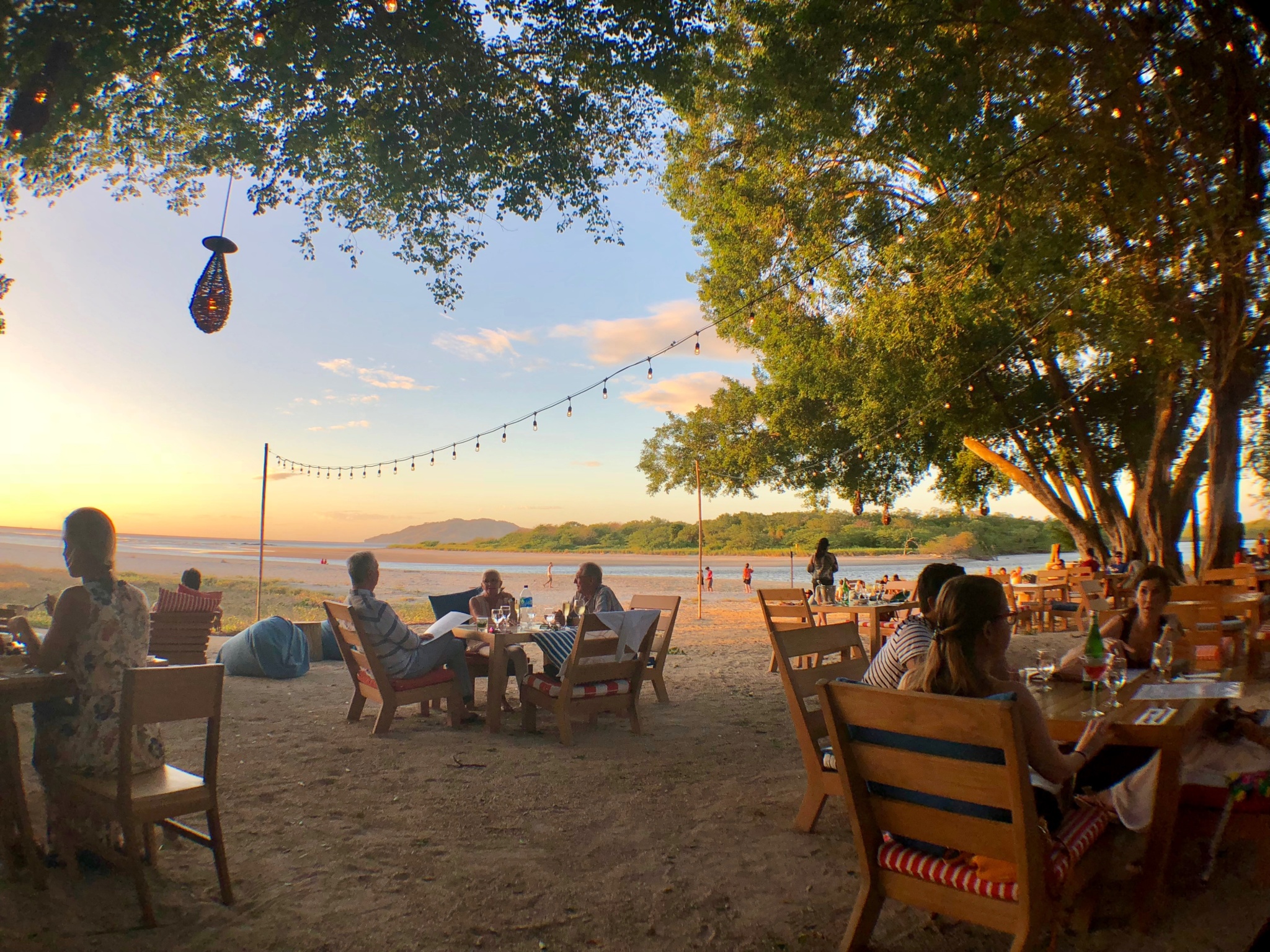 Panga's Beach club offers a wide array of fresh seafood dishes and tropical fruit drinks as well as local fare and some inventive and some creative offerings. Start off with a tuna tower, a Costa Rican ceviche or if you're feeling more adventurous go for the coconut and lobster salad served in a coconut!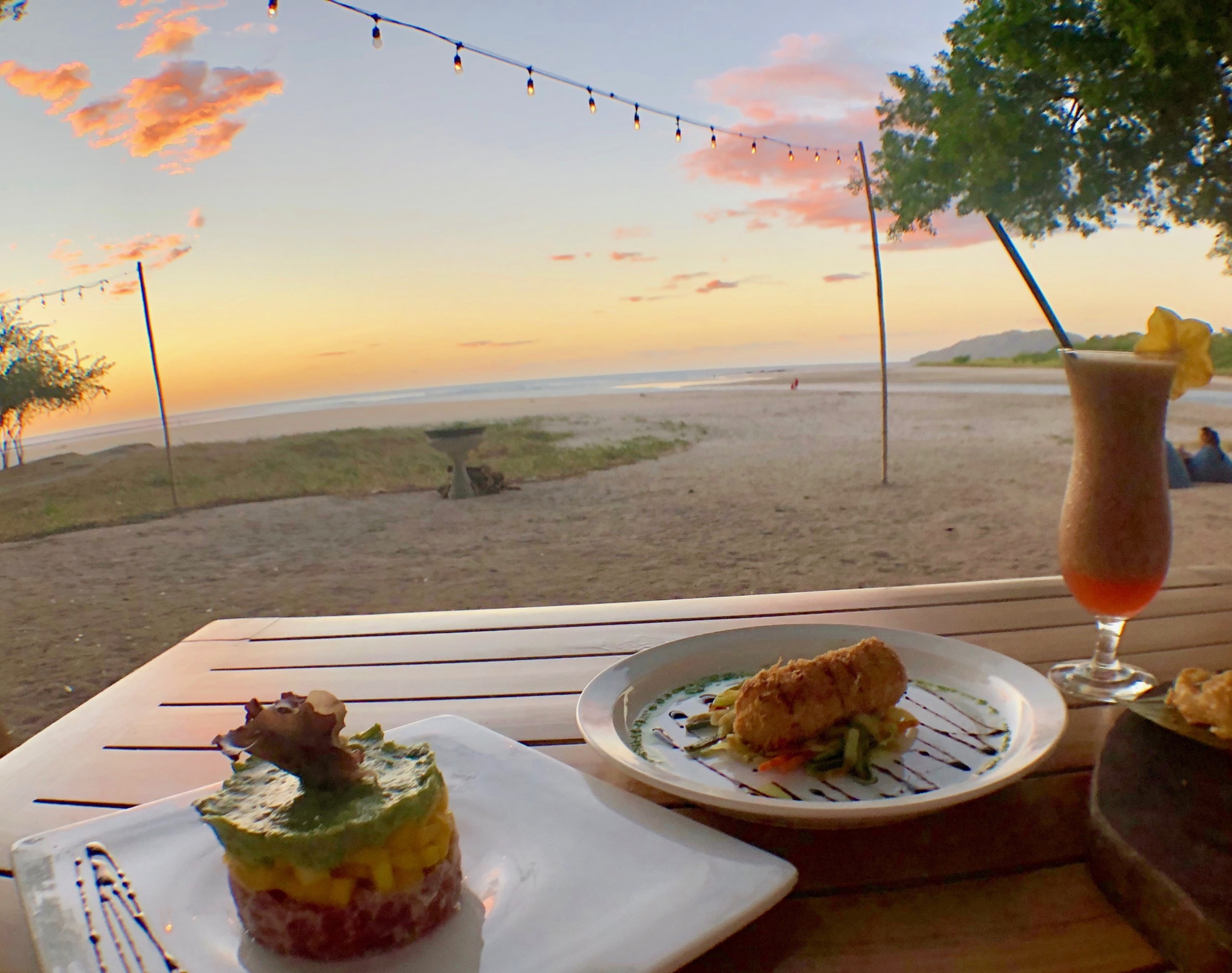 For the main course, I went with the surf and turf, a combination of beef tenderloin with a choice of shrimp skewer or lobster tail. The beef tenderloin is served rare so I you can cook it to your desired temperature right at your table on sizzling Arenal volcanic rock, pre-heated to 500 degrees. How could I resist this unique and exciting dish? It was my first time cooking my own meat on a heated rock and I enjoyed the entire experience almost as much as I loved the delicious dish!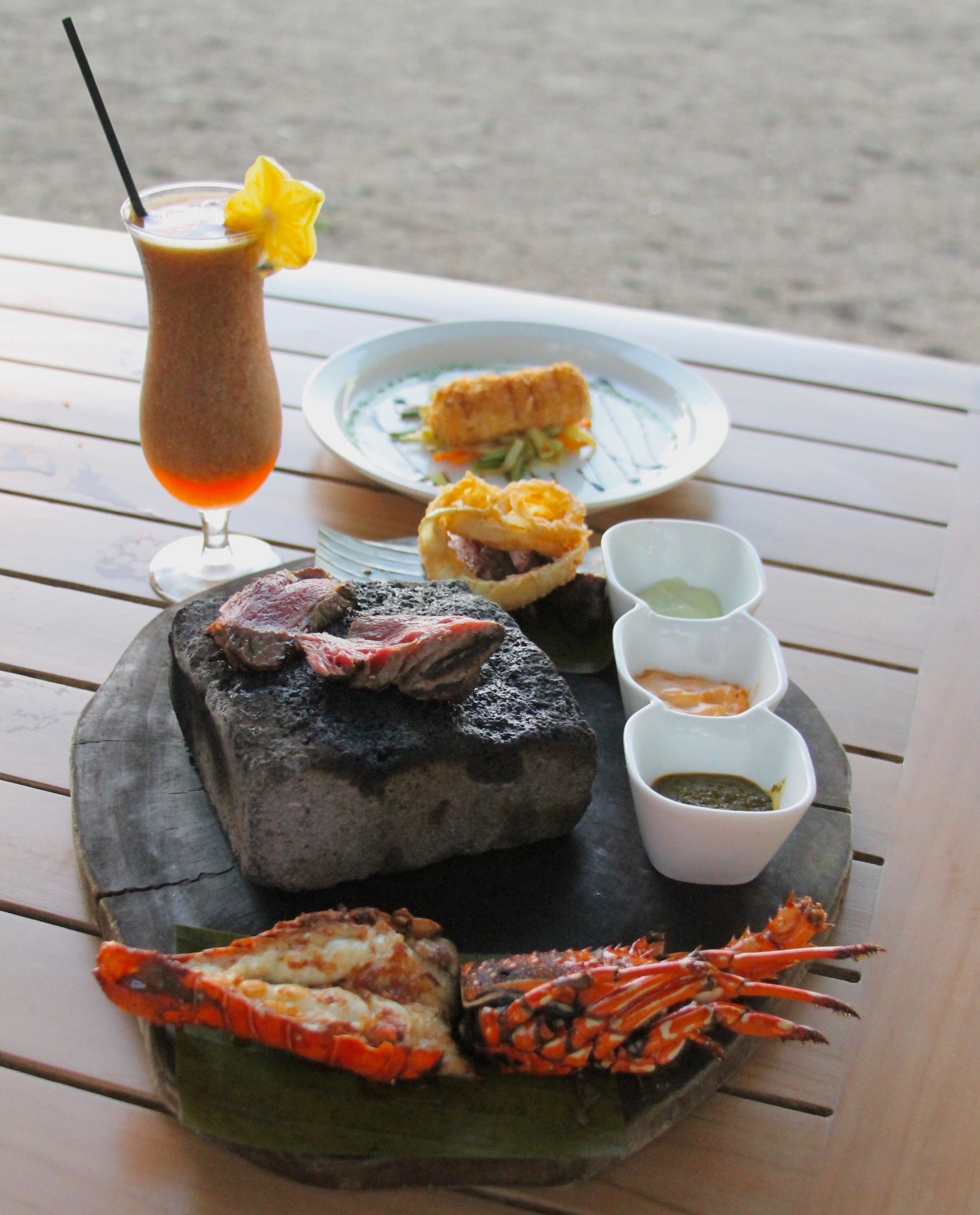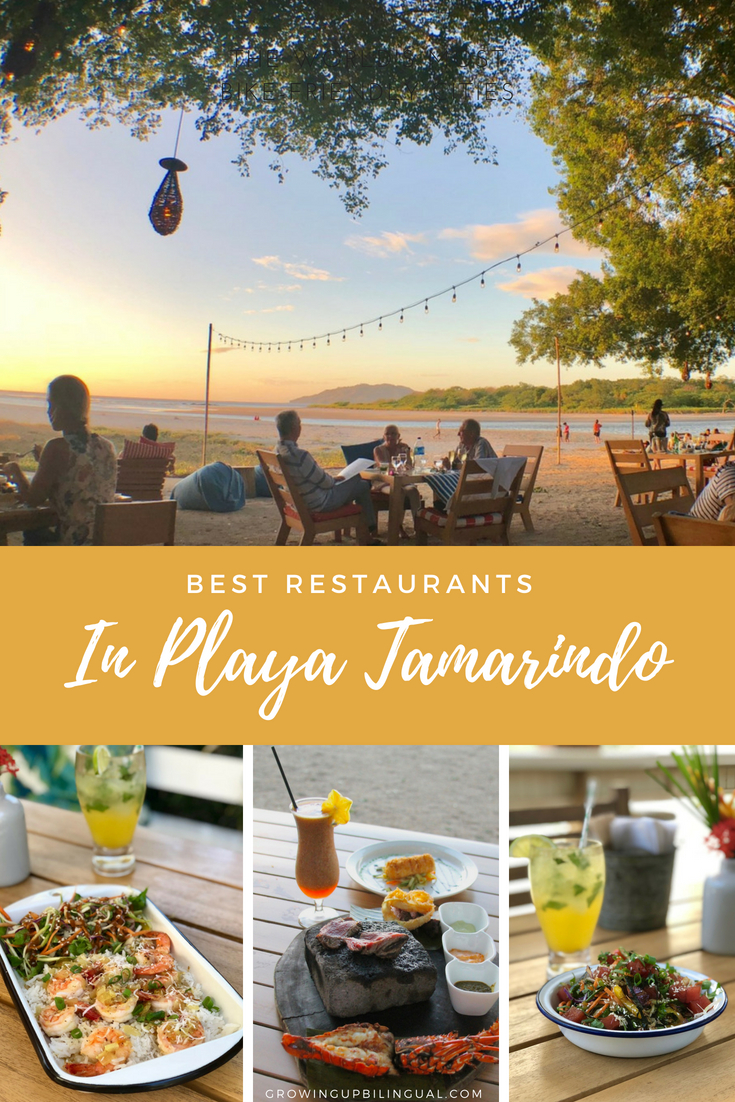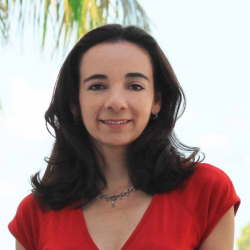 Latest posts by Paula Bendfeldt-Diaz
(see all)