When we received the Music with Sara CDs of Spanish songs for children I had already heard a couple of Sara Quintanar's songs. I had even included a couple of her songs which have been animated into video in previous posts (you can check out Los Monstruos Holloween video and El Día del Amor y la Amistad Valentine's video).
From the beginning I loved the fun melodies and the upbeat rhythms that make you get up and dance. Still I was pleasantly surprised when we received her two CDs: "Canciones En Español" and "Más Canciones en Español". We have quite a lot of children's music in Spanish but the Music with Sara CDs have quickly become both of my children's favorites. Both CDs include a wide variety of popular and traditional songs as well as songs written by Sara, some of them where even written with the help of her students! I was transported back in time to my childhood in Guatemala with songs like "Los Pollitos" and "Un Elefante Se Balanceaba" and was also introduced for the first time to many traditional and popular Latin American songs I had never heard before.
Here is a video of the Song Patito, Patito that you can sing along to.
For me it's so important to be able to share with my children as much of my culture as I can and I loved to hear them singing along with me these songs that mean so much to me and that transmit to them my culture and my language. We listen to the Music with Sara CDs in the car and my 5 year, who usually prefers to speak in English, enjoys singing them around the house even when the CDs are not on.
The Music with Sara CDs are invaluable tools to teach young children Spanish through song. They will not only have a wonderful time singing and dancing to the music but they will also be introduced to the warm rhythms and the sounds of Latino music and to culturally rich traditional folksongs.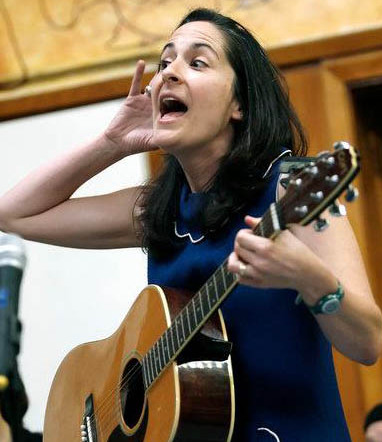 Interview With Sara Quintanar From Music With Sara.
I was curious to know how Sara Quintanar had gotten started in music and where she had chosen the songs she includes in her CDs. In her interview with Growing Up Bilingual she talks about how her CDs came about, what were her influences, her Latino roots, her Spanish music classes and the effect music plays on language development and acquisition.
How did you get started in music?
Sara: "When I was about 7, my next door neighbor sold a piano to my mom. Thankfully, my sister and I started piano lessons soon after. I didn't come from a musical family, so playing the piano didn't necessarily come easy to me, but I practiced here and there and stuck to it. I ended up going to an Arts high school to study piano, and it was there I learned what I was capable of musically. I dabbled with jazz, played in a salsa band, learned African percussion, and sang in a Gospel Choir. Those experiences helped me branch out from the classical training I received as a kid. After high school I aspired to be a photographer or an elementary school teacher. Music wasn't really part of my plan."
Tell us a little bit more about your music classes
Sara: "My "Music With Sara" music classes started after I had my first child. I knew I wanted my daughter to begin music at a young age, but I didn't really know how. I attended a mommy and me music class with my daughter, and after that first class, I knew immediately that I wanted to be the teacher.
The summer before I started teaching my classes, I spent a few weeks in Guadalajara, México. I took some amazing ORFF music classes for children with my daughter and learned quite a few rhymes and songs and came back completely inspired to share what I learned to other parents and kids. After some self-training, learning a few chords on the guitar, and researching a lot of children's music, I started my first Music With Sara class in 2009. That was the same year my daughter started Kinder in a Spanish Immersion school, (www.franklinmagnetschool.com) so I decided to offer my class as a "bilingual" class so fellow parents at the school could take their younger kids as a way to expose them to the Spanish language.
Now, 3 kids later, I only teach 1 of my "Grown up and me" "Music With Sara" classes. When my daughter started at Franklin Magnet, I began volunteering in her class to teach songs in Spanish to the kids. It was amazing to see what an impact the music played in their 2nd language development. Quickly there became a demand for music in the other classrooms, so now, 4 years later, and thanks to the support of the school's foundation and the incredible parents, I've become the school music teacher, and teach mostly music in Spanish to roughly 375 children each week!"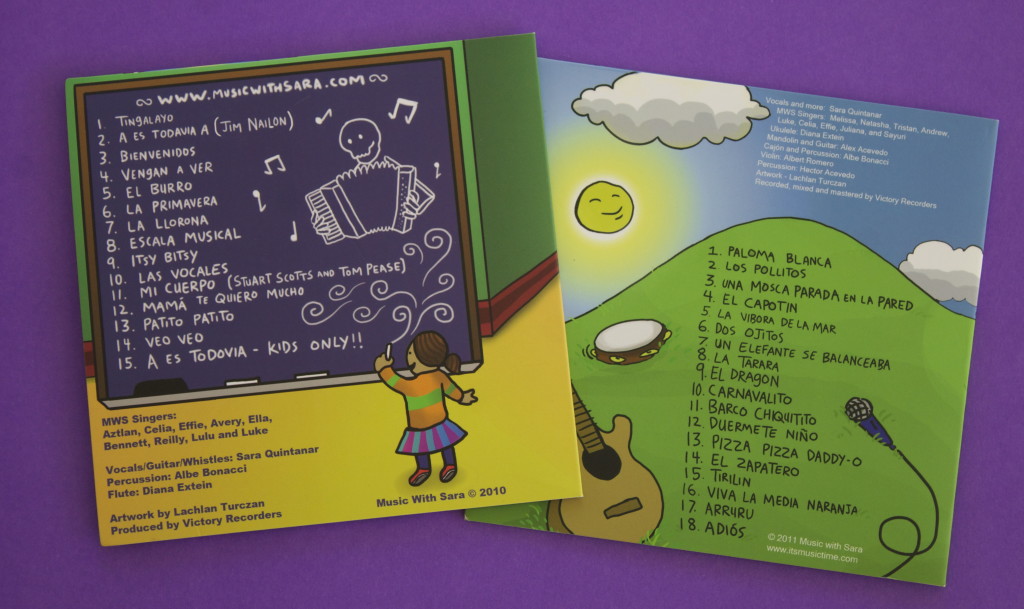 Why did you decide to teach music in Spanish?
Sara: "I grew up speaking Spanish as a kid. My mom is from México and she sang to me quite a bit growing up. I wanted to teach my kids the songs she sang to me. I also wanted to bring music in Spanish to the community to help support parents who decide to raise their children bilingual."
How did you choose the songs you include in your first CD?
Sara: "The first CD consists of almost all of the songs I taught in my daughter's Kindergarten class in 2009. A few were songs I wrote, and others consisted of rhymes I found from old texts that I put some music to. Others were traditional songs that I found in a ratty old song book that was part of the curriculum in LA Unified for bilingual education in the 80's.
(This is how the CD came about)
At the end of the school year one of the parents (and now my dear friend Diana) invited me into her music studio to record the music so her son could practice over the summer. I literally strolled into the studio one day right after dropping my daughter off at school, and quickly wrote down a list of the songs the kids loved singing the most that year. We invited another parent from the school, (Albe Bonacci) , to play percussion and about an hour and a half later, all the songs were recorded! We ran through them all, mostly one take per song, and that was it! We took a group of kids in the studio a few days later and had them sing along, took them all out for ice cream, and voilá! We had a CD! It was initially meant for the small group of parents at the school, but after quickly running out of copies, I realized that maybe more parents and kids could benefit from having some simple music in Spanish."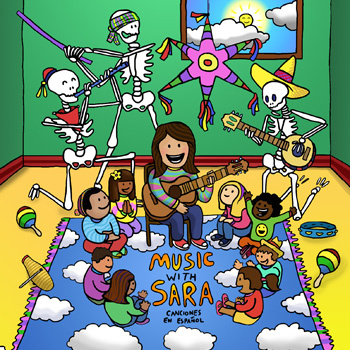 Do any of the songs have a special meaning for you?
Sara: "The song "Mamá te quiero mucho" has to mean the most to me. Not only because I love my mom and mother-in-law, but because it was written by my first group of Kindergarten students. I wrote the melody and the chorus, and then I asked my students to tell me something special they would say to their mom. The lyrics literally consist of the children's responses. My favorite was "Tú eres mi San Valentín". (I thought it was so cute)"
How did you choose the songs to include in your second CD and was the process any different from your first one?
Sara: "The songs from "Más canciones en español" seemed a tad bit more "mature" to me overall. My students that year were now first graders. They had a more advanced vocabulary, and we started having a lot more fun with lyrics and the music. Many of the selections were very traditional and popular, like "Los Pollitos" and "La Vibora de la Mar". Those songs are popular for a reason – because kids just LOVE them! I introduced songs from other countries that the children had studied. For example "La Tarara" was from Spain, and "Carnvalito Humahuaqueño" is a traditional Andean song. I really just stuck to songs I thought were fun for the kids to sing. As far as the process goes, it was very different. I decided to take a little more than an hour and a half to record it. This time I included a few more musicians to add to the instrumentation. We added mandolin, violin, and a LOT more Latin percussion – mostly percussion instruments from Colombia."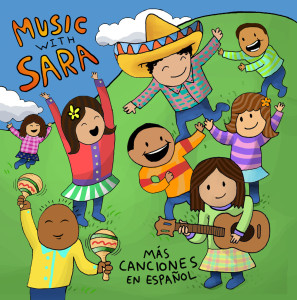 Sara on the effect music plays in language development.
"I've seen first hand the profound effect music plays in the children's language development and acquisition. After our first student performance in the Dual Language program, the parents could really "hear" the Spanish. The children sang with such passion and could pronounce those beautiful words with ease through song. I knew it was a big deal when parents would tell me: "My kid may not talk to me much in Spanish at home, but they always sing!" I'm so honored to be able to help kids learn Spanish through music. It's just so much fun!"
Disclosure: I received a copy of Music with Sara "Música en Español" and "Más Música en Español" to review but was not financially compensated in any way. All opinions expressed here are honest and my own and are based on my observations while listening to this music with my children.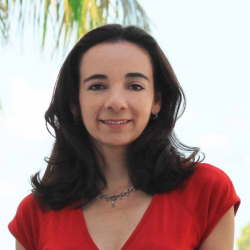 Latest posts by Paula Bendfeldt-Diaz
(see all)