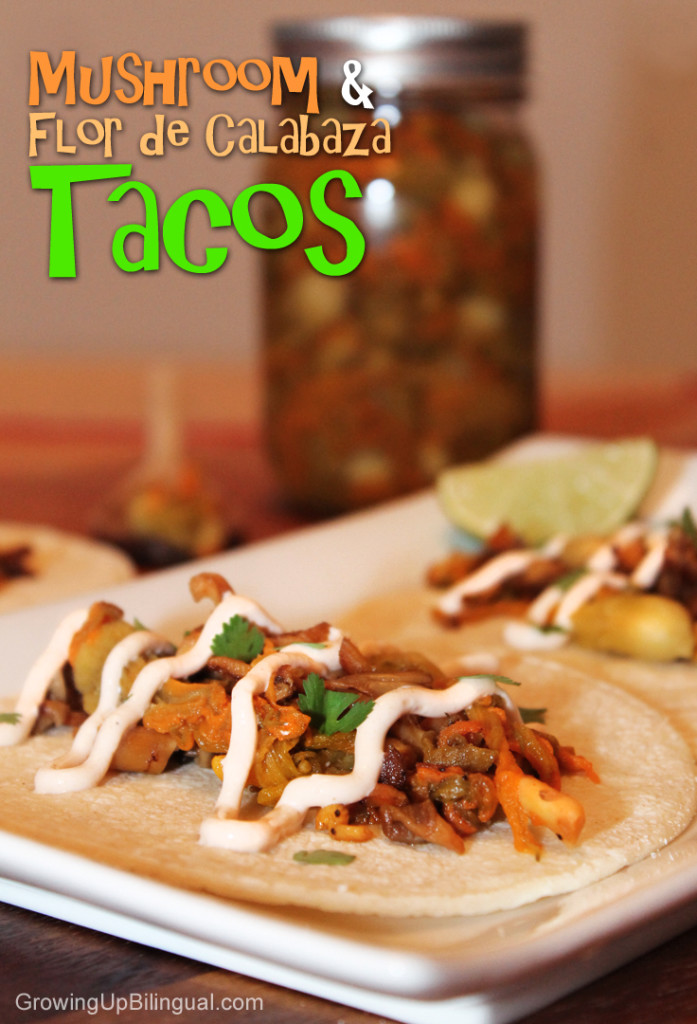 We recently had our first homegrown crop of mushrooms from our awesome Back To The Roots Mushroom Kit
and as I was wondering what I should cook with them someone suggested making mushroom and flor de calabaza quesadillas.  I had never had flor de calabaza (zuchinni blossom) before and I was intrigued.  A couple of days after that I was exploring a new Mexican grocery store I happened to stumble upon and as I excitedly picked all sorts of goodies from fresh tamarindos and Cuitlacoche to chile de arbol and pan dulce I saw a can of Flor de Calabaza. I figured it was just meant to be so I picked it up determined to make some delicious new recipes with it.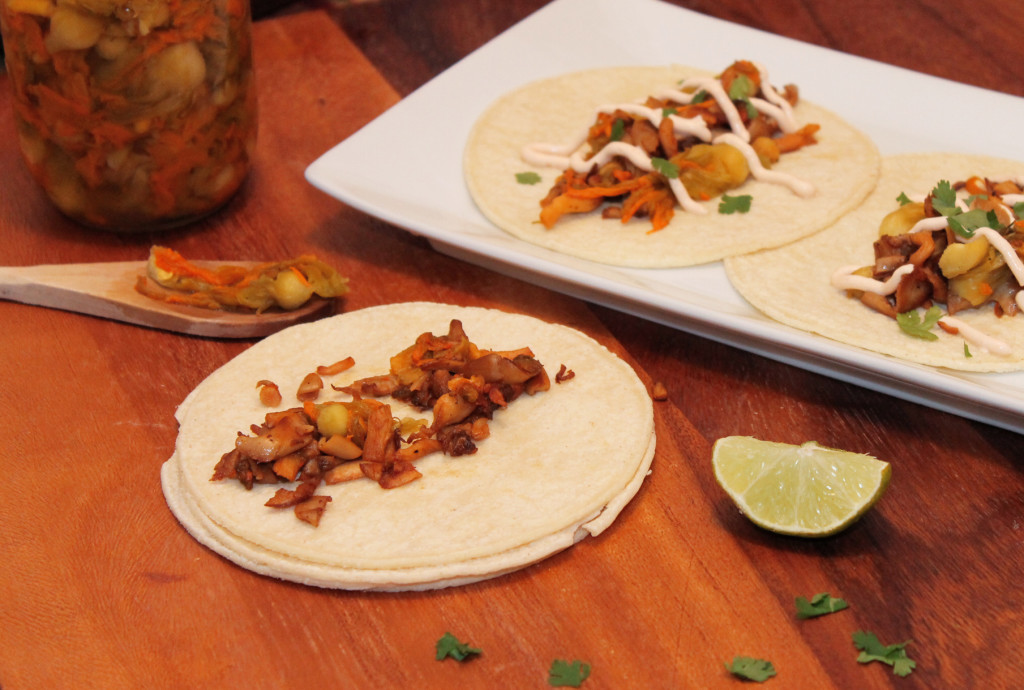 A few days later as I got all the ingredients out for the quesadillas I realized my husband had eaten all of the Oaxaca cheese so I had to improvise and ended up making tacos instead.  Although I am eager to try out the quesadillas in the future I have to say that the tacos where really amazing, the Back To The Roots fresh homegrown mushrooms
and the flor de calabaza made a delicious combination.  I just added a squeeze of lime and topped with some chipotle crema which I made using yogurt instead of cream to reduce the calories and the full flavors of the veggies really came alive. No need for queso!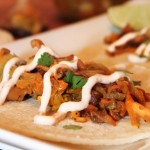 Mushroom and Flor de Calabaza Tacos with Chipotle Crema
Ingredients
1 1/2

tablespoons

olive oil

Kosher salt

1/2

white onion

peeled and finely diced

1

tablespoon

of diced garlic

2

cups

fresh mushrooms thinly sliced

1

can of flor de calabaza

zucchini blossoms, it would be better if you can find it fresh!)

1

tablespoon

of fresh epazote

optional)

Fresh-ground black pepper

6

warm corn tortillas

2

tablespoons

of chipotle chilies in adobo sauce

½

cup

of plain Greek yogurt

Cilantro sprigs
Instructions
Heat a heavy pan (preferably cast iron) over medium-high heat until very hot.

Heat 1 tablespoon of the olive oil. Add the onion and stirring often, until the onion is soft and beginning to brown. Season lightly with salt and remove from the pan.

Reduce the heat and add the remaining olive oil. Add the garlic, flor de calabaza and mushrooms. Cook, stirring often, until the mushrooms are cooked through, 2 to 3 minutes.

Turn off the heat and add epazonte and pepper.

In a small bowl mix the yogurt and chipotle until well combined.

To assemble the tacos, spoon some vegetables onto a tortilla. Top with a generous tablespoon of chipotle crema and top with cilantro.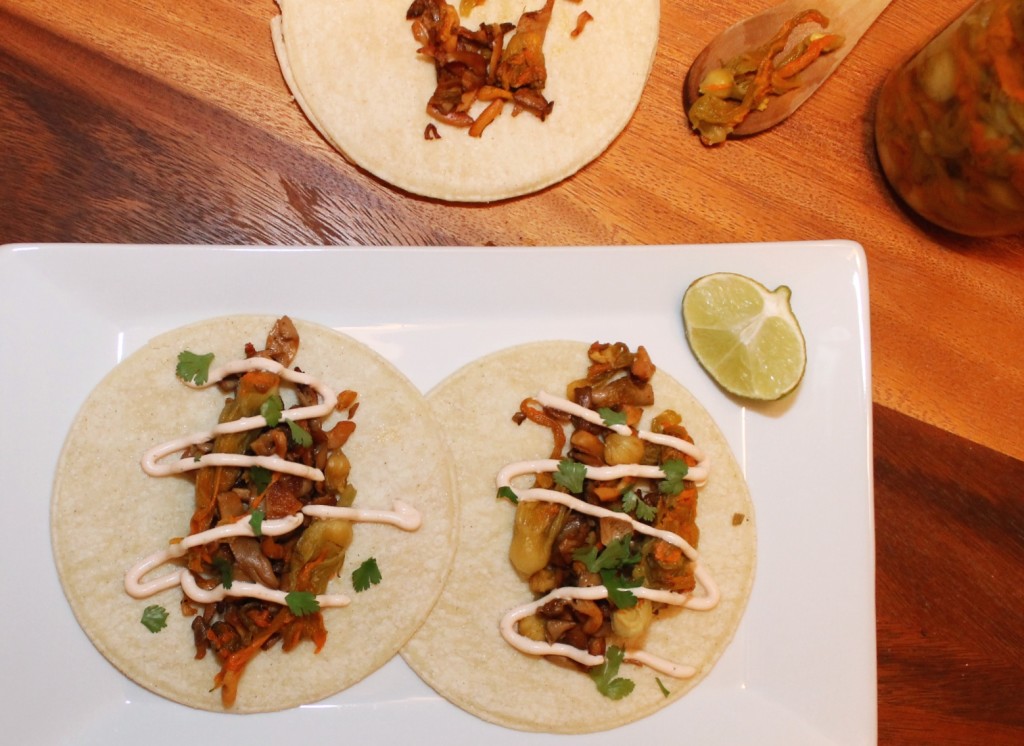 I can't wait to try some other recipes with flor de calabaza, I'm thinking soup maybe? And I would love to find some fresh zuchinni blossoms too as I am just in love with their sweet and delicious taste.  In Guatemala we don't really eat flor de calabaza or at least I've never tried it. In Mexico it's common to have vendors in the mercado offering the flor de calabaza quesadillas and I am really thankful to my friend who suggested I try them as they are really special.
Have you ever tried flor de calabaza?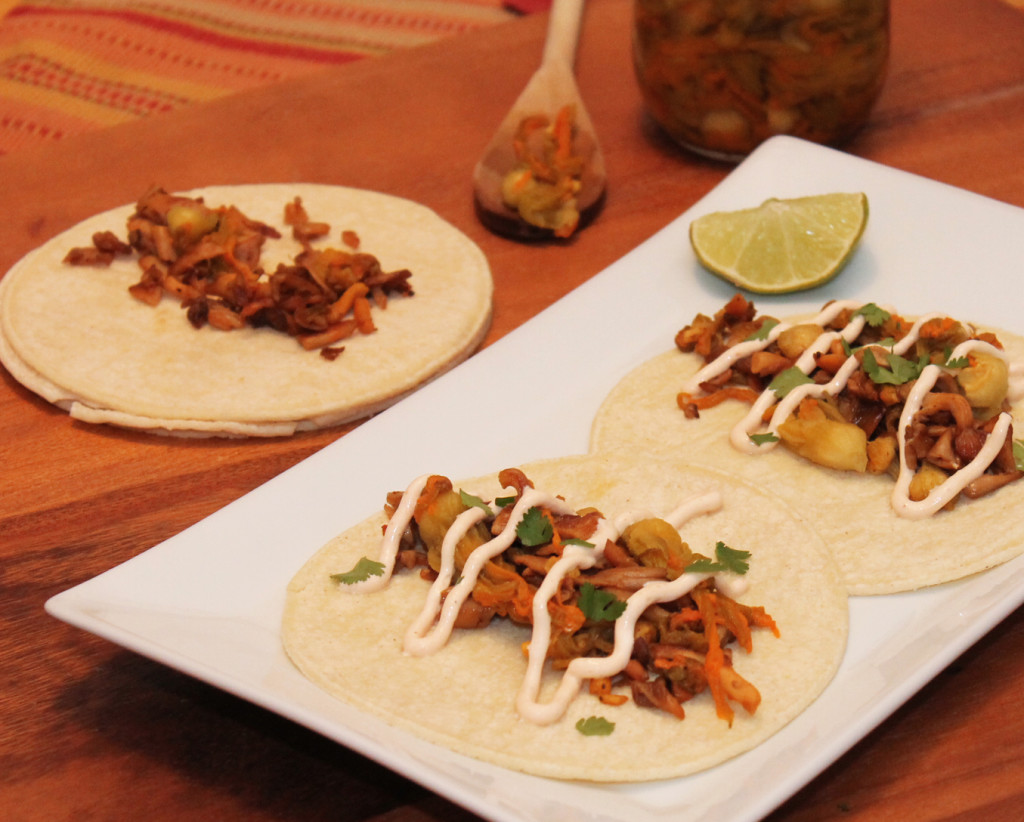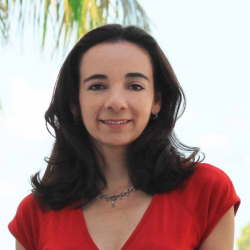 Latest posts by Paula Bendfeldt-Diaz
(see all)