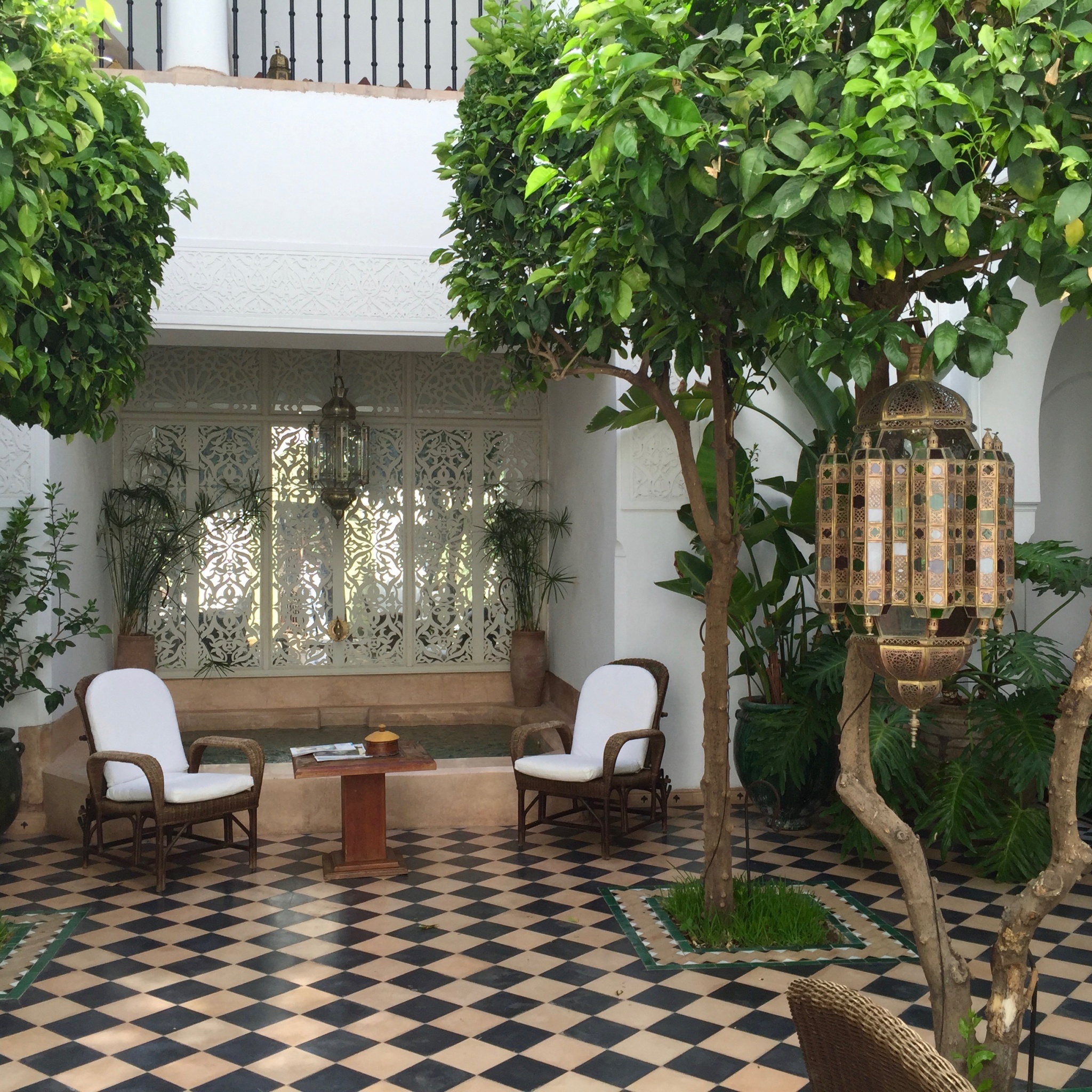 Located in the heart of Marrakech's Medina just minutes from Djemma El Fna and steps away from the Ben Yusef Madersa Riad Camilia is is the epitome of a hidden gem and without a doubt one of the best Riads in Marrakech.  This four star boutique hotel combines exquisite decor, a peaceful ambiance and excellent personalized service with a fantastic location ensuring a wonderful and memorable stay in Marrakech.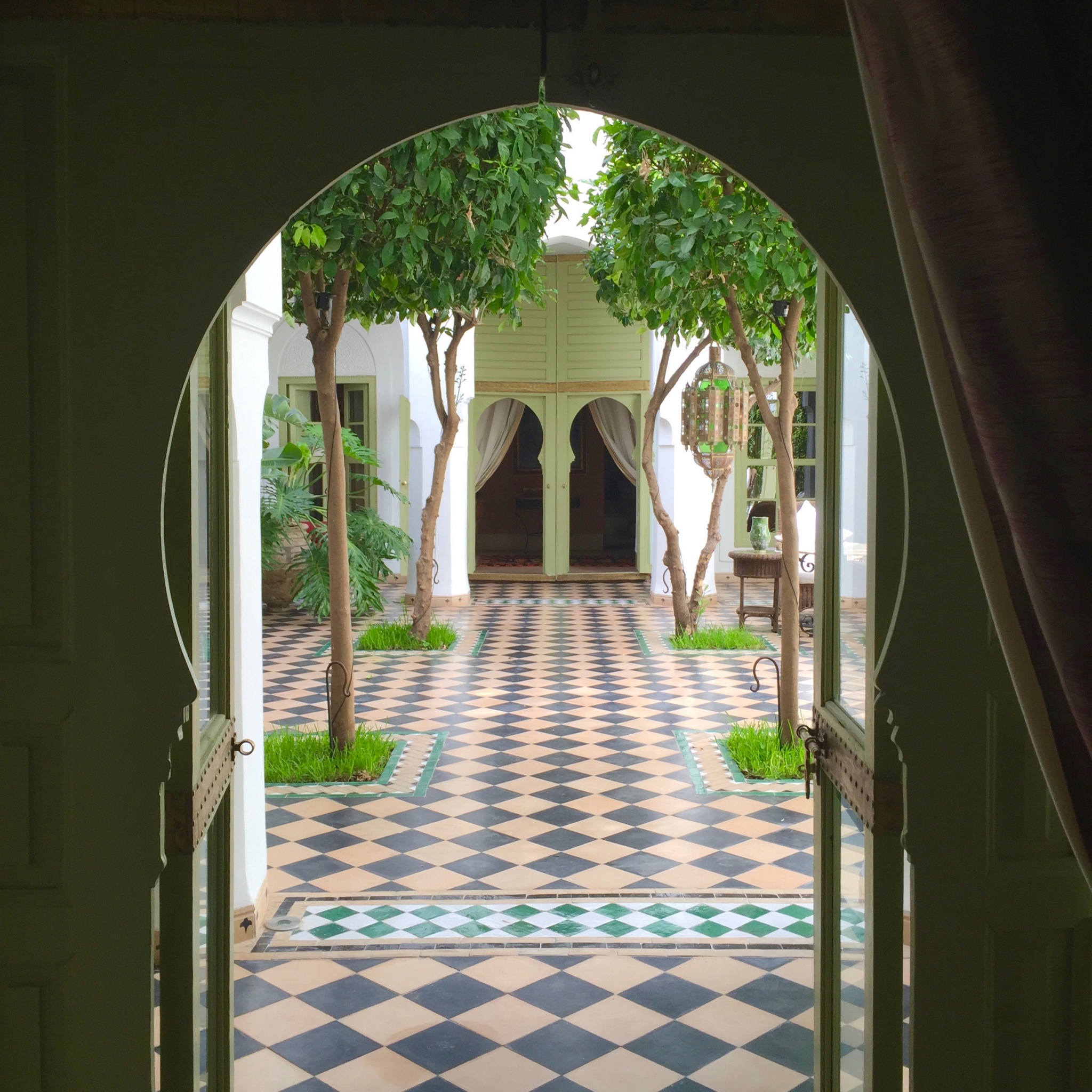 As you set foot through the unassuming door the tangled maze of the Medina gives way to a true oasis of peace and tranquility. The central courtyard shaded by four orange trees is like a breath of fresh air in contrast to the chaos outside.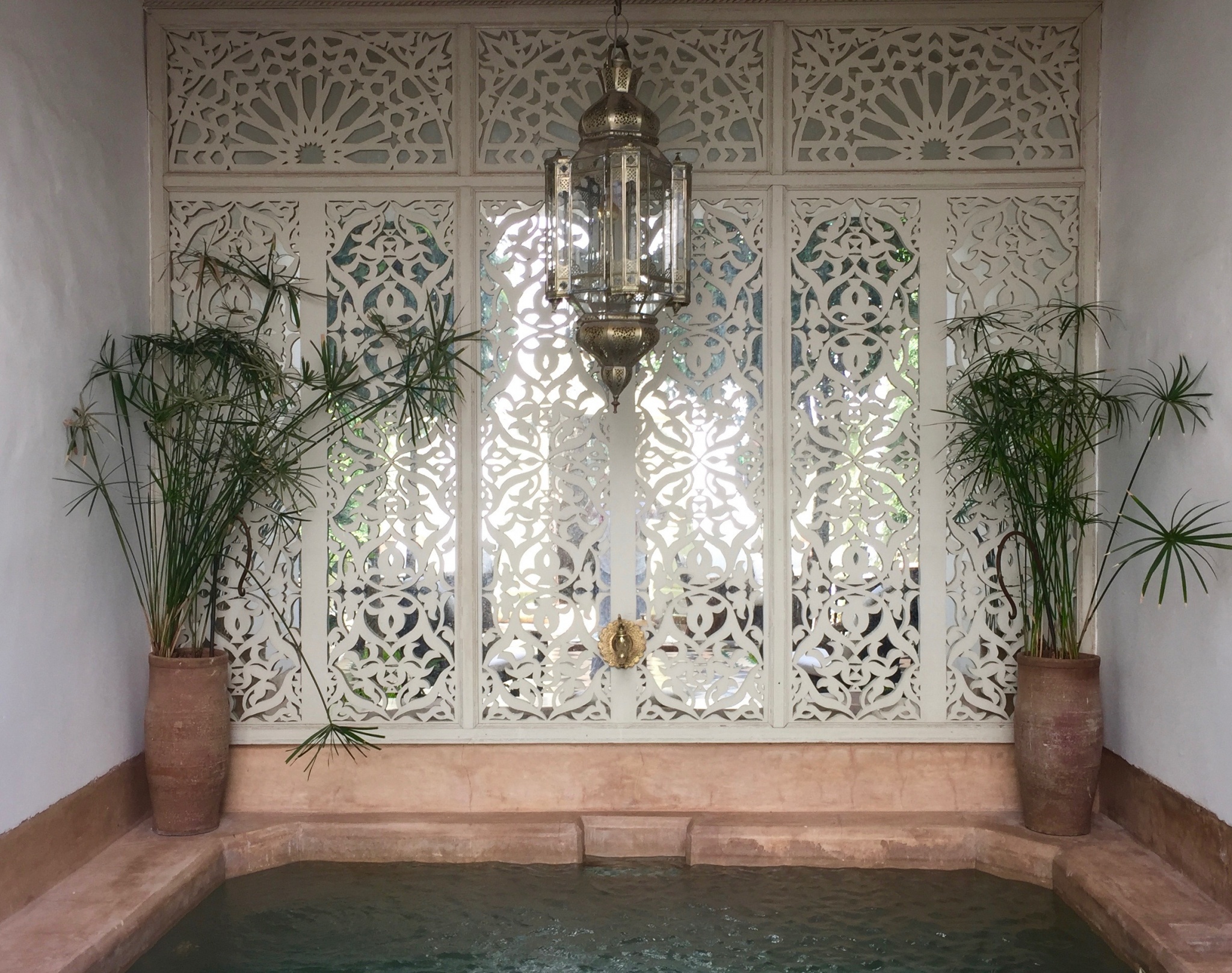 After a day of sightseeing you can relax and recharge your energy in the small splash pool or read a book under the trees. There are also two indoor lounge areas where you are sure to find a cozy spot to unwind and let the peaceful tranquility of Riad Camilia embrace you as you reminisce about your exciting day exploring the Red City.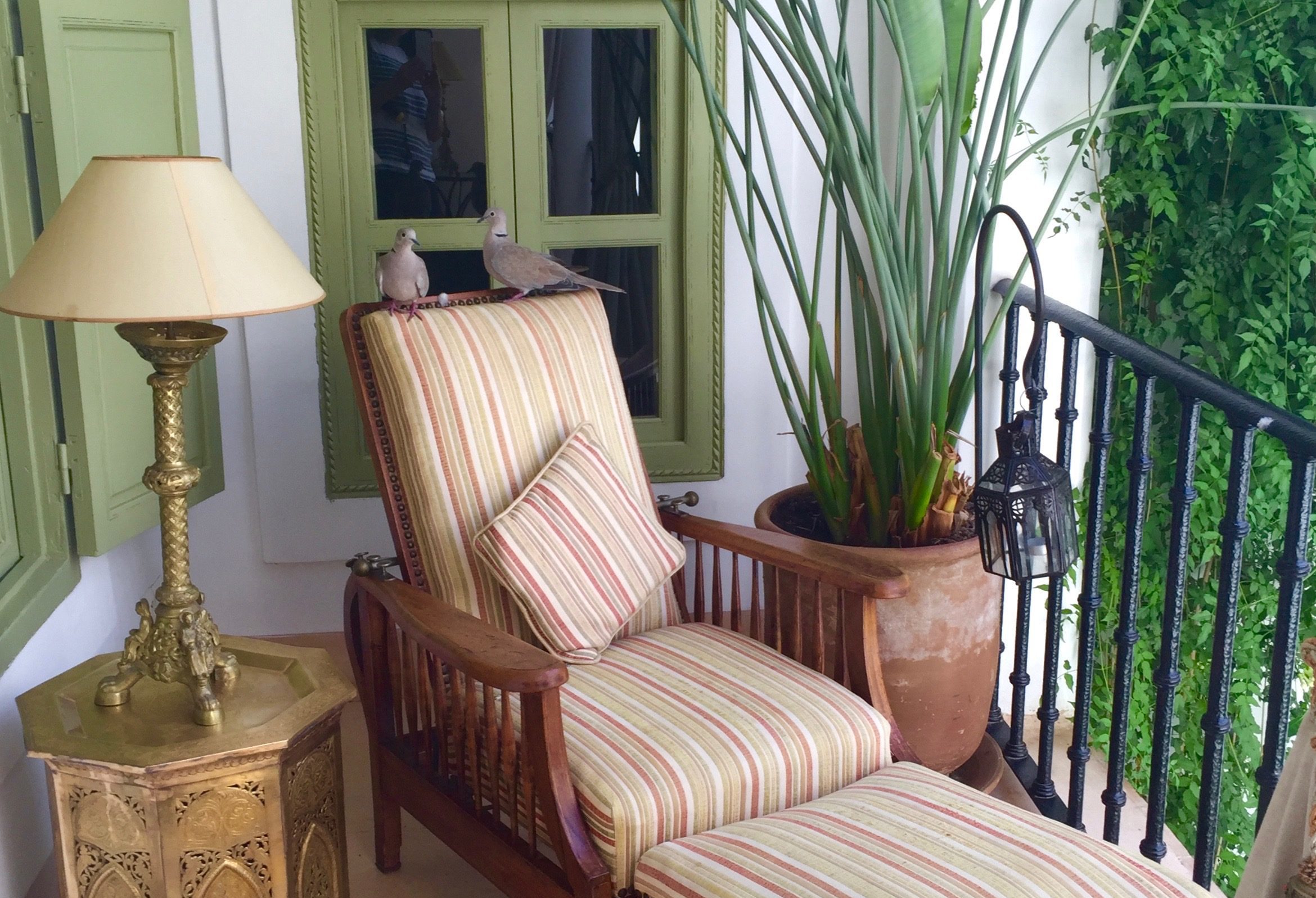 Riad Camilia has a intimate feel which combined with an exquisite décor that blends cotemporary design with exotic Moroccan flare makes for interior spaces that are comfortable and familiar yet unique and magical.  Luxury whispers at you from every corner with a French Moroccan style that creates a soft, sequestered and at times fairy tale like atmosphere. In the evening the plush rugs, the luxurious furnishings and objets d'art get a mystical hue when seen through the glow of exquisite multicolored Moroccan lamps.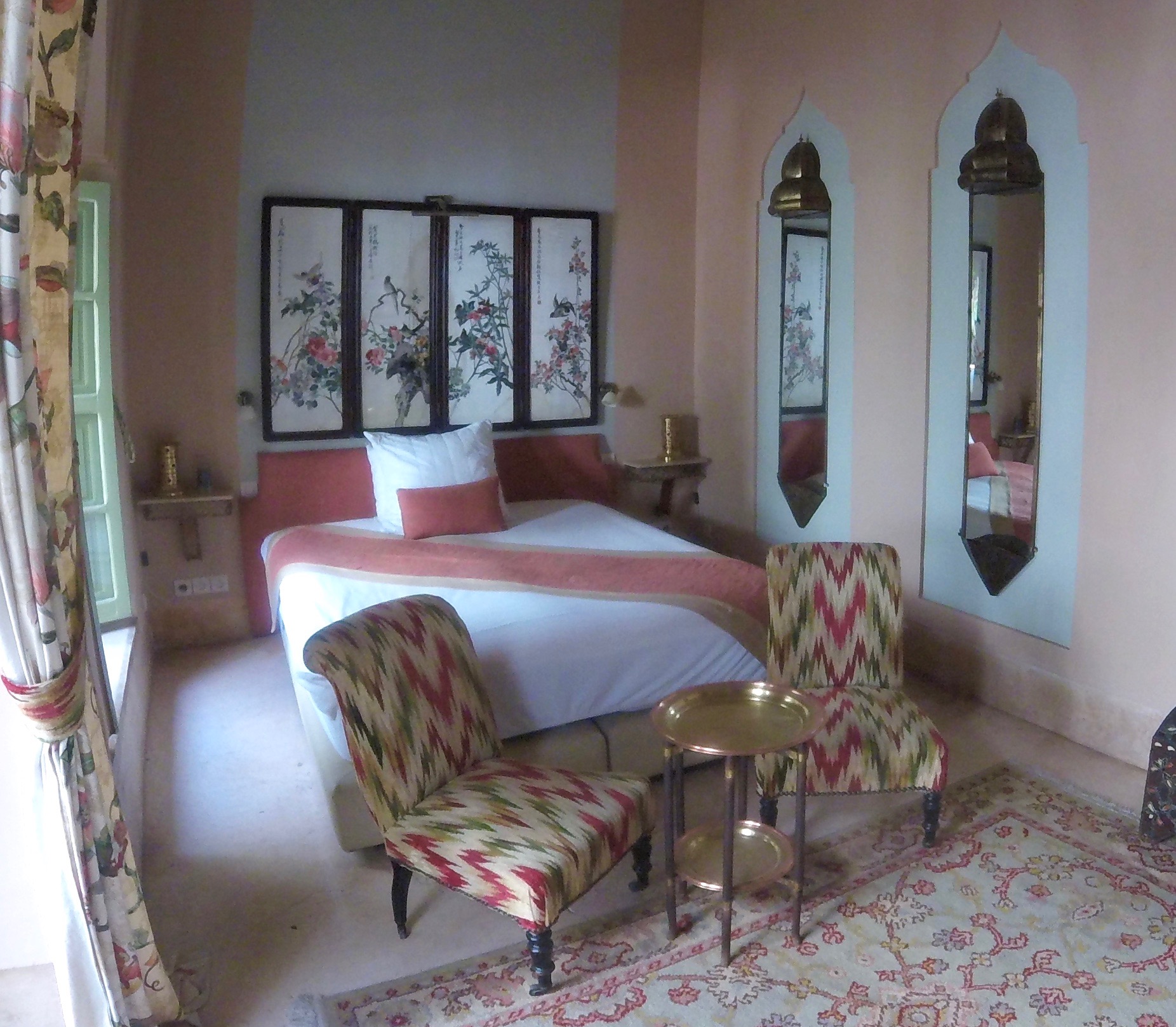 With only 6 rooms, most of them overlooking the central courtyard, Riad Camila makes you feel like you are staying at a family friend's home. There are plenty of lounge areas so there is always a place to find peace and quiet or a great opportunity to meet other guests and share all about your adventures exploring Marrakech .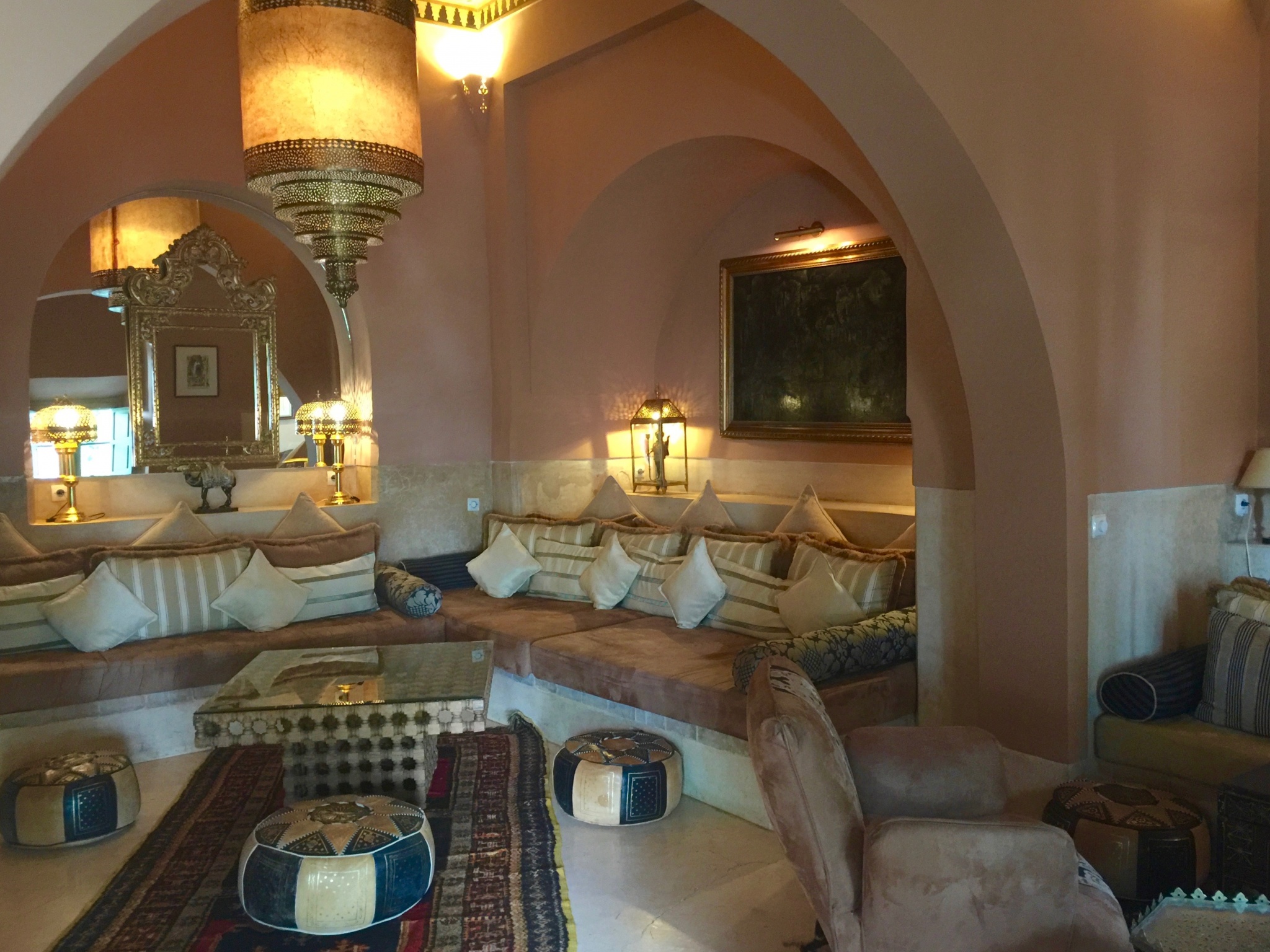 We stayed in room 6 which is in a newer part of the house. This spacious room is more like a small apartment with a large living room area and a private staircase. This room can also connect with one or two adjacent smaller rooms to accommodate a famiy of 3 or even 4.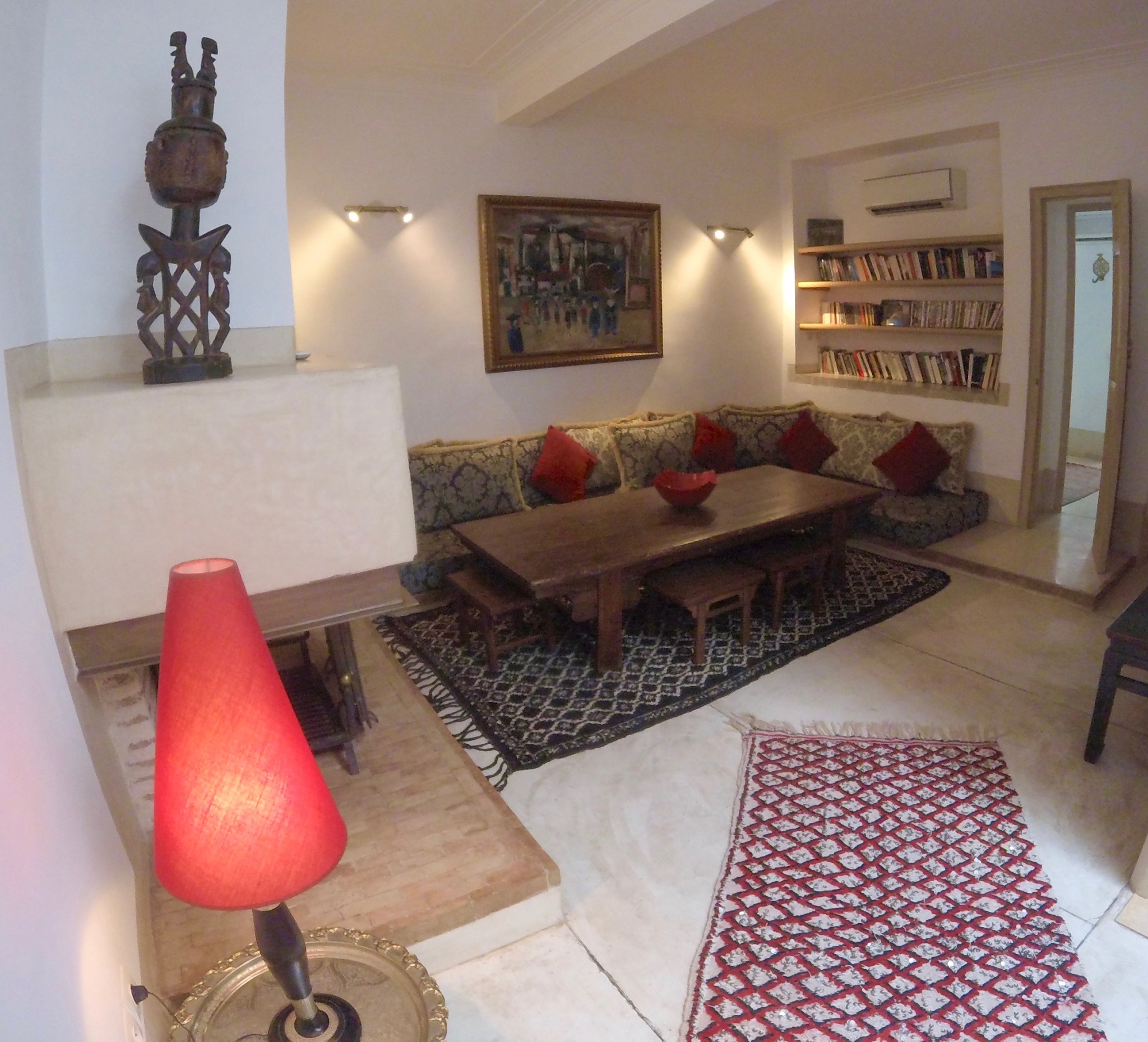 The rooftop terrace is ample with semi-private areas and has two small pools and plenty of seating areas shaded by umbrellas, trees and shrubs protecting you from the direct sunlight during the hotter months. There are chaise lounges for relaxing or sunbathing and comfortable seating areas.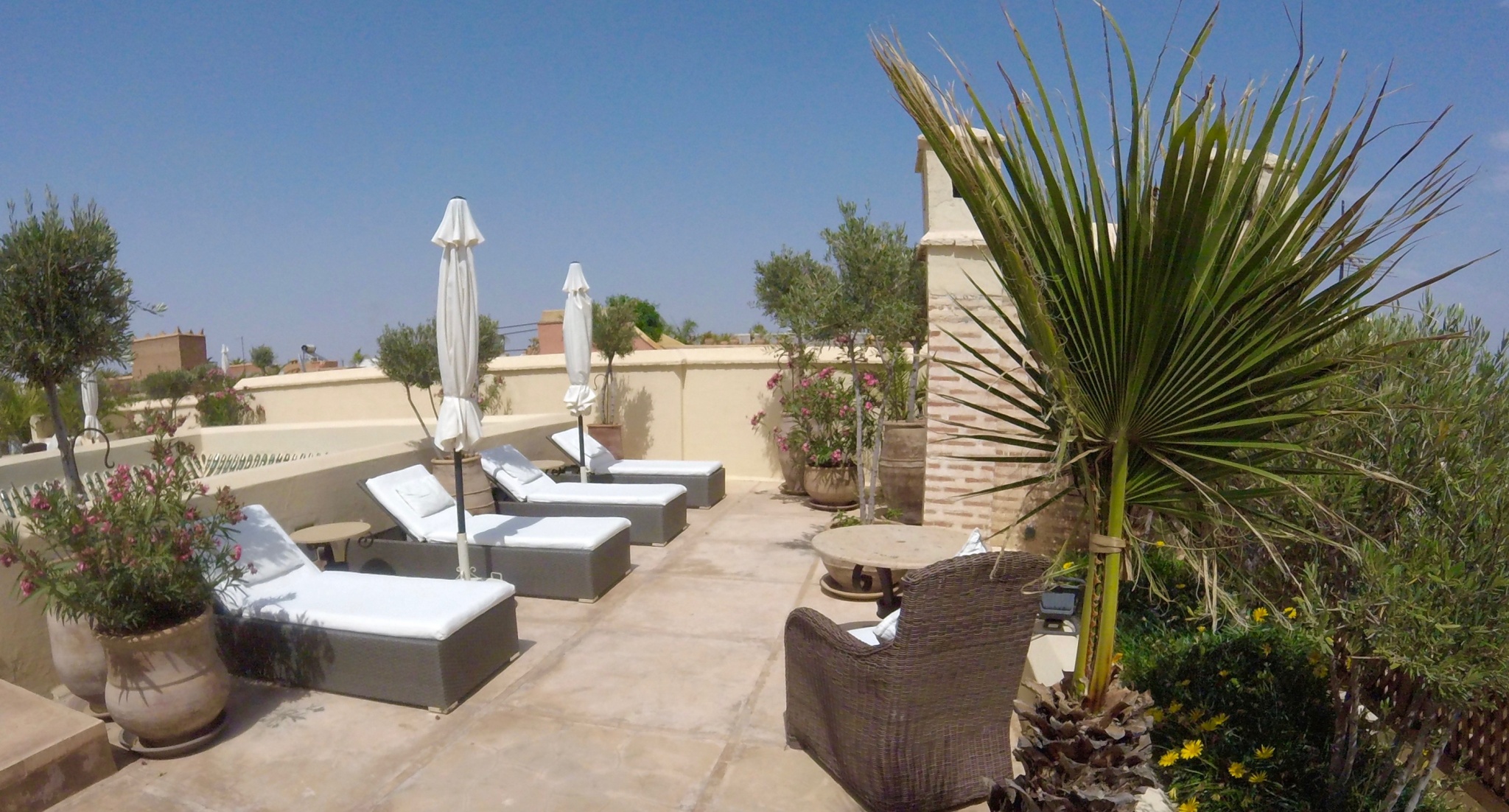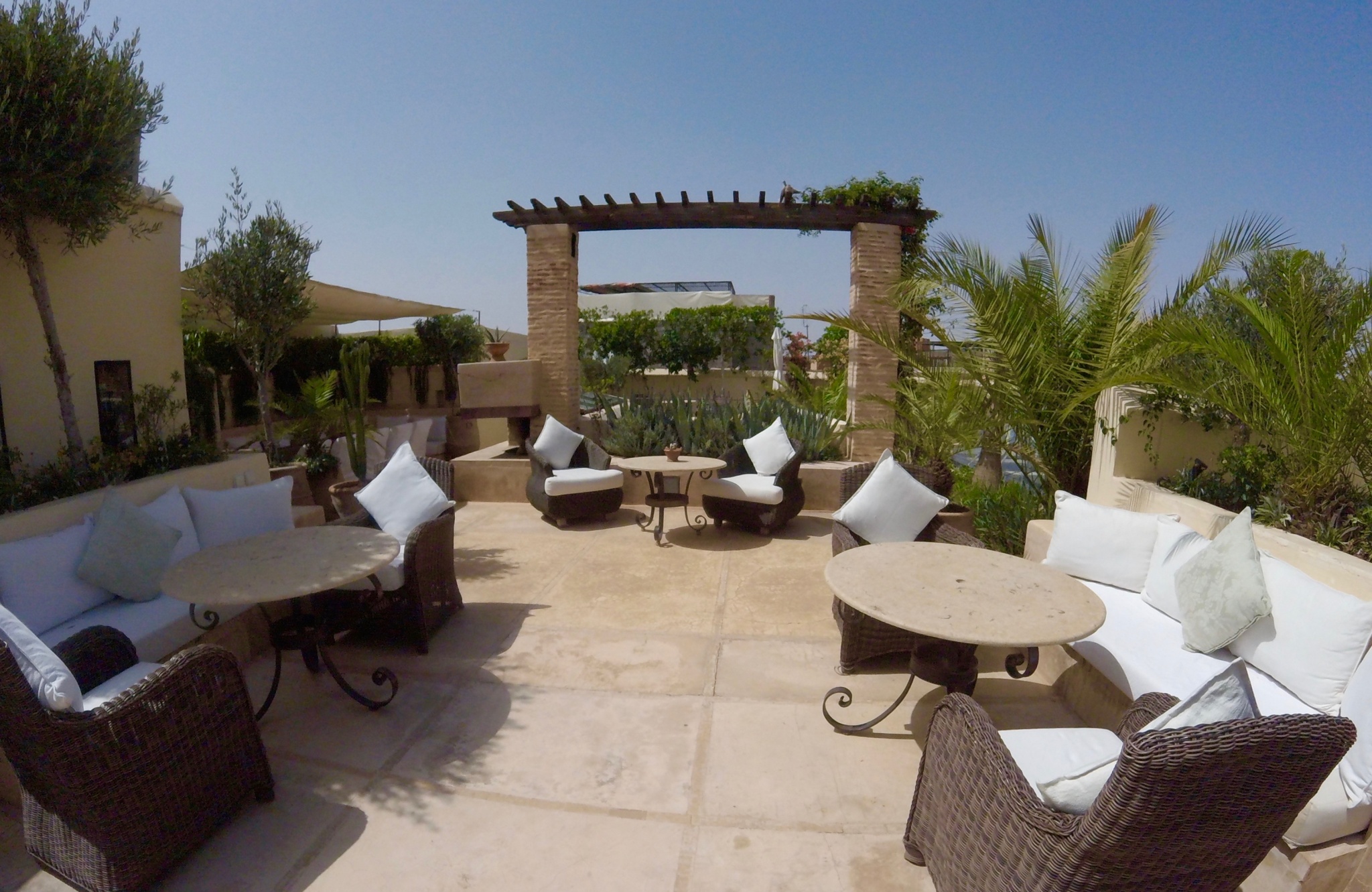 Breakfast which usually consists of fresh squeezed orange juice, hot beverages, Moroccan breads, crepes, honey and homemade marmalades and fruit preserves, is served at one's leisure on the roof terrace and is included with your stay.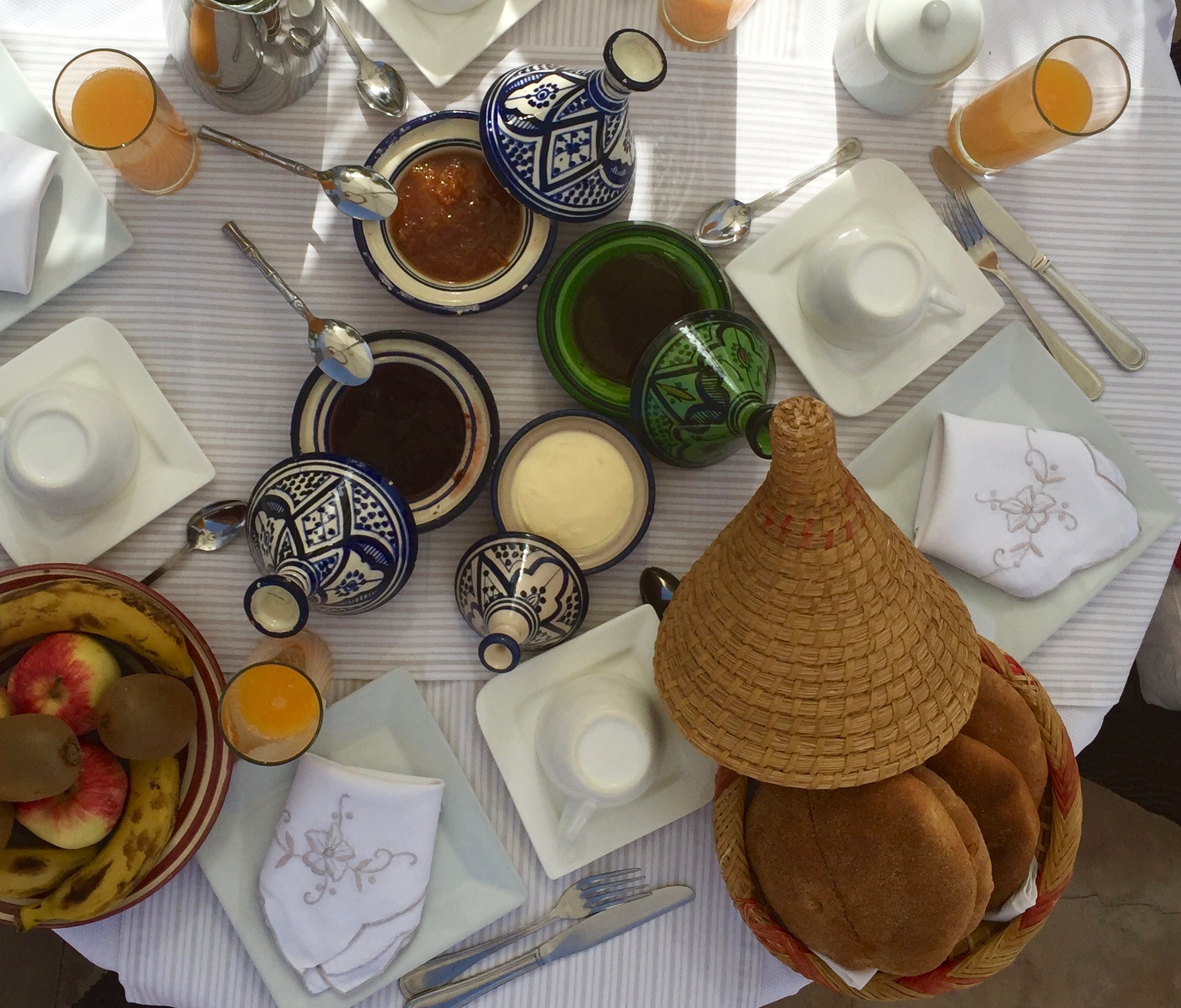 For lunch or dinner you can enjoy a delicious light Moroccan meal in the beautiful dining room. And for the ultimate relaxation experience be sure to book a massage or enjoy the hammam.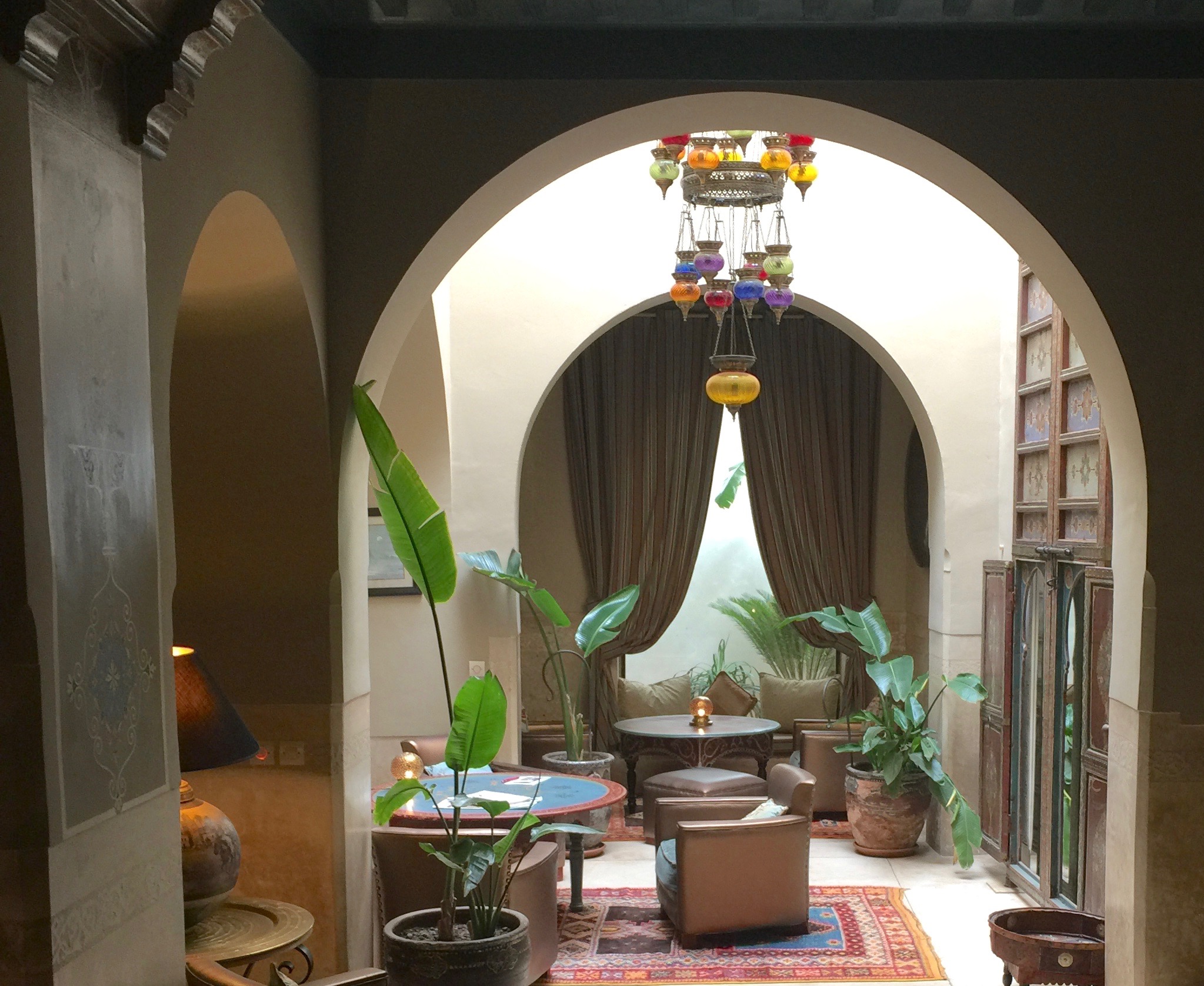 At Riad Camilia no comfort is overlooked yet the warm hospitality never seems calculated. You can tell that Riad Camilia is a labor of love and that Nicolas, the French manager, is truly passionate about making your stay unforgettable and ensuring you have a fabulous time. Being a gracious host is something that is second nature to Nicolas and his love for Marrakech is contagious.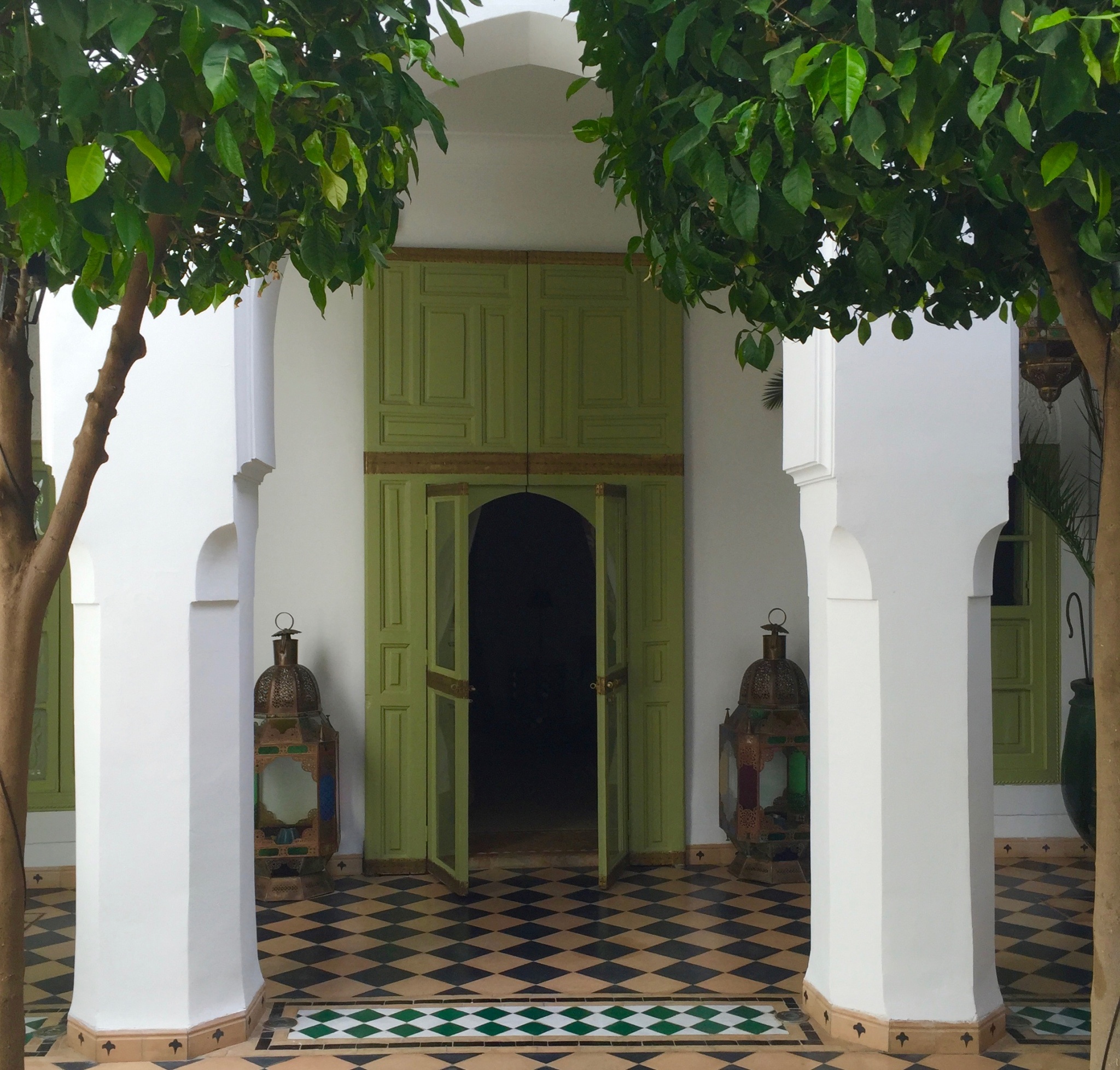 Riad Camilia is perfect for couples looking for a romantic getaway and for families with older children or teenagers as the Riad does not accept children under twelve. This is quite common with Riads in Marrakech and ensures for a peaceful and restful getaway. If you are looking for the perfect accommodations for families in Marrakech be sure to read my article about the best places to stay in Marrakech with children here.
If you are looking for a luxury Riad in the heart of the Medina there is not better option that Riad Camilia. Everything about our experience was outstanding and made for a truly memorable stay and I would not think of staying anywhere else in Marrakech. Riad Camila and it's wonderful staff have won my heart!  Check out Riad Camilia's website for more information and prices.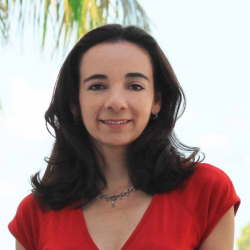 Latest posts by Paula Bendfeldt-Diaz
(see all)