I am excited to share a delicious and easy recipe for grilled skirt steak tacos with pickled onions from Michale Symon's cookbook Playing With Fire. Thanks to Clarkson Potter for sending me a copy of Playing With Fire AND is providing a prize pack for one of my lucky readers!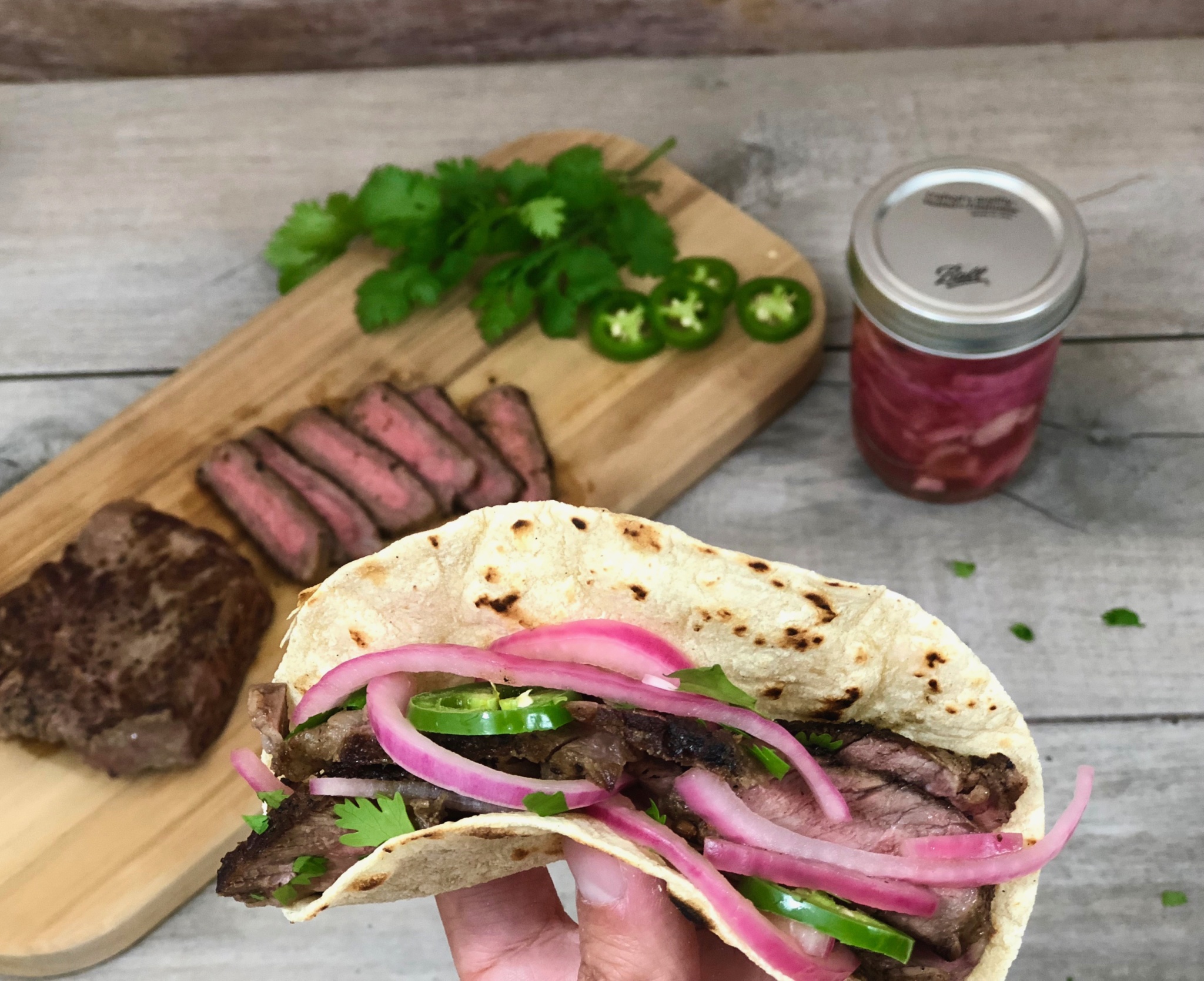 We are huge fans of ABC's The Chew, we even went to a live taping of the show during Epcot's Food and Wine Festival. My daughter has been inspired by the hosts of The Chew and loves to cook. We have tried some of Michael Symon's recipes from The Chew and we were so excited to hear about his new cookbook: Playing with Fire and could not wait to try out some of his recipes for the grill!
It's already grilling weather here in Florida and Michale Symon's Playing with Fire cookbook is filled with so many great summer BBQ and grilling recipes from around the US. It also has lots of grilling tips and tricks as well as recipes for BBQ sauces and some amazing rubs that we can't wait to try! We decided to start off by trying something we knew everyone in the family with love: a grilled skirt steak taco recipe with pickled onions!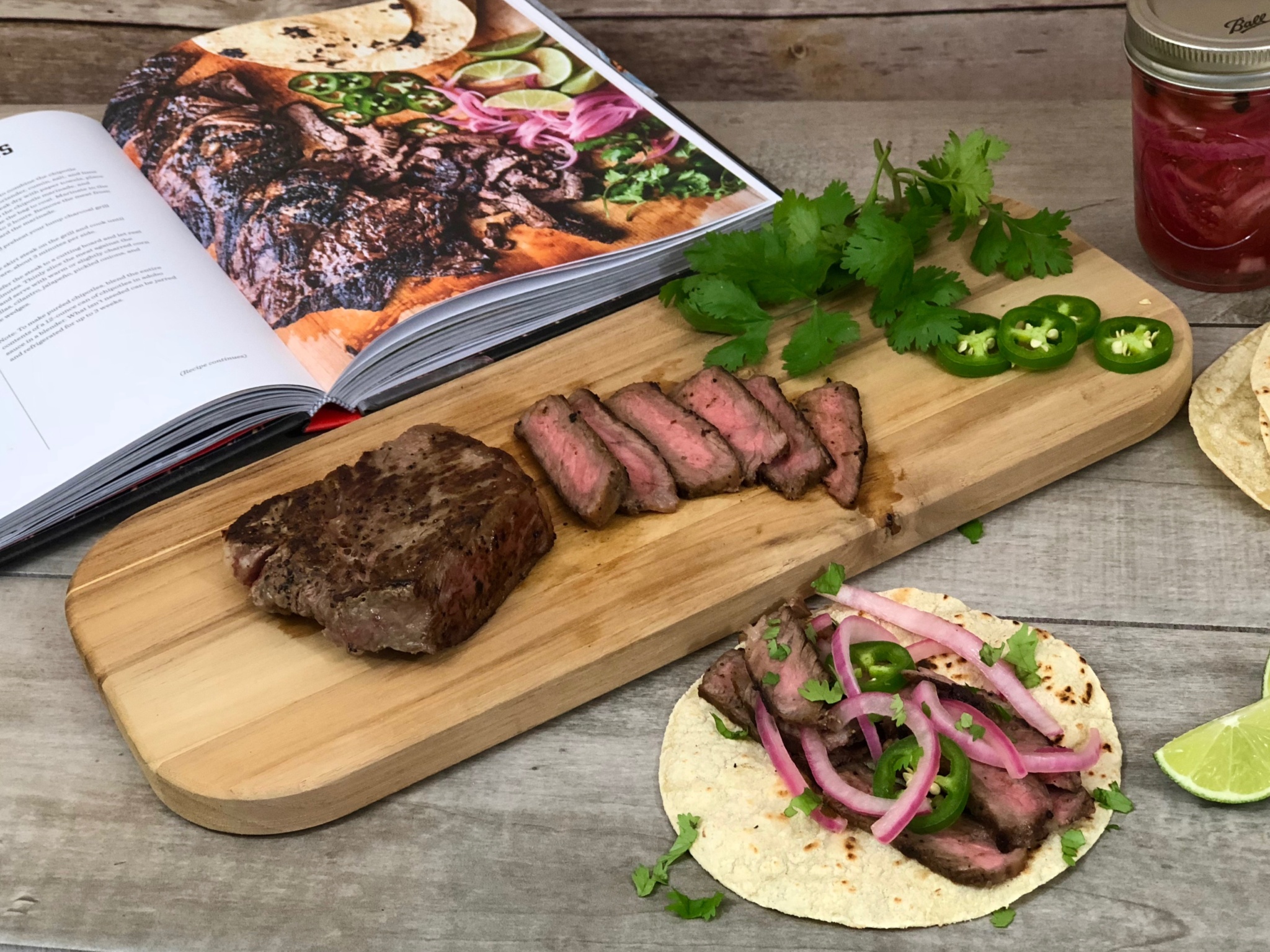 Grilled Skirt Steak Tacos with Pickled Onions
Ingredients
1 tablespoon puréd chipotle in adobo sauce
1 tablespoon packed light brown sugar
1 teaspoon coriander
1 teaspoon ground cumin
1 tablespoon kosher salt
Juice of 1 lime, plus 2 limes sliced into small wedges
2 pounds skirt steak, trimmed of silver skin
1 package corn tortillas (about 12)
1 bunch of cilantro, coarsely chopped
1 jalapeño, thinly sliced int rounds
Pickled Red Onions (recipe below)
Instructions
In a small bowl, mix to combine chipotle puree, brown sugar, coriander, cumin, salt, and lime juice. Pat skirt steak dry with paper towels, place in zip-top bag, add the chipotle marinade and toss the meat inside the bag to coat. Marinate in the refrigerator for 1 to 2 hours. Remove the meat from the bag and discard the marinade.
Prepare and preheat your lump charcoal grill to high.
Place the skirt steak on the grill and cook until medium-rare, about 3 minutes per side.
Transfer the steak to a cutting board and let rest for 5 minutes. Thinly slice the meat against the grain and serve with warm or slightly charred corn tortillas, cilantro, jalapeño, pickled onions and lime wedges.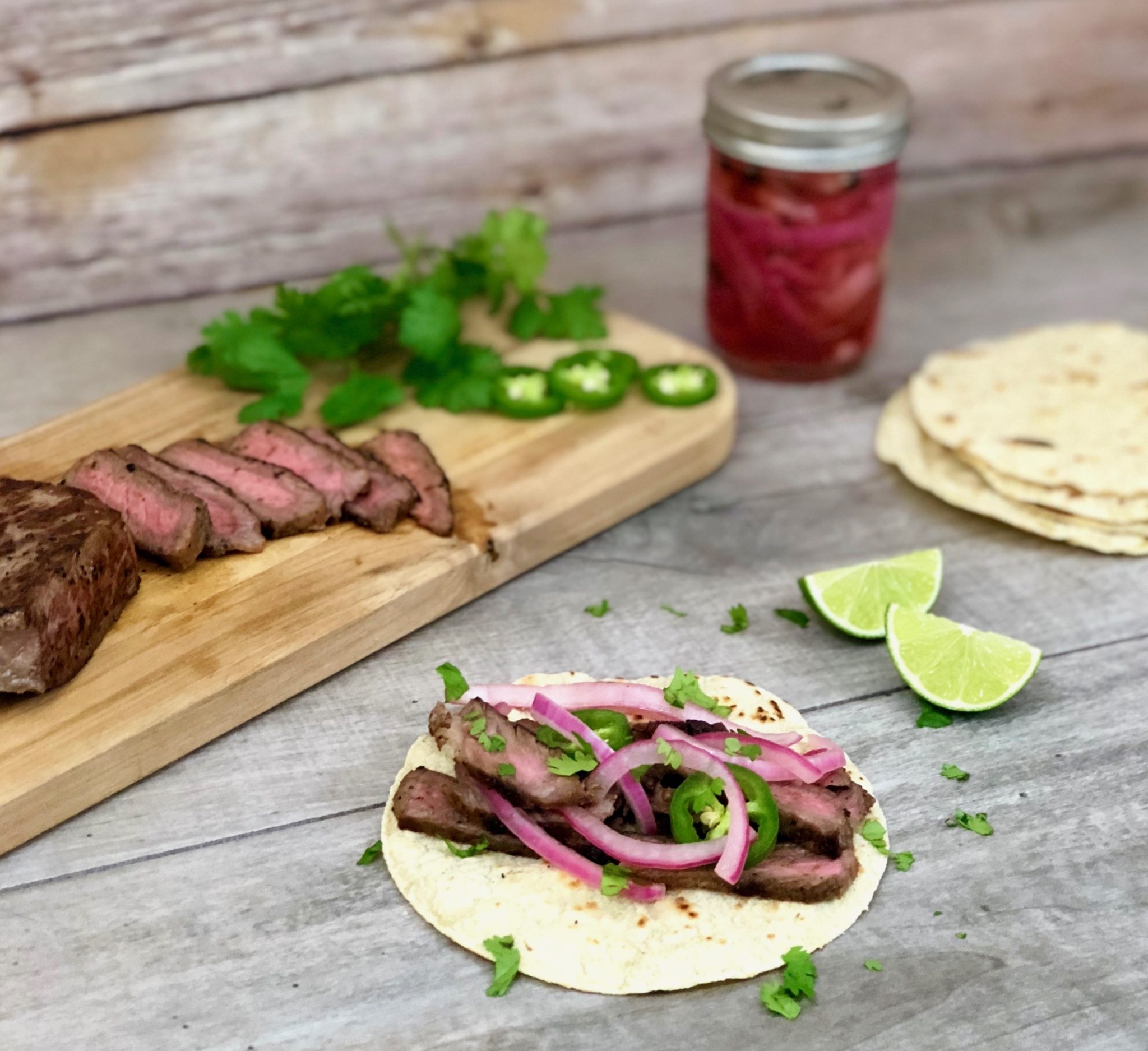 Pickled Red Onions Recipe
Makes 1 Quart
Ingredients
1 pound red onions, halved and thinly sliced
White wine vinegar
sugar
kosher salt
2 garlic cloves
1 tablespoon whole black peppercorns
1 tablespoon coriander
1/2 tablespoon dried red pepper flakes
1 teaspoon yellow mustard seeds
1 fresh bay leave
Instructions
Pack the onions into a 1-quart mason jar. Fill the jar with cold water, leaving 1/2 inch of air space at the top. Pour the water from the jar into a measuring cup (use a spoon to keep the onions in the jar) to calculate the volume. Discard half the water and replace with an equal quantity of vinegar. Add 2 tablespoons sugar and 2 teaspoons salt for every 1 cup of liquid.
In a small nonreactive saucepan, combine the vinegar mixture, garlic, peppercorns, coriander seeds, red pepper flakes, mustard seeds, and bay leaf. Bring to a boil over high heat and cook for 2 minutes. Carefully pour the hot liquid over the onions in the jar, seal, and refrigerate for up to 1 month.
Reprinted from Michael Symon's Playing With Fire. Copyright © 2018 by Michael Symon. Photographs copyright © 2018 by Ed Anderson. Published by Clarkson Potter/Publishers, an imprint of Penguin Random House LLC.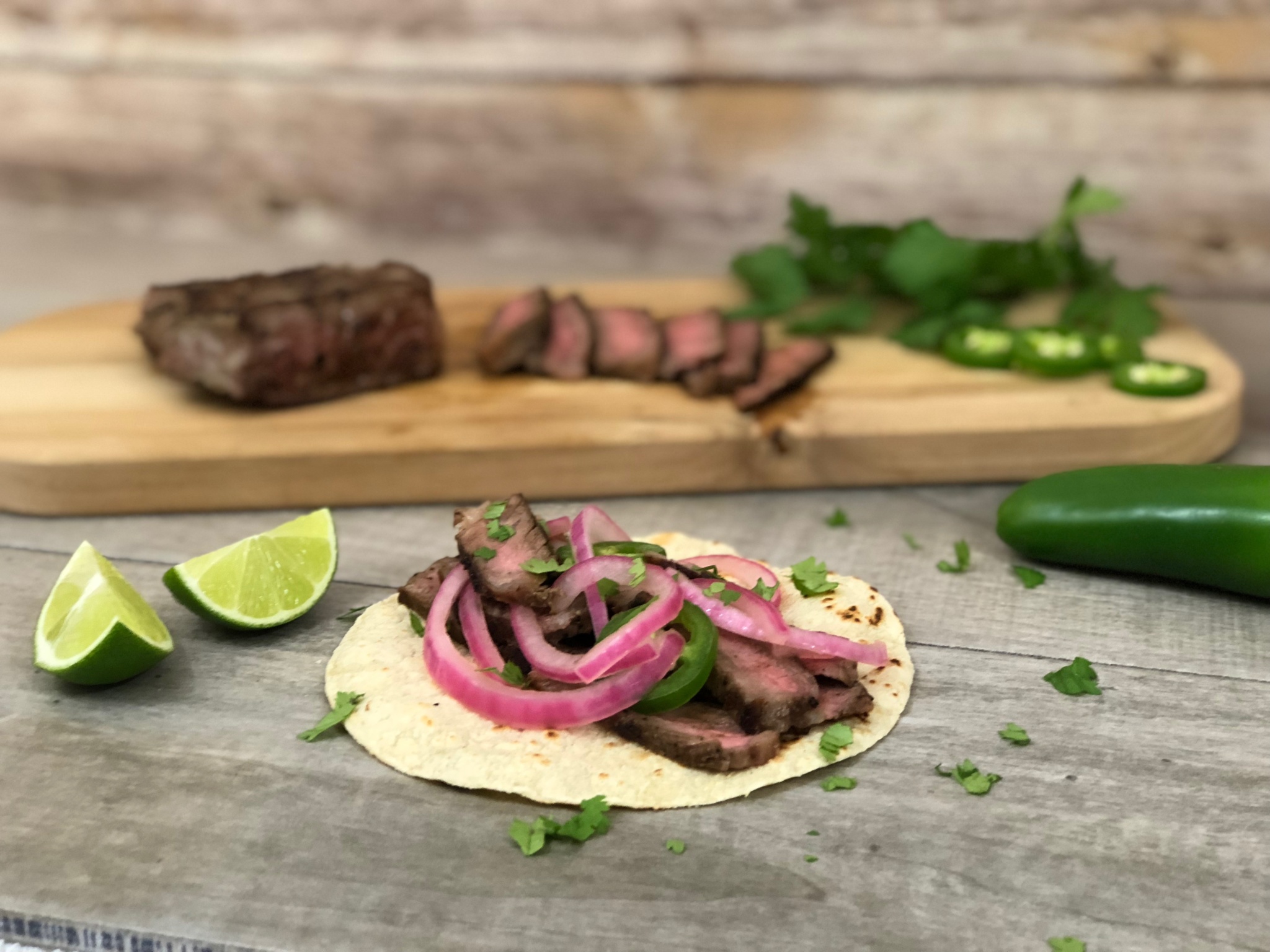 You can more great grilling and BBQ recipes from Michael Symon's cookbook! Get your copy of Michael Symon's new cookbook Playing with Fire at Amazon or Barnes & Noble!
About Playing With Fire
Co-host of The Chew and celebrated Iron Chef and restaurateur Michael Symon returns to a favorite subject, meat, with his first cookbook focused on barbecue and live-fire grilling, with over 70 recipes inspired by his newest restaurant, Mabel's BBQ, in his hometown of Cleveland. In preparing to open his barbecue restaurant, Mabel's BBQ, Michael Symon enthusiastically sampled smoked meat from across America.
The 72 finger-licking, lip-smacking recipes here draw inspiration from his favorites, including dry ribs from Memphis, wet ribs from Nashville, brisket from Texas, pork steak from St. Louis, and burnt ends from Kansas City–to name just a few–as well as the unique and now signature Cleveland-style barbecue he developed to showcase the flavors of his hometown. Michael offers expert guidance on working with different styles of grills and smokers, choosing aromatic woods for smoking, cooking various cuts of meat, and successfully pairing proteins with rubs, sauces, and sides.
If you are looking for a new guide to classic American barbecue with the volume turned to high, look no further.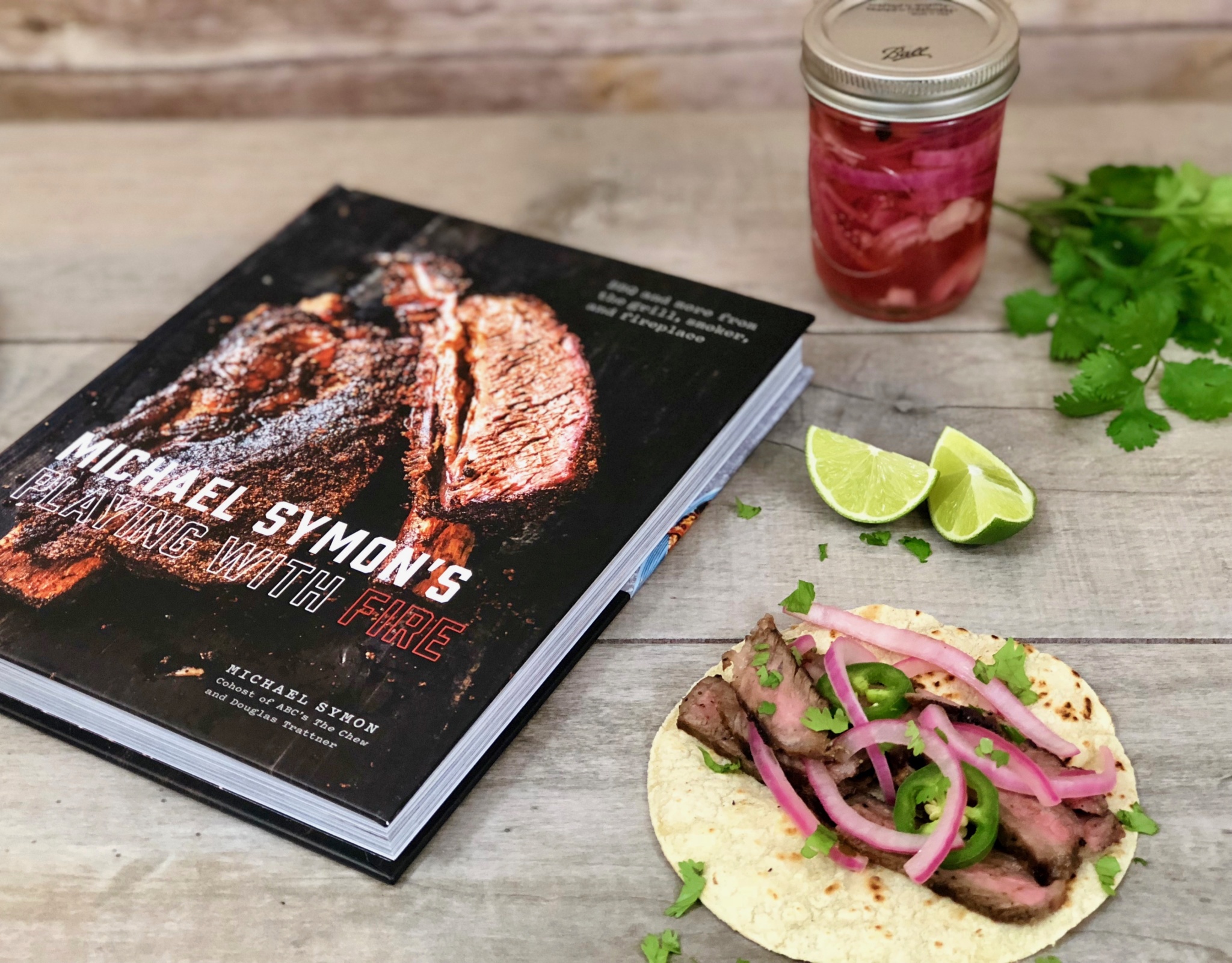 Win a copy of Michael Simon's Playing with Fire + a $50 Visa Gift Card!
One (1) winner receives:
Copy of Michael Symon's Playing With Fire
plus a $50 Visa gift card to stock up on meats and veggies for grillin' and smokin'!
To enter follow the instructions in the Rafflecopter below!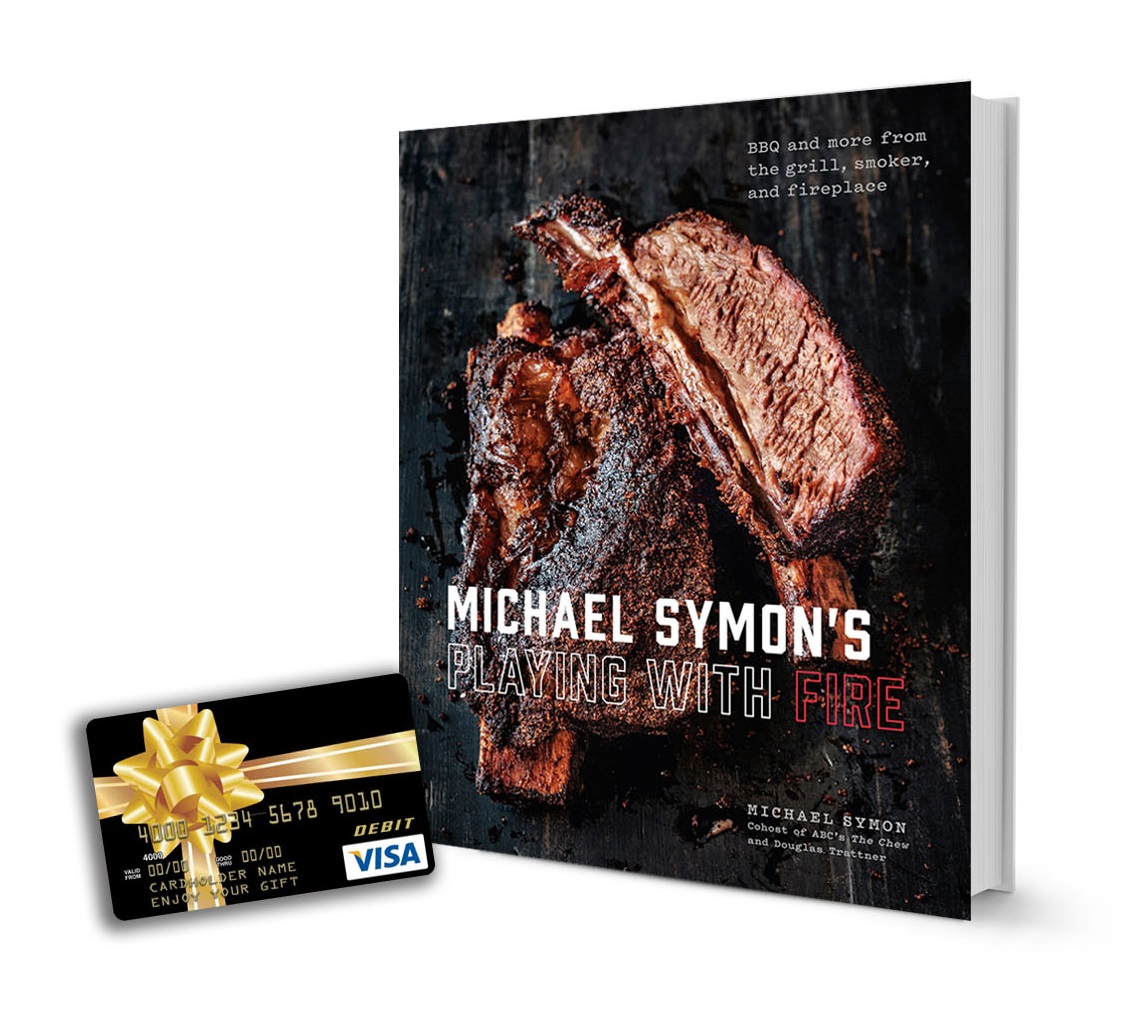 Giveaway open to US addresses only. Prizing and samples provided by Clarkson Potter.