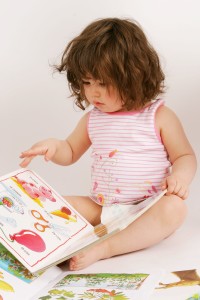 Reading is a very important milestone for any child but in our family it was even more significant because for my daughter reading seemed an unobtainable dream.  You see, she has Autism and when she was first diagnosed at three she did not speak and the neurologist did not have encouraging words for us.
Teaching by Example
Growing up I always loved books, I was what you would call a book worm.  When I was in elementary school I wrote a children's book that won an award and was placed in the school library for other children to enjoy. I spend most of my high school years with my nose buried in a book oblivious to the fact that I was not popular or that other girls my age where worrying about what to wear or what boy they liked.  Books let me discover other worlds and gave me the opportunity to become anyone I wanted, they boosted my self-esteem and fostered my love of learning.  Later in life my love for reading would open many doors for me and I have always considered that teaching a child to love reading is one of the greatest gifts you can give him.
Introducing Books at an Early Age
When my daughter was born her first baby toys included cloth books, she even had a book to play with at bath time.  Our bedtime routine always included reading books and she always picked books over other toys. Until she started schools everything we read was in Spanish and as she started learning letter sounds in preschool we added a book in English to our bedtime reading routine.
Reading: It's all About Motivation
When the time came to start learning sight words and phonograms at school I would work with her every day for an hour at home but things where not going very well, she had a very hard time staying focused.  I would put a sight word in front of her and she would not even look at it. I was loosing hope when I realized that sight words had no meaning for her, no relevance, so she wasn't interested.  I explained to her that the words we where learning where also in books, books that she loved and that if she learned those words she would be able to read them all by herself.  That ignited a spark of interest but still sight words where hard and we where not making much progress.
Our dog Sally watched us one afternoon as we struggled with sight words and my daughter kept ignoring the words and trying to play with her.  Finally I said, "do you want to teach Sally your sight words?" she looked at me with excitement and noded.  "If you say the sight word correctly then you can teach that sight word to Sally". "Yes!" she screamed, now jumping up and down.   And just like that she started learning her sight words and teaching them to Sally.  She has a great memory so once she was interested sight words where not a problem any more but she still wasn't reading.
One day as I read to both my children Ariane started repeating what I read and I said "do you want to read" and she said "Yes".  I pointed to each word and sjust like that she was reading!  I was ecstatic and she was beaming with pride.
Reading in Two Languages
At bedtime we always read at least one book in English and one in Spanish and I had asked her teachers to send a book in Spanish or a bilingual book along with her AR book every week so that she felt that her school also supported her being bilingual.  I usually had her read the book in English to her brother and Sally and I read the book in Spanish to them. One day she brought a very simple bilingual book from school so I gave it to her and told her to read it to Sally and her brother.  She read the whole book in both languages as I sat there with tears rolling down my face.  I have never been so proud.   I had a parent teacher meeting a few weeks after that and as I was telling her teacher that she could read in both languages she told me she already knew and thought we had thought her and I said no we didn't we where so concentrated on helping her read in English we never even tried teaching her to read in Spanish.  Now Ariane reads one Spanish book per week at school with the teacher's assistant who happens to be bilingual.
I have no doubt that the fact that my daughter had a book in her hand from the time she was born, even if she was just playing with it and mouthing it made this possible.  Books have always been part of her environment and part of her life and I am convinced that this played a very important part in my daughter conquering the art of reading in two languages!!