This post is sponsored by Universal Brand Development and all opinions are my own.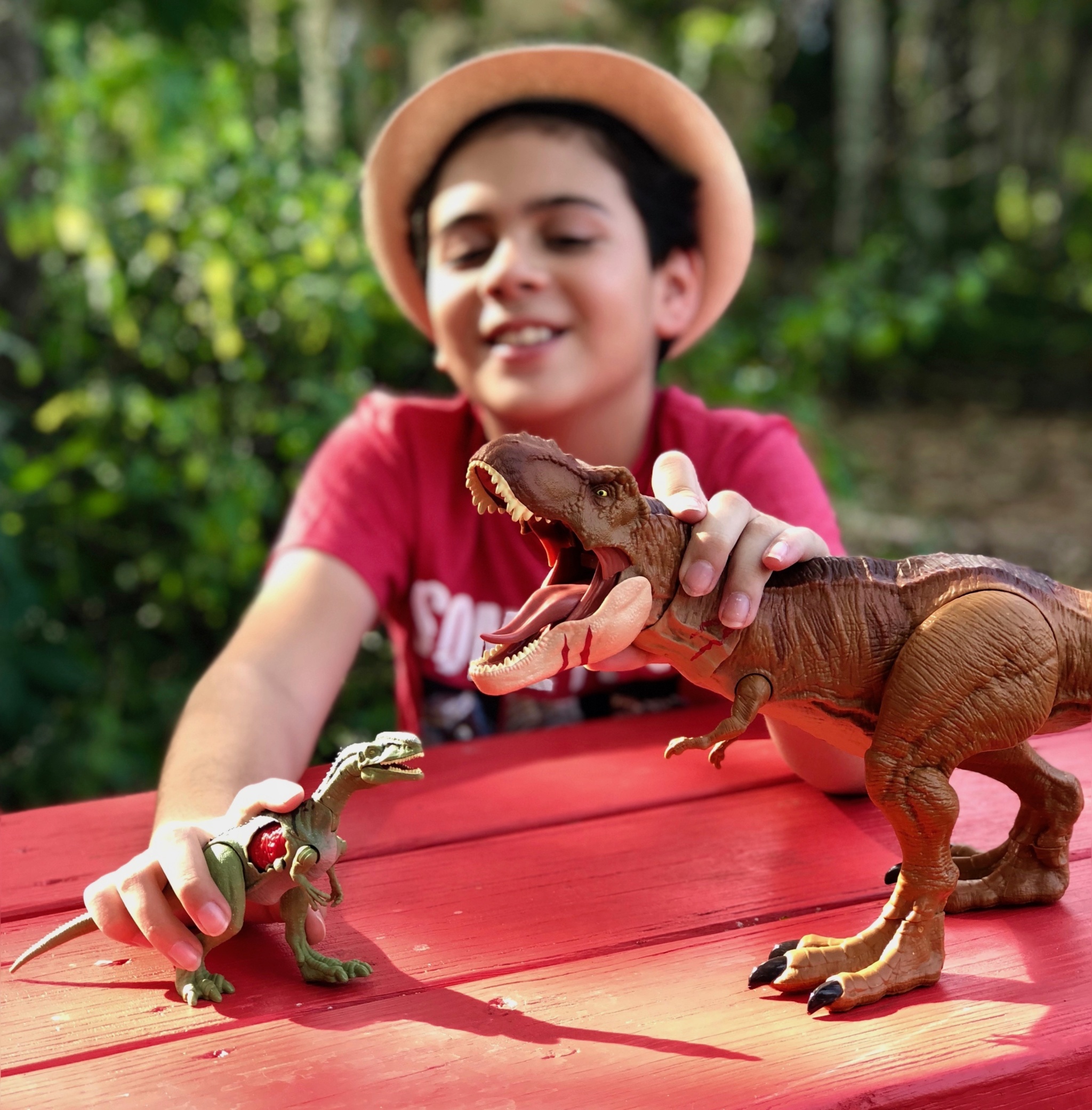 We are huge Jurassic World fans in our homes. My kids love dinosaurs and the movie opened up their eyes to so much more. We all find the concept of creating dinosaurs and hybrids from DNA fascinating and being able to share the world with dinosaurs would be a dream come true and the movie is so much fun to watch and so entertaining! We are so excited about the amazing toys and other items from Jurassic World available at Walmart that we just could not wait to try some of these out before the holidays.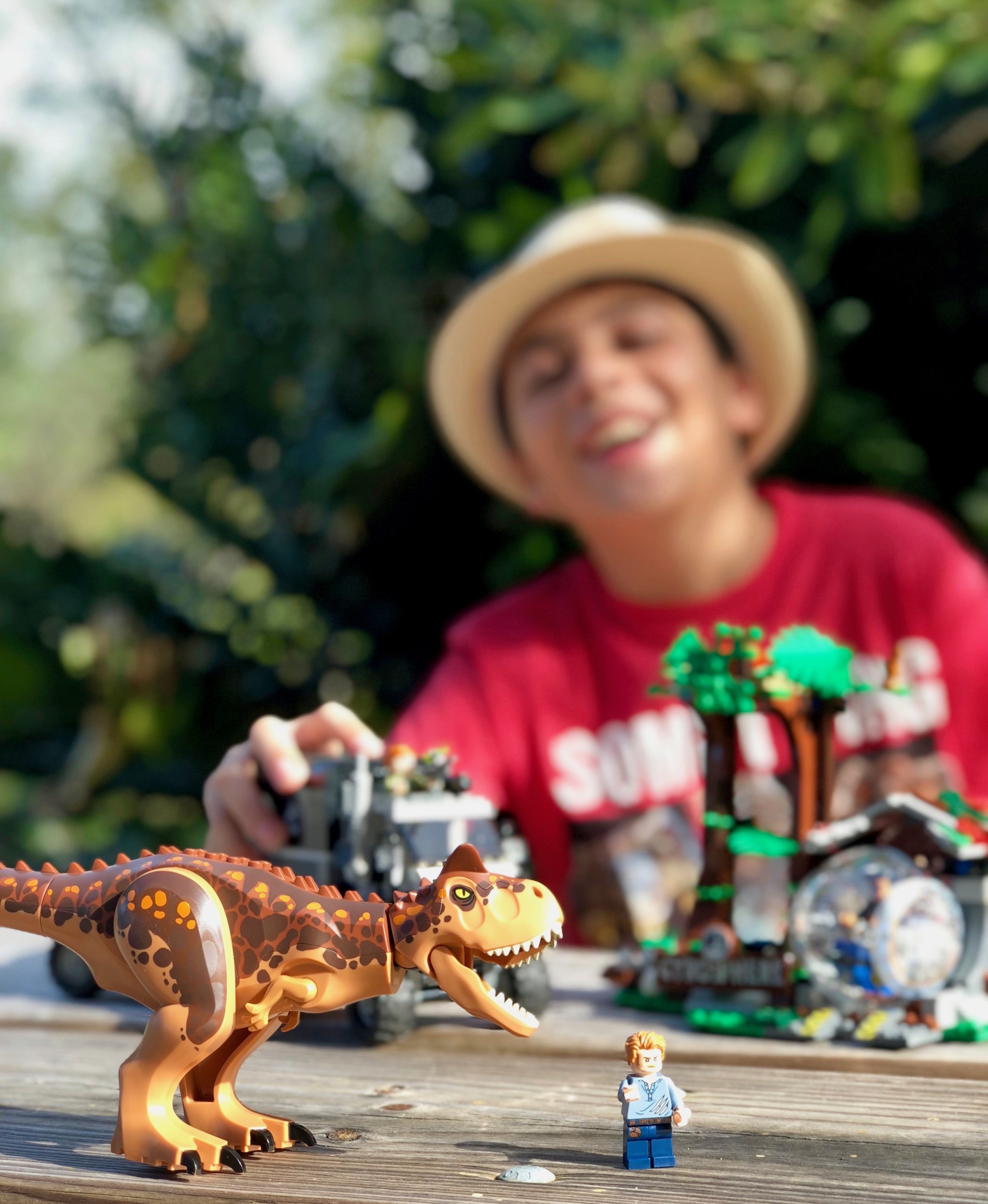 Both of my kids loved them so much, yes even my daughter, that they both included Jurassic World toys and even some clothing items and Jurassic World articles for the home on their Christmas list. I love that we can find them all at Walmart and always at a great value. And Walmart's 2-day shipping is perfect for those who do last minute shopping, like me. And did you know that the Jurassic World Battle Damage action figures, my kid's favorite, are exclusive to Walmart? Yup, so really there's no need to buy them anywhere else.
Because it's the holiday season we've had family and friends over so we decided to organize a Jurassic World themed playdate and wanted to share with you some fun ideas. These would also work really well for a Jurassic World party!
5 Tips For an Epic Jurassic World Party
Set the right environment
I find that often when we have kids over at home they end up "getting bored" and wanting to play something on the computer or the tablet. To encourage your kids to really immerse themselves into playing and interacting with each other we decided to take them to the park. This was a huge success. There were lots of places where they could play with the Jurassic World dinosaurs and characters that looked almost like the movie set!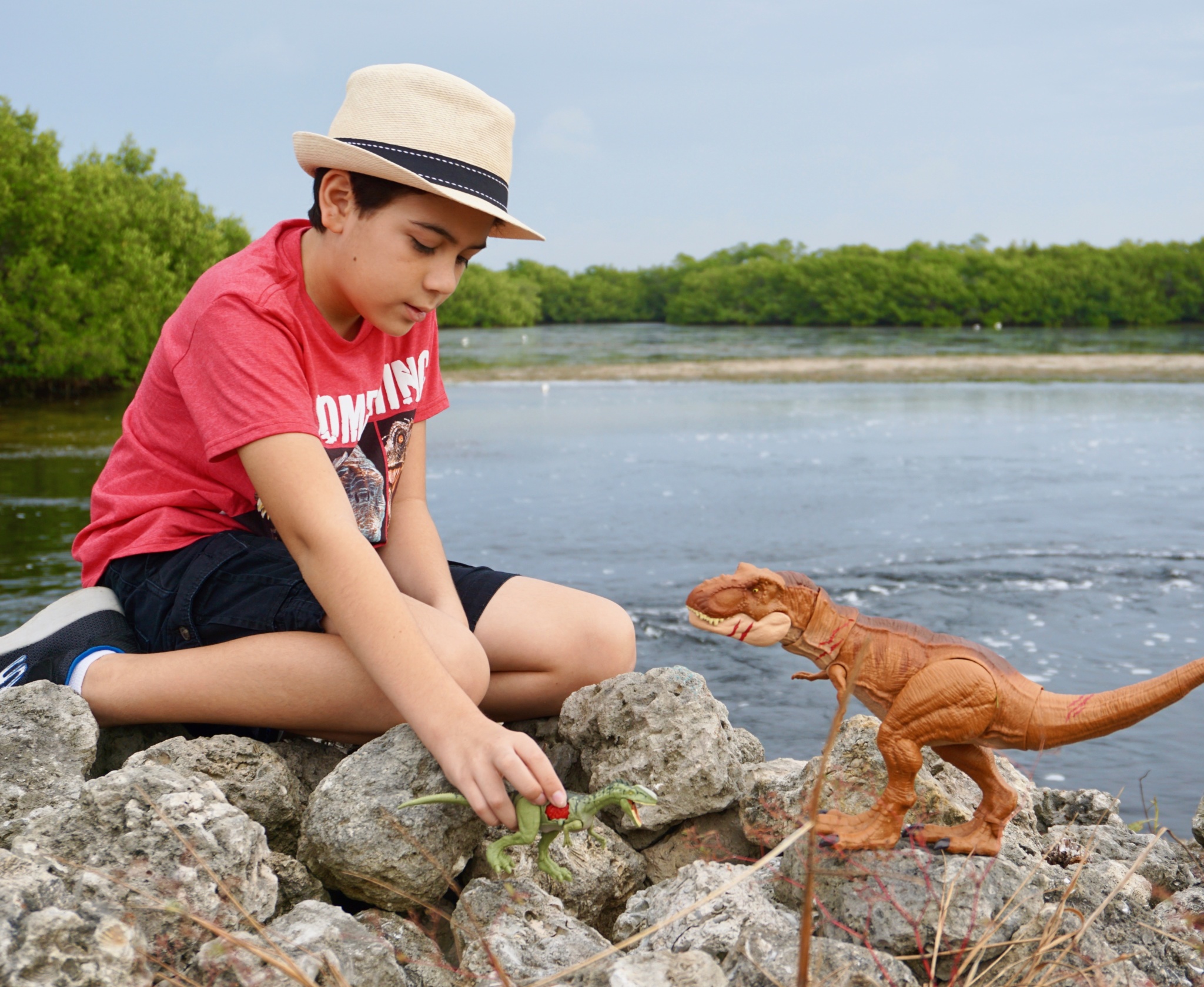 Have toys that kids will get excited about
There are lots of Jurassic World toys at Walmart. We got the Jurassic World Battle Damage Tyrannosaurus Rex & Monolophosaurus which is a great set as it comes with two dinosaurs. We also got the Carnotaurus Gyrosphere Escape LEGO set. Both of these would make the ideal gift for older kids. My son is 10 and loved these and even my 13-year-old can't stop playing with these.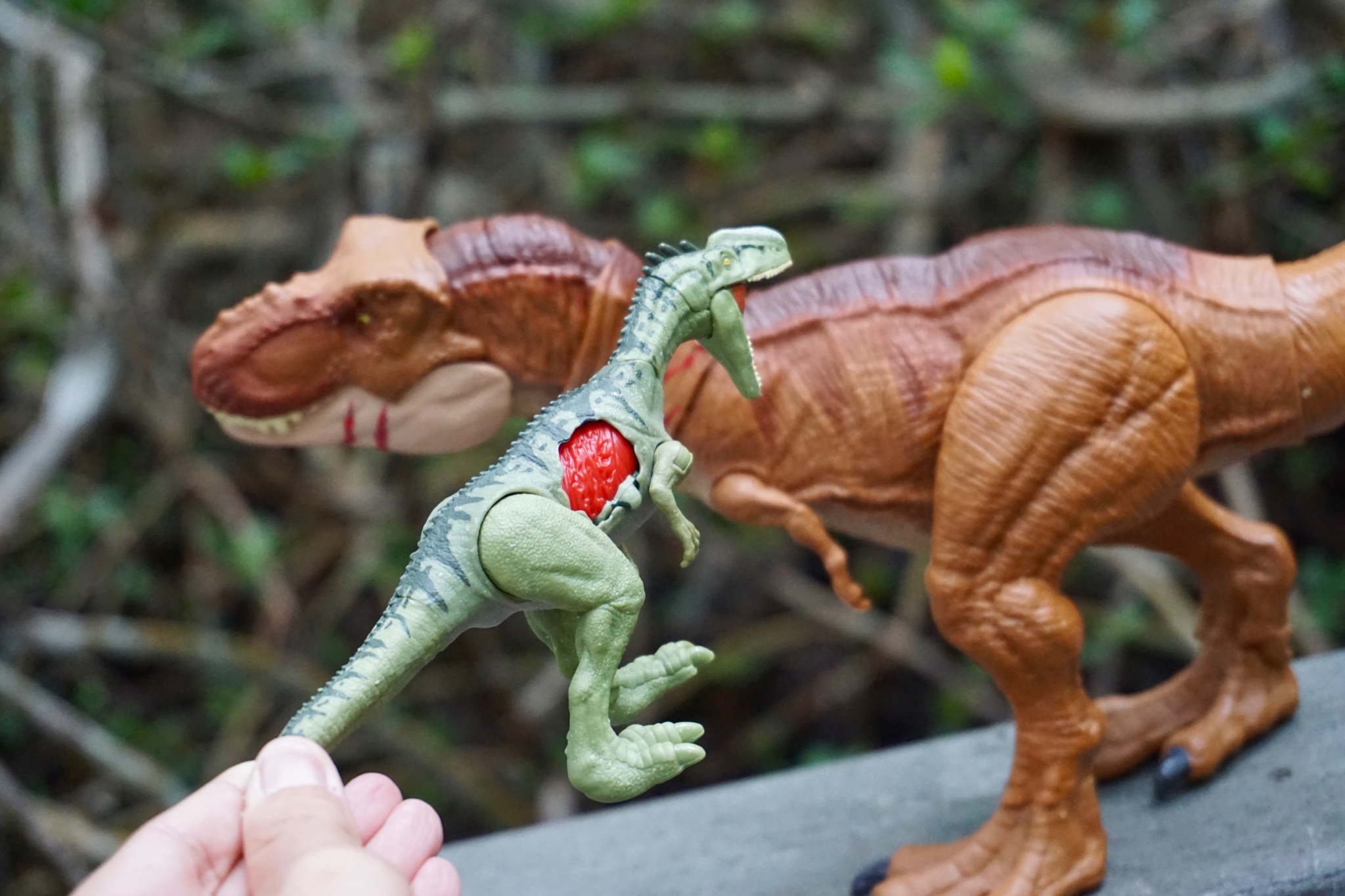 The Jurassic World Battle Damage action figures are so realistic; the dinosaurs have a huge range of movement and they are very resistant when it comes to rough play. My kids' favorite thing about these dinosaurs is, of course, that the "battle damage" shows: some of the dinosaurs have a spring-loaded damage panel that reveals a battle wound! We got the Jurassic World Battle Damage Tyrannosaurus Rex & Monolophosaurus which is a great set as it comes with two dinosaurs.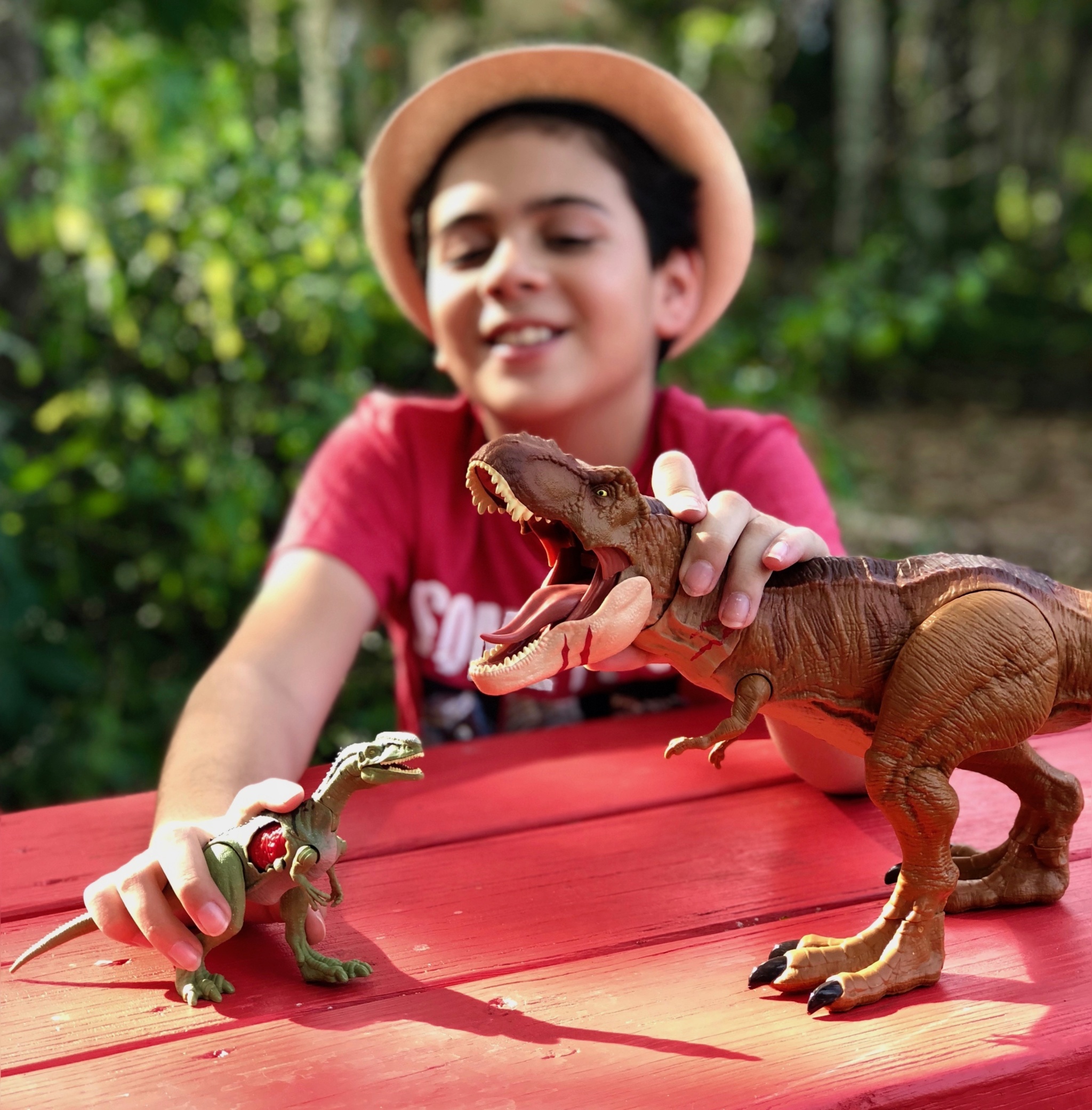 The Carnotaurus Gyrosphere Escape LEGO set is a fantastic option for LEGO enthusiasts or kids that want a more hands-on experience. The set includes the gyrosphere which really works and can be launched, an adult canotaurus as well as a nest with dinosaur eggs, a baby carnotaurus and Owen, Claire and Franklin LEGO minifigures. The vehicle has a control center that can be detached and it also has a trailer where you can put the gyrosphere. My son's favorite part was the exploding lava rocks and the gyrosphere while my daughter is in love with the baby carnotaurus and really likes playing with Claire. Overall this is such a fun and interactive set and it's sure to provide hours and hours of fun.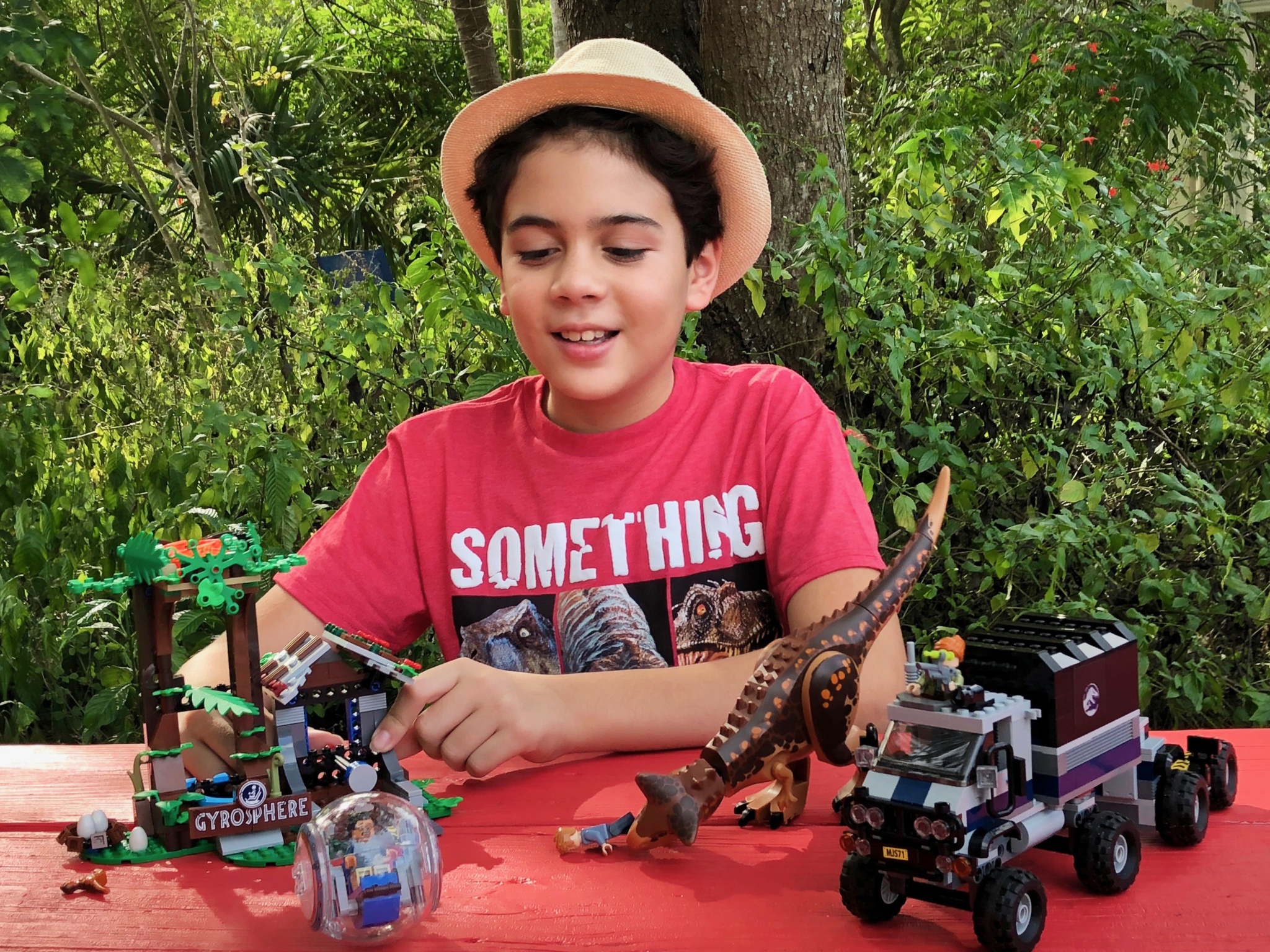 Make Some Easy Jurassic World Treats
Adding some Jurassic World themed food and drinks to your playdate or party will help make it a hit with both kids and adults. I created some super easy erupting volcano treats.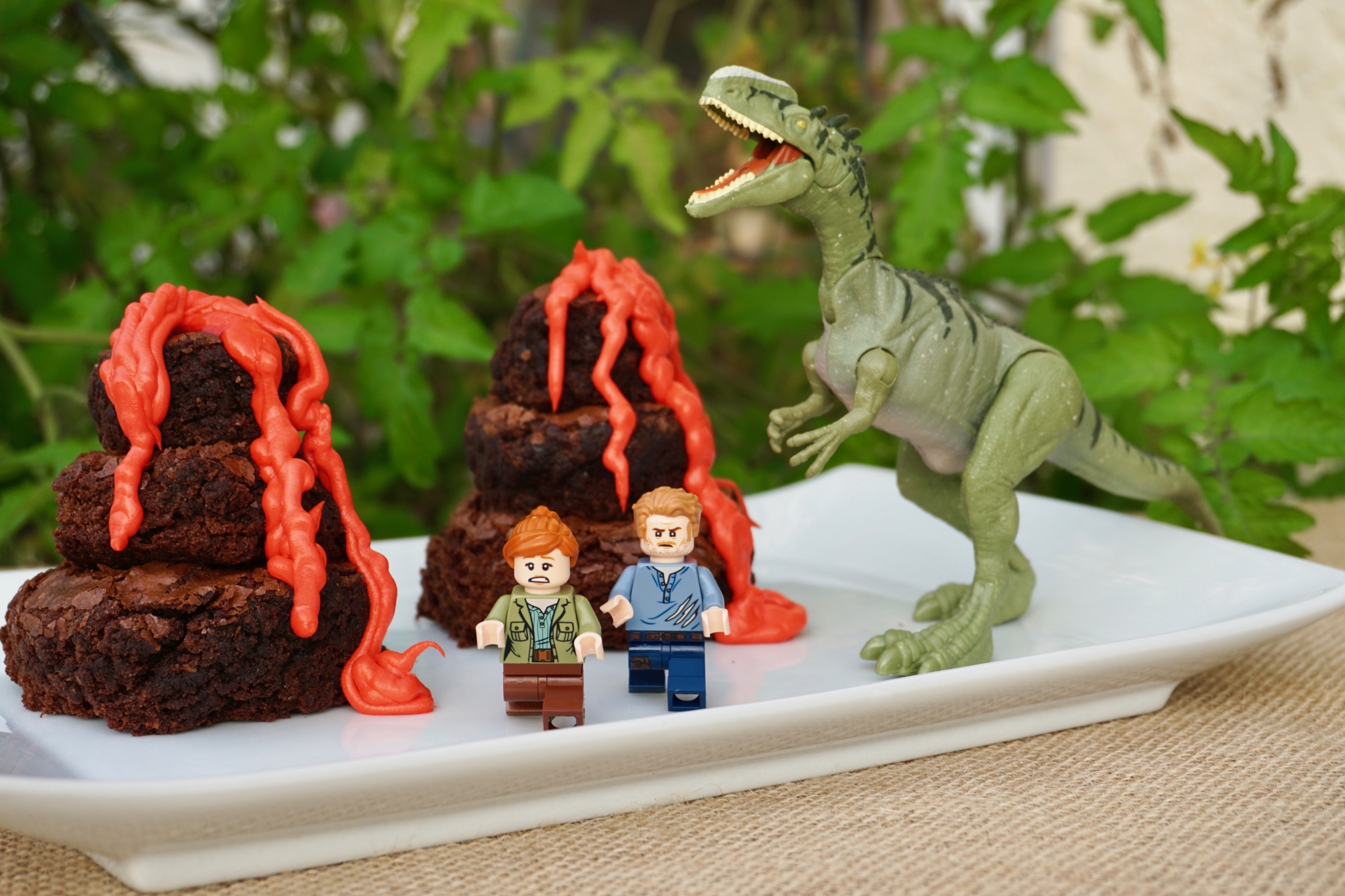 To make these bake a batch of brownies. Once the brownies have cooled down cut 3 circles of different sizes to make each volcano. Stack the brownie circles going from largest to smallest. Fudgy brownies are best as you can shame them a little if you need to. Once your volcanoes are ready add red frosting to make the lava.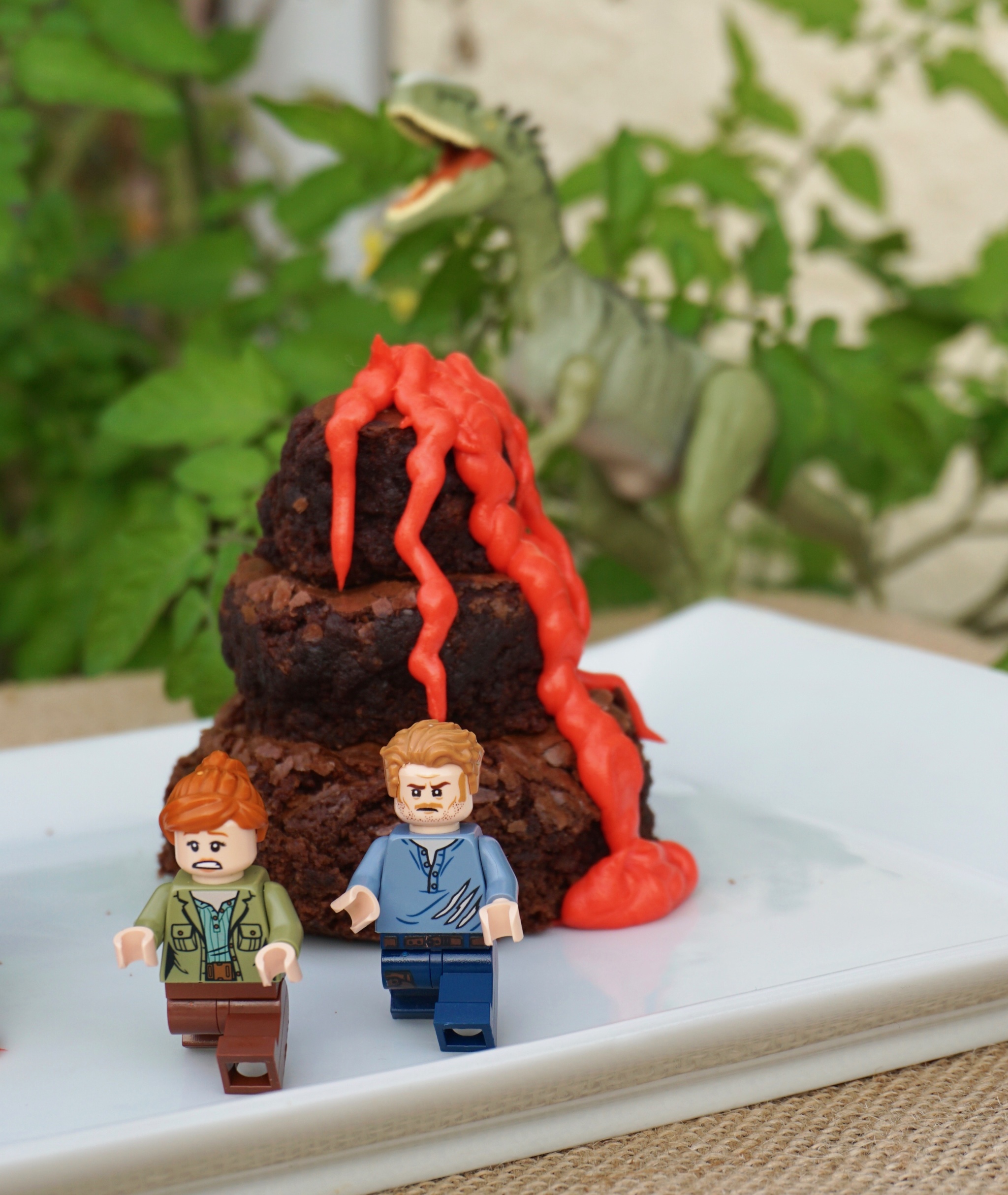 Dress the part
My kids may be a bit old for playing dress up, but that doesn't mean they can't get into that Jurassic World mood. My son picked an awesome Something Has Survived Jurassic World T-shirt at Walmart and there are also lots of other items for the home and for your kids to wear from backpacks to bedding! My son was so excited about his T-shirt and was ready to explore the jungle in search of dinosaurs!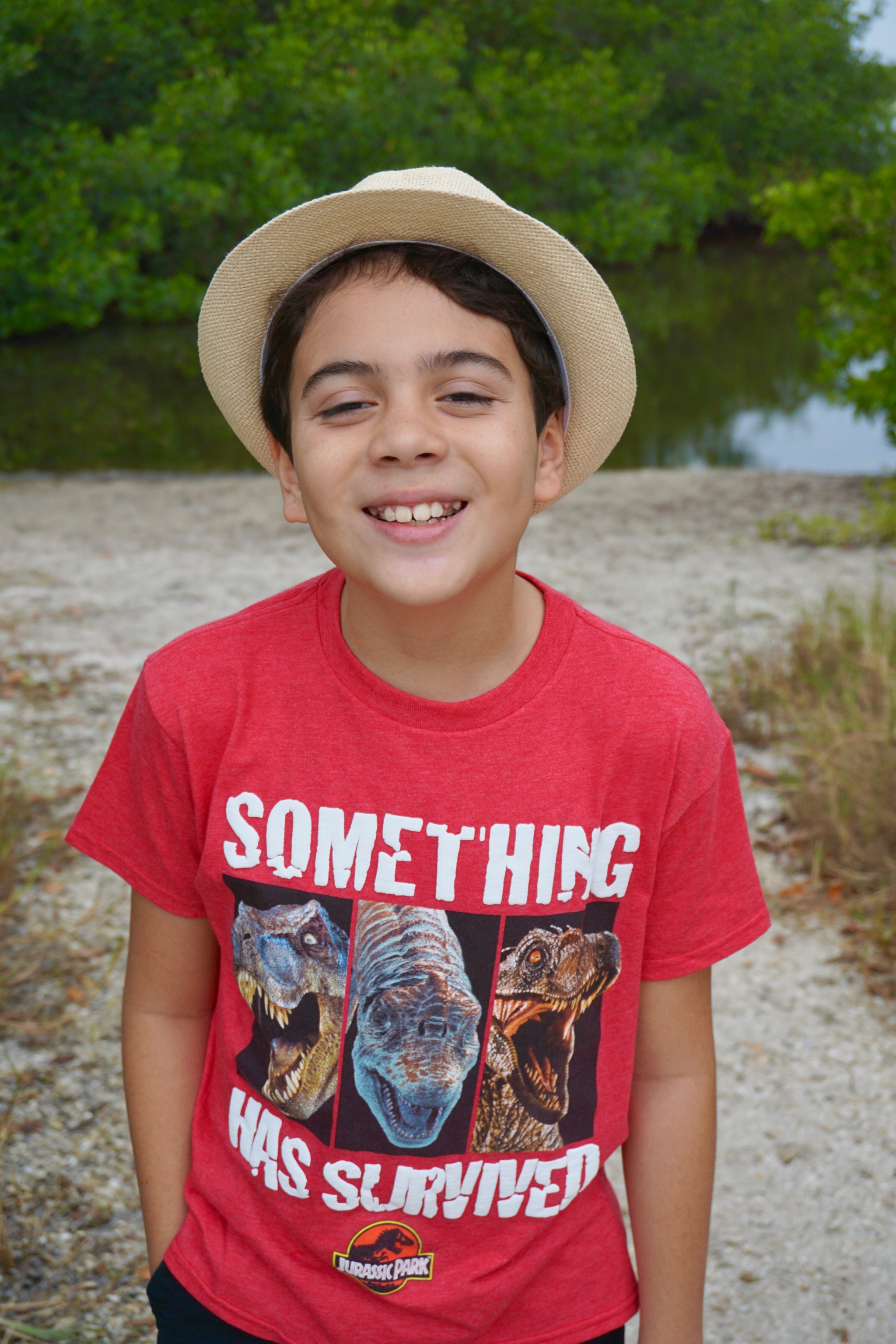 Set them off on a Jurassic World Scavenger Hunt
To create the scavenger hunt you can place some of the Jurassic World toys in different places and give kids clues to find them. You can also use some movie trivia to include in the clues. To make it even more exciting hide a special price or treat at the end of the scavenger hunt.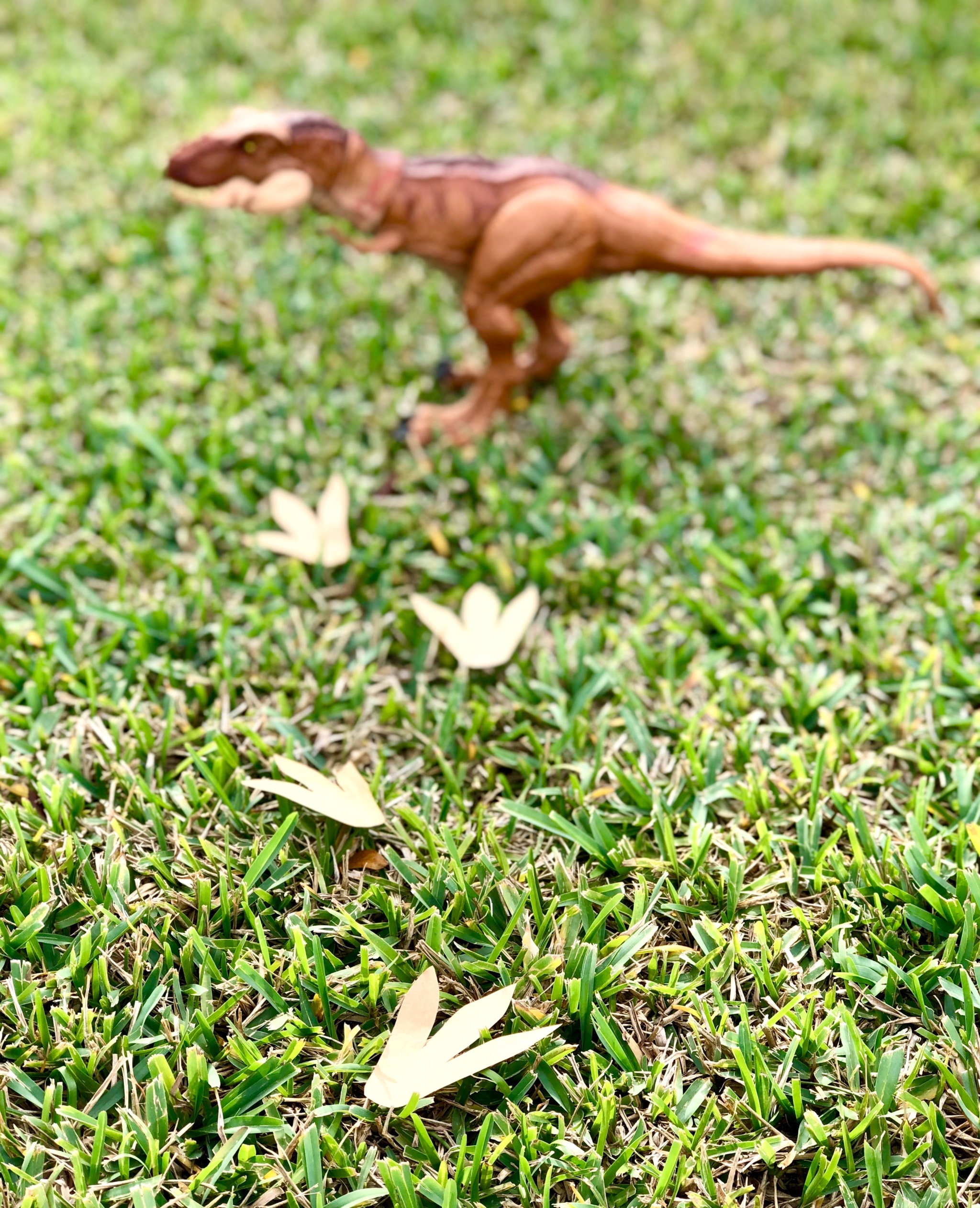 Here are some Jurassic World scavenger hunt clue examples:
There's a great disruption, it sounds like an eruption. The volcano must hide the next clue, I know this to be true.
Follow the footprints on the floor, they will lead you to the dinosaur with the loudest roar!  (For this one I cut out some footprints out of paper and placed them so they lead to Tyrannosaurus-Rex)
Now, do you know where you're going? Maybe the clue lies with Owen! (I placed the next clue next to the figure of Owen.)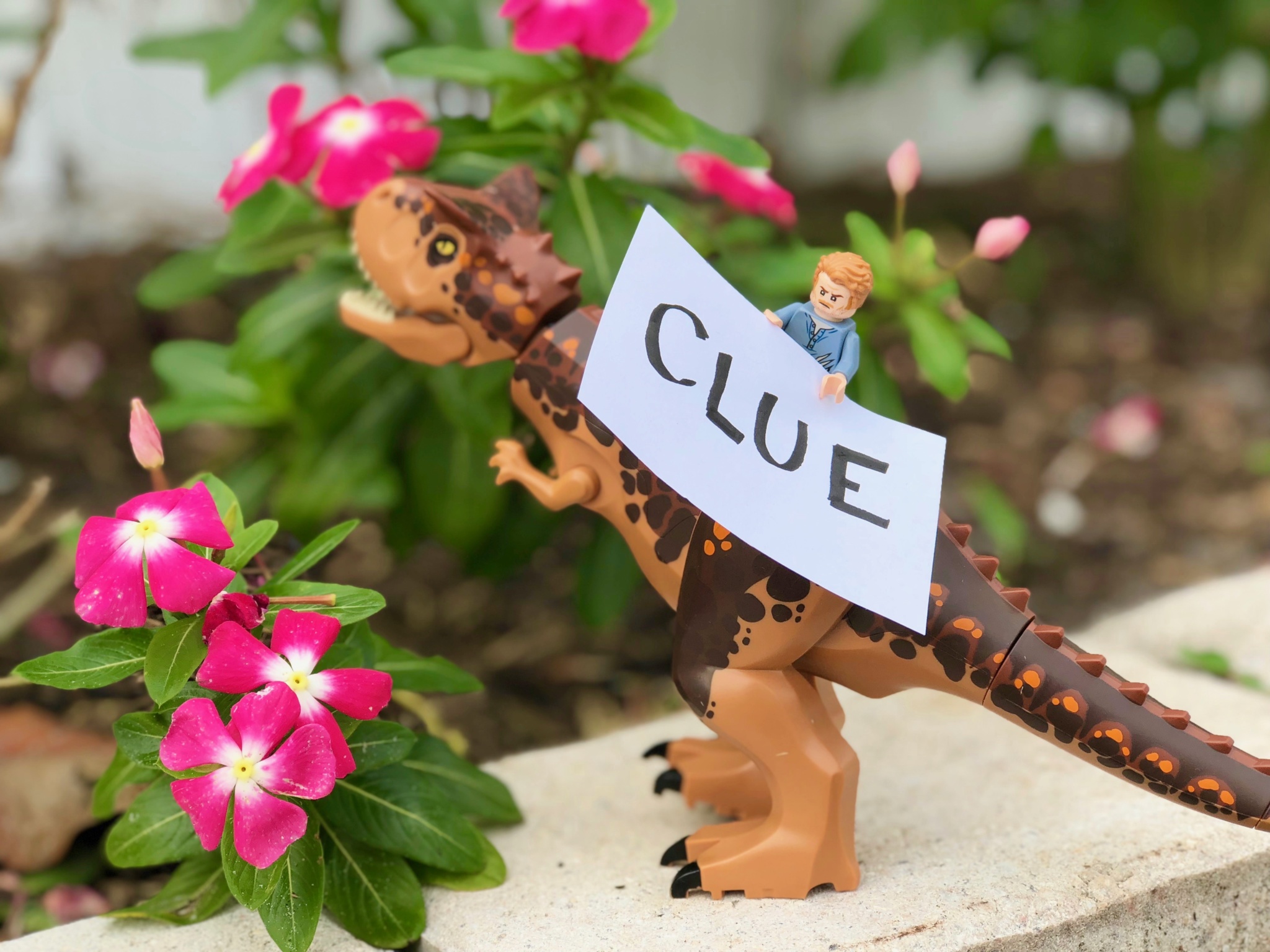 Walmart has the best holiday gifts for Jurassic World fans and any dinosaur lover from toys and clothing to items for the home and stocking stuffers. Be sure to check them out at their Jurassic World dedicated website HERE which also has awesome info about the movie, interviews and so much more!
Jurassic World and all related marks and logos are trademarks and copyrights of Universal Studios and Amblin Entertainment, Inc. Licensed by Universal Studios. All Rights Reserved.