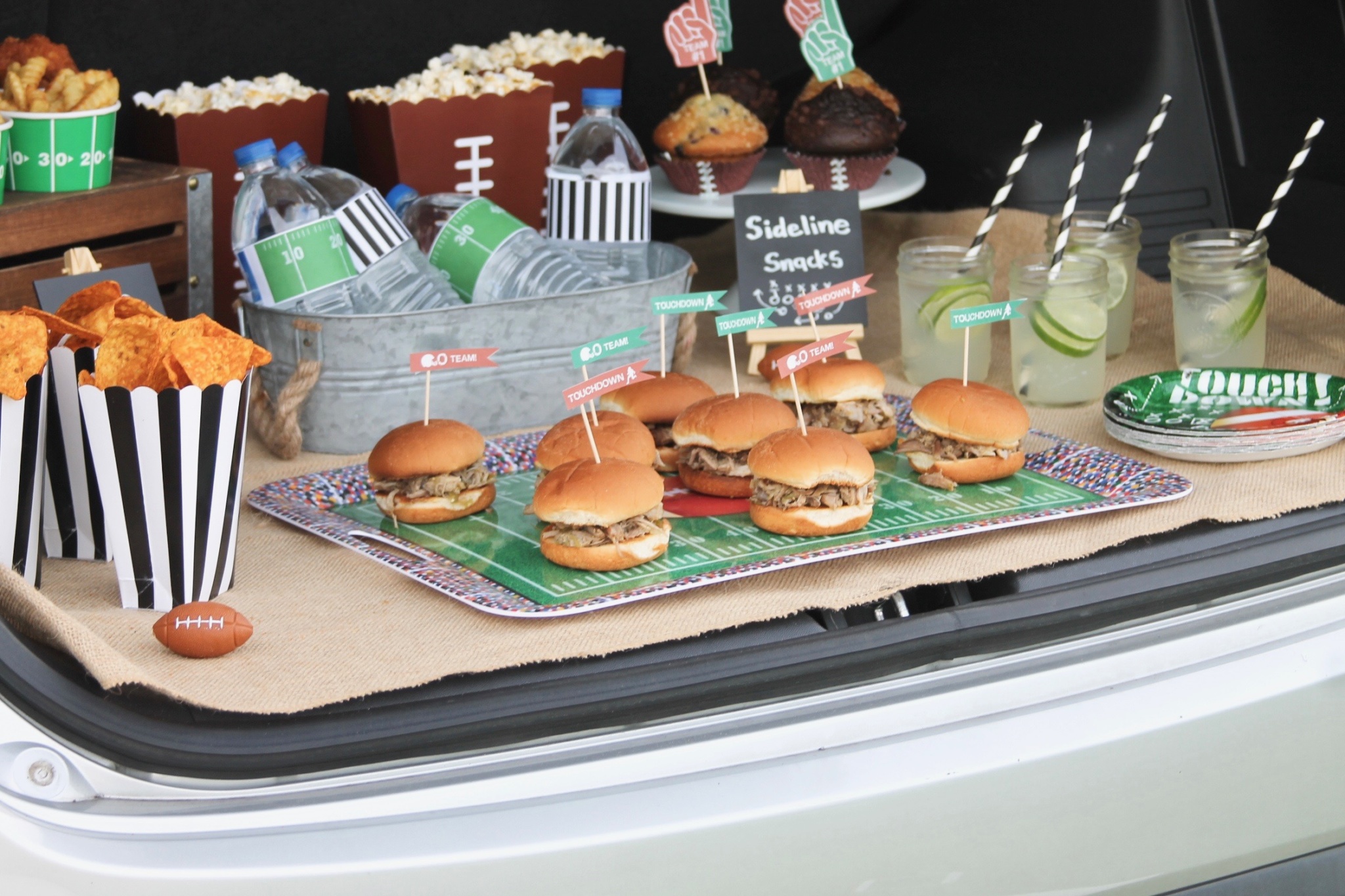 The tailgating season is in full swing and we all want to have the best tailgating party. To make sure that your tailgating experience is an epic success I have some basic and not so basic tailgating tips for you.
1. Plan ahead. Plan your menu, games, etc. a few days in advance. We also like to create a playlist to ensure we have stadium-rocking music that is sure to set up the mood for an epic tailgate party! For some great tailgating food ideas check out my previous football themed menu posts HERE.
2. Make a list and check it twice. It's a great idea to have a list of the items you will need and laminate it so you can check it off every time you tailgate! Food, drinks, plastic cups, plates and cutlery, napkins, paper towels, chairs, ice, a portable grill, grill tools and condiments for burgers and hot dogs are some of the basics on everyone's list but there are a few things that we've found are also essential: lots of bottle openers, a can opener, hand sanitizer, sunscreen and insect repellant if you're in Florida, disinfecting wipes, duct tape, extension cord (or better yet cords), a marker and toilet paper.
3. Pack the night before. Pack everything you can the night before so you're ready to go early and get a great spot. Slice and pack your burger, hot dog and chili toppings in containers the night before too.
4. Bring enough ice to keep food and drinks cold. Make sure that you have enough ice to keep foods that need to be cold at or below 40F. Freeze water bottles and refrigerate other drinks overnight. The frozen water bottles act as giant ice cubes and your ice lasts longer if it has less work to do so adding chilled drinks to your cooler helps ice last longer. If anyone asks you what they can bring the answer should always be ice, you always need more ice. Have separate coolers for your raw meats, cooked meats, and other foods, drinks, ice and make sure to label your coolers.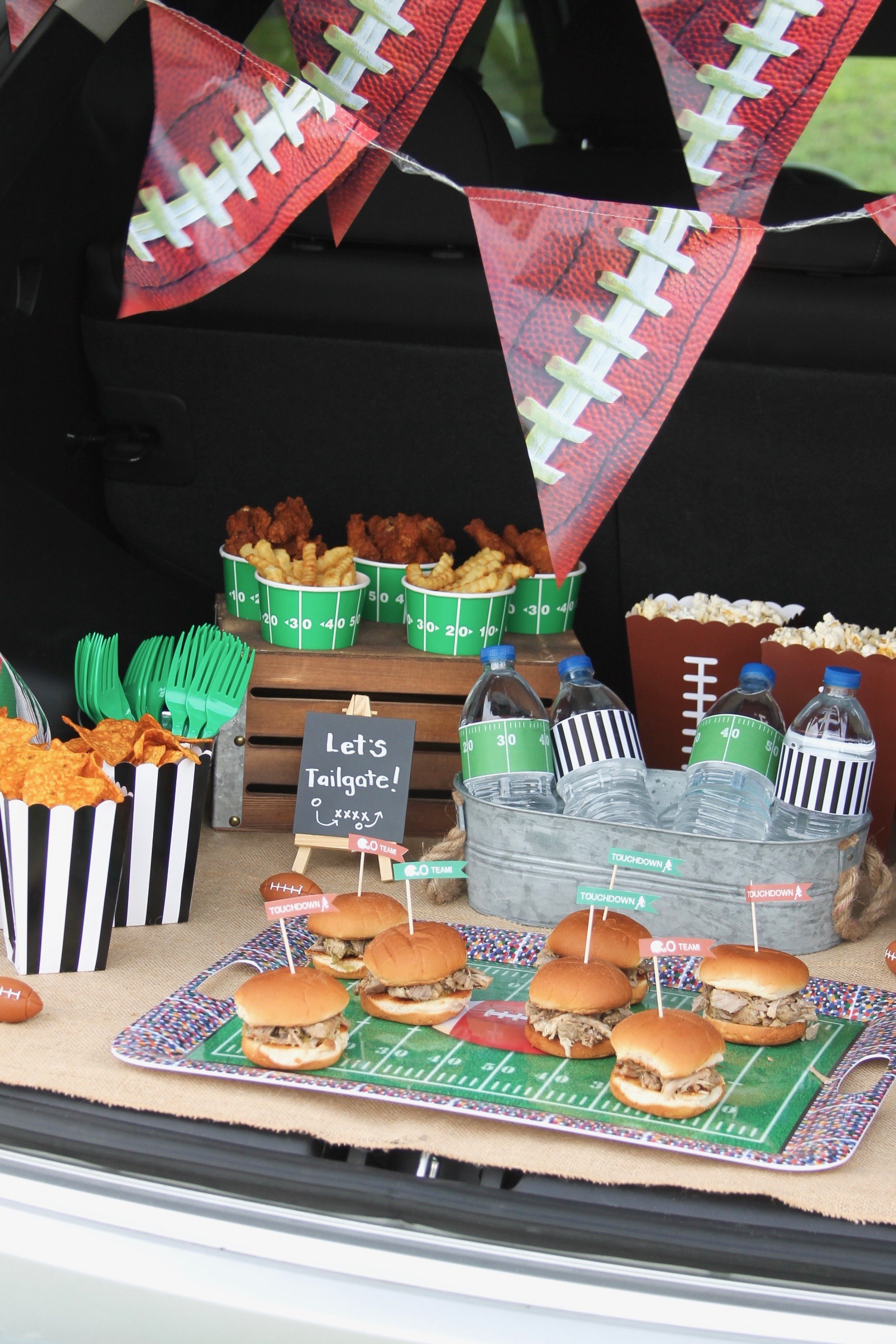 5. Decorations make the party. Giving your tailgate your favorite team's theme or a general football theme makes for more fun and festive tailgating experience. We always bring banners and fun containers for food and snacks.
6. Make sure you have somewhere to sit. Bring more foldable chairs than you think you need, you want to have enough for you and everyone who will hang out with you! You don't want people sitting on the coolers.
7. Don't forget the phone charger. A portable charger or two are also a great idea as you're sure to be checking scores on your phone.
8. Pack a mini first aid kit. Include aspirin, disinfectant, antibiotic cream, bandages, and band-aids, along with alcohol, burn cream and eye drops as well as something for heartburn and upset stomachs.
9. Bust boredom with lots of games. You want to keep everyone happy and entertained so don't forget the games. We usually bring cards and other games like Jenga as well as a ring toss or horseshoe toss.
10. Don't forget about the cleanup. We tend to focus on the food and the fun and forget that we have to clean up afterward. When packing for your tailgate party include disinfecting wipes and lots of trash bags. I always bring a cardboard box (usually what I pack the food in) and use it as a bottle trash can, just don't forget to line it up with a trash bag. I also bring a bin with a lid, again usually filled with food, and pack all the dirty dishes there on the way back so that the mess is contained securely.