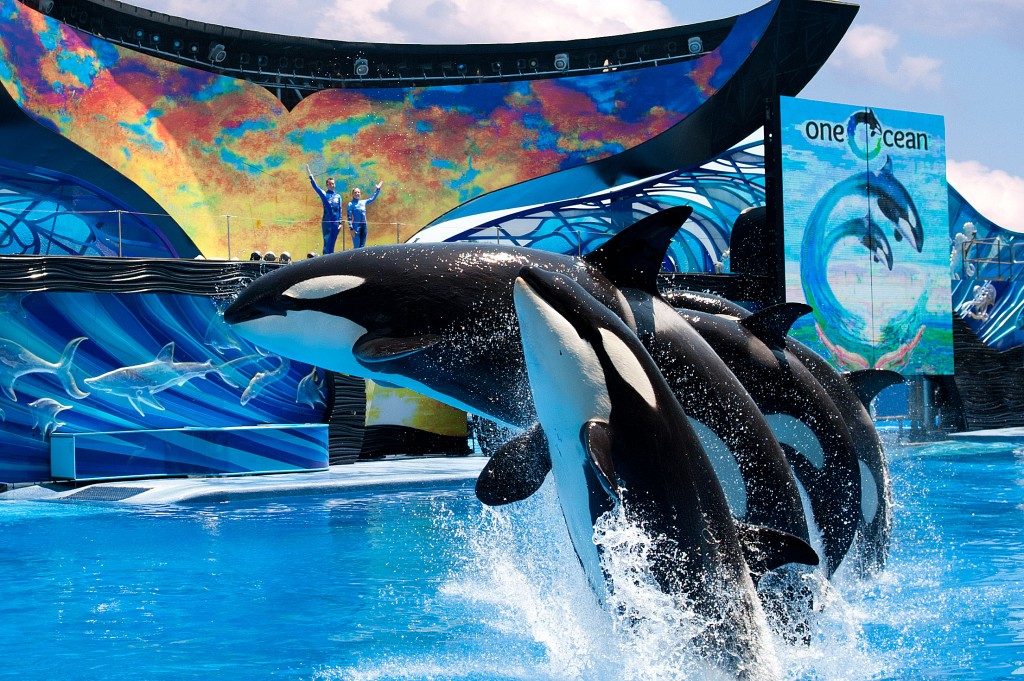 My daughter has been talking about going to Sea World to see the dolphins and the polar bear for her 7th birthday every day for the last 8 months.   Her birthday happens to land on the last week before school ends, which has worked to our advantage on previous years; yes she asks to go to a park every year for her birthday. Just to get summer off to an exciting start both kids got sick and we had to cancel last minute and postpone the trip one week which meant that we would be spending Memorial Day weekend, which is also the first weekend of summer, in Sea World Orlando along with thousands of people and temperatures that threatened to be in the 90s.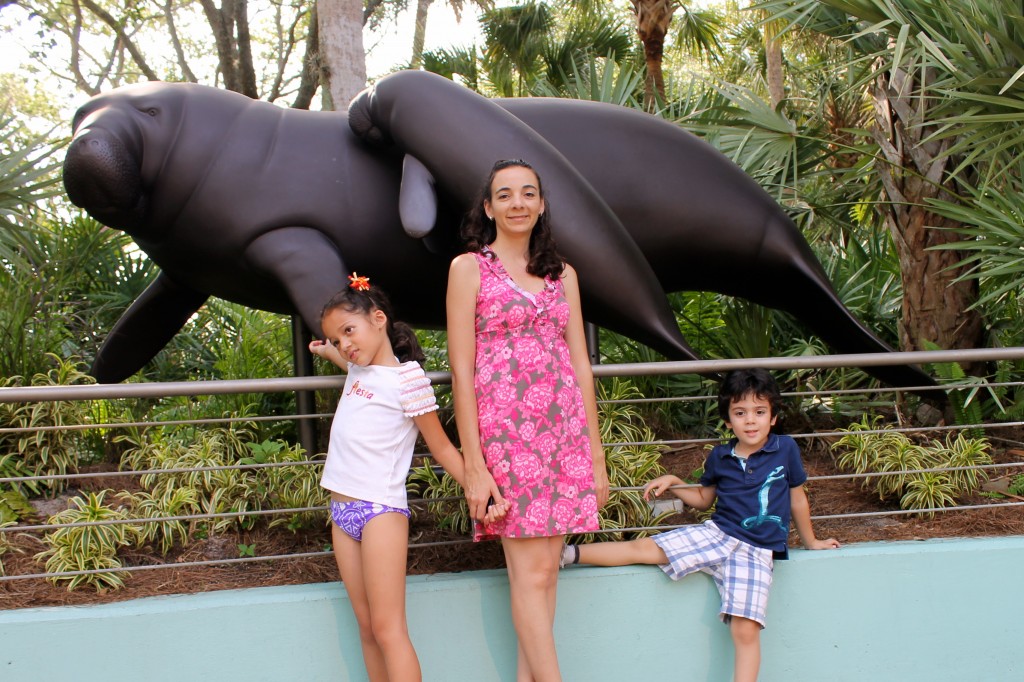 I love animals and have to admit that I was a little bit excited about it, but  mostly my husband and I where just hoping that my 4 year old who get's cranky with the heat and gets sensory overload in crowded places wouldn't suffer epic meltdowns.  As for my daughter who had spent countless hours on the Sea World website looking at the shows and attractions, I was hoping she would not drive us crazy with her mental list of must dos:  Turtle Trek, the Wild Arctic exhibition to see the polar bears, One Ocean to see Shamu, Pet's Ahoy  and feeding all the animals.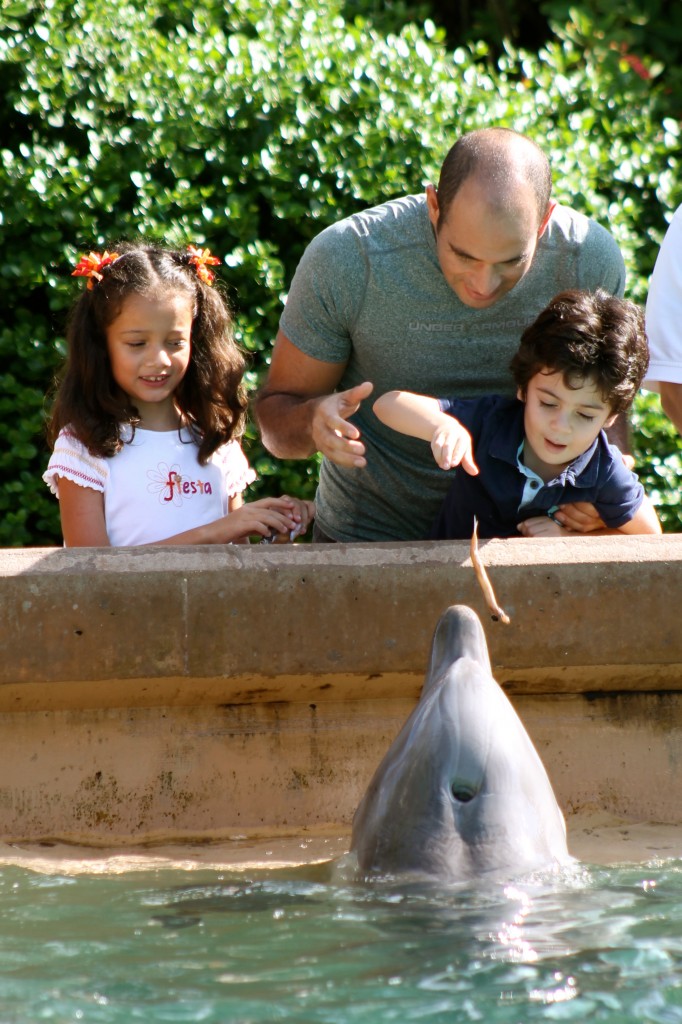 Planing Ahead
When my family travels planning and research are key and this goes for any family with children with special needs.   My daughter gets scared easily, my son can't stand extreme heat or crowds and when it comes to eating we have to juggle food allergies and sensory aversions (my son can't eat anything mushy because it makes him gag).  Packing and planning took countless hours.  I had contacted  Sea World and was given lots of tips on what to do and where to go to make this trip extra special as well as what restaurants to go to because of  my daughter's special dietary needs and we had even planned a special birthday dinner at Shark's Underwater Grill.
We arrived at Sea World with a back pack packed with everything we might need including special snacks and drinks, enough sunscreen to protect a small army, a map and a detailed schedule but when we got to the entrance I realized I had forgotten my 4 year old's birth certificate which made his free preschool pass useless.   So much for being prepared!  I was so thankful for the two free passes I had gotten from my awesome Sea World  contact who I had recently met at a blogger conference, they  saved the day.
We got there a few minutes before they opened and by 9:15am we where rushing through the crowds pushing both kids on a rented double stroller, the best investment we made during our trip!  First on the list: feeding the dolphins.  We where on a mission!
The Amazing Powers of Sea Creatures
I hadn't been in Sea World in 20 years, yes that makes me feel quite old, and I have to say that even though we had spent a lot of time on the website I was really surprised by the amount of opportunities to interact with the animals.  Feeding the dolphins was pretty amazing, my children even got to touch them and as I watched their excitement I didn't mind the heat or the crowds anymore.  The shows where truly beautiful, the whales majestic, the seals a lot of fun but my favorite part was watching my kid's awe and amazement as they where transported into so many different environments and ecosystems from looking at a walrus swimming under water to being surrounded by fish and having stingrays fly over their heads at the Manta Aquarium. As we sang happy birthday to my little girl surrounded by sharks at Shark's Underwater Grill after a long and exciting day I was so happy we had the chance to take the kids to Sea World and knew they would never forget this trip.
An Unforgettable Birthday Celebration
Making a trip unforgettable is all in the little things, in making everyone feel special and in enjoying the moment.  My daughter loves taking family trips so instead of a party with her friends she always chooses to go somewhere fun for her birthday.
Sea World was a wonderful choice and I believe we will come back soon.  We got to spend time together away from the worries of everyday life in a place where the children had fun and learned so many things. Dinner at Shark's Underwater Grill was a wonderful experience not only because it's not every day that you get to eat surrounded by sharks but also because the chef and the staff went the extra mile to make our celebration memorable. My little girl has food allergies, like many children with autism,  and we usually have to travel with her food to make sure she is eating things that are safe for her but at Shark's Underwater Grill the chef came out to meet us and we discussed her needs and he was able to suggest different options for her, she loved being able to order what she wanted from the choices the chef gave her.
Traveling to Sea World in summer also turned out to have other advantages:  starting Memorial Day weekend Sea World's Summer Night's are back which meant the park was open later and after dinner we where able to go to the Sea Lions Tonight show which was one of my children's favorites.  We would have loved to have stayed for the Shamu Rocks and the fireworks but the kids where beat and we decided to call it a day. Being at the park after sundown without the heat was a real treat.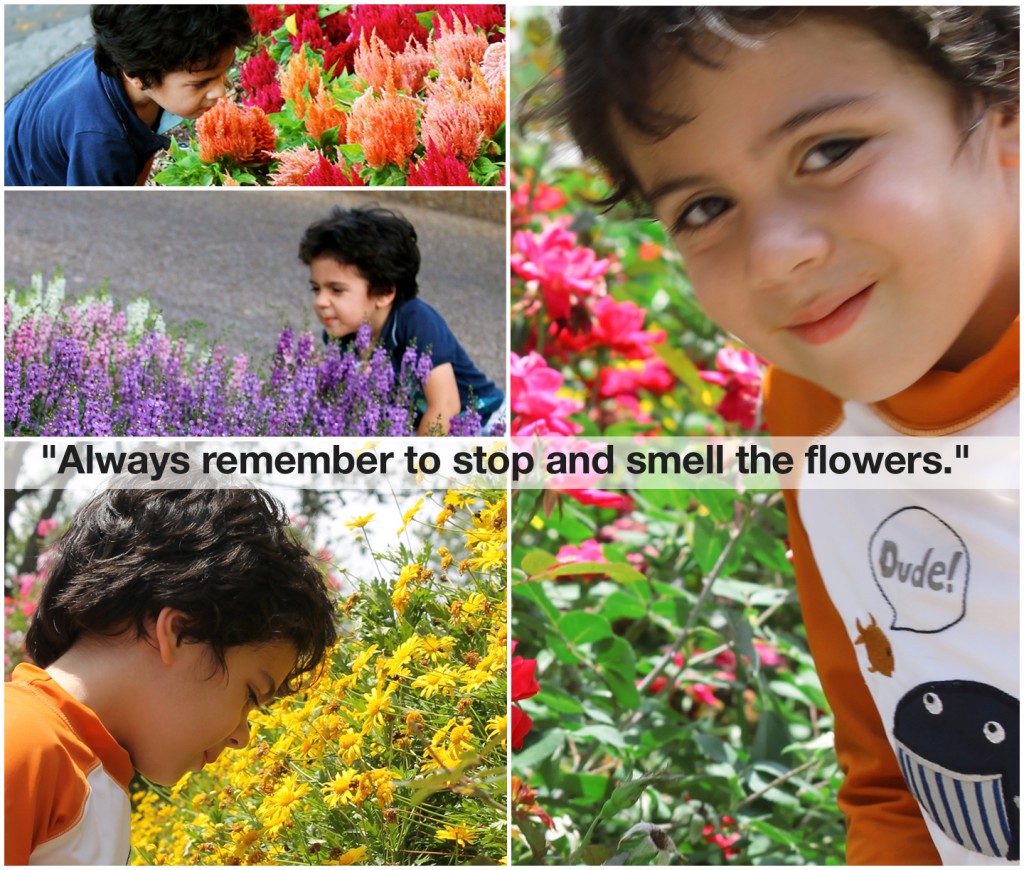 Don't Forget to Stop and Smell the Flowers
Our trip started out  stressful and turned into a once in a lifetime experience.  But the greatest lesson that I learned was from my four year old.  As we rushed from one show to another zigzagging with the stroller among the endless stream of people he would all of a sudden shout "Daddy STOP! I have to smell the flowers!".  My husband would stop and he would jump out of the stroller and run to smell the flowers.  He did this every time he noticed flowers during the whole weekend and with each stop we where reminded of the importance of enjoying the little things in life and enjoying every moment.  What made our trip memorable was not the incredible shows, it was the little things: seeing my daughter's face as she rode her first roller coaster, hearing my son's laughter as the birds stole Shamu's fish during the show and watching both of my children's wonder as they got close to all sorts of animals and even fed seals, dolphins, sharks and stingrays.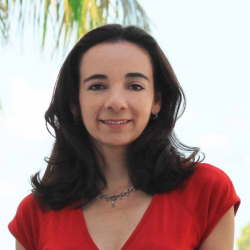 Latest posts by Paula Bendfeldt-Diaz
(see all)