This shop has been compensated by Collective Bias, Inc. and its advertiser. All opinions are mine alone. #LiveForFlavor #VivaLaMorena #AddFlavor #CollectiveBias
These easy cranberry chipotle shredded turkey sopes recipe gives the traditional Mexican antojitos a holiday twist.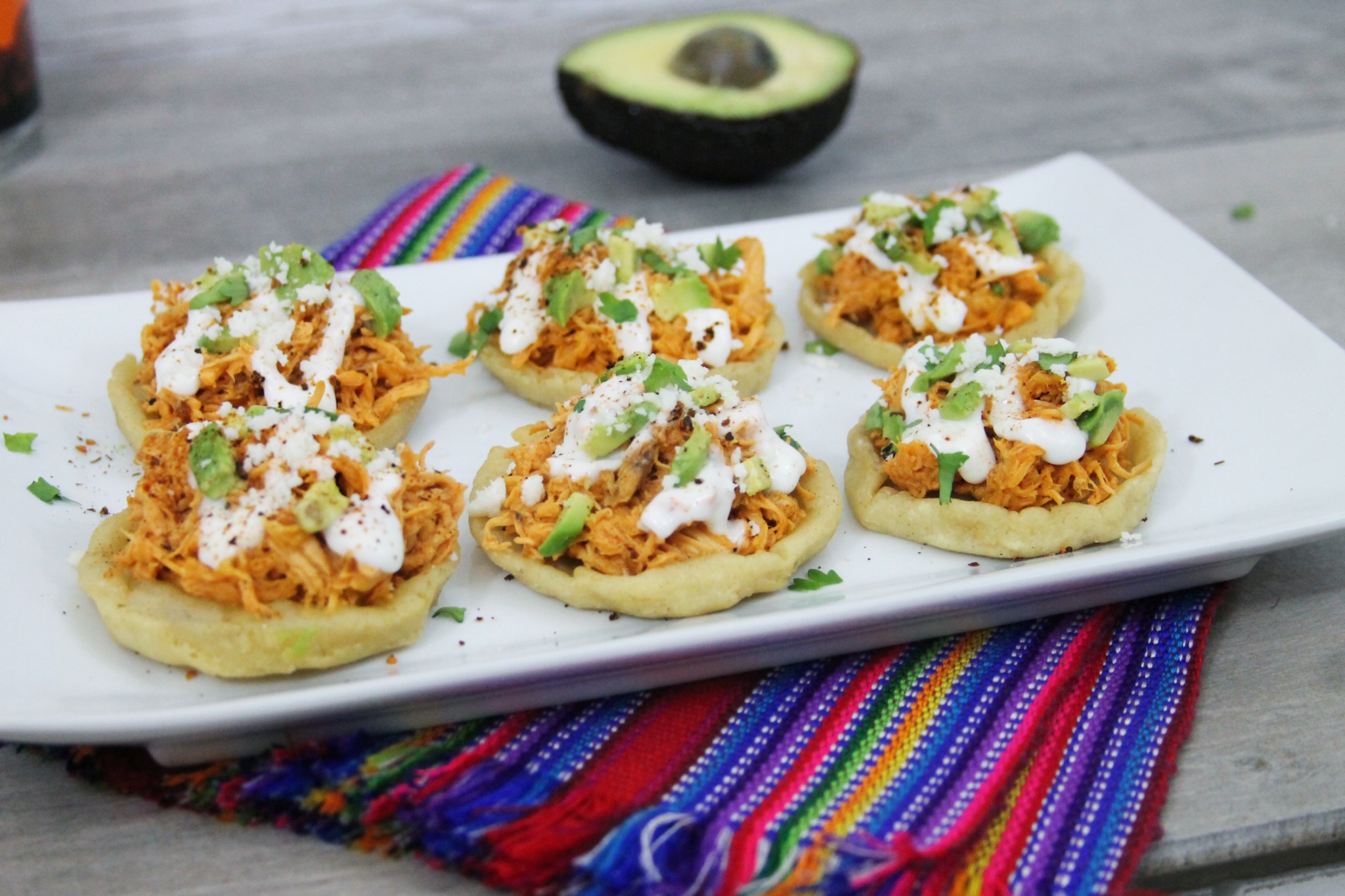 The holiday season always brings with it lots of nostalgia along with happy memories of those times spent back in my homeland with family and friend eating foods like tamales, ponche and other traditional dishes. Sopes are without a doubt one of my favorite Mexian street foods. Although I am from Guatemalan sopes and garnachas where one of my grandmother's favorite foods. She used to serve these huge platters of sopes y garnachas when she had people over and I really looked forward to those special days. I would eat the sopes filled with frijolitos or cochinita pibil by the half dozen!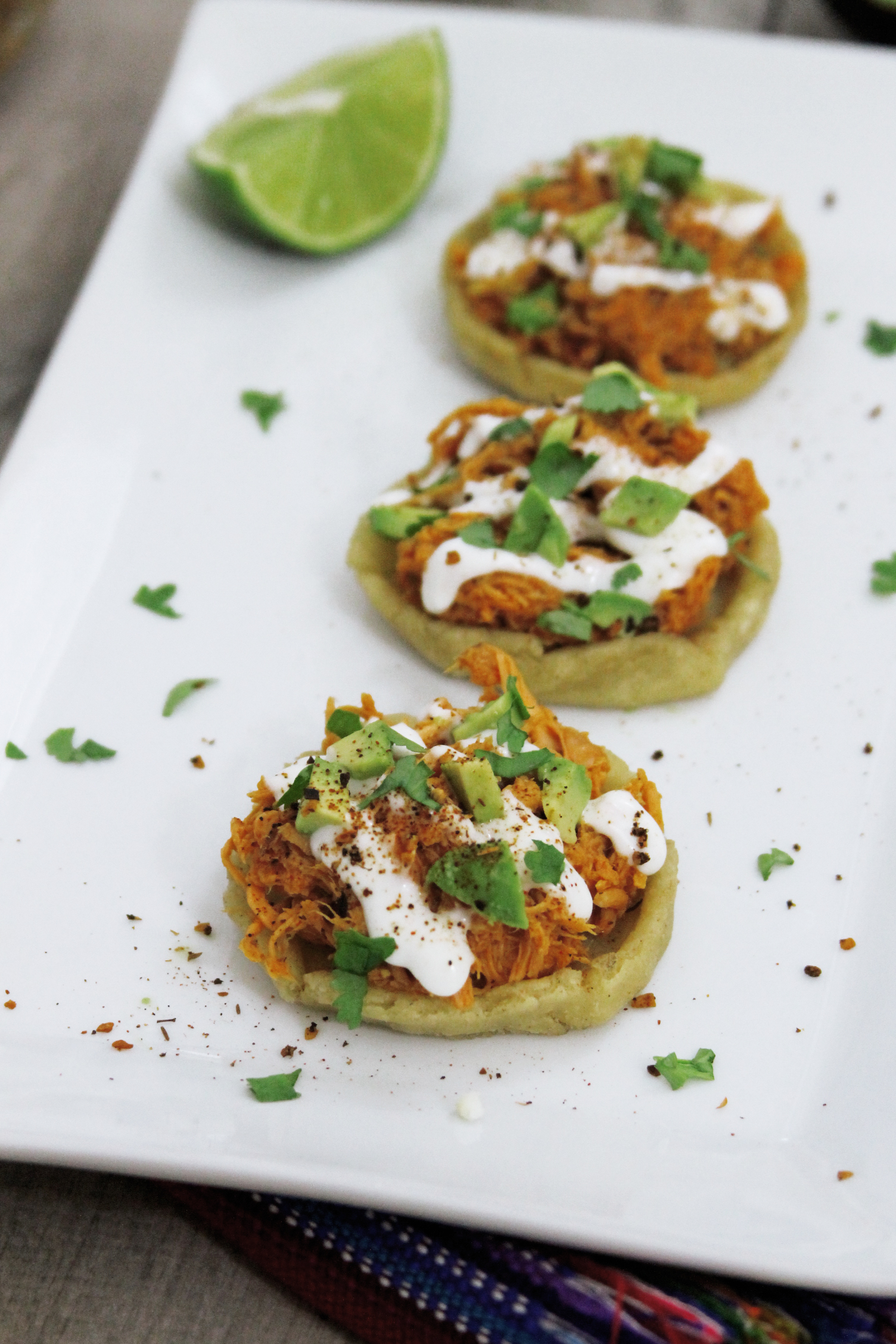 I haven't made sopes in a while and today I was feeling creative so I checked my refrigerator to find turkey and cranberry sauce. I don't know about you but when Thanksgiving comes along I stock up on turkey and cranberry and I eat cranberry sauce throughout the holiday season. I seriously could have it every single day because it goes well with everything. So I thought why not give the sopes a holiday makeover by making a cranberry chipotle sauce? I had no idea how this holiday recipe experiment was going to turn out but how could I go wrong when I was combining some of my favorite ingredients: La Morena® chipotles, Knorr® Tomato with Chicken Granulated Bouillon and cranberry sauce?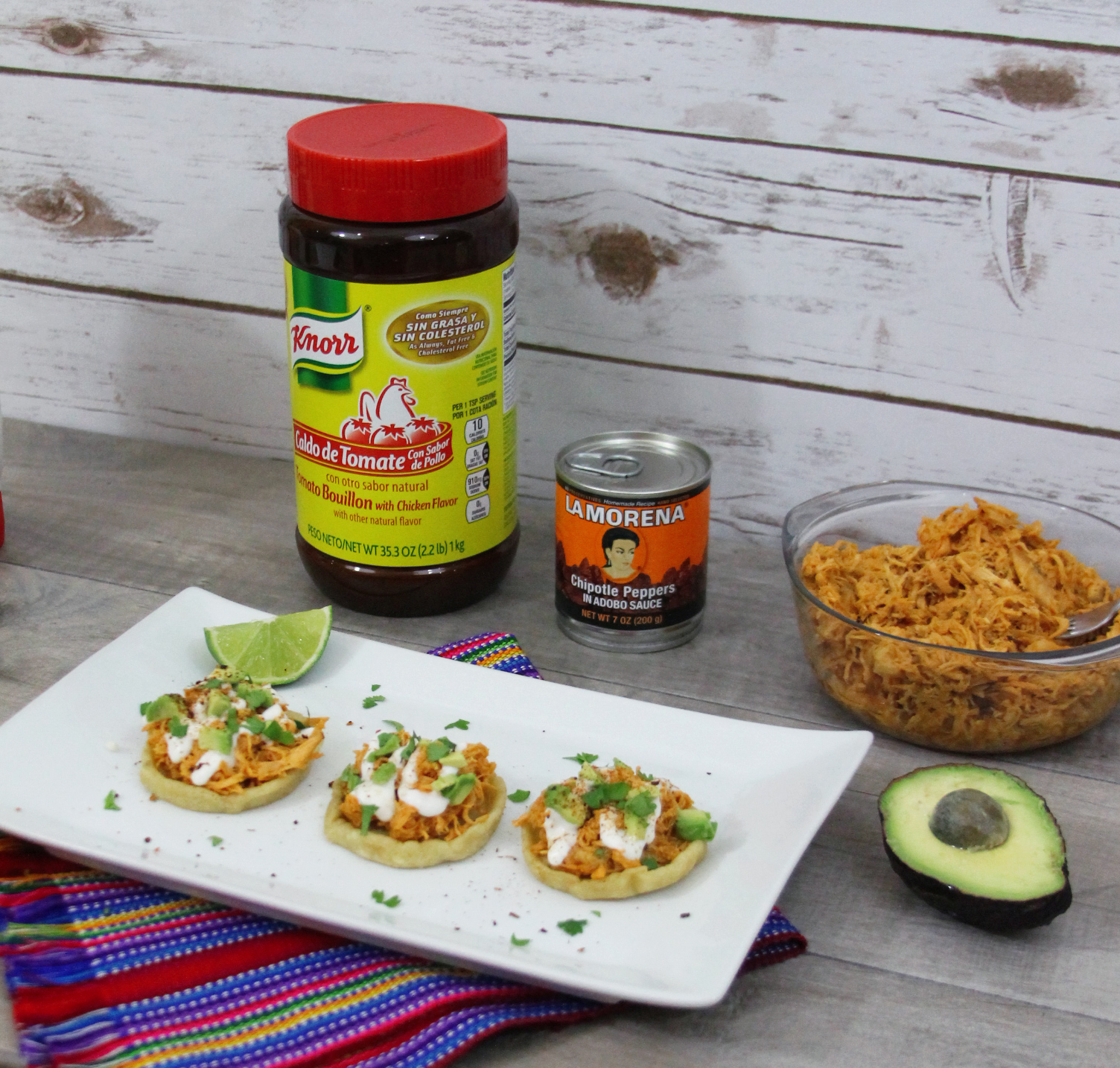 Now without further ado let's start making these delicious holiday sopes. I made these with some leftover Thanksgiving turkey I had in the freezer but you can also use chicken and I used home made cranberry sauce (because we always make our own) but you can also use canned cranberry sauce.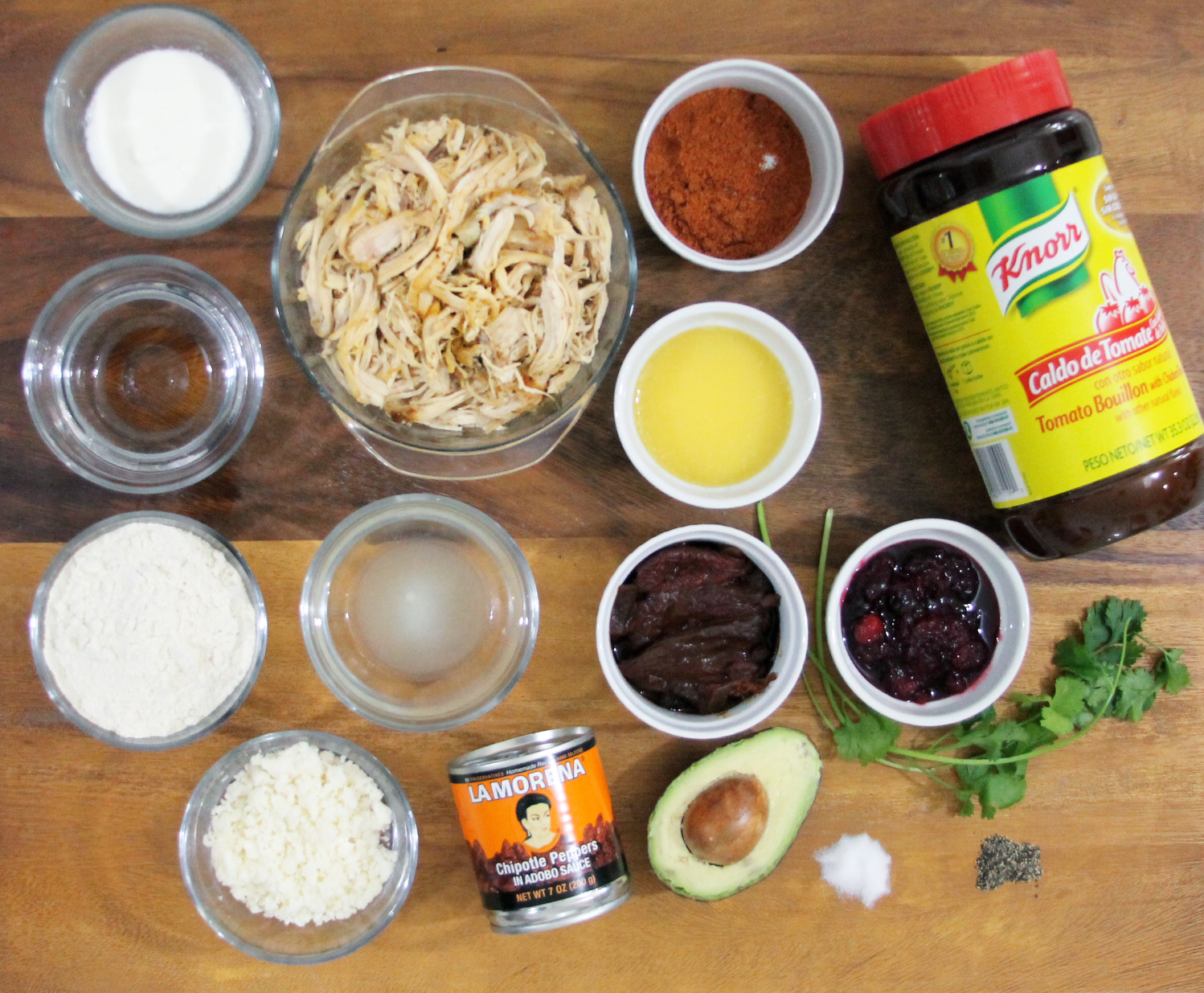 Turkey Cranberry Chipotle Sopes Reciepe
Ingredients
6 cups of cooked and shredded turkey or chicken
1 tablespoon of Knorr® Tomato with Chicken Granulated Bouillon
1 cup of hot water
3 tablespoons La Morena® chipotles in adobo sauce
1/2 cup orange juice
1 tablespoons lime juice
4 tbsp cranberry sauce
1 ½ cup masa harina
1 ¼ cup warm water
1/4 teaspoon salt
Fresh cilantro
Queso fresco
Mexican crema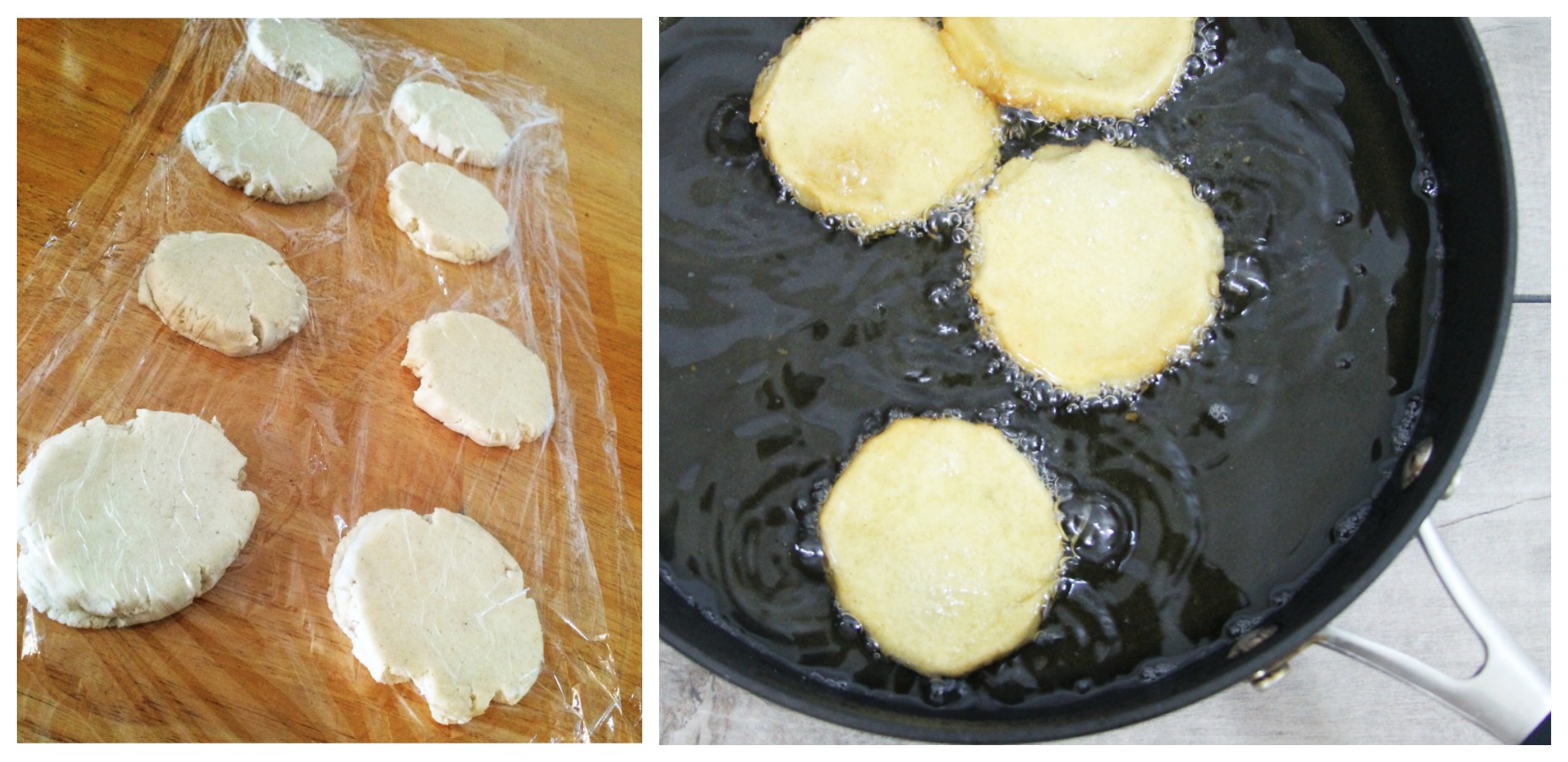 Instructions
Combine the orange juice, lime juice, chipotle and cranberry sauce in a blender or food processor and blend until smooth.
Make chicken bullion by combining the Knorr® Tomato with Chicken Granulated Bouillon and the hot water and mix until dissolved.
In a medium saucepan over medium heat combine the shredded turkey or chicken, the chipotle cranberry sauce and the bullion and bring to a boil.
Reduce heat and simmer for about 30 minutes uncovered or until the sauce has thickened.
While the turkey is cooking you can start making the sopes.
Mix the masa, salt and water together into a smooth consistency for about 3 to 5 minutes. If working in large amounts cover bowl with a damp towel to keep from drying out.Take a piece of the dough and roll into a firm ball. Use a tortilla press to flatten balls into small discs 4-5 inches wide. I didn't have a tortilla press so I placed the masa ball in between two pieces of saran wrap and applied pressure with a cutting board.
Heat up a comal or griddle and place masa patties on griddle for about 1 minute, turn and cook for about 45 seconds.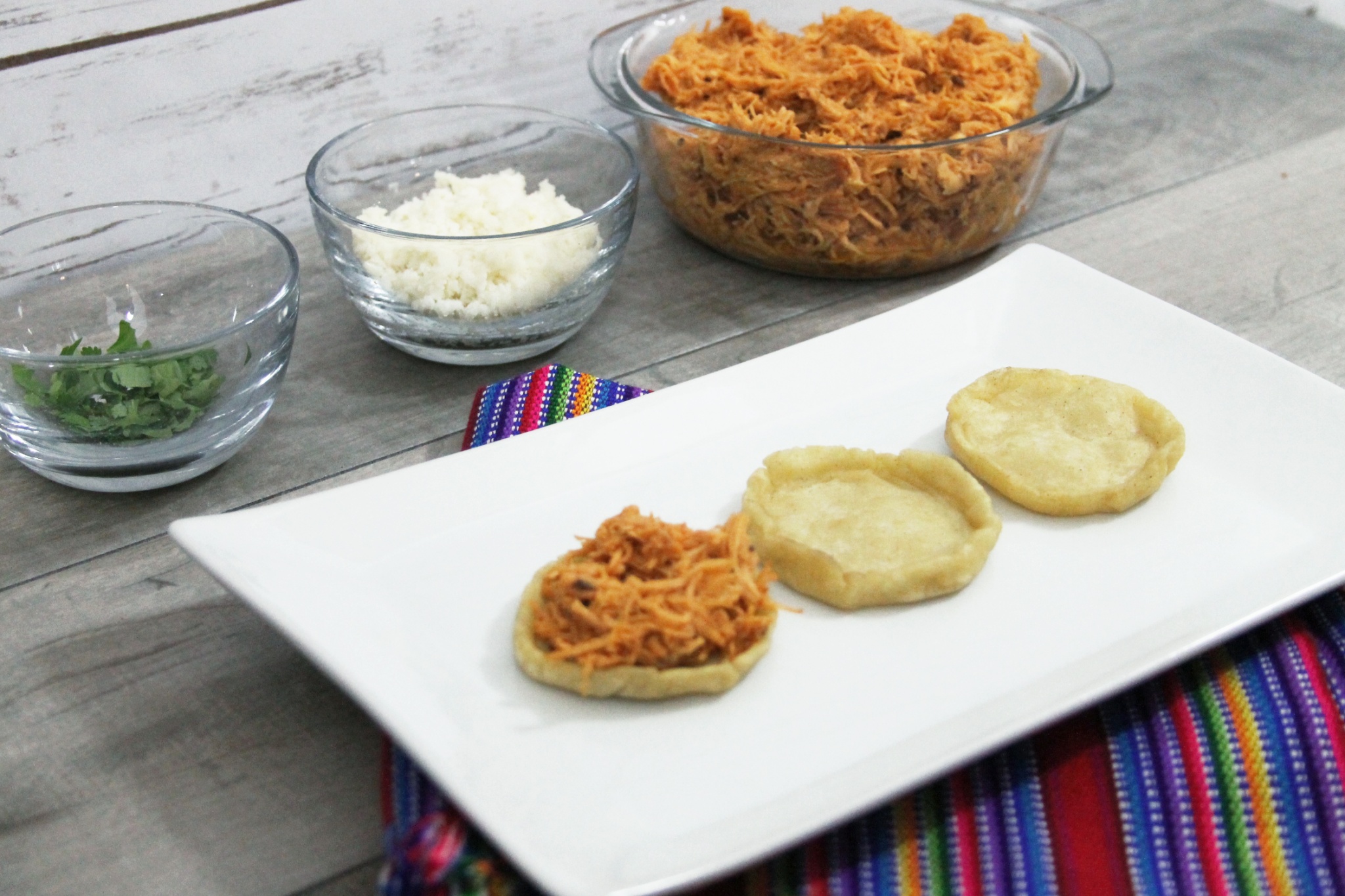 Remove from griddle and let stand for a minute so they cool off enough for you to work with the masa, which should still be soft and malleable.
Using your fingers form the edges up like a tart shell.
Heat up enough canola oil to cover the sopes.
Place sopes in oil and fry until crispy and golden brown.
Fill the sopes with the cranberry chipotle turkey.
Drizzle with Mexican crema and sprinkle with fresh cilantro and queso fresco.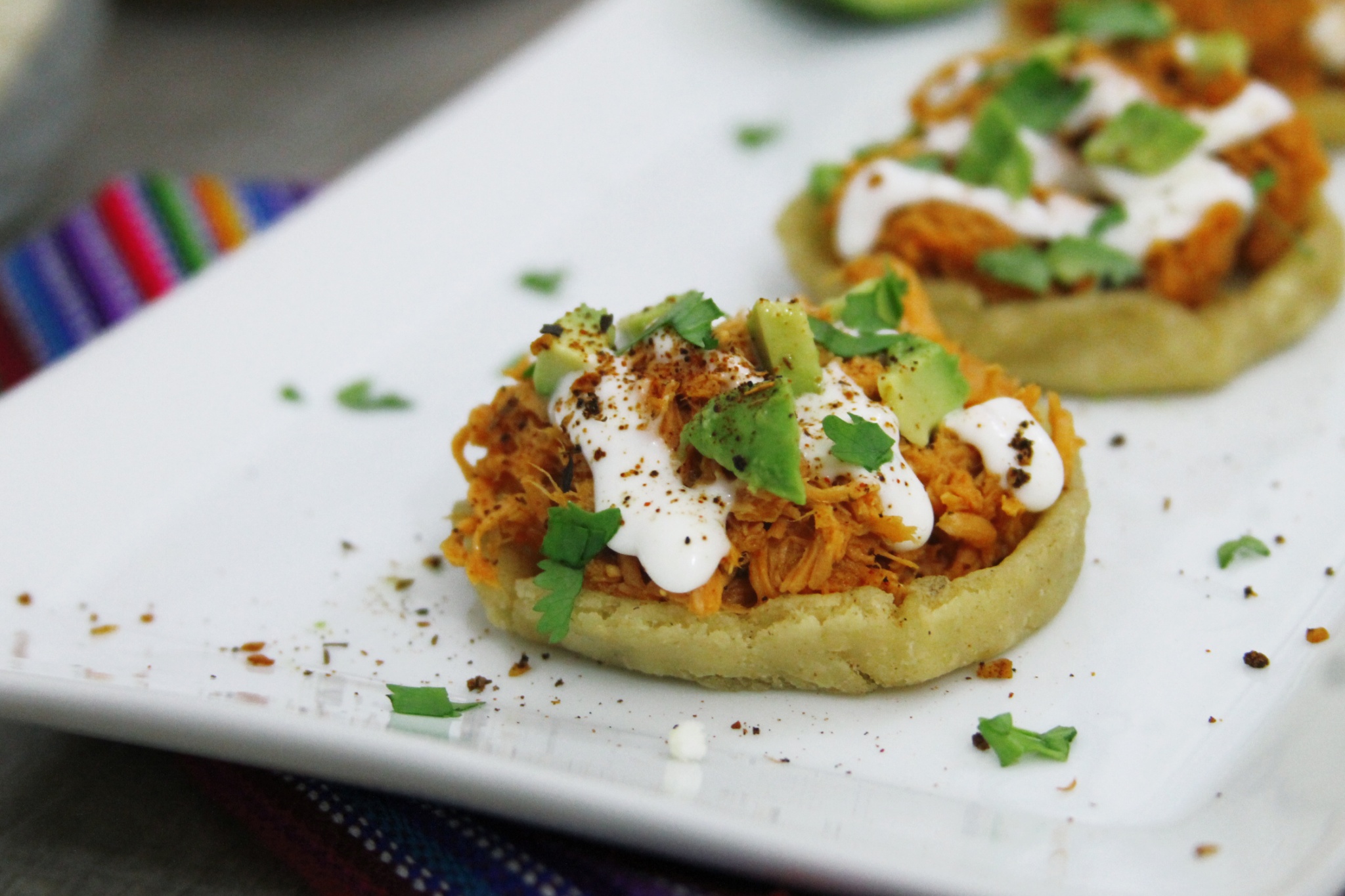 These sopes where everything I hoped for: spicy and flavorful turkey with just a hint of that sweet and tart cranberry goodness piled up high on a warm and thick masa sope. I know these will be one of my new favorite holiday antojitos for sure and they make for the perfect appetizer for when you have people over, which during the holidays is all the time if you have a big Latino family like mine!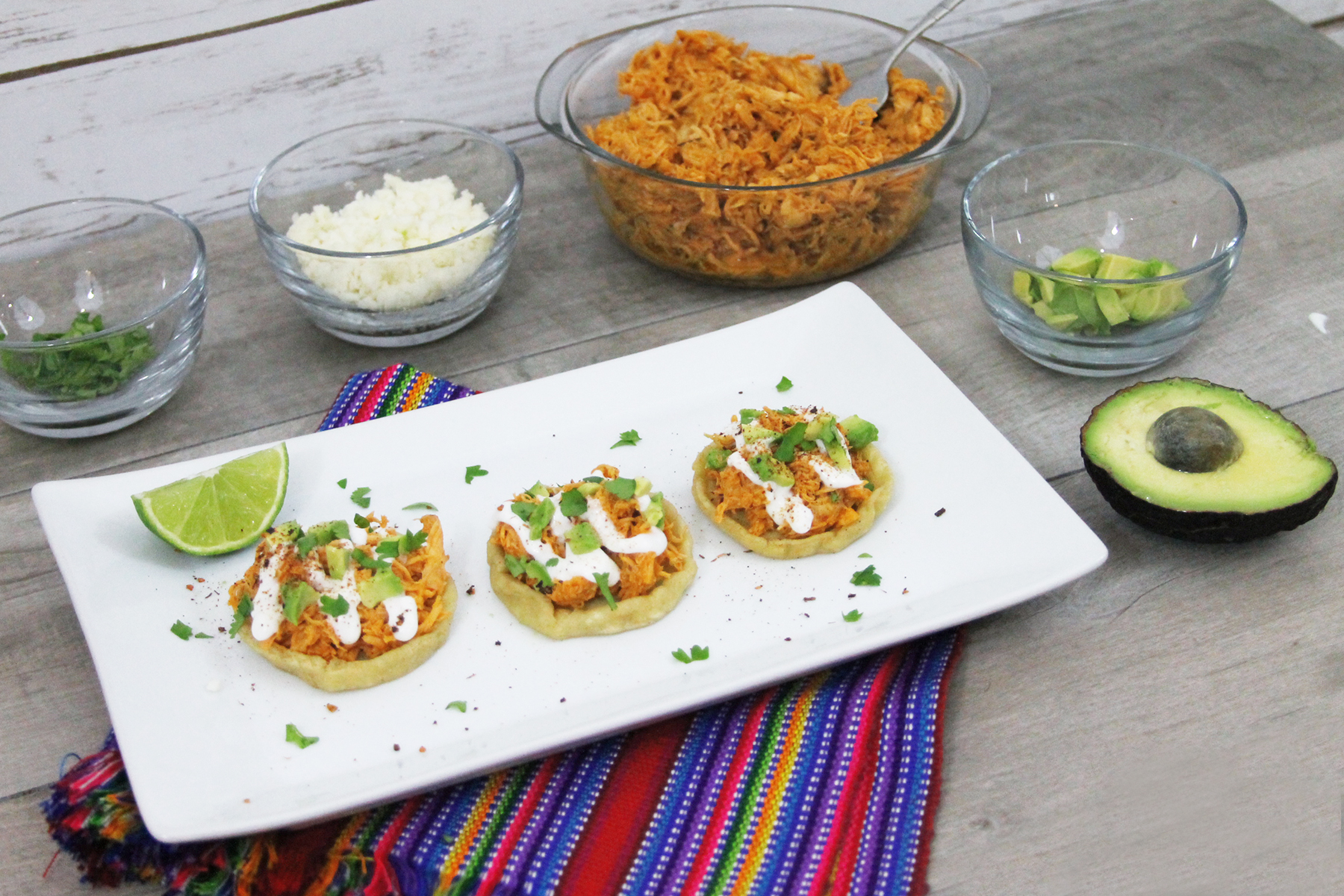 I'm not going to lie, I did not spend a lot of time in the kitchen as a kid, not sure boys where even allowed in the kitchen when my mom and my grandma where cooking. However there are brands like La Morena® and Knorr® that where such an important part of our kitchen that not even I could remain oblivious to it. Not only are both La Morena® and Knorr® part of those family holiday recipes that bring back memories and connect me back to my culture but now that I do spend a lot of time in the kitchen experimenting I can really see the difference and I would never trade in quality and authenticity! When I am making a recipe with chiles I want that real and authentic flavor that only La Morena® can provide. When it comes to Knorr® bouillon the flavor and aroma immediately transports me back to my grandma's kitchen. To this day my mom puts una pisca de Knorr® in everything from el arrocito y las sopita, hasta el pollo y las milanesas to give everything that sazón that is such a staple of Latino kitchens everywhere, no matter if we are in Latin America or the USA.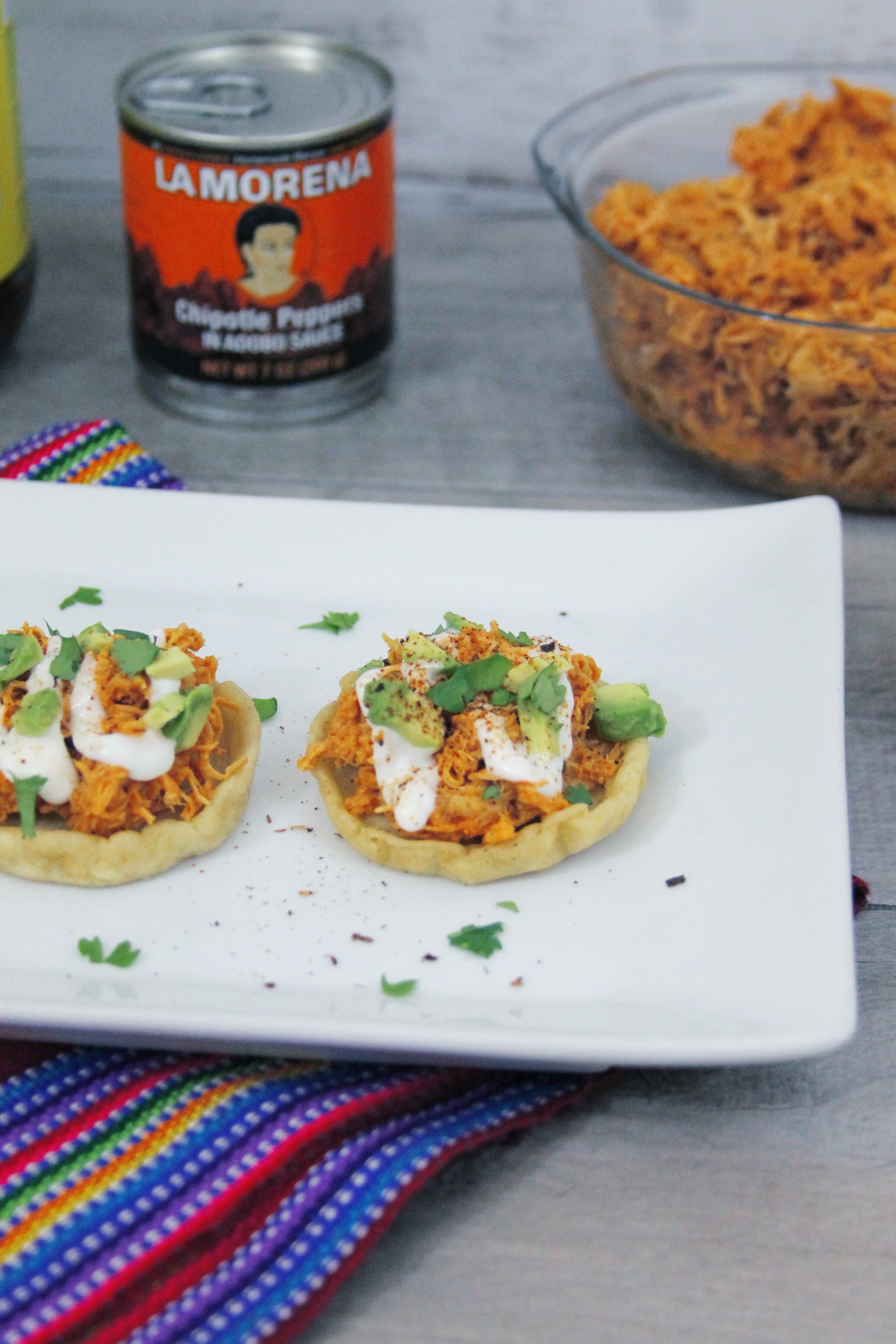 The La Morena® chipotles (and jalapeños and frijolitos and salsa) and the Knorr® Tomato with Chicken Granulated Bouillon (along with all the other bouillons) can be found at Walmart. Por  supuesto you can find them in the Hispanic Aisle.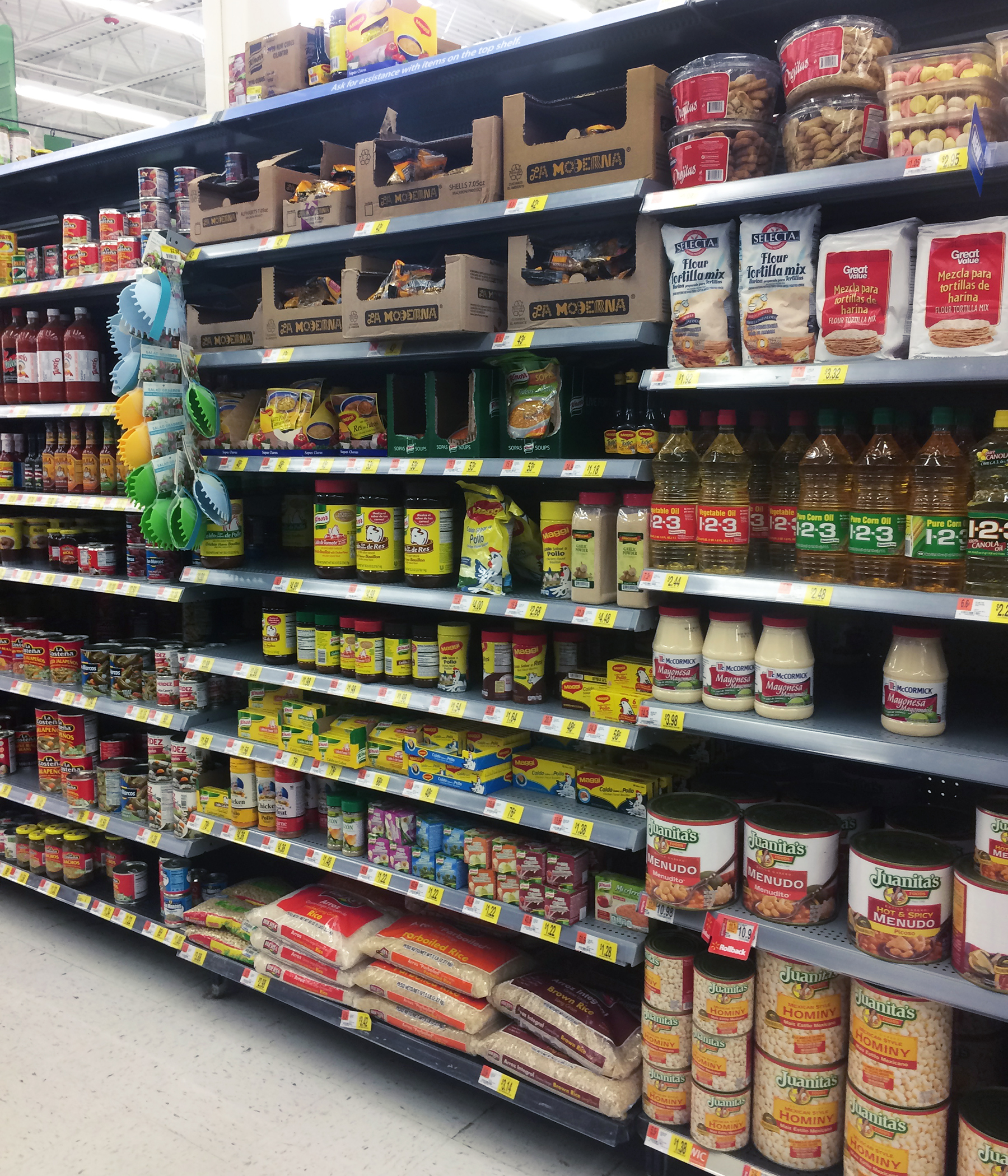 Latest posts by Cesar Diaz
(see all)