Cappadocia in Turkey is a land of the out of this world landscapes and fairy chimneys, of underground cave cities and rich history. Many, like me, are lured to this beautiful and otherworldly place by the desire to ride on a hot air balloon over and marvel at the rock formations below.  But what I discovered was a magical place filled with so much history and beauty that I found it hard to leave. I also discovered that some hotels in Cappadocia are as fantastic as the landscape and staying here is an experience in itself.  Here are 3 awe inspiring hotels in Cappadocia:
The Sacred House
The Sacred House combines fantasy, comfort and elegance all of which come together to create a unique and magical experience.  The rooms are all decorated following different themes and each one seems to be a completely different world of relaxation you never want to return from.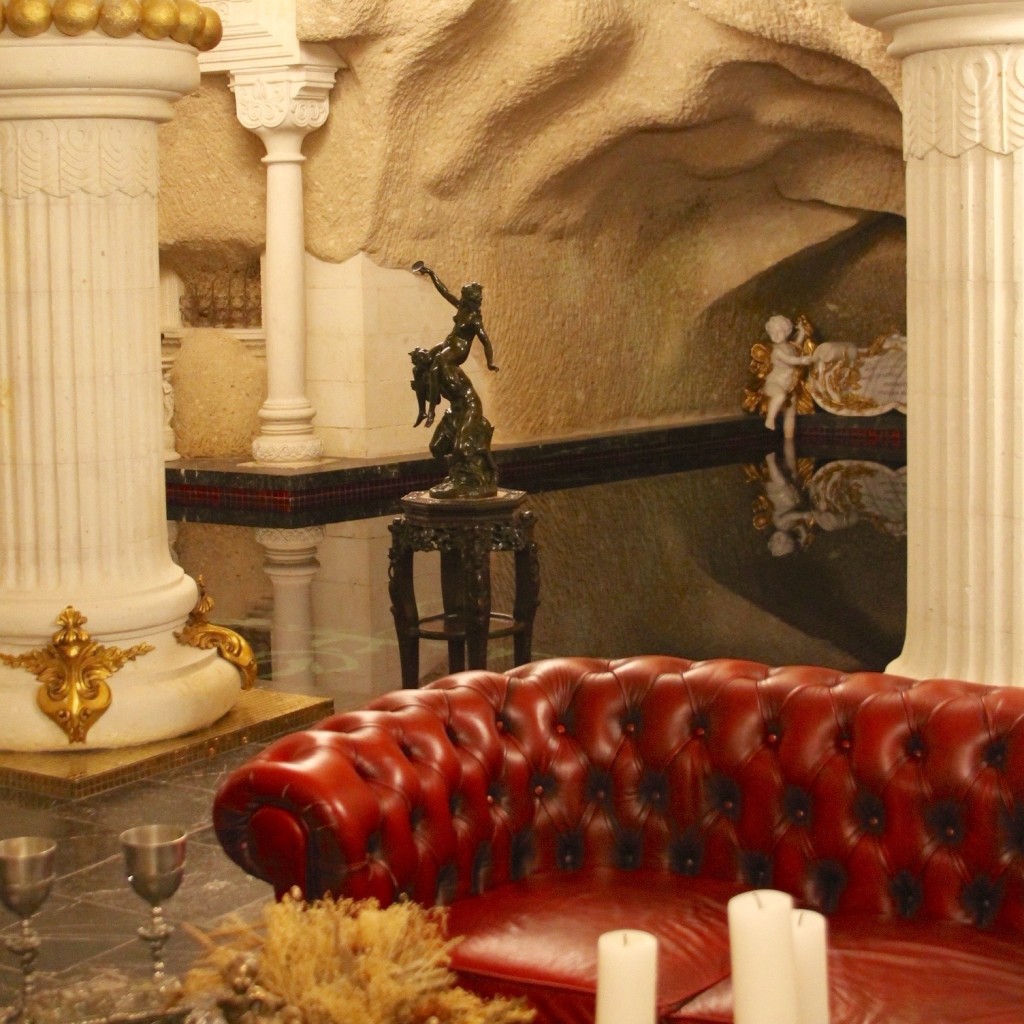 Part luxury medieval villa, part museum and part cave the Sacred House has a fantastical otherworldly feel. Everything from the music, the lighting, the antiques that belong in a museum and the first edition books in the library come together to create a mystical experience.
Some spaces, like the indoor pool located in a cave and surrounded by neoclassical columns and statues and the winter-garden lounge filled with plants and ornate antique furniture are so beautiful and so different to anything you've every seen that you will have a hard time leaving this hotel.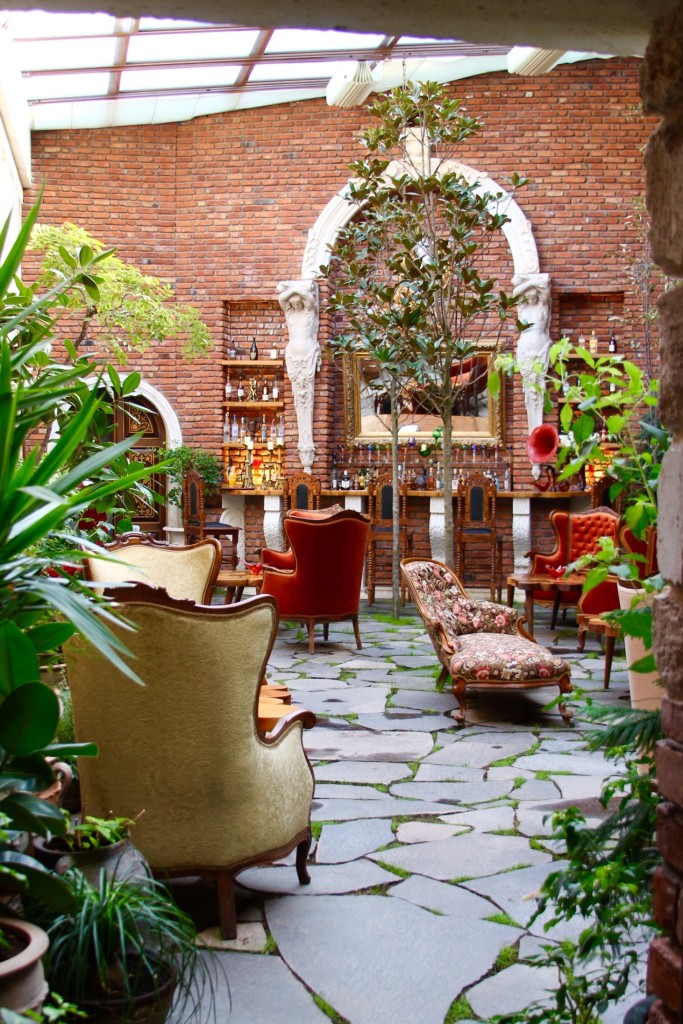 Kayakapi Premium Caves
Kayakapi Premium Caves is without a doubt on of the best options to stay in Cappadocia if you are looking for a cave hotel with great views of the beautiful Cappadocia landscape. This luxury hotel combines first rate service with a rich history. The hotel, built on the side of a mountain in Ürgüp feels more like a small village as it is made up of a series of beautifully conserved and restored cave dwellings in the historic Kayakapi neighborhood which dates back to the 18th and 19th century.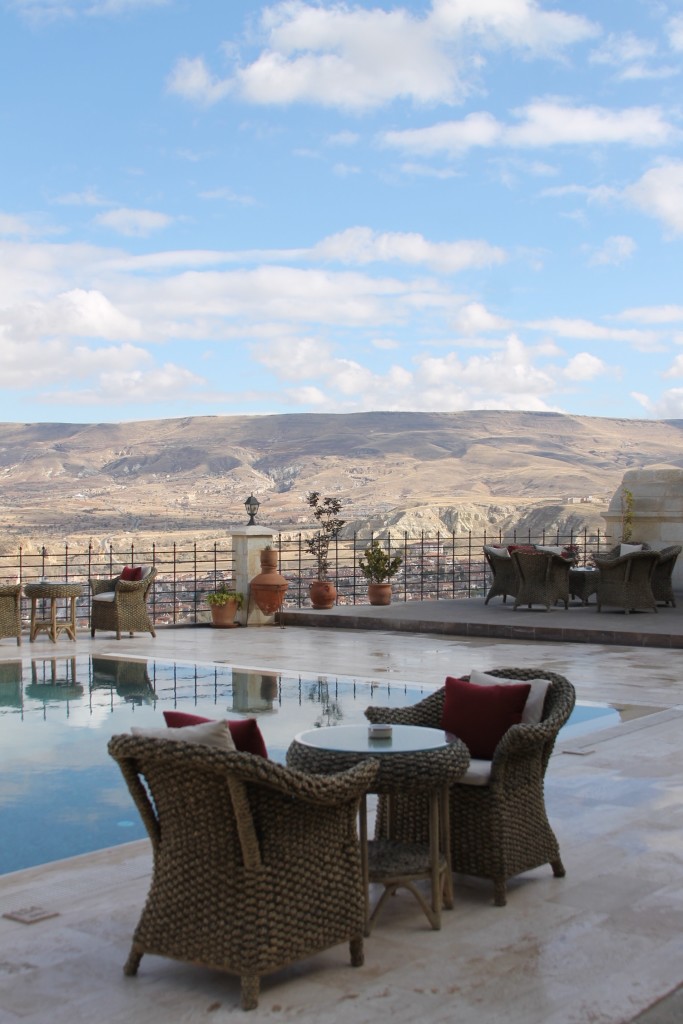 The views are truly breathtaking specially from the pool and restaurant area. The hotel also features one of the best and most beautiful spas in Cappadocia which houses a restored historic mansion. I loved that although it is close to town it is away from the hustle and bustle of the touristy town of Ürgüp providing a truly relaxing ambiance.
The rooms have a unique atmosphere and are beautifully decorated many with private patios and some of the suites even offer private indoor cave pools making this hotel a truly unique and unforgettable place to stay.
Esbelli Evi Hotel
Esebelli Evi is the first hotel in Cappadocia that restored the original cave houses and turned them into an Inn. What makes Esbelli Evi truly special is that, unlike other cave hotels in the area, the spaces were left as they were when people were living in them and the rooms are all different and have so much personality.  All the modern amenities you would expect in a luxury have been added but the inn retains that authentic look. Many of the rooms and suites have beautiful color bands in the rock.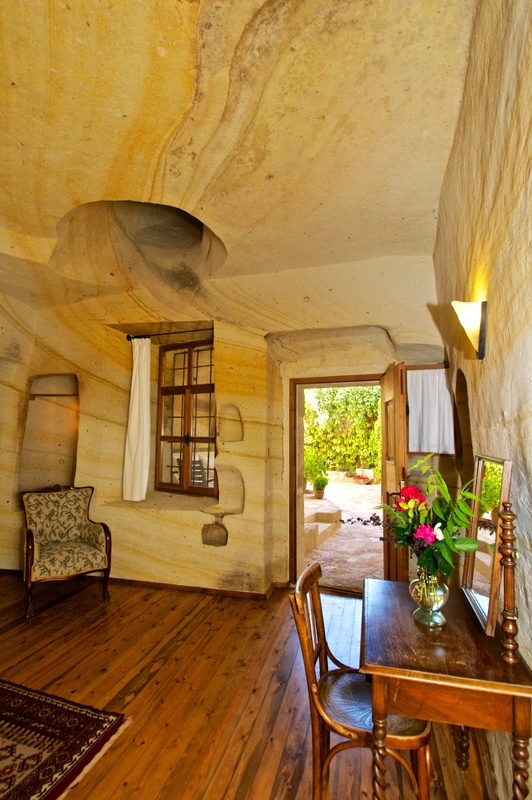 The family suite is ideal for families with children. Kids love having an authentic cave-dweller experience in rooms with curvy cave ceiling and nooks and crannies and even toys on the shelves! With a kitchenette for preparing snacks and a private terrace where kids can play safely this is without a doubt one of the best options for families in Ürgüp.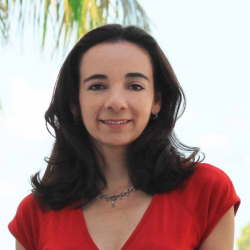 Latest posts by Paula Bendfeldt-Diaz
(see all)