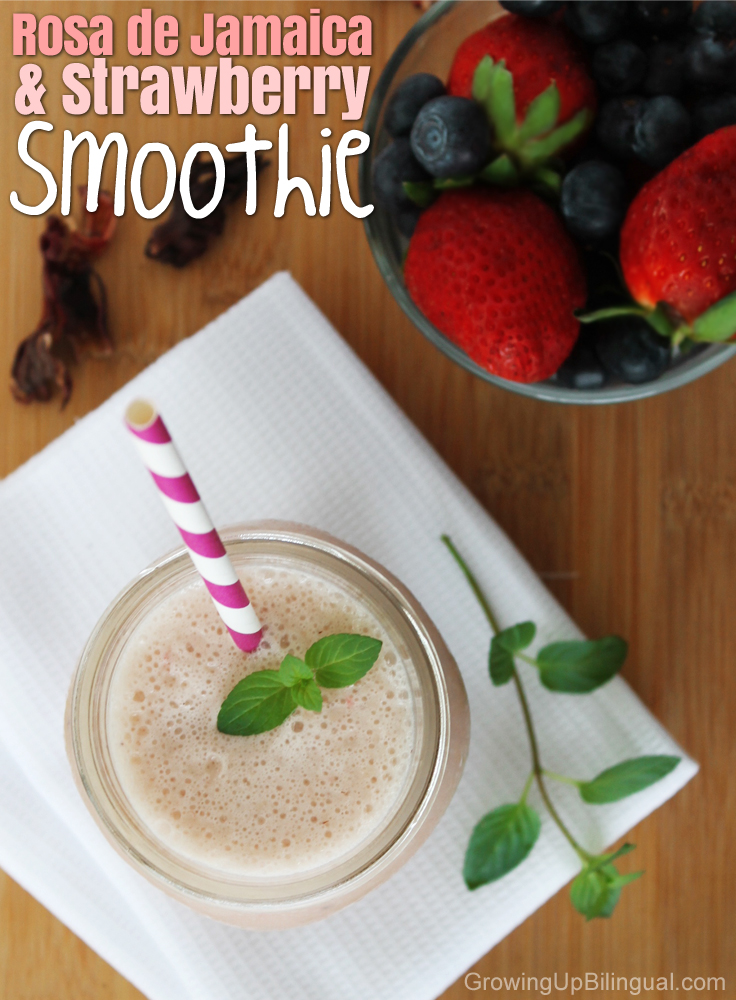 The New Year is here and I am ready, yes I am ready to get back on track after the holidays and go back to making healthier choices.  I don't believe in diets but I do believe in leading a balanced lifestyle and to accomplish that you just have to make small changes and get into the habit so that after a while you will get used to them and it won't be a choice but rather it will come naturally.  I will share with you some tips to making better choices and eating better without starving yourself or eating just things you don't like.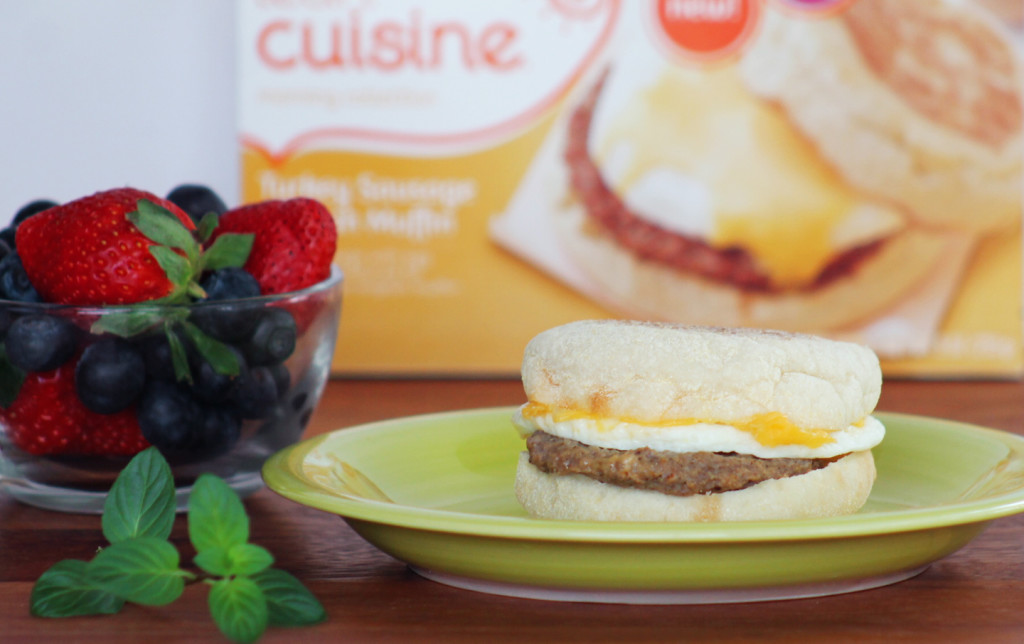 1. Don't skip breakfast.  I am always running around, late for something, getting the kids ready for school and many times I feel like I just don't have time to sit and have breakfast.  Later in the morning when I start getting hungry I might drive by some fast food place and get a late breakfast on the run.  The solution is making breakfast simple.  The Lean Cuisine Turkey Sausage English Muffin is an ideal option to get breakfast on the table quickly.  It's ready in only 3 minutes, that is less than what it takes you to go through the drive in. Made with turkey sausage, egg whites and reduced fat cheese and with only 220 calories this sausage and egg sandwich is a much smarter choice than it's fast food counterparts. You can easily add fruits and vegetables to your morning meal by washing this yummy muffin down with a healthy smoothie.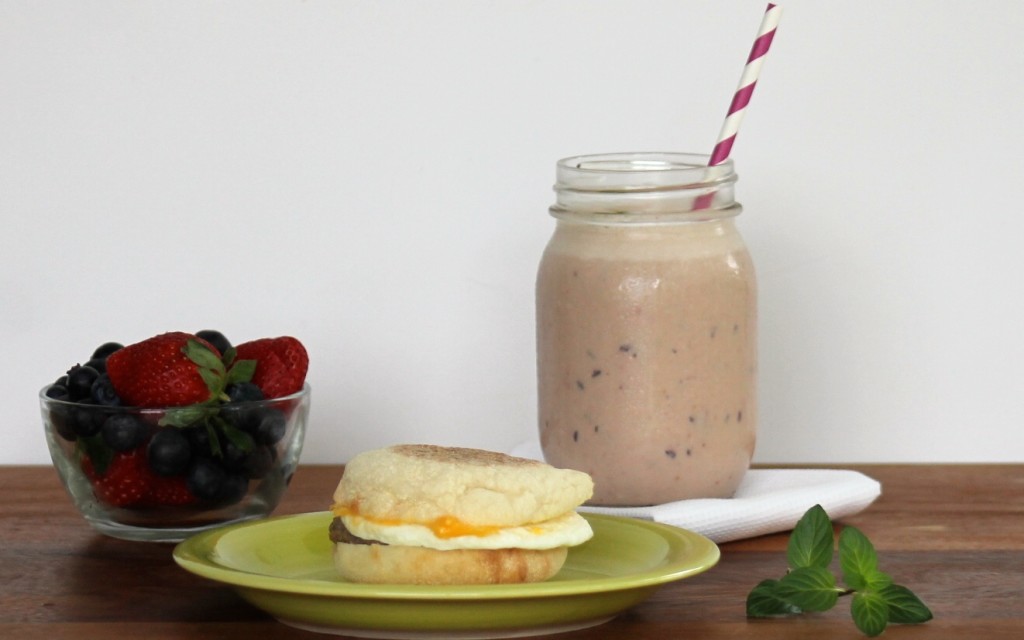 I made a delicious Rosa de Jamaica (hibiscus) smoothie with strawberries, blueberries, banana and yogurt.  Hibiscus which is a natural diuretic, helps me get rid of that puffy eye look that I sometimes wake up with due to allergies and hibiscus is also packed with vitamin C and iron.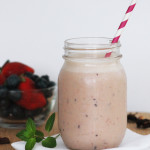 Rosa the Jamaica and Strawberry Smoothie
Ingredients
1/4

cup

rosa de jamaica

dried hibiscus flowers, you can find this in Latino markets

2

cups

water

1

banana

1

cup

chopped strawberries

1

cup

blueberries

1

cup

Greek yogurt

1 1/2

cups

almond milk or fat free milk

low calorie sweetener to taste
Instructions
Earlier in the day put water in medium sauce pan and brig to a boil.

Add rosa de jamaica and reduce heat.

Simmer until water is a deep red color and has reduced to about 1 cup.

Remove from head and pour through a colander to remove the rosa de jamaica, leaving only the water.

Chill for at least on hour. You will be using only 1/4 cup the rosa de jamaica liquid for the smoothie. You can add water and sweetener to the rest to make rosa de jamaica drink which you can have hot or cold (just like tea).

In a blender combine all fruits, sugar, yogurt and milk.

Blend until smooth. Add 1/4 cup of the concentrated rosa de jamaica water. Blend until well combined.

Drink chilled.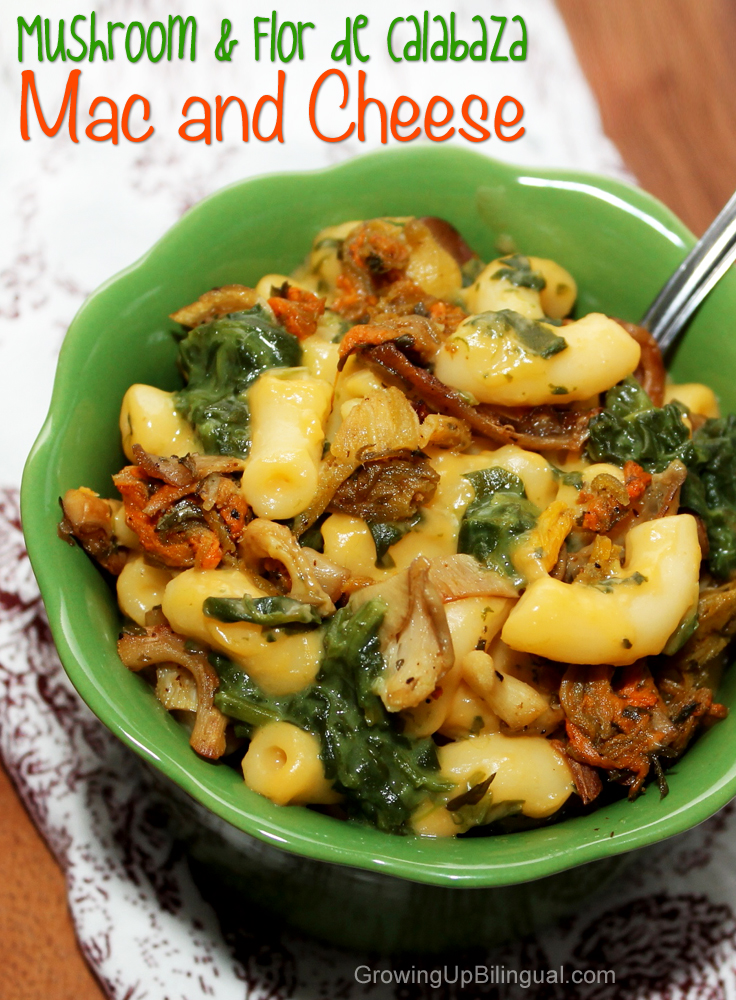 2. Keep things simple.  There is no need to spend all day in the kitchen. You can have warm meal on your plate in no time if you plan ahead and that includes having a back up in case you don't have time to prepare a meal from scratch.  I always keep a few Lean Cuisine meals in the freezer. Tonight was one of those nights when I didn't feel like making anything so instead of grabbing something packed with calories I heated up some Lean Cuisine macaroni & cheese.  I added some spinach, fresh homegrown mushrooms and flor de calabaza. Now that it's so cold out there is nothing like curling up with hubby on the couch while we eat a warm bowl of mac and cheese.  With only 4 grams of fat and 250 calories the Lean Cuisine mac & cheese is the perfect comfort food.  And it's so easy to add veggies and pack more nutrition in there!  My daughter loved this mushroom and flor de calabaza version and I was thrilled to use our first crop of homegrown oyster mushrooms for this recipe.
Flor de Calabaza & Mushroom Mac and Cheese
Ingredients
2

boxes of lean cuisine macaroni and cheese

1/4

cup

fresh oyster mushrooms

1/4

cup

chopped zucchini blossoms / flor de calabaza

you can find these at Latino makets canned or in a jar

1/4

cup

creamed spinach

I used frozen

1

tablespoon

of fresh basil

2

tablespoons

finely chopped onion or 1/2 teaspoon onion powder

1

teaspoon

finely chopped garlic or 1/4 teaspoon garlic powder

1

tablespoon

of chopped fresh basil

salt and pepper to taste

1

tablespoon

of olive oil
Instructions
In a medium sauce pan heat up the olive oil. Add the onion and saute until translucent.

Add the garlic, the mushrooms and the salt and pepper to the pan and saute one or two minutes.

Add the flor de calabaza to the pan and saute until the mushrooms are tender.

Prepare the macaroni and cheese according to the package instructions.

If using frozen creamed spinach prepare according to package instructions.

Mix spinach and macaroni and cheese.

Fold in mushrooms and flor the calabaza.
3. Don't forget the fruits and vegetables. Find creative ways to to add vegetables to your meals. I add vegetables to pastas, rice and sauces, bake them into breads and muffins or combine them with fruits to make a smoothie.  You can add some fruit to your cereal or make a quick smoothie or sprinkle it on salads or pancakes.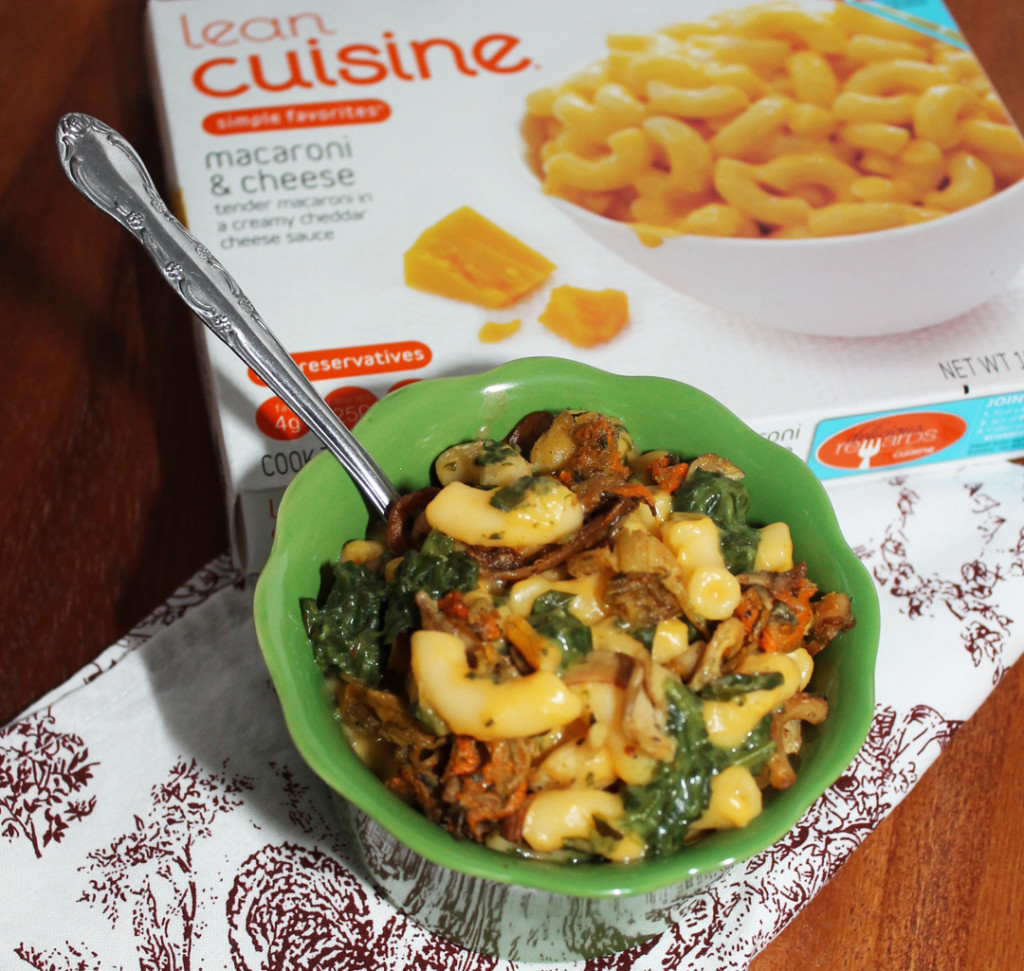 4. Have good snack choices on hand. One of the hardest things to do is to keep your hands off those chips or other high calorie / low nutrition snacks when you are hungry in the middle of the afternoon or late at night.  The best thing to do is to have enough tasty and better for you snack options around the house and avoid buying chips and other unhealthy snacks. The Lean Cuisine three cheese & spinach pretzels come in individual servings, they have only 220 calories and they really fill you up.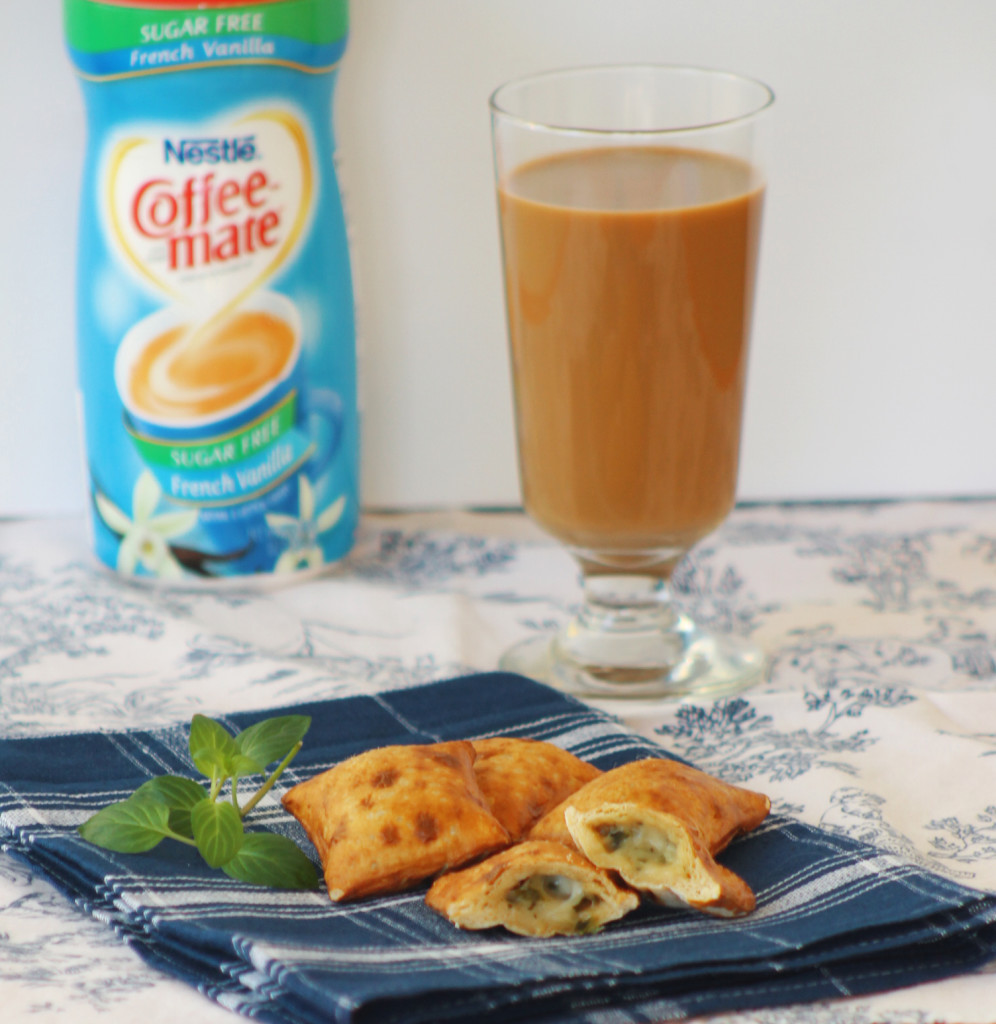 5. Make better choices when it comes to what you drink.  If you can not function without that morning latte skip the coffee shop and make it at home.  Not only will you be saving money but you will also have more control over what you are putting in your cup.  Adding some better for you sugar free french vanilla Coffee Mate to your morning cup of joe will not only make it taste great; you will also be drinking a lot less calories than you would if you used a creamer packed with sugar.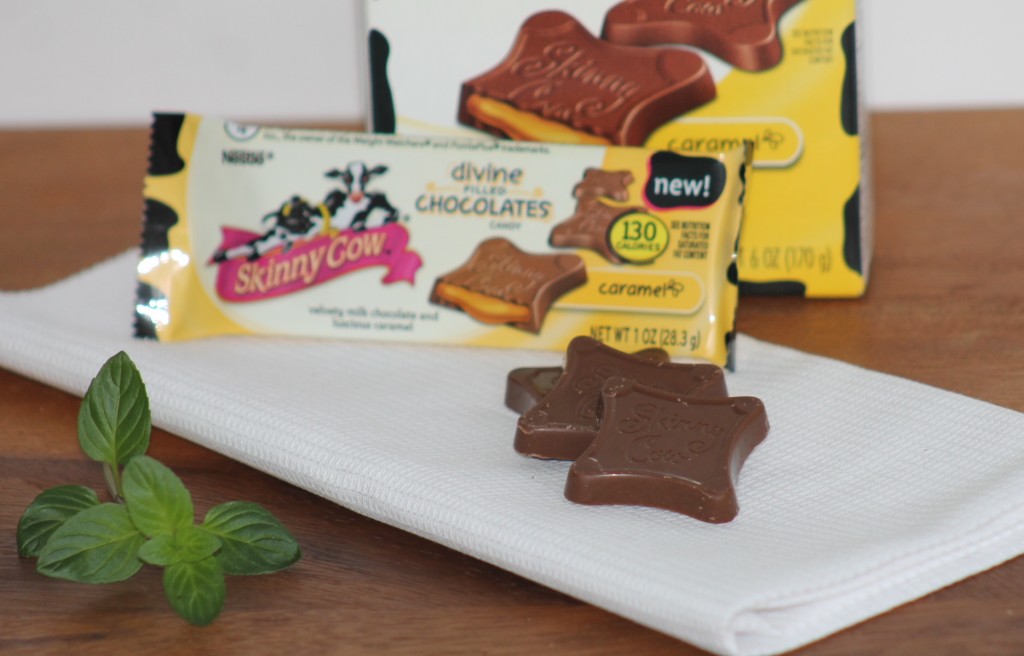 6. Reward yourself with a treat that won't make you feel guilty. We all get those cravings and I just can't live without chocolate.  There is no reason to deprive yourself, simply find something you love but that doesn't pack tons of calories and fat.  My favorite treat is the Skinny Cow divine chocolates filled with caramel.  They are melt in your mouth delicious, they have only 130 calories and they come separate packs so I don't get the temptation to continue eating the whole box!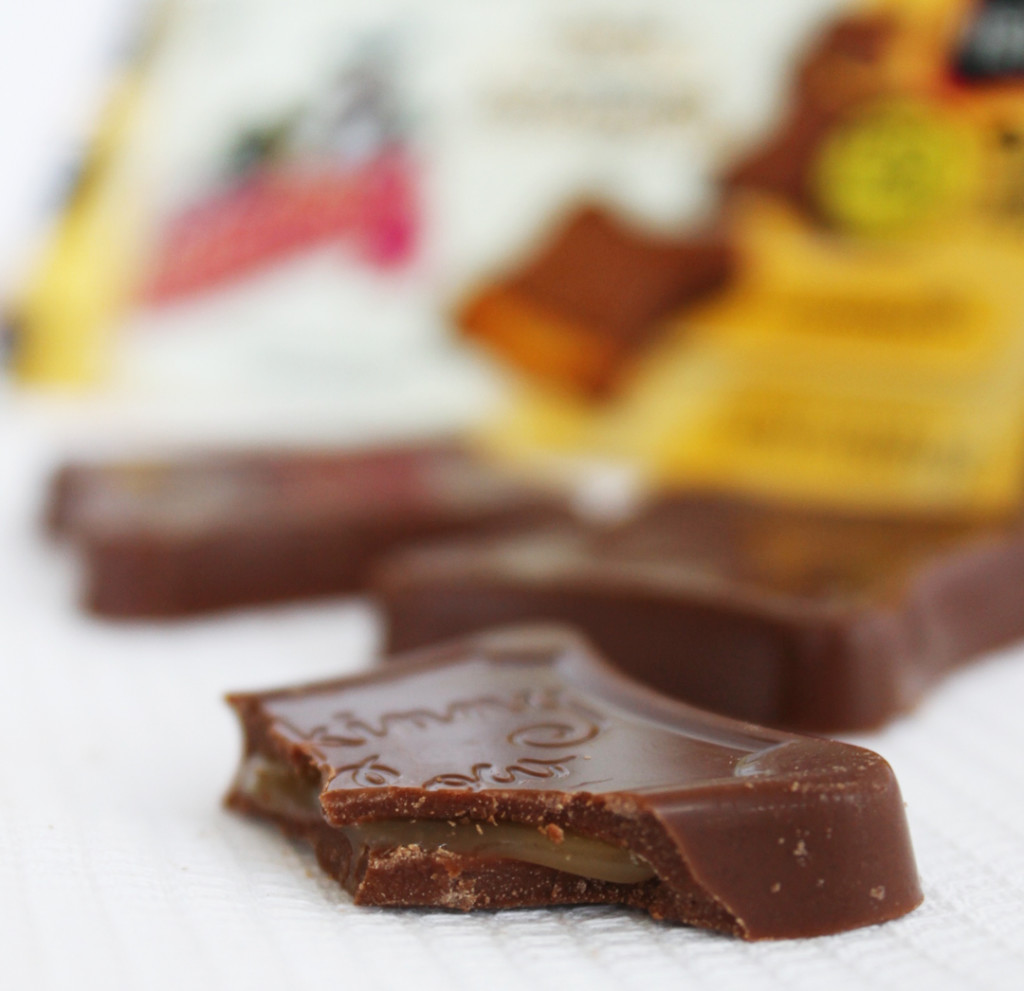 7. Stock up on smart options when you go grocery shopping. If you have junk food at home you will end up eating junk food. That is why on my last trip to Walmart I looked for new options, foods that would help me maintain a balanced lifestyle and at the same time make my life a lot easier. I stocked up and got the Lean Cuisine Macaroni & Cheese, Lean Cuisine Sesame Chicken, Lean Cuisine Morning Collection Turkey Sausage English Muffin, Lean Cuisine Wrap Additions Creamy Balsamic Chicken ant the Lean Cuisine Three Cheese & Spinach Stuffed Pretzels along with the sugar free French Vanilla Coffee Mate and the Skinny Cow Divine chocolates.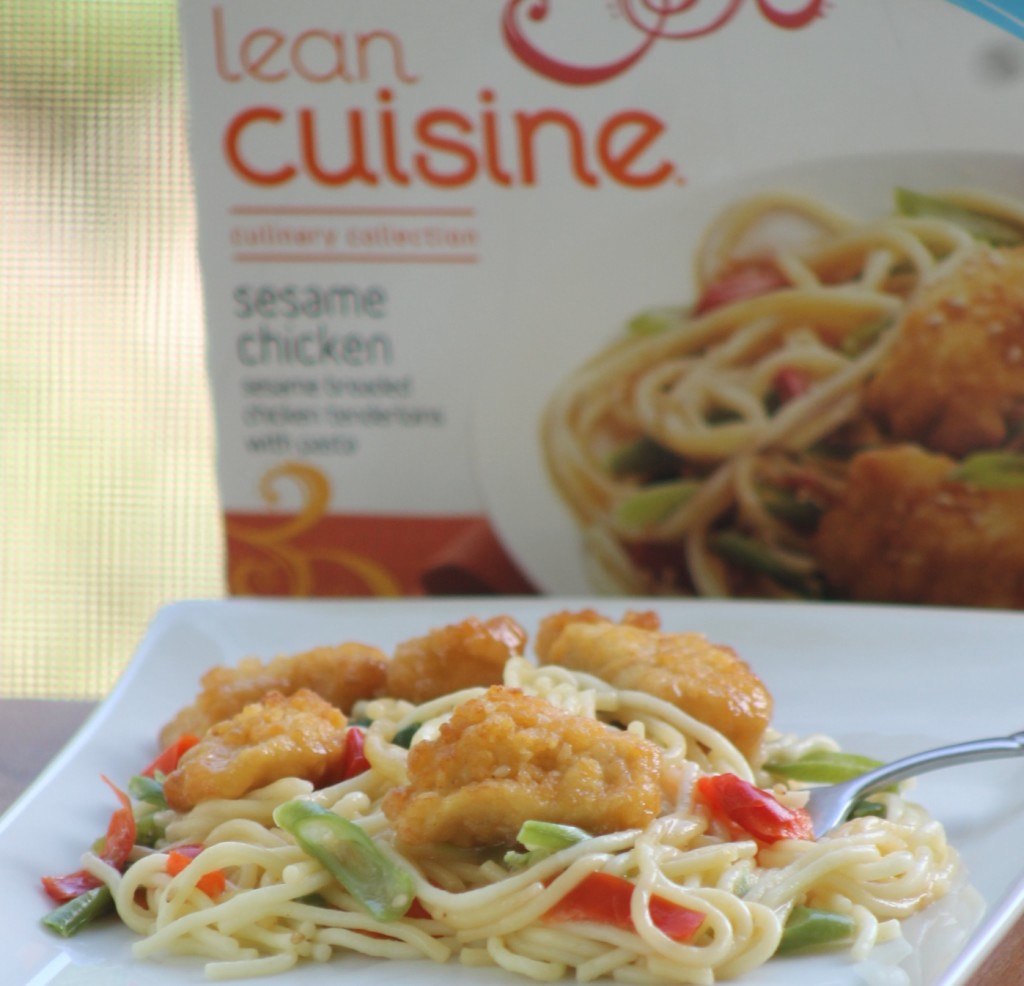 [important]For a limited time only, you can try any 10 LEAN CUISINE® entrees for ten days and if you don't believe you feel great after 10 days, they will refund the cost of your 10 days of entrees, up to $25.00, plus any sales tax. #WowThatsGood ! This is only for a limited time and only at Walmart.  You can see all the details for the LEAN CUISINE money back guarantee on the Walmart website here.#WowThatsGood [/important]

So if you haven't checked out all the amazing options that Lean Cuisine has this is the chance. What do you have to loose?  I am ready to get back on track and make the best choices for maintaining a balanced lifestyle.  What are you doing to get back on track?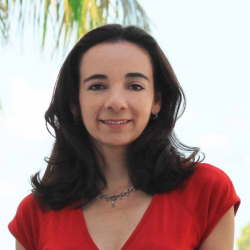 Latest posts by Paula Bendfeldt-Diaz
(see all)