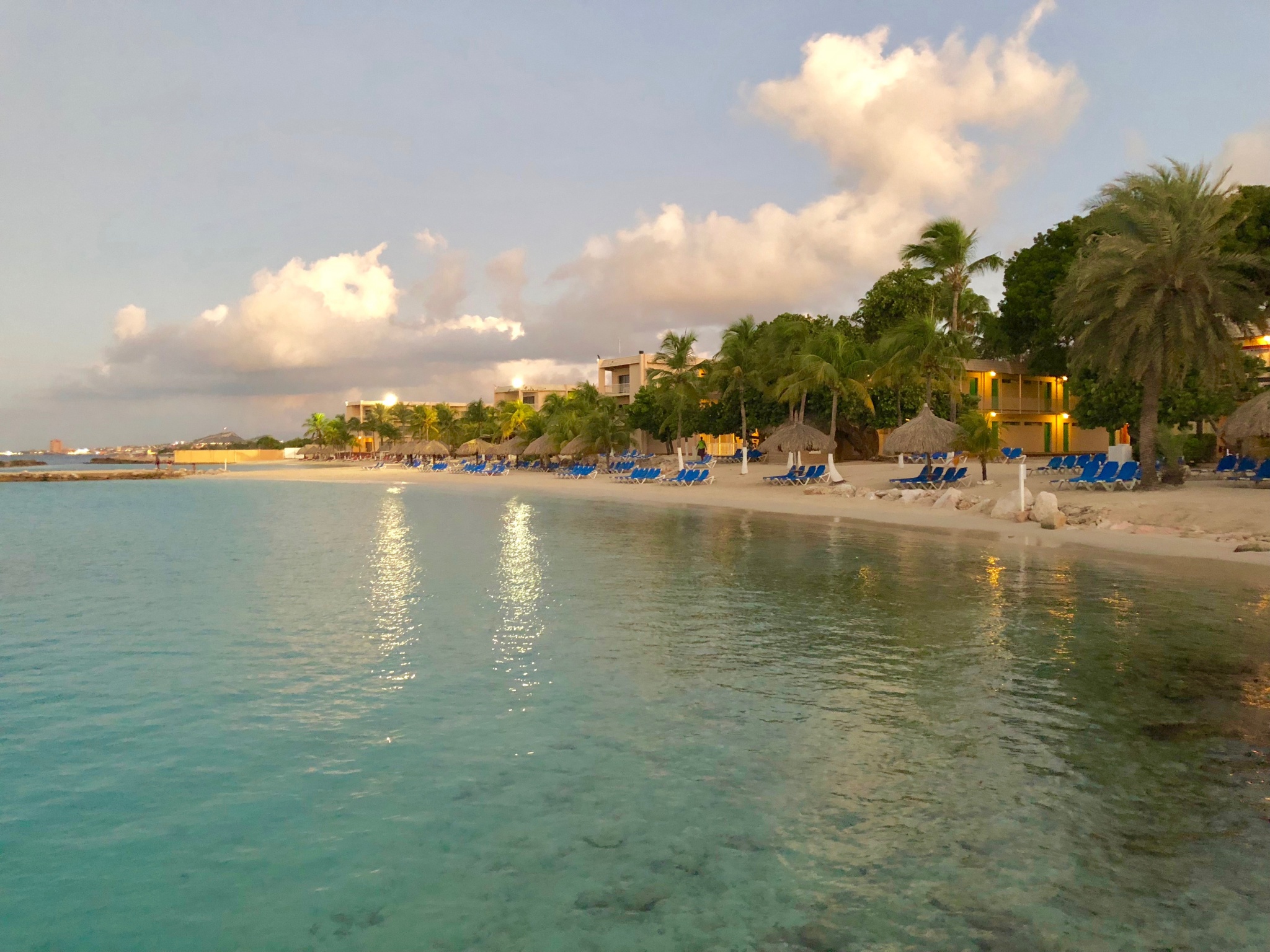 When you think of traveling to the Caribbean Curaçao is probably not at the top of your list, but it should be. Curaçao is not as well known as other more popular Caribbean islands but if you're planning a Caribbean vacation you need to consider Curaçao. We fell in love with this often overlooked island paradise and here are the reasons why we can't wait to go back!
Amazing Weather
Because Curaçao is outside the hurricane belt it is rarely hit by storms. This hurricane season has been so devastating with hurricanes causing so much damage not only in the Caribbean but also here in the US. Our own home was damaged by Irma and I would be hesitant to plan a Caribbean vacation during hurricane season, but when planning a trip to Curaçao you don't have to worry about hurricanes at all! Additionally, the island has an arid, desert-like climate which means there very few chances of your beach vacation being rained on! Curaçao's temperatures are perfect year around it's never too hot with a yearly average high temperature of 88ºF and an average yearly low of 78ºC.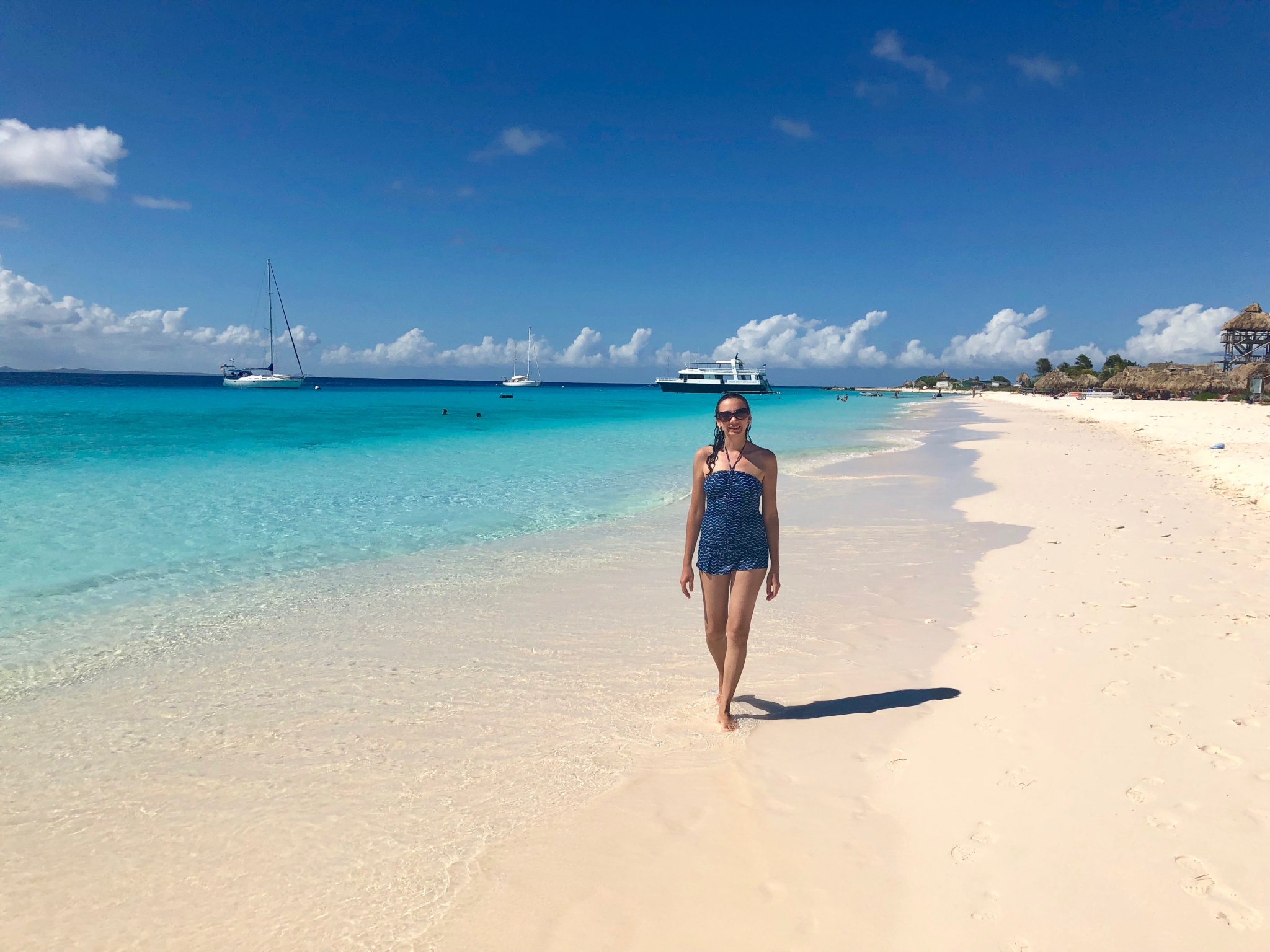 Coming from Florida where the weather is still hot and muggy in November with temperatures in the high 80's during the day and lots of humidity we could not believe how amazing the weather was in Curaçao with temperatures fluctuating only a few degrees from day to night; the days where warm, sunny and dry with lower humidity than what you would expect in a Caribbean island and the nights where warm but never hot and perfect for dining outdoors. It's hard to believe that there is a place with such a perfect weather!
Spectacular Beaches
Curaçao has beautiful beaches, most of them are not long stretches of sand but usually smaller secluded beaches with dazzling clear turquoise waters and great snorkeling. There are countless beaches and there is something for everyone, from small deserted beaches where you may be lucky to get the beach all to yourself to beaches like the Aquarium Beach and Cas Abao where you can rent a beach chair and find restaurants and services. Many of the resorts have great beaches, we loved the beach at Sunscape Curaçao Resort, Spa & Casino with its wave breaker and peaceful, gently sloping beach, perfect for families with kids.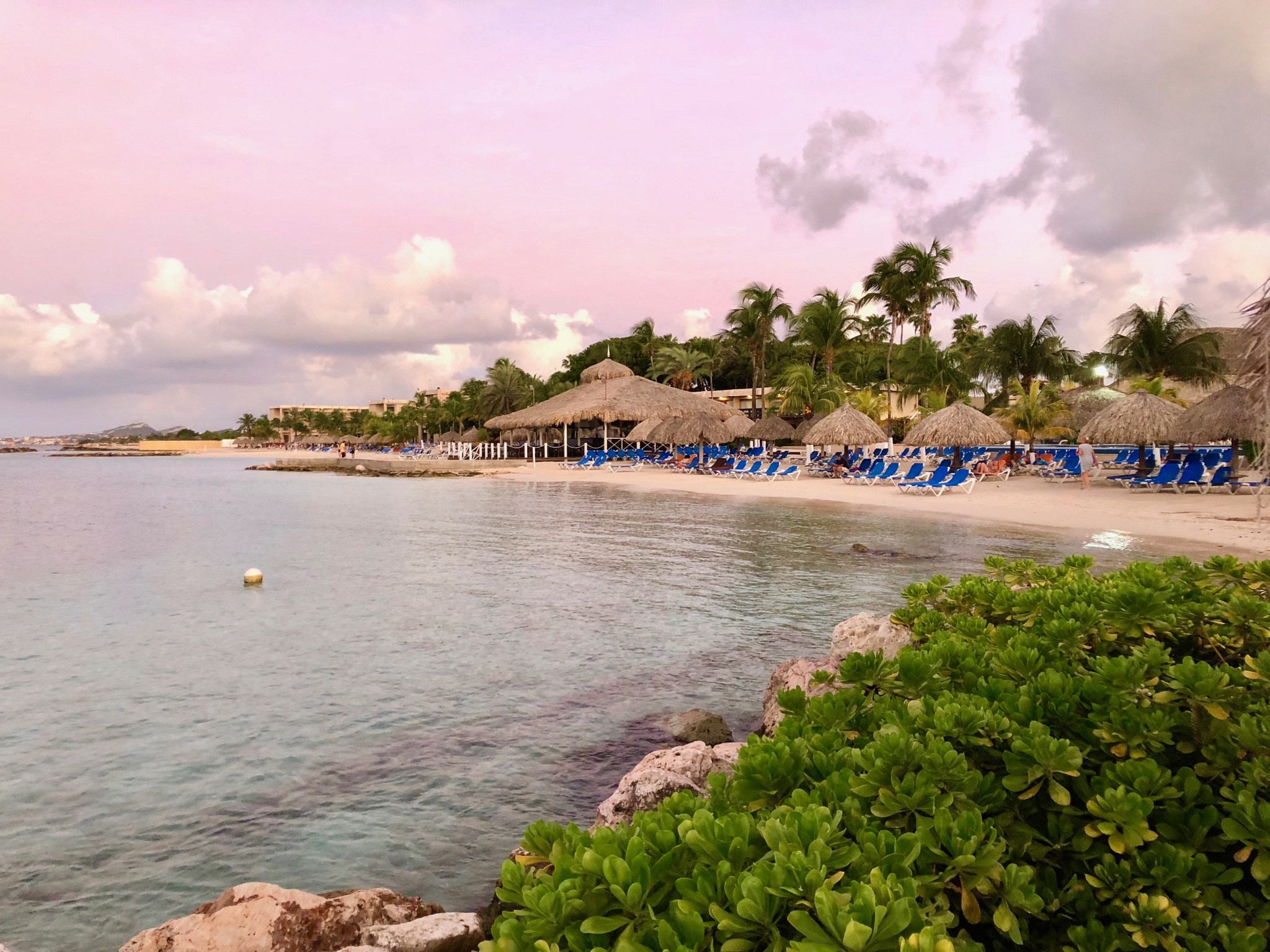 For the whitest powder-like sand and the longest stretch of beach in Curaçao head to Klein Curaçao, a tiny island off the southeast coast. We took a day trip to Klein Curaçao and I think it's one of the most beautiful beaches I've ever been to!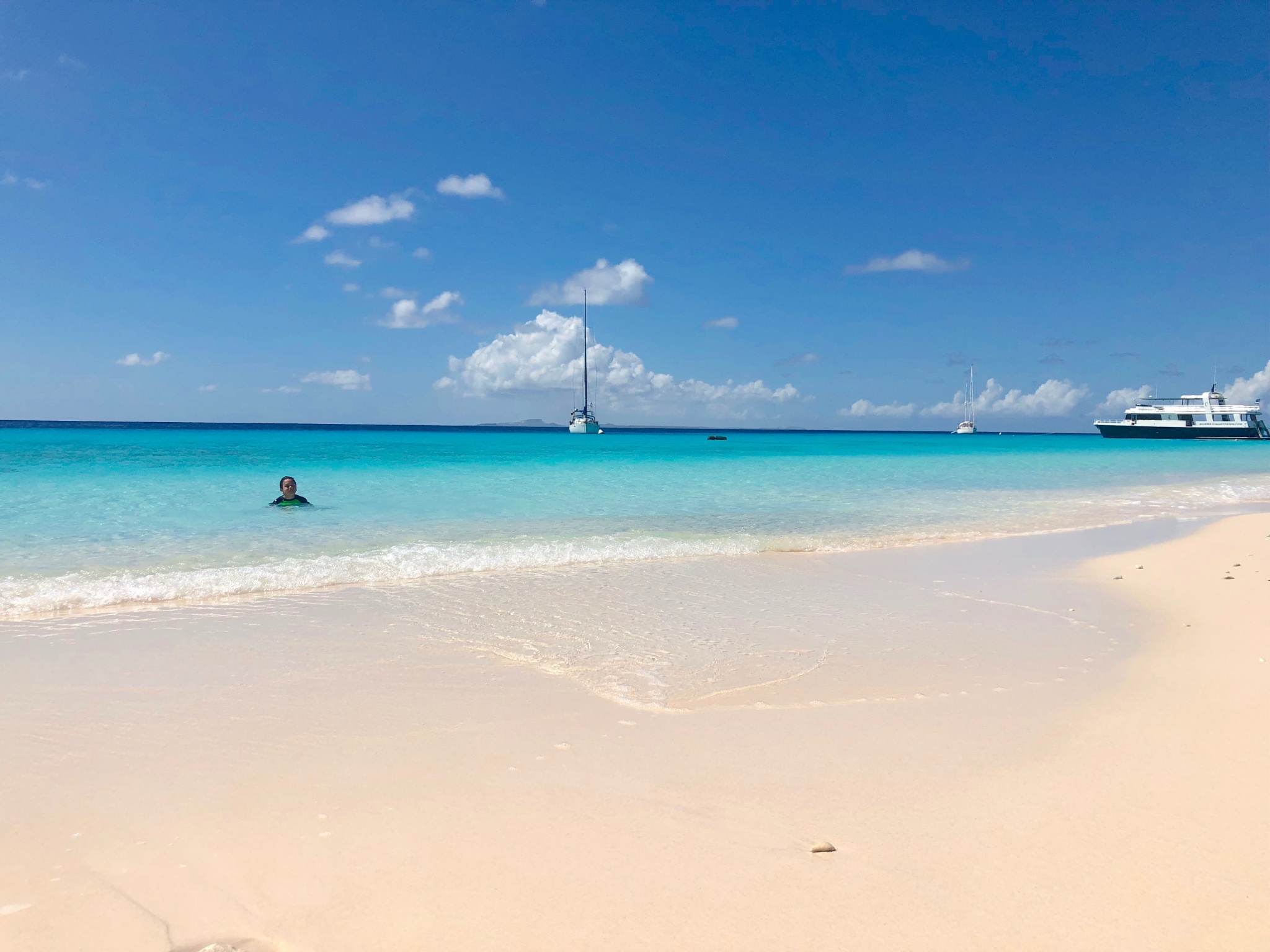 Because of its beautiful reefs, there are sometimes coral pieces in the water in some of the beaches so I would recommend wearing water shoes when going into the water.
Affordable Prices
Curaçao was named as one of "The 30 Cheapest Places To Travel in 2017" and what could be better than an island paradise where your dollar goes further? There are also lots of offers for resorts during low season. I did find that transportation via cab quite pricey, so opt for public transportation or better yet rent your own car so you can explore the island and access some of its more secluded beaches.
Incredible Snorkeling And Scuba Diving
Curaçao is considered one of the best places for scuba diving in the world. There are countless diving experiences to choose from beautiful coral gardens and healthy reefs to shipwrecks. Currents are mild and the crystal clear waters give you underwater visibility up to a 100ft.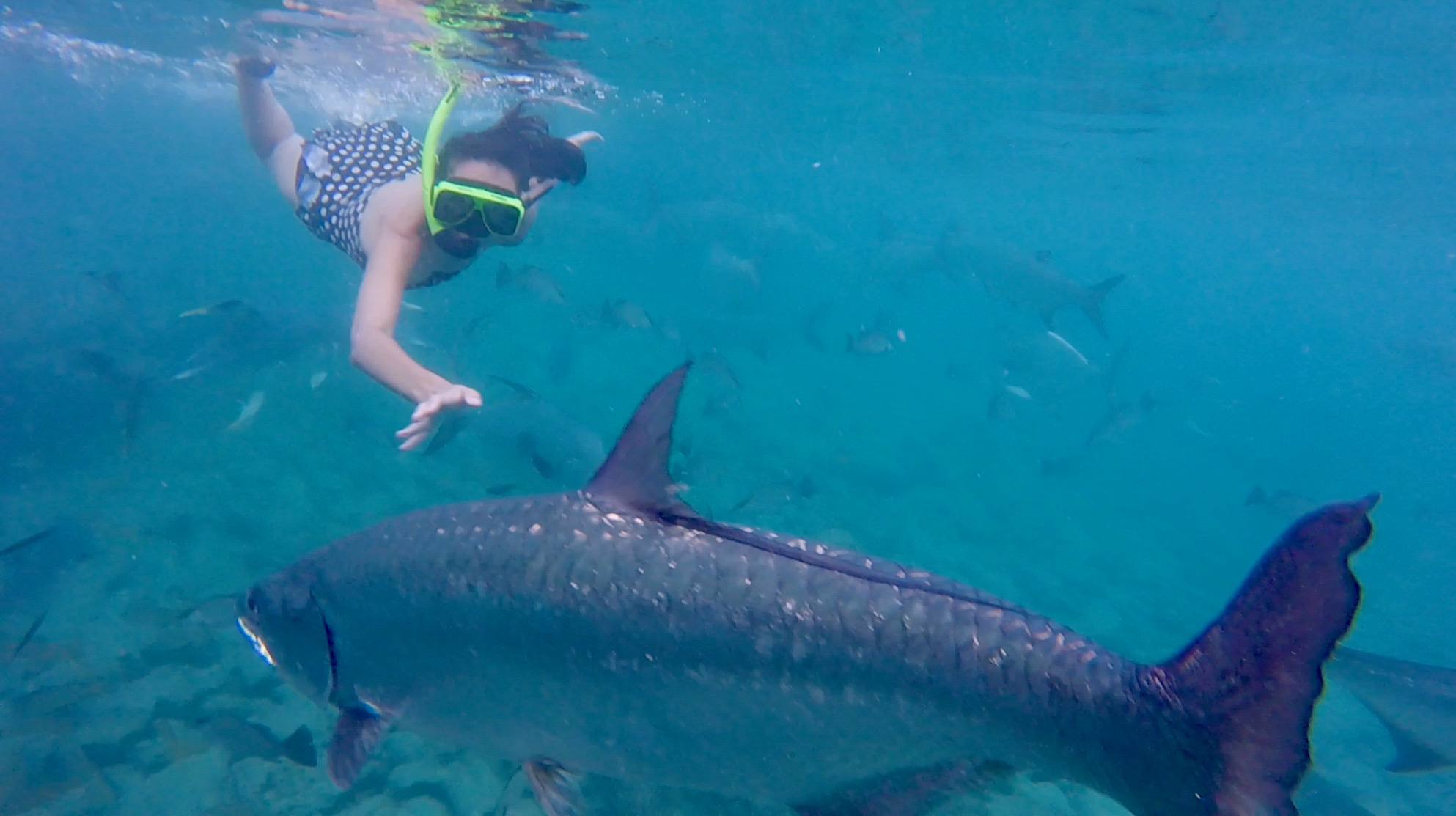 In most places, diving and snorkeling require boat trips out to barrier reefs but in Curaçao, many of the diving sites are accessible right from the beach. Even if you don't dive there are countless opportunities to snorkel as well. We did a lot of snorkeling while we were there and got to see so many fish and even two sea turtles.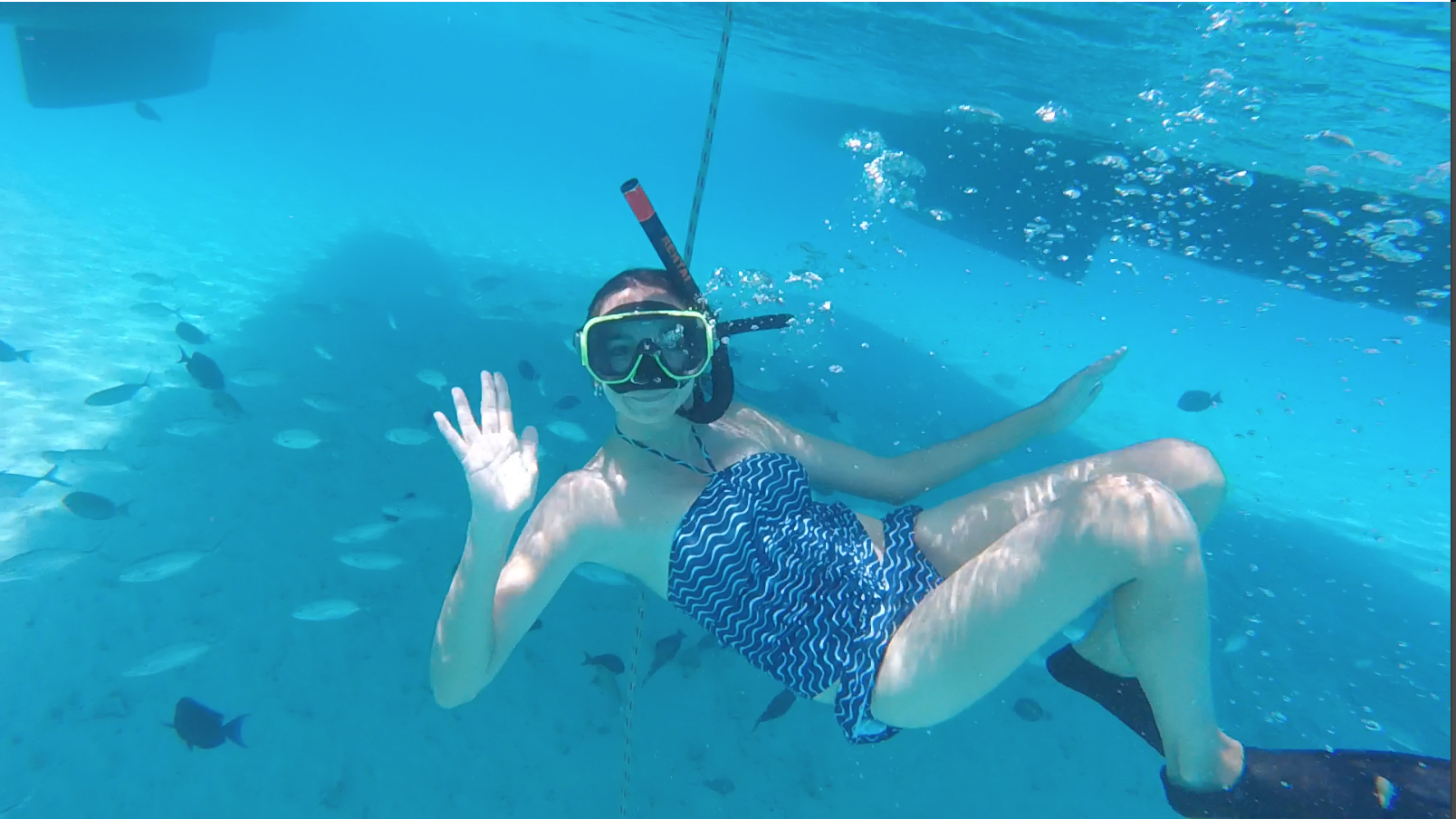 A Unique Culture And International Vibe
Although I love a beautiful beach as much as anyone else being exposed to a new culture and learning about a country's history is also very important for me when I travel and Curaçao is, without of a doubt, one of the most interesting Caribbean islands. Curaçao offers a unique and eclectic culture. Its rich and turbulent history has brought to this island paradise Dutch, French and Spanish colonists and explorers, Portuguese Jews displaced by the Inquisition, slaves brought from Africa and most recently an influx of immigrants from troubled Venezuela. All of these cultures blended with the native Arawaks have created a fascinating and intriguing combination that is reflected in everything from its food to its architecture.
Curaçao has one of the longest carnival celebrations in the Caribbean, with festivals and parades spanning from the last week of January to mid-February. We got a little taste of Carnaval at our resort and the music and costumes where amazing!
We were surprised to see that everyone in Curaçao speaks multiple languages. There are three official languages: Dutch, English, and Papiamento (a local Portuguese creole language) but we found that most people also speak Spanish due to its proximity with Colombia and Venezuela and many speak Portuguese. We loved that the kids were able to practice their Spanish and we spoke Spanish during our entire stay there. It was wonderful for them to see a country where so many languages as spoken and where most of the tourists were from Europe or Latin America.
Beautiful Architecture
Not a lot of people know this but I am an architect and a huge architecture buff and I just fell in love with Willemstad, Curaçao's capital. Willemstad's architecture is not only unique but also beautiful combining both Duch and Spanish colonial architecture with fun Caribbean colors and influence.

Due to its rich history and unique architecture, Willemstad is a designated UNESCO World Heritage Site. You can explore its six distinct historical neighborhoods and visit the oldest Synagogue in the Americas; the Hope of Israel-Emanuel Synagogue which dates back to 1728.
The famous Queen Emma floating pontoon bridge which swings open to let boats pass and it connects the Punda and Otrobando historic districts. At night it lights up with beautiful colors.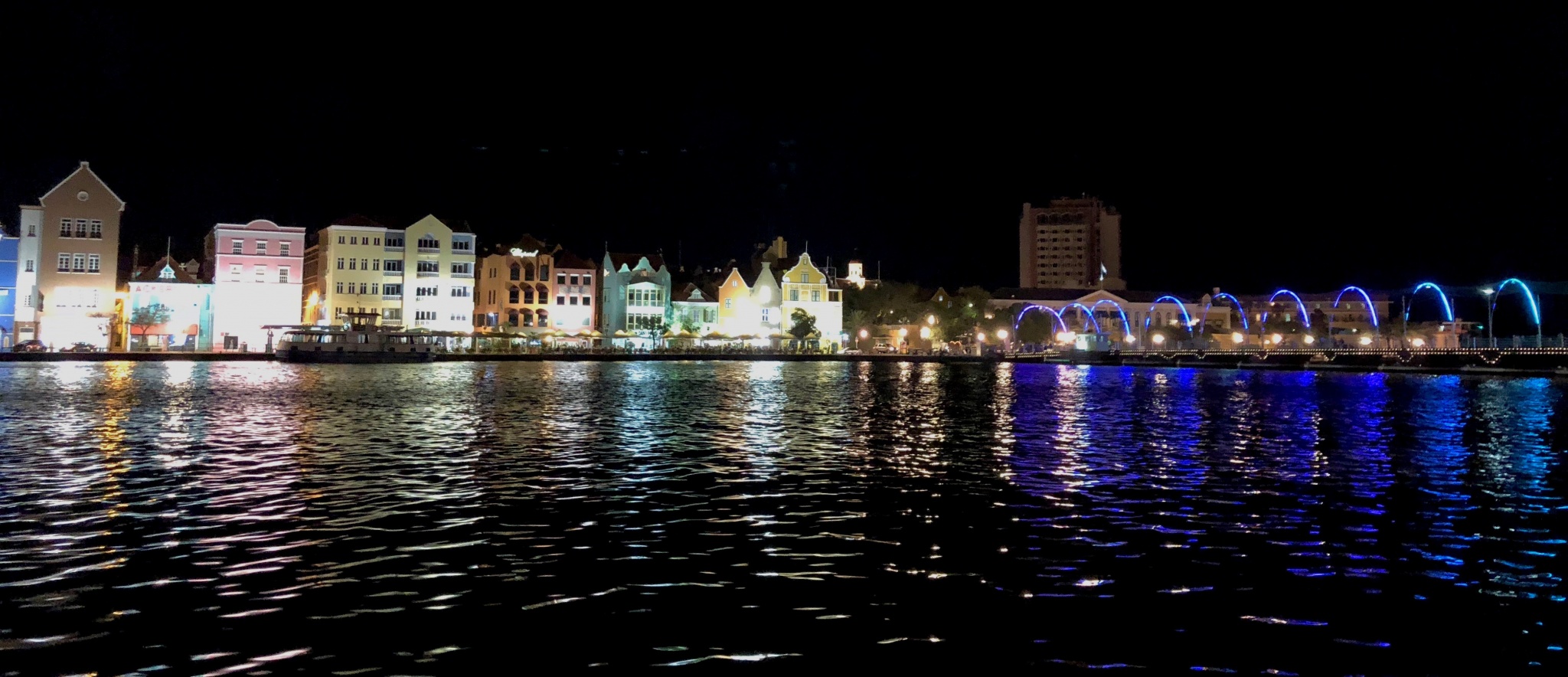 You can take a city tour which will give you a chance to explore less known areas of the city and learn about its history.
Exciting And Delicious Food
Because Curaçao is a melting pot of different cultures this is also reflected in its food and in the types of restaurants, you can find on the island. Curaçao's Krioyo cuisine ("Creole") brings together Dutch, Caribbean and Latin American flavors. I really loved that although many of the dishes were new to me there where always flavors and ingredients that I found familiar like fried plantains or the Caribbean version of flan: kesio.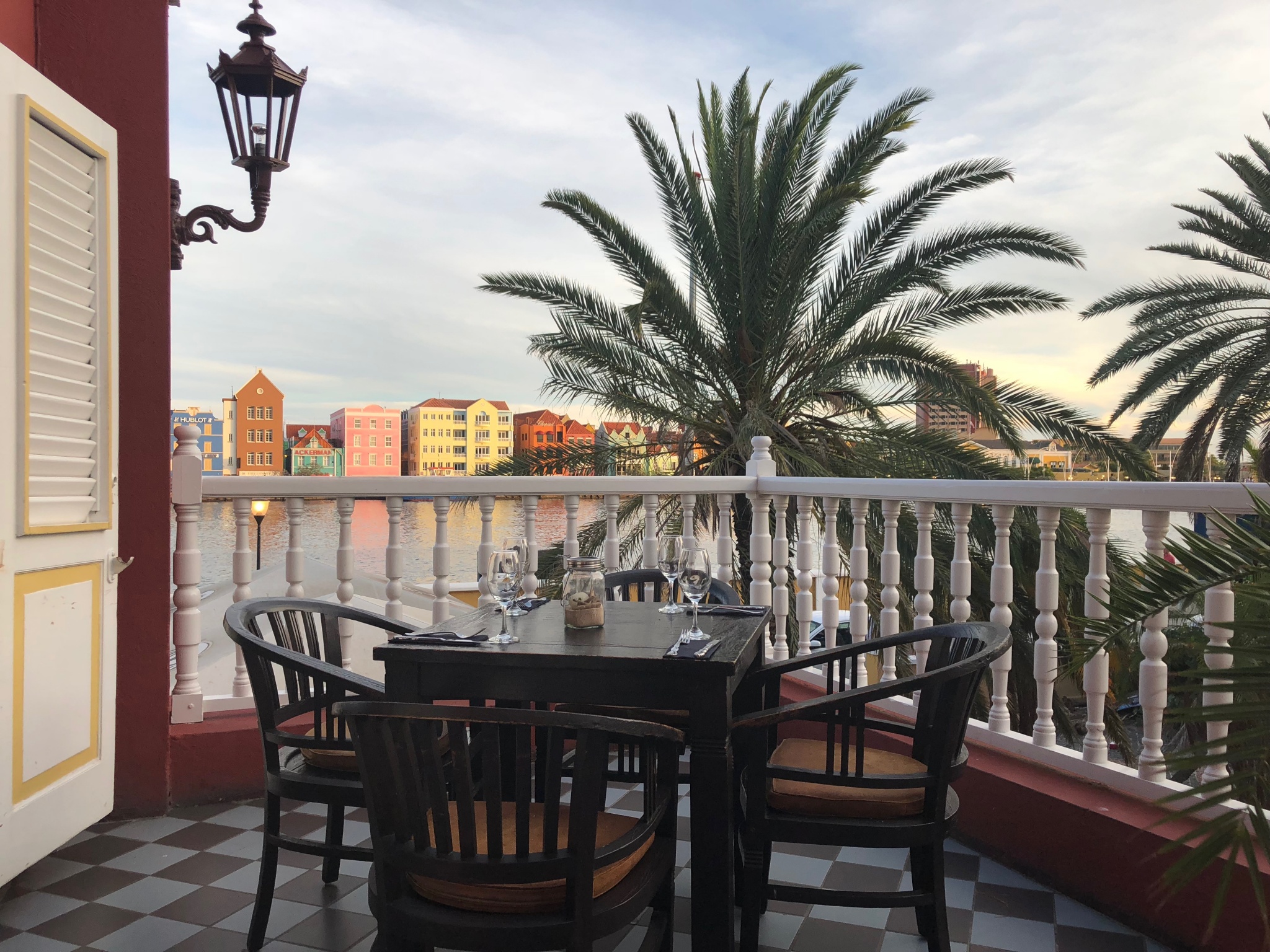 We had dinner at the Gouverneur de Rouville, a restaurant which specializes in Curaçaoan cuisine and is located in a beautiful historic building with an amazing patio and fantastic views of Willemstad.
The food was exquisite and the service wat the best service we had on the island and service was consistently good in Curaçao, so that's a lot to say. The manager was very accommodating and sat us before the restaurant even opened for dinner because the kids were hungry and prepared something special (the most delicious grilled cheese sandwich) for my 9-year-old who has food texture sensitivities and has a hard time eating a lot of foods. I really liked that they had a good combination of international and authentic local dishes. I tried the kabritu curry, a local dish of coconut milk braised goat and it was fantastic!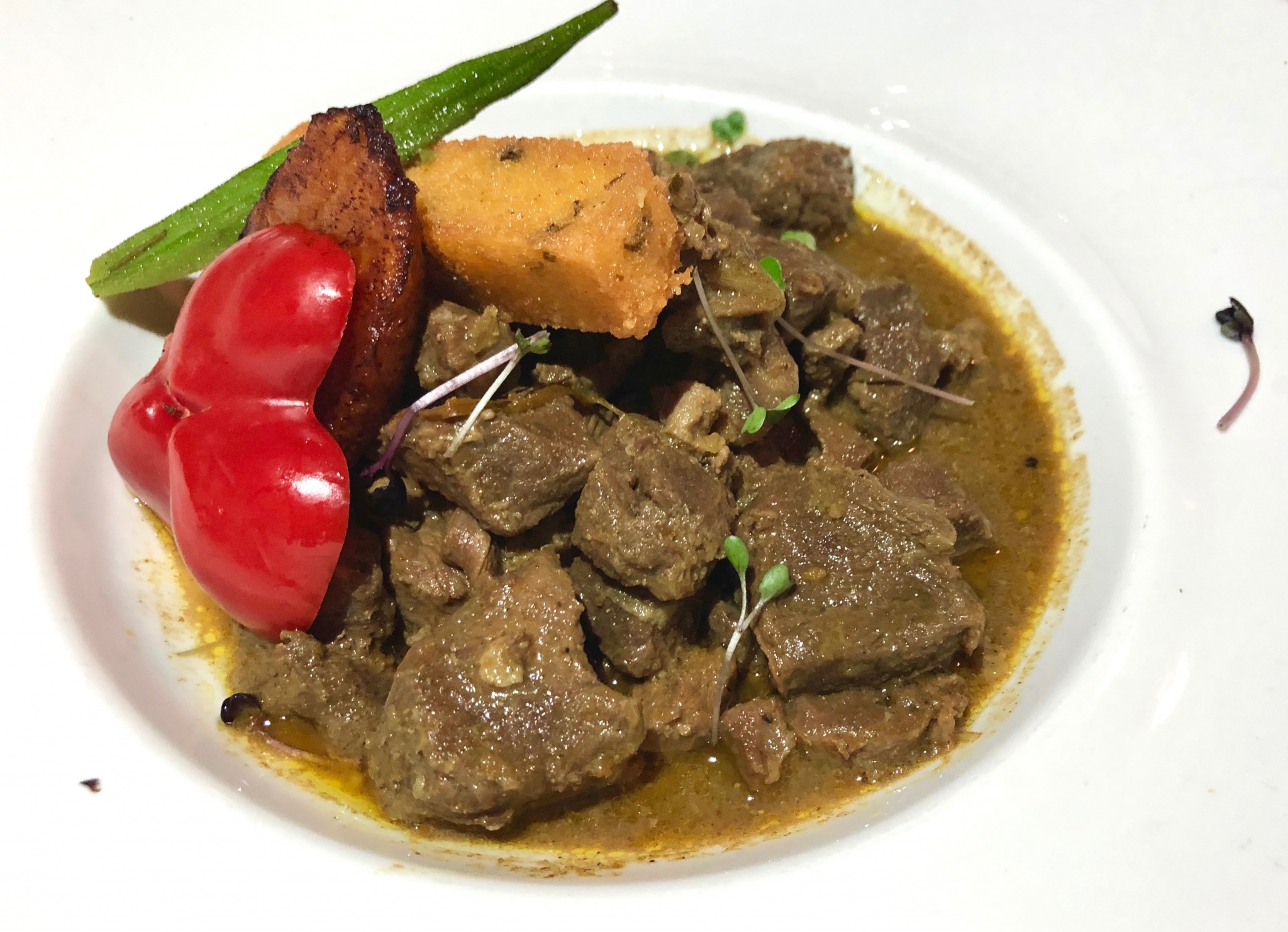 For a more authentic experience be sure to visit the open air Old Market market where vendors cook chicken, goat and fish dishes and you can eat on picnic tables you share with locals and tourists. You can also take a private food tour on Curaçao and discover the local flavors with a knowledgable guide that will not only take you to the favorite local spots but also share with you the history behind the authentic Curaçaoan dishes.
Tempting Blue Cocktails
Yes, the Blue Curaçao liquor is made in Curaçao and you can even tour the distillery. The liquor is made using the peel of a fragrant citrus fruit grown in the island and although the blue color is just for show it's a perfect color match to the turquoise blue waters of its beaches! I enjoyed trying countless tropical cocktails made with Blue Curaçao each one more delicious and beautiful than the one before it.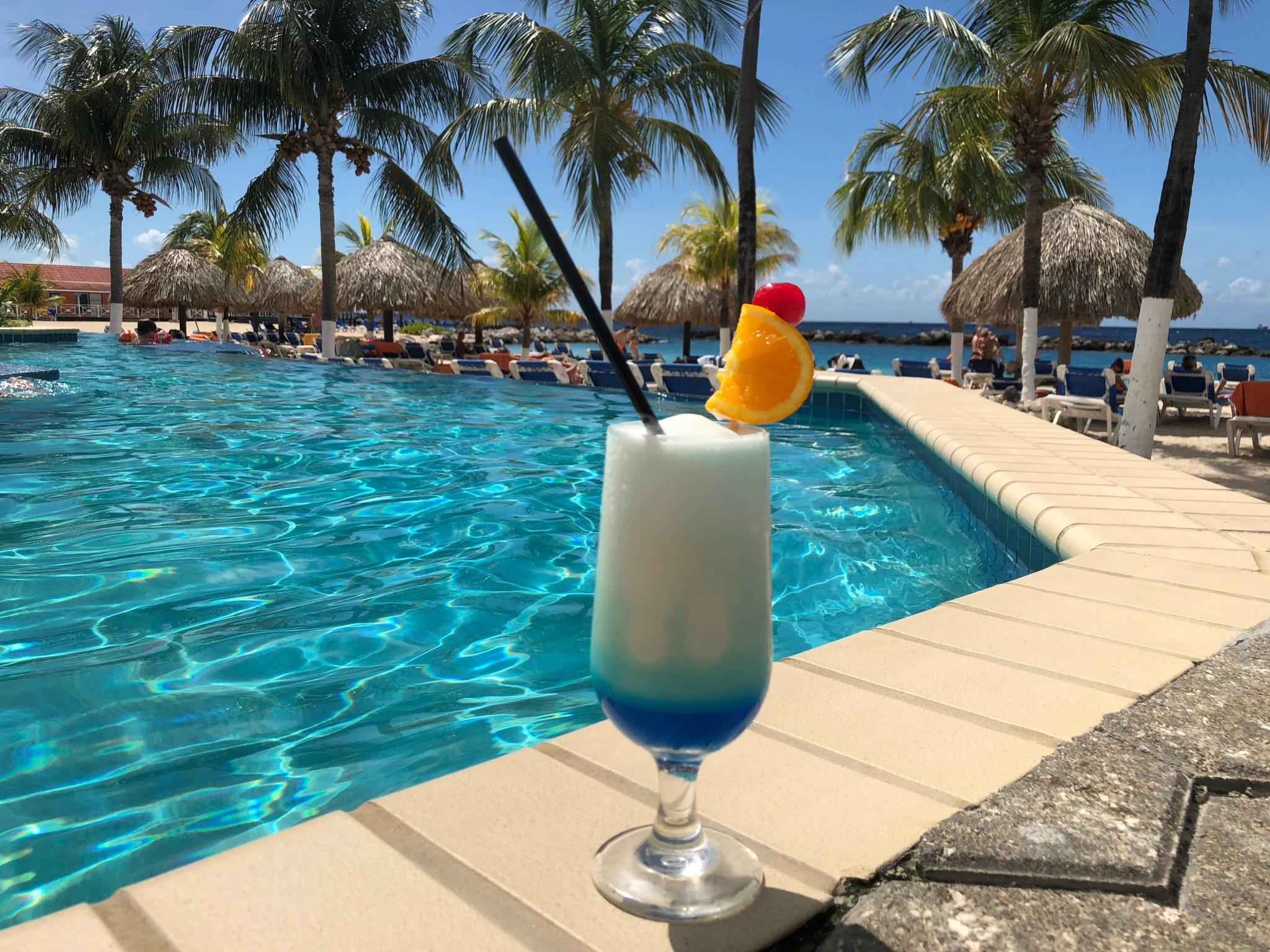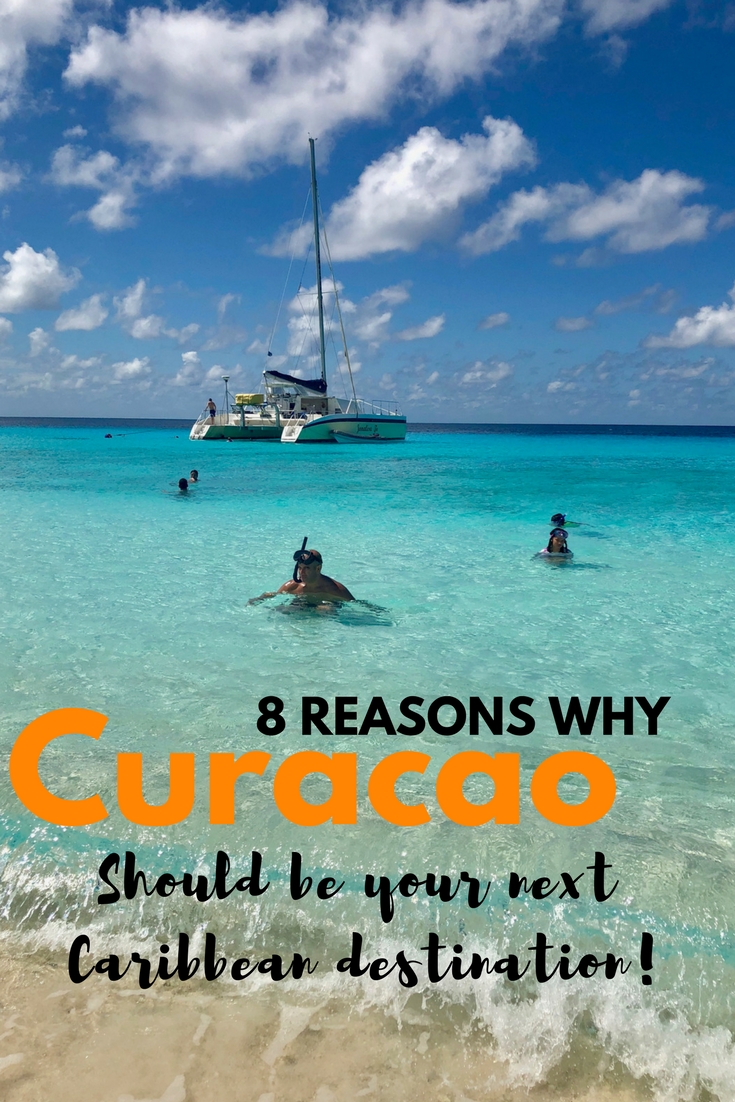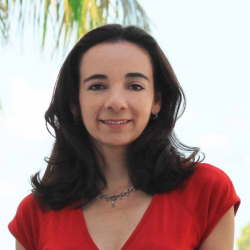 Latest posts by Paula Bendfeldt-Diaz
(see all)