This shop has been compensated by Collective Bias, Inc. and its advertiser. All opinions are mine alone. #SandwichWithTheBest #CollectiveBias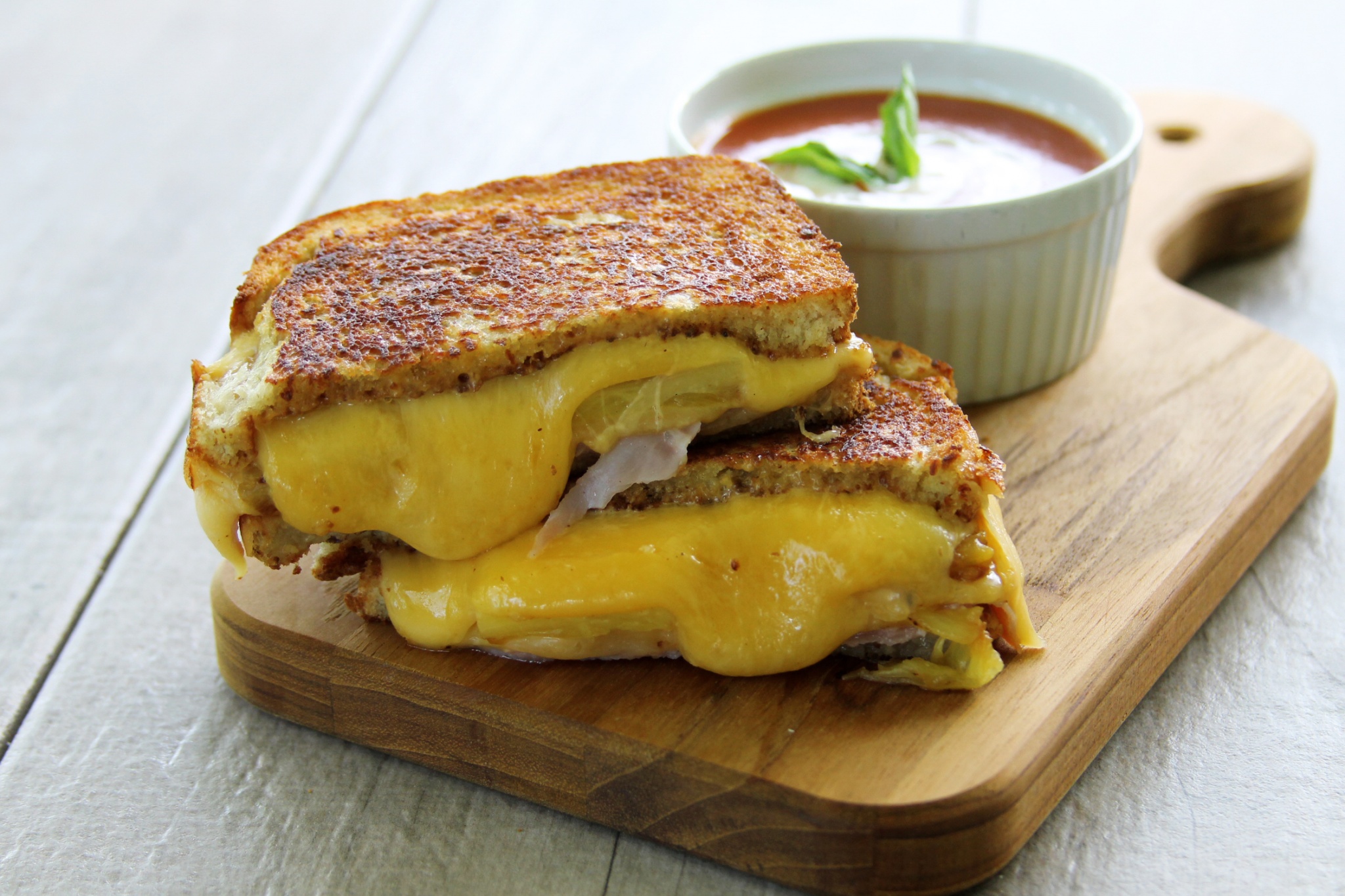 This take on the traditional grilled ham and cheese sandwich adds some tropical flavor with grilled pineapple and teriyaki mayo.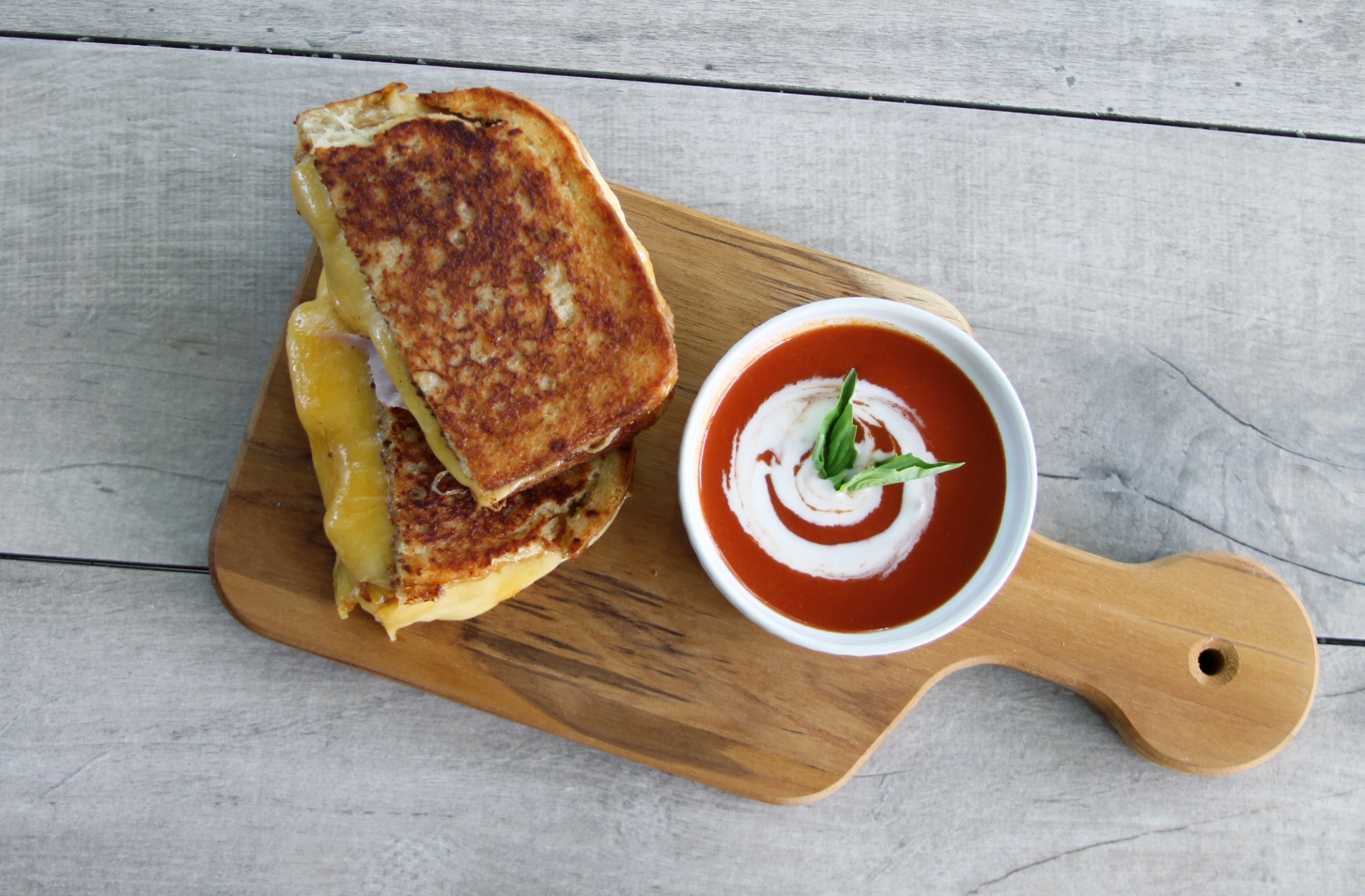 There is no greater bliss that biting into a warm and gooey grilled ham and cheese sandwich; slightly crunchy golden brown bread that gives way to a center filled with warm ham and oozing melted cheese. Although a grilled ham and cheese sandwich is easy to make there are a few things that will take your sandwich from good to fantastic and I am about to share some of those secrets with you now. Here are my secrets of the ultimate grilled ham and cheese sandwich.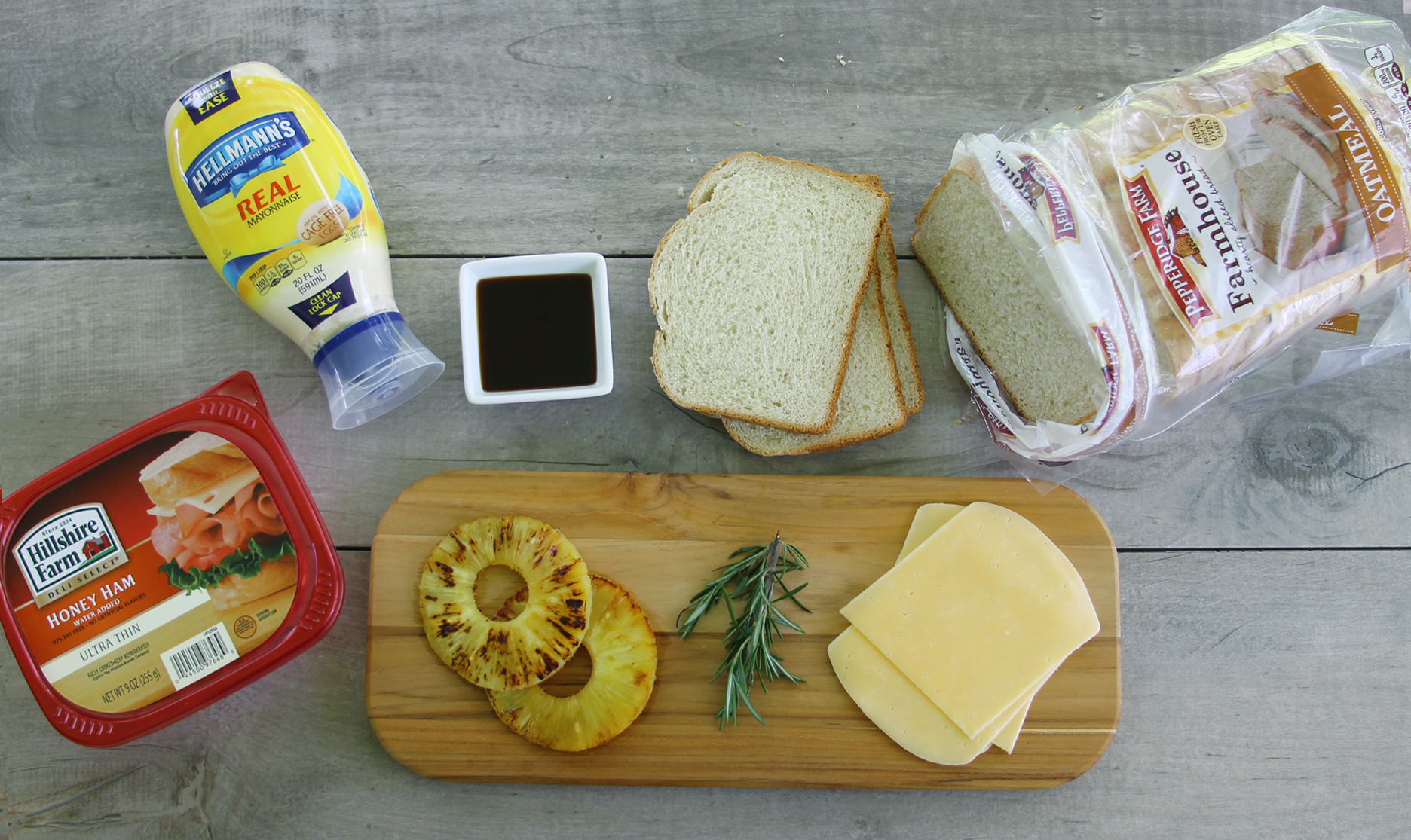 It all starts with amazing bread and great ingredients. When you are making a grilled ham and cheese sandwich you need to use the right bread: it should not be crusty or have too many air bubbles yet it should be hearty. My favorite breads are the Pepperidge Farm Farmhouse ™ Oatmeal and the Pepperidge Farm Farmhouse ™Hearty White bread; slow baked, hearty and delicious the Pepperidge Farm Farmhouse™ breads are crafted from a small batch recipe and have a fresh from the oven taste. For this recipe I am using Hillshire Farm® Thin Sliced Honey Ham because of it's great taste which comes from it being slow roasted for hours. Not only does it taste great but it contains no artificial flavors, no by-products.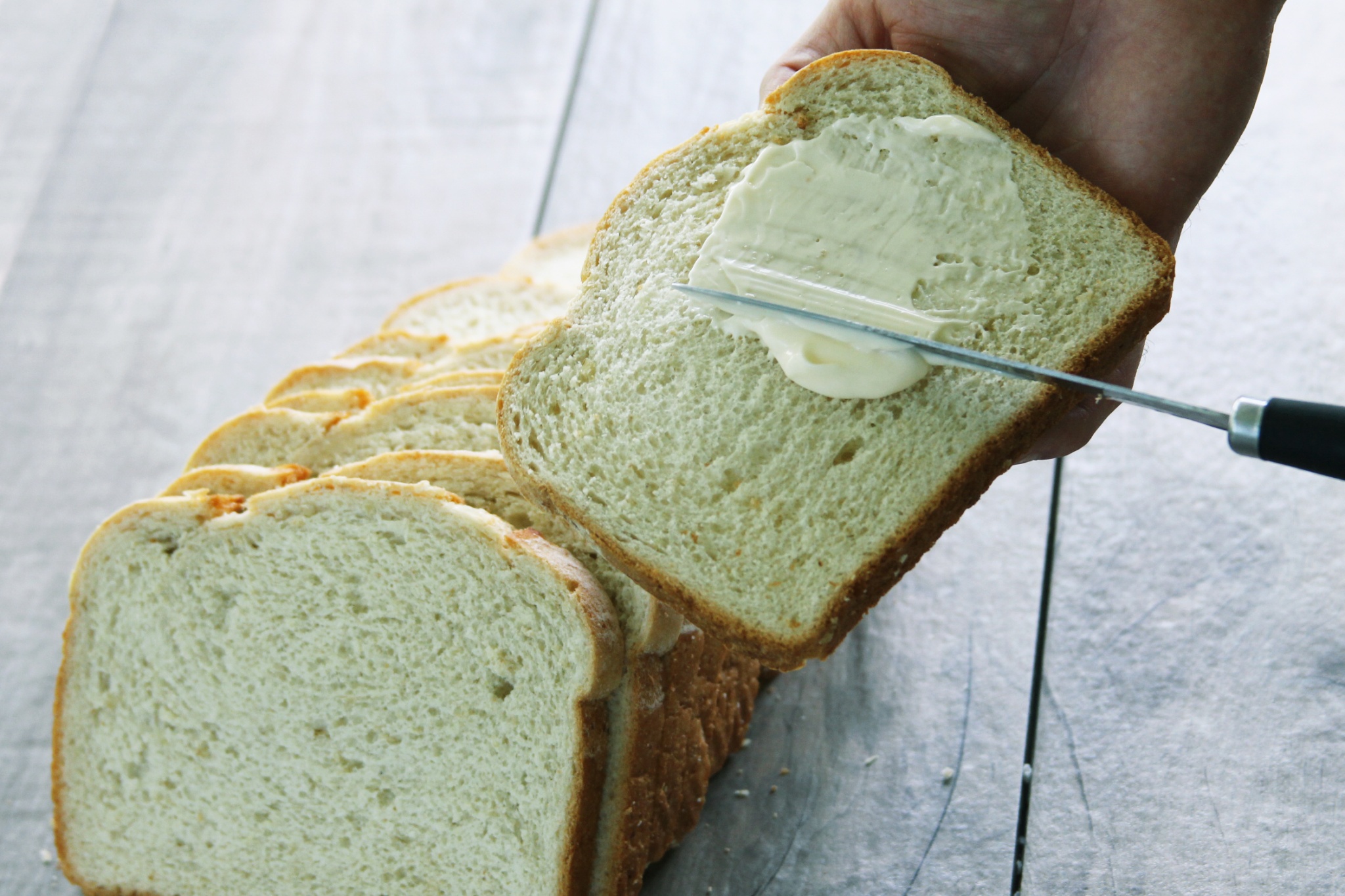 Mayo and patience. Spread the outsides of the sandwich with Hellmann's® Real Mayonnaise and fry it up in a non-stick skillet over medium low heat. The mayo browns into a delicious crust and offers a rich, slightly tangy flavor taking your grilled sandwich from ok to transcendental. Give the sandwich a few swirls or apply light pressure to the bread to make sure the bread browns evenly. Do not turn up the heat or you will get a sandwich that is warm on the outside and cold on the inside so keep the temperature at low medium heat and have patience if you want a perfectly grilled sandwich.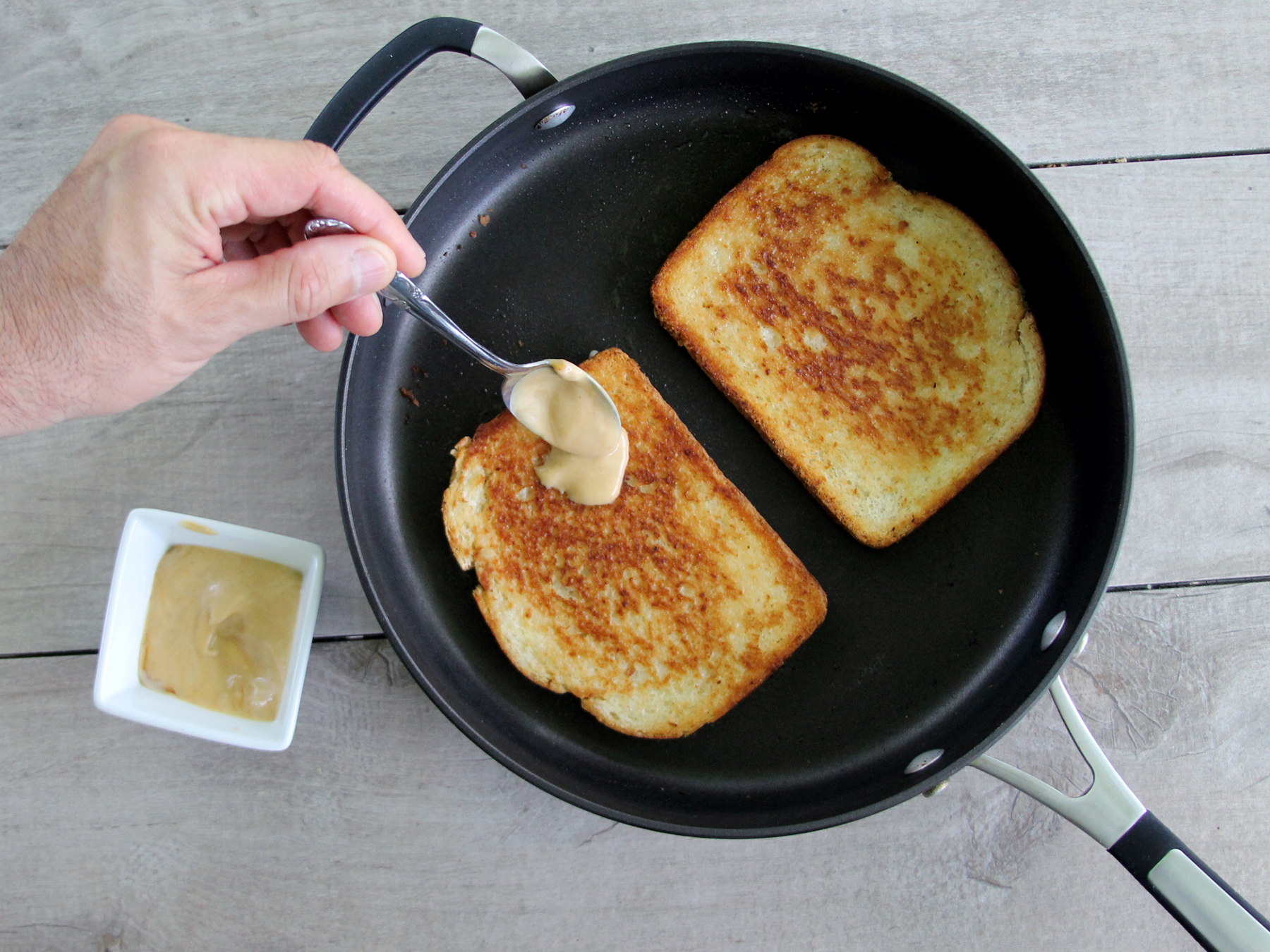 The grilled sandwich secret. To make the ultimate grilled ham & cheese sandwich fry the bread on both sides. Yes you read that correctly: place two slices of bread skillet once they are browned on one side turn them around and place your cheese and any other ingredients on the browned sides. Then close your sandwich. Grill until the bottom side is golden brown then turn it and grill the other side until golden.  By doing this you add more delicious tangy flavor to your bread and you create a firm and warm surface for your cheese and other ingredients which gives the cheese a head start in the melting process.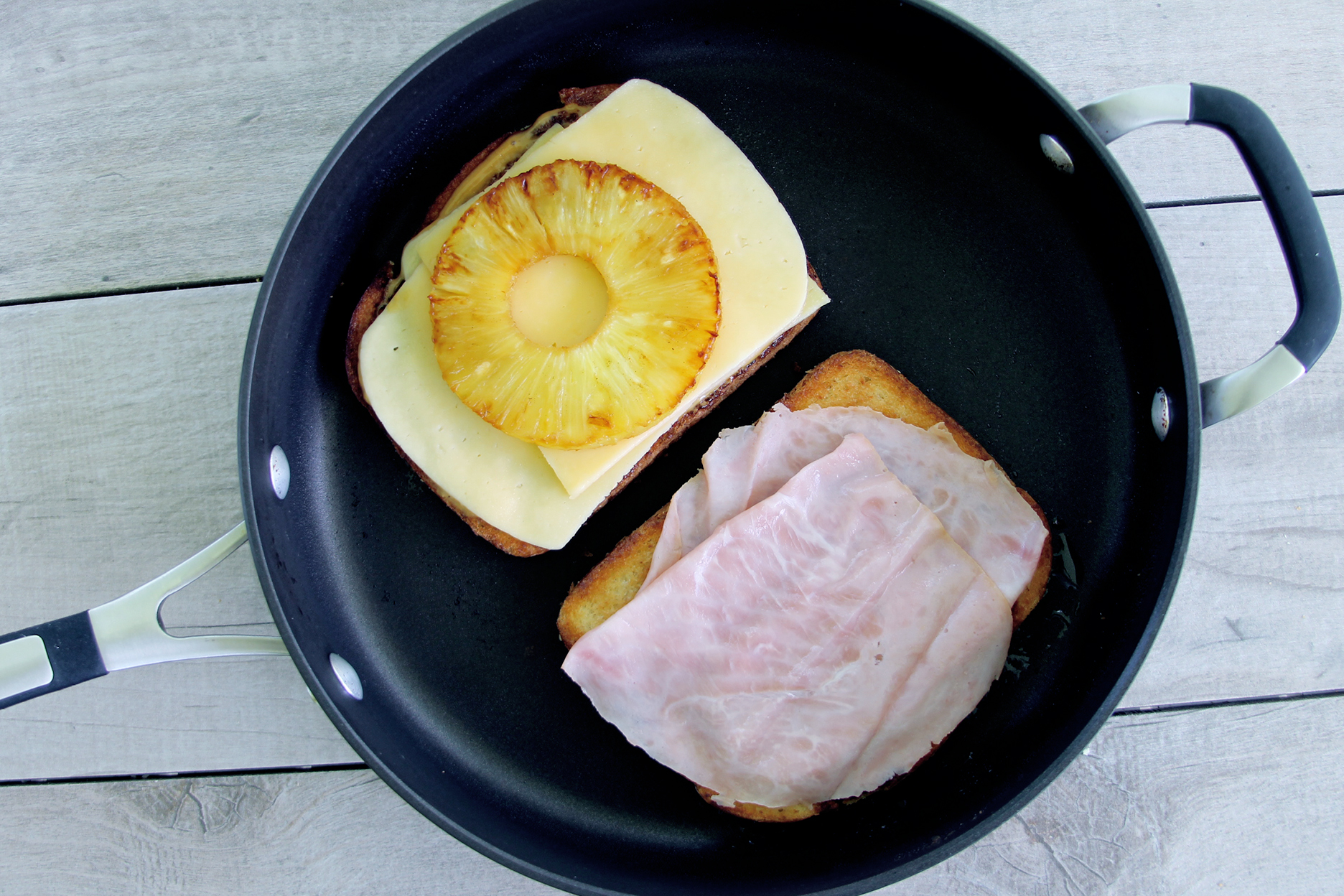 Think outside the box and experiment with what you put between your bread. Combine flavors and textures and don't be afraid to try something new. I got inspired on my favorite aloha burger and decided to add caramelized onions, grilled pineapple and teriyaki mayo to my grilled ham and cheese sandwich and to make things gooeyer (yes I just made up that word) I replaced the commonly used swiss or cheddar for melty gouda cheese.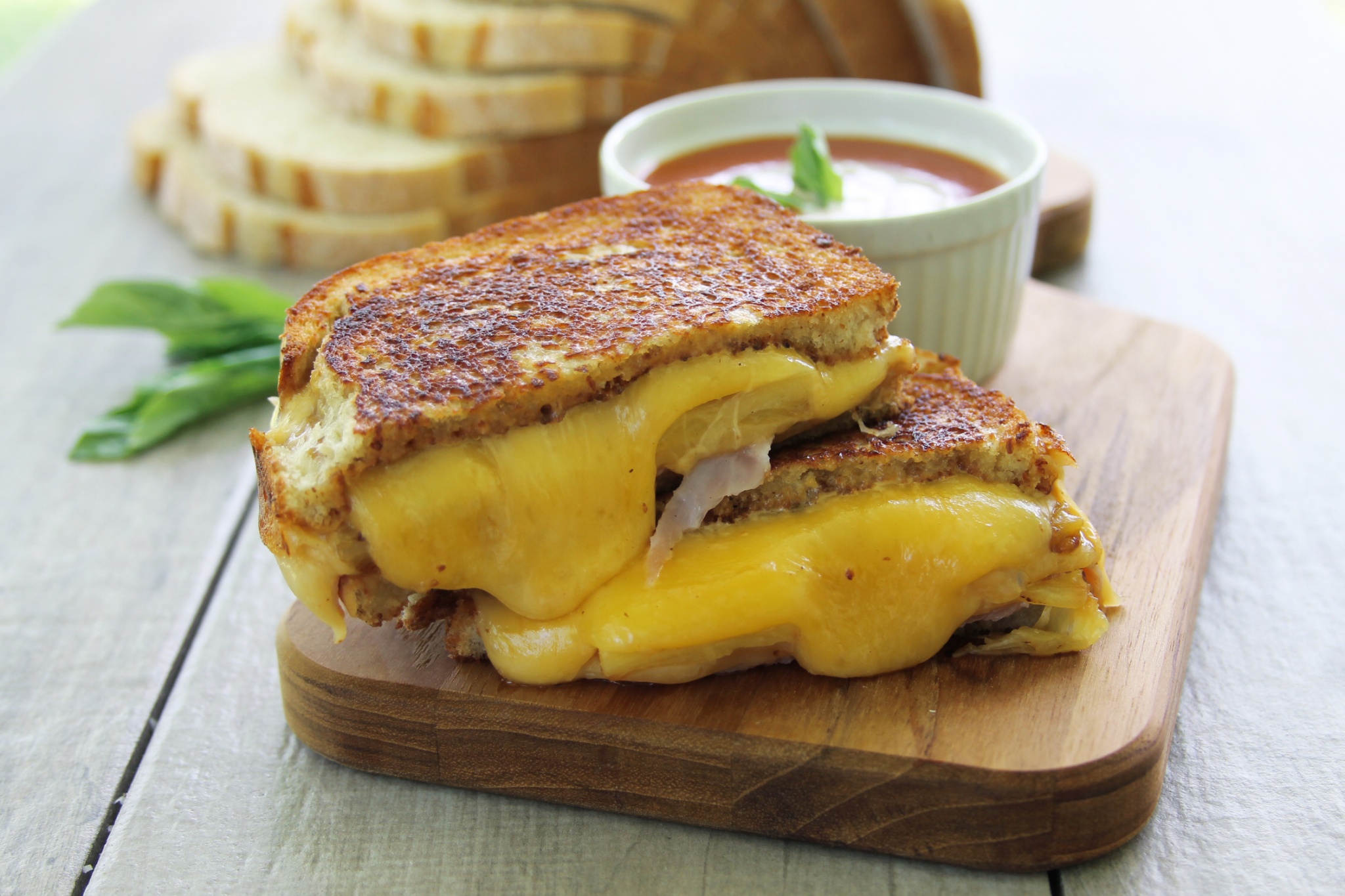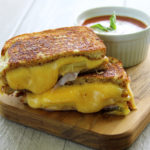 Aloha Grilled Ham & Cheese Sandwich
Ingredients
4

slices

Pepperidge Farm Farmhouse ™ Hearty Oatmeal bread

4

slices

Hillshire Farm® Thin Sliced Honey Ham

2

tablespoons

Hellmann's® Real Mayonnaise

plus more for spreading on Farmhouse Oatmeal bread

6

slices

of gouda cheese

2

slices

of grilled pineapple

1

tablespoon

teriyaki sauce
Instructions
Spread just a little Hellman's® Real mayonnaise on both sides of your bread slices.

Heat a non-stick skillet in medium low heat and brown the bread on one side.

While the bread is browning mix the 2 tablespoons of Hellmann's® Real mayonnaise with 1 tablespoon of teriyaki sauce.

Turn the bread on your skillet and spread the teriyaki mayo on the browned side.

Add the cheese, honey ham and grilled pineapple slice and close the sandwich.

Apply a little pressure and move it around in the skillet so that it browns evenly.

Turn it around and again apply light pressure and move the sandwich around to get it to brown evenly.

Once both sides of the sandwich are golden brown remove from the skillet and let cool for one minute before cutting.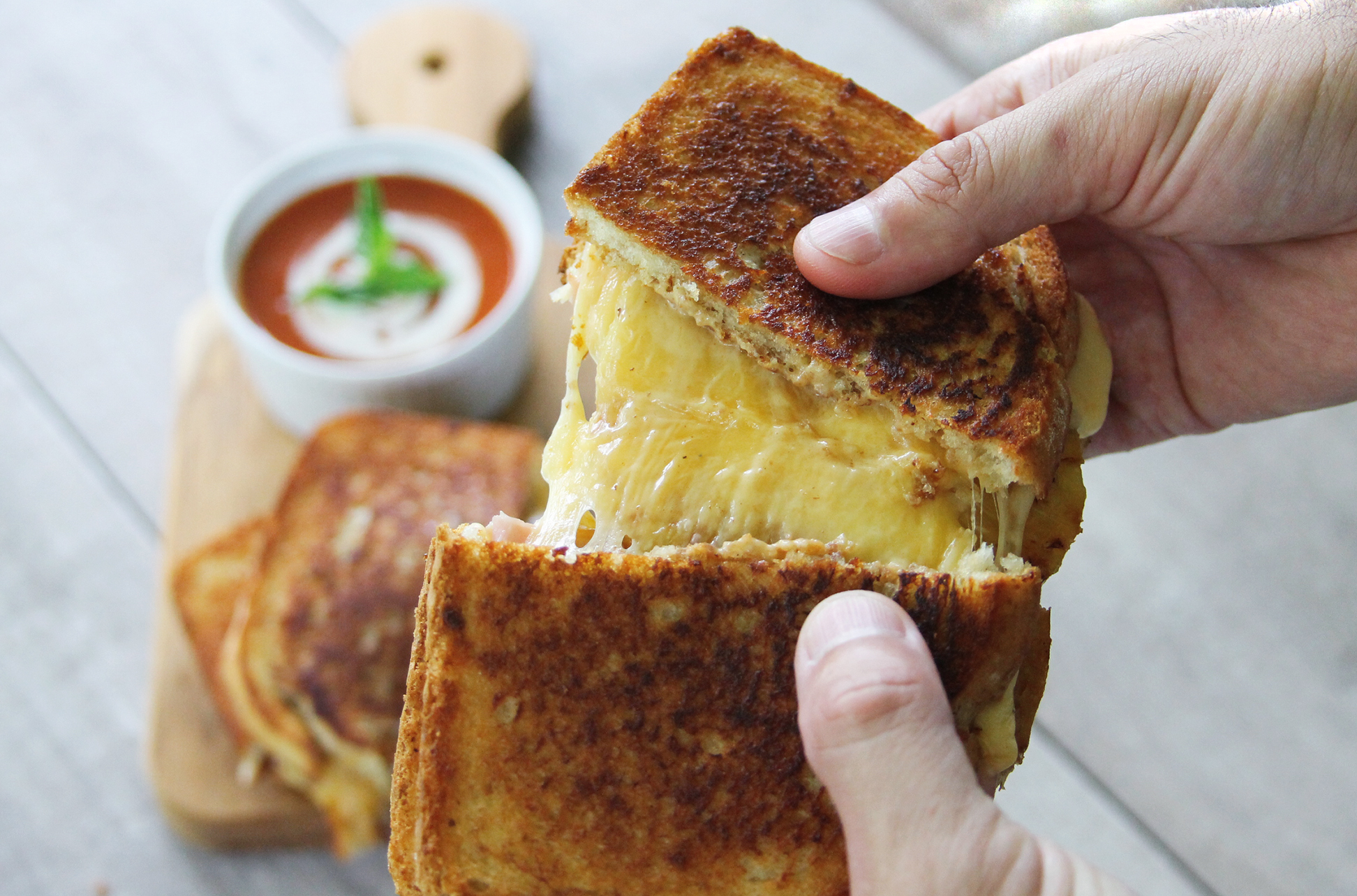 This is now my family's favorite version of a grilled cheese sandwich. The flavors of the pineapple and teriyaki mayo combined with the ham and cheese and the crunchy and tangy grilled bread are just sublime. Pair your sandwich with a good soup for the perfect fall dinner.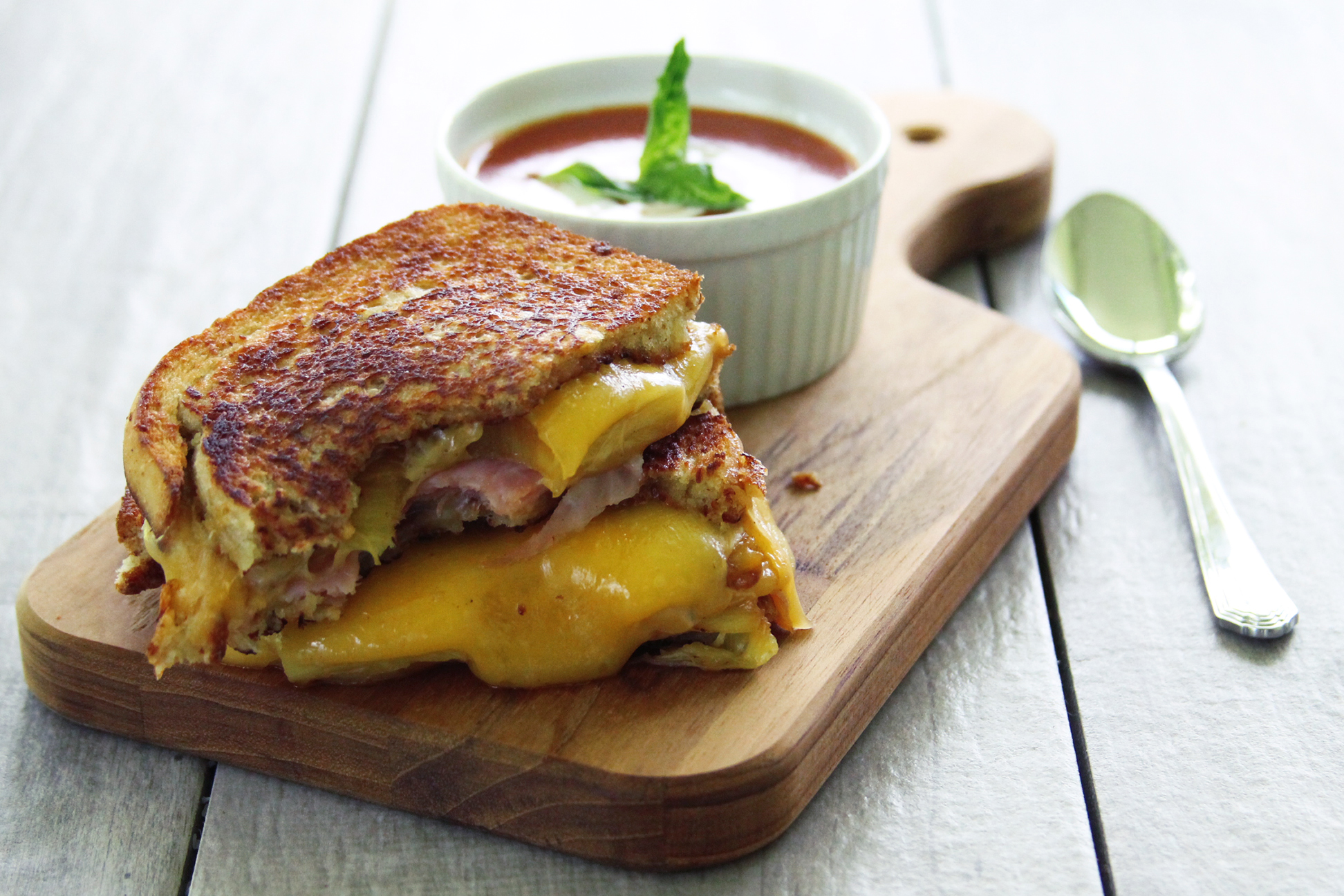 This sandwich is so easy to make with only 6 ingredients. I bought all of the ingredients for our sandwich at my neighborhood Walmart. I really liked the new Hellman's® Real Mayonnaise squeeze bottle and a have always been a huge fan of the Pepperidge Farm Farmhouse ™ breads and Walmart always has a great variety.

What is your favorite sandwich recipe?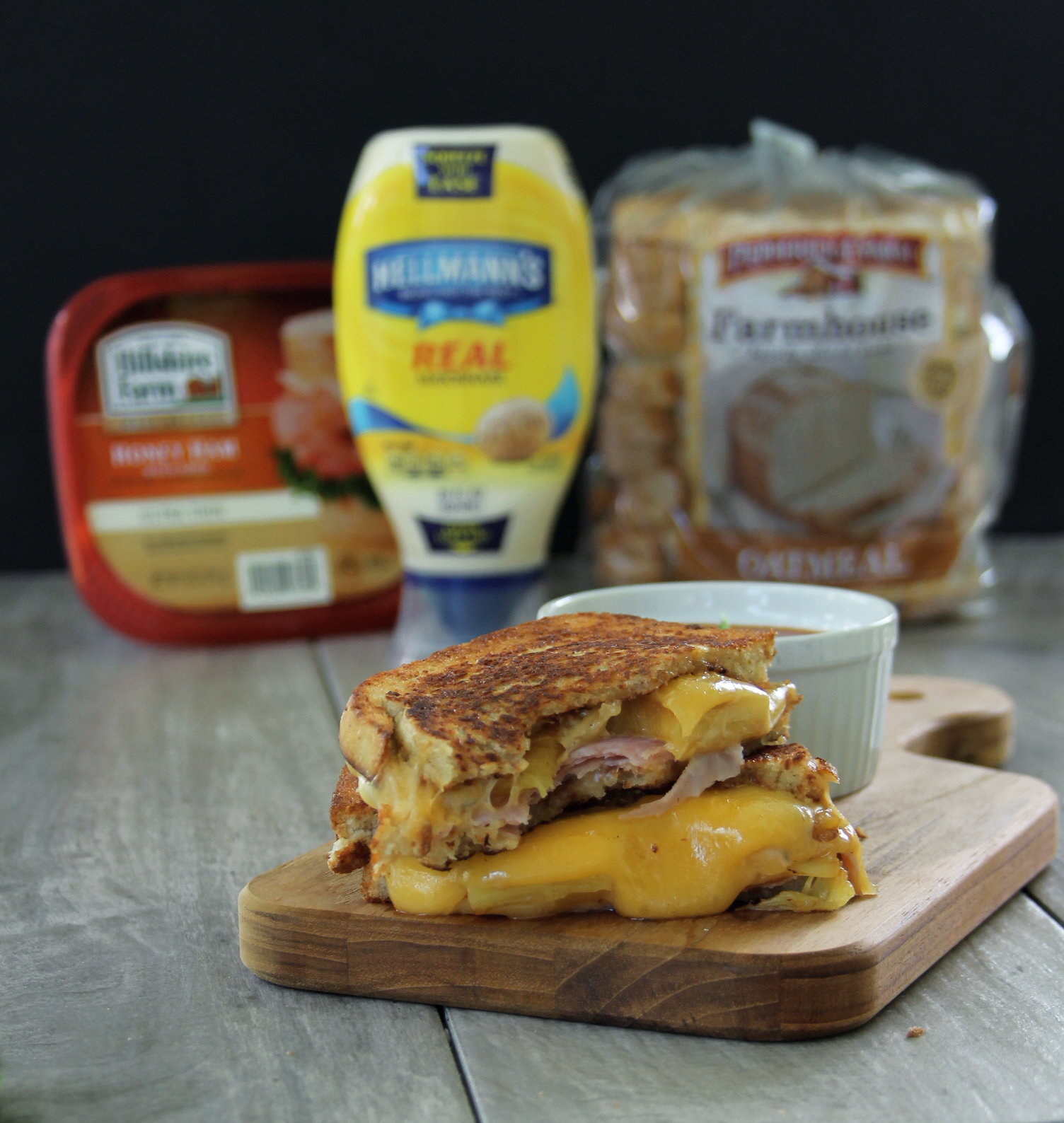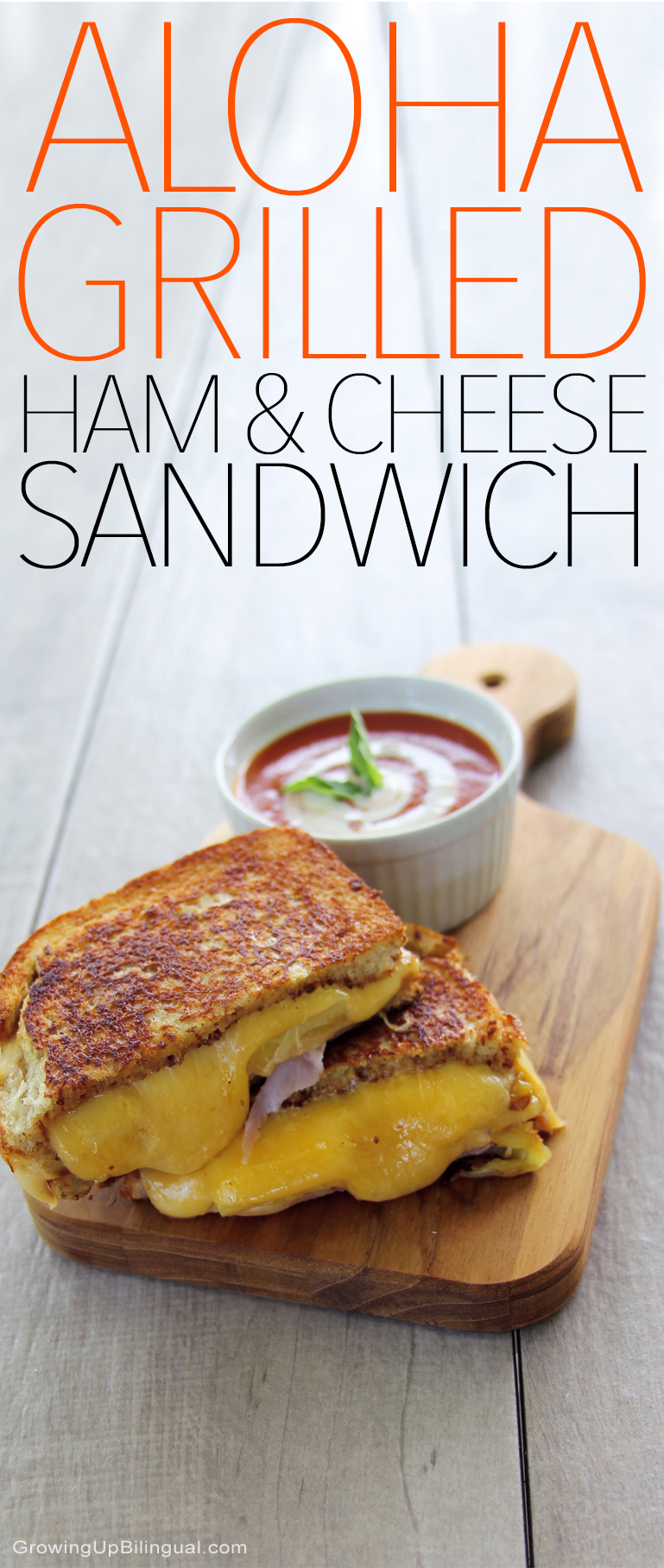 Latest posts by Cesar Diaz
(see all)