This is a sponsored campaign, however all opinions are my own and based on my own experience.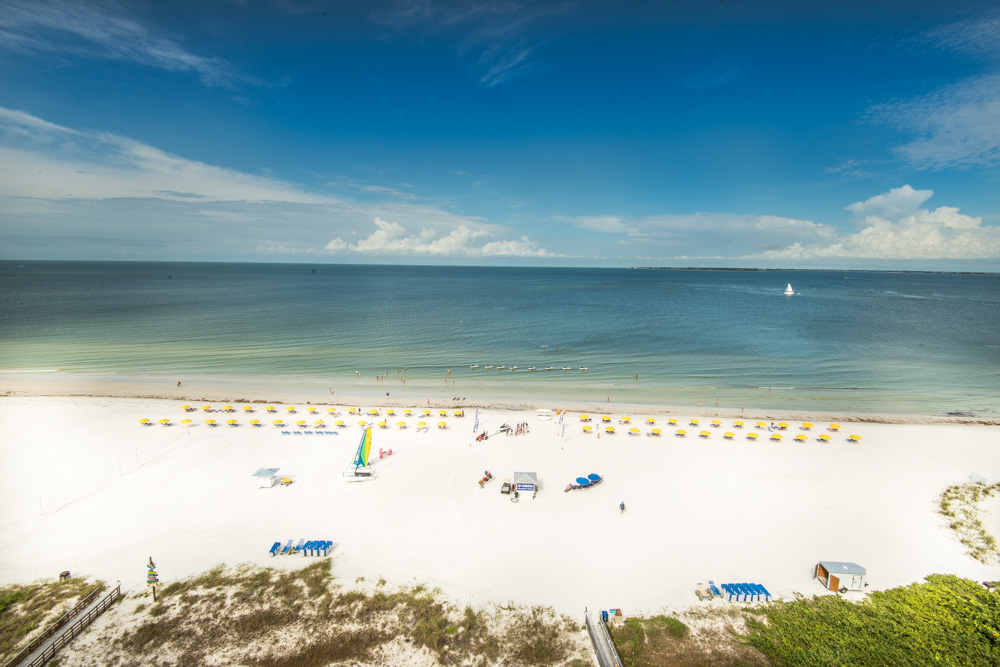 If you live in Southwest Florida year-round or are a seasonal resident you know that one of the best things about calling Southwest Florida home is our fantastic beaches. However, most of us don't get to spend as much time as we'd like at the beach. If you're like me that is probably due to the fact that heading to the beach, especially with kids, can be hard work. Not only is parking a hassle but you also have to carry towels, beach toys, coolers and shade. Most of the beaches that have bathrooms and showers are usually overcrowded and if you don't get there early, chances of finding parking or a good spot at the beach are hard.
Until recently we had no idea that there is a way to enjoy a relaxing day at the beach, or the pool with the family (or solo) without having to worry about parking, towels, food or shade!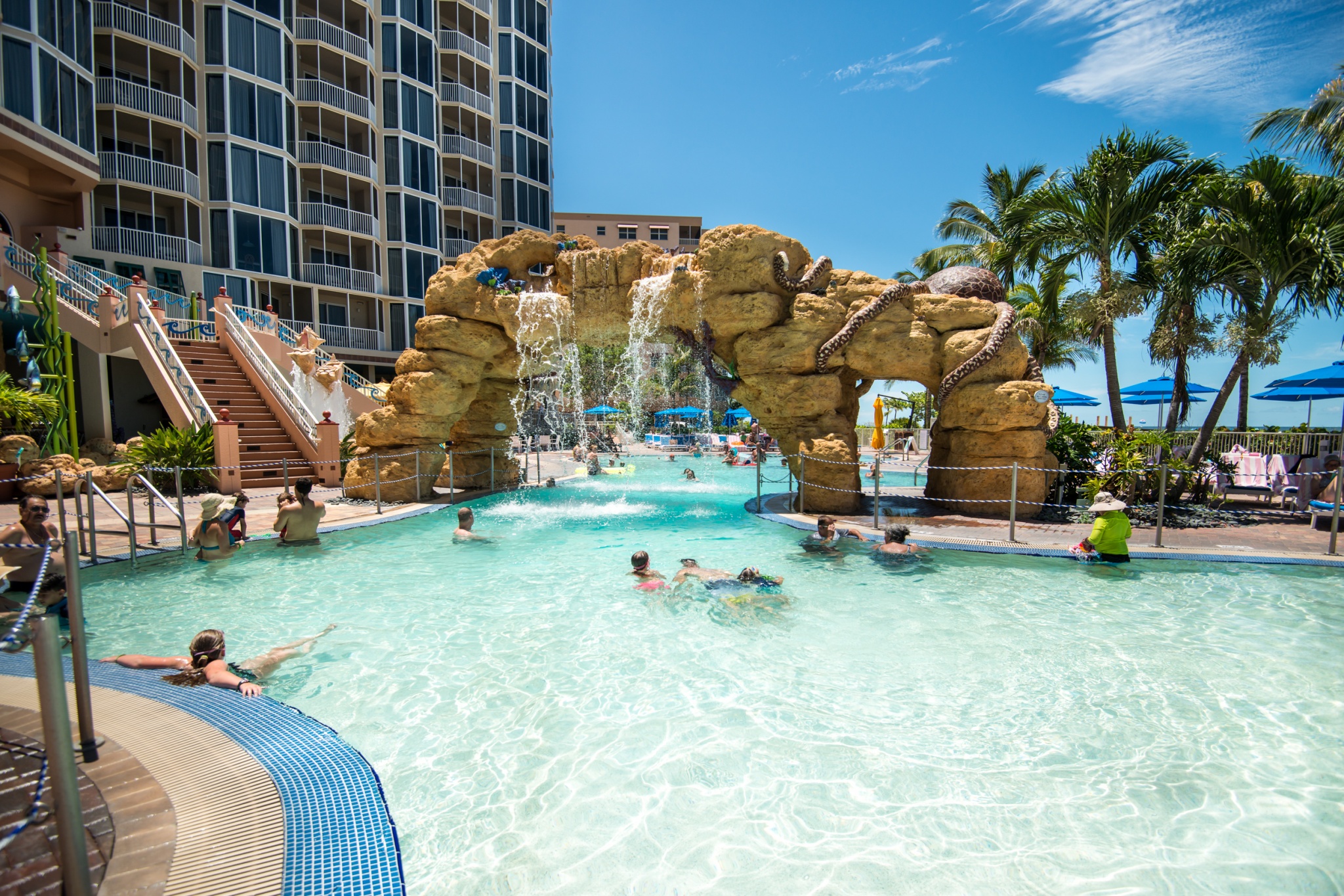 The Pink Shell Resort in Fort Myers Beach has always been one of our favorite local hotels and one that we often recommend to friends and family. So, we were thrilled when we learned that you can now become a member of the new Yacht & Beach Club and enjoy all of the amenities without having to stay the night. We got to visit the Pink Shell Resort and take advantage of all the member benefits for a day and we loved it!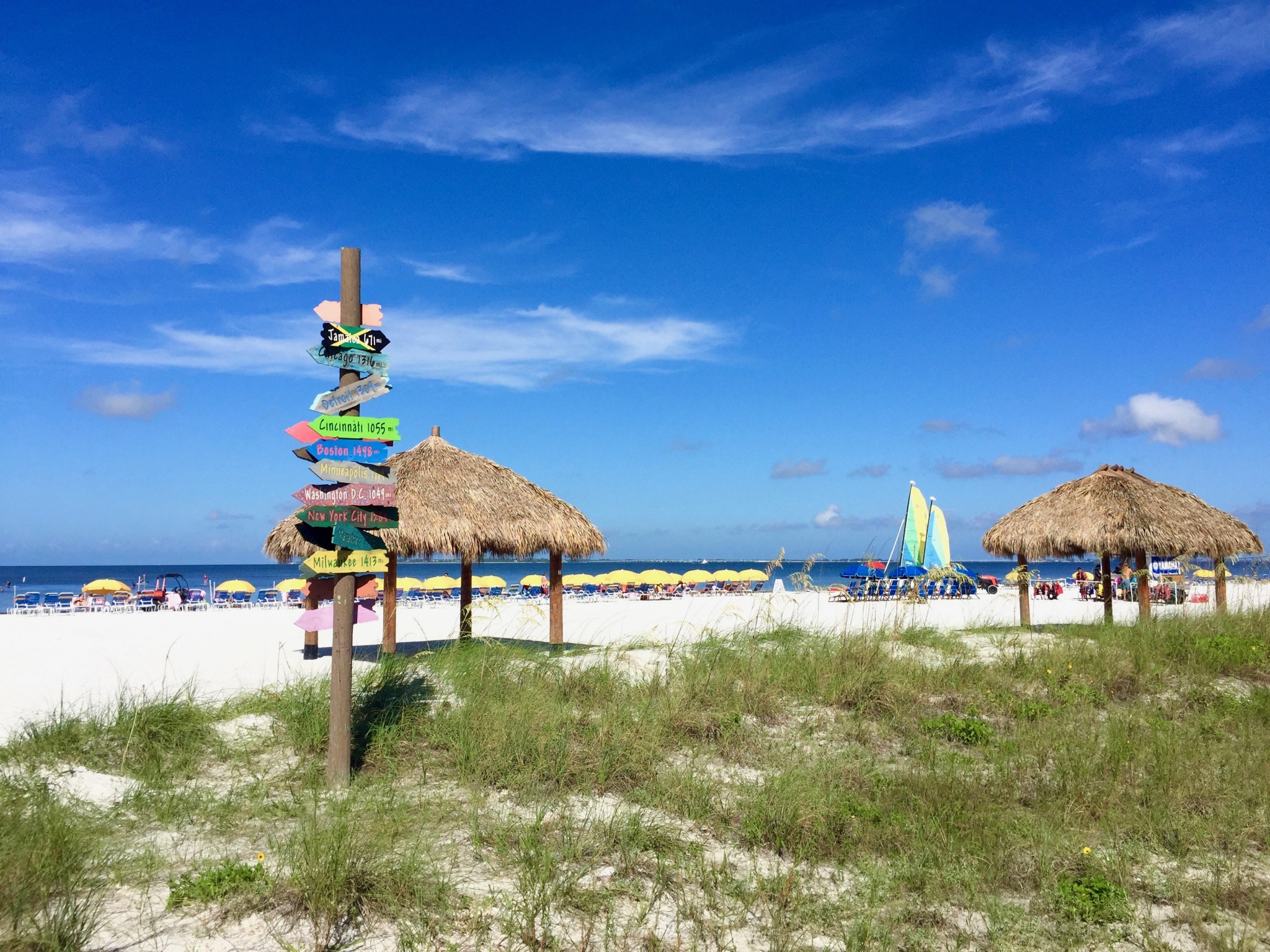 We were able to spend the day at the beach (and the pool) and all we had to bring was sunblock and swimsuits. We arrived to find our reserved beach chairs ready for us right in front of the water along with fresh towels and shade. After spending a few hours shelling, building sand castles and swimming in the ocean the kids spent most of the time in the lagoon style Octopool. We had lunch at the poolside restaurant with a great view of the beach and finished the day playing at the arcade and the kids made crafts while I took a moment to myself and relaxed with a book poolside. Really the perfect beach day!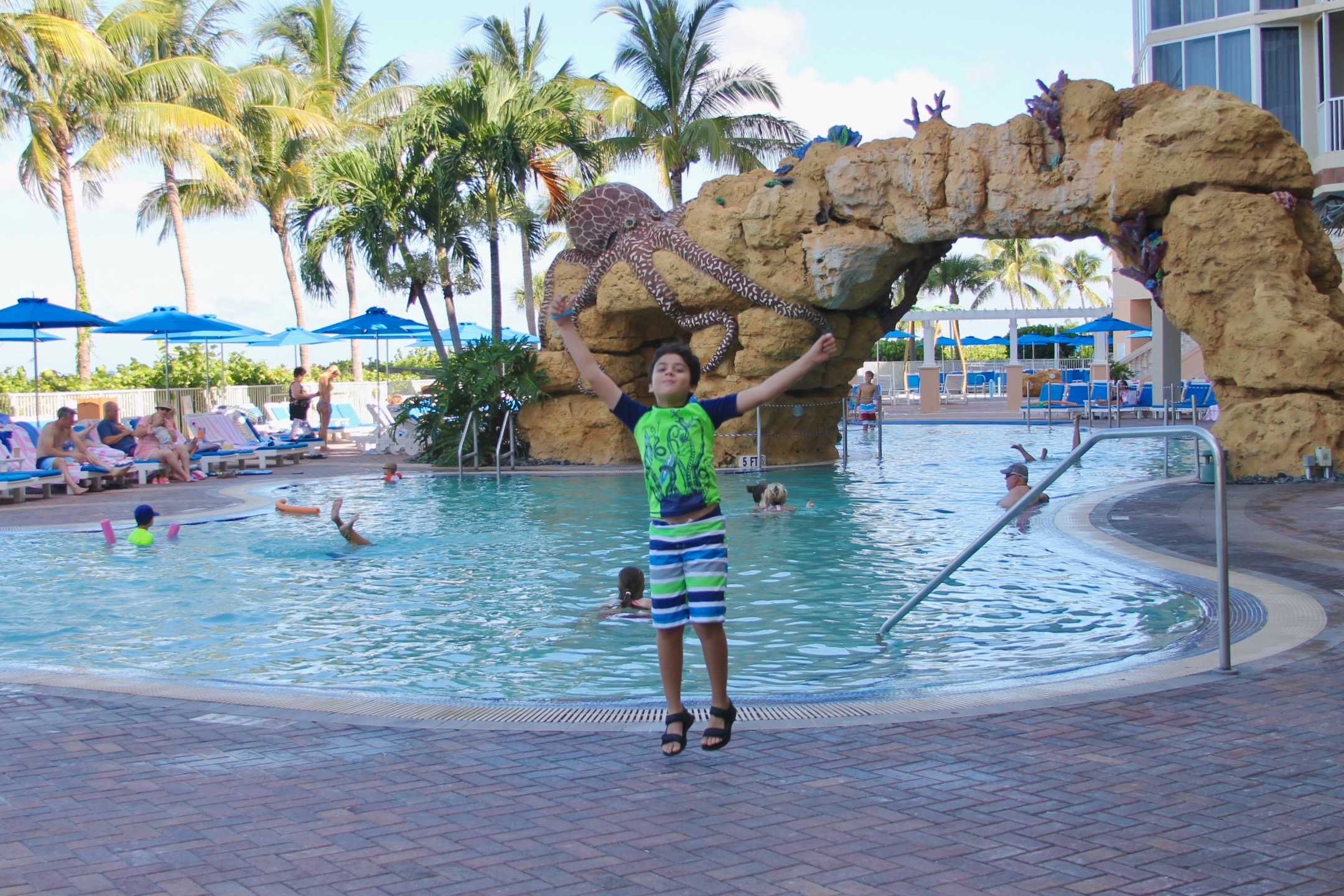 Why Becoming a Member of the Yacht & Beach Club at the Pink Shell Beach Resort & Marina Fort Myers Beach Is a Fantastic Idea!
Fantastic Location
Nestled on northern tip of Fort Myers Beach is The Pink Shell Yacht & Beach Club. I loved that the beach is really peaceful in this area and that the location is away from all the restaurants and bars further south on the island yet close enough that you can walk or bike there if you want to experience more of the beach town vibe.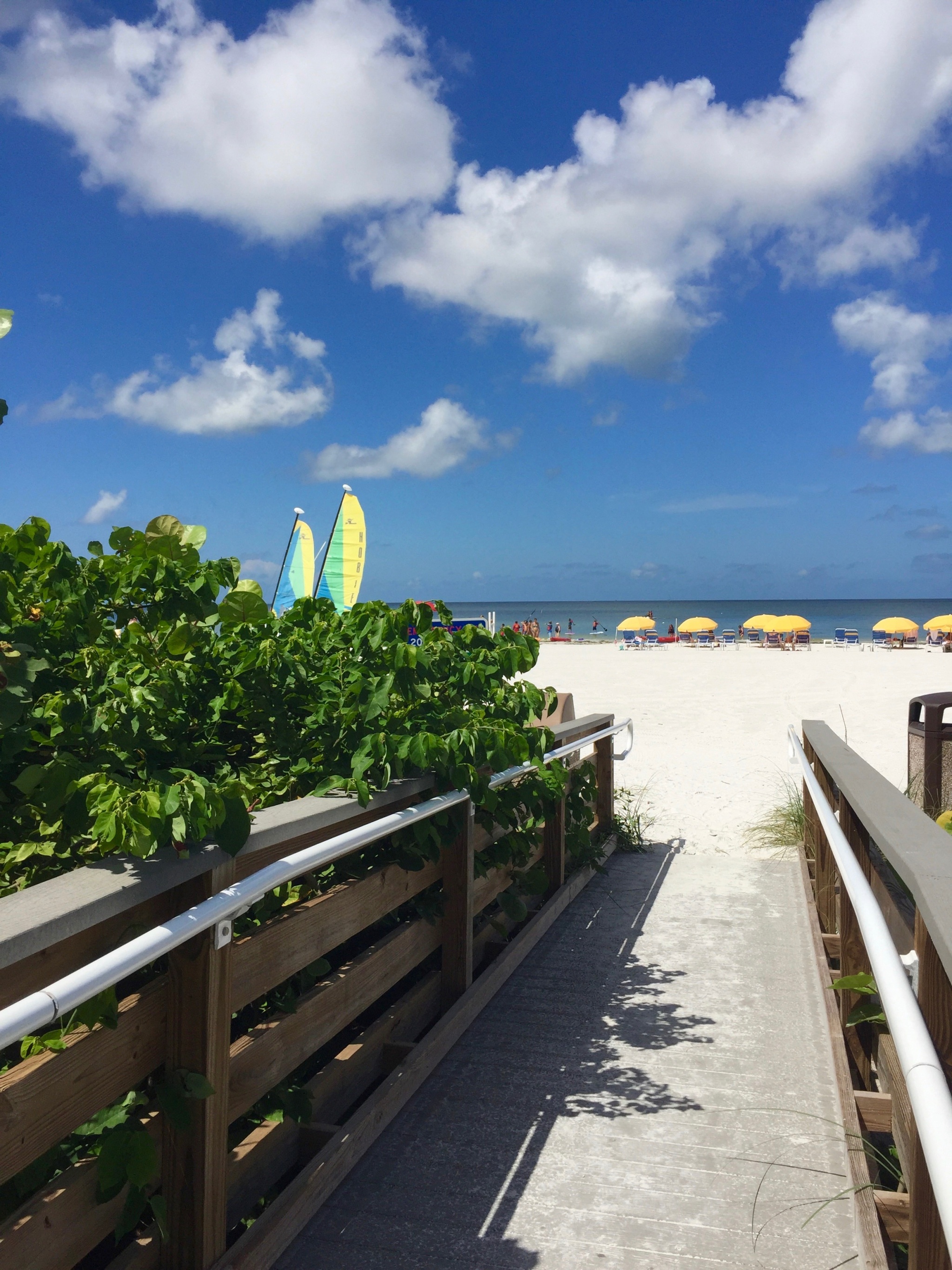 Exclusive Amenities
As a member of the Yacht & Beach Club at the Pink Shell Beach Resort & Marina you have access to all of the resort amenities which include: three resort-style pools, a splash pad for younger kids, private beach, two restaurants, a fitness center with great water views, a full service spa and a marina where you can dock your boat. As a member you are given a wristband that gives you access to all of the amenities and also gives you a special discount on the restaurants, the spa and the gift shop. This system makes the process easy and carefree.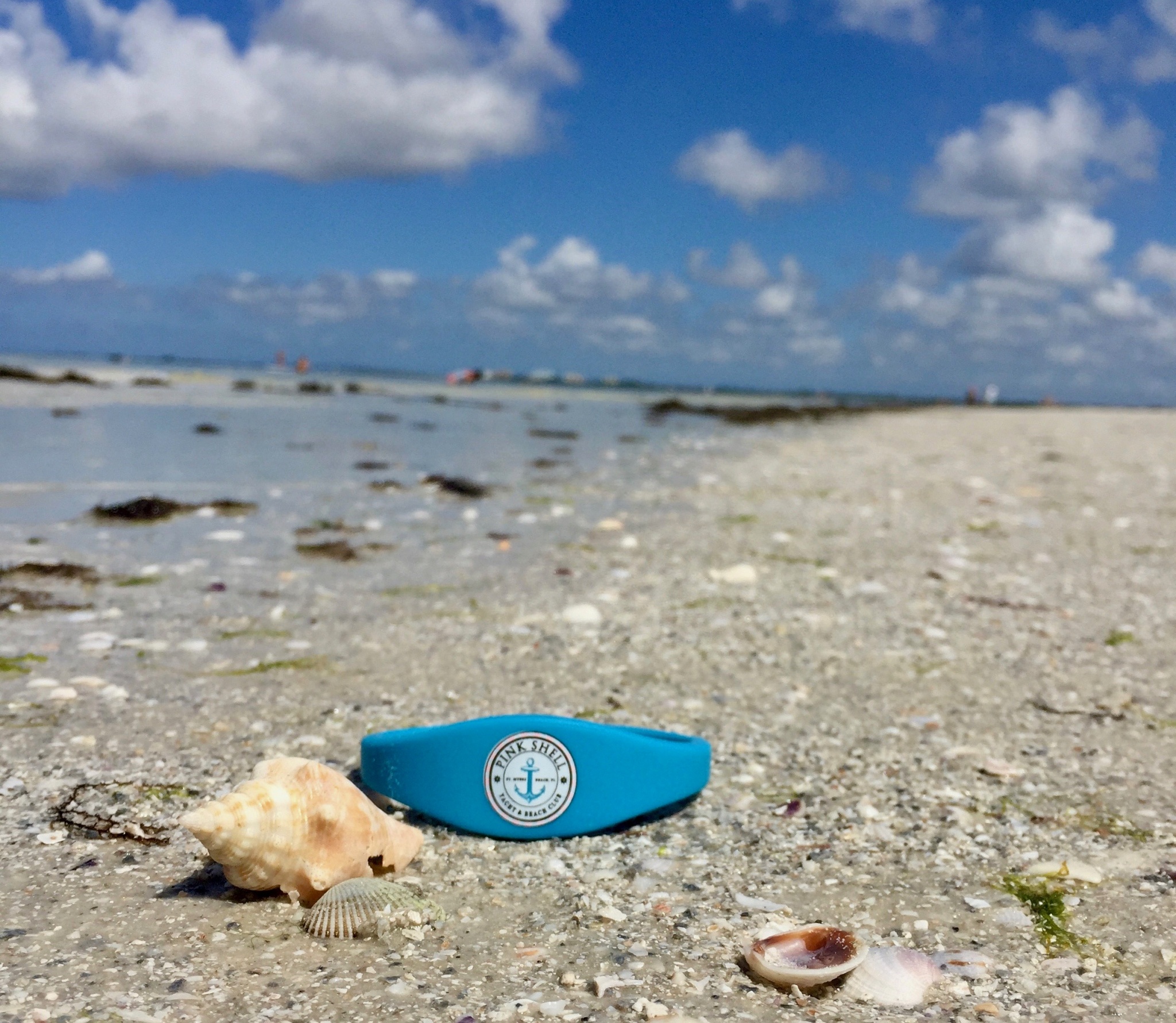 Enjoy The Beach Without The Hassle 
You get to enjoy more of our paradise without any of the worry. Your membership includes free valet parking and you can call ahead to reserve beach chairs. You'll have an endless supply of beach towels and there are even beach toys available for the kids. When you're hungry just head to one of the restaurants, both of them with great gulf views. You can use the lockers at the spa and there are showers and bathrooms close to the pool or at the spa that you can use as well.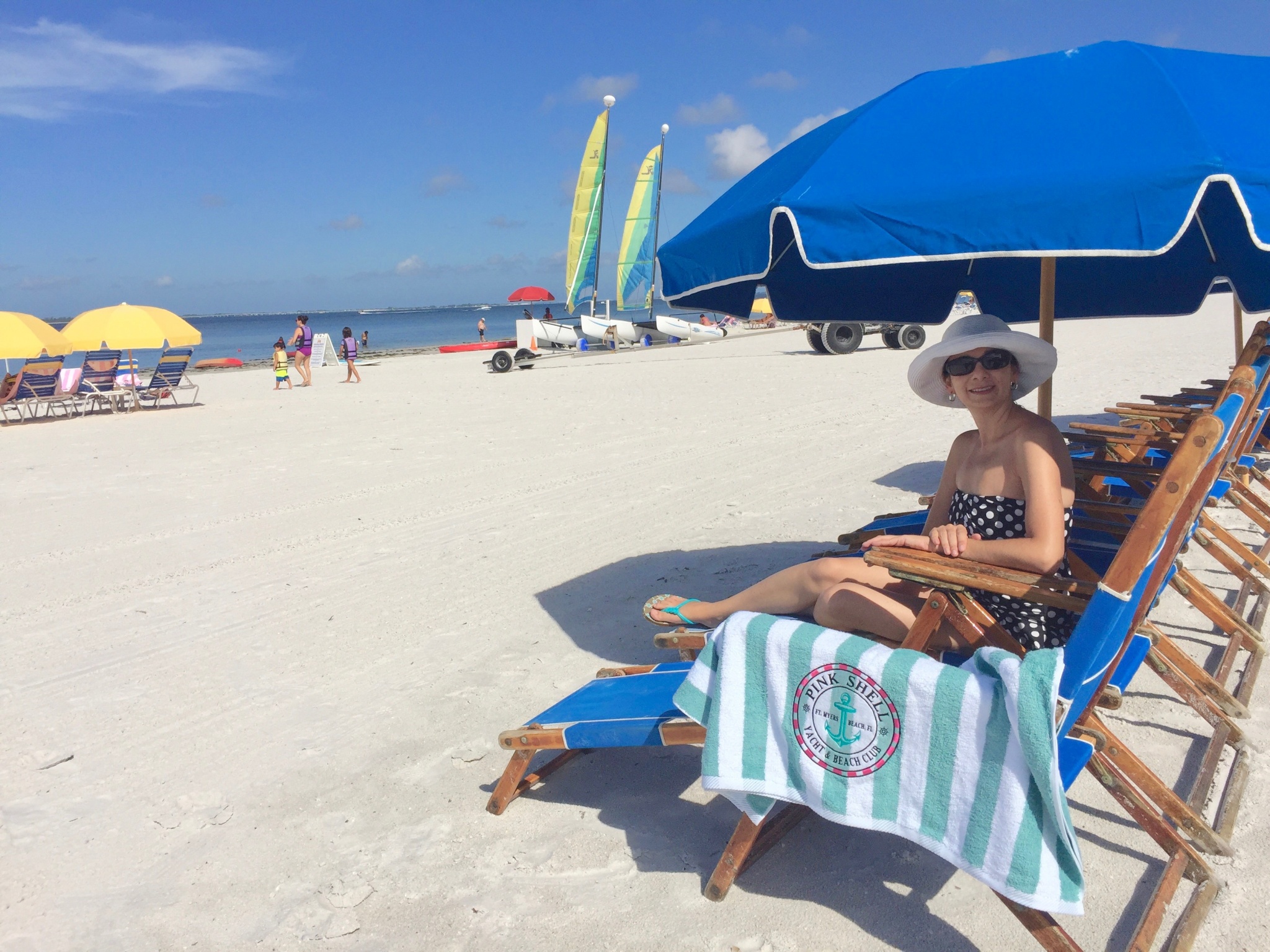 Family Friendly Environment
The Pink Shell Resort has a main pool which has a waterfall and a cool giant octopus as well as zero entry and a small pool for toddlers where they can splash around safely.  We could have spent all day at the lagoon-style Octopool but we took a break from the water fun at the arcade and played ping pong. It's great that they have other options for kids so there is still a lot for them to do even during an afternoon shower. I really liked all of the kid-friendly options on the restaurant menus. The Bongos restaurant even has a treasure chest where kids can pick out a prize after they finish all their fruits and veggies.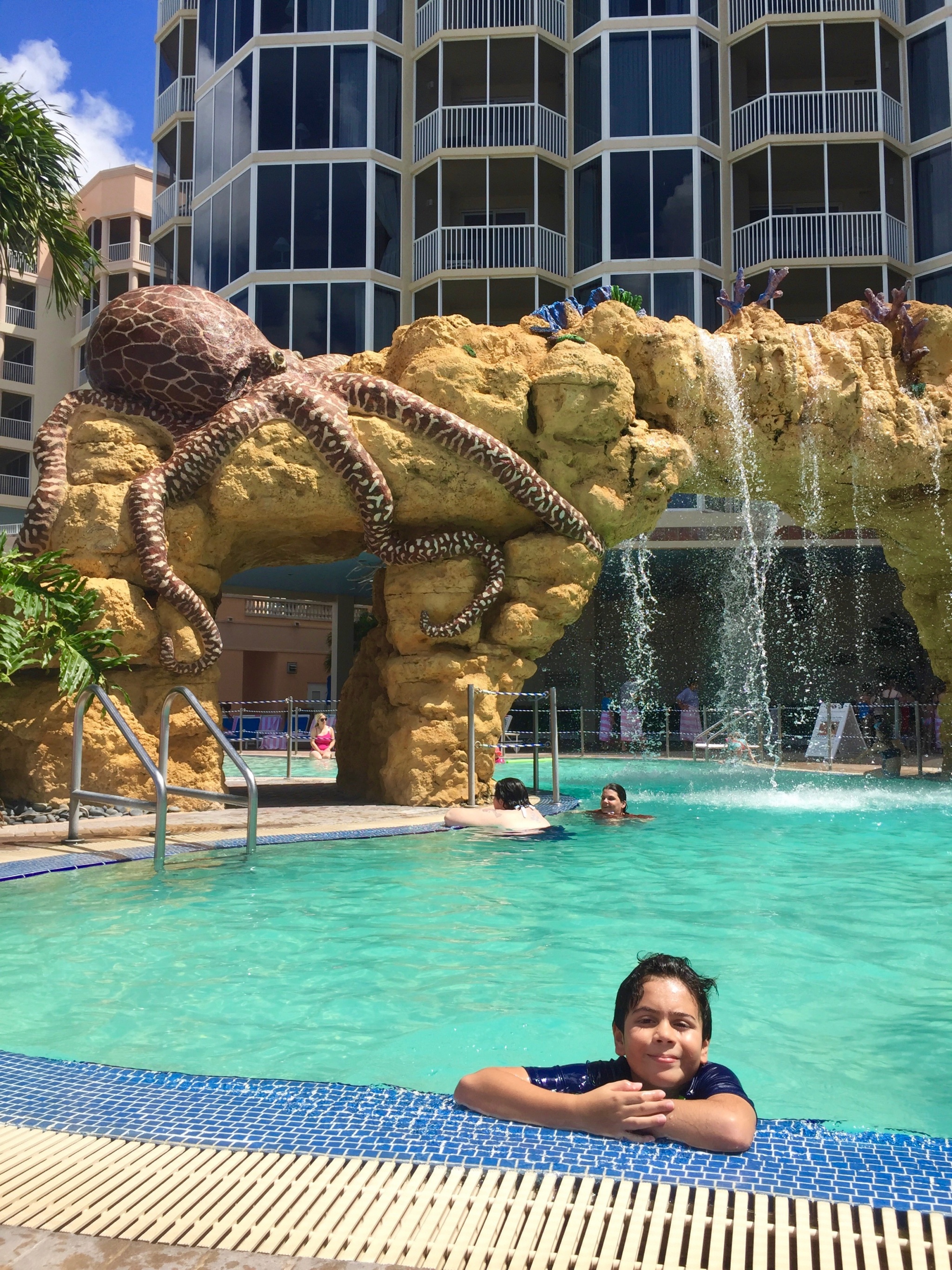 So Much To Do
Whether you want to spend the day relaxing at the beach or want to do something more exciting there are options for everyone. My kids love the main pool with its waterfall and octopus and I love that it has zero entry so it was easy for them to get in and out. There is also a splash pool for younger kids, it is so much fun that even my kids played there for a while even though they are older. There is also a third pool which is more secluded and peaceful, for those who want a more relaxing environment. At the beach, you can relax on a beach chair under the shade of an umbrella while you sip on a cold drink or you can use the kayaks and paddleboards which are free to members.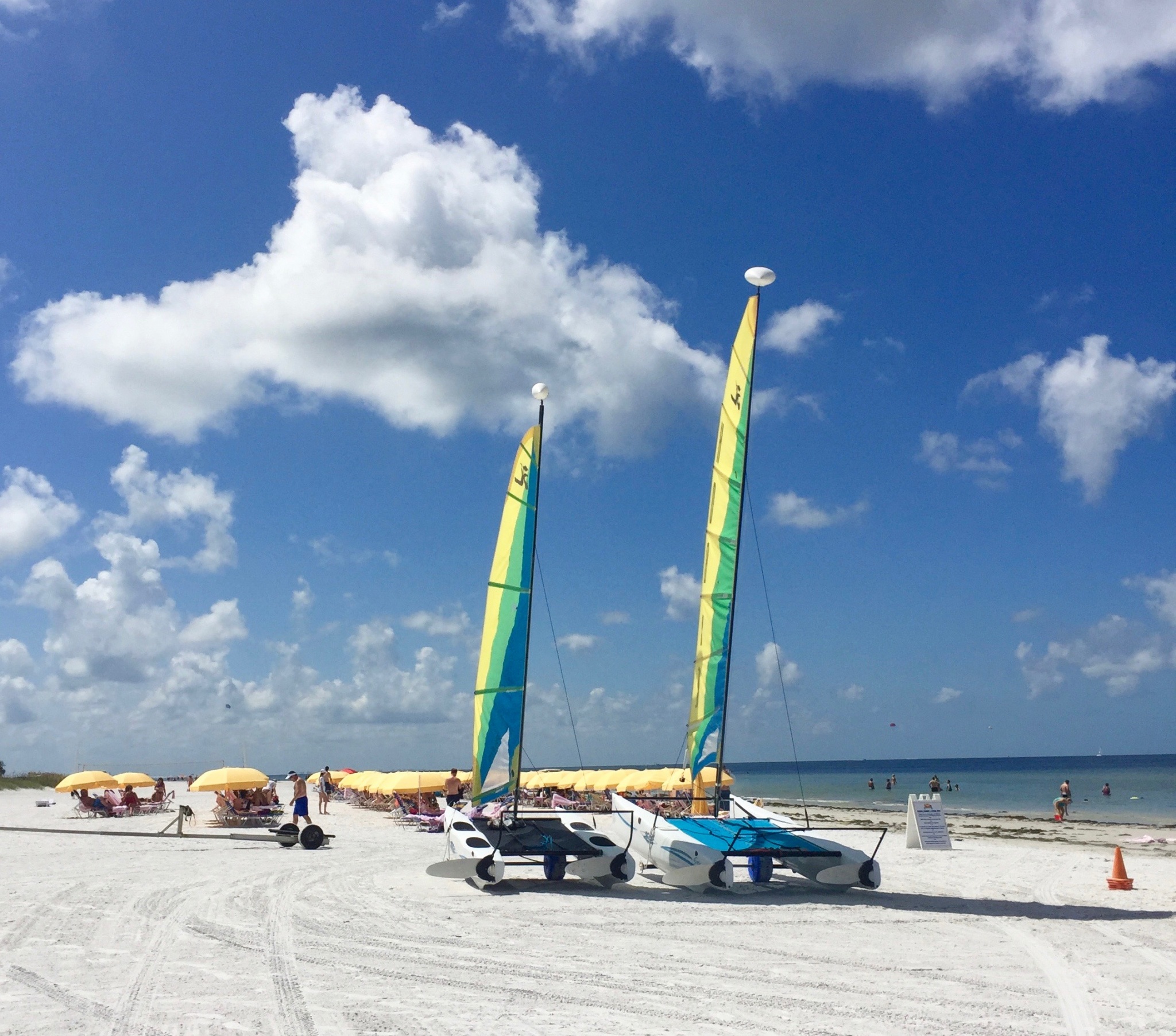 If you want something a little more exciting you can also rent wave runners and sailboats. The Yacht & Beach Club at the Pink Shell Beach Resort & Marina also partners with local tour companies offering everything from bike rentals, dolphin cruises and nature walks to fishing charters. A full-service spa offers you pampering options while the kids club keeps the kids entertained while they make new friends. You can arrive at the resort on your boat and doc at the marina which is so convenient for boaters!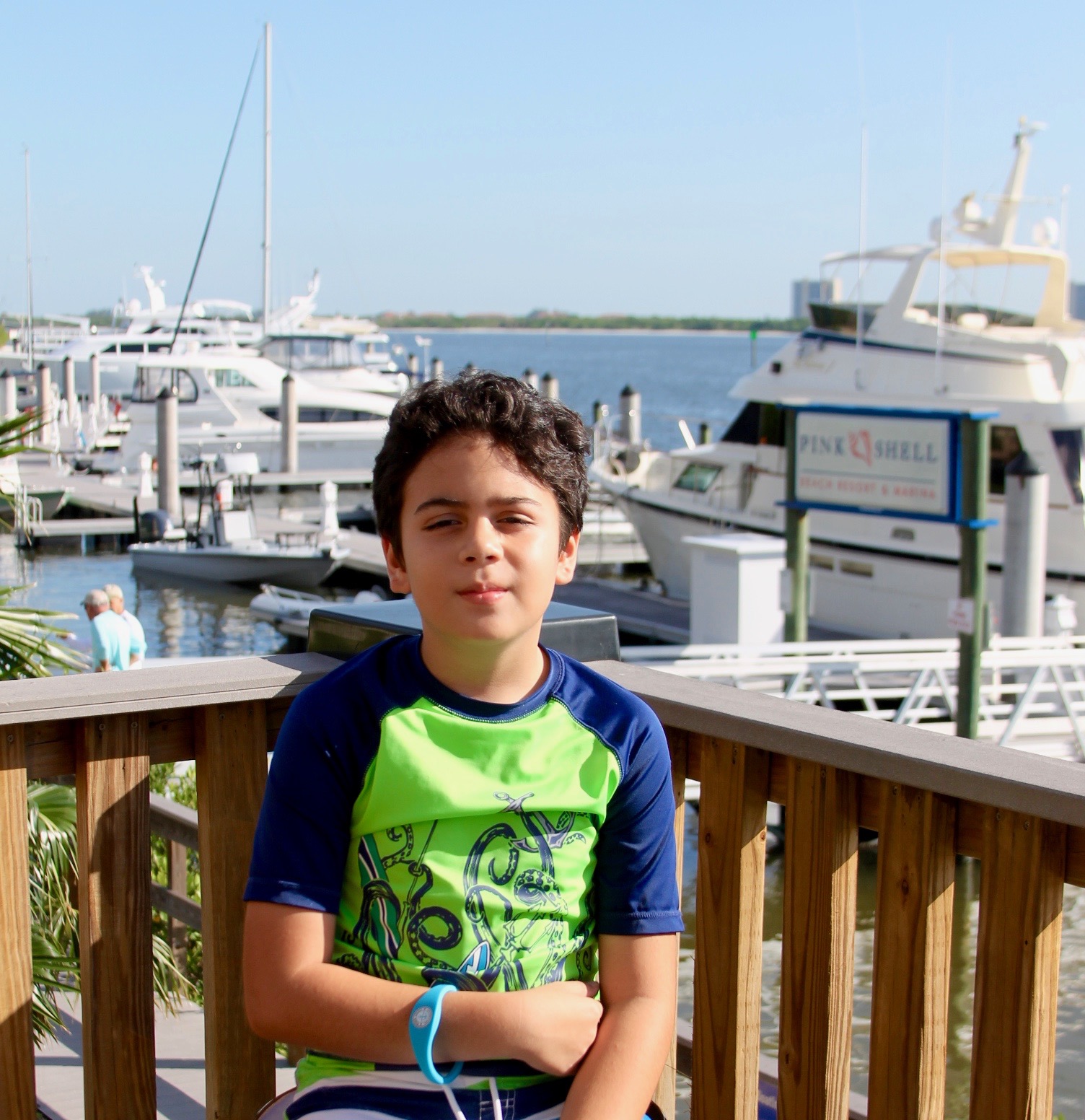 Accessible
To become a member you pay a one-time initiation fee and then pay less than $200 as a monthly membership dues. Annual membership is less than the cost of a vacation. We love that their unique membership lets you bring family and friends at no additional cost, unlike most memberships. With access to our resort amenities, private beach, and marina, you'll feel like you're getting three memberships in one. There are no blackout days so you can enjoy the beach any day and no annual minimum food and beverage fees so you can enjoy exactly what you want without paying for what you don't desire.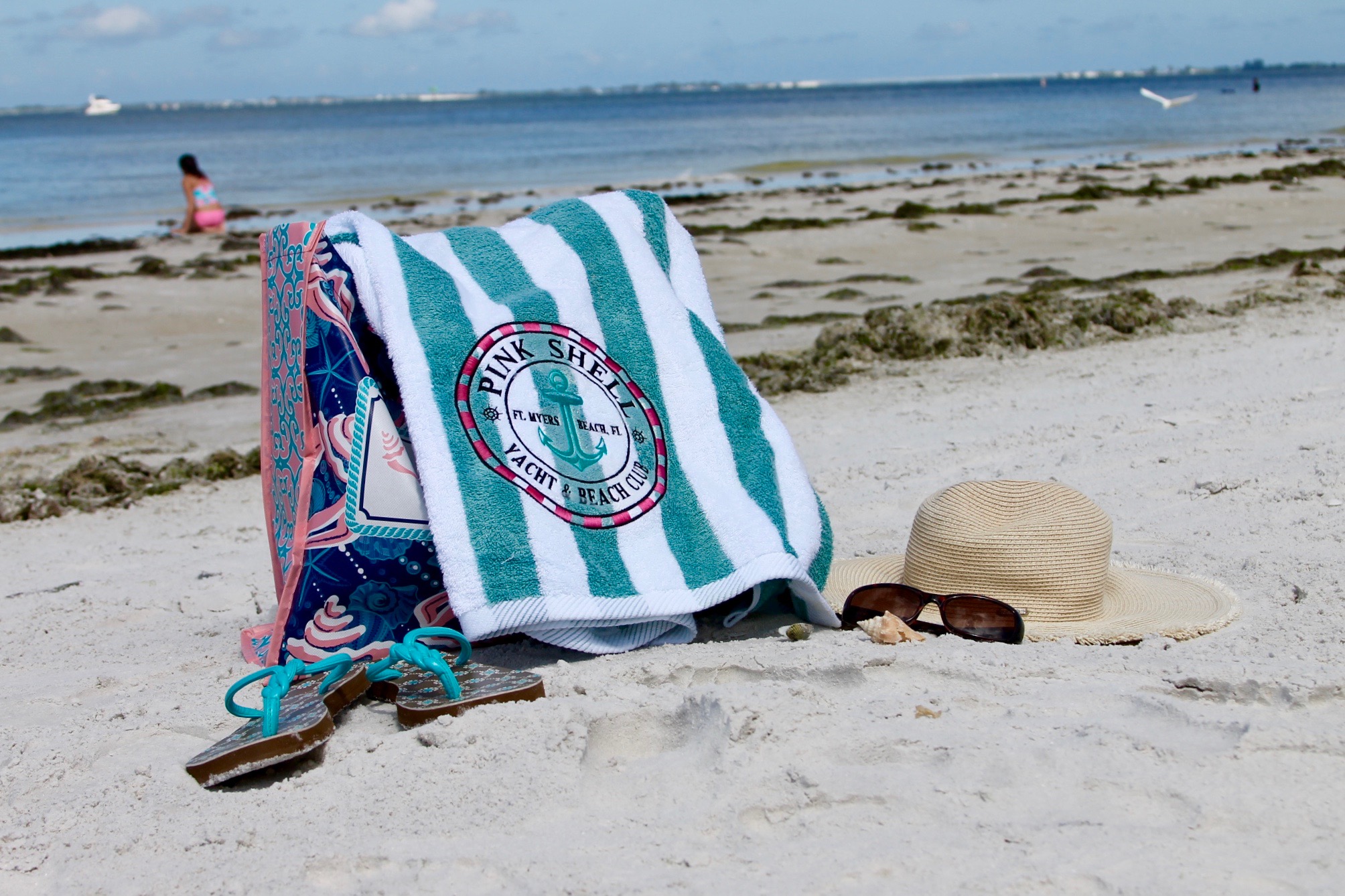 The Yacht & Beach Club at Pink Shell Beach Resort & Marina in Fort Myers Beach is the private social club where the members embrace the Florida lifestyle! For more information, be sure to check out the.