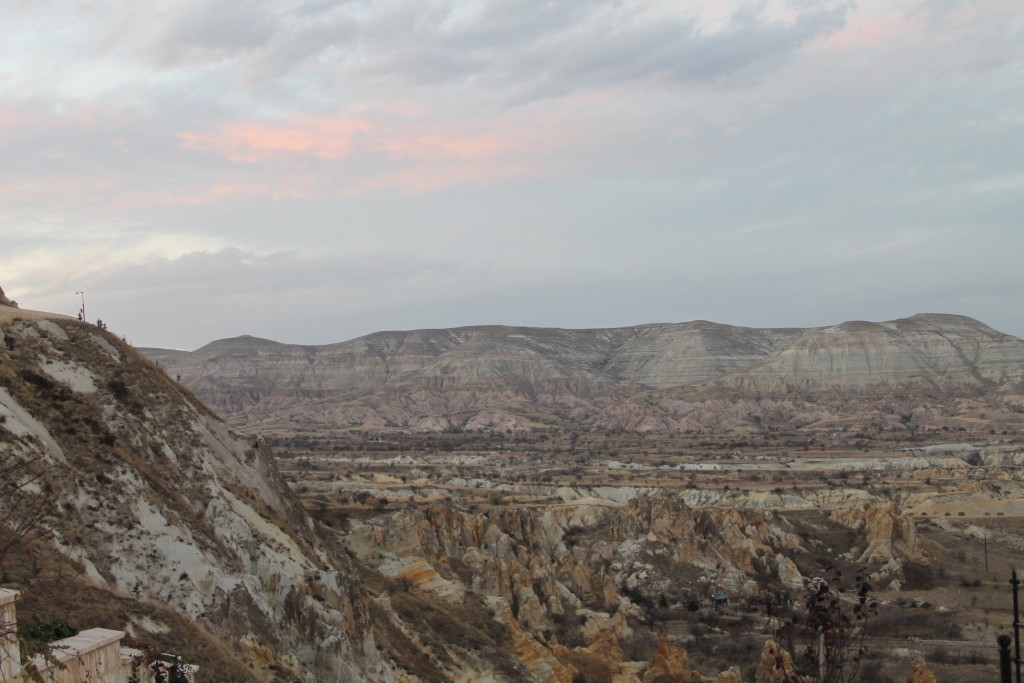 Like many travelers, I was lured to visit Cappadocia by the countless pictures I had seen of hot air balloons flying over the amazing orange hued rock formations. It was low season in late November and the wind did not cooperate so my hot air balloon trip got cancelled twice and I ended up not being able to fly on a hot air balloon in Cappadocia after all. Instead of ruining my trip this ended up being a blessing in disguise.
I had booked a tour with Argeus Travel, one of Turkey's best full-service tour companies. At 9am my tour guide Edip and a driver picked me up and we set off to explore. After an amazing first day of learning about Anatolian history and culture and marveling at the fantastic rock formations I decided to book them again for my second day in Cappadocia.  The experience was nothing short life-changing: Edip and the drivers, all of them locals, shared with me their love for their home and in the process, Cappadocia carved a permanent place in my heart.
Here are some wonderful options for things to do and places to visit in Cappadocia beyond riding a hot air balloon: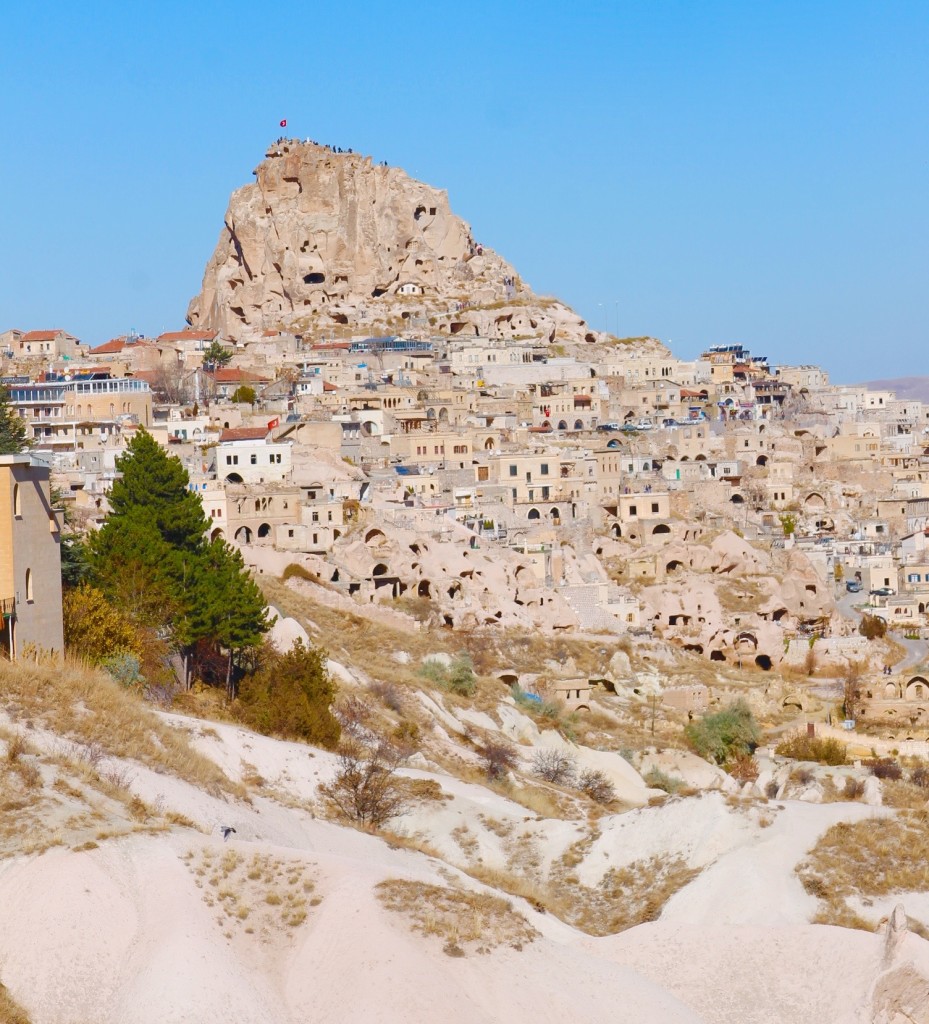 Get a Bird's Eye View from Uchisar Castle
Uchisar castle is located on a volcanic rock outcrop and is one of the most recognizable landmarks in Capadoccia. Filled with rooms and tunnels that have been carved into the rock, Uchisar castle dates back more than 4 thousand years and was used by Assyrians as a lookout. It's an impressive sight to see and climbing to the top will give you a beautiful view of the fantastic Cappadocia landscape surrounding it. Because it is a major tourist attraction do try to get there early to avoid the large tour groups.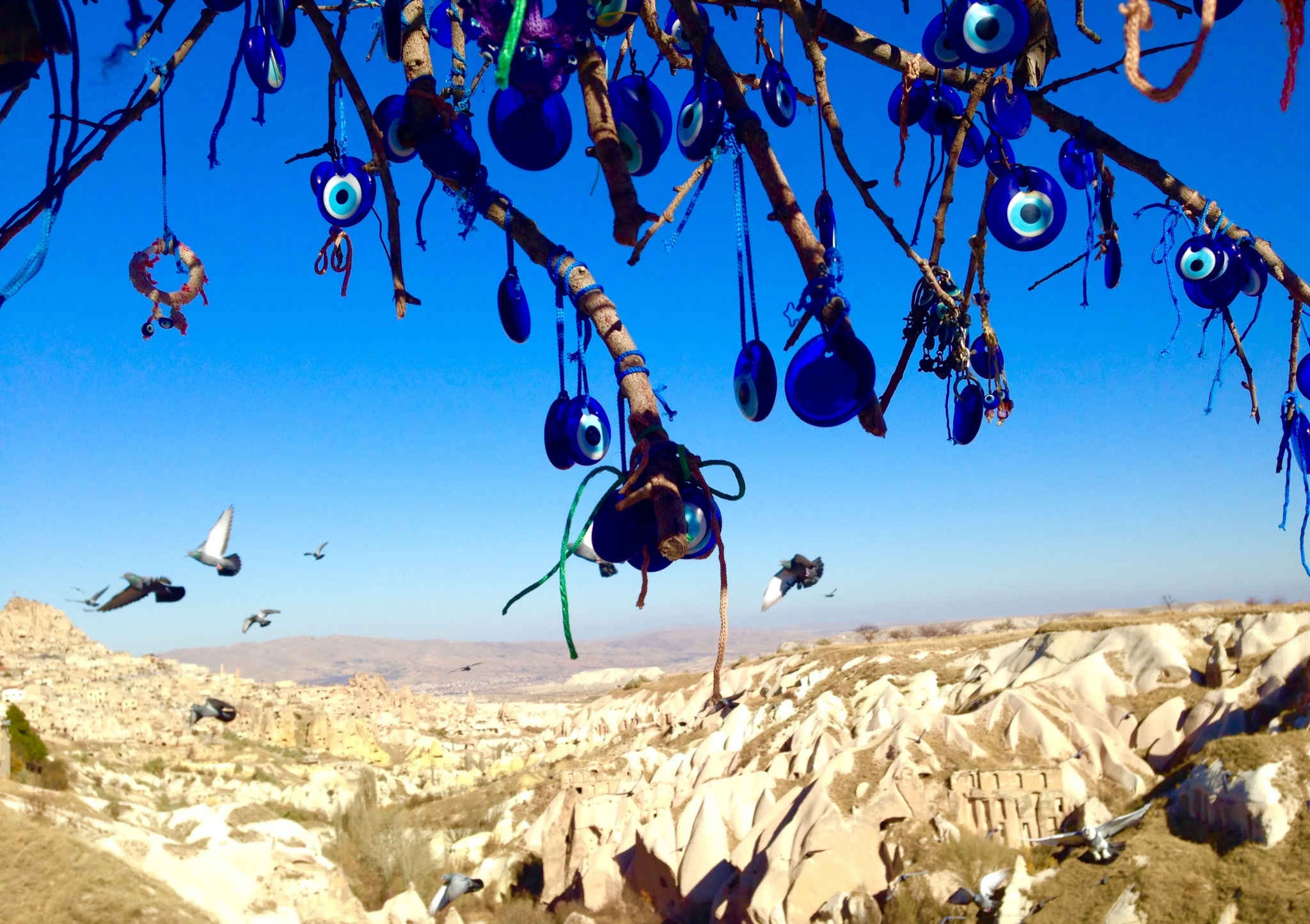 Hike Along the Pigeon Valley
The Pigeon Valley is close to Uchisar and it's beautiful rock formations are filled with dovecotes that where carved int he rock to collect their droppings to make fertilizer.  The hiking trail is well marked and it's not easy to get lost as you can always use the Uchisar castle to find your way. The scenery here is gorgeous and along the way you will find a Hasan's tea garden, a peaceful place to take a rest, drink some tea or fruit juice and enjoy Hasan's fun and entertaining personality. You can learn more about how to get there and what trail to choose here.
Visit the Amazing Rock-Cut Churches At the Göreme Open Air Museum
It's no wonder that the Göreme Open Air Museum was declared a Unesco World Heritage Site. It houses a Byzantine monastic settlement that includes rock-cut churches, chapels and monasteries many of them decorated with beautiful frescoes. I had read about Cappadocia's rock-cut churches and even seen some pictures but nothing could prepare me for the wonderful experience at the Göreme Open Air Museum. Upon entering the Karanlik Kilise or dark church I was blown away by the beauty of it's well preserve and intricate Byzantine frescoes. The vivid colors of the paintings look as if they had been painted yesterday and the small church is so beautiful that it just fills you with joy and wonder. The experience was even more amazing thanks to the interesting history I learned from my wonderful Argeus Travel guide.
Kaymakli Underground City
Cappadocia is filled with troglodyte underground cave-cities many of them excavated as early as Hittite times.  These cities were carved out of the volcanic rock to provide safety from the many tribes who passed through the area plundering. Out of the numerous underground cities build to Kaymakli is the widest. Dating back to circa 1200BC Kaymakli has 8 floors and 4 of them are open to tourists. Many of the rooms in the upper floors are still used for storage and as stables. It is amazing to walk through the tunnels, corridors, granaries, storage rooms and living quarters; all carved from soft volcanic rock.
Where we arrived there were two large groups of students there and my guide, Edip, led me through a maze of tunnels and rooms away from the crowds. Like most of the underground cities open to the public, there is almost no signage so having someone there who knew his way around and who could share with me what each room was used for and tell me about the history of the city was truly invaluable. Be aware that some of the passageways are narrow and you will even have to crouch down to go through some of them so if you are claustrophobic or are a large person this may be an uncomfortable experience.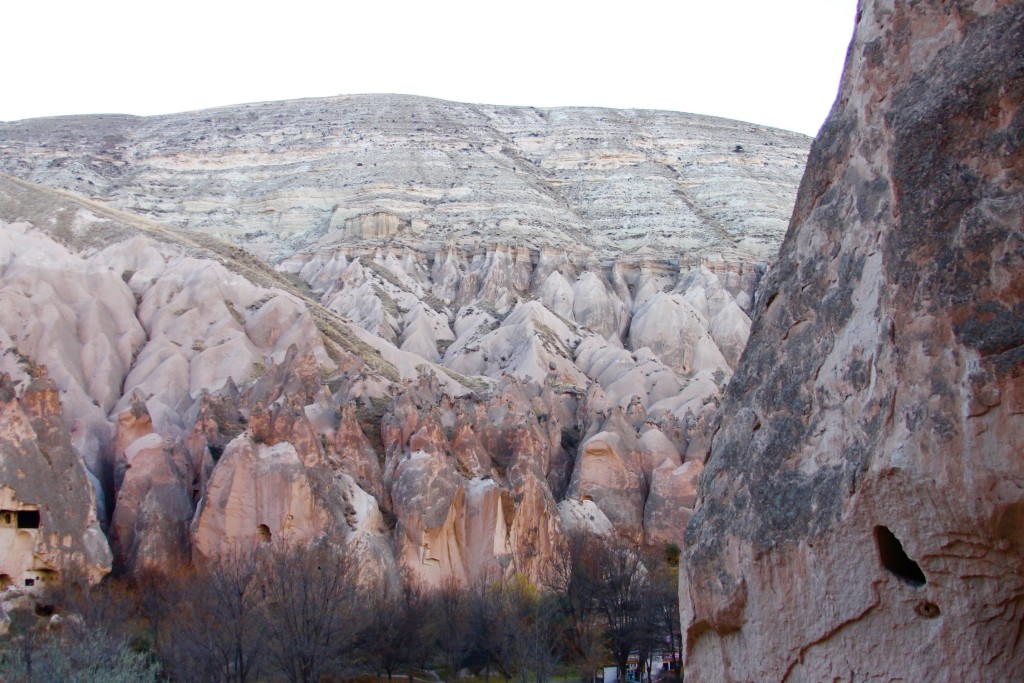 Go Back In Time At The Zelve Open Air Museum
A walk through the Zelve Open Air Museum is a journey into the past. This is one of the earliest inhabited and latest abandoned monastic settlements in Cappadocia, there were people living here until the was 1950s! The Zelve Valley has some of the most interesting and fantastic rock formations in Cappadocia. The churches are not as beautiful and well preserved as the ones found in the Göreme Open Air museum but the valleys are wonderfully picturesque and filled with interesting rock formations in hues of orange and pink. You will usually find less tourists here which will give you more flexibility to explore.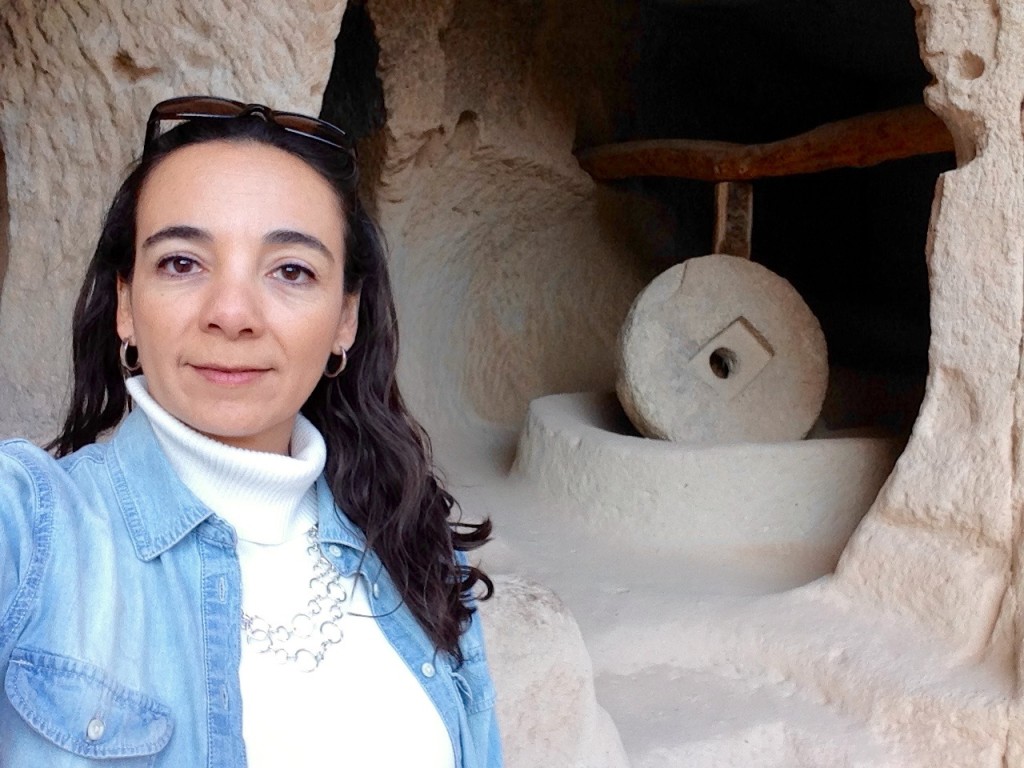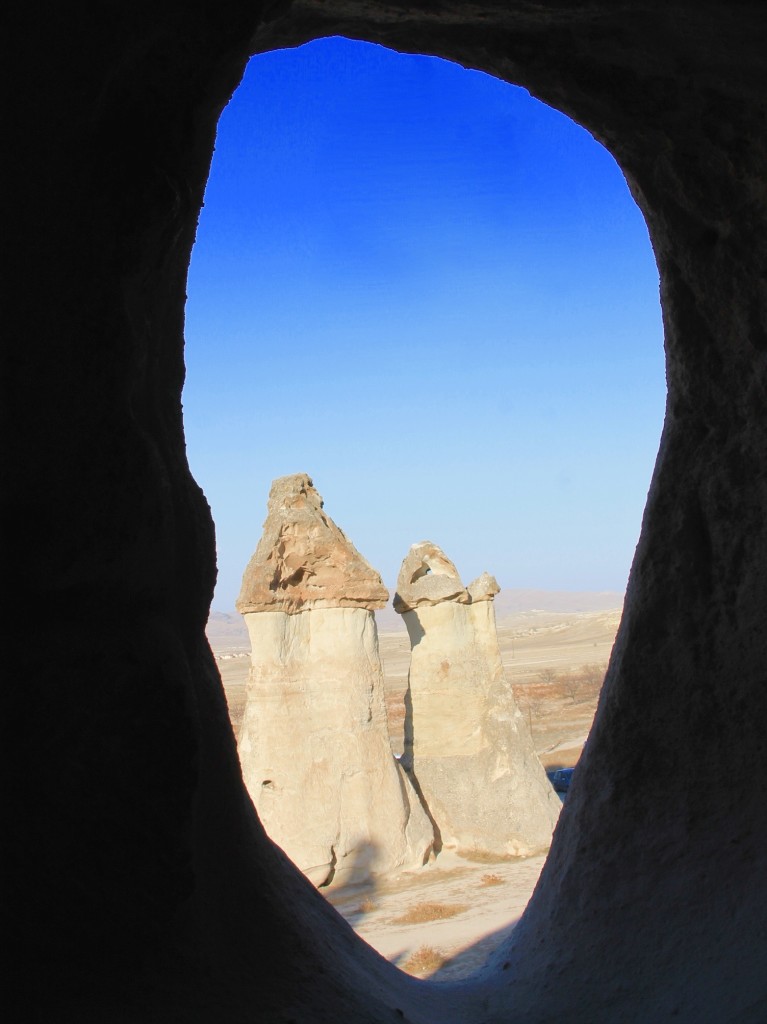 Marvel At the Fairy Chimneys in Pasabag
Cappadocia is knows for it's otherworldly landscape and strange rock formation. You will find some of the most interesting rock formations in Pasabag or Valley of the Monks, located a couple of miles from Göreme. The valley is filled with mushroom-shaped rock formations referred to as fairy chimneys which make for a truly unique and striking scene. Many of the fairy chimneys have been carved to create rock cave dwellings and even a chapel dedicated to St. Simeon.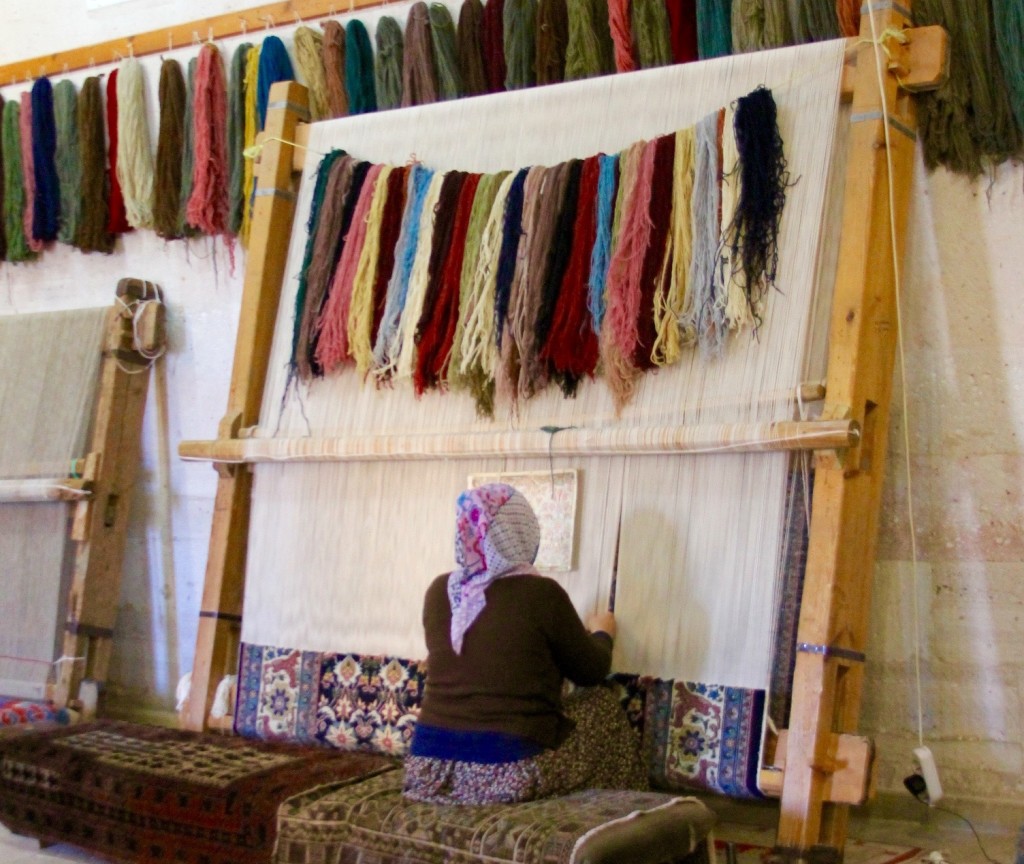 Learn How Turkish Rugs Are Made At The Rug Cooperative
Turkey is famous for it's beautiful hand woven rugs many of which are made in Cappadocia. The showrooms here are not filled with as many tourists and the prices are better than in Istanbul so if you want to purchase a rug it's better to do it in Cappadocia.  I visited the a rug Cooperative where I had the opportunity to see women at work making the rugs, it was so interesting to learn about the process and about the materials and dyes used. I even had the opportunity to share lunch with a group of women who where celebrating after finishing a rug, which took them 3 months to make. This was a truly unforgettable experience!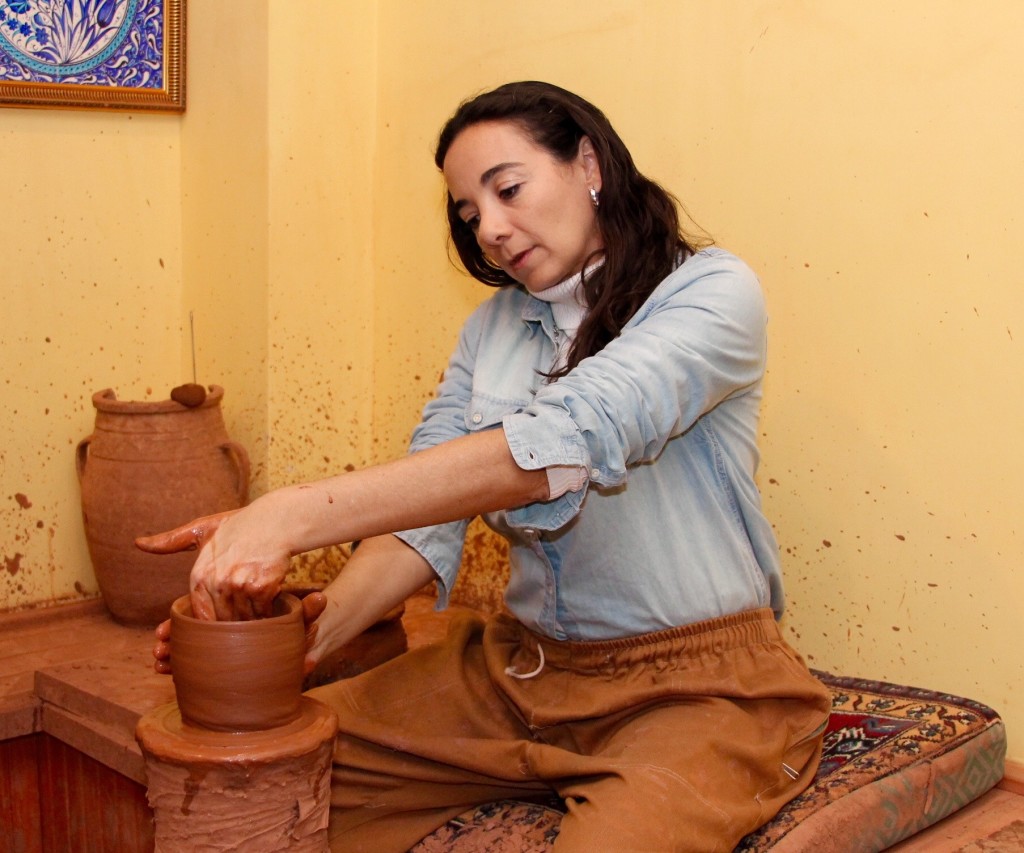 Learn To Make Traditional Pottery In Avanos
The small town of Avanos has been a centre of terracotta art since 3,000 BC. Located near the Red river Avanos locals have been using the red clay that lies on it's banks to make household products. Today some of the most beautiful pottery is made in Avanos is hand-made by skilled artists using foot spinning wheels. If you want to buy authentic traditional pottery in Turkey Avanos is the place to go, here you can go right to the source and many of the pottery workshops offer a demonstration and you can even make your own work of art or take a pottery class. Watching a demonstration and getting your hands dirty at the pottery wheel is free, you will then be taken to the showroom where you can purchase pottery but I loved that I did not feel pressured to purchase anything (although I did!).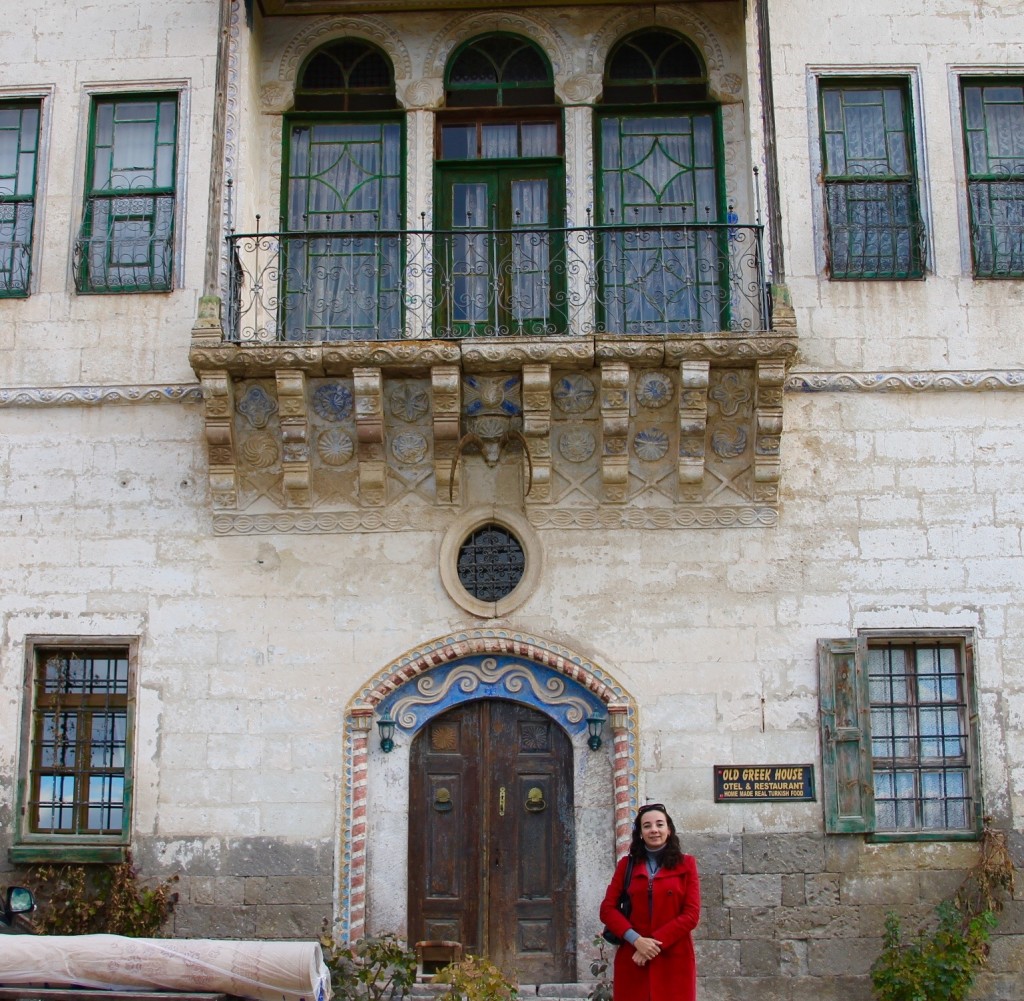 Visit the Greek Village of Mustafapasa
Mustafapasa, also called Sinasos (city of the sun) by it's Ottoman Greek residents, is a quaint Greek town. Unlike Ürgup and Göreme this town is not filled with hotels and tourists giving you a much more authentic experience.  It's architecture is also quite different; the houses have an unmistakable Hellenic style man of the houses have beautiful stone carvings specially around the doors and on balconies. If you visit Mustafapasa you must make a stop at The Old Greek House restaurant. Not only is The Old Greek House a gorgeous and well preserved example of the town's ornate architecture but the food is also fantastic. The house built in the 1800's belonged to a Greek artist and the interior if filled with beautiful frescoes that cover walls and ceilings, specially in the second floor. After having a delicious meal here we walked towards the main square where we visited the Church of St Helena and Constantine, this 17th century building has a gorgeous and ornate entrance, the door framed by an elaborate stone grapevine carving.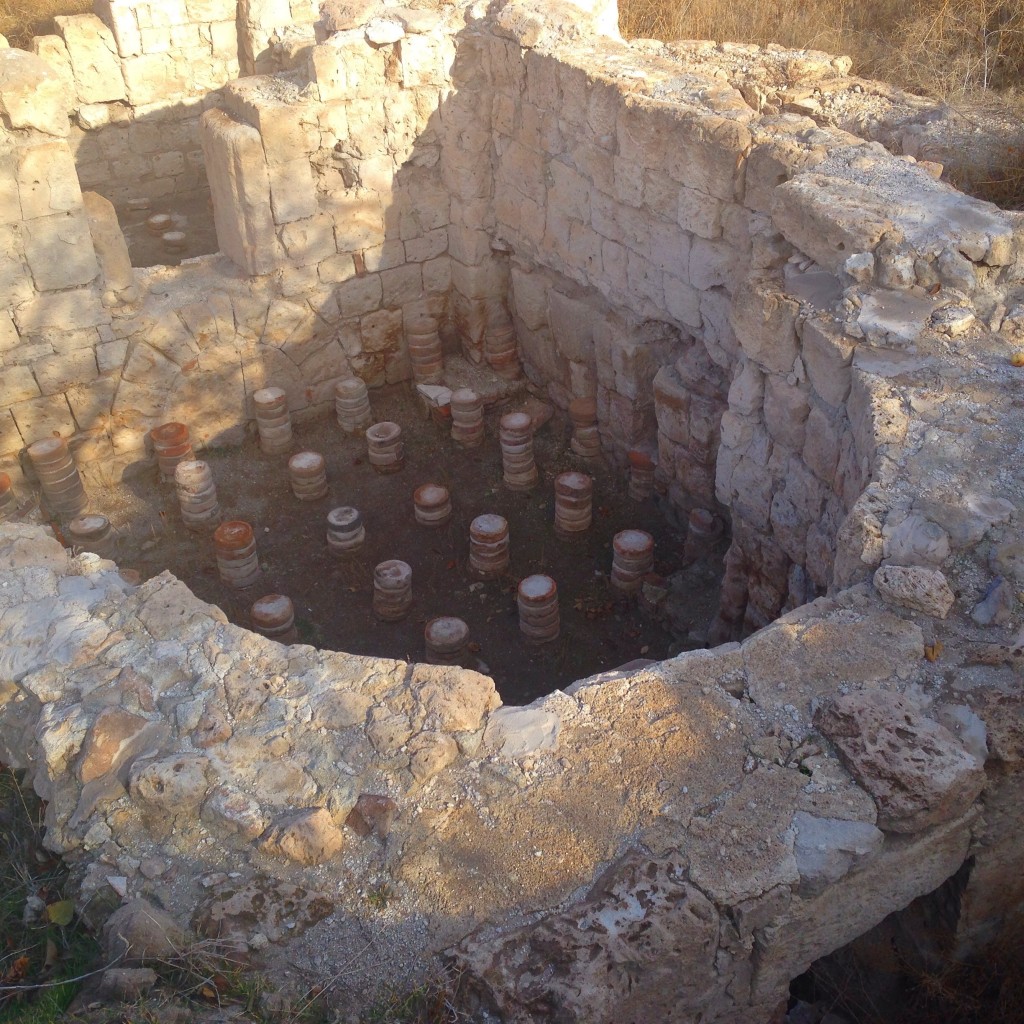 Explore The Sobesos Roman Excavation
In Sobesos you will find the only late-Roman ruins to be uncovered in Cappadocia. Dating from the 5th century A.D. the site is a perfect stop on your way to the Sognali Valley. The Sobesos excavation is small and there is no entrance fee, the main attraction is a small hall with beautiful mosaic floors. There is also a bath complex and other small structures. Sobessus is the first evidence of a full-scale Roman settlement in Cappadocia making especially interesting for history buffs.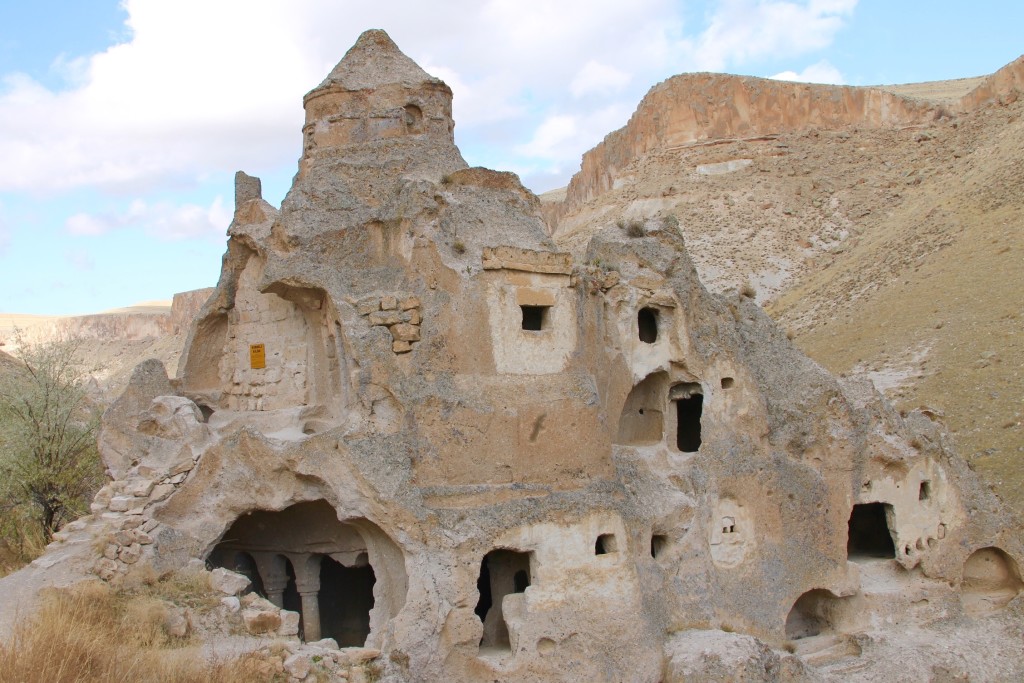 Hike the Sognali Valley
The Sognali Valley is a great option if you want to get away from the tourist crowds. It's ideal for a half day hike. Here you will find lots of rock cut churches, pigeon houses and unusual rock formations and if you are lucky, like I was, you will get to experience this all by yourself.
The churches are not as beautiful or well preserved as the ones you see in at the Goreme open air museum but being able to see them without anyone else around is very special. It wasn't until I walked by myself into the churches in the Sognali valley that I truly felt like I was stepping back, this is where I felt like I had made a connections with this beautiful place.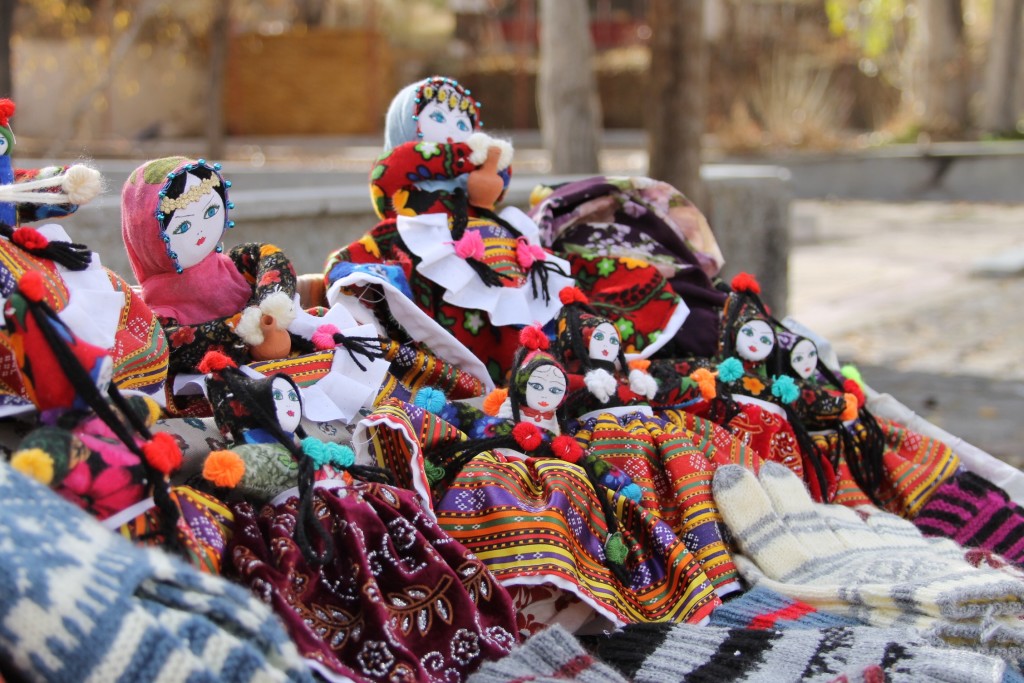 Buy Hand Made Traditional Turkish Dolls in Sognali
I ended my hike at a Sognali village, where three women where selling traditional Sognali dolls and hand-sewn gloves and scarves. It was late November and I was the only tourist there and as I walked into the village from the trail they all ran to greet me speaking in different languages: French, Italian and English as they still had not figured out my nationality. They where eager to sell me their handicrafts but they where not pushy, they just looked really happy to see a potential customer and their excitement was contagious. It was the perfect end to wonderful journey that not only gave me a look into one of the most interesting an beautiful areas in Turkey but that also stole my heart!
I did not get to see Cappadocia from an hot air ballon but this gave me the opportunity of seeing more of the region and getting a deeper and more grounded understanding of it's amazing history. Booking my tours with Argeus Travel was the best decision I could have made: my local guides created a personalized itinerary based on my interests and shared with me not only their knowledge of Capadoccia but also their love for their homeland making this an unforgettable and amazing experience!
You can learn find great Cappadocia tour options by visiting the Cappadocia Exclusive website from Argeus Travel  and like their Facebook page and follow @ArgeusTravel on Twitter and on Instagram for more inspiration on what to do in Cappadocia and Turkey when you visit.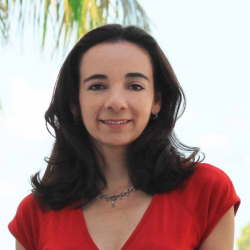 Latest posts by Paula Bendfeldt-Diaz
(see all)