This shop has been compensated by Collective Bias, Inc. and its advertiser. All opinions are mine alone. #BigGameSnacks #CollectiveBias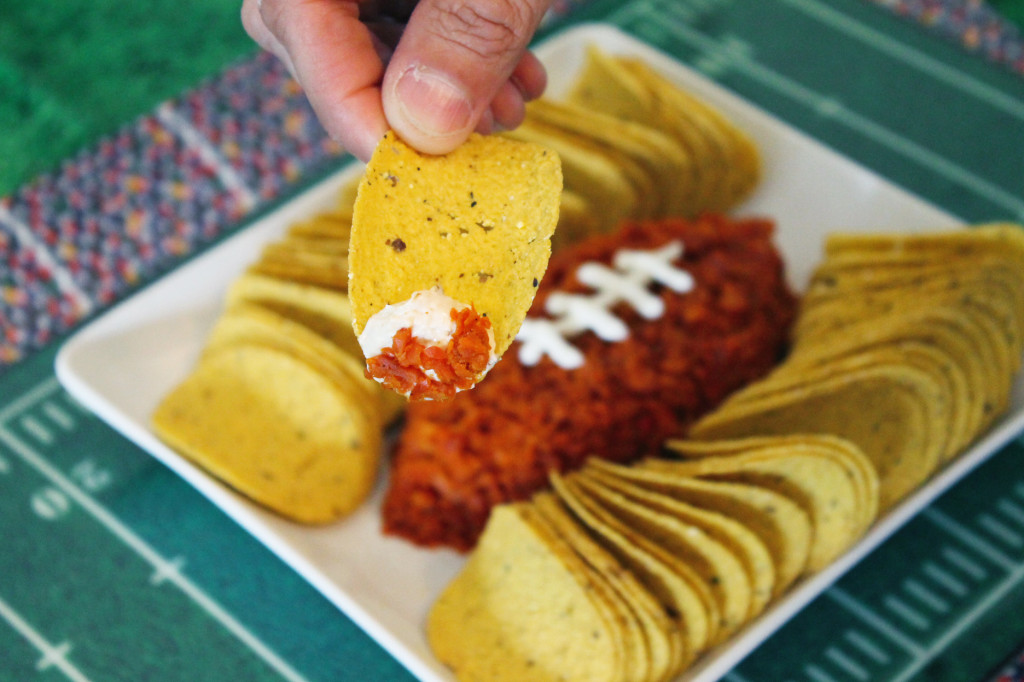 The Big Game is almost here and we are ready to cheer our favorite team! We will be having a football themed party at home with some family and friends.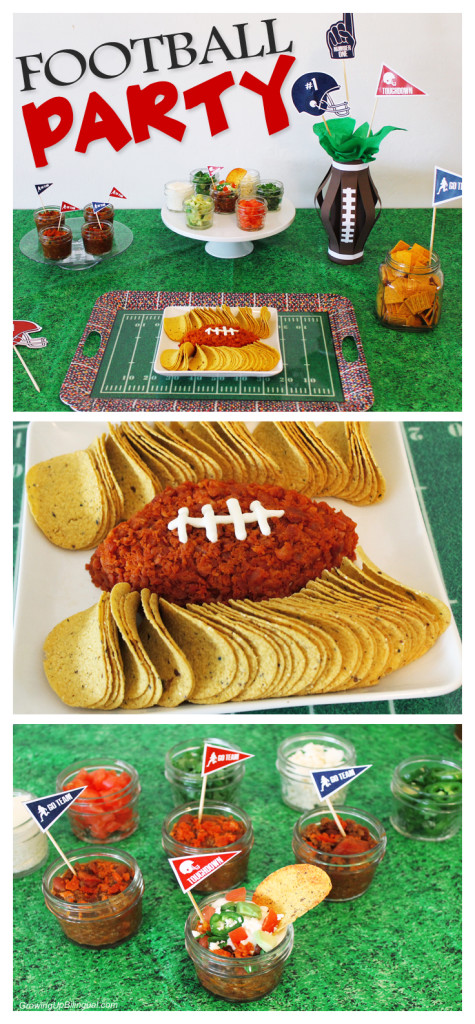 For the party I wanted something more interesting that chips and salsa so I created a football party menu using Pringles and Cheeze-It Grooves.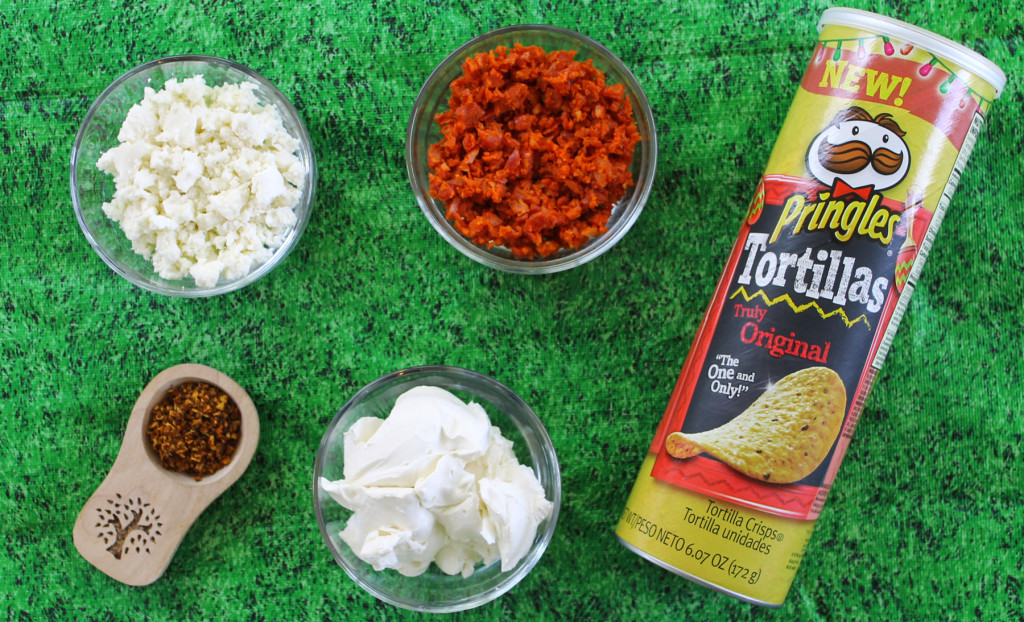 Football Party Menu
Football shaped spicy cheese ball with chorizo: while looking on Pinterest I came across a football shaped cheese ball with bacon and I decided to give it my own twist. I love spicy food so I mixed cream cheese with queso and added some chipotle spice mix to turn up the flavor, covered in chorizo and paired it with the new Pringles Tortillas: the perfect combination.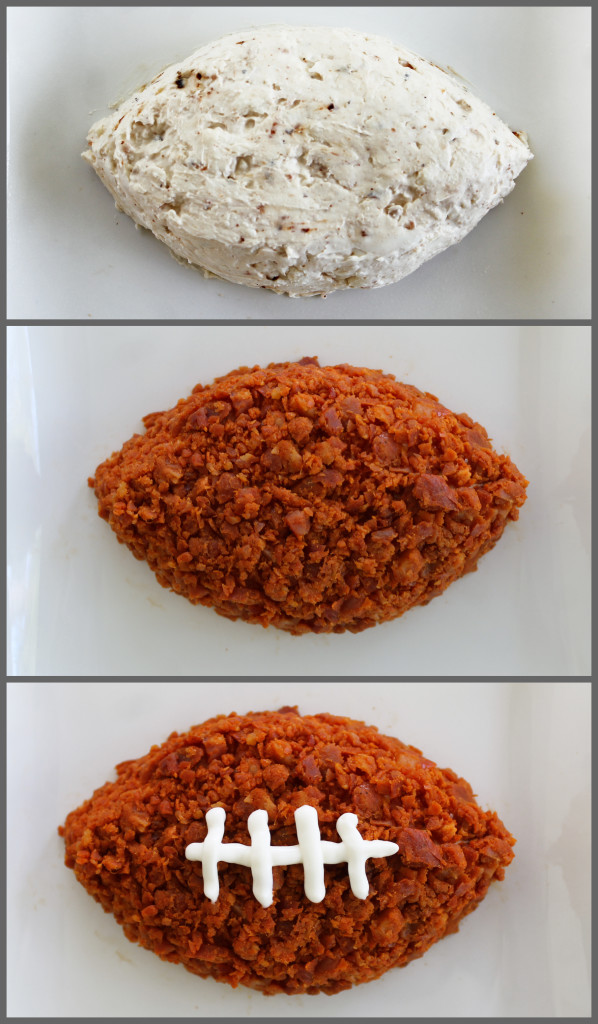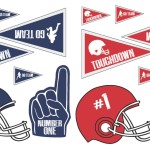 Chipotle and Chorizo Football Cheeseball and Football Party Printables
Ingredients
¾

cup

crumbled queso fresco cheese

1 8

onz package of cream cheese

3

teaspoons

chipotle spice blend

2

chorizos

crumbled in the food procesor

Mexican crema

Pringles tortilla chips
Instructions
Soften cream cheese by placing it in the microwave for 20seconds.

Mix cream cheese, queso and chipotle spice blend.

Using the mixture forma football shape on a plate.

Refrigerate for 20minutes or until it hardens.

Finish forming the football and cover with chorizo crumbs.

Make the lacing using Mexican crema.

Serve with Pringles tortilla
Chili bar: for the chili bar I used the chorizo and chipotle beef chili we made this week and lots of different toppings including: queso, jalapeños, Mexican crema, fresh cilantro and tomato. I placed the chili in individual small mason jars to make it easier for everyone.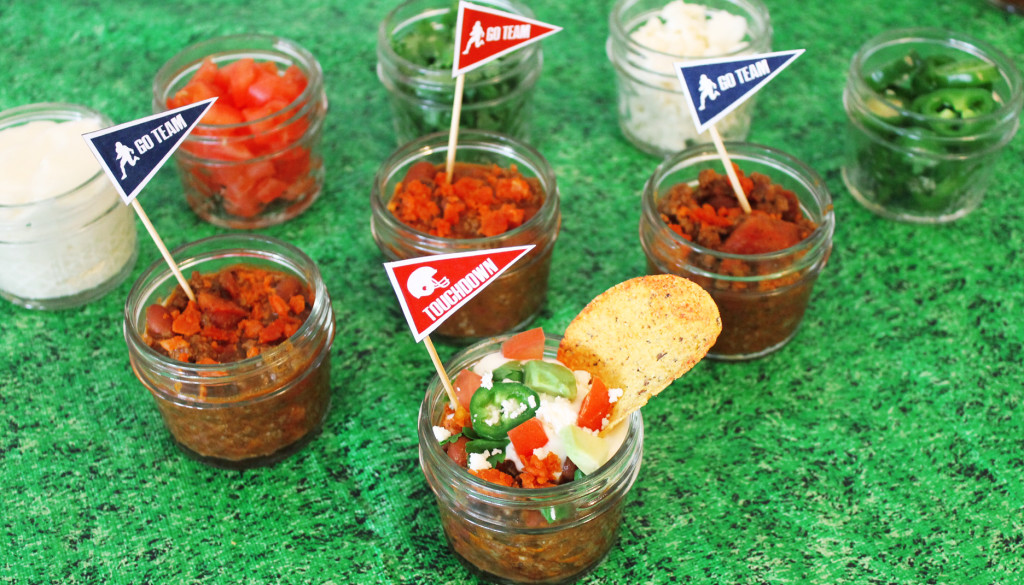 The chipotle and chorizo beef chili paired perfectly with the Pringles Tortillas Zesty Salsa. I had not tried this flavor of Pringles before and really the bold flavor.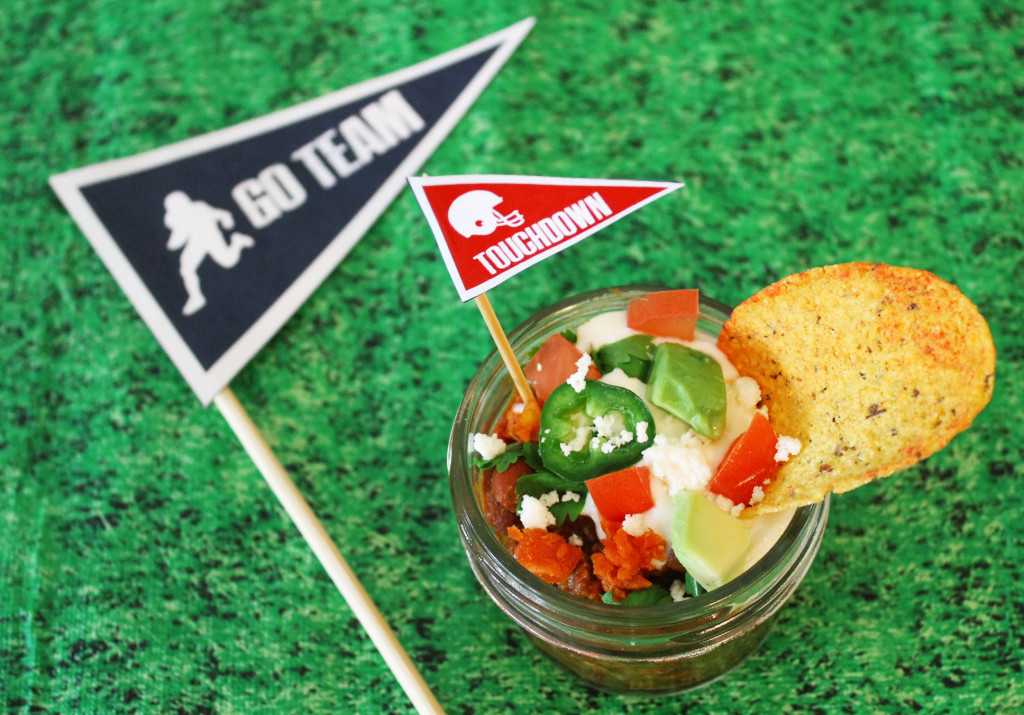 Cheesy snack: the Cheese-It Grooves are a perfect cheesy game time snack that everyone can enjoy.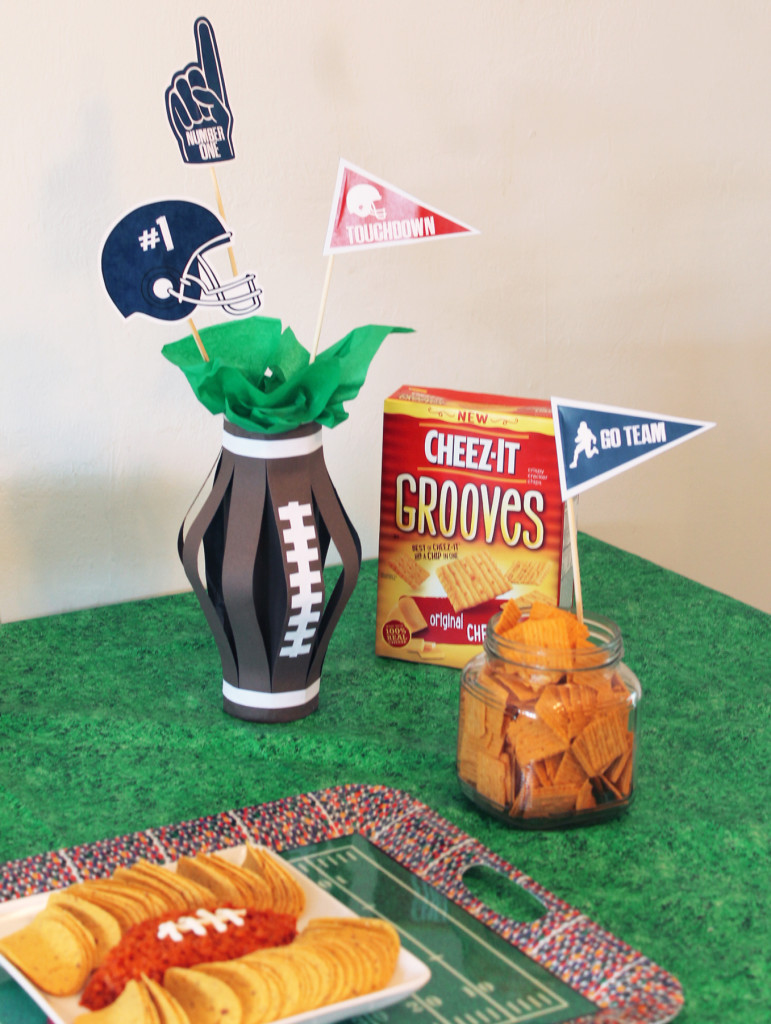 Football Party Decorations
DIY football centerpiece: To make things more festive I created a football centerpiece using the Pringles can as a base. This was really easy to make and I had all of the materials at home.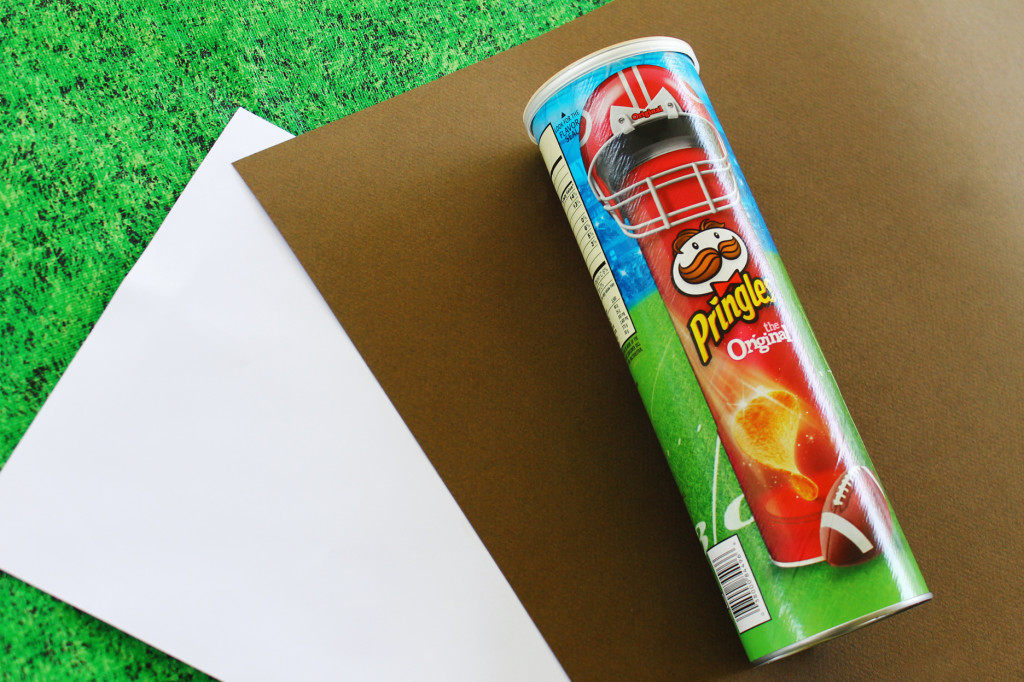 Materials: 1 can of Pringles, 1 piece of brown construction paper, white glue, 1 piece of white paper, 1 piece of green tissue paper, wooden skewers, football party printables.
Instructions:
Trim cardstock 2 inches larger than the Pringles can. Fold an inch from the edge along each long side.
Cut lines between the folded lines every inch using a trimmer or craft knife with ruler.
Adhere ends to the top and bottom edge of the Pringles can puffing out strips to form a football shape.
Cut the lacing from the piece of white paper and glue it to the center of the ball.
Cut two ½ inch strips of white paper and glue around the can at the beginning and the end of the strips you puffed.
Insert a piece of green tissue paper into the can.
Download the football party printables, print on cardstock and cut.
Glue wooden skewers to the back of the flags and hands you printed.
Insert the wooden skewers into the can and through green tissue paper at different heights. You can place a tall piece of foam inside the can so you can insert the bottom end of the skewers in it and make sure they stay where you want them.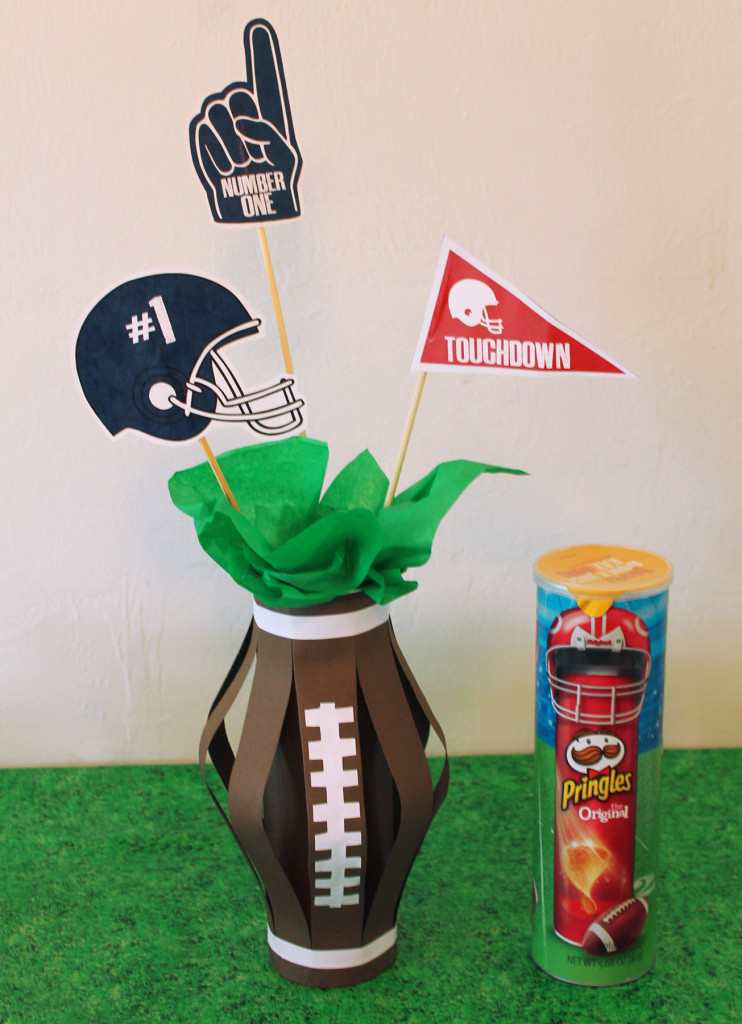 Football party printables: For this party setup I created some fun and lively fee printables in the colors of our favorite New England team. You can dowload them HERE or by clicking on the image below.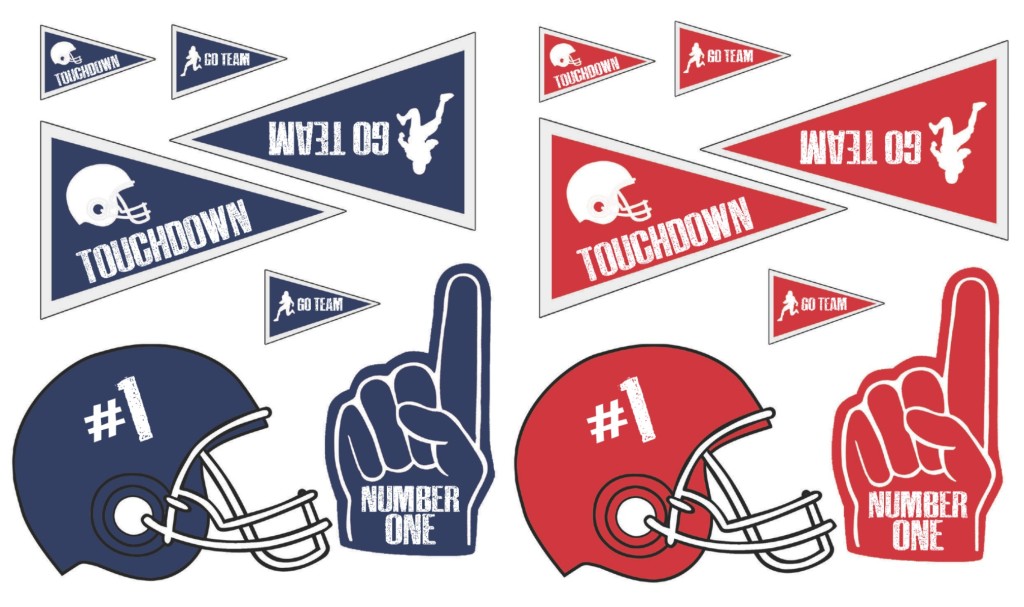 I got everything I needed for my football party at Walmart, from the paper to the ingredients for my recipes and of coarse the Pringles and the Cheese-It Grooves.

You can check out more game time recipes at the Snackable Moments website. You can also visit the Pringles and Cheese-It Facebook pages and follow @Pringes and @CheeseIt on twitter to stay up to date with their new products and offers.
Latest posts by Cesar Diaz
(see all)