This shop has been compensated by Collective Bias, Inc. and its advertiser. All opinions are mine alone. This content is intended for readers who are 21 and over. #MiCervezaPremium #CollectiveBias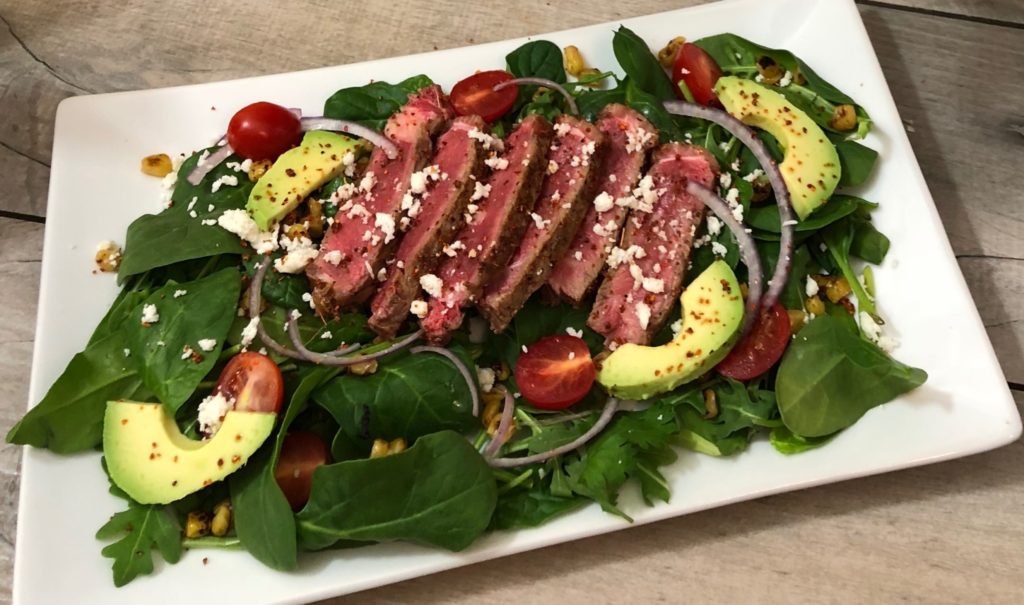 I'm doing my best to keep my New Year's resolutions and eat lighter. That doesn't mean I don't get to enjoy myself. It's football season and that means getting together with friends and family to enjoy watching the games.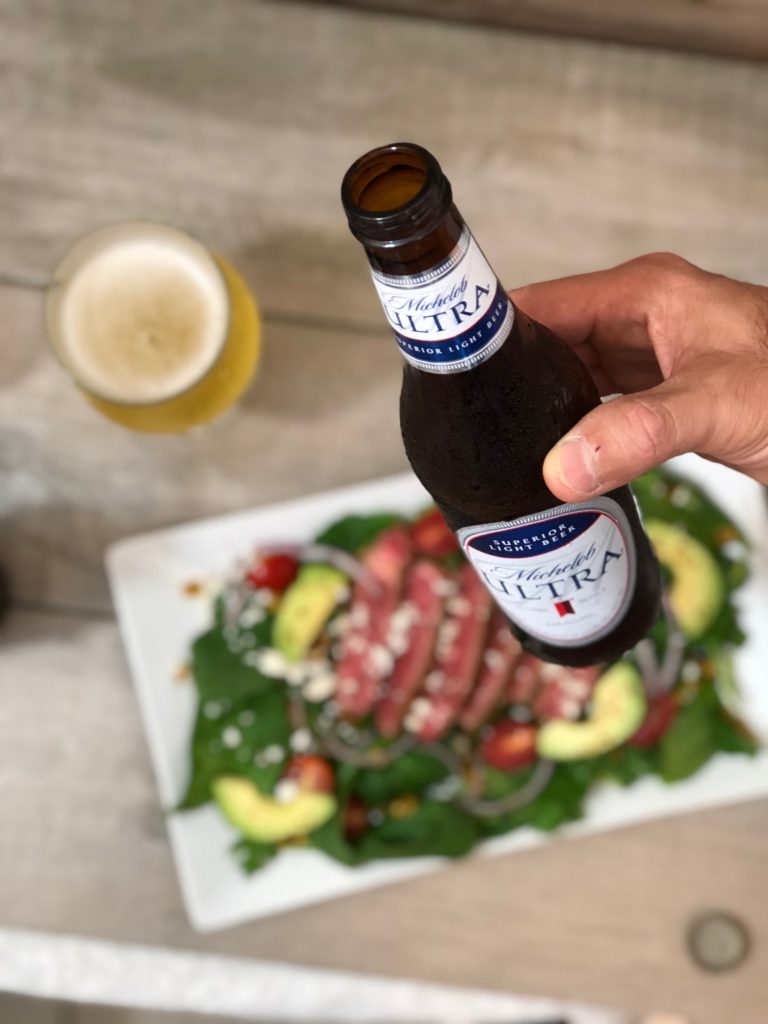 As I was wondering what to make for my friends and me to enjoy while watching the Big Game it hit me: a chipotle steak taco salad would make the perfect homegating food paired with our favorite light beer Michelob ULTRA!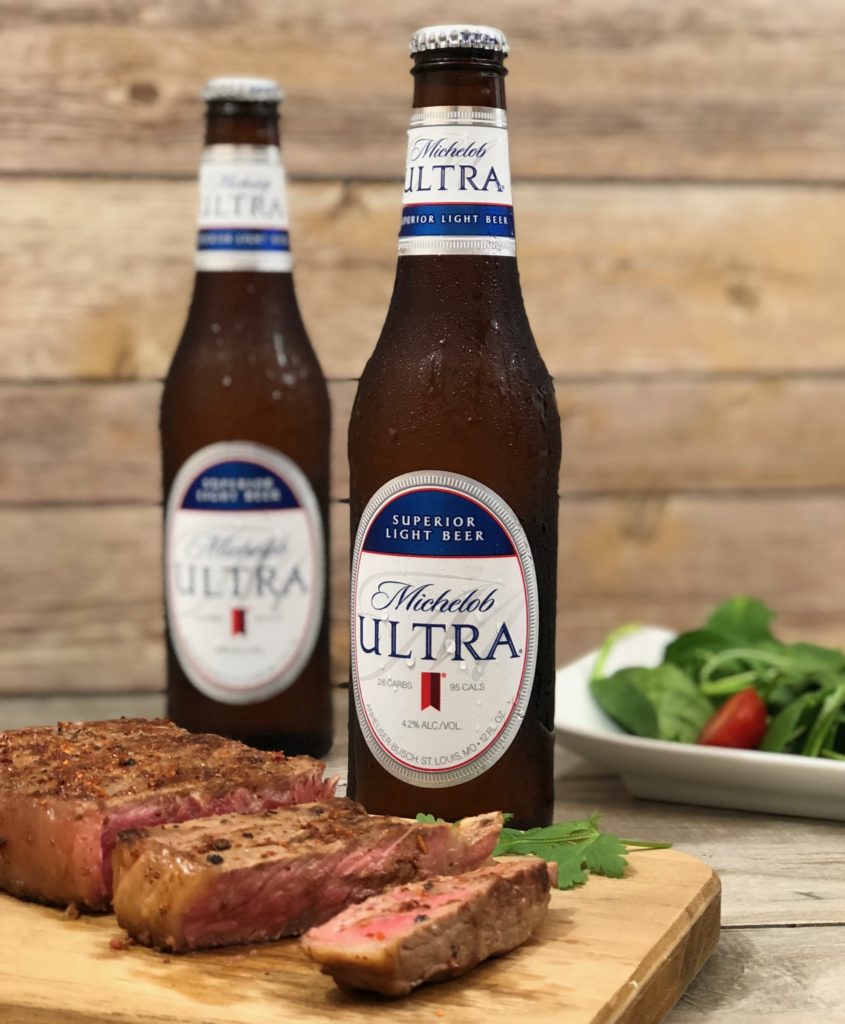 Enjoying an ice cold beer while homegating and cheering for your favorite team is part of why I enjoy watching football.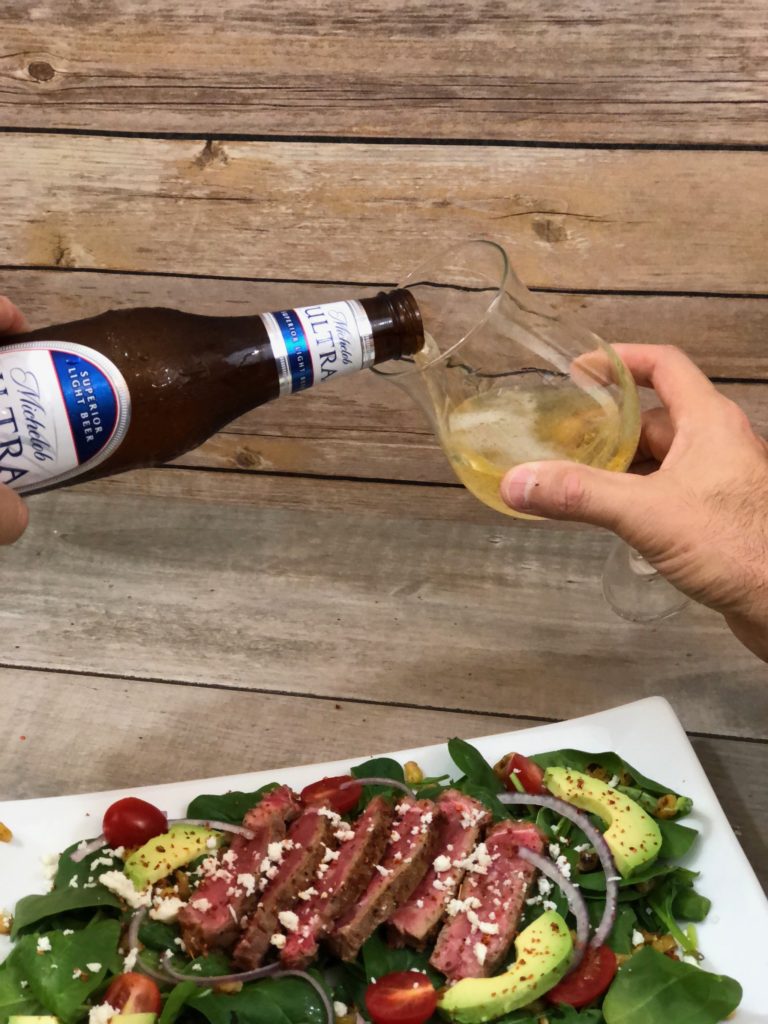 There is a reason why Michelob ULTRA is The Superior Light Beer and the best choice for my active lifestyle: its a premium, great tasting beer that won't fill you up and it only has 95 calories and 2.6 carbs. The best part is that Michelob ULTRA has a great taste, it's crisp and refreshing and I don't feel guilty after drinking it!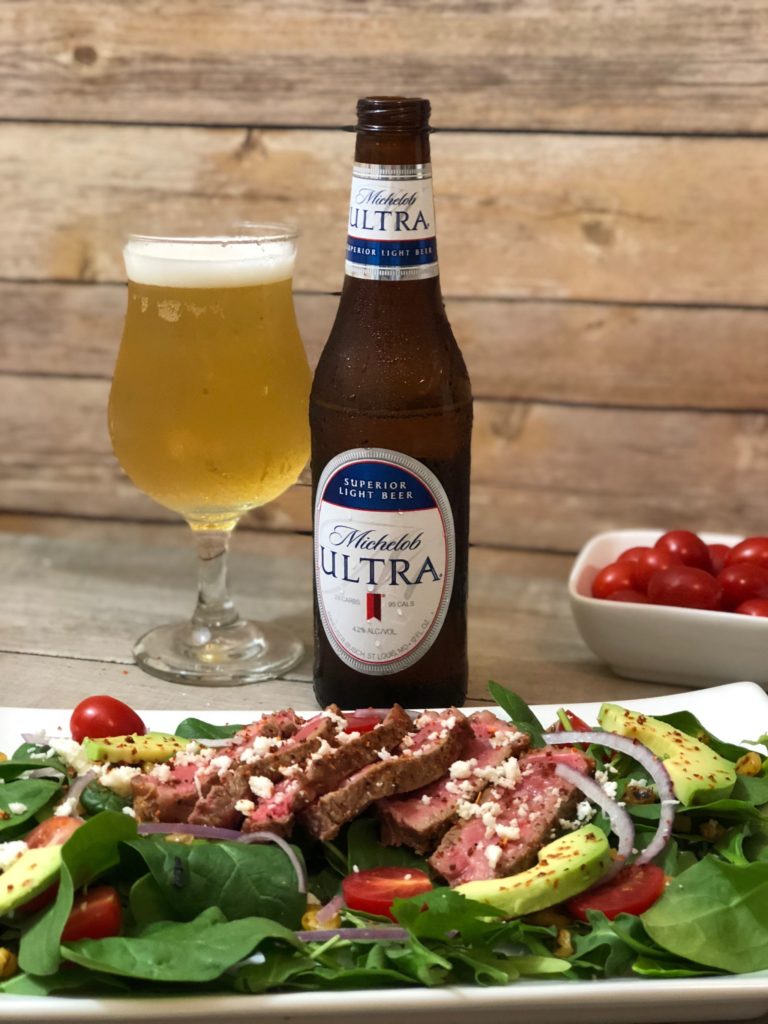 Now for this amazing taco steak salad recipe! I love that this recipe is so much lighter than eating steak tacos yet it tastes amazing and is filled with flavor.
Chipotle Steak Taco Salad Recipe
Ingredients
4 ribeye steaks
2 tablespoons fresh orange juice
1 1/2 tablespoons fresh lime juice
2 tablespoons chipotle adobo
1 tablespoon honey
1 garlic clove, grated
3/4 teaspoon kosher salt
1/4 teaspoon ground cumin
spinach and arugula salad mix
2 Hass avocados
1 red onion, thinly sliced
2 cups of grape tomatoes, cut in half
roasted corn, you can grill corn on the cob and cut it or roast it in a no-stick hot pan
¼ cup queso fresco, crumbled
Ingredients for Citrus Chipotle Vinaigrette
1/2 cup olive oil
2 tablespoons red wine vinegar
1 teaspoon cup honey
1 tablespoon adobo sauce
1 teaspoon garlic powder
1/4 teaspoon oregano
1/4 teaspoon cumin
1 tablespoon lime juice
2 tablespoons orange juice
1/4 teaspoon salt
freshly cracked black pepper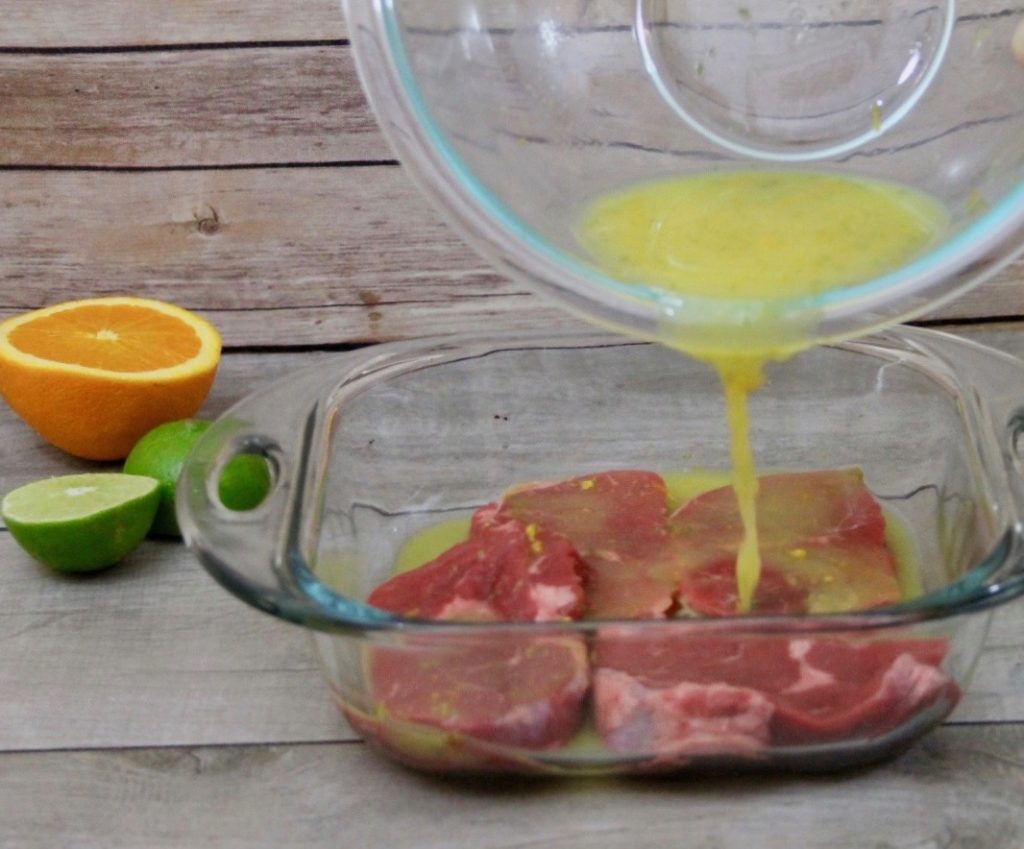 Instructions
1. Combine orange juice, lime juice, chipotle adobo sauce, honey, grated garlic, 3/4 teaspoon kosher salt, and cumin in a large zip-top bag.
2. Place the steaks in a glass container. Pour the marinade over the steaks, cover and refrigerate 1 hour.
3. Combine all the ingredients for the vinaigrette in a small, non-reactive bowl and mix well.
4. Take your steaks out of the refrigerator about an hour or 45 minutes before you want to eat so that they are tempered.
5. Heat a grill or heat up a large frying pan over medium-high heat on the stovetop.
6. Cook the steak 2-3 minutes on each side. I like my steak medium rare so you may want to cook a minute or two more if you like it medium or well done.
7. Plate the steaks, cover with aluminum foil and let them rest on the plate for 5 minutes.
7. Cut into thin slices.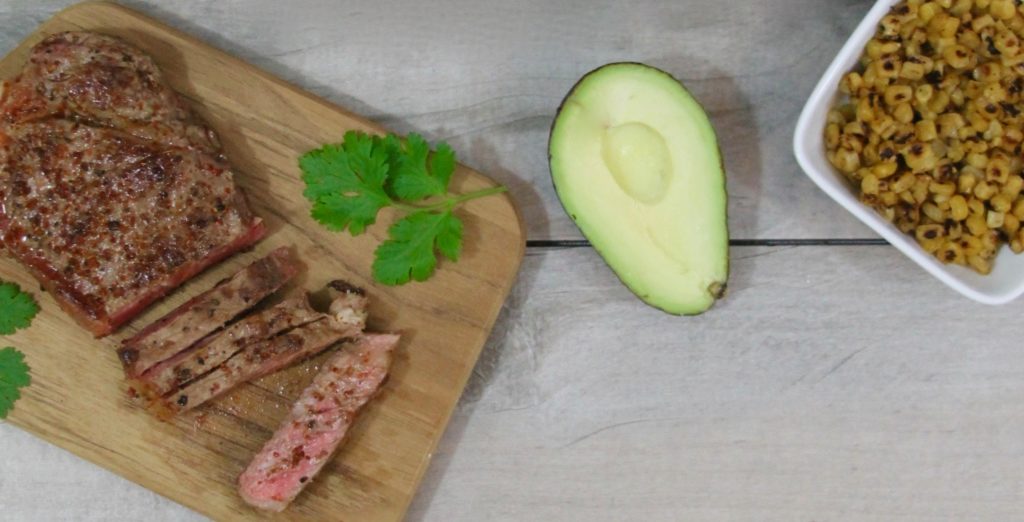 8. Sprinkle steak with kosher salt and chipotle powder for an extra kick.
9. In a large bowl combine spinach and arugula salad mix, tomatoes, roasted corn and red onion. Mix well.
10. Add chipotle citrus vinaigrette and toss.
11. Place steak slices on top of the salad and sprinkle with queso fresco crumbles.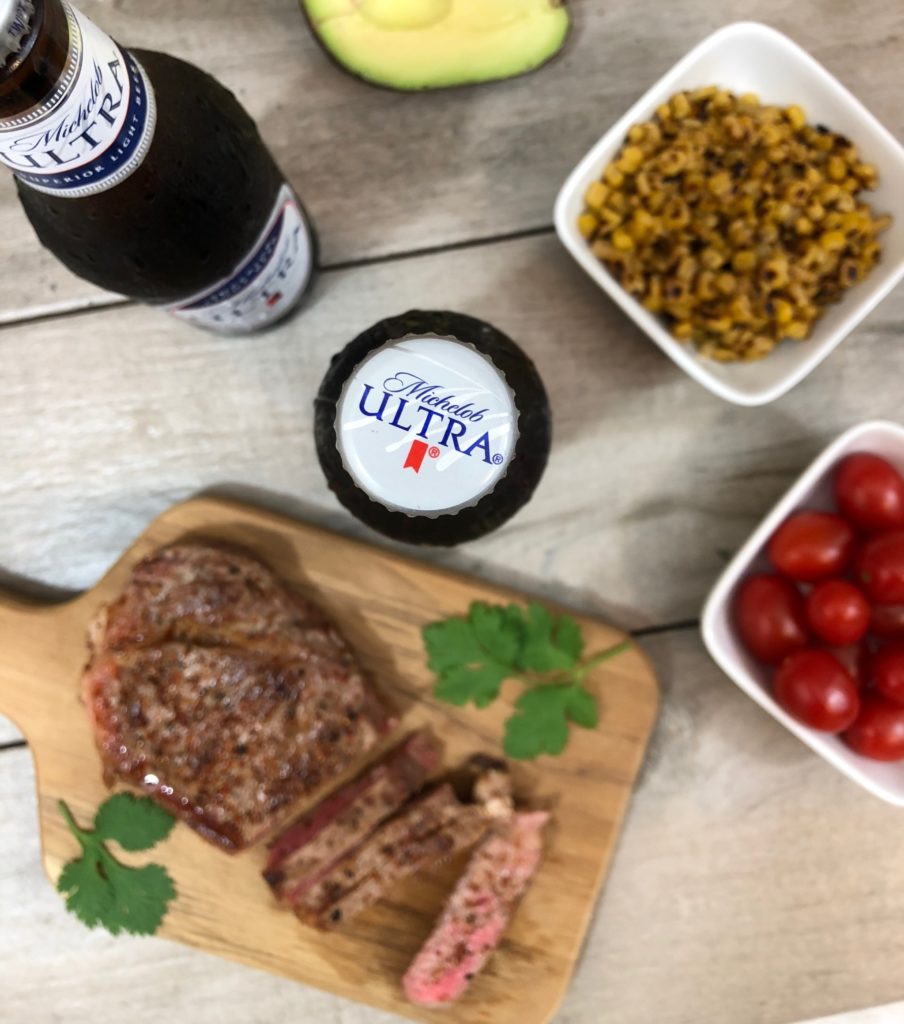 This chipotle steak taco salad is easy to make and great to share while homegating with friends and family at home. And for me, it's also a great way to blend traditions new and old by enjoying one of my favorite foods, a lighter and better for me version of mis tacos favoritos with a great premium beer that is lighter and in line with my active lifestyle!.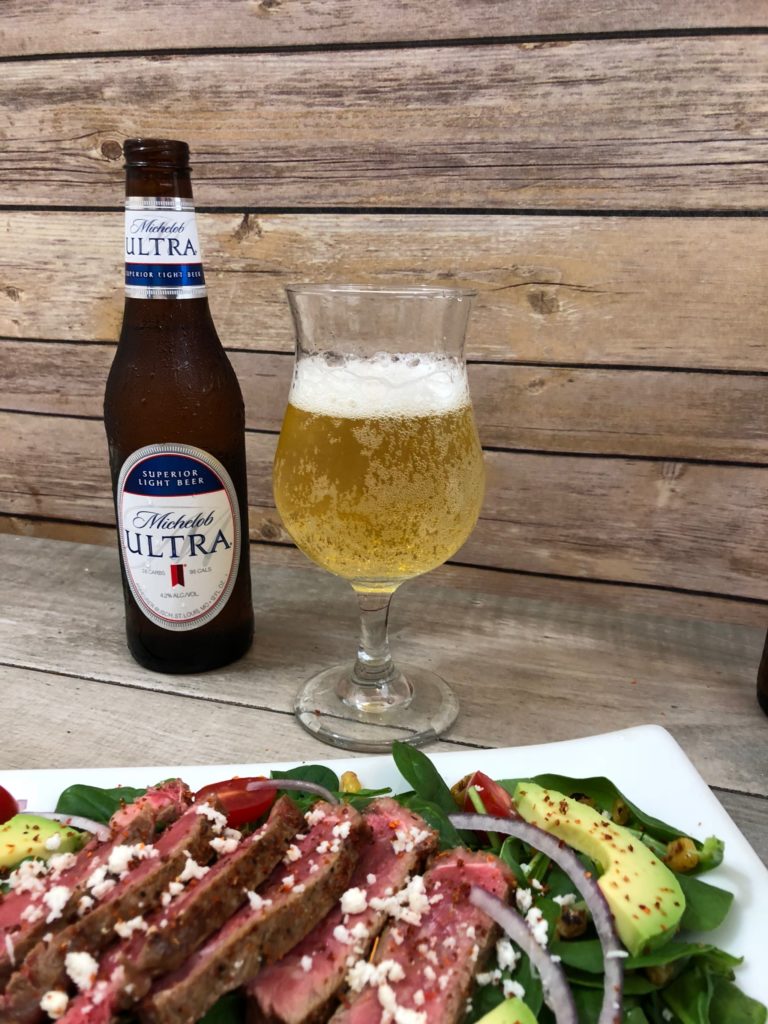 If you still have not tried Michelob ULTRA and are looking for a lighter option with fewer calories and great taste be sure to check them out. You can also find great pairing ideas and recipes by following Michelob ULTRA on Facebook and @MichelobULTRA on Instagram.