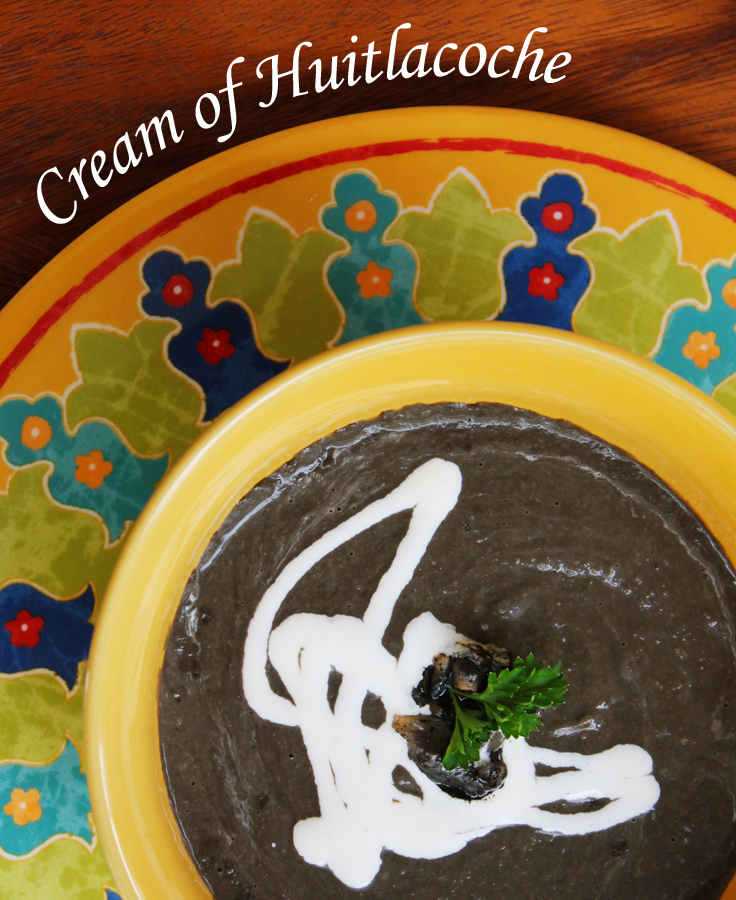 Ever since I discovered that I can order Cuitlacoche online
I have been experimenting in the kitchen and having so much fun creating huitlacoche recipes.  For those of you who do not know what huitlacoche, also knows as cuitlacoche, is it's a mushroom or fungus that grows on corn.  It has a sweet and earthy flavor and it has now become one of my favorite foods.
Huitlacoche or Cuitlacoche is traditionally eaten in Mexico and I tried it for the first time as we drove through Mexico when I was a tween.  My cousin was getting married in Virginia and the plane tickets where just crazy expensive so my parents decided that we would drive there …. from Guatemala.  Now that I think about it,  it seems pretty crazy but it was an unforgettable adventure and we got to see so many things we would have never seen before.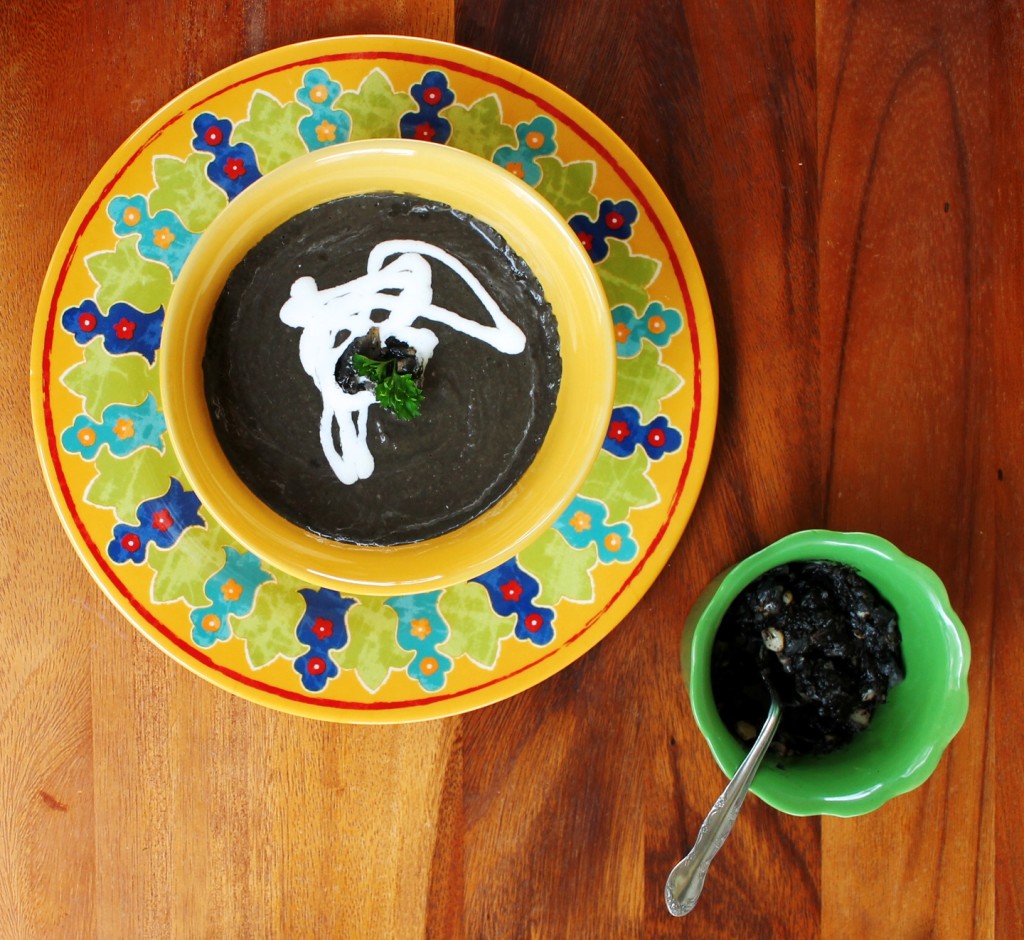 I still vividly remember stopping in small towns, among them Catemaco, and being introduced to all sorts of new foods from huitlacoche quesadillas and hachinango a la Veracruzana.  In my early twenties I traveled to Mexico City, again to attend a wedding, this time one of my best friends who was studying in Mexico at the time was getting married.  I loved the city and one I explored streets, plazas and restaurants with the same curiosity and awe trying everything from chapulines to my first fish tacos.  And every chance I got I would order Cuitlacoche
. By that time a fancy restaurant in Guatemala city was also serving huitlacoche as well as a few hotel restaurants but there was nothing like eating it in Mexico City.
Cuitlacoche, is not only delicious but it also brings back memories of those days of traveling and exploring new places and new tastes.  After making some chicken and huitlacoche tacos and since it's been quite chilly lately I decided to try and make a huitlacoche soup, perfect for those cool afternoons where you just want to stay inside and eat some comfort food.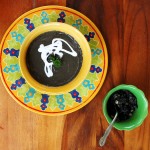 Cream of Huitlacoche Soup
Ingredients
1

tablespoon

good olive oil

2

tablespoon

unsalted butter

1

cup

chopped onion

1

tablespoon

chopped garlic

2

cups

of huitlacoche mushrooms

Kosher salt

Freshly ground black pepper

1

tablespoon

corn starch

½  

cup

dry white wine

1  

cup

half-and-half

½

cup

low sodium chicken stock plus 2 tablespoons

1/4

cup

Mexican cream

1/2

cup

minced fresh flat-leaf parsley
Instructions
Heat oil and butter on medium heat. Add onion and garlic and saute until onion is translucent.

Add huitlacoche and salt and pepper to taste. Saute for two or three minutes on medium high heat moving constantly until all liquid evaporates.

Remove huitlacoche mixture from heat and pour in blender.

Add half and half and blend until smooth.

Return the huitlacoche mixture to the pan.

Add ½ cup chicken stock and wine and simmer for 5 minutes.

Mix two tablespoons of chicken stock and corn starch and add to the mixture moving constantly until it reaches desired consistency.

Remove from heat, serve and top with a tablespoon or two of Mexican cream and parsley for garnish.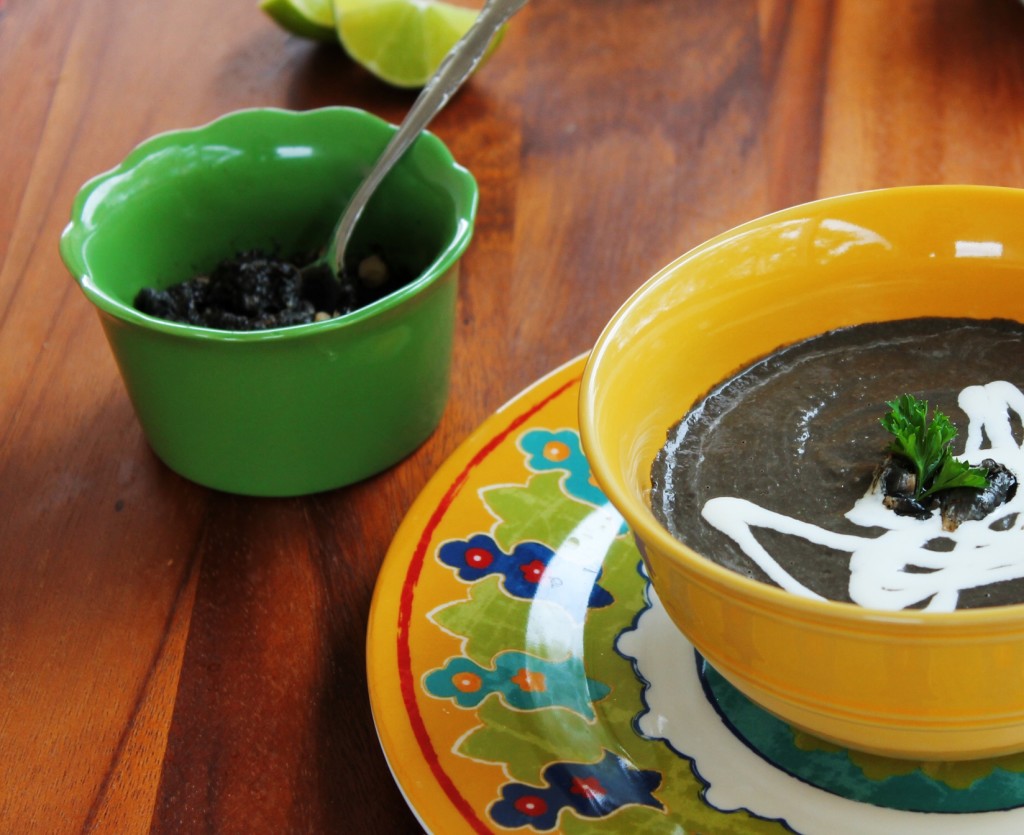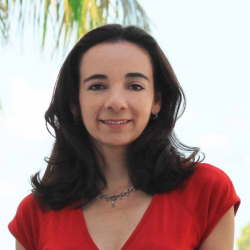 Latest posts by Paula Bendfeldt-Diaz
(see all)