This shop has been compensated by Collective Bias, Inc. and its advertiser. All opinions are mine alone. #LiveForFlavor #VivaLaMorena #AddFlavor #CollectiveBias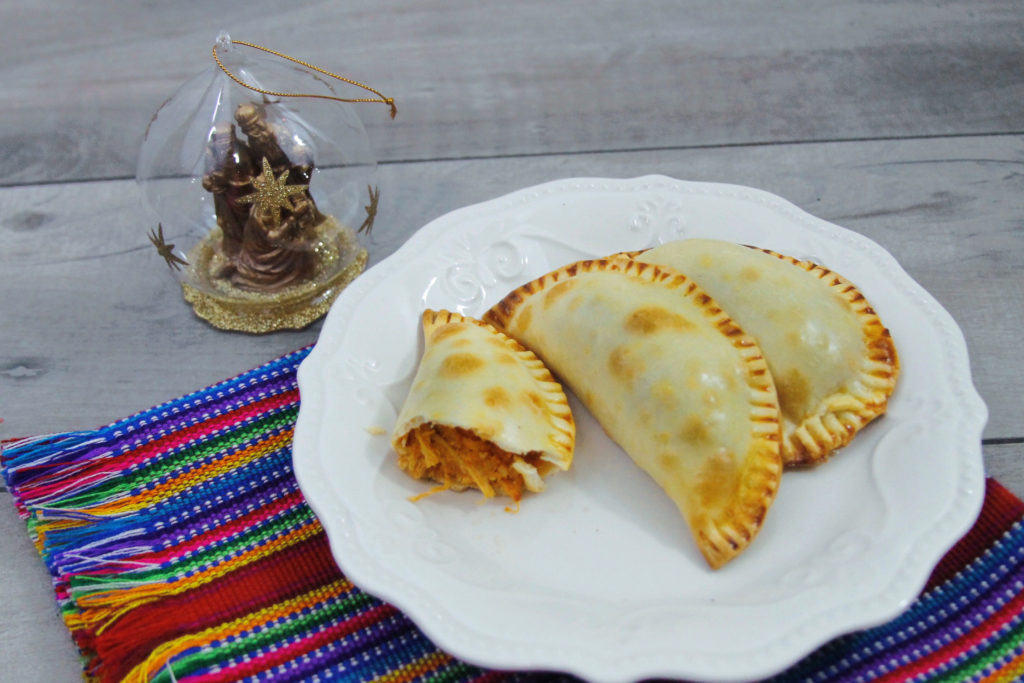 These cheesy chicken tinga filled empanadas make the perfect easy to eat appetizer for all of your family get togethers. The chorizo and chipotle give the chicken tinga it's traditional flavor and this crockpot recipe makes this Mexican traditional dish easy to make. Perfect for filling up warm empanadas this cheesy chicken tinga recipe is also great for tacos, enchiladas, tostadas or sopes!
Ever since we moved to the United States from Guatemala our family has been finding ways to keep our traditions alive. Many of those traditions have morphed and we have also added new traditions that we have adopted from our new home. The holiday season is very important to us and we have so many traditions surrounding the holidays, one of our favorites is celebrating El Dia de Reyes or Three Kings Day.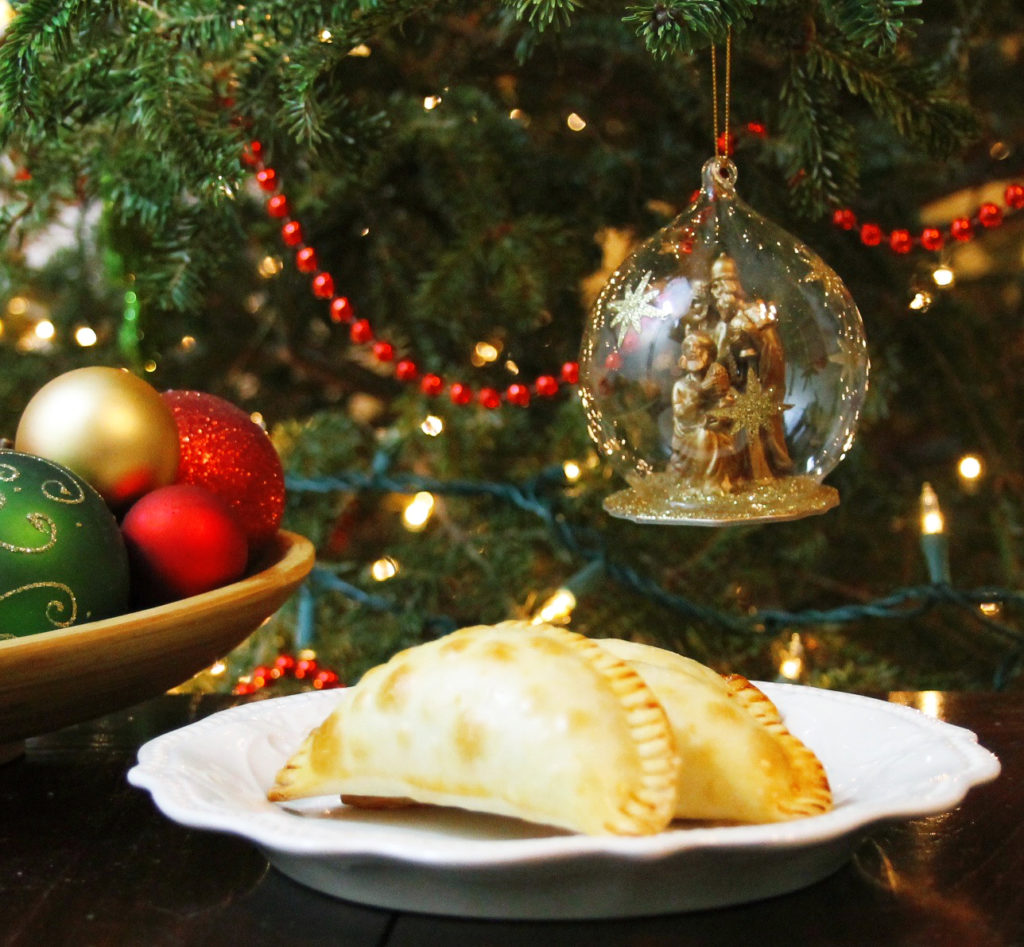 In many Latin American countries, including Mexico, Three Kings Day is a very important holiday. Many people don't even give children presents on Christmas but gifts are given instead on Three Kings Day. In our family gifts were given at the stroke of midnight on Christmas Even and 12 days after on January 6th, for Three Kings Day or Feast of the Epiphany we would receive three small gifts.
The gifts we received on El Dia de Reyes were usually more practical: shoes, a new hairbrush, a book. We would leave our shoes outside our door. Later that day the whole family would get together and share traditional recipes like empanadas, tostadas, tamales, and of course the Rosca de Reyes.
We love continuing those traditions with our kids and we are all looking forward to celebrating Three Kings Day together. We will have my parents over and I will be making these easy crockpot cheesy chicken Tinga empanadas. Chicken Tinga is a family favorite recipe, it's got a very distinctive flavor thanks to the chipotle and the chorizo. For this version, we also added some cheese, because everything is better with cheese, right?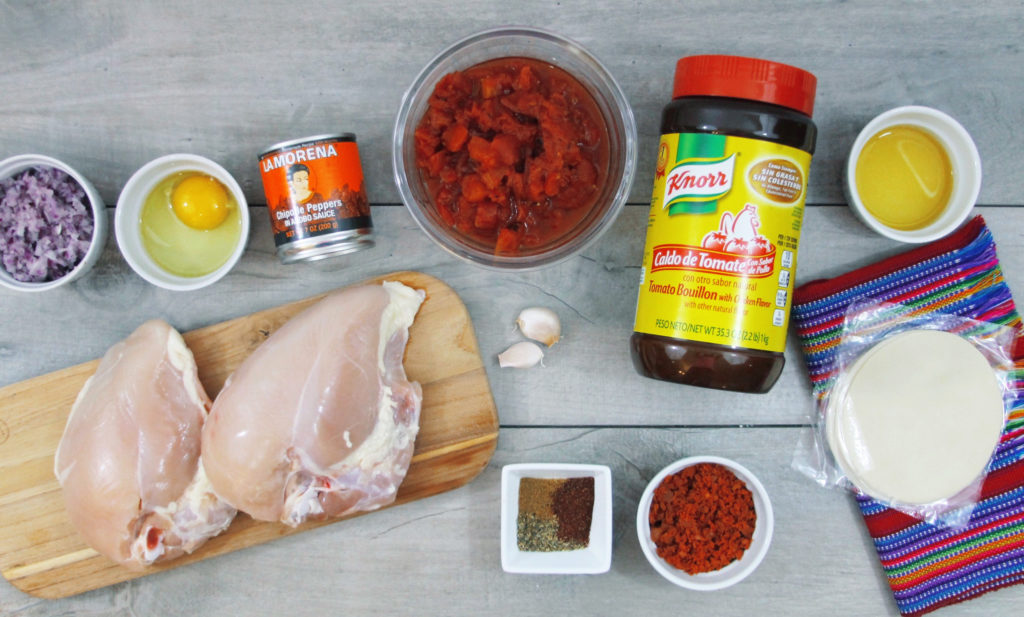 Easy Crockpot Cheesy Chicken Tinga Empanadas Recipe
Ingredients
4 skinless, boneless chicken breast halves
1 onion, chopped
1 (15 ounce) can fire roasted tomatoes
¼ cup La Morena® chipotle chile peppers in adobo sauce, chopped and seeded
2 cloves garlic, minced
1 tablespoon of Knorr® Tomato with Chicken Granulated Bouillon – 2.2 lbs
1/2 cup hot water
1/4 cup orange juice
1 teaspoon ground oregano
1 teaspoon ground cumin
1 teaspoon chili powder
3/4 cup red chorizo crumbled
1/2 cup cream cheese
1 cup shredded cheese
empanada discs
1 egg and two tablespoons of water for egg wash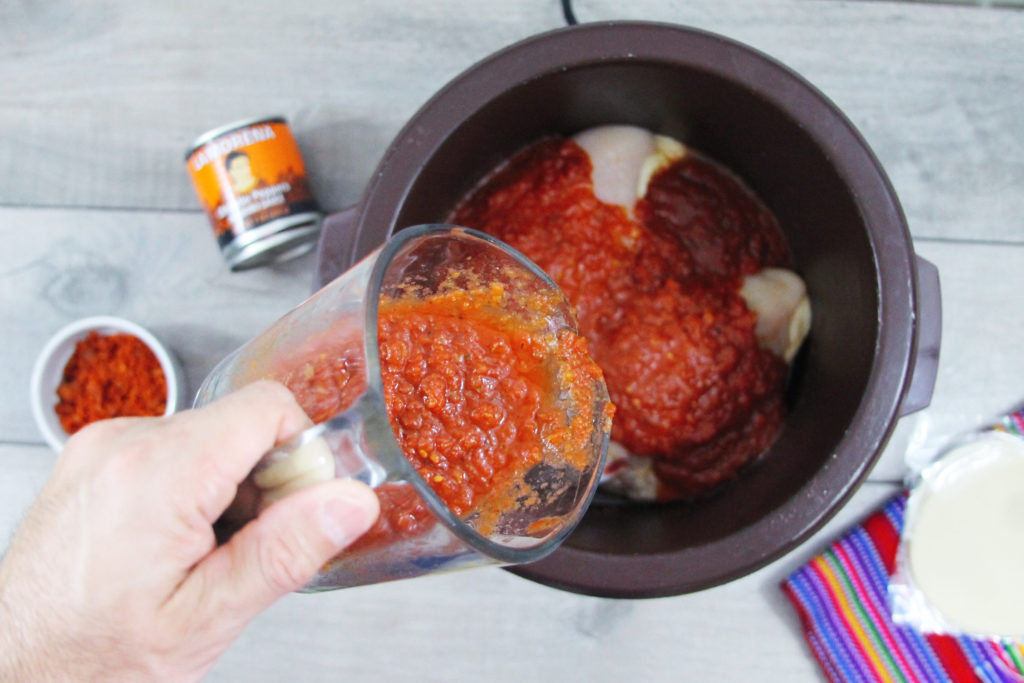 Directions
Mix the Knorr® Tomato with Chicken Granulated Bouillon with the 1/2 cup of hot water until well dissolved.
Add the fire roaster tomatoes, La Morena® chipotle chile peppers in adobo sauce, oregano, cumin, chili powder, 1/4 cup of Chicken Bouillon (reserve the other 1/4 cup) and orange juice to a food processor. Pulse a few times until the all ingredients are well combined.
Place chicken in the crockpot or slow cooker and add the tomato and chipotle mixture. Cook on Low for 3 hours. Remove chicken from slow cooker and shred using 2 forks; return to the slow cooker.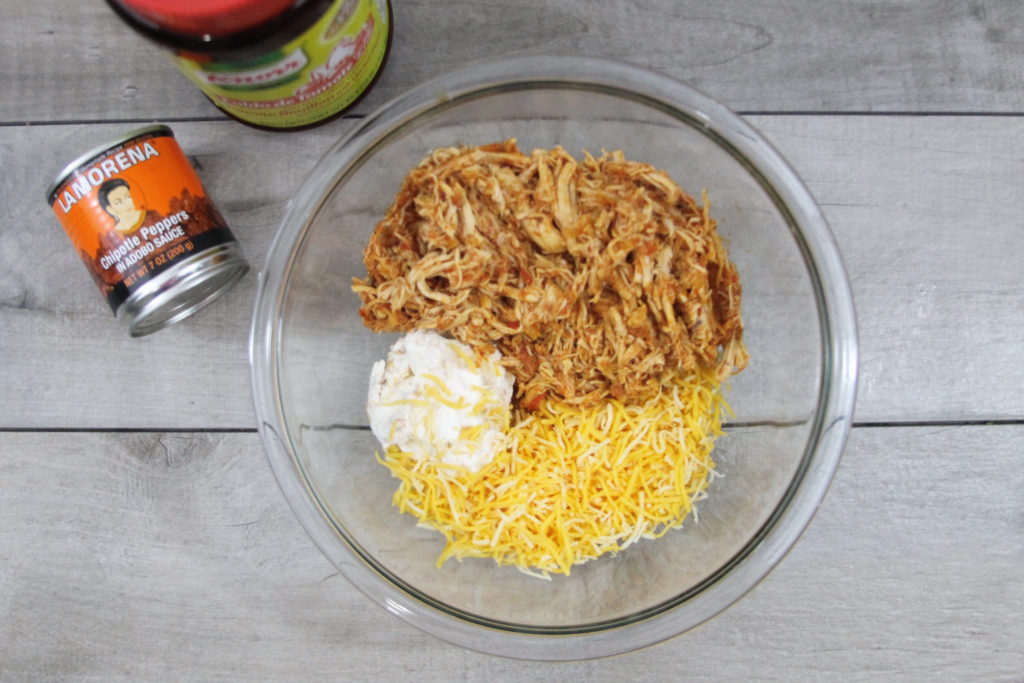 Add one teaspoon of oil to skillet and heat over medium-high heat. Add the onion ad cook until translucent, add the garlic and the crumbled chorizo and cook for another minute or two. Drain and discard grease.
Add chorizo and onion along with remaining 1/4 cup of bouillon to the crockpot.
Cook on Low for 45 minutes to 1 hour or until most of the liquid has evaporated.
Remove from crock pot and add cream cheese and shredded cheese and mix until well combined.
Preheat your oven to 375°F.
Place empanada discs on waxed paper. Put two tablespoons of chicken and cheese mixture in the center of the empanada.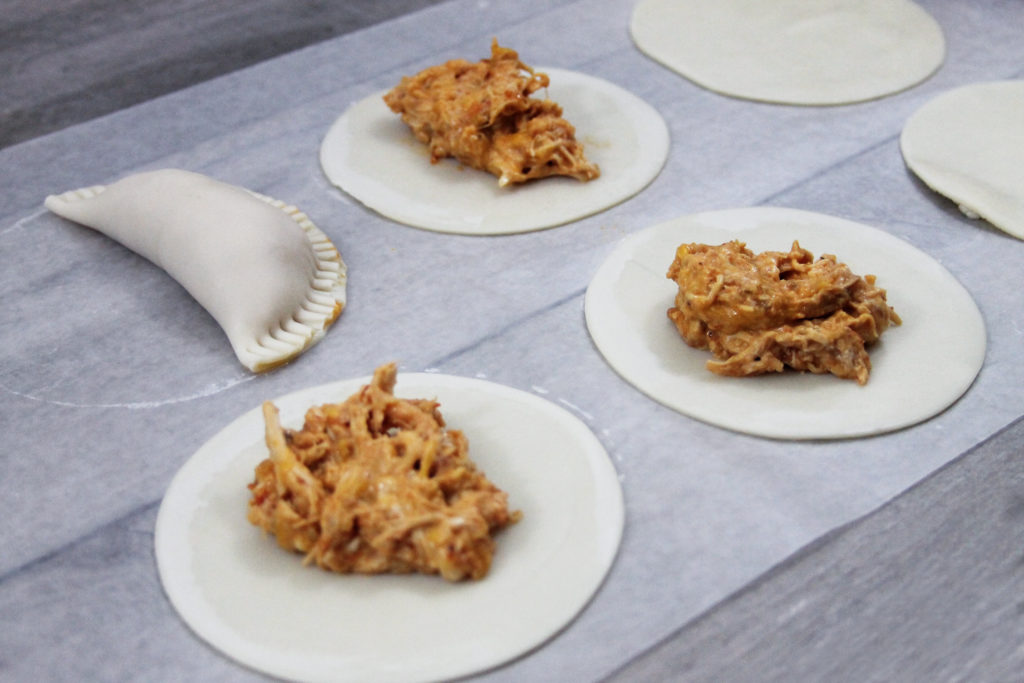 Using a brush moisten the edges of the empanada discs with water.
Fold the empanada discs and bring the edges together sealing them by pressing down on them with a fork.
Beat the egg and water together.
Glaze the tops of the empanadas with egg wash.
Bake on a lightly oiled baking sheet until golden, about 10-12 minutes.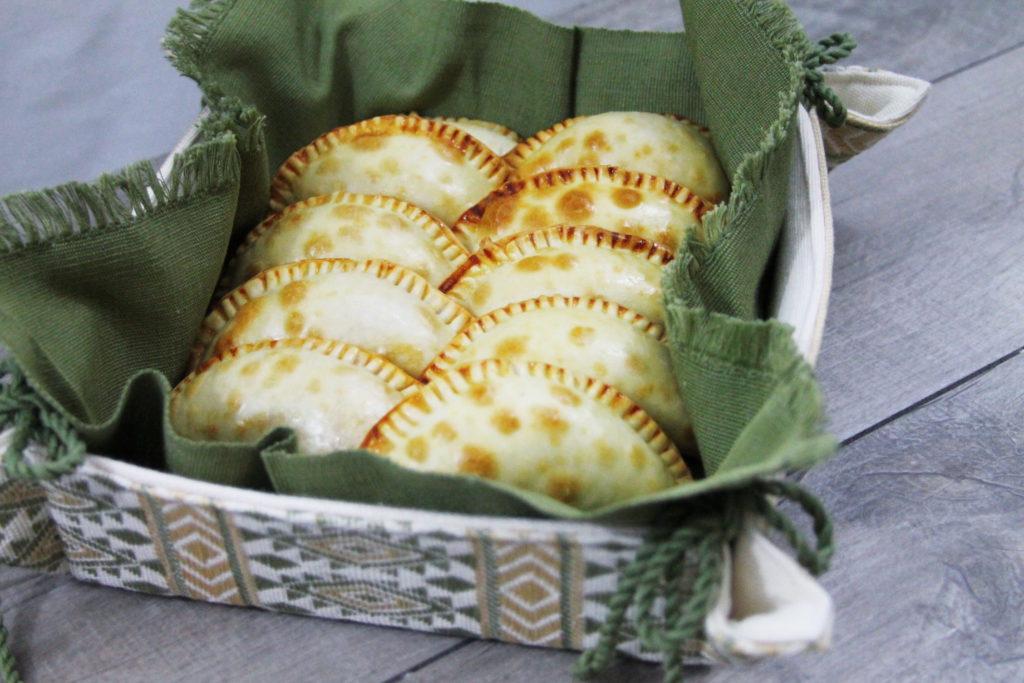 The empanadas came out delicious and by buying the empanada discs and making the chicken Tinga in the slow cooker these were easy and quick to make. The smoky flavor and the heat of the chicken Tinga combined with the cheese made the filling in these empanadas not only delicious but also more kid friendly. My kids can take a little bit of heat but now much and they loved these!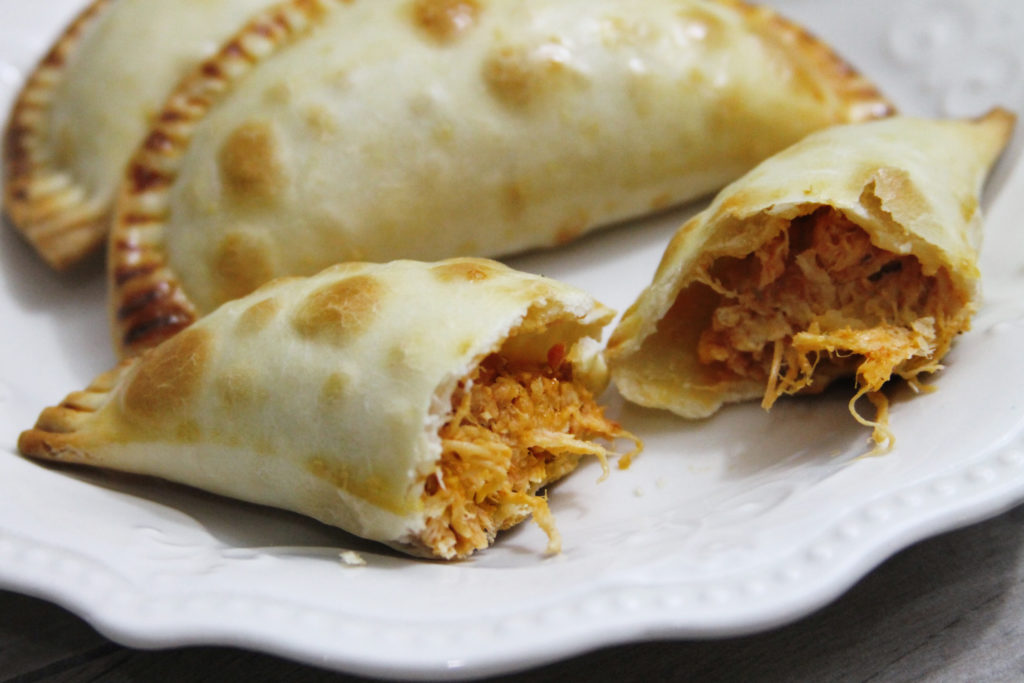 For this recipe I used La Morena® chipotles and Knorr® chicken bouillon. Both of these brands bring the authentic Mexican flavors into any recipe that you prepare and both of these brands have been part of those family holiday recipes that bring back memories and connect me back to my culture giving just the right authentic flavor to my recipes! When I am making a recipe with chiles I want that real and authentic flavor that only La Morena® can provide. When it comes to Knorr® bouillon the flavor and aroma immediately transports me back to my grandma's kitchen. This brand's LIVE FOR FLAVOR® really resonates with our family; to this day my mom puts una pisca de Knorr® in everything from el arrocito y las sopita, hasta el pollo y las milanesas to give everything that sazón that is such a staple of Latino kitchens everywhere, no matter if we are in Latin America or the USA.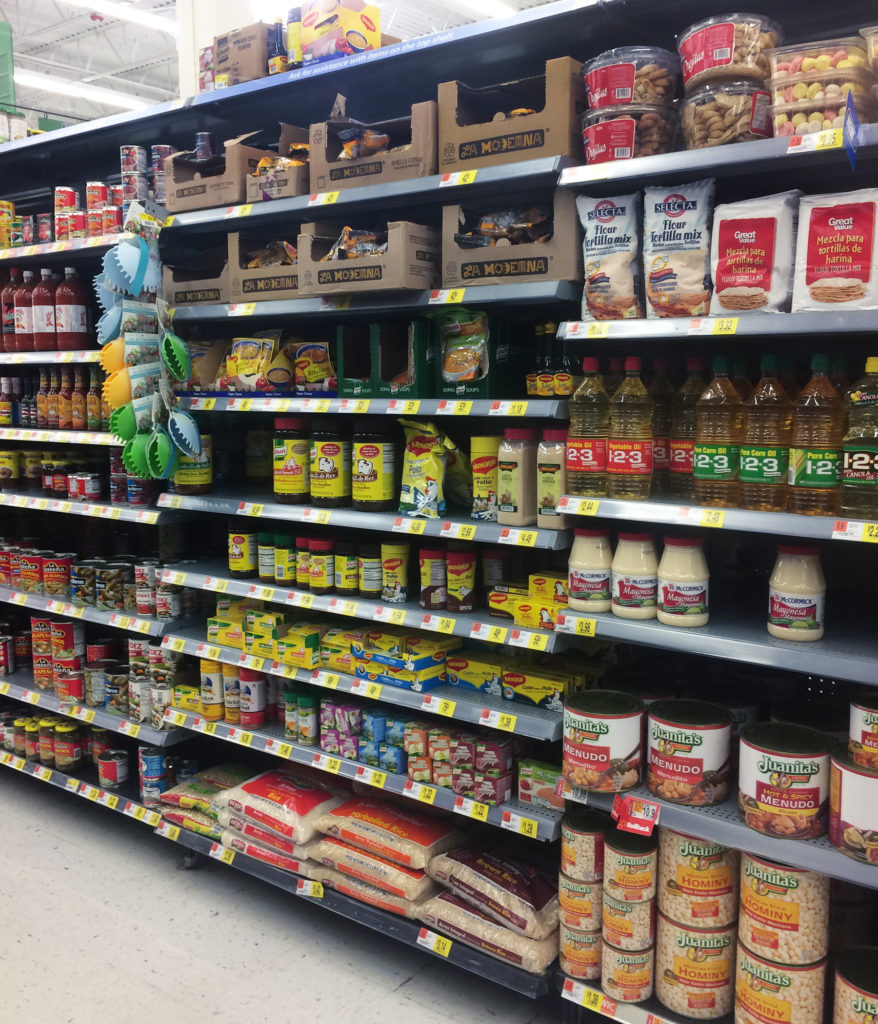 The La Morena® chipotles (jalapeños, frijolitos and salsa) and the Knorr® Tomato with Chicken Granulated Bouillon (along with all the other Knorr® bouillons) can be found at Walmart in the Hispanic Aisle.

Latest posts by Cesar Diaz
(see all)