This recipe for tomatillo pork carnitas tacos is a twist on the traditional pork carnitas that is not only delicious but also quick and easy to make using the Instant Pot.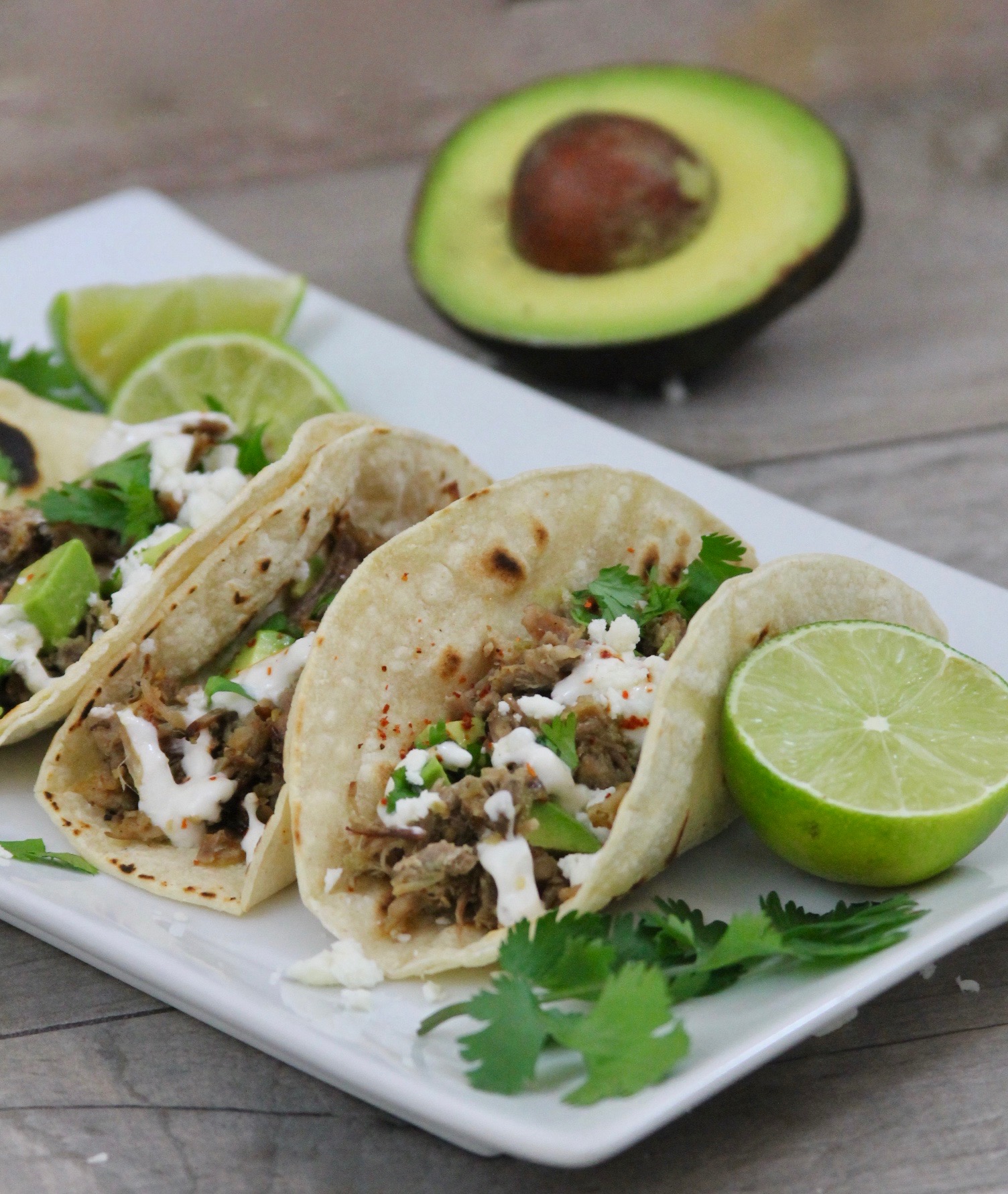 Pork carnitas tacos or tacos de carnitas have always been my favorite Mexican street tacos. There's just something about crispy juicy pork carnitas that is simply additive. But this time instead of using a traditional recipe for Mexican carnitas (usually made with lard or Coke) I wanted to try something new.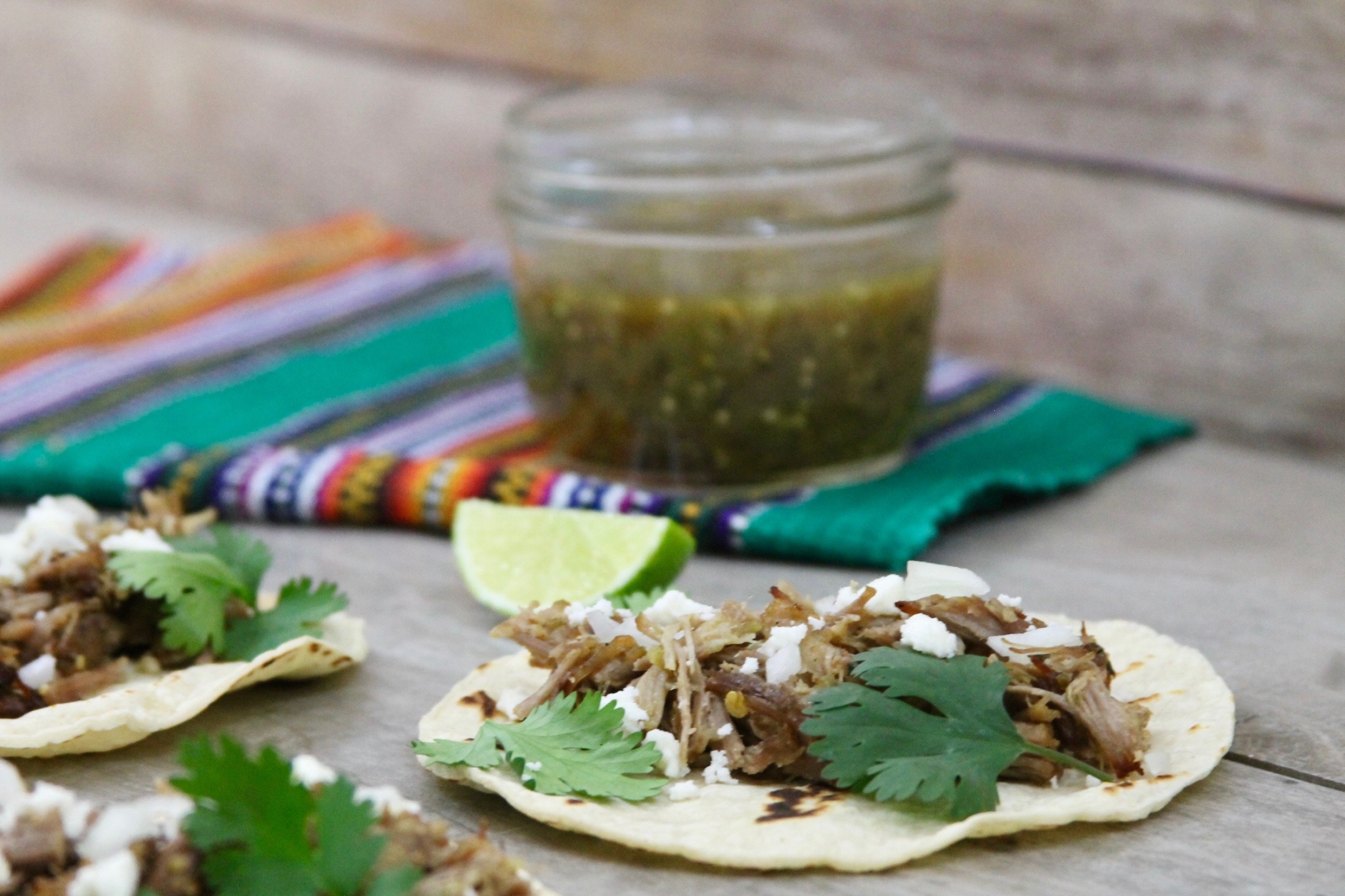 I really love the taste of tomatillo salsa and thought the flavor of the tomatillo would be a great combination with the carnitas. I used store bought tomatillo salsa but you can make your own tomatillo salsa if you want to. I used hot salsa as I wanted these to have a little bit of a kick. However if you want this recipe to be kid friendly or if you don't like spicy food the mild salsa is perfect!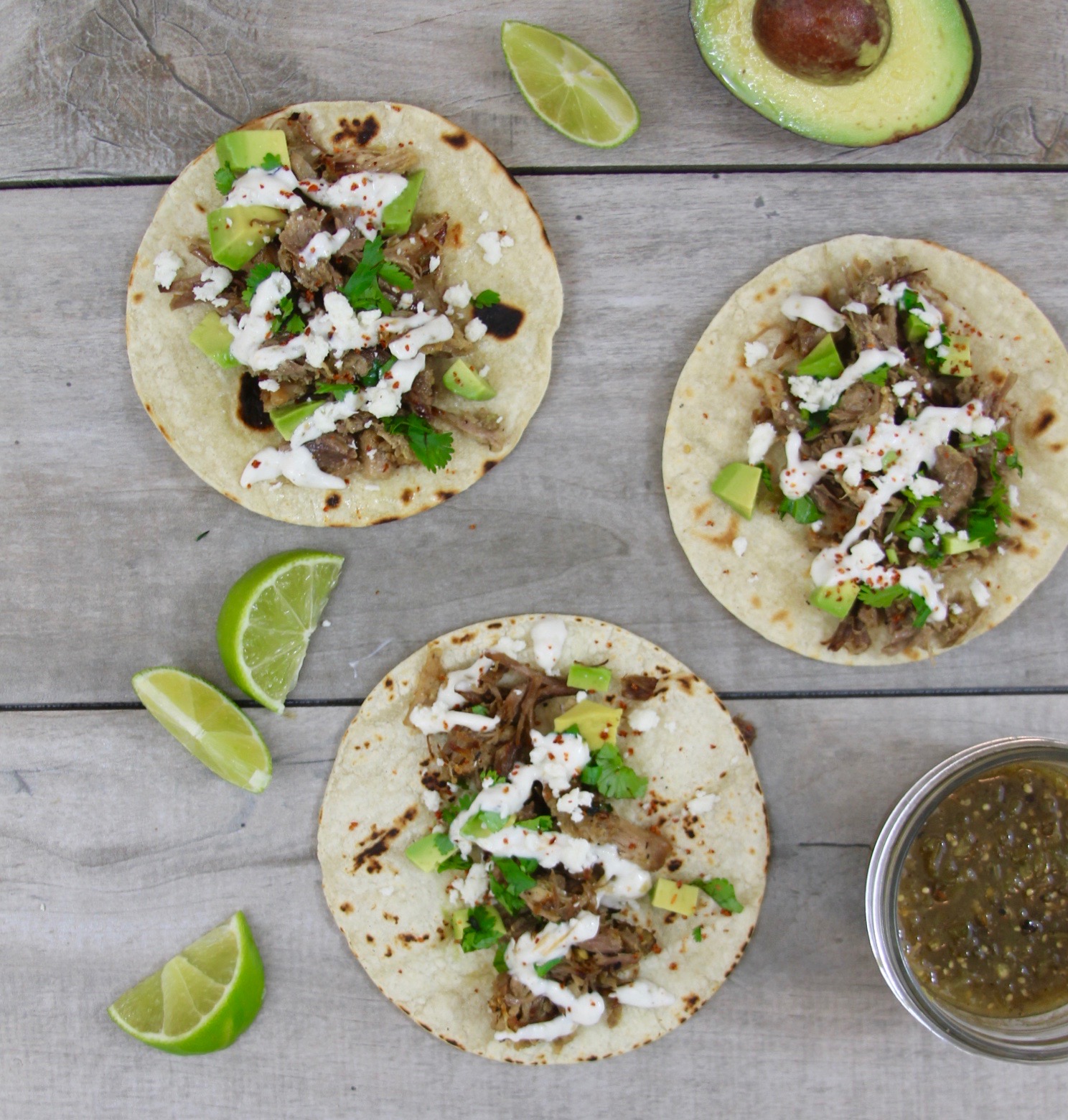 To balance off some of the heat and give the tacos a layer of freshness I topped them with a tomatillo cilantro crema but you can totally skip this as traditional carnitas tacos don't usually have crema but the crema does add a nice touch in my opinion.
Although I just got the Instant Pot recently I have been making carnitas on my pressure cooker for a while so feel free to use your pressure cooker if you don't have an Instant Pot, the cooking time is the same.
Instant Pot Tomatillo Pork Carnitas Tacos Recipe
For Tomatillo Pork Carnitas
1 (4-5 pound) lean boneless pork roast, excess fat trimmed, cut into 3-inch chunks
½  cup beer (or chicken stock)
½ cup green tomatillo salsa (store bought)
juice of one lime
juice of one orange
1 medium white onion, diced
2 cloves garlic, peeled and minced
1 teaspoon black pepper
1 1/2 teaspoons salt
For Tomatillo and Cilantro Crema
1/4 cup of tomatillo salsa
1/2 cup of sour cream or Mexican crema
½ cup chopped cilantro
salt
For Tomatillo Pork Carnitas Tacos
Corn tortillas
1 Hass avocado, cubed
¼ cup chopped cilantro
Queso fresco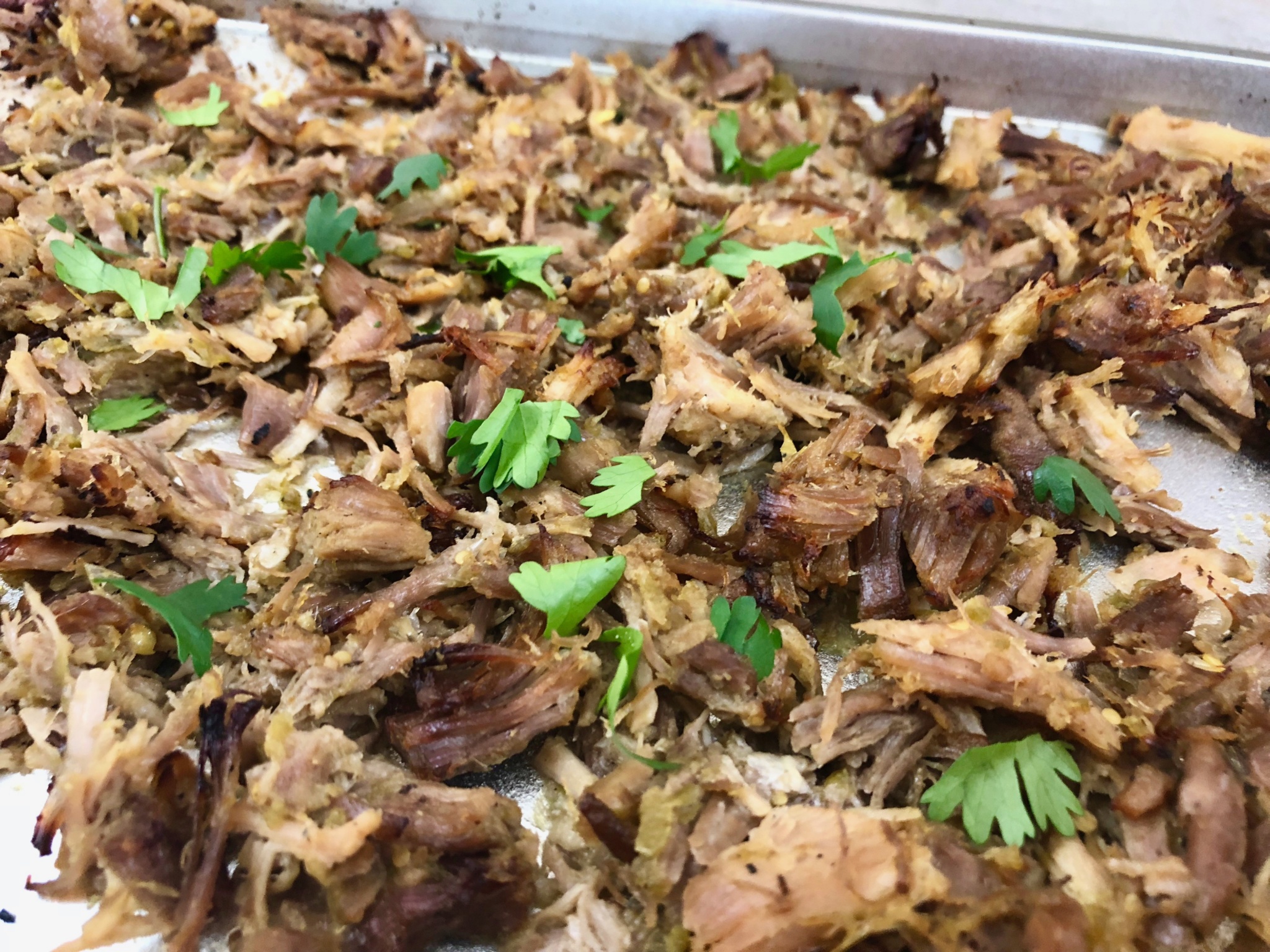 DIRECTIONS:
Season the meat with salt and pepper.
Add all the ingredients for the carnitas to your Instant Pot or Pressure Cooker and give the mixture a stir to combine.
Make sure your sealing ring is in place on the lid. Lock the lid onto Instant Pot and set the steam release knob to the "sealing" position.
Press the "manual" button and set Instant Pot for high pressure for 20 minutes. It will take about 10 minutes for Instant Pot to come to full pressure, then the display will show a countdown timer.
Once the 20 minutes are up, allow the pressure to release naturally for 15 minutes, then release any remaining pressure. Open the lid.
Preheat your broiler to high heat and prepare two baking sheets with aluminum foil or spray them with cooking spray.
Using a slotted spoon transfer the meat to a cutting board. Leave the juices in the Instant Pot, do not discard.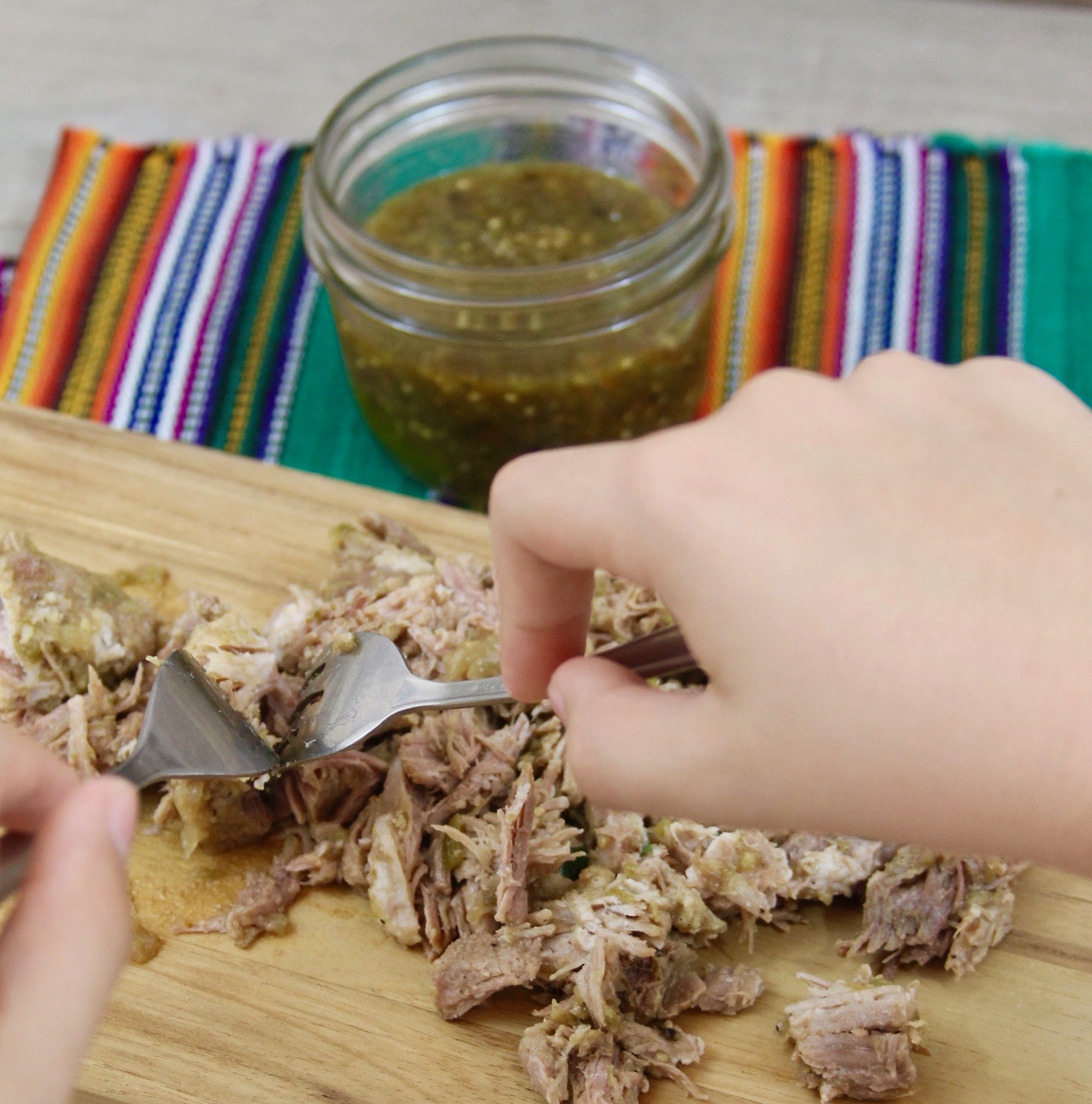 Use two forks to shred the meat.
Transfer the shredded pork carnitas to the baking sheets, spreading the pork in an even layer.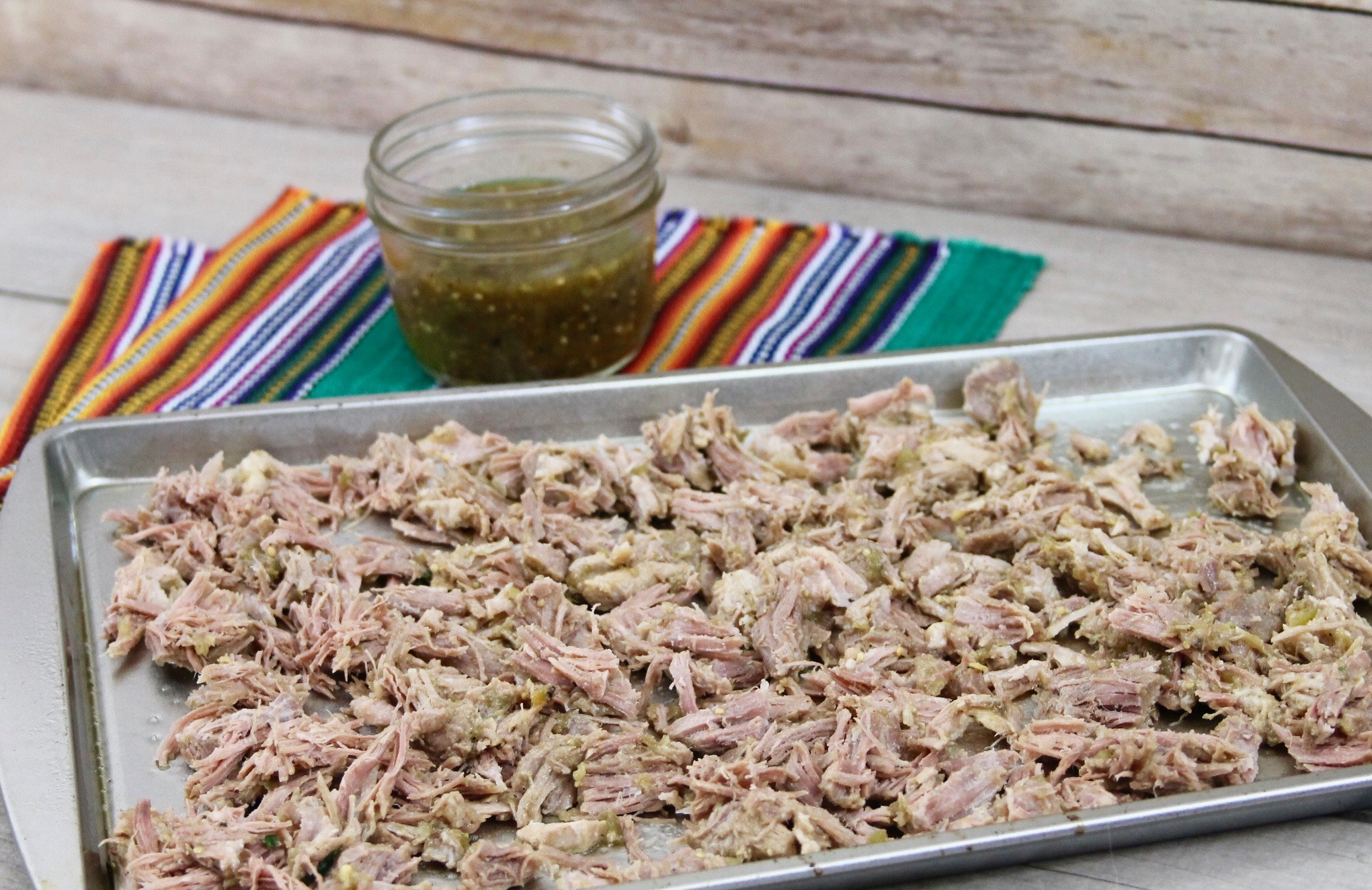 Place the baking sheet under the broiler for about 5 minutes, or until the edges of the pork begin crisping and browning.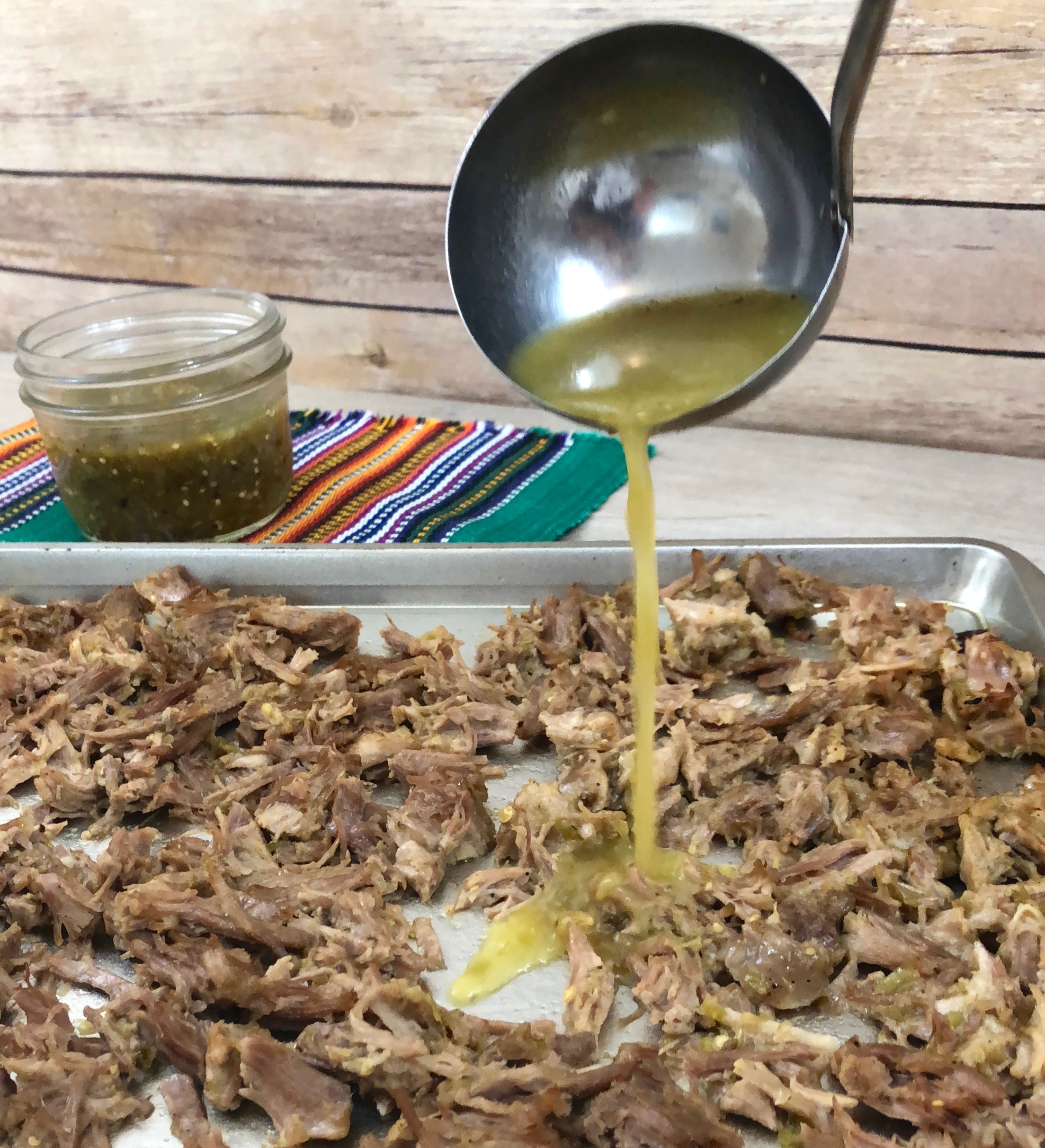 Remove the sheet from the oven, then ladle about 1/4 cup of the juices from the slow cooker evenly over the pork, tossing it with some tongs.
Broil for an additional 3 to 5 minutes to get the meat crispier.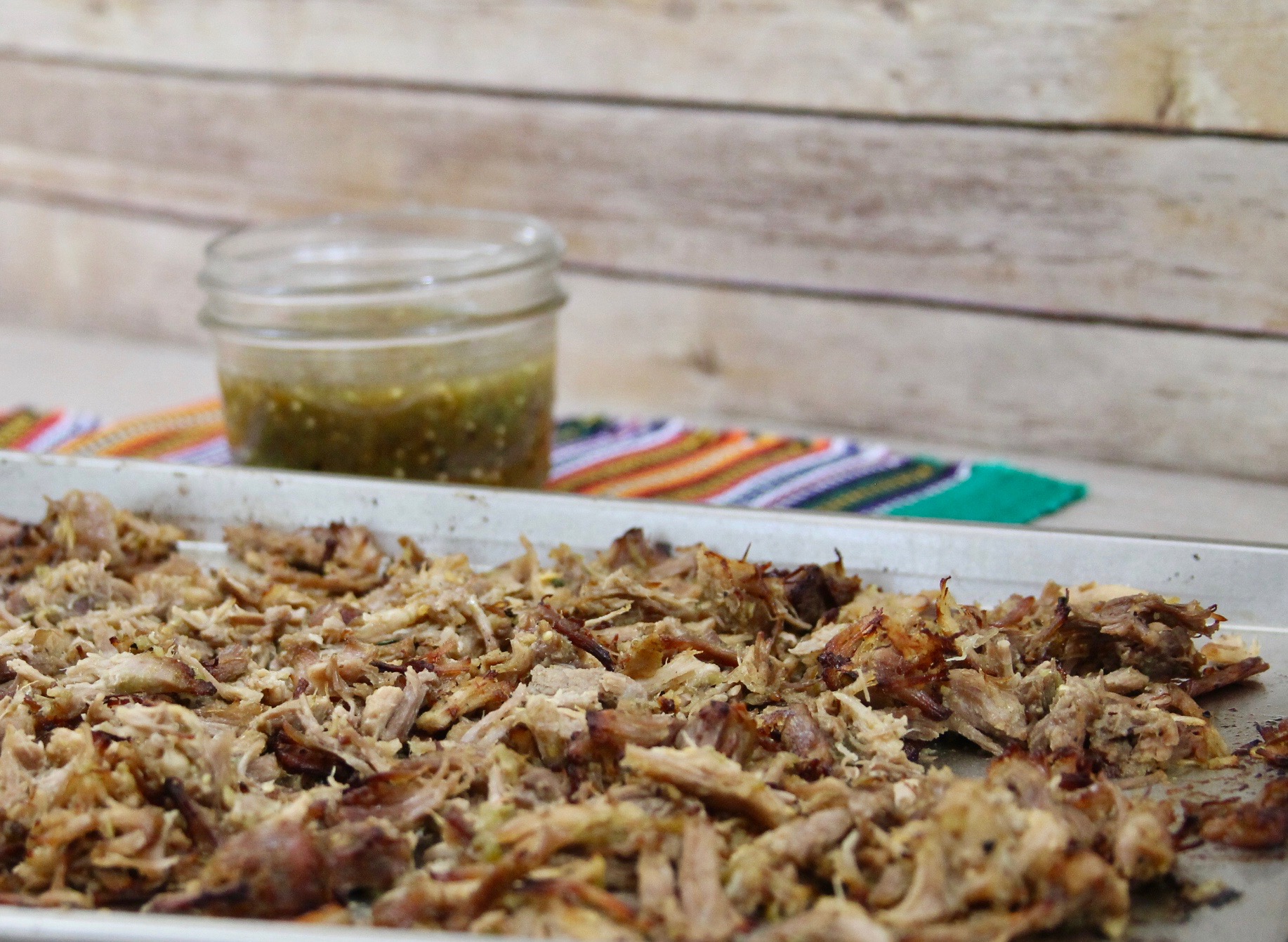 Add another ¼ cup of the juices before serving to give the carnitas more flavor.
To make the tomatillo and cilantro crema combine cilantro, tomatillo and sour cream in food processor. Blend until smooth.
Heat the tortillas on a comal or hot frying pan.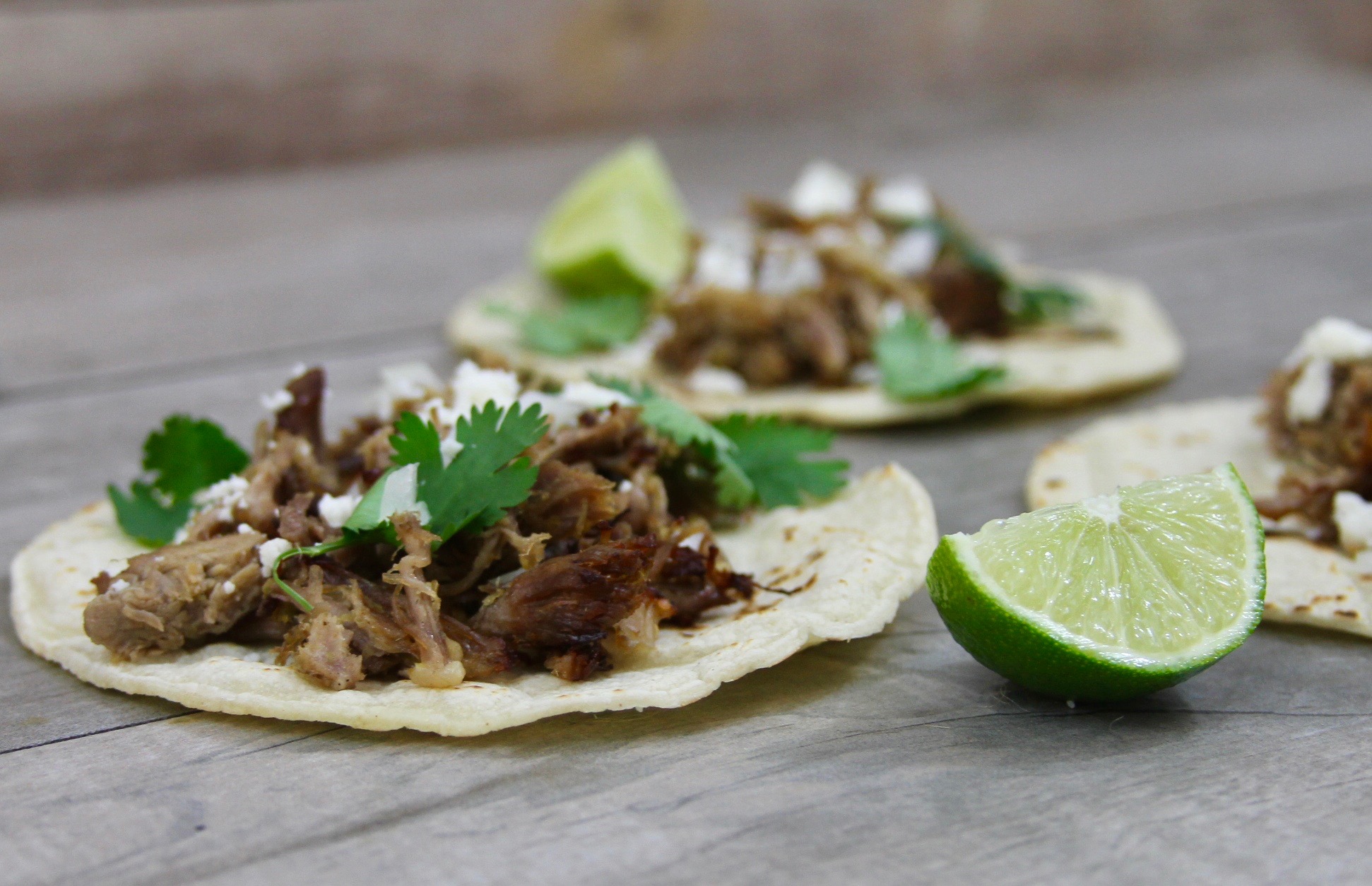 To assemble the tacos add the tomatillo carnitas to the warm tortilla, top with chopped cilantro, queso fresco and pieces of avocado and drizzle with tomatillo and cilantro crema.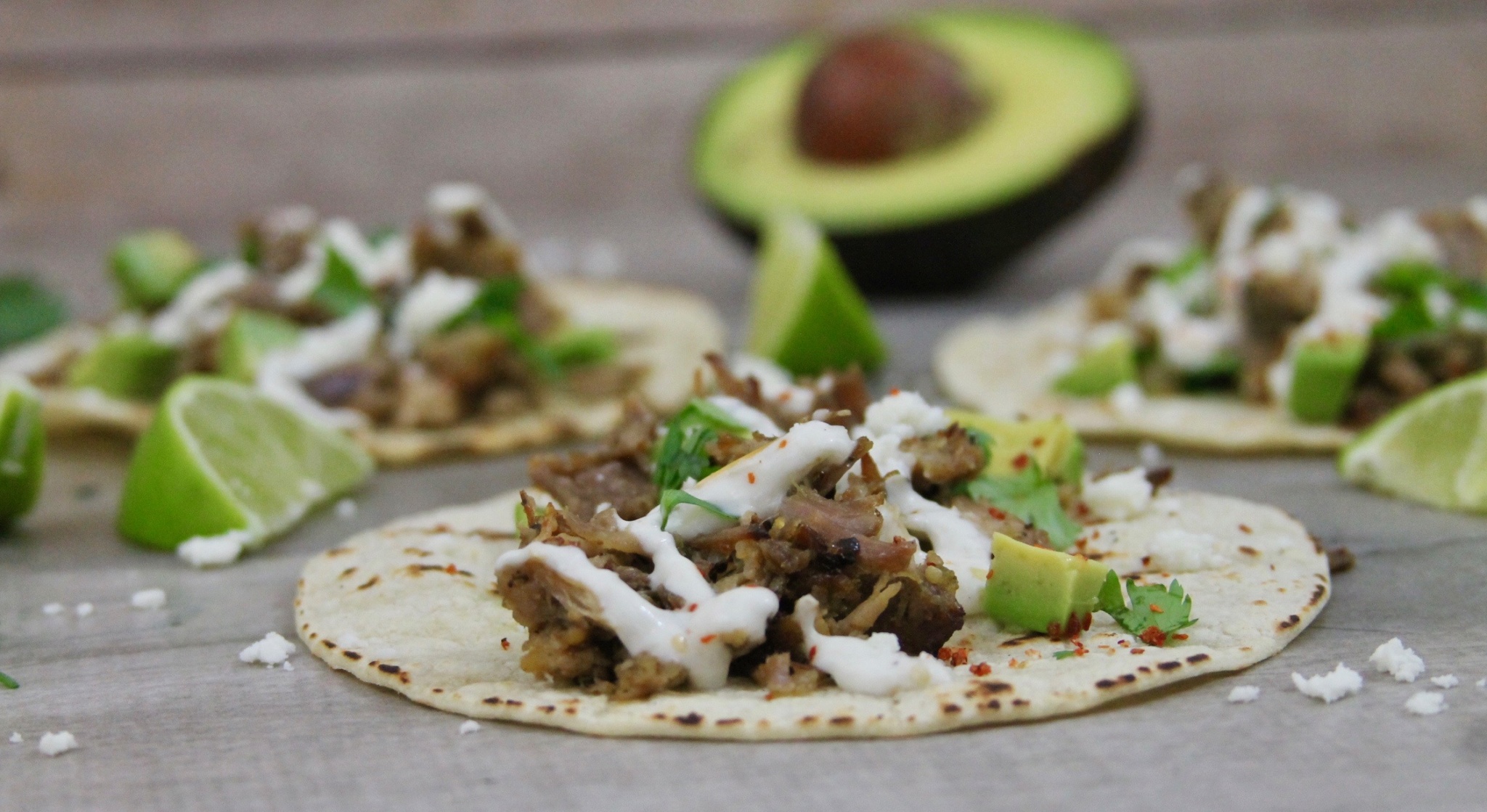 This recipe for Instant Pot tomatillo pork carnitas can be made ahead and you can refrigerate the carnitas for 3-4 days or freeze them for a up to three months. The carnitas can be used to make sliders, tacos, burritos any lots of other dishes so feel free to get creative!
If you make these let me know how they turn out.