Toronto is a great vacation destination for families. There are so many things to do and see for kids and adults alike. If you're planning a family vacation in Toronto you are sure to find these tips and best things to do with kids in Toronto useful.
From the best time to travel to Toronto and the best attractions in Toronto for kids to where to stay and how to save money on your trip to Toronto you're sure to find some great tips here. I have included information from all of the research we did before traveling to Toronto as well as advice from our own experience traveling there with our kids.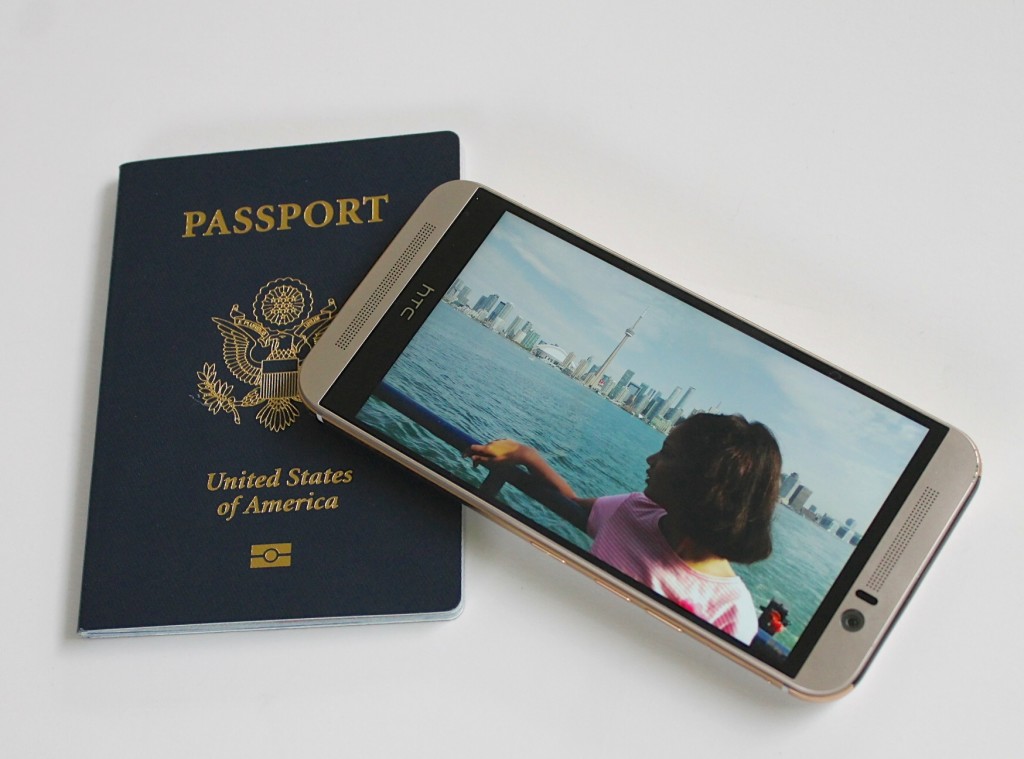 After spending a weekend in Manhattan and a couple of days exploring the Finger Lakes region and Niagara Falls we arrived in Toronto. Toronto was our final destination on a little two-week family road-trip that started in New York City.
Toronto is the largest city in Canada and is very culturally and ethnically diverse. Resting on the shores of Lake Ontario Toronto combines much of what I like about New York but is cleaner, friendlier and more laid back. Since we only had three days in Toronto we really wanted to make the best of it and get to know the city so we focused more on outdoor activities and skipped most of the museums which are really amazing options for kids but we figured we did not want to spend a whole afternoon or day in a museum as we would lose too much time.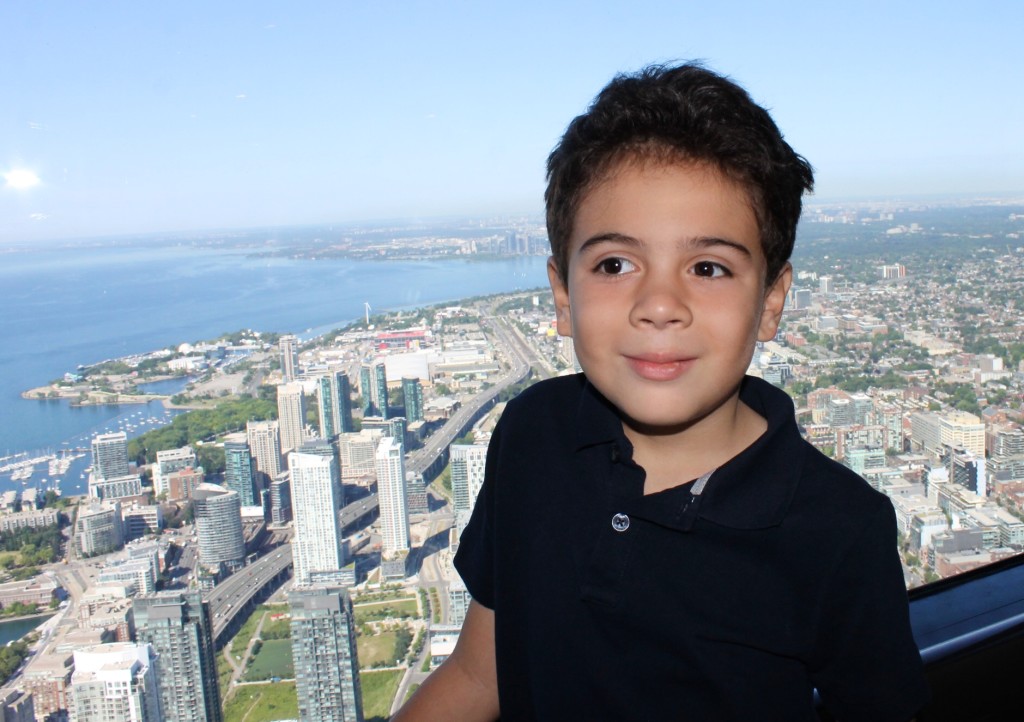 Where to start: Start by researching about the city and decide what attractions and neighborhoods you want to visit; you can check out the Visit Toronto website to get a great overview and see if there are any events going on while you are visiting. Since we had a limited amount of time we focused on attractions that we would all enjoy.
The Best Time To Visit Toronto
Summer is an ideal time to visit as the weather is just magnificent; warm temperatures and blue skies as well as lots of fun activities, festivals, etc. that you will not be able to enjoy in the colder months. Because we live in Southwest Florida flights were also less expensive a lot of Torontonians head south for the winter and during the summer the direct flight from Southwest Florida is pretty empty so the prices for tickets go down. On the other hand, hotels are usually more expensive in the summer.
Where to Stay
City Center hotels in Toronto are pricey so choose something away from the hustle and bustle but close to the subway lines. We wanted to experience a real Toronto residential neighborhood and get a feel for Toronto city life so we chose to stay in the Yonge/Eglington uptown neighborhood. A great option is to rent a condo in Toronto. Condos in Downtown Toronto can be really affordable and are ideal for families as you will be able to save money by cooking your own meals and eating in.
Things To Do In Toronto With Kids
• Get a lay of the land from the CN Tower. You can get started by enjoying the breathtaking views of the city from the CN Tower's LookOut level observation deck. A glass front elevator takes you up 1,136' in less than a minute and provides views that let you see up to 160km away. Go down one level to experience the Outdoor SkyTerrace. My kids loved the thrill of walking on the glass floor and we were able to show them all the places we would be visiting in the next couple of days, they loved checking out different attractions from up above.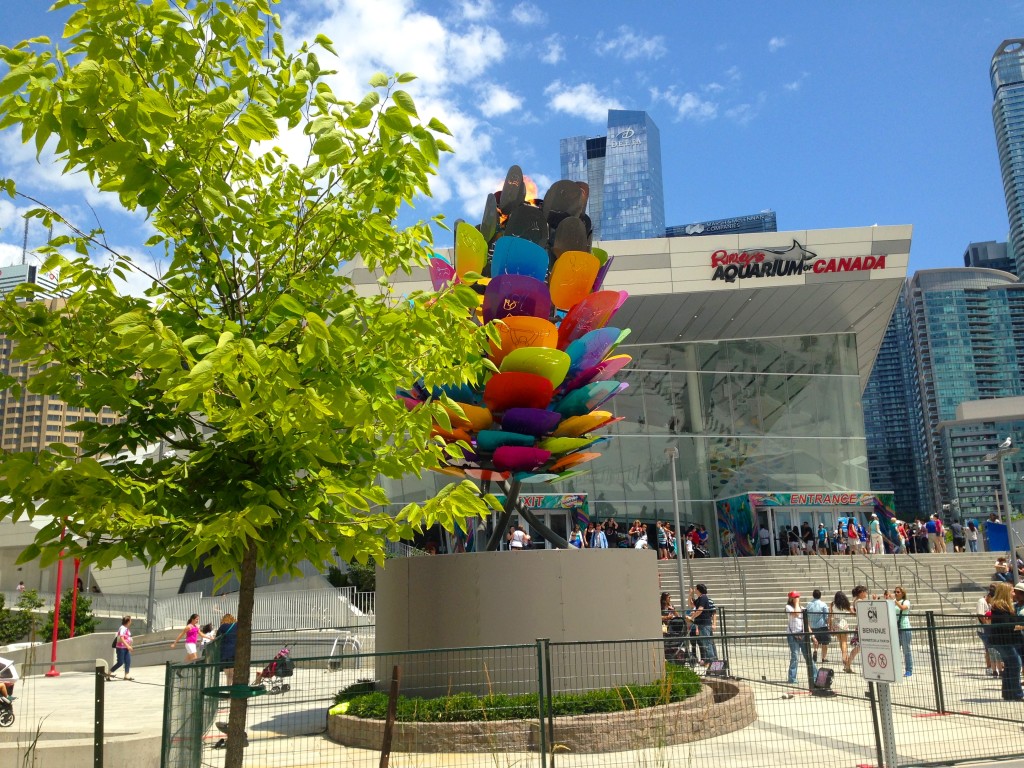 • Dive into Ripley's Aquarium. Next door to the CN Tower Ripley's Aquarium is home to over 13,500 animals from both marine and freshwater habitats from around the world. My kids were awe-struck as we moved across the 318 feet glass tunnel while sand tigers, reef sharks, sawfish, eels, barracudas and the green sea turtles swam around us. There are lots of interactive experiences at the aquarium including touch tanks and a small ocean-themed play area.

• Go back in time at the Railway Museum. Located in former Canadian Pacific Railway Roundhouse built in 1929 across the street from Ripley's Aquarium. The museum highlights Toronto's railway history and there is also a Miniature Train ride that any trail lover will enjoy.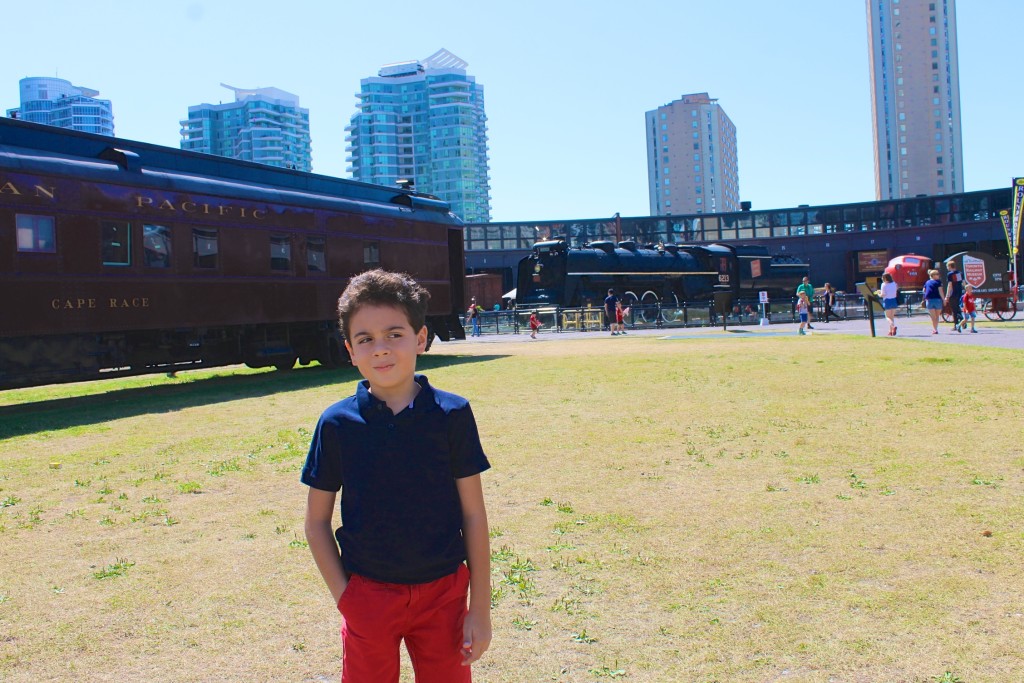 • Explore the Toronto Islands. Just a short ferry ride from the city the Toronto Islands provide an escape from urban life and offer many fun summer activities for families. We chose Center Island as our destination and boarded one of the ferries, which date back to the 1930s. The ferry ride also provides for some of the most spectacular views of the Toronto skyline. In Centre Island we spent the morning at Centerville amusement park: very different from modern amusement parks Centerville dates back to the 50s and features old fashioned rides and small roller coasters for the younger crowd. Centre Island is also filled with beautiful gardens where you can enjoy a picnic or soak up the sun on a quiet beach.
• Check out the Harborfront. There's a lot going on along the shores of Lake Ontario: walk or bike along the boardwalk, stop at a waterfront patio for a cold drink or enjoy the small parks along the waterfront including brand-new spaces like the Ontario Square and the Canada Square. During the summer months, there are many festivals and outdoor concerts on the Harborfront Center.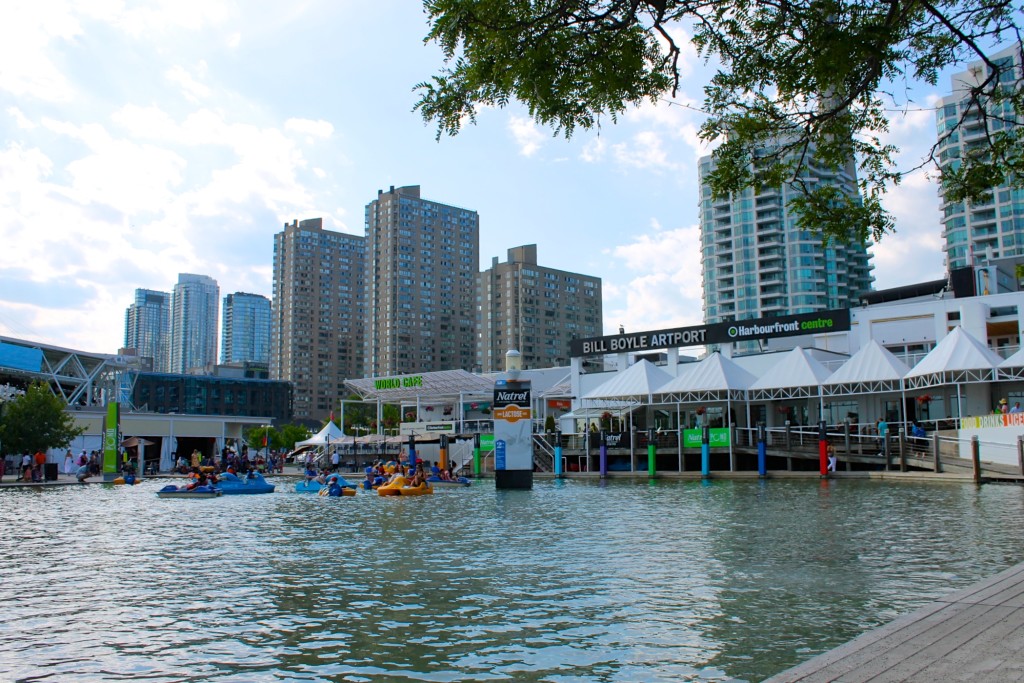 • Sail off into the sunset. From the Harborfront you can choose from a series of cruises; we decided to hop on board of the tall ship Kajama, a traditional 165 foot three-masted Schooner boat cruise. We enjoyed spectacular views and the kids got a chance to take a turn at the helm. Passengers assist in hoisting the sails which makes you feel part of the crew.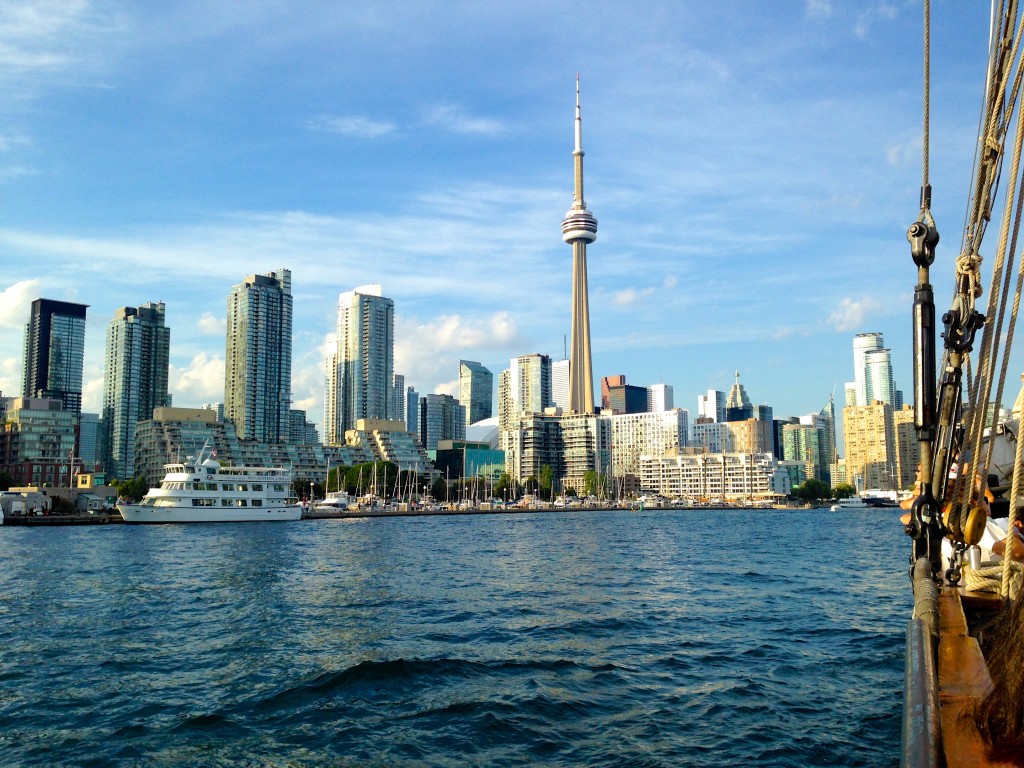 • Get a taste of Toronto's diverse cultural scene at St Lawrence Market. St. Lawrence Market is considered one of the top markets in the world; here you will find delicacies from around the world and local favorite foods like the Peameal bacon sandwich from Carousel Bakery. Take a walk around the surrounding Old Town Toronto neighborhood and check out Toronto's Flatiron building.
• Check out Distillery Historic District. A series of historic buildings that housed a distillery in late 1800s has become Toronto's newest center for arts, culture, food, and entertainment. Walk the pedestrian streets, check out the street art, browse the trendy boutiques and have lunch at one of the hip restaurants and cafés.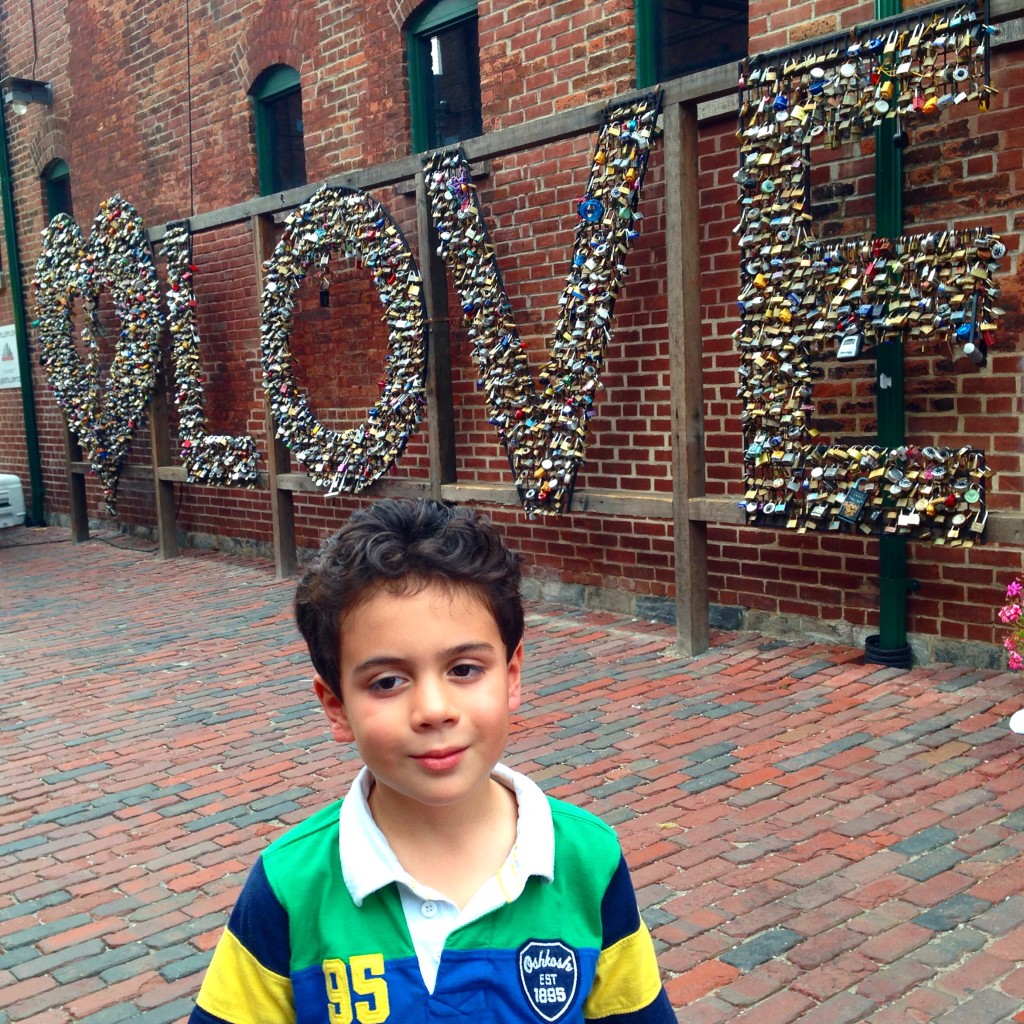 Getting around in Toronto
Toronto's subway system is great if you are headed downtown but once there the stops are limited and with kids in tow you do not want to walk too much as you will risk getting them overly tired too soon and that will cut your day short. For us, Uber was the best solution as most trips were short and just cost a few dollars. I would not recommend renting a car as parking can be difficult and expensive.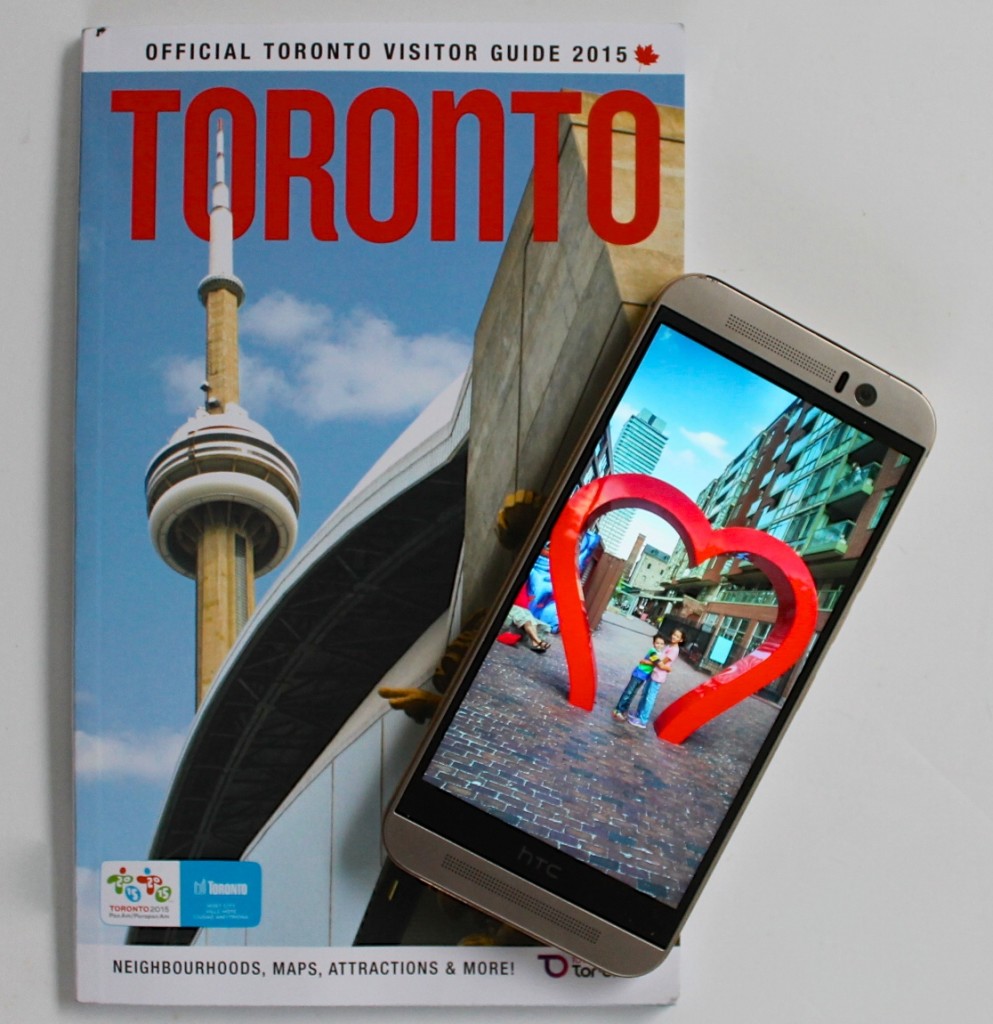 If you're planning a road trip from New York City to Toronto be sure to check out my article about the best things to do for families in the Finger Lakes region as well as my article for kid-friendly attractions in Manhattan.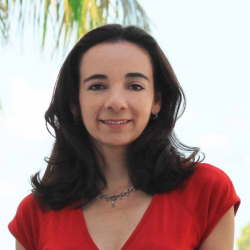 Latest posts by Paula Bendfeldt-Diaz
(see all)