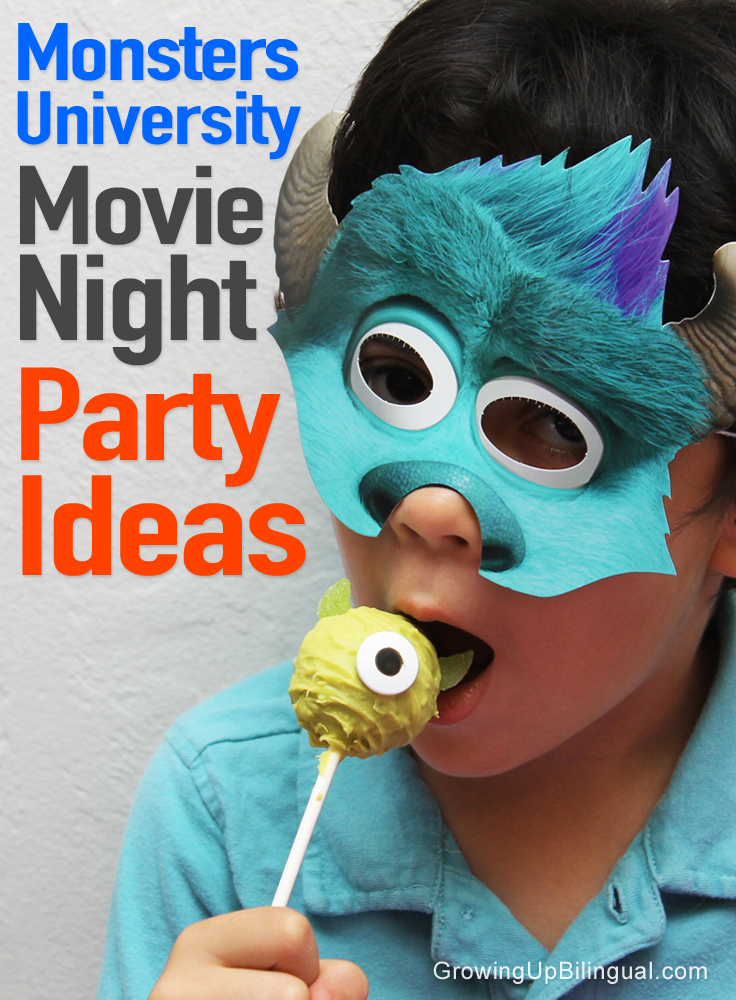 We are big Monsters Inc fans and we are really excited that the new Monsters University movie is now available on DVD. I mean what's not to like about those fun Monsters characters?
We have a weekly movie night at home so last week we headed to Walmart to buy the Monsters University 2-Disc Blu-ray + DVD + Infinity Figure Combo Pack, while we where there my daughter just fell in love with the Interactive Scare Sully.   We also bought some things to make a little Monsters U themed party at home.
For our little movie night celebration we did a fun craft and we made lots of delicious Mosters Inc themed snacks. For the craft we started off with a pumpkin we had left over from Halloween which my husband spray painted green so it was ready for us to work on.  I bought a blue hard hat and we printed a Monsters Univesity logo and glued it on.  Then we cut Mike Wasowski's hands and legs from green paper and made the eye, mouth and ears using different colored foamy.  When our pumpkin Mike Wasowski was done it made for a great decoration for our party treat table.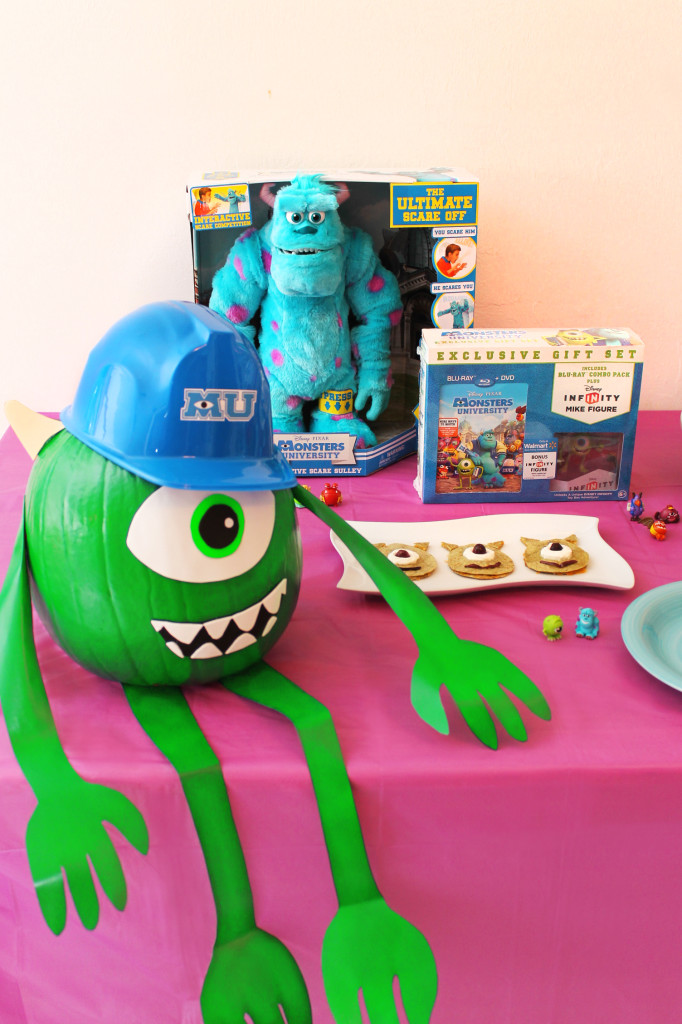 For snacks the kids helped me out making some Mike quesadillas and a spinach Mike pizza.  I had made some Sully tie-dye cupcakes and Mike cake pops the day before.  The Mike Spinach pizza was a real hit so I will share the recipe with you.  It had a bit of a Latino twist as we used green tomatillo sauce instead of the usual red tomato sauce.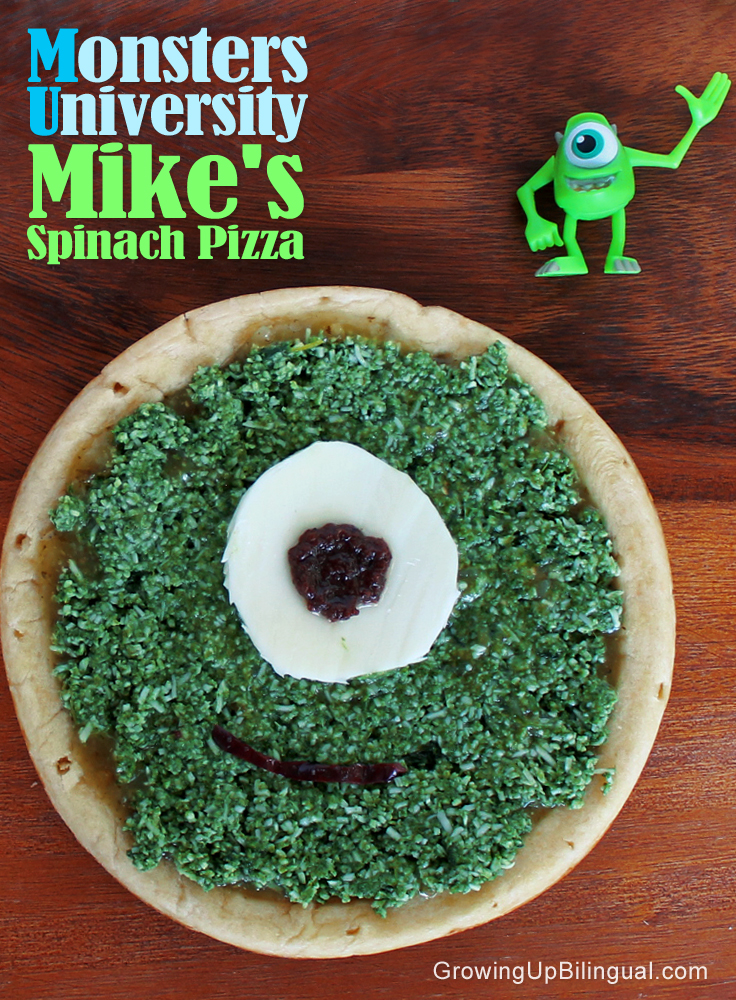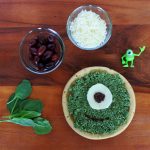 Monsters University Mike Spinach Pizza
Ingredients
3

ready made personal pizza crusts

1

cup

shredded mozzarella cheese

1/4

cup

green tomatillo sauce

1/4

cup

frozen spinach thawed and drained

3

slices

of mozzarella cheese

1/4

black olives
Instructions
Spread a couple of spoonfuls of tomatillo sauce on each pizza crust.

In a food processor combine shredded mozzarella and spinach and pulse once or twice until combined.

Spread the spinach mozzarella mixture evenly on pizzas.

Cut on thin slice off the center of a black olive and use this for the mouth.

Put the rest of the olives in the food processor and pulse until you get an olive paste.

Put a slice of mozzarella on the center of the pizza to make the eye.

Put a teaspoon of olive paste in the center of the mozzarella slice to make the eye.

Bake according to the pizza crust package instructions and serve.

I don't want to spoil the movie in case you have not watched it yet but Monsters University is a great movie and we are glad we bought it as I know the kids will not get tired of it anytime soon.  My little guy would not stop laughing with all jokes and the physical humor in this movie and this was entertaining and fun not only for the the kids but also for the adults. Monsters University has so many great messages from the importance of teamwork and friendship to the negative effects of cheating and procrastination and it provided material for so many discussions and sparked conversations about these subjects.
We watched the movie in Spanish and it really motivated the kids to initiate conversations in Spanish and they learned some new vocabulary as well.  Like most Disney movies the Spanish translation was awesome and the they did a great job with the humor and jokes which for the most part did not get lost in translation.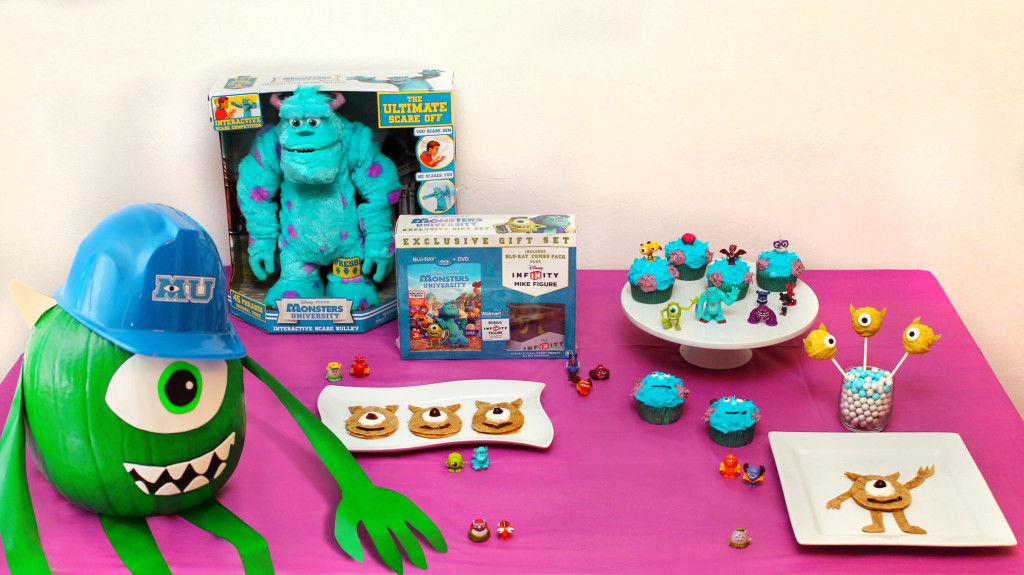 I have to say that our Monsters University movie night has been one of the most fun movie nights we've had with cute crafts, lots of spooky monster snacks and treats and lots of teachable moments for the kids.