This shop has been compensated by Collective Bias, Inc. and its advertiser. All opinions are mine alone. #Swapyourburger #CollectiveBias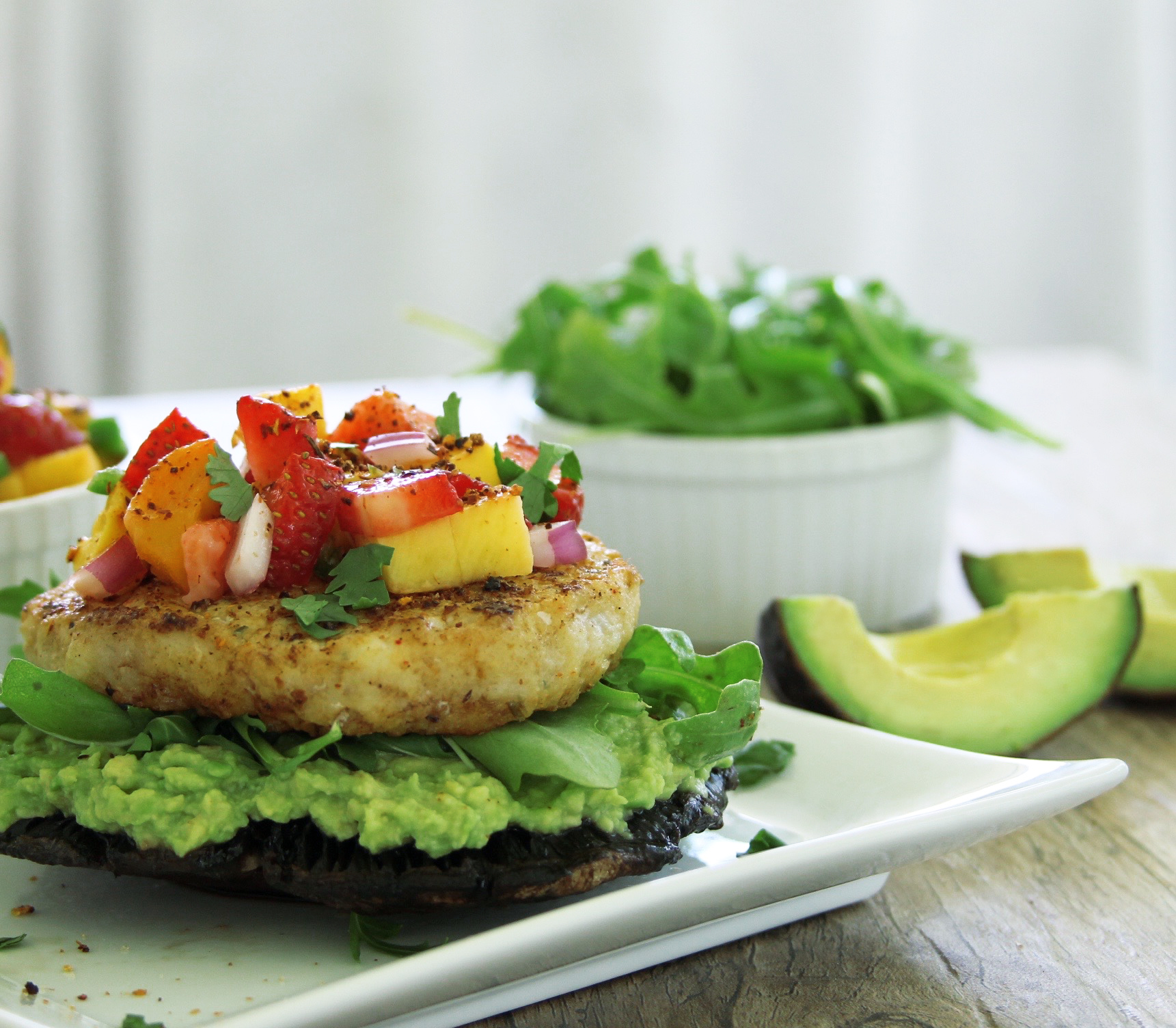 I can tell you right now that you will be truly blown away by this portobello fish burger recipe with avocado and strawberry mango salsa; seriously brace yourselves! Not only is fish leaner and lighter but the combination of flavors and textures in this better for you burger is just fantastic!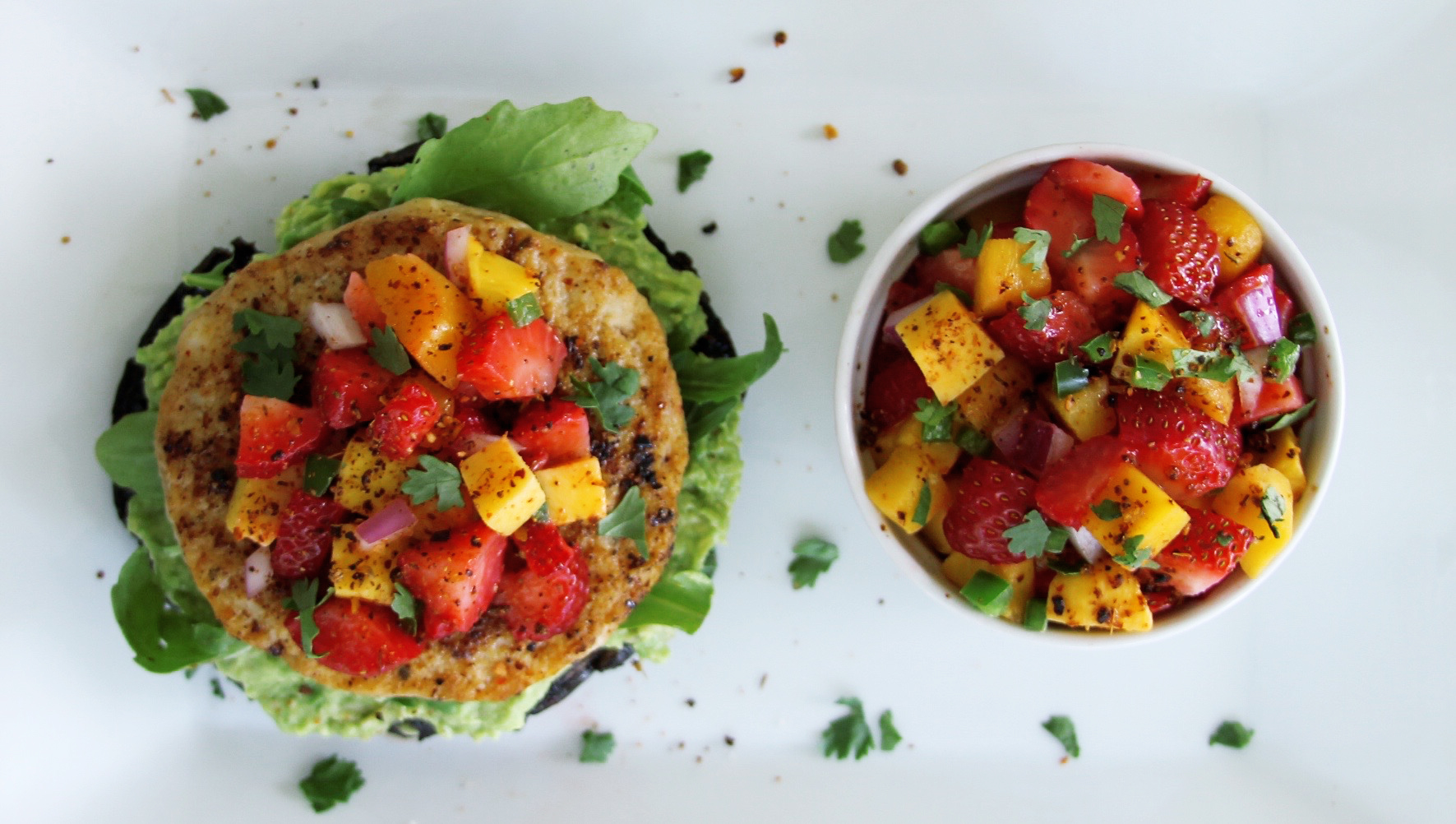 I'm a huge fan of burgers;  love making them on the grill and order them at restaurants all the time but lately I have been cutting back on my burgers as I am trying to stay fit and keep my calorie intake down. Until recently I had never before had a fish burger so I was really excited when I was challenged to swap my traditional burger with Trident Seafoods® Wild Alaskan Pollock Burgers. I wanted to go even further and decided to also swap the traditional burger bun and use portobello mushrooms instead.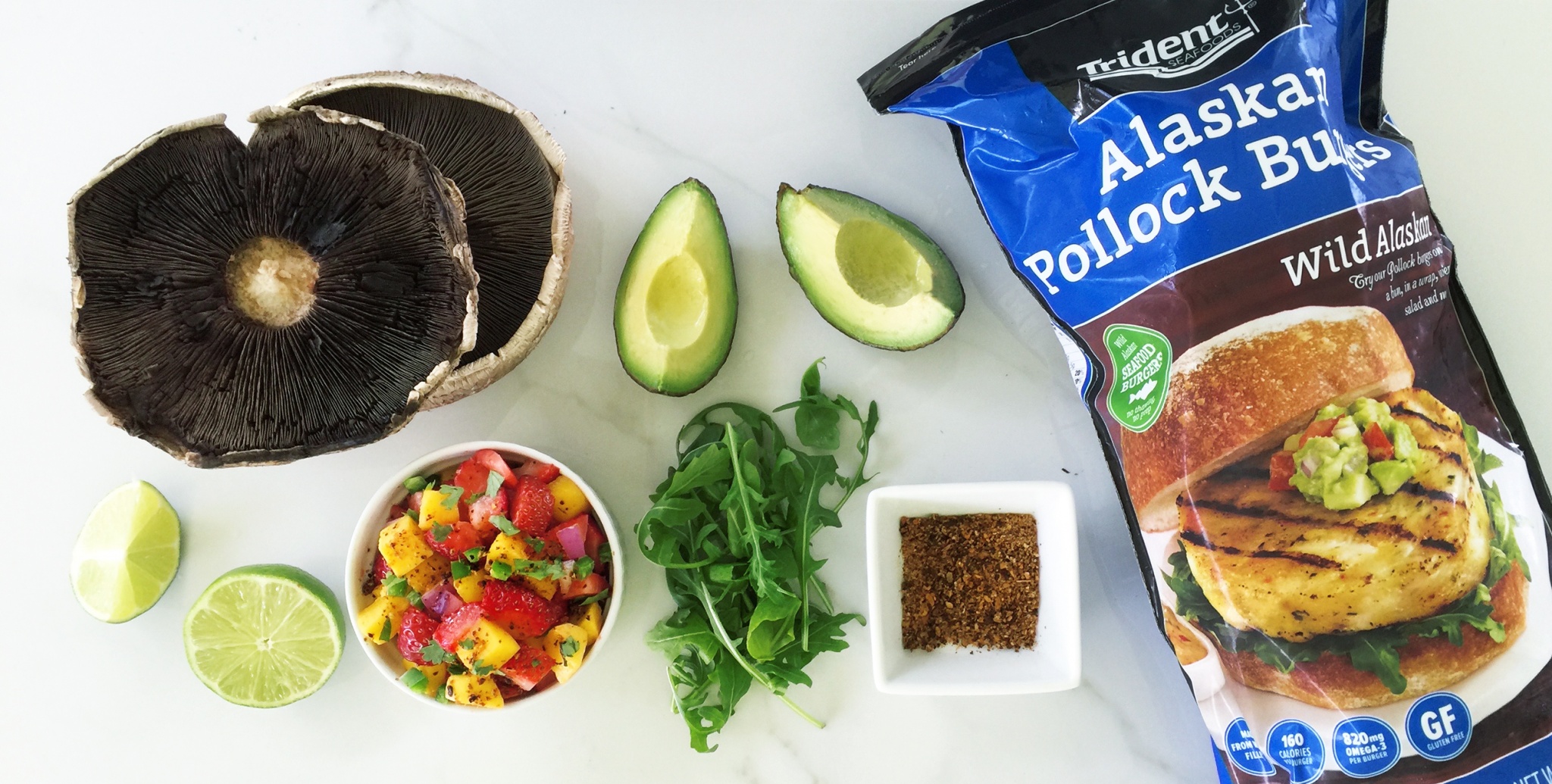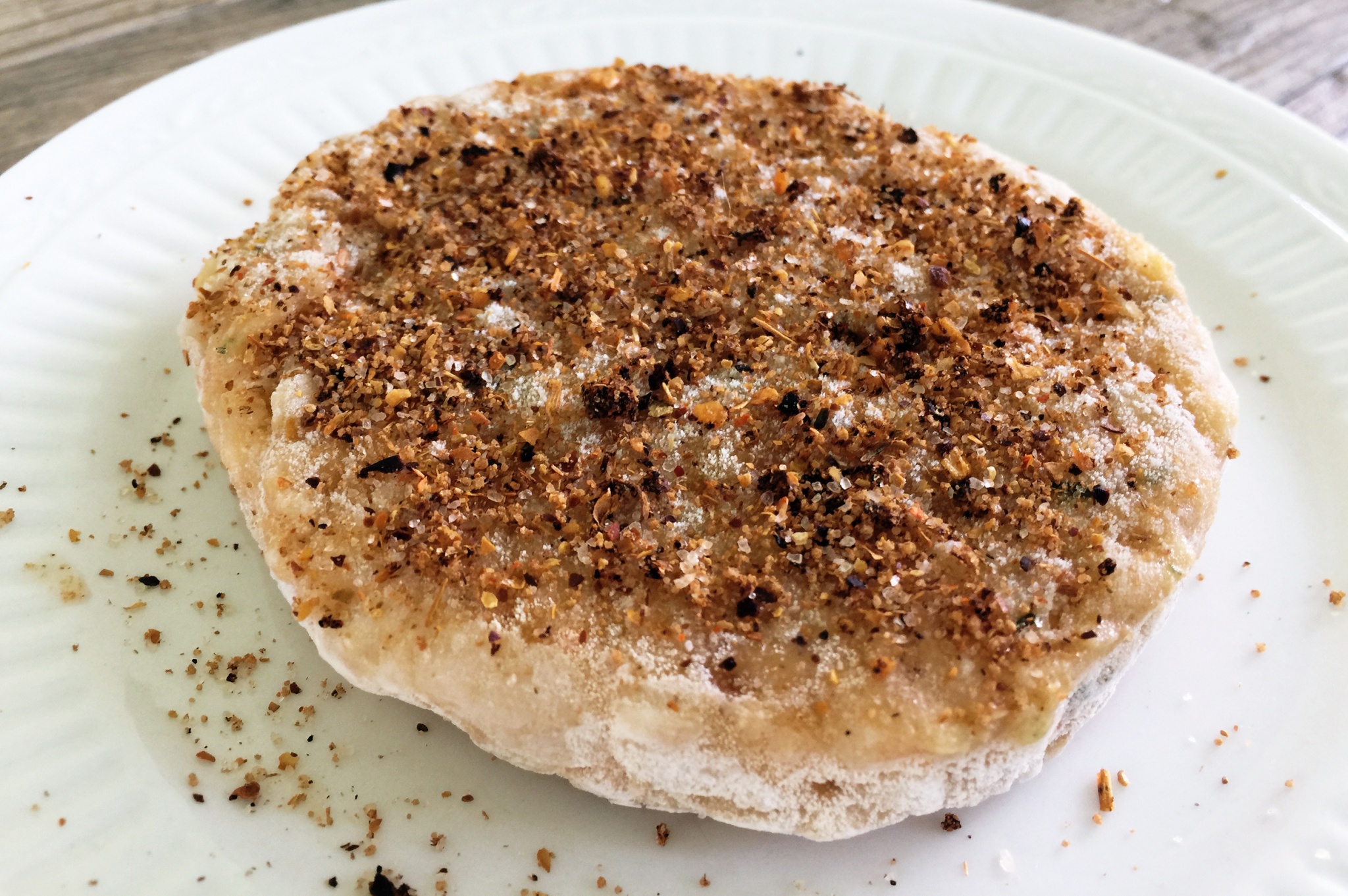 I wanted to give this fish burger a fresh and tropical taste so I decided to combine it with the strawberry mango salsa that I had made the day before. I also added some avocado and a little bit of heat. The result was a light fish burger that is filled with bright fresh flavors combining the sweetness of the fruit and the smoothness of the avocado with the spicy flavor of the chipotle crusted Wild Alaska Pollock patty.
Portobello Fish Burgers With Strawberry Mango Salsa
Ingredients
4

large Portobello mushrooms

4

Trident Seafoods® Wild Alaskan Pollock Burgers

1

tablespoon

olive oil

1

tablespoon

soy sauce

Kosher salt

Freshly ground pepper

Fresh arugula

or your favorite leafy green

1

Hass avocado

juice from ½ lime

3

tablespoons

chipotle chile powder

1

teaspoon

garlic powder

1

tablespoon

salt

1

tablespoon

cracked black pepper
Instructions
Preheat the oven to 400 F and place an aluminum foil-lined baking sheet on the middle rack.

Remove the stems from the mushrooms, and brush the whole cap (top and bottom) with an oil and soy mix.

Place the mushrooms in the oven, gills side up for 5 minutes and flipped them over baking an additional 5 minutes. I like my Portobello mushrooms to still be firm and a little raw so if you want them completely cooked increase the baking time to 10 minutes on each side.

While the mushrooms are in the oven stir together the chipotle chile powder, garlic powder, salt, and cracked black pepper in a shallow bowl.

Brush the frozen Trident Seafoods® Wild Alaskan Pollock Burgers with the olive oil, and press into the spice mixture to coat, and set aside.

Cook the Alaskan Pollock patties according to package instructions, you can grill them pan-fry them or cook them in the oven. Just make sure not to thaw them before cooking.

Mash up the avocado with a little lime. Add salt and some fresh cilantro.

When the mushrooms are ready place them on a plate lined with a paper towel to dry in case they are still be releasing juices.

To arrange your Portobello fish burger spread the mashed avocado on the bottom "bun", top with arugula, place the Trident Seafoods® Wild Alaskan Pollock Burger patty on top of the greens and top with the strawberry mango salsa.

You can close up the burger with another Portobello bun or leave it open and eat it as an open burger.
Trident Seafoods® Wild Alaskan Pollock Burgers are a delicious and healthy alternative to traditional burgers and sandwiches. Wild Alaska Pollock is firm and has a mild flavor like cod. Using Wild Alaskan Pollock patties is such an excellent alternative to beef burgers with 178% less fat, 94% less Calories, 25% less Cholesterol. Yes you read that correctly: 94% less calories! That is just amazing! And if that wasn't enough reason to swap your beef burger patties for Wild Alaskan Pollock patties they are also naturally packed with healthy Omega-3s, which can significantly improve heart health, brain function, mental health, vision, and memory. And did I mention they taste amazing and they are filling yet light at the same time?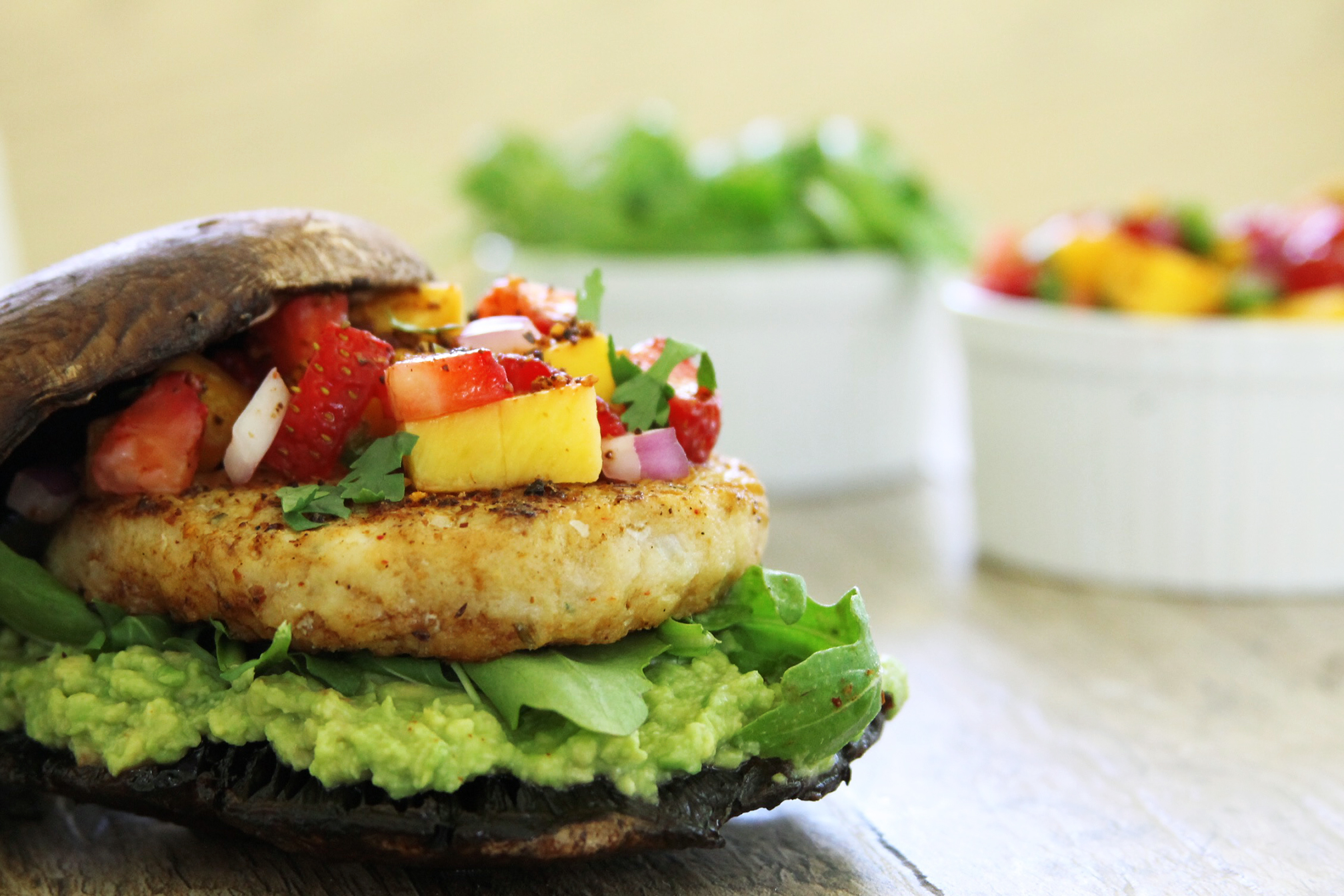 I am now a fan of Trident Seafoods® Wild Alaskan Pollock Burgers, they are not only a great alternative for maintaining a healthier lifestyle but they are delicious and so easy and quick to make! I can not wait to continue experimenting and find other ways to cook using the Trident Alaskan Pollock Burgers; I'm thinking fish tacos for next weekend.
Make sure you enter the the Dare to #Swapyourburger contest below!  Visit TridentSeafoods.com and check out Trident Seafoods® Facebook page to find more great healthy recipe ideas.