This is a sponsored post in partnership with Old El Paso. However, all opinions are my own. #OldElPasoTailgate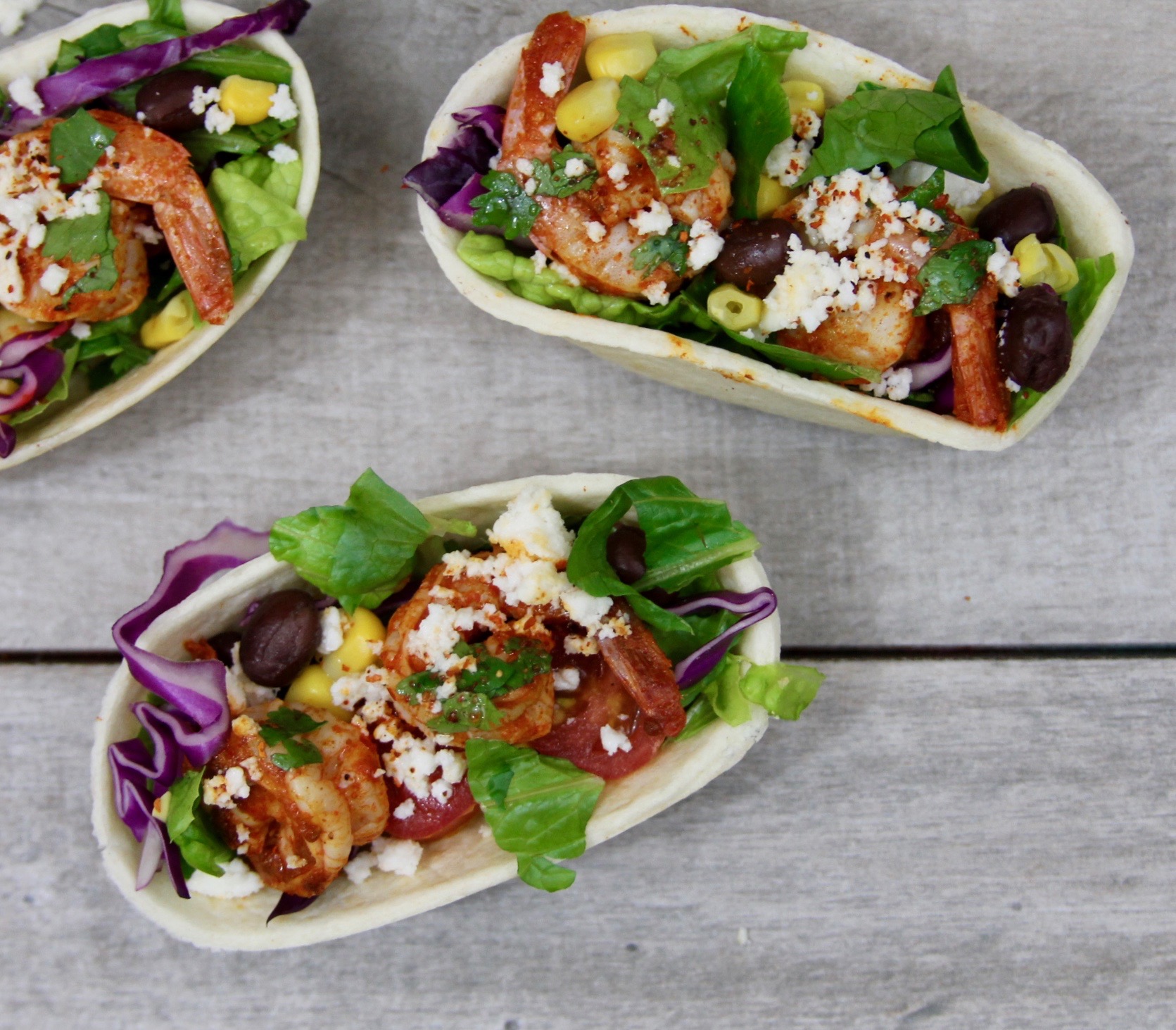 It does not matter if you're a football fanatic or just there for the food these Chipotle Shrimp Taco Salad Tortilla Boats are the perfect tailgating or homegating appetizer to celebrate every football game day gathering this season and fuel your excitement for your favorite team! I really like that they are a better for you option so you won't feel guilty after having one or even a few of these.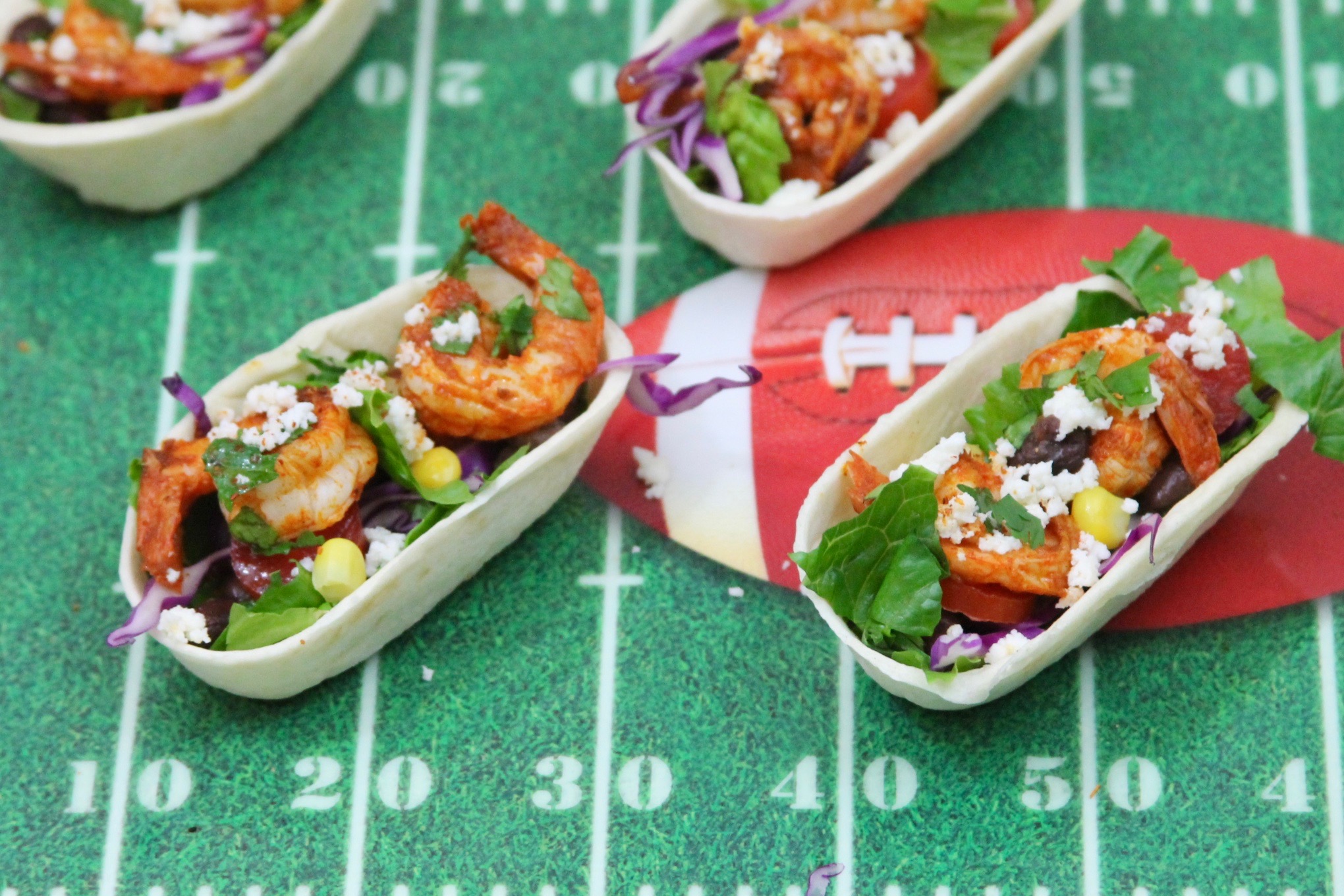 I think that presentation is just as important as what you serve at your party and that is why, if you want to SCORE BIG with your guests you need to make the food not only good but also fun.  Everyone loves these mini tortilla taco bowls and combined with some football themed decorations you are ready for a game-time celebration!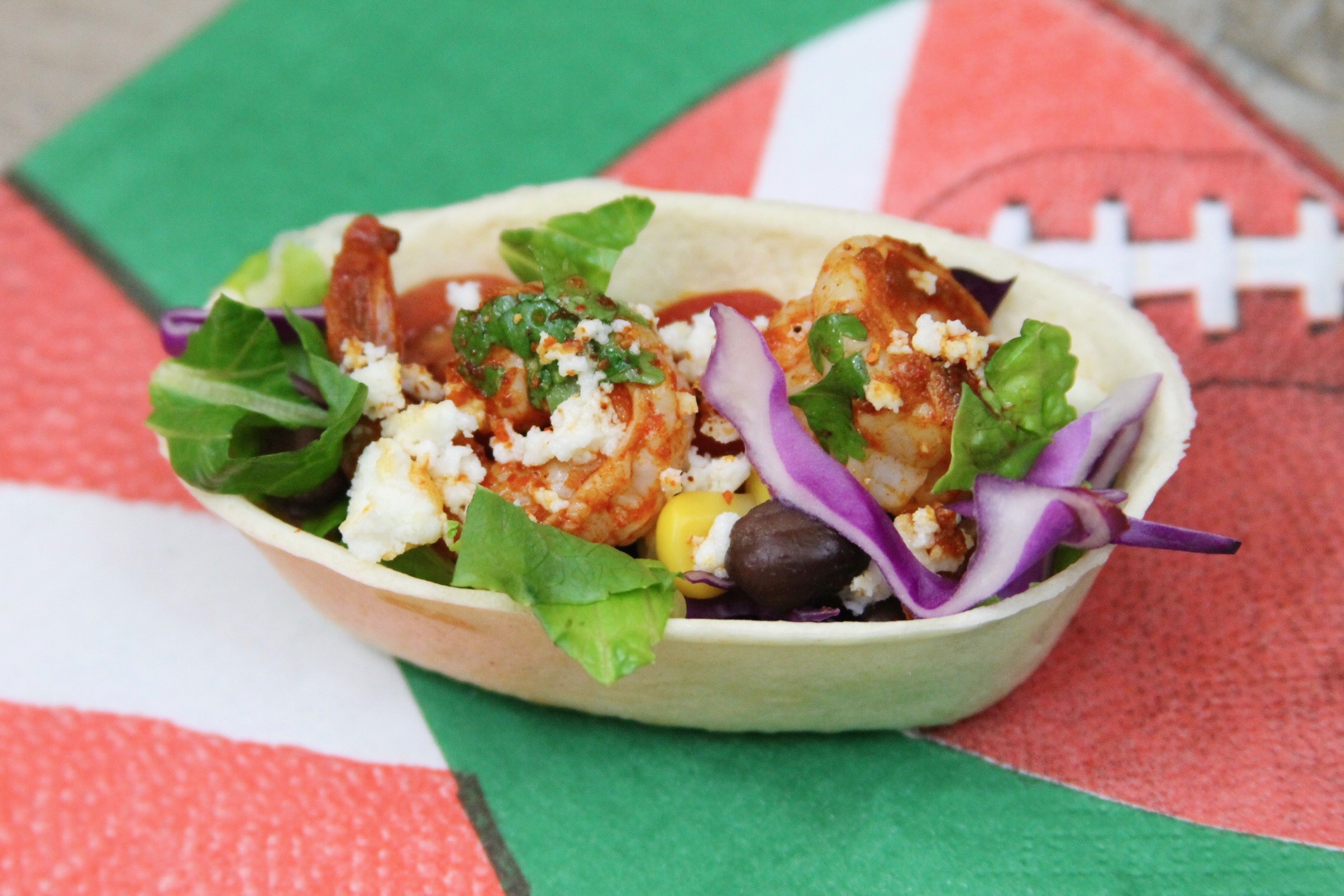 At home we love tailgating or rather homegating and for us watching the game together is much more than the just watching our favorite team play: providing the perfect opportunity for us to bring together food, family, friends, and football!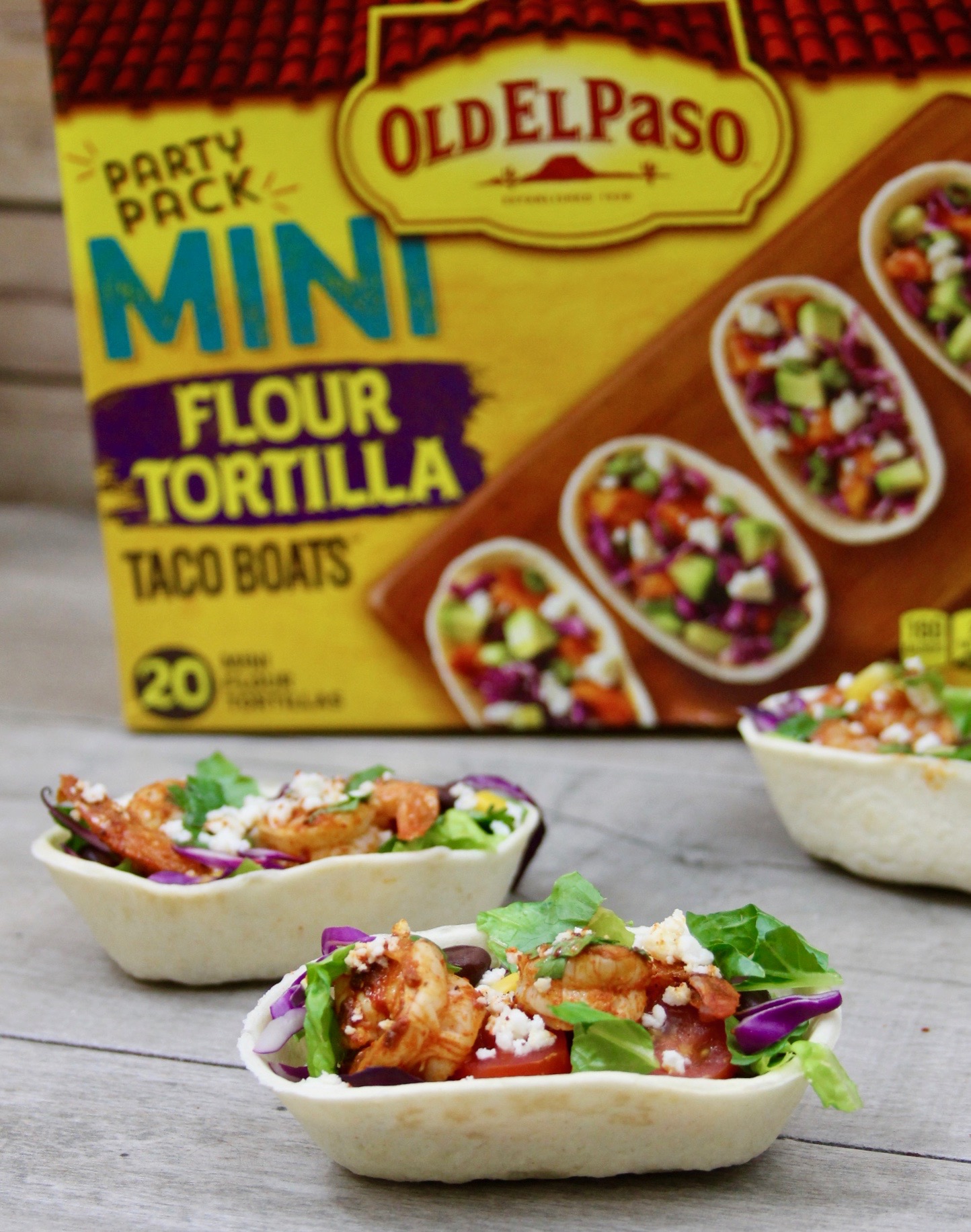 Chipotle Shrimp Taco Salad Tortilla Boats Recipe
Ingredients for the Shrimp Taco Salad
Old El Paso Mini Soft Stand 'n Stuff Flour Tortilla Taco Boats, 12 count
Romaine lettuce cut into bite sized pieces
½ cup black beans, rinsed and drained
½ cup sweet corn
grape tomatoes sliced
¼ cup fresh diced cilantro
red cabbage
queso fresco
Ingredients for Chipotle Shrimp
1 lb medium shrimp, peeled, deveined and tails removed
1 tsp chipotle adobo sauce,
Juice of one lime
2 tablespoons of olive oil
1 tablespoon of minced garlic
1/2 tsp chili powder
1/2 tsp ground cumin
1/2 tsp ground paprika
1/2 tsp salt, or to taste
1/4 tsp freshly ground black pepper
Ingredients for Cilantro Lime Vinaigrette
1 cup packed cilantro
½ cup extra-virgin olive oil
¼ cup lime juice
¼ cup orange juice
½ teaspoon salt
½ teaspoon pepper
Pinch of minced garlic
Instructions
Mix together the garlic, chipotle adobo, lemon juice, 1 tablespoon of olive oil, paprika, cumin, coriander, kosher salt and black pepper in a bowl.
Add shrimp and toss until evenly coated.
Marinate for 30 minutes in refrigerator.
In non-stick skillet heat 1 tablespoon of olive oil over medium-high heat.
Add shrimp and cook until opaque and cooked through, tossing once halfway through cooking, about 3 minutes.
While the shrimp are cooking make the vinaigrette. Mix all ingredients together in a mason jar and shake well.
To assemble the chipotle shrimp taco salad place romaine lettuce and red cabbage on the Old El Paso mini taco bowls.
Add corn, black beans, a few slices of tomato and a couple of shrimp.
Drizzle with cilantro vinaigrette and sprinkle with crumbled queso fresco.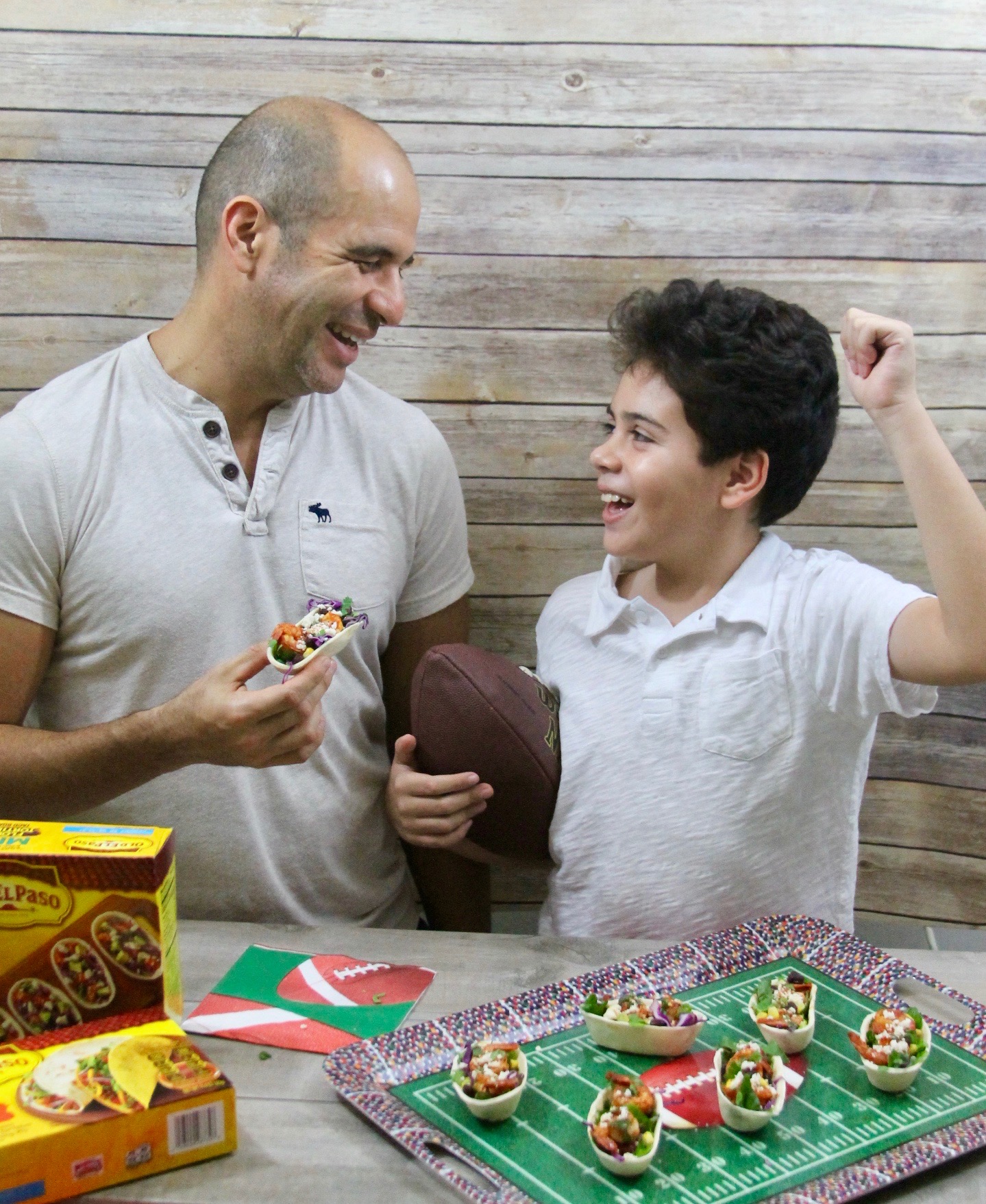 We always have Old El Paso products at home. The Old El Paso Mini Soft Stand 'n Stuff Flour Tortilla Taco Boats are perfect for creating taco bowls or stuffing them with other favorites like chipotle shrimp and we use the Old El Paso Taco Dinner Kit Hard & Soft as the starting point for creating a taco bar for our tailgating get-togethers; they are perfect for making everything from steak or shrimp tacos to fish tacos, the possibilities are endless.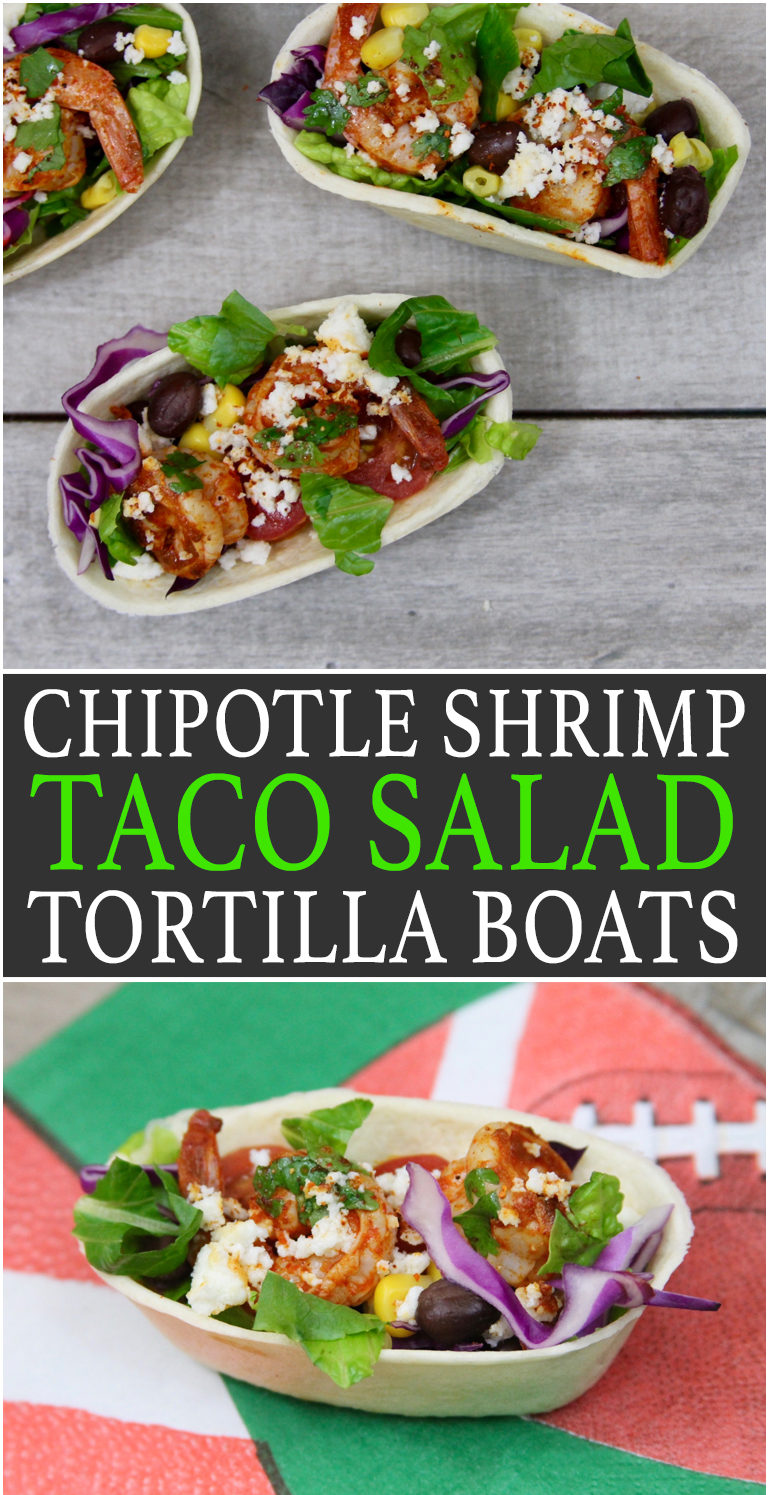 Latest posts by Cesar Diaz
(see all)