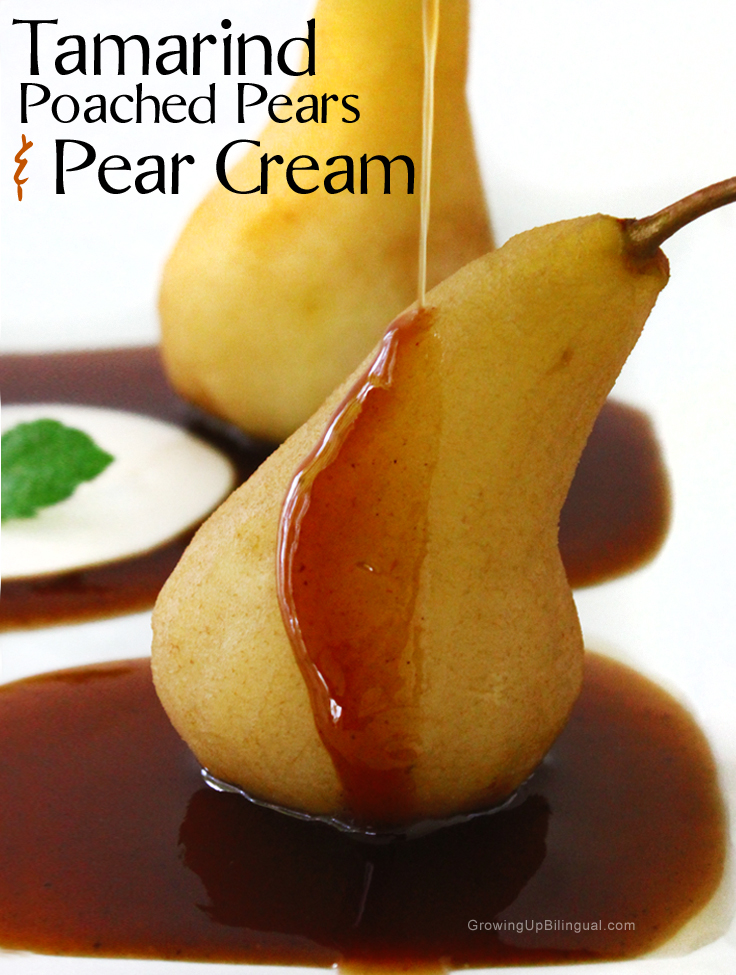 Thank you USA Pears for sponsoring this post. With fresh pear season underway, click here to check out more pear recipes!
The weather is starting to get chilly, even here in Florida, and I am in the mood for something warm, comforting, sweet and easy to make.  Poached pears is one of my favorite fall desserts, I love pears and this is the easiest way to cooke them and I really like that you can poach them in so many liquid: you can use wine or tea or get creative with your poaching liquid and try something new. So last night I decided to experiment a bit and came up with this tamarind poached pears recipe.
I love tamarind, a brown podlike tangy fruit that is common in Latin American and Asian cuisine. I cook with tamarind whenever I have the chance because its mouth puckering and fragrant flavor takes me back to my childhood.  As a kid growing up in Guatemala I would sprinkle salt on the tamarind and eat it straight from the pod and my favorite cool treat was tamarind sorbet (a little like lemon sorbet).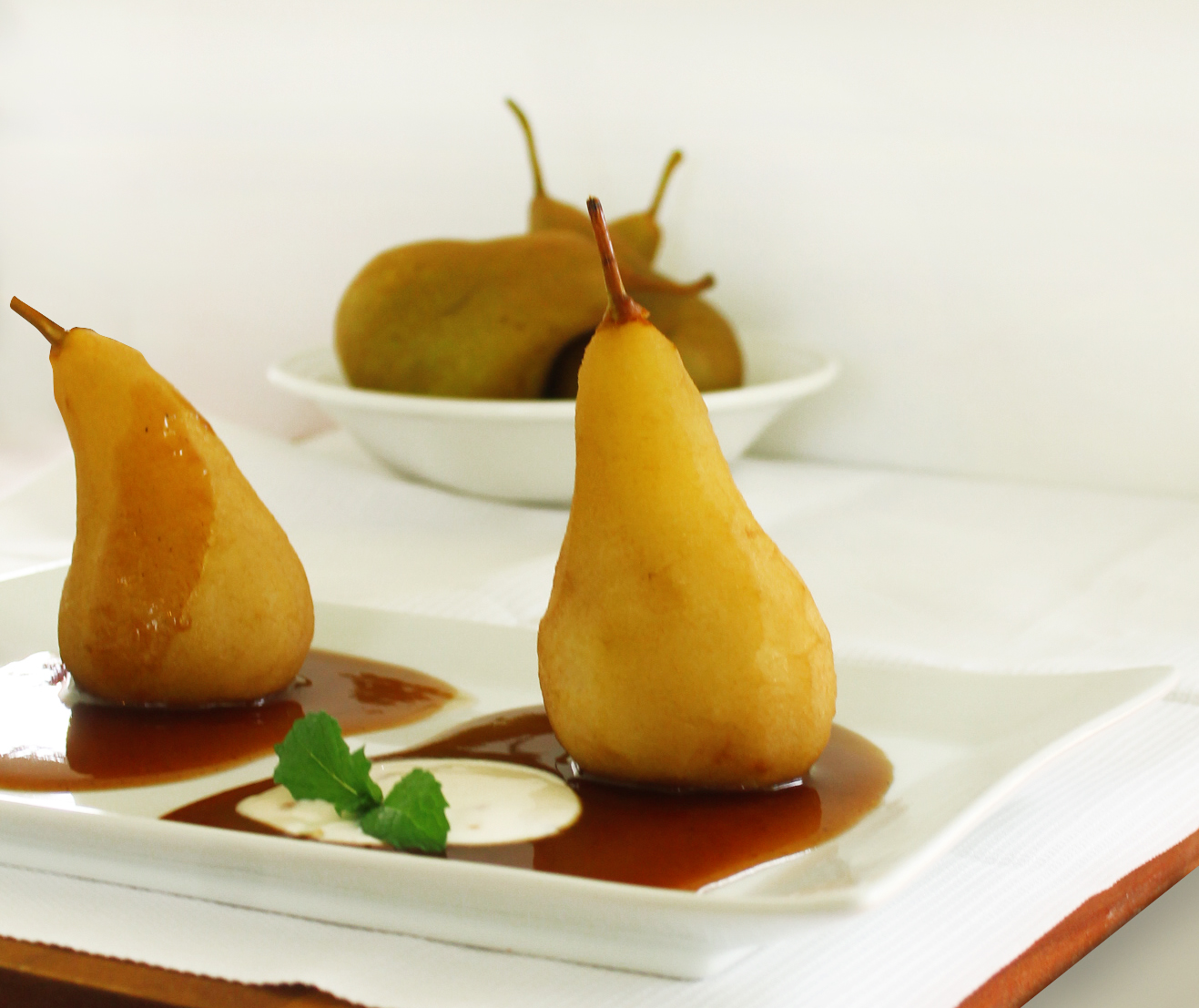 I had some tamarind concentrate in the house and when I saw the USA pears I had bought where ripe I thought it would be a great idea to poach them in tamarind and I have to tell you I am very pleased with the result.  The pears really complimented the sweet tanginess of the tamarind syrup and to balance all the flavors I made a pear cream to accompany the pears.
When poaching pears these don't need pears to be perfectly ripe, under ripe pears are ideal for poaching. Pick firm pears, I used Bosc pears from USA Pears but you can also use Anjou or Bartlett pears.  I checked out the USA Pears website where they give great advice on how to know if a pear is ripe or not. Apply gentle pressure to the neck or stem end of the pear with your thumb, if it yields to pressure, then it's ripe and ready to eat!  If the pears are not ripe enough leave them at room temperature so that they will ripen.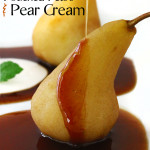 Ingredients
For Tamarind Poached Pears

½

cup

of sugar

¾

cup

tamarind concentrate

you can find this in most Latino or Mexican markets and can be substituted tamarind paste or pulp

4

cups

of water

½

teaspoon

vanilla extract

Juice of ½ lemon

6

firm pears

I used Bosc

For Pear Cream

2

pears

peeled and core removed

2

tablespoons

of honey

5

teaspoons

cold water

2

tablespoons

unsalted butter

½

cup

Greek yogurt
Instructions
In a large saucepan heat the water and add the sugar moving until it dissolves.

Add ½ cup of tamarind concentrate, the vanilla extract and the lemon juice.

Peel the pears leaving the stems and place in the saucepan.

Bring water to a boil.

Cover and reduce heat.

Let simmer for 15-20 minutes or until pears are tender.

Remove pears from water.

Reserve 1 cup of the pear water and discard the rest.

Add ¼ tamarind concentrate to the water and continue simmering uncovered until the tamarind syrup reaches desired consistency (about 10-15 minutes).

If you re using tamarind pulp you might need to add more sugar.

While pears are poaching start preparing the Pear Cream.

Peel, remove the core and cut the pears into small pieces.

Heat a medium saucepan with half the butter.

Once the butter starts to bubble, add the pears and honey.

Stir and cook for two minutes.

Add the water, turn the heat down to a gentle simmer, cover with a lid and cook for 10 minutes, stirring occasionally.

Remove the saucepan from the heat, dice the rest of the cold butter and add to the cooked pears, move until the butter dissolves.

Transfer the cooked pears to a blender and blend until smooth.

Once the puree is completely cold whisk in the yoghurt and refrigerate until needed.

When serving drizzle poached pears wit the tamarind syrup and add two tablespoons of pear cream on the side.
So why not poach some pears in your favorite liquid? Infuse creativity in your poached pear by experimenting with tea, bourbon, coconut milk, beer, coffee, or a myriad of other poaching liquids. Poached pears are not only extremely easy to make but they look beautiful and make a great dessert for entertaining now that the holidays are almost here!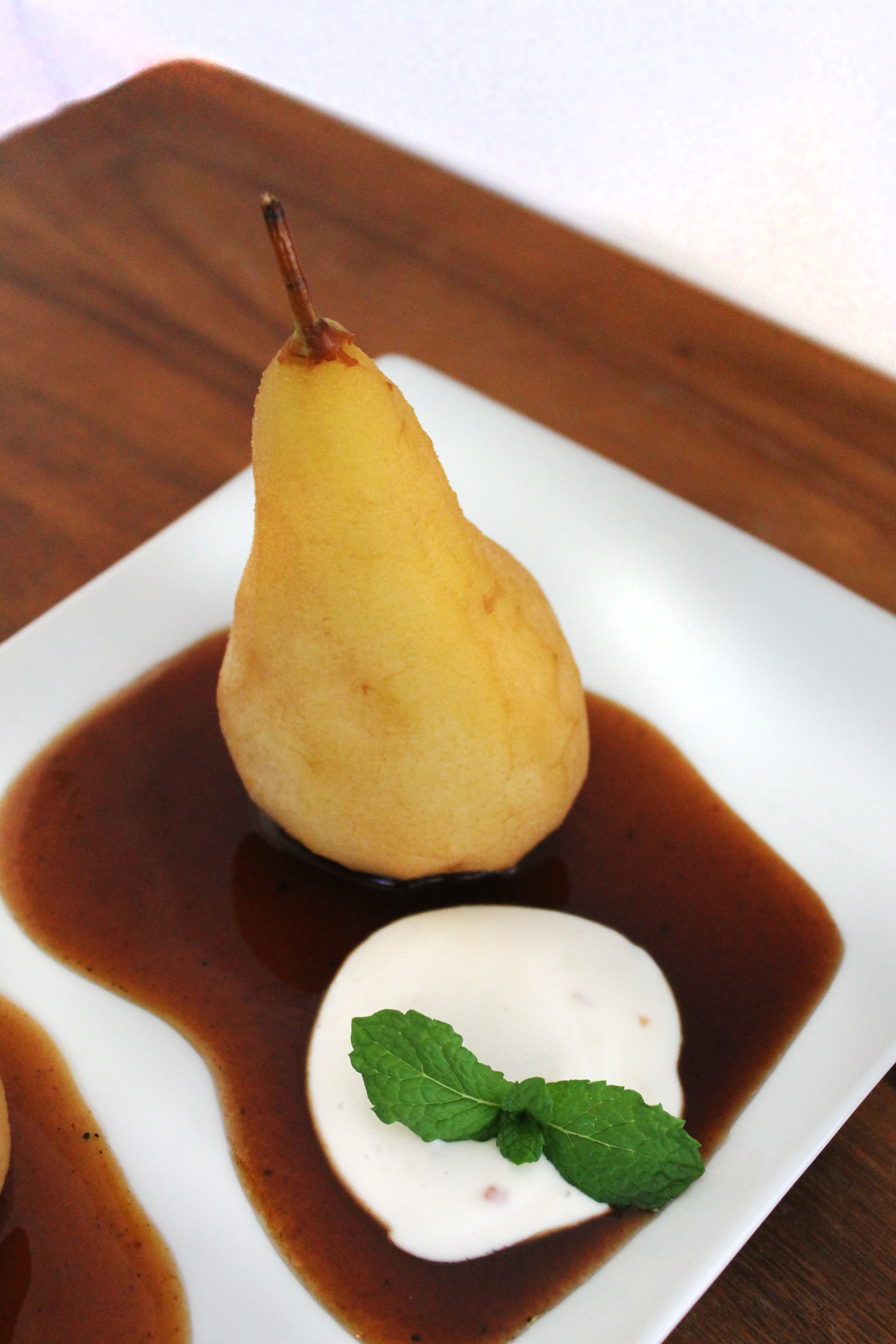 I was selected for this opportunity as a member of Clever Girls and the content and opinions expressed here are all my own.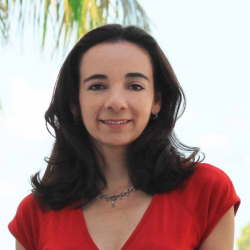 Latest posts by Paula Bendfeldt-Diaz
(see all)