Teaching kids about the importance of taking care of the environment and making green choices is something that becomes more relatable when you get them involved and when you make it fun. With that in mind this month I created an easy DIY Earth Day wall clock, my kids helped finding recycled cardboard and cutting and gluing. The clock was not just super fun to make but as it hangs on my daughter's wall next to her bed it is a reminder of the importance of taking care of our beautiful planet by making choices that make us feel good.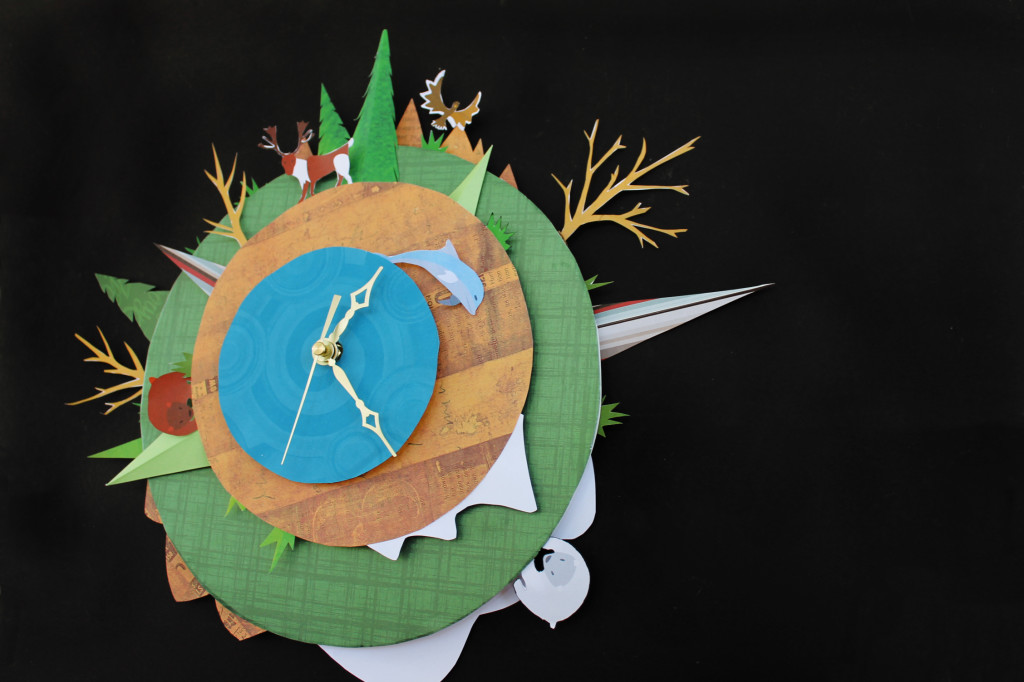 Being a stay at home Dad means you are more involved in everything that has to do with your kids and your family. Now that I am the one who does all shopping at the supermarket I am more aware of my responsibility to ensure that I am choosing products that are good for our family and good for the environment. 10 years ago I did not even think about the chemicals that could be found on the products I consumed but now I always read the ingredients on anything I am buying for the first time.
I also make a conscious effort to buy products that are environmentally friendly for my home. I have learned so much about what products that are more sustainable than others. It's all about trying to reuse, recycle and upcycle as much as possible. And when I have to buy something new I make sure it's made with materials that are more sustainable. Recently I needed to buy new bedding and I chose bamboo bedding because it requires a fraction of the resources cotton does. I am really happy with the bamboo bedding products from Ecoy, they have everything from bamboo sheets to bamboo quilts.
Earth Day Wall Clock
I created a fun wall clock for my daughter's room using recycled cardboard and since Paula has gotten over her scrapbooking "phase" I used some of the scrapbooking paper we had lying around. You can make one just like this one using the free printables that you can download HERE and following the instructions below.
Materials
Cardboard boxes, I used some cereal boxes and
White card stock
A clock kit (they are very affordable, I got mine from Amazon but you can get them at any craft store)
Scrapbooking paper in "earth" colors, I used green, brown and blue.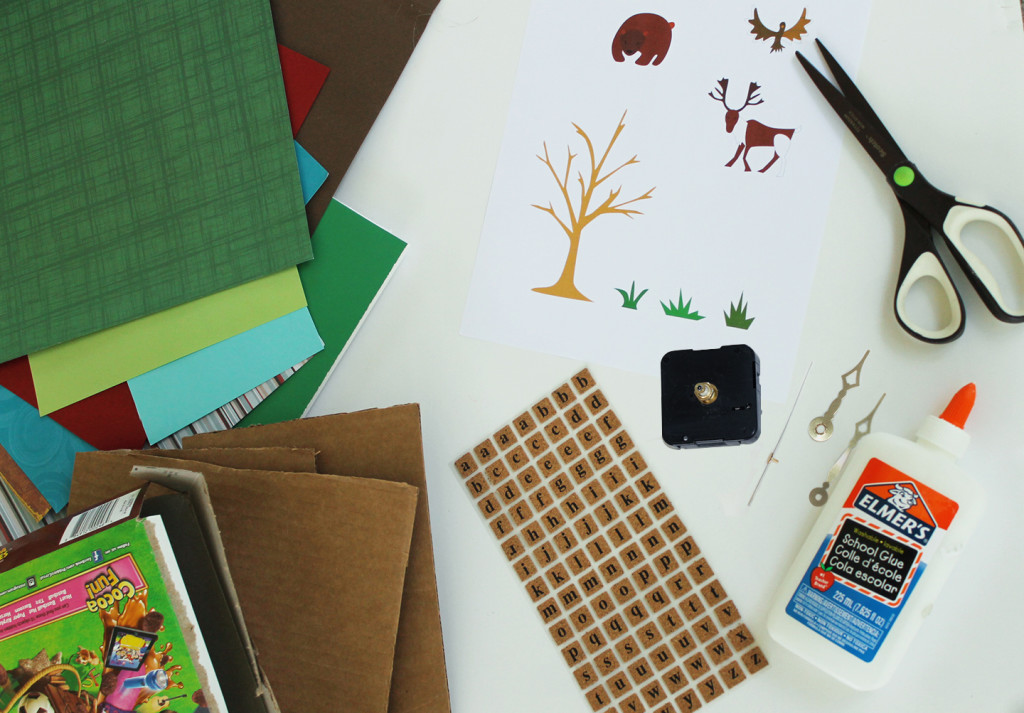 Instructions
Download the free printable animals and print on white card stock.
Cut the animals.
Using scrapbooking paper in different hues of green and browns cut some triangles to make the trees and cut some mountains from brown and white paper.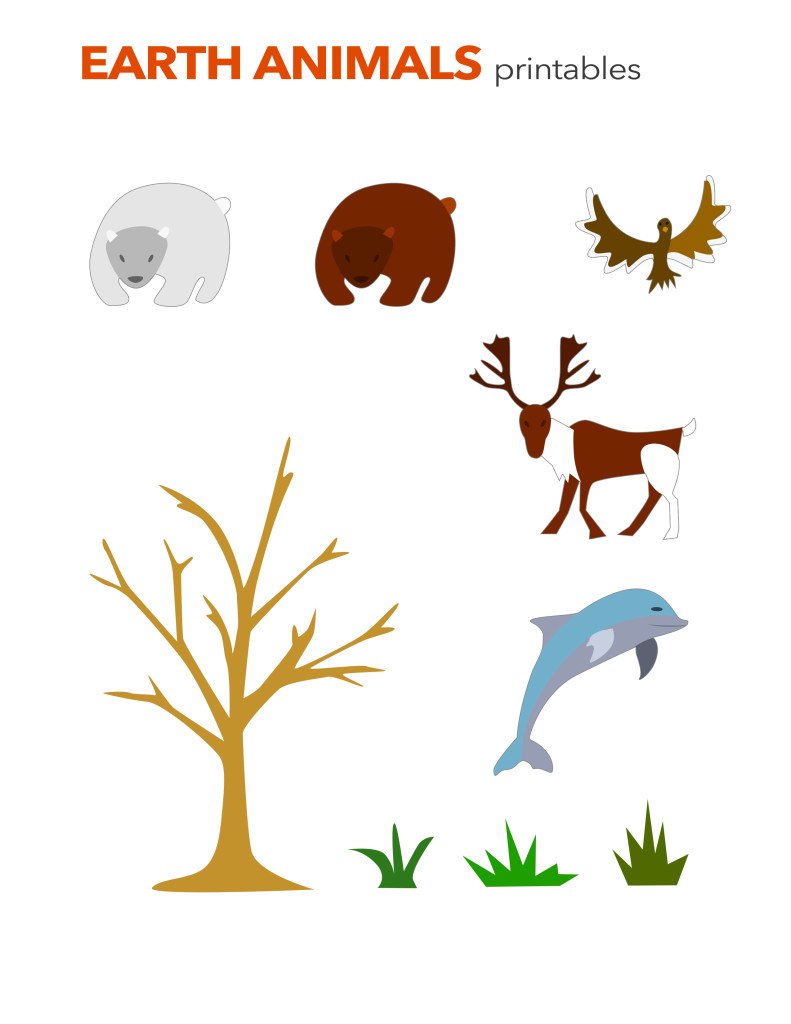 Cut three circles from the thick cardboard in different sizes. I covered the larger circle with green scrapbooking paper, the medium circle with brown paper and the smaller circle with blue paper.
Glue the different animals, trees and mountains around the three circles anyway you want. You can take the clock I made as a base but get as creative as you want with it!
Glue the circles one on top of each other.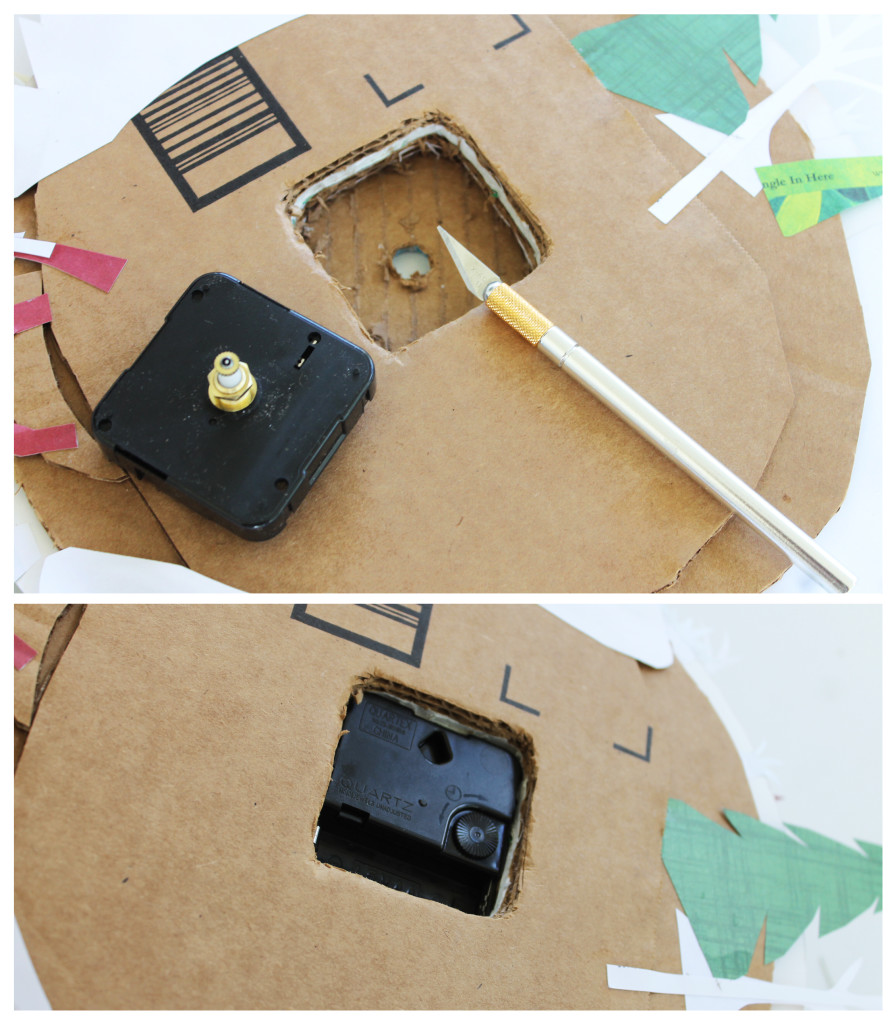 Trace the battery pack from your clock kit on the back of your clock.
Using an Xacto knife cut out a square and then cut a hole in the middle of your clock so you can put the clock hands on one side and connect to the battery pack on the back.
Put your clock hands together according to the instructions.
Glue a piece of string in the back to hang your clock on the wall.
Put the batteries in and you have a beautiful wall clock!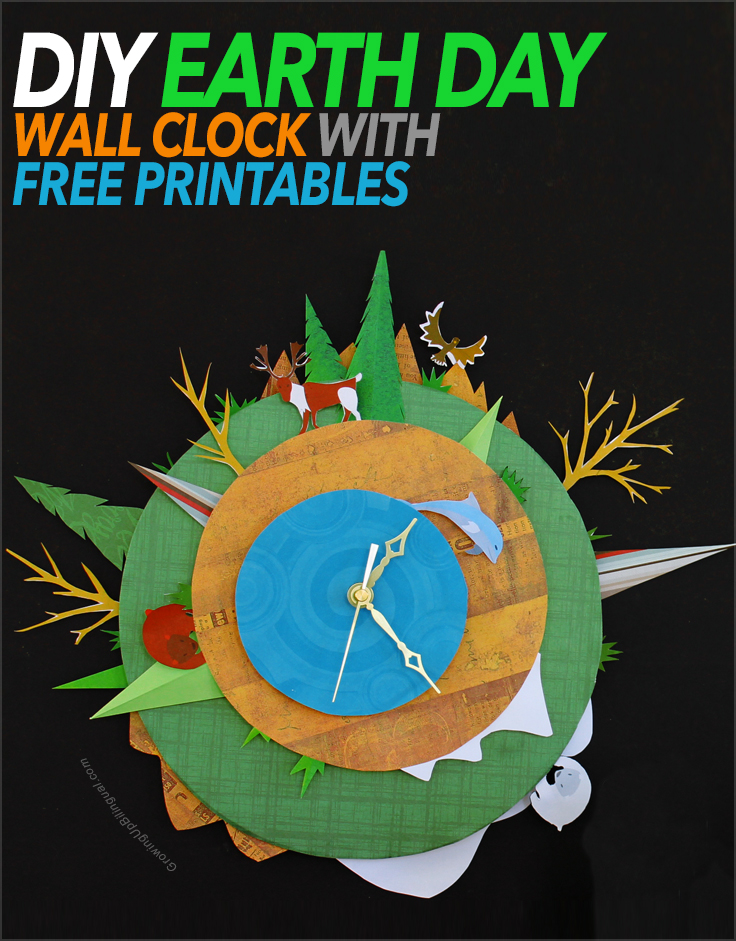 If you like this Earth Day inspired DIY wall clock craft make sure to check out my DIY plastic bottle robot night light craft, which you can make by reusing discarded plastic bottles.
At home, we make every day Earth Day! I am so proud that my kids are already so aware of the importance of making informed choices about using products that have natural ingredients and are environmentally conscious. Both of my children recycle, are very aware of the importance of saving energy and water and we love reusing and repurposing. My little guy, who is only 7 years old, reads the labels on the products he uses. He knows that chemicals like red 40 can even affect his mood and energy levels. Before eating something or using a product he'll ask "Is this good for me?". His questions are a constant reminder of the importance of choosing products that are good for my family and that are made using sustainable practices and taking into account the importance of using recycled products for their packaging.
Our journey to becoming a greener family is just starting and we have a long way to go, but we are happy we have started and we know that we want to reach a point where I can assure my kids that everything that he is using or eating is good for them! Not only do I want to make sure to use products that are good for my family and for the environment but I also want to make sure we're all doing what we can't to protect Earth on Earth Day and every day!
How to you celebrate Earth Day every day at home? Let me know in the comments below!