Step into a world of peachy goodness with an array of delightful and refreshing peach summer drinks that will make your taste buds sing with joy! Summer is the perfect time to relish the juicy sweetness of peaches, and what better way to enjoy them than in a variety of non-alcoholic peach summer drinks? From classic peach lemonades that tickle your taste buds with their perfect balance of sweet and tangy, to invigorating peach iced teas that offer a delightful fusion of flavors, and velvety peach smoothies that make for a quick and satisfying treat – there's a peach drink for everyone!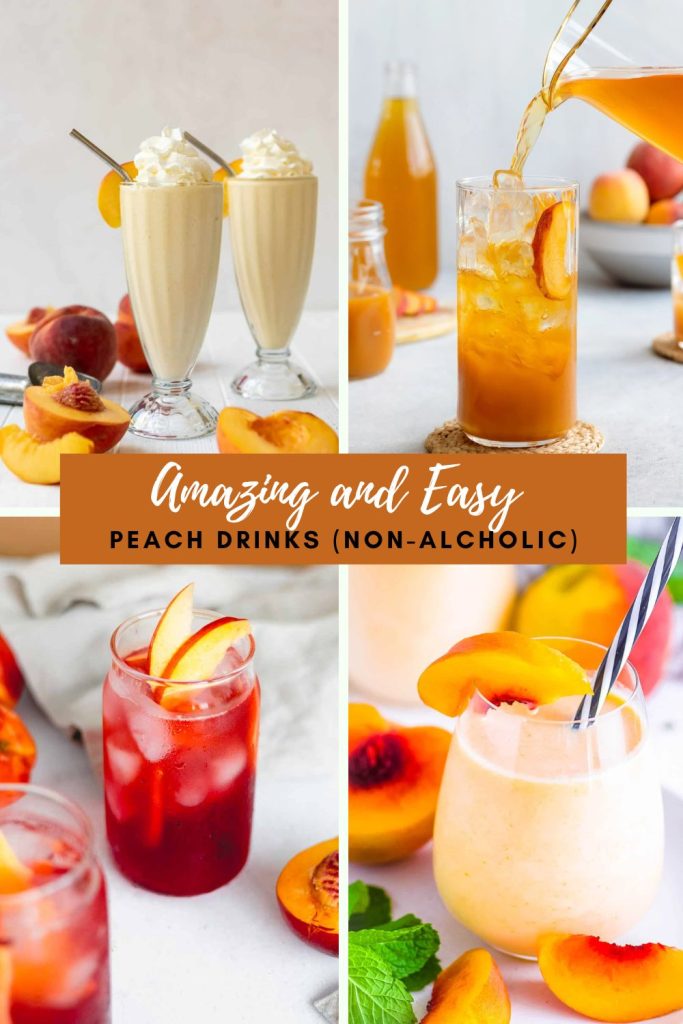 No matter which peach beverage you choose, these drinks are sure to be a hit at any gathering or as a refreshing treat just for yourself. So, why not take advantage of peach season and dive into the world of peach drinks that are both easy to make and wonderfully delicious? If you're looking for more non-alcoholic and refreshing drinks check out these amazing spring mocktails or one of my favorite summer drinks a Passion Fruit, Mango, And Raspberry Mojito Mocktail
Get creative with your own combinations and enjoy the best that summer has to offer – one peachy sip at a time! You can even grab your favorite spirits and turn these into cocktails.
If you've got lots of fresh peaches and are looking for more peach recipes be sure to check out my delicious spring mocktails and this great compilation of the best peach desserts to satisfy your sweet tooth! And if you're looking for some boozy peach drinks be sure to check out my list of the best peach cocktails, you're sure to find your new favorite one.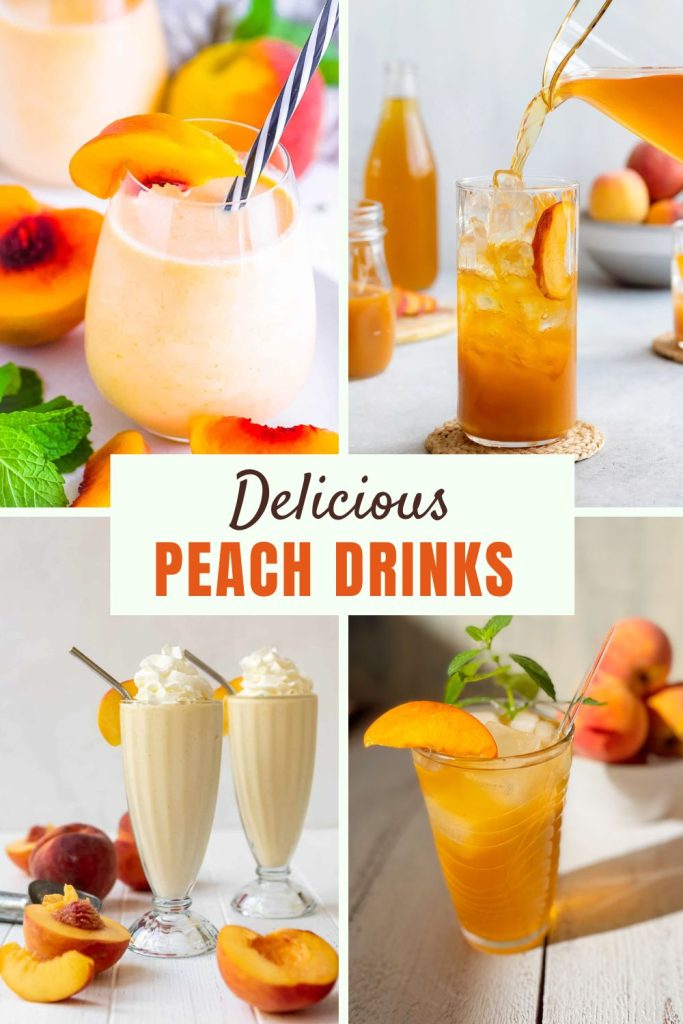 The Best Peach Tea Recipes
Get ready to savor the sweetness of summer with a delightful collection of peach tea recipes. The marriage of juicy peaches and cool, refreshing tea creates a drink that's not only delicious but also incredibly soothing on a hot day.From iced peach green tea lemonade to peach hibiscus tea, these thirst-quenching drinks will keep you cool and refreshed all season long. Let's dive into the world of peach-infused goodness!
Get ready to savor the best of both worlds with this homemade ginger peach iced tea! It's a delightful twist on the classic iced tea, featuring fresh peaches and a homemade simple syrup. Sip on this refreshing peach tea to keep cool during those hot summer days!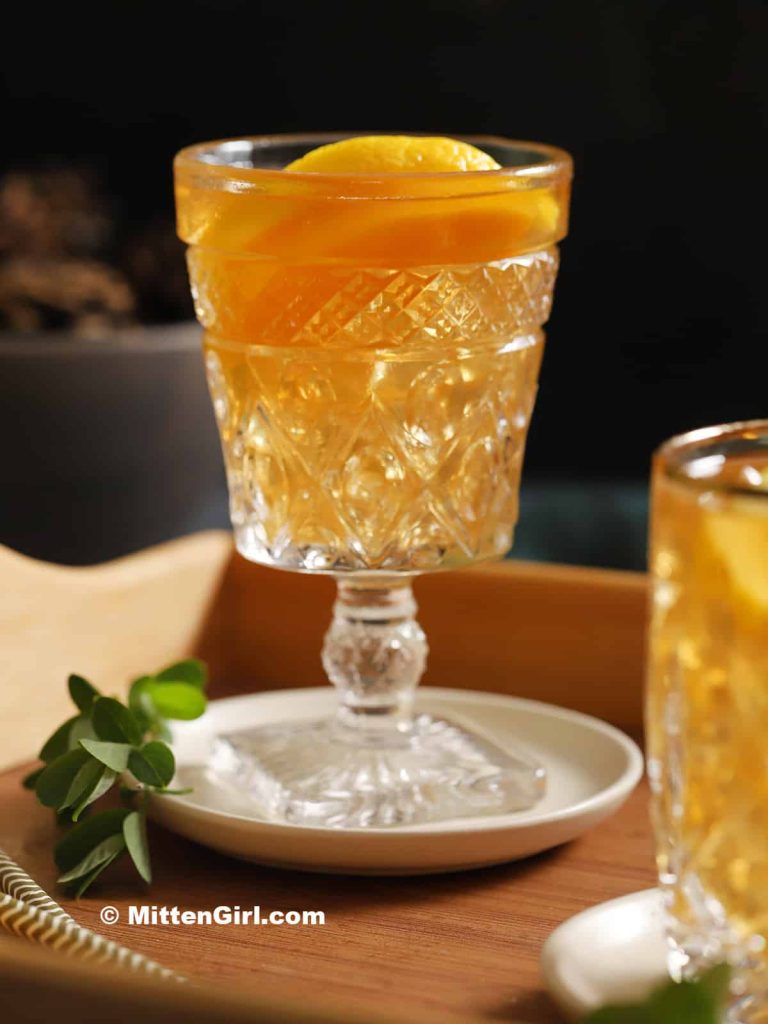 Stay cool this summer with a homemade iced peach green tea that's even better than the Starbucks version! Using fresh peaches and green tea, this refreshing drink will become your new favorite way to beat the heat. Say goodbye to store-bought sugary beverages and hello to a healthier and tastier option!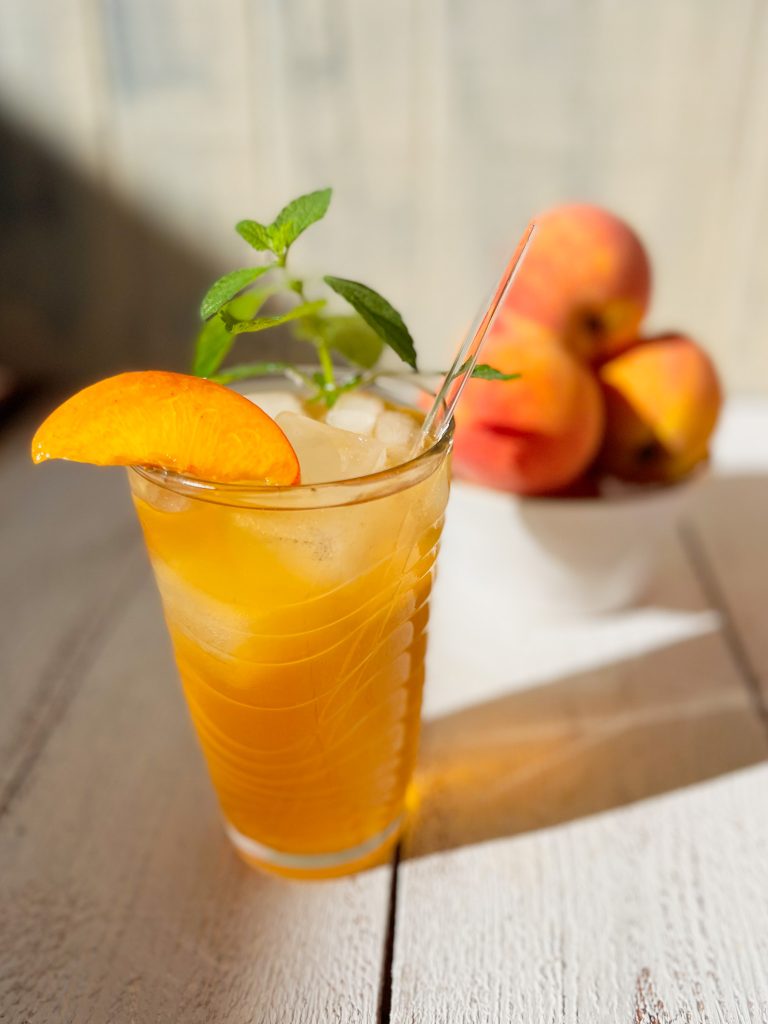 Delicious Peach Lemonades
Peach lemonade is one of my favorite summer drinks. The zesty kick of fresh lemons combines harmoniously with the natural sweetness of ripe peaches to create a lemonade that is refreshing and delicious. It's an irresistible combination that will keep you coming back for more.
Enjoy the summer with a delightful Rosemary Peach Lemonade! This unique twist on classic lemonade combines juicy peaches, zesty lemons, and fragrant rosemary for a refreshing and irresistible drink. Whether you're chilling with friends or relaxing solo, this crowd-pleaser will keep you feeling both invigorated and relaxed all season long!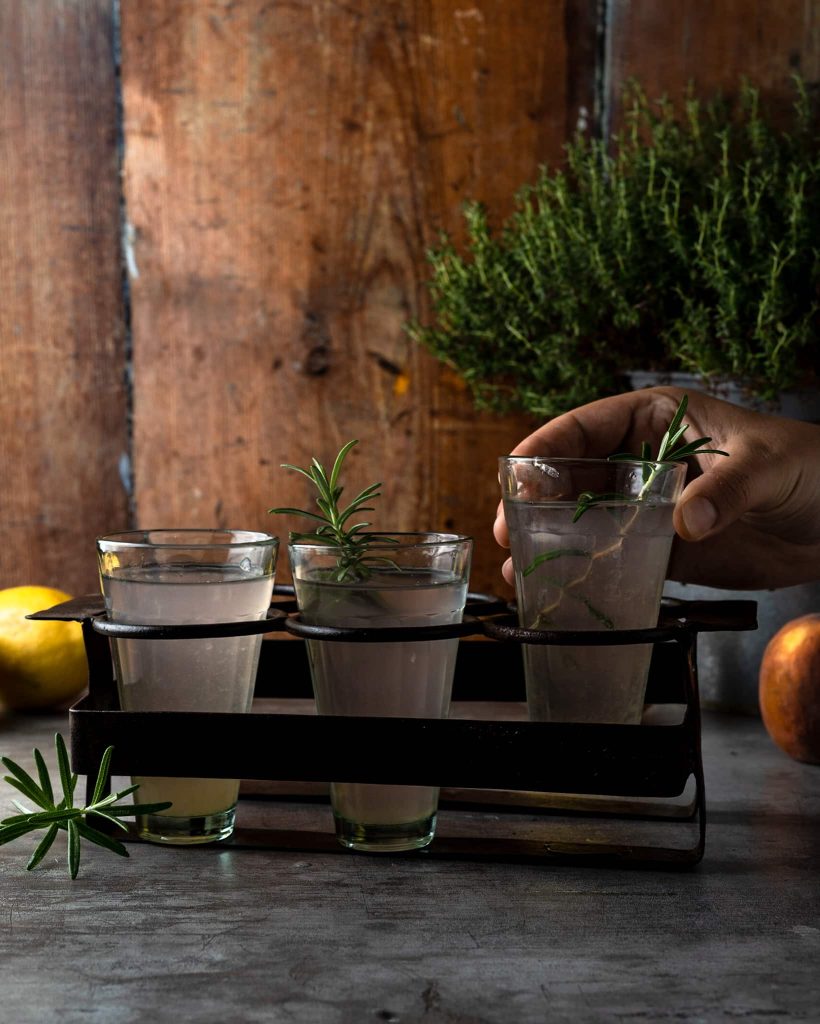 Get ready for a summer treat with our Peach Strawberry Lemonade! Bursting with the goodness of ripe peaches, sweet strawberries, and just the right amount of sugar, this homemade lemonade is the perfect thirst-quencher for hot days. With its refreshing blend of tart and sweet flavors, you'll be reaching for a big pitcher of this deliciousness all season long!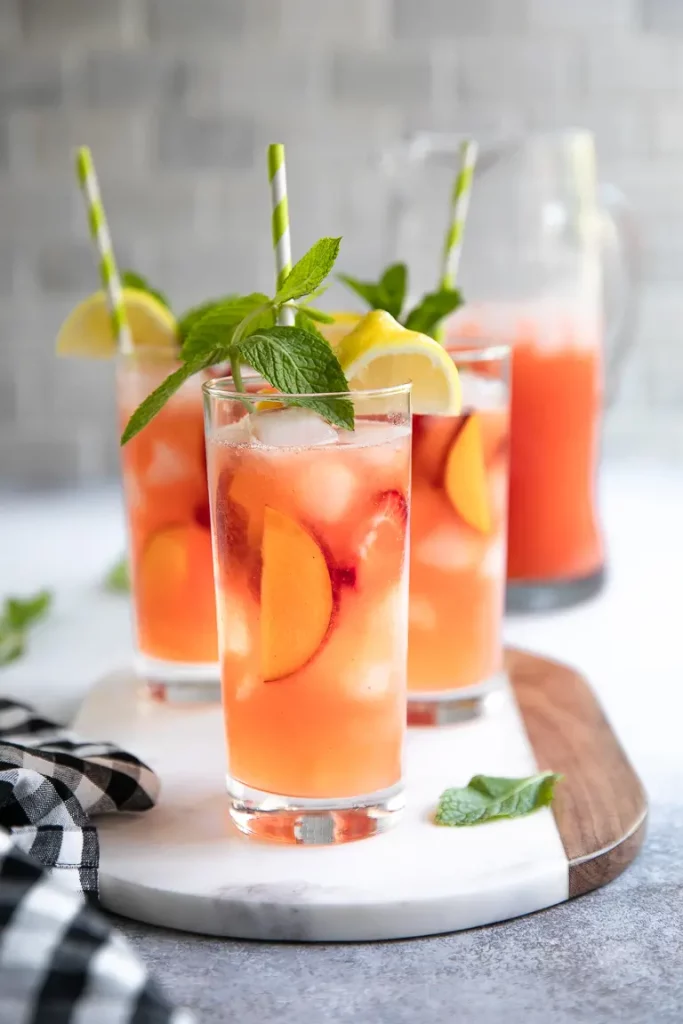 Get ready for a truly refreshing treat with this Iced Peach Green Tea Lemonade! With just 4 simple ingredients and 20 minutes of your time, you'll have a delightful and delicious drink to enjoy on hot summer days. It's a breeze to make and will keep you cool and satisfied all season long.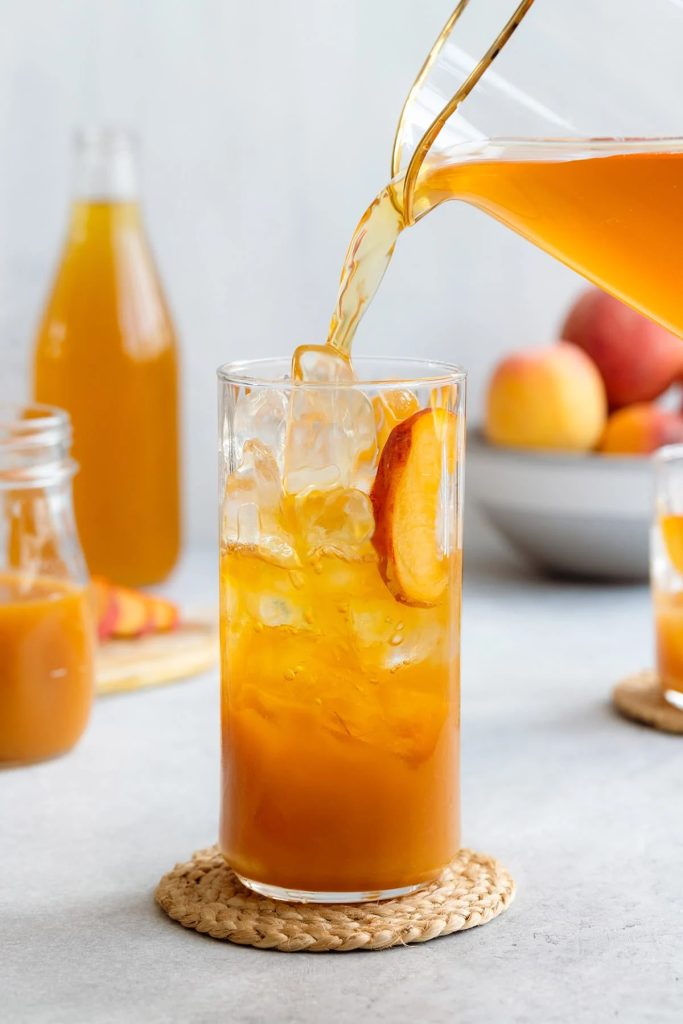 Indulge in the goodness of this Peach Hibiscus Tea – a charming, naturally-flavored, and visually impressive drink that blends floral and fruity delights. Whether you're looking for a refreshing sip on a hot day or a delightful treat to enjoy anytime, this tea has got you covered with its delightful flavors and beautiful presentation. Quench your thirst and treat your taste buds with this delightful fusion of flavors!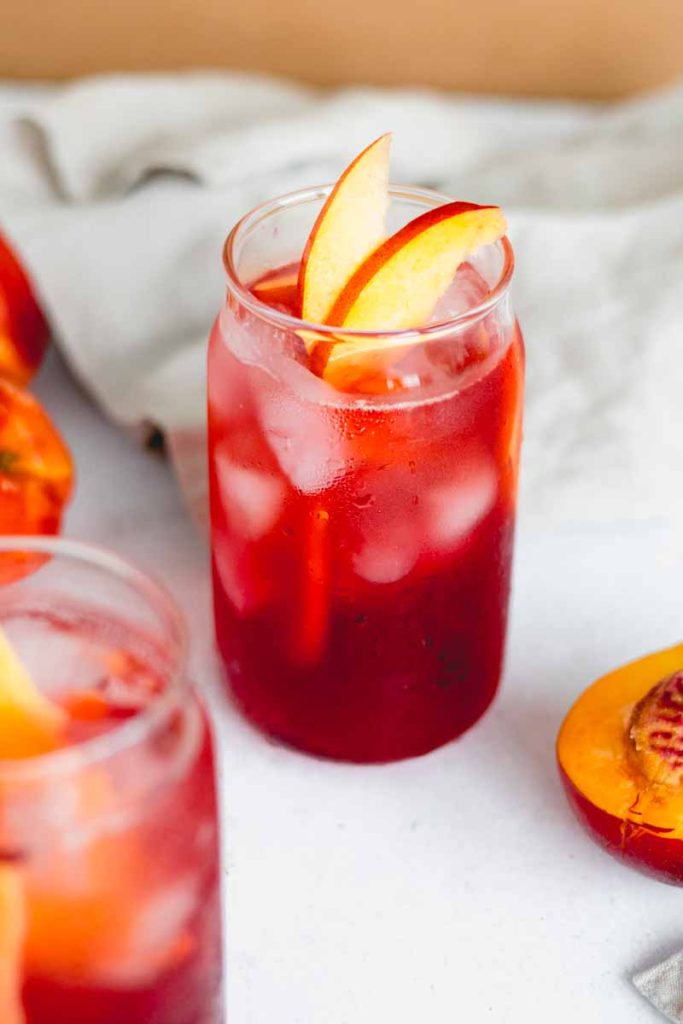 Easy Peach Smoothies
If you're looking to add a touch of creaminess to your peachy indulgence, the peach smoothie is a must-try. Blending the goodness of peaches with creamy yogurt or milk creates a velvety concoction that's perfect for breakfast or a quick snack. You can even add a hint of spice with a dash of cinnamon or a kick of ginger for a delightful twist. And because peaches have such a smooth and light flavor you can combine them with your favorite fruits from mangos and pineapples to bananas and even cantaloupes! Check out these amazing peach smoothie recipes, you're sure to fall in love with one, or two or three.
Indulge in the creamy goodness of this vegan Peach Mango Smoothie! With just three simple ingredients, this delightful treat is ready in a breeze – perfect for a quick and refreshing breakfast or a delightful snack on those hot days. One sip, and you'll be hooked on its deliciousness!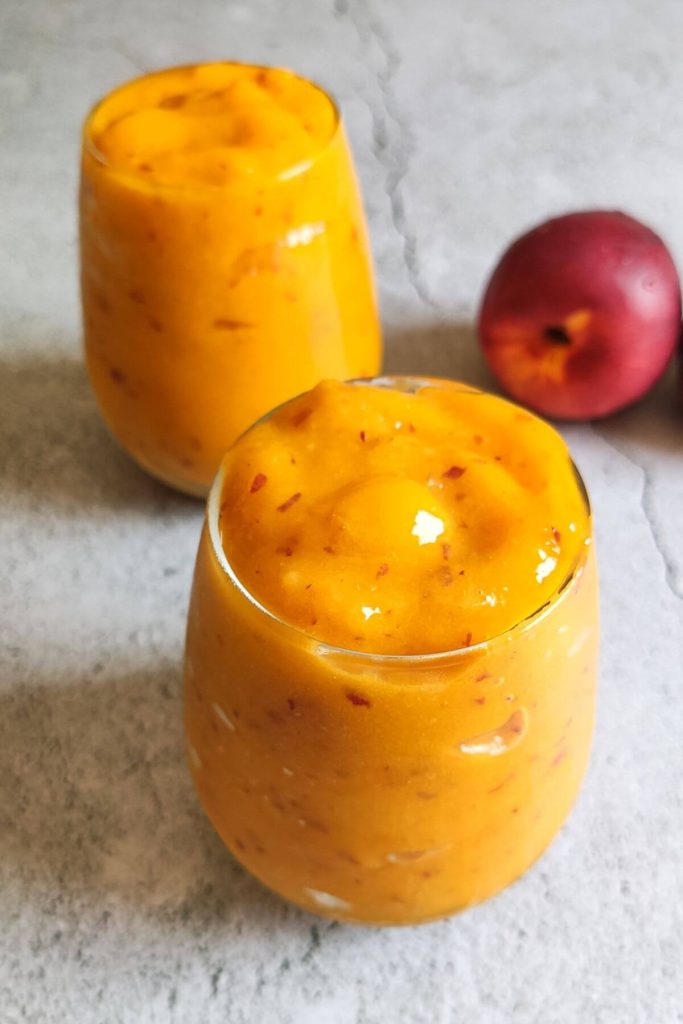 Say hello to our super creamy Peach Pineapple Smoothie! With no added sugar and less than 100 calories, this delightful dessert drink will make you want to savor every sip. So light and airy, it's almost like a treat, not just a smoothie! Don't miss out on this refreshing delight – it's spoon-worthy!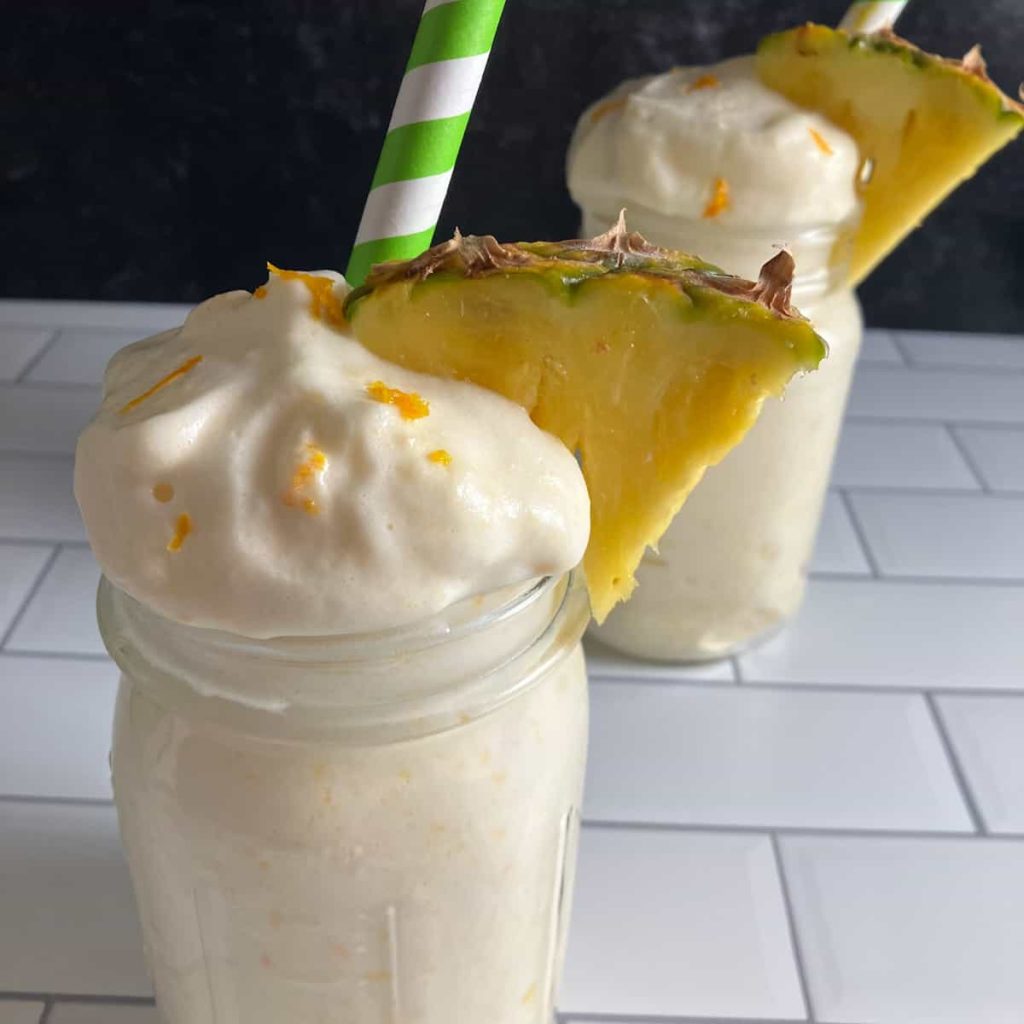 Whip up this delightful and rejuvenating smoothie in just 5 minutes! Blending together the goodness of sweet cantaloupe melon, frozen peaches, lemon juice, banana, ginger, and almond milk, this healthy concoction is the ideal choice to kickstart your day or keep you energized as a satisfying snack. Give it a try and experience the refreshing burst of flavors!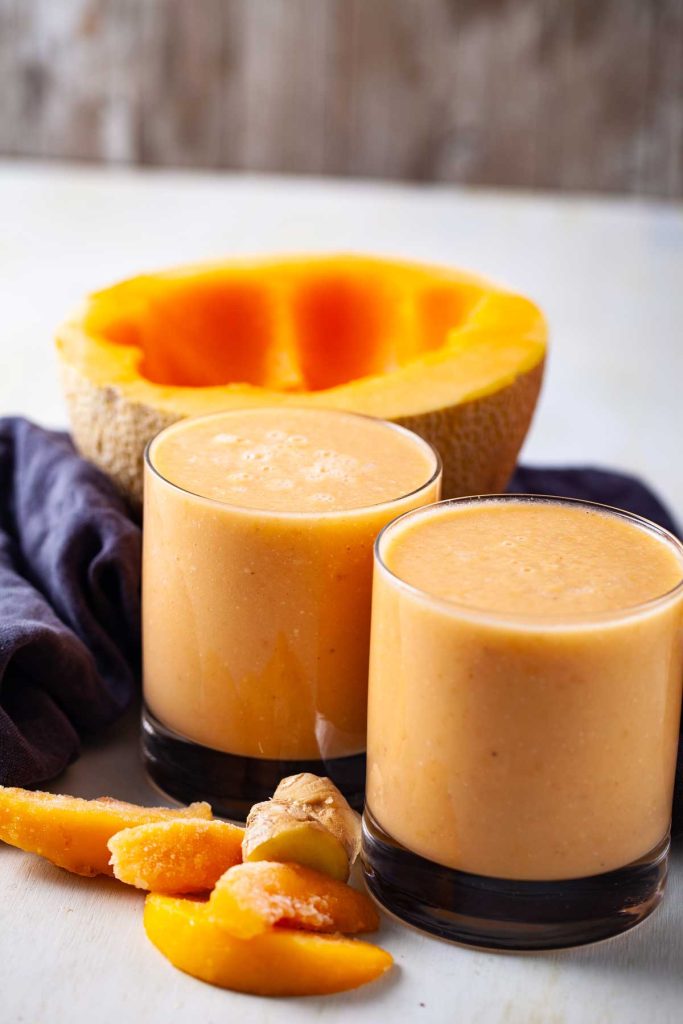 Enjoy this Banana Peach Smoothie any time of the day, whether it's breakfast, lunch, or snack time. With its easy preparation in any blender, this refreshing and healthy beverage will keep you energized and hydrated, making snack time wholesome and delightful! Sip away and embrace the goodness!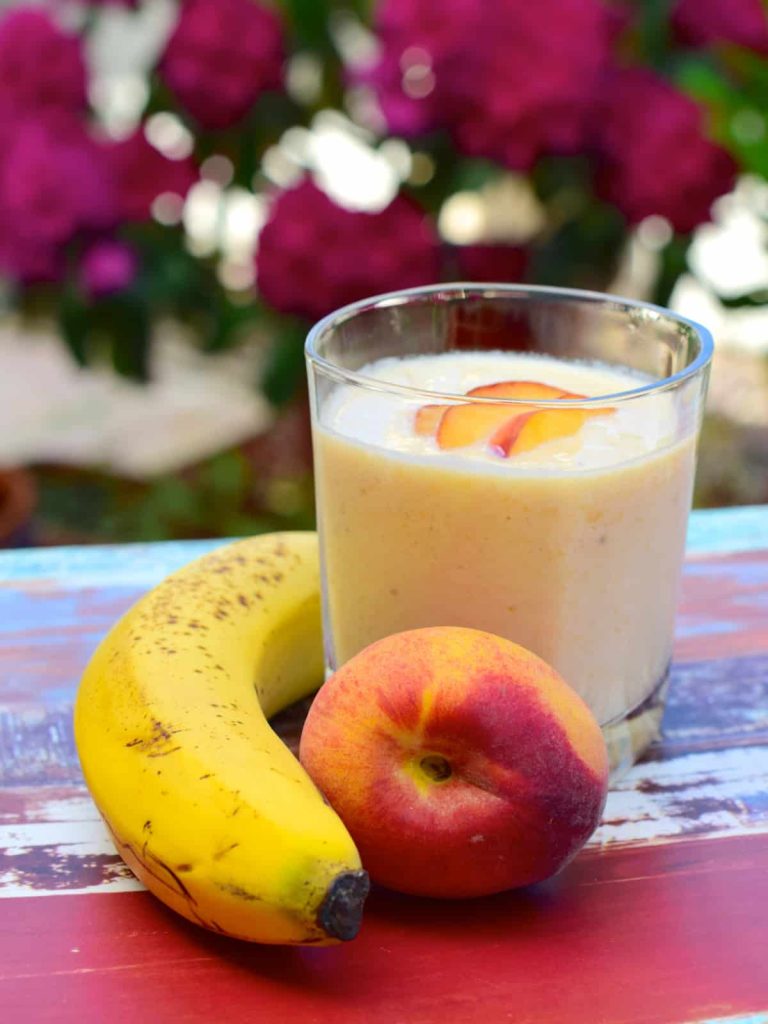 This creamy Pumpkin Smoothie is a refreshingly scrumptious blend of pumpkin, peaches, and cozy fall spices. It's perfect for making that transition from summer into fall and start welcoming all of those pumpkin pie recipes! Because let's face it, it's never too early to start thinking about Halloween and pumpkin recipes!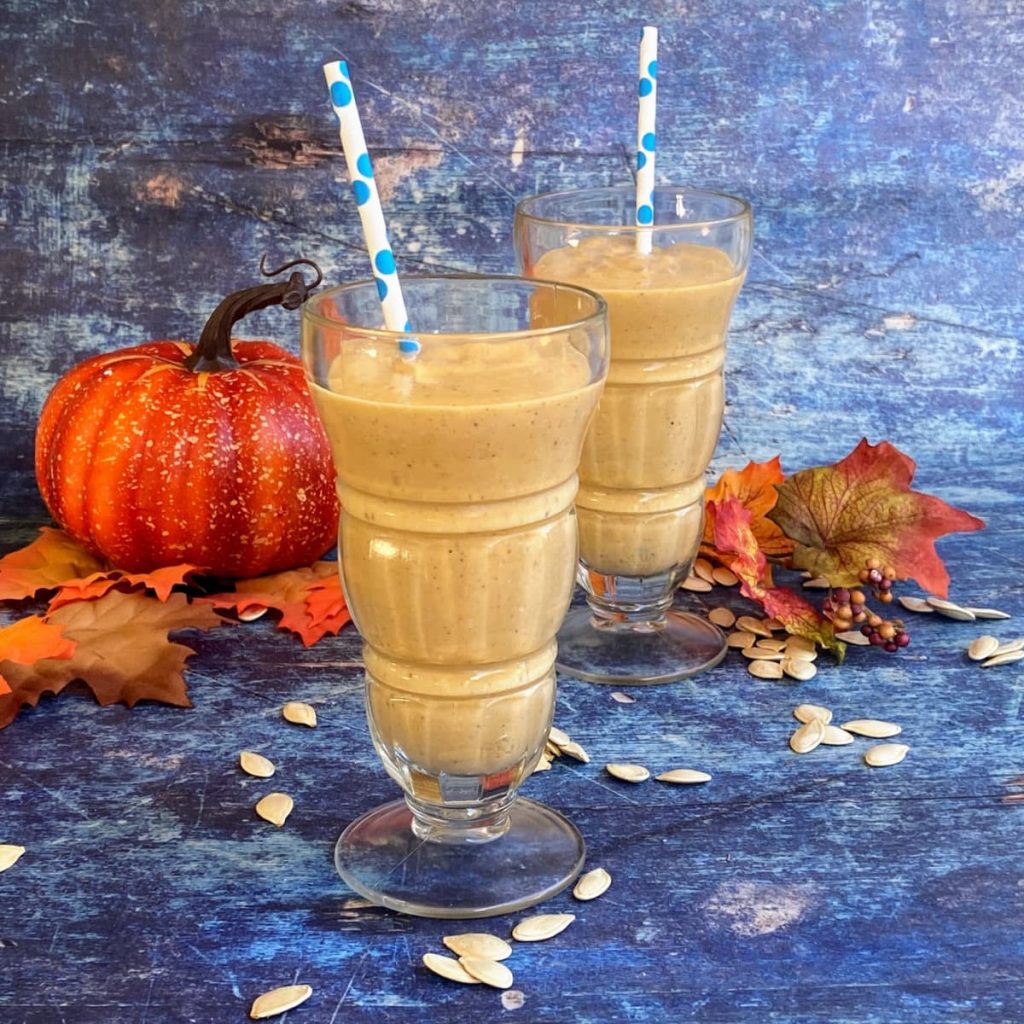 More Amazing Peach Drinks!
Go beyond peach teas, lemonades and smoothies and check out these fun and creative peach drinks. From peach mocktails to peach milkshakes these refreshing summer drinks are filled with fresh peach flavor.
Enjoy the delicious taste of these Fresh Peach Milkshakes, inspired by Chick-Fil-A's classic treat. With just three simple ingredients, these creamy and refreshing milkshakes are the perfect summer indulgence. Ready in only 5 minutes, they're a delightful way to savor the sweetness of ripe peaches!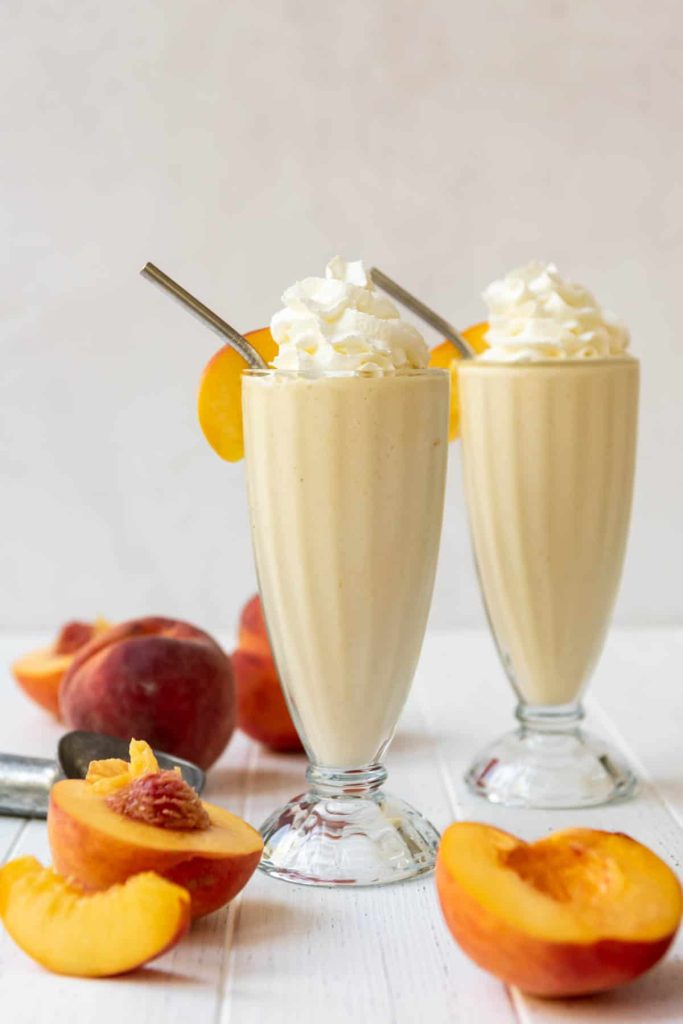 In need of a refreshing and versatile drink that's perfect year-round? Look no further than this simple peach milk recipe! Combining the goodness of fresh peaches with creamy milk, this delightful treat will satisfy your cravings. With only 4 ingredients and the option to make it vegan, it's a family-friendly favorite that will surely satisfy your sweet tooth!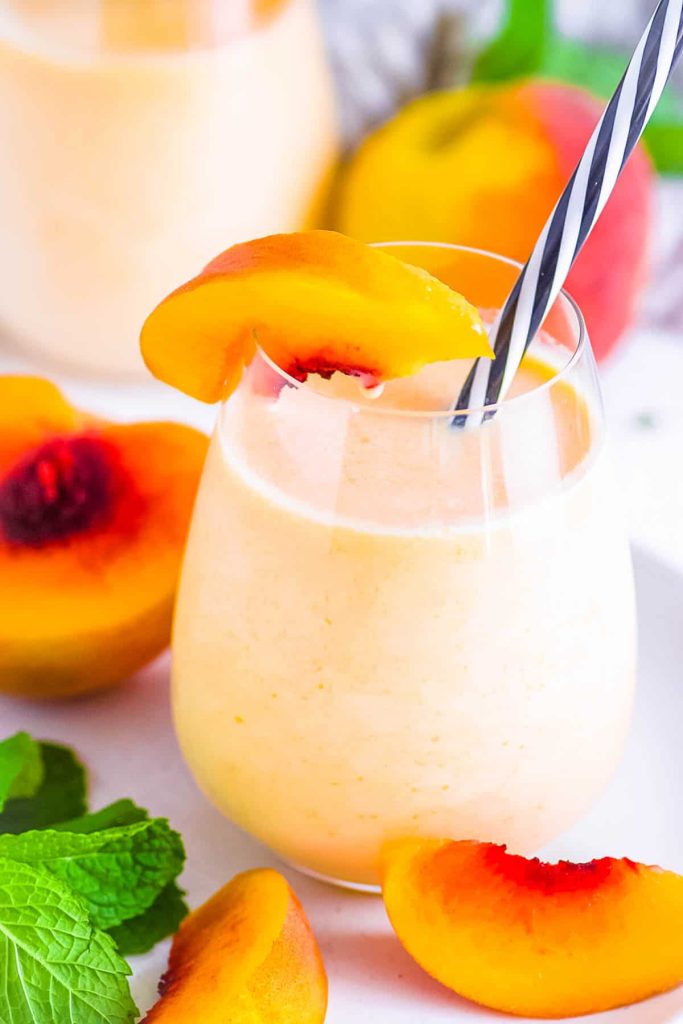 This delightful peach mocktail is a fantastic choice for a fun and refreshing drink to share with loved ones. Mixing peaches, honey, and sparkling water (or still, if you like), this non-alcoholic and gluten-free option is perfect for everyone to enjoy. Whether you're looking for an alcohol-free alternative or simply want a kid-friendly beverage, mocktails are a delightful way to add some extra excitement to your gathering!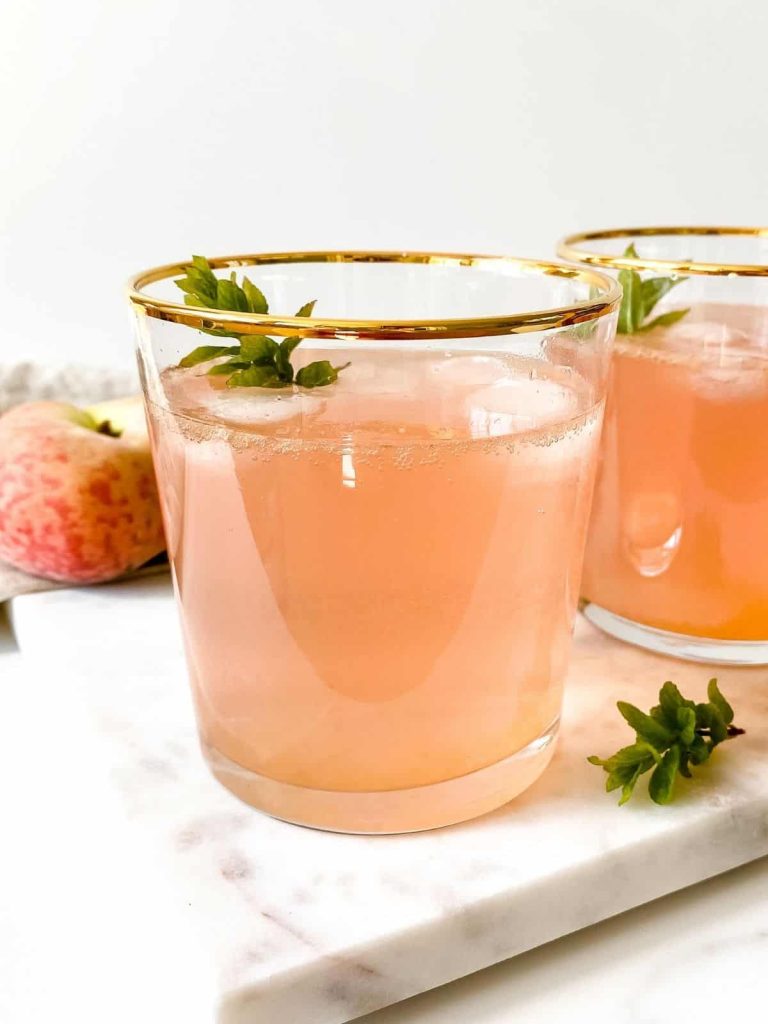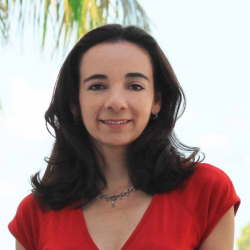 Latest posts by Paula Bendfeldt-Diaz
(see all)