This refreshing, easy, non-alcoholic mojito cocktail recipe skips the rum to create a delicious tropical spring drink. This passion fruit, mango, and raspberry mojito mocktail is a flavorful and exotic twist on the classic mojito rum cocktail, minus the alcohol. Of course, you can add a splash of rum and turn it into a cocktail if you want. This spring drink is perfect for Easter brunch or any spring or summer celebration.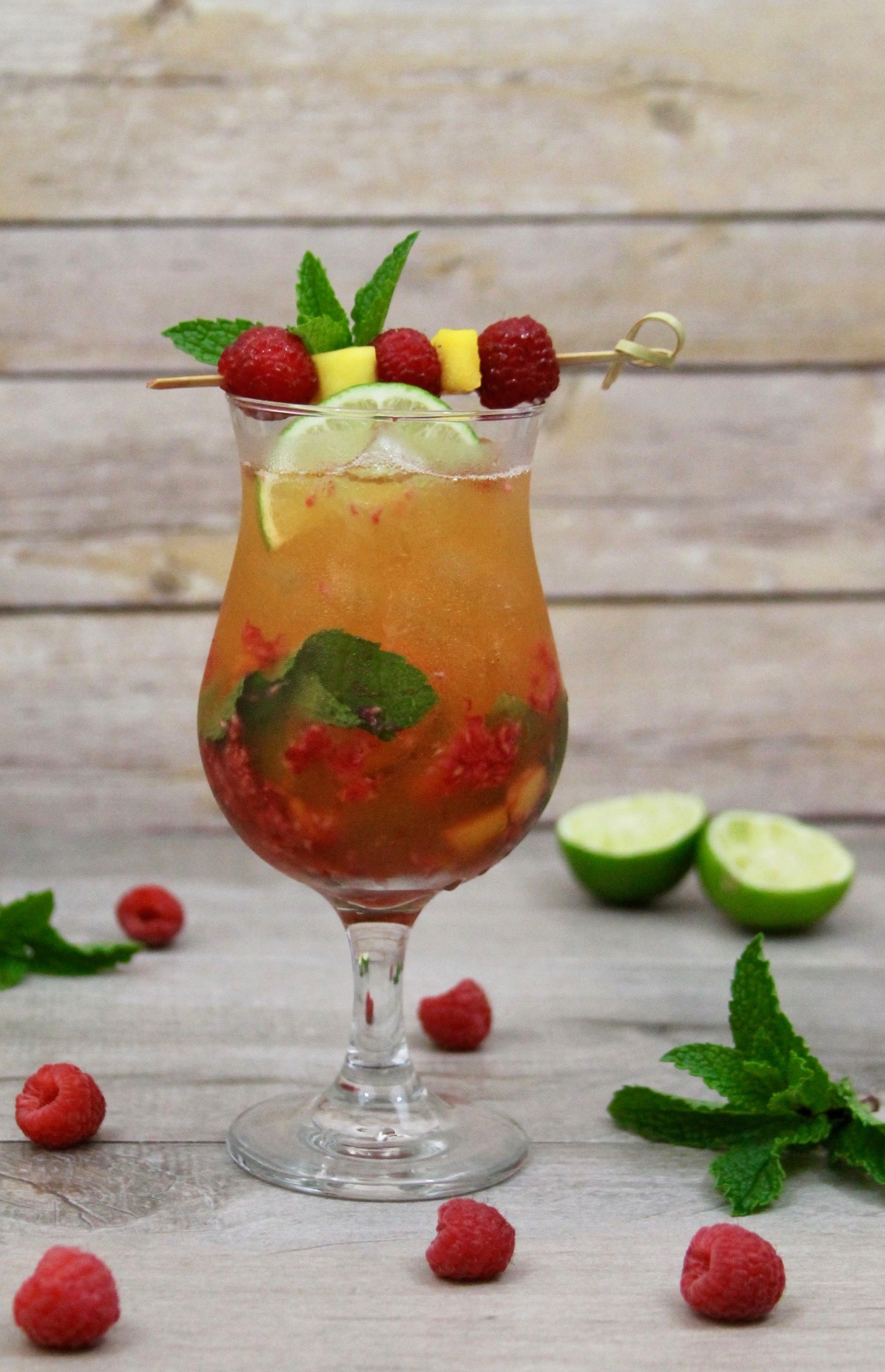 The Best Mocktail Recipe for a Non-alcoholic Spring Drink
Springtime is always full of fun family gatherings, BBQs, and lots of time spent outdoors at the beach or poolside. It's the perfect time for tropical and refreshing drinks. This weekend I was craving a spring mocktail but wanted something easy to be ready in no time. I had a bottle of a Welch's Passion Fruit Refrigerated Cocktail in the fridge and thought: why not turn this into a spring mojito mocktail?
This easy mojito mocktail recipe is ideal for spring and summer; it's oh-so refreshing! The sweetness of the passion fruit balances off perfectly with the tartness of the lime and the mint's coolness. Plus, the fresh raspberries and mango add another layer of flavor, giving this fizzing spring drink a tropical island vibe that will make it your new favorite mocktail!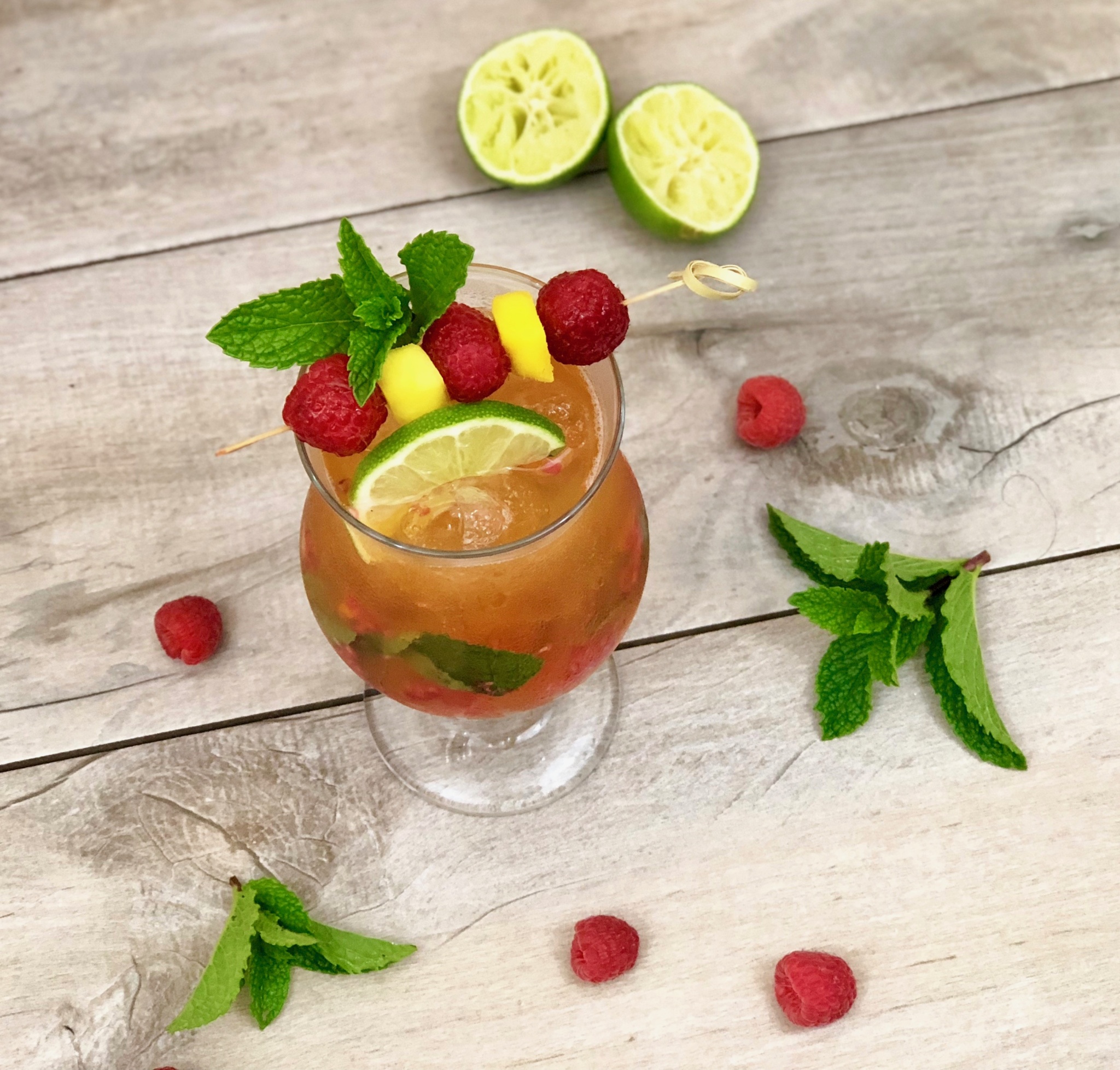 I love that this mojito mocktail looks so pretty too. This mocktail looks like a fancy drink from a restaurant, garnished with lime, fresh mint, raspberries, and mango on a toothpick. However, it's so easy to make at home, and you're sure to impress friends and family with this passionfruit, raspberry, and mango mocktail.
What is a Mojito Mocktail?
A mojito mocktail (also known as a non-alcoholic mojito or virgin mojito) is a blend of lime juice, sugar, mint leaves, and sparkling water, minus the alcohol. And although the classic mojito cocktail has white rum served over ice cubes, my recipe is more of a family-friendly option. And adding exotic fruits like mango, raspberries, and passion fruit make this mojito mocktail a delicious drink with a refreshing tropical taste.
What's the Difference Between Cocktails and Mocktails?
The difference between cocktails and mocktails is that a cocktail is a mixture of different drinks with a certain amount of alcohol in them, while a mocktail is entirely non-alcoholic. In addition, both beverages can contain juices, fruits, sweet drinks, herbs, and sparkling sodas. But only the mocktail is considered a virgin cocktail, "mocking" the original cocktail with its delicious taste similar to a handcrafted alcoholic drink but without the alcohol.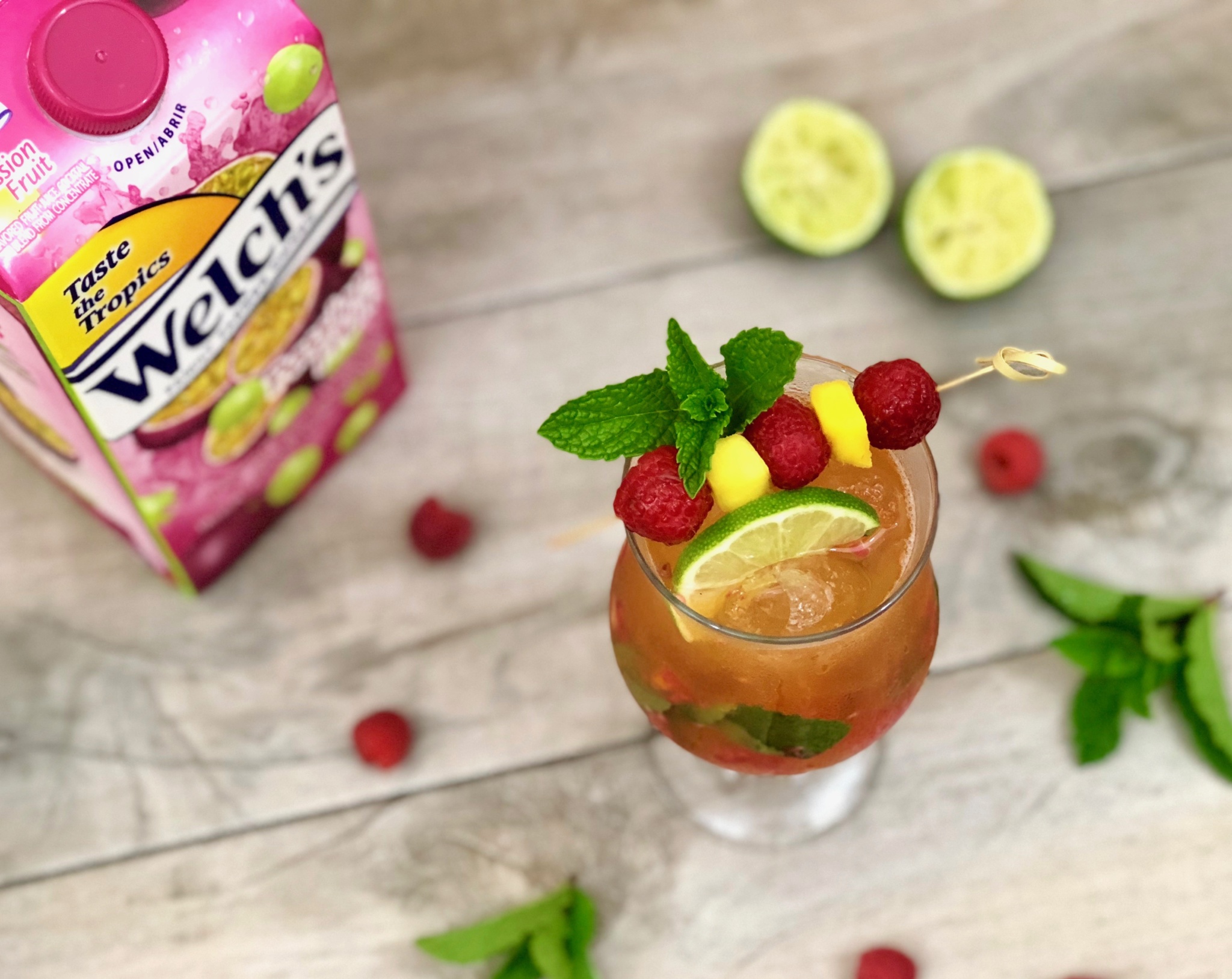 Where are Mojitos From?
The classic mojito originated in Cuba, and although its history is a little murky, it started as medicine, believe it or not! It gained popularity thanks to the famous writer Ernest Hemingway and his time in Cuba. The story goes that he ordered one after another at the historical Bodeguita del Medio, a restaurant/ bar in Havana which claims to have invented mojitos and is now a destination for millions of tourists.
Later, the mojitos were featured in a James Bond movie during Pierce Brosnan's era. It, of course, increased its popularity as the must-try beverage for the "cool crowd." After that, the Cuban drink served in a tall glass with ice became a trendy cocktail for parties and all the fashionable bars and restaurants worldwide.
What Are the Ingredients for A Mojito Mocktail?
This refreshing mojito mocktail recipe is the ideal drink to get you in the spring spirit, with its fruity taste and sweet ingredients. The lime, mango, and raspberries bring a tropical touch, while the freshness of the mint gives this spring beverage its distinctive mojito taste. Plus, mixed with the tanginess of the passionfruit, it will make you forget that you need alcohol to enjoy a good mojito!
How To Make Mojito Mocktails at Home
Add half of the mango, raspberries, and mint leaves to each cocktail glass.
With a small, wooden muddler, smash the mango, raspberries, mint, and muddle until the mango has broken up a bit. Next, add half of the lime juice and agave to each glass.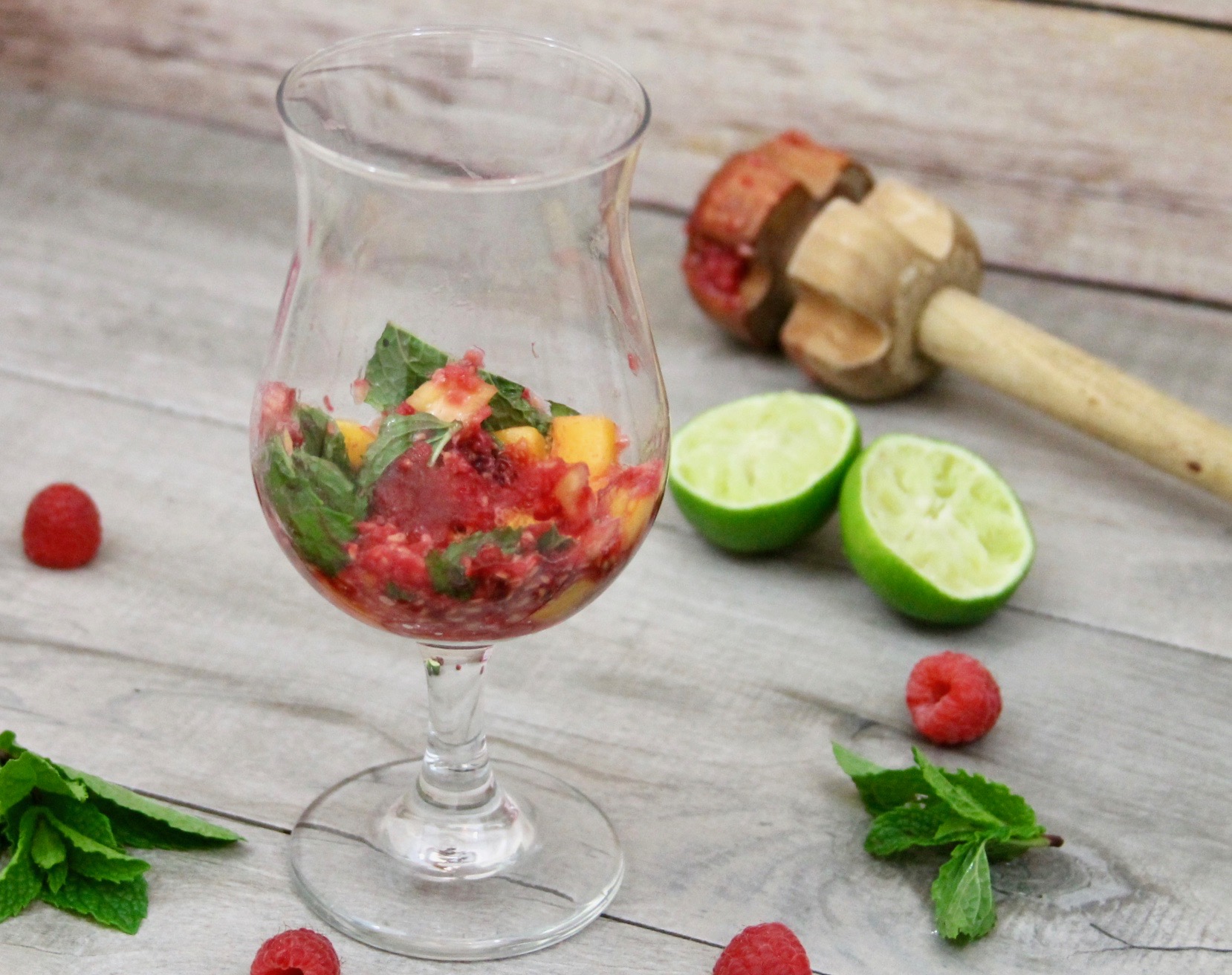 3. Fill glasses with ice.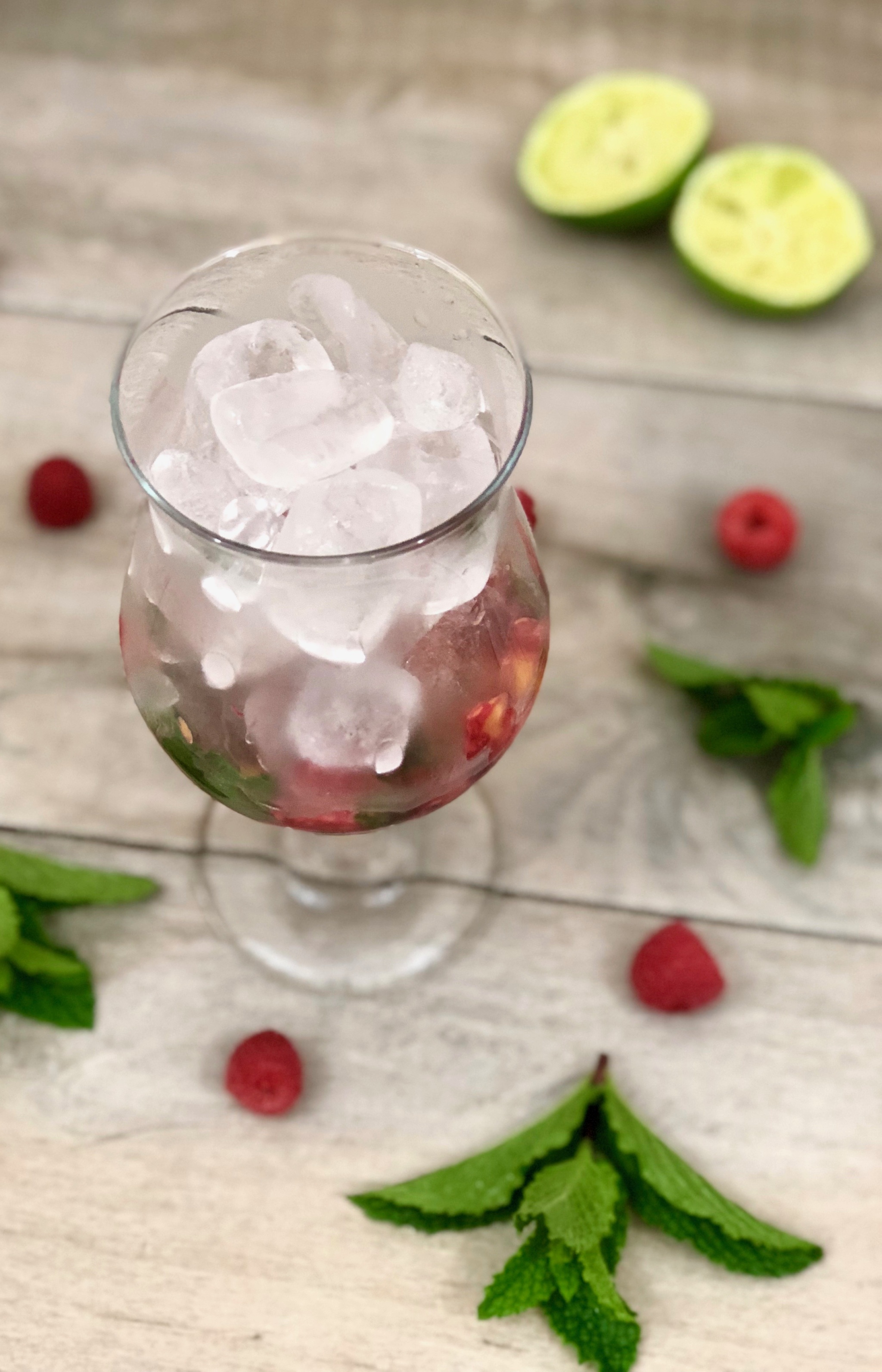 4. Add Welch's Passion Fruit Refrigerated Cocktail.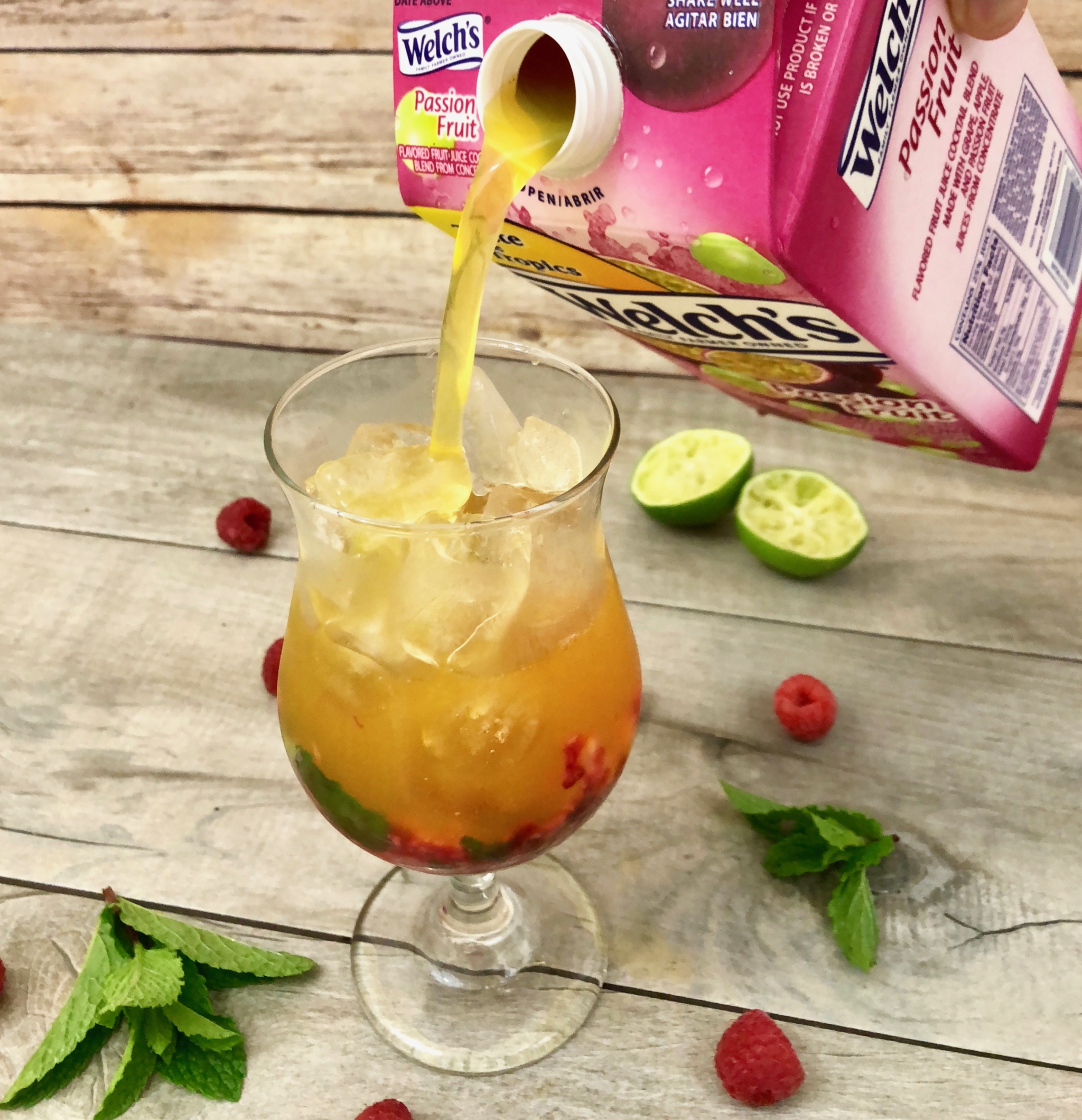 5. Garnish with fresh raspberries, mango, and mint leaves.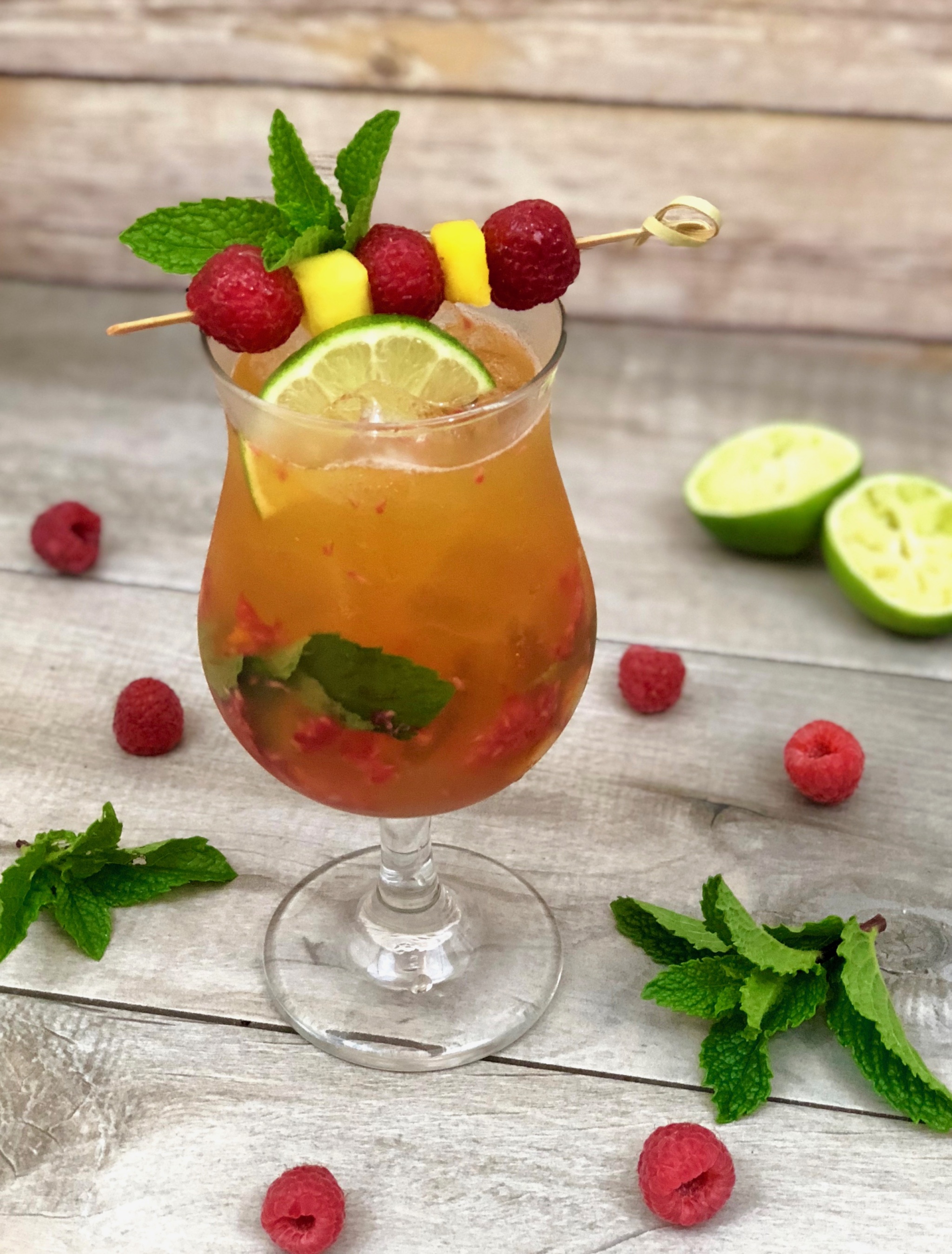 Tips For Making the Best Mocktail Recipes
How to muddle mint without a muddler?

Easy! Use any kitchen utensil you have at hand, like a mortar and pestle, a French rolling pin, or the end of a wooden spoon. And although a muddler makes the whole process a lot easier, they are not vital for making the best mojito mocktail.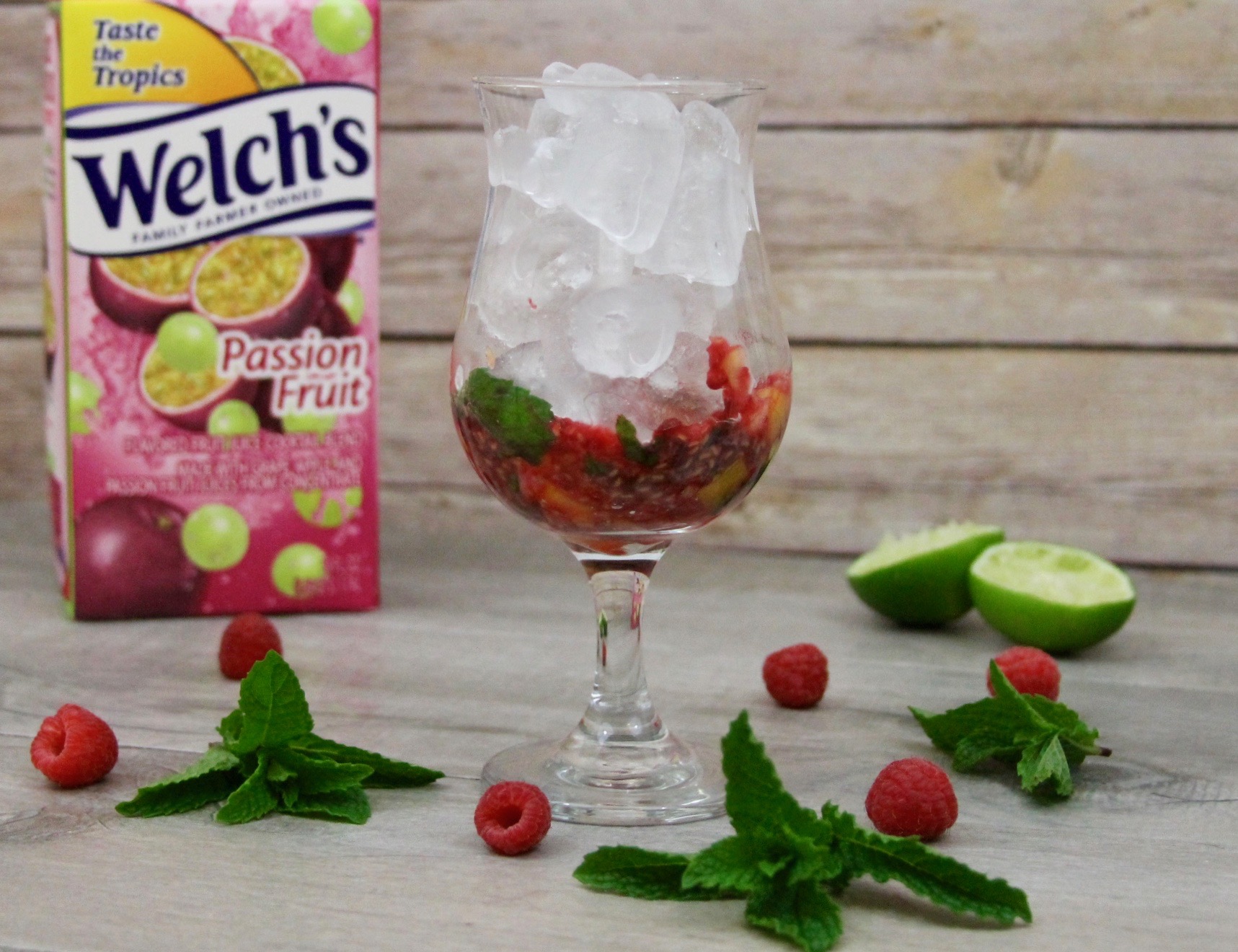 Mixing things up:

Give this spring drink a twist by using lime-flavored sparkling water, ginger ale, or your favorite flavored sparkling soda instead of the passion fruit cocktail. And if you don't want to add more sweetness, you can also use regular club soda.

Are you expecting a big crowd? Make things simple!

If you plan a big gathering for your annual spring BBQ, pulse the mint in a food processor with a splash of water. Then, coarsely chop the raspberries and mango into smaller pieces for easy serving. Although the process of mixing a mojito mocktail may look cool in front of your guests, muddling each glass will be a huge hassle! Just garnish with fresh mint leaves and skip the muddling.
What To Serve with Passionfruit Mojito Mocktail?
You can never go wrong with a tall, frosty glass of mojito mocktails with any spring and summer foods! These passion fruit, mango, and raspberry mojito mocktails are a perfect pair for any Easter brunch or summer BBQ.
These tropical mocktails go great with carnitas, nachos and salsa, and any seafood. But we especially love to prepare these fruity, flavorful mojitos for our special family barbecue. We usually serve a massive plate of churrasco tacos, a sizzling steak grilled to perfection over a soft tortilla, and a delicious chimichurri sauce. It is the most refreshing way to kick off springtime!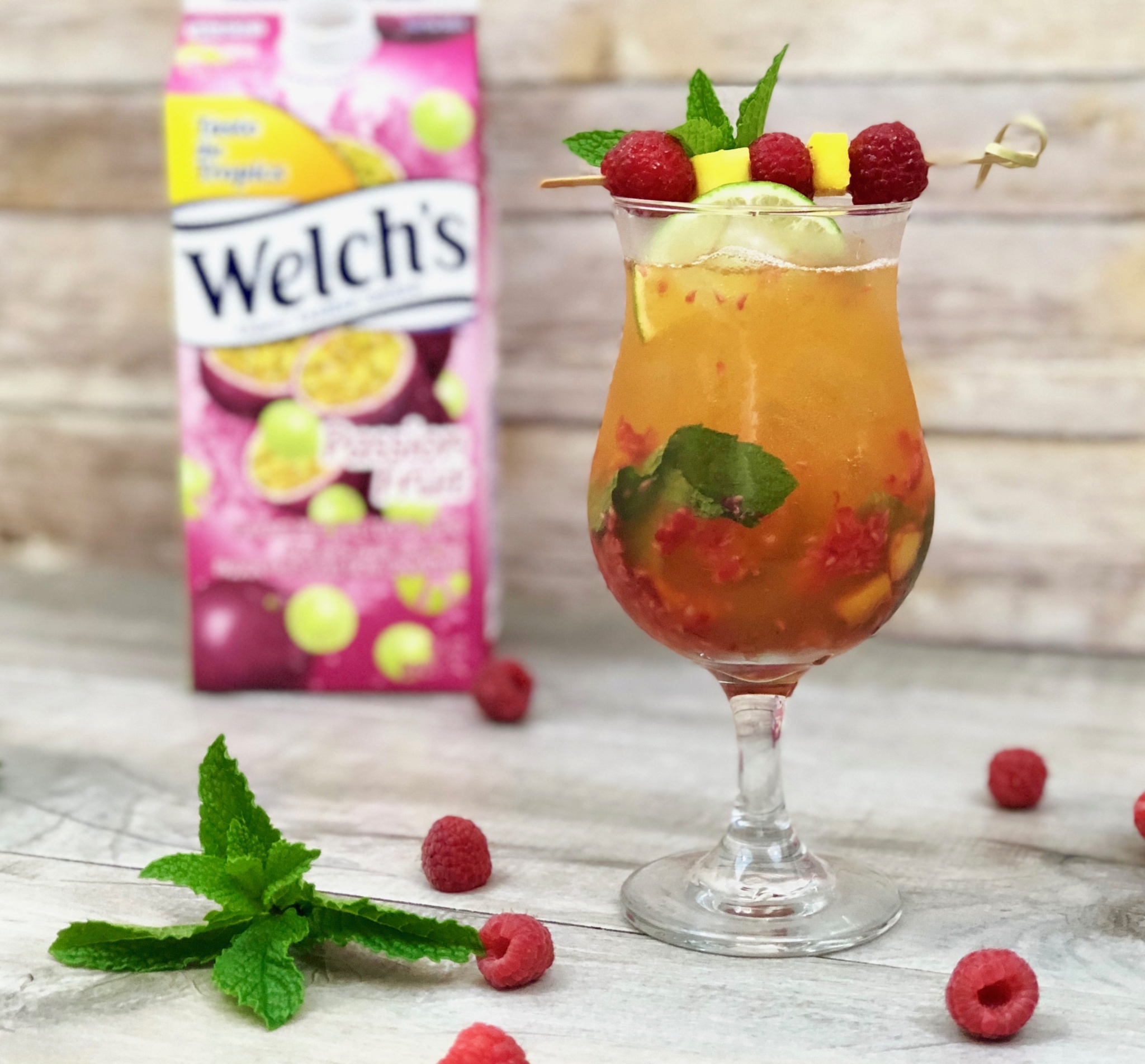 Other Delicious Non-Alcoholic Spring Drinks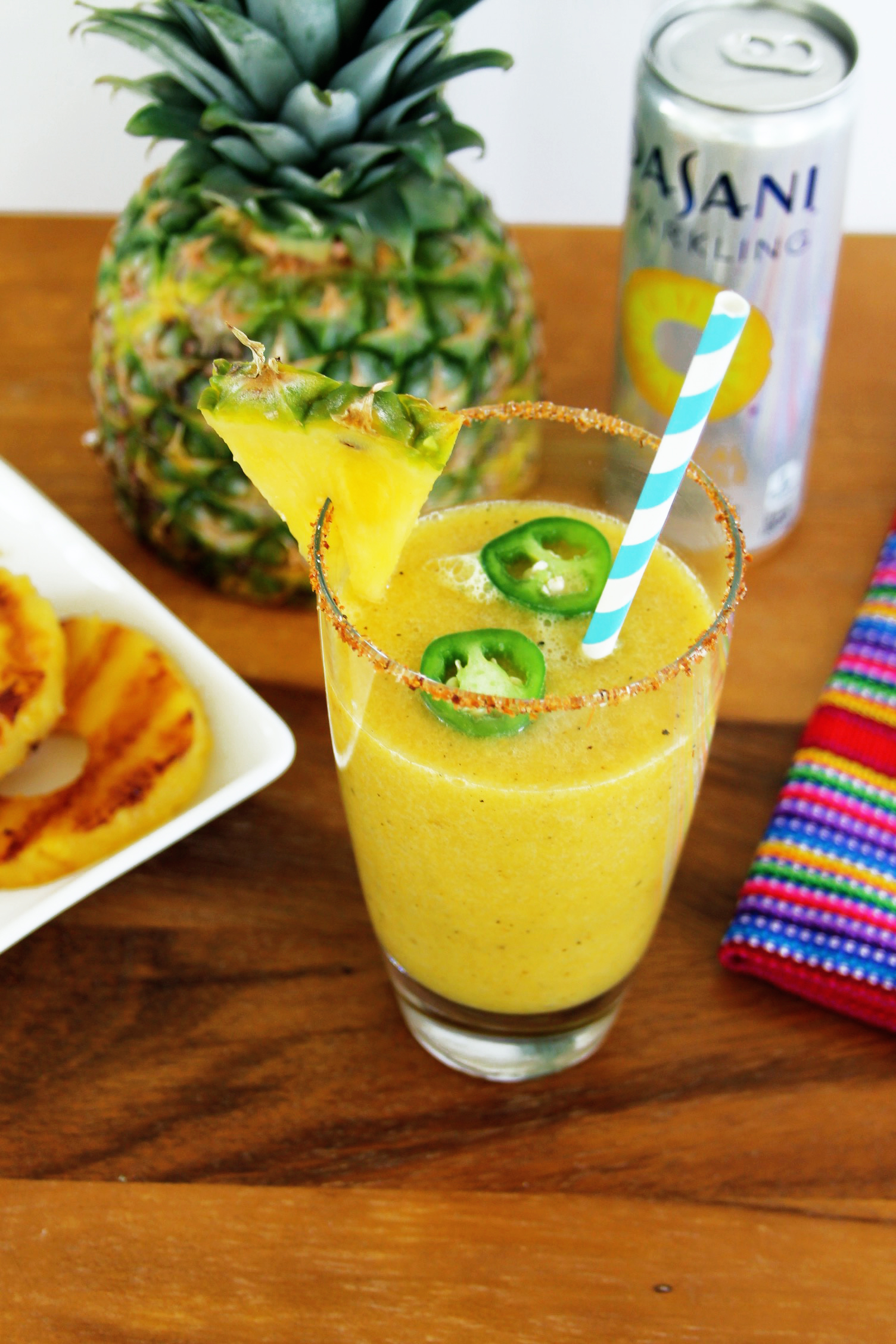 Raspberry Mango Sparkling Orangeade: Full of fresh fruit, this bubbly drink is sure to be a hit with everyone in the family! This sparkling orangeade is an easy-to-make and fun drink that will turn any meal into something special.
Berry Sexy Vanilla Sunrise Mocktail: Spring is the perfect time to indulge and treat yourself to something special. The creamy berry taste with the ginger and honey gives this tropical mocktail the right amount of sweetness and spice.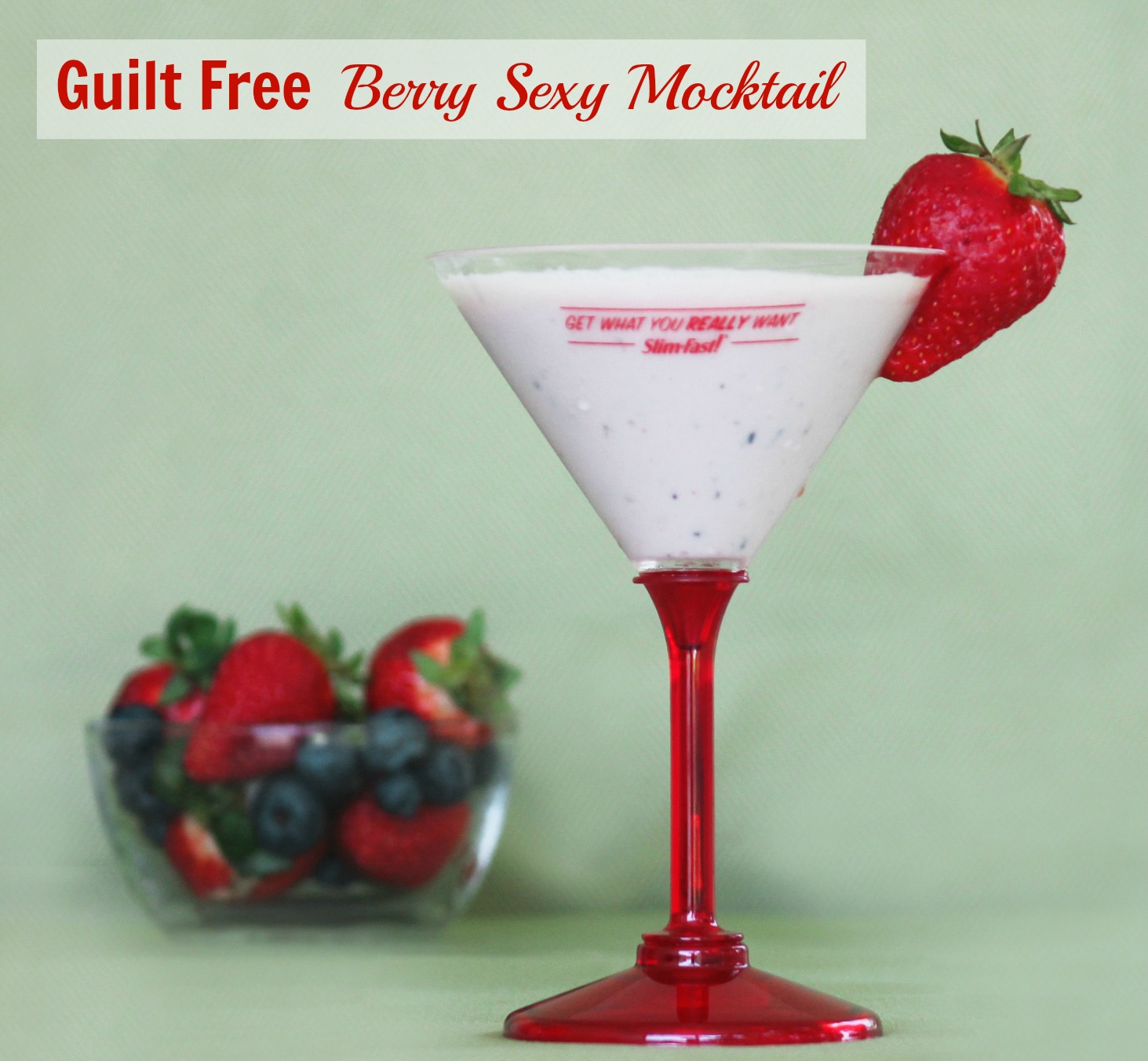 This tropical mojito is ready in just minutes, and it's the perfect drink for an Easter picnic brunch. I love that adults and kids alike can enjoy this refreshing spring drink. So if you're not enjoying this Passion Fruit, Mango, and Raspberry mojito mocktail while sitting at a beach, don't worry! You'll feel transported somewhere tropical and fun as soon as you take the first sip. This non-alcoholic spring drink is guaranteed to be your new favorite drink. It is perfect for your next spring or summer BBQ party!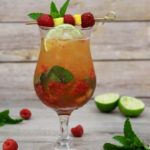 Passion Fruit, Mango, and Raspberry Mojito Mocktail
Ingredients
1/4

cup

mango, cut into small cubes

8

raspberries, plus more for garnish

1/4

cup

fresh mint leaves, packed – plus more for garnish

Juice of 1 lime

6

ounces

Welch's Passion Fruit Refrigerated Cocktail
Instructions
Add half of the mango, raspberries, and mint leaves to each cocktail glass.

With a small, wooden muddler, smash the mango, raspberries, mint, and muddle until the mango has broken up a bit. Next, add half of the lime juice and agave to each glass.

Fill glasses with ice.

Add Welch's Passion Fruit Refrigerated Cocktail

Garnish with fresh raspberries, mango, and mint leaves.
Latest posts by Cesar Diaz
(see all)