This shop has been compensated by Collective Bias, Inc. and its advertiser. All opinions are mine alone. #KingOfFlavor #FieldToBottle #CollectiveBias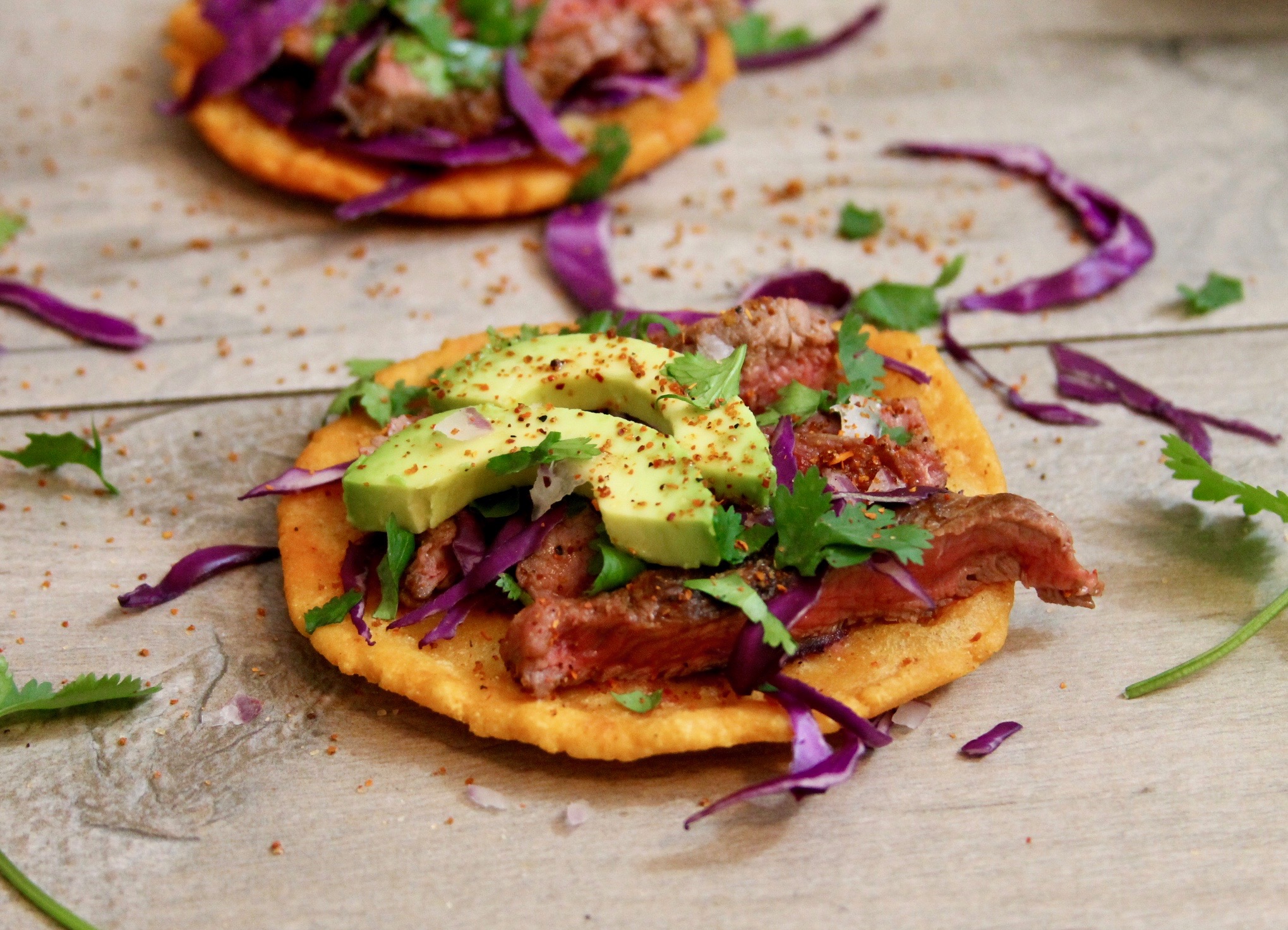 Watching football weather live or on the TV means enjoying it with friends and family and of course great tailgating food. One of my go-to recipes when it comes to tailgating or homegating are salbutes, these thick tortilla tostadas are traditionally eaten in Yucatan and in Belize too. Usually topped with chicken I like to make them with steak.
Salbutes are the perfect game-ready recipe. If I'm tailgating I will make the tortillas beforehand and marinade the steak so it's ready to just throw on the grill. They are ideal as everything goes over the toasted home-made tortillas and they are easy to eat while you watch the game at home or while tailgating.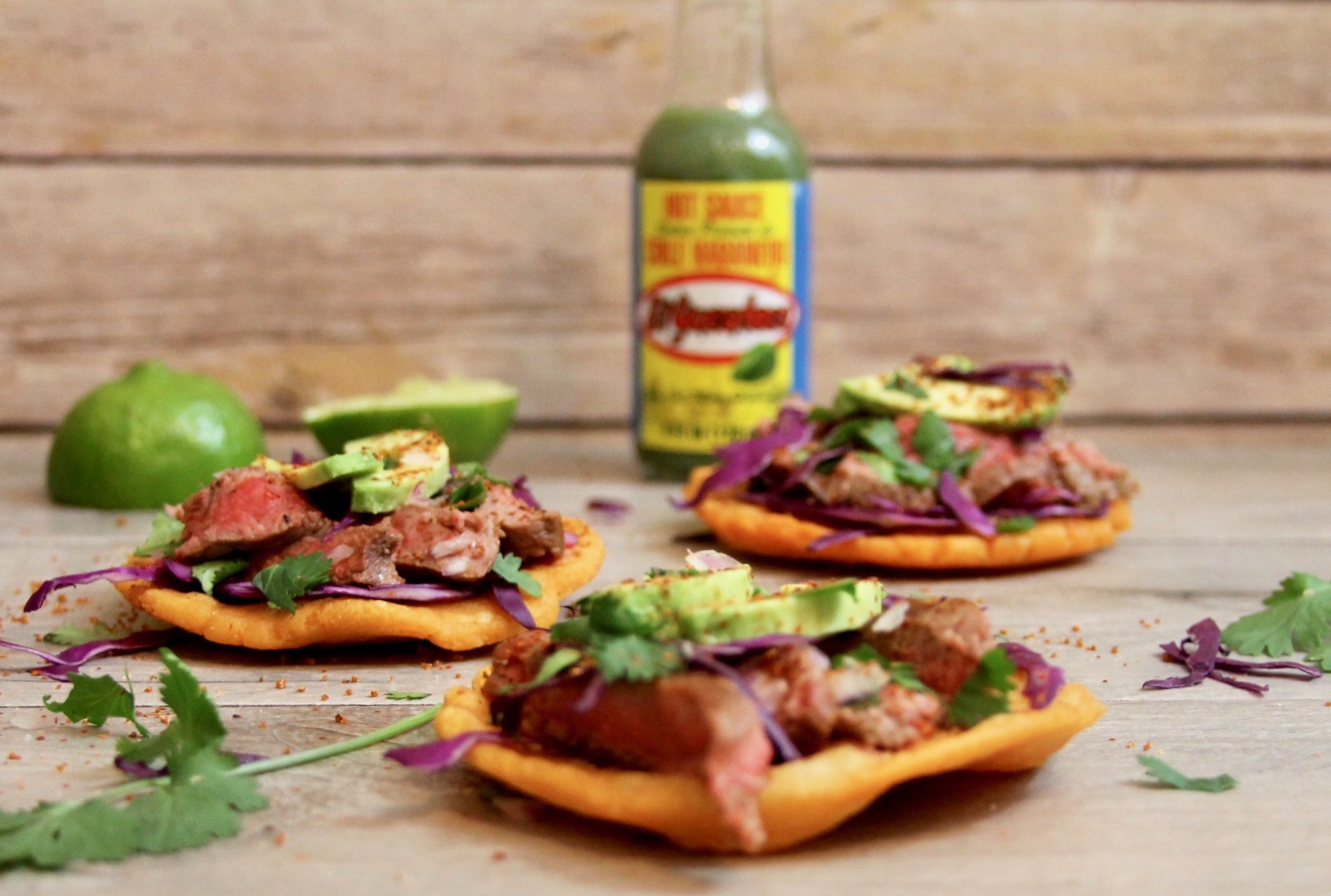 The habanero and citrus marinade gives the steak a delicious flavor and enough kick to make it exciting. I always use El Yucateco® hot sauce at home and even take it with me to add more flavor to my favorite tailgating foods.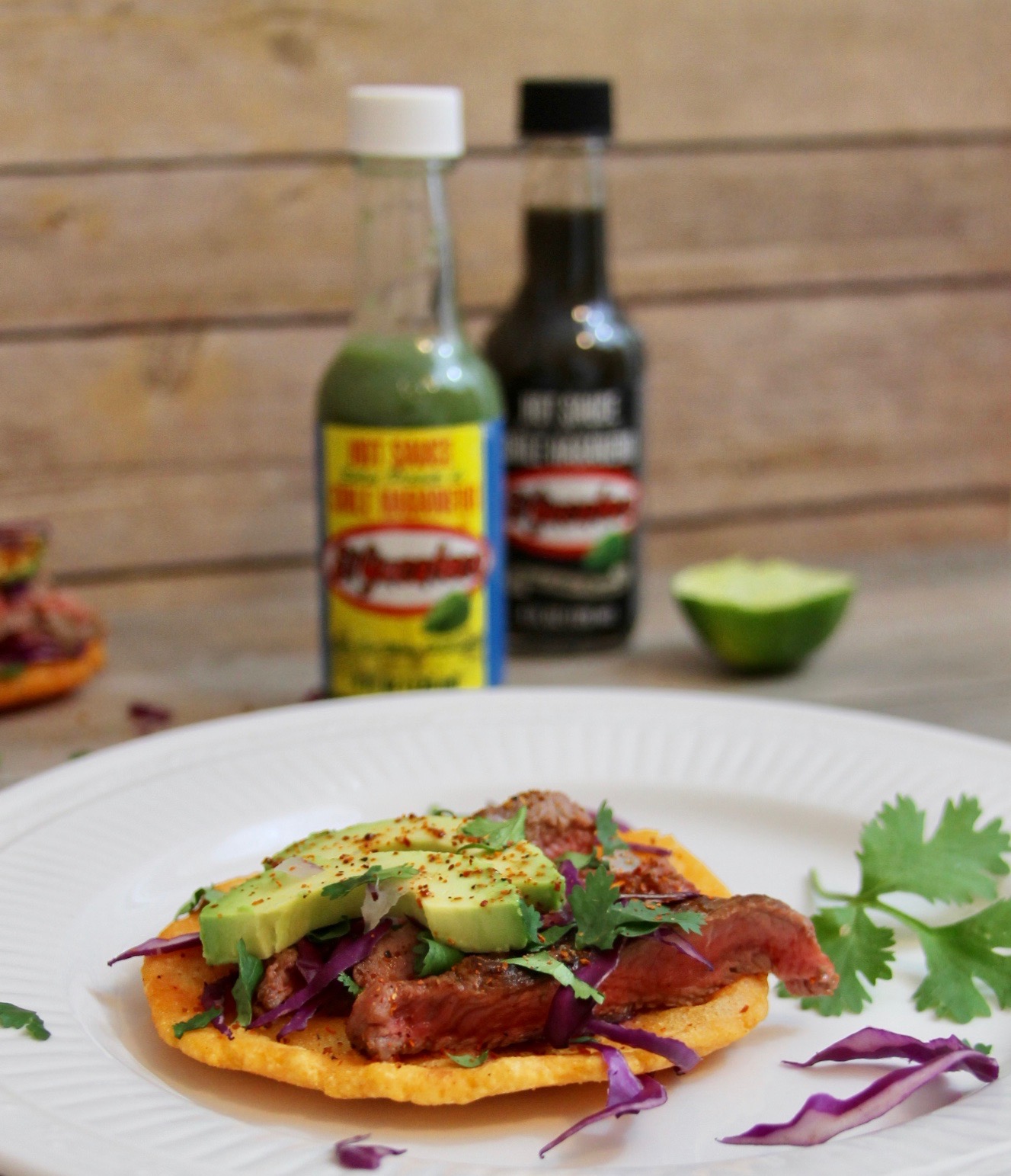 Habanero Steak Salbutes Recipe
Ingredients
2 tablespoons fresh orange juice
1 1/2 tablespoons fresh lime juice
2 tablespoons El Yucateco® Green Habanero Hot Sauce
1 tablespoon honey
1 garlic clove, grated
3/4 teaspoon kosher salt
1/4 teaspoon ground cumin
1 pound steak
Cooking spray
1 ½ cup masa harina
1 ¼ cup warm water
1/4 teaspoon salt
½ teaspoon achiote powder
Fresh cilantro
Avocado
Red cabbage, shredded
Red onion, diced
Canola oil for frying
Instructions
1. Combine orange juice, lime juice, El Yucateco® Green Habanero hot sauce,  honey, grated garlic, 3/4 teaspoon kosher salt, and cumin in a large zip-top bag.
2. Place the steaks in a glass container. Pour the marinade over the steaks, cover and refrigerate 1 hour.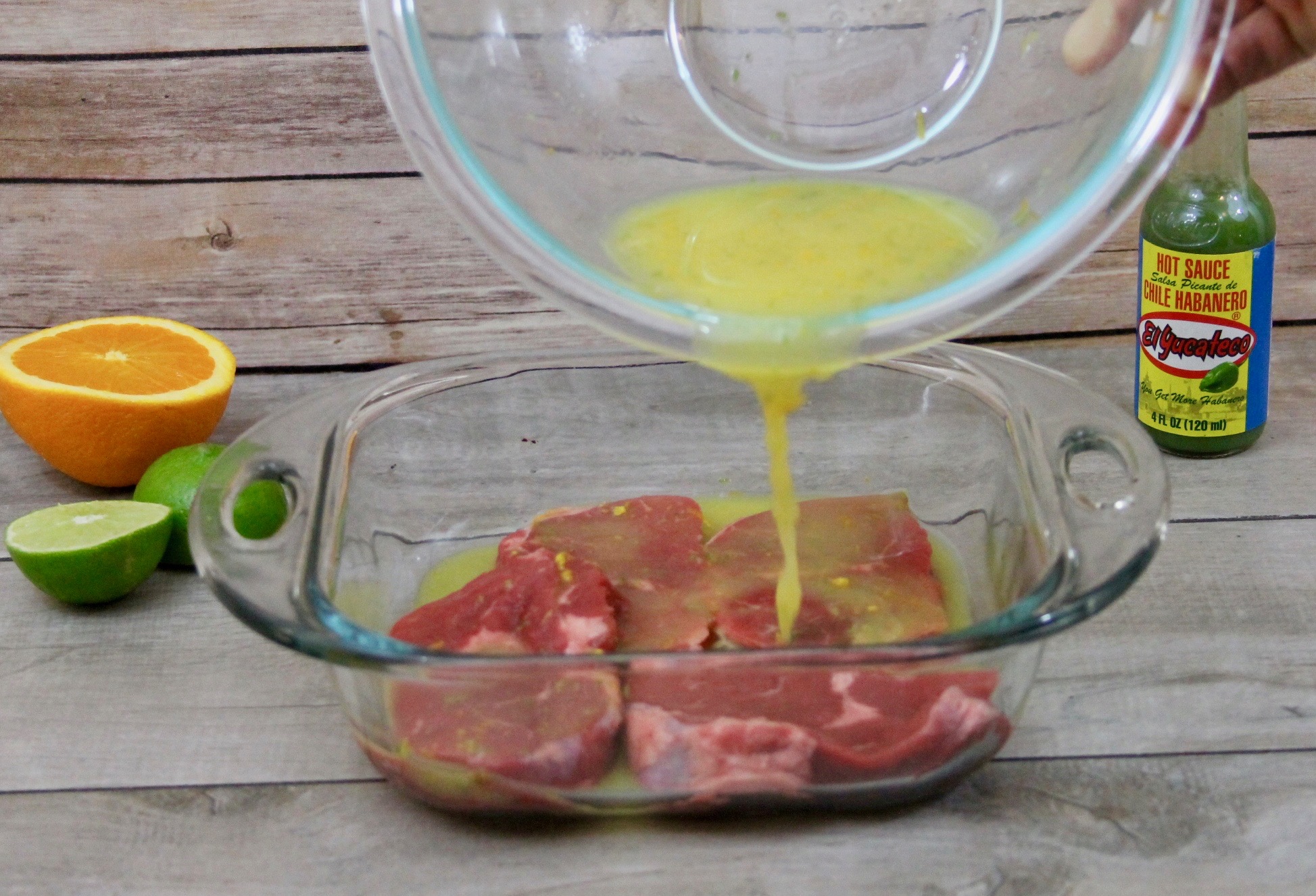 3. Heat a grill or heat up a large frying pan on medium-high heat on the stovetop.
4. Cook the steak 2-3 minutes on each side.
5. Transfer steak to a cutting board; let stand 5 minutes. Cut into thin slices.
6. Sprinkle steak with 3/4 teaspoon kosher salt.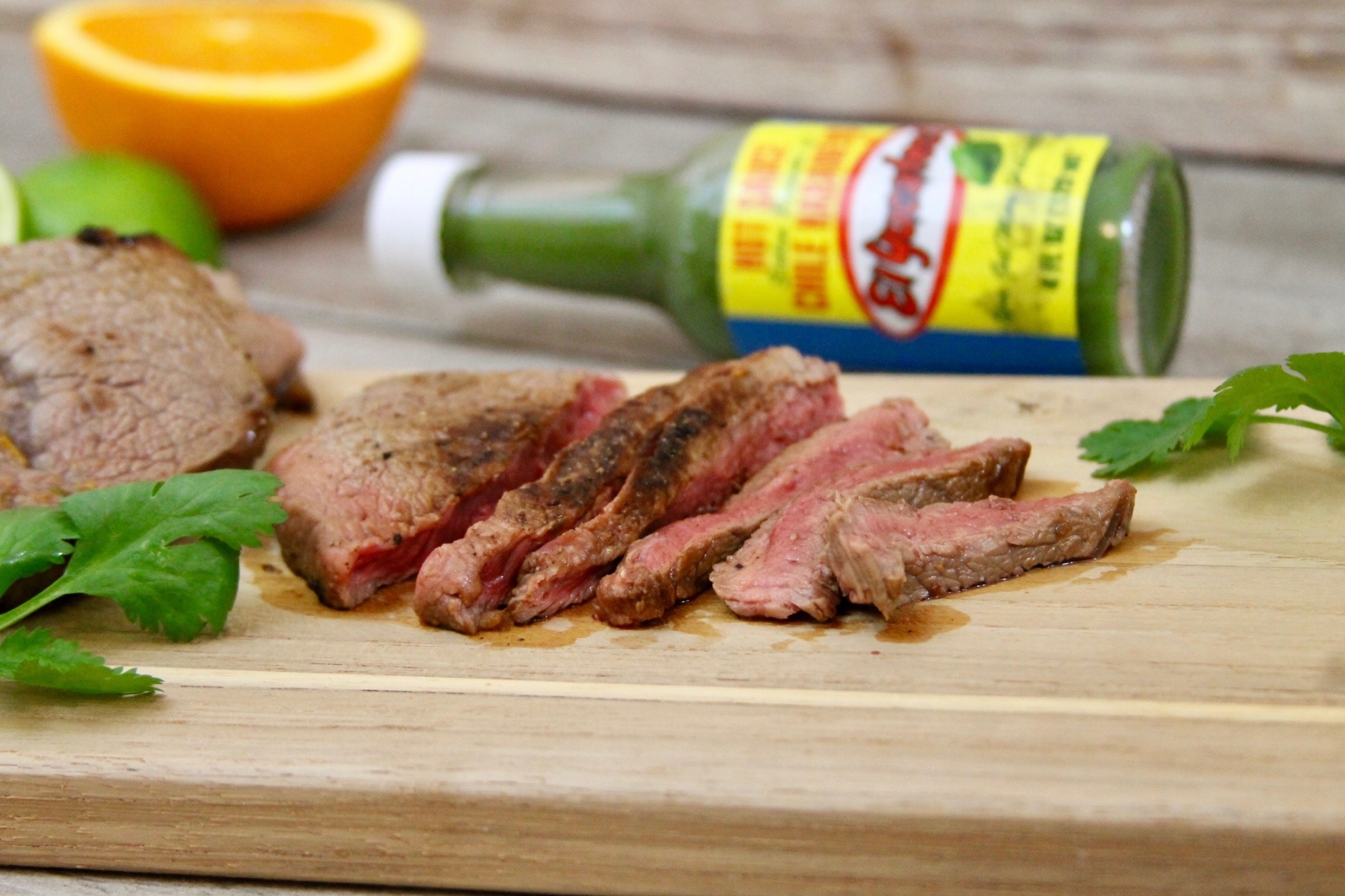 7. Mix the masa, salt, achiote, and water together into a smooth consistency for about 3 to 5 minutes. If working in large amounts cover the bowl with a damp towel to keep from drying out.
8. Take a piece of the dough and roll into a firm ball. Use a tortilla press to flatten balls into small large discs, these should be thicker than regular tortillas. I didn't have a tortilla press so I placed the masa ball in between two pieces of saran wrap and applied pressure with a cutting board.
9. Heat up enough canola oil to cover the salbutes.
10. Place the salbutes in the oil until golden brown.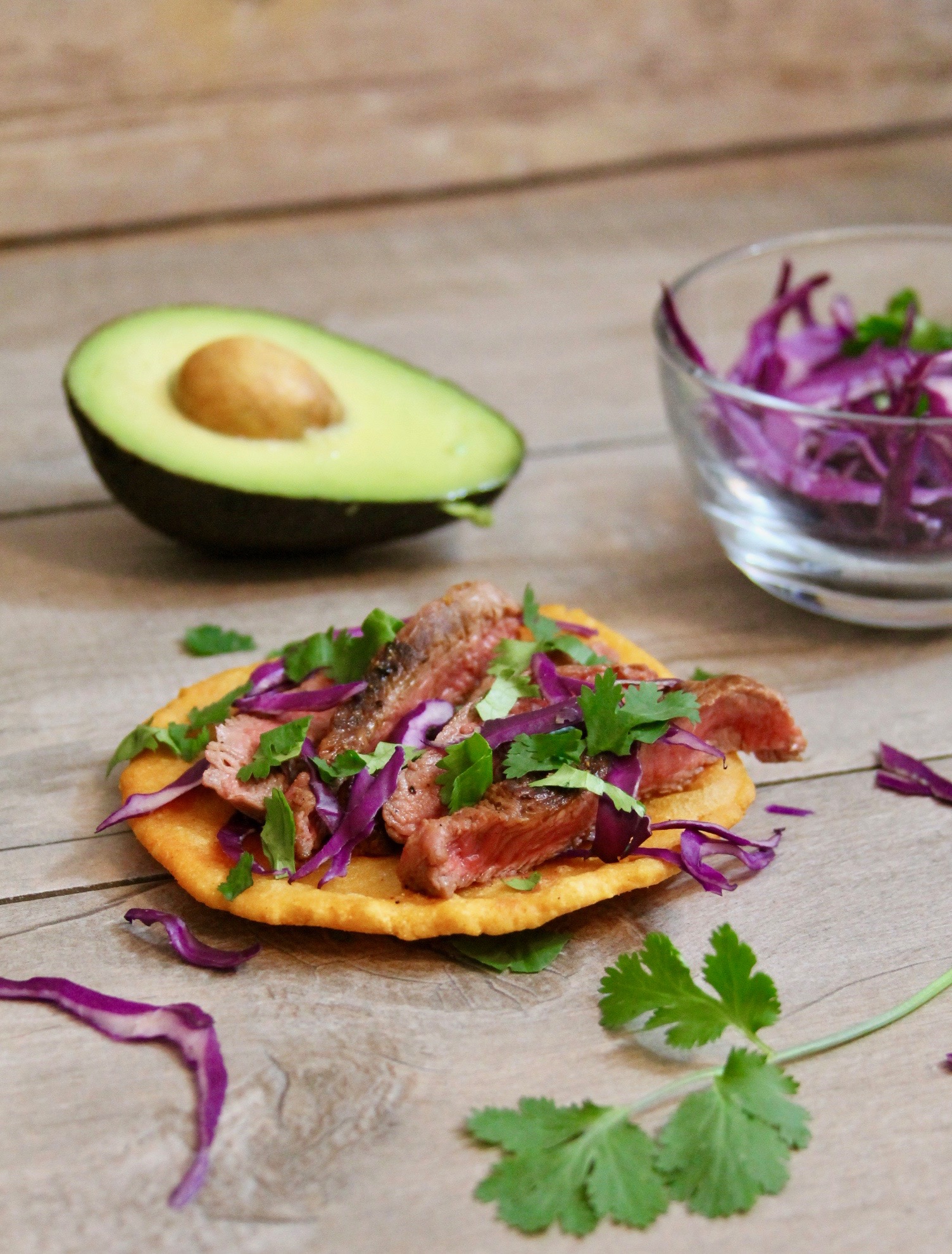 11. Remove from oil onto a plate lined with paper towels.
12. Top the salbutes with shredded red cabbage, steak, red onion, and avocado.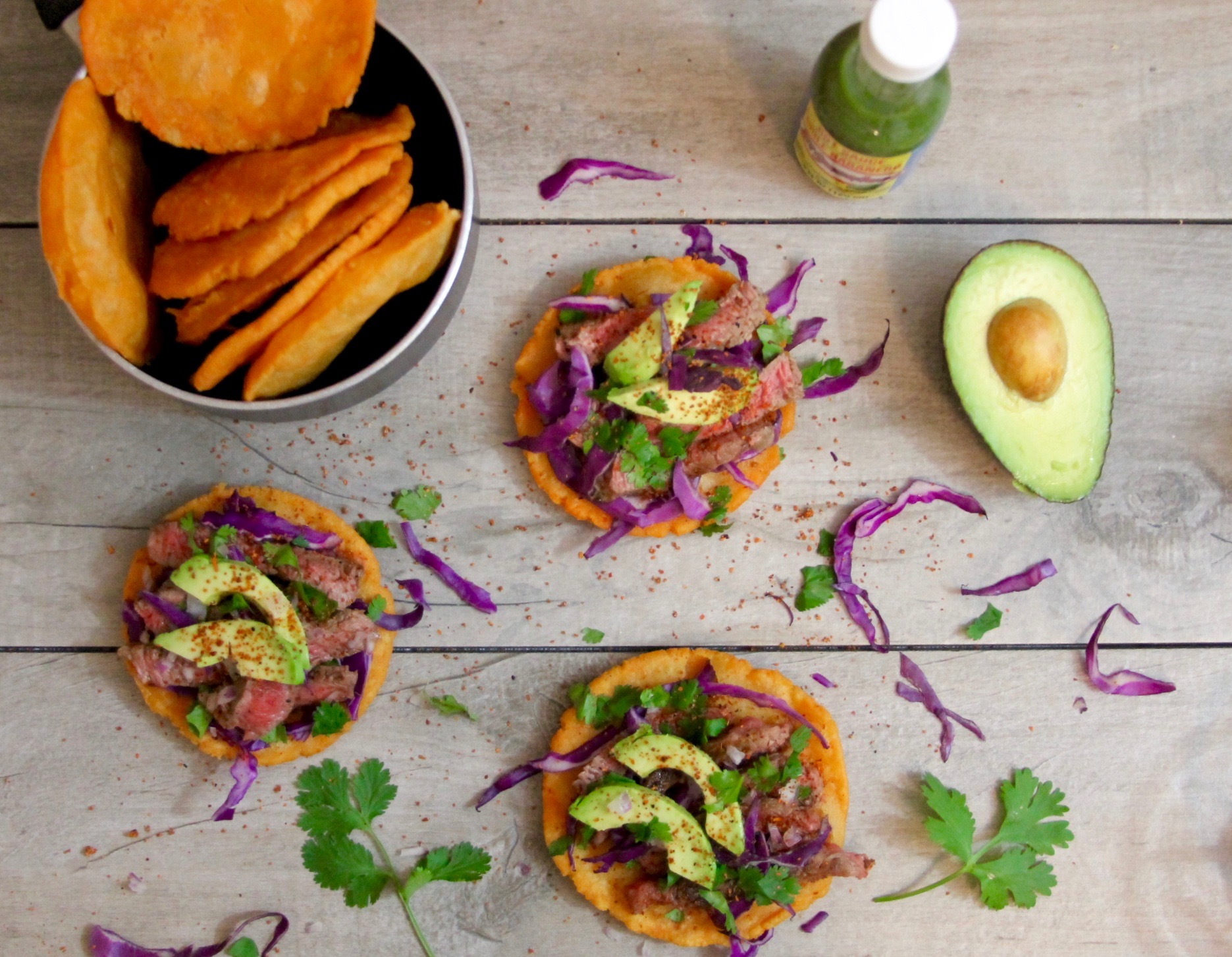 13. Sprinkle fresh cilantro.
14. Drizzle with El Yucateco® Green Habanero hot sauce or with El Yucateco® Black Label habanero hot sauce to give it an extra kick!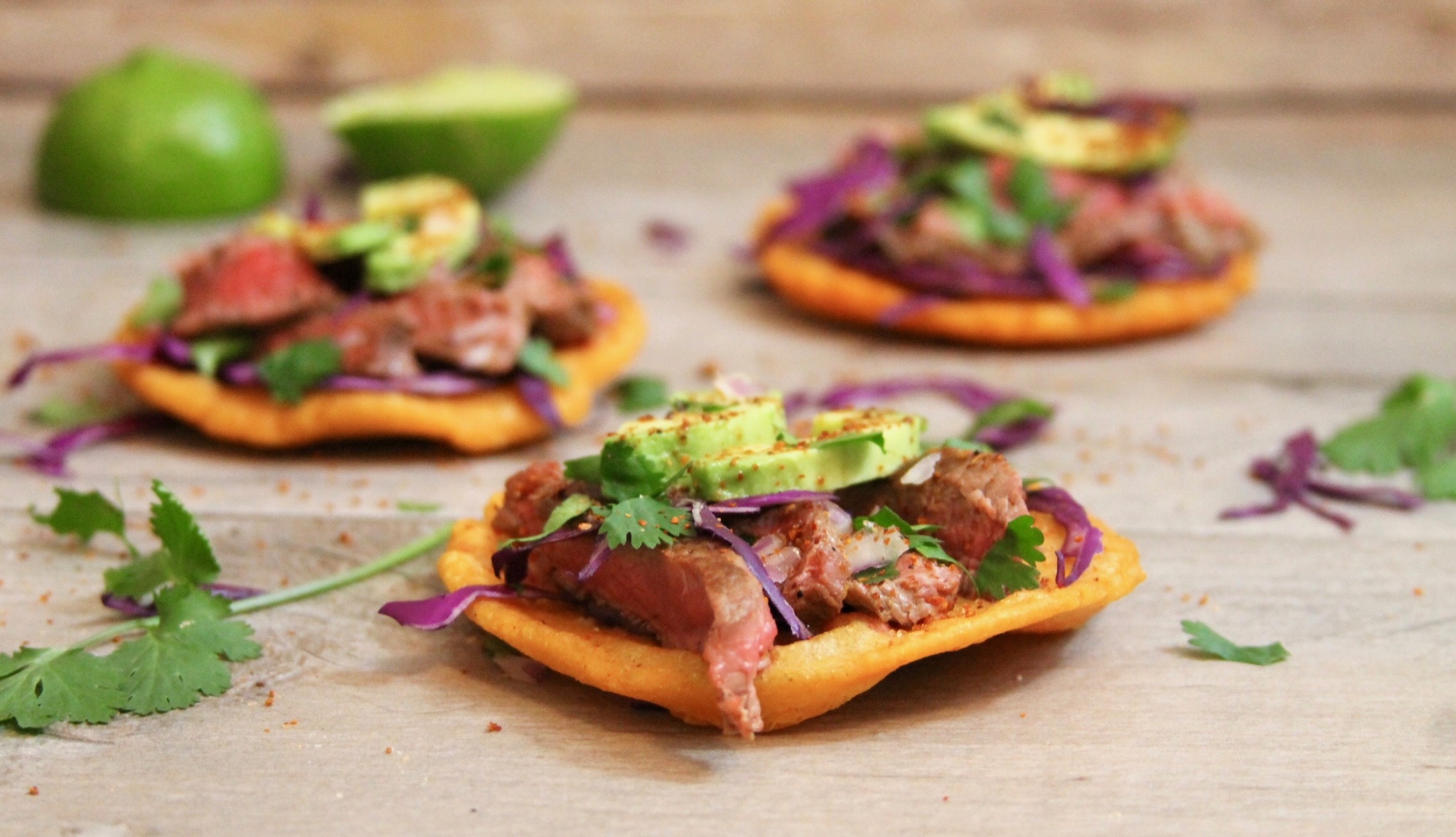 These steak salbutes are always a hit with everyone. For the marinade sometimes I use the El Yucateco® Green Habanero hot sauce. Other times I use the El Yucateco® Black Label hot sauce which is made using fire roasted habanero's and has a rich smoky flavor. And now all the El Yucateco® hot sauces are made with no artificial colors yet they have the same great taste I love.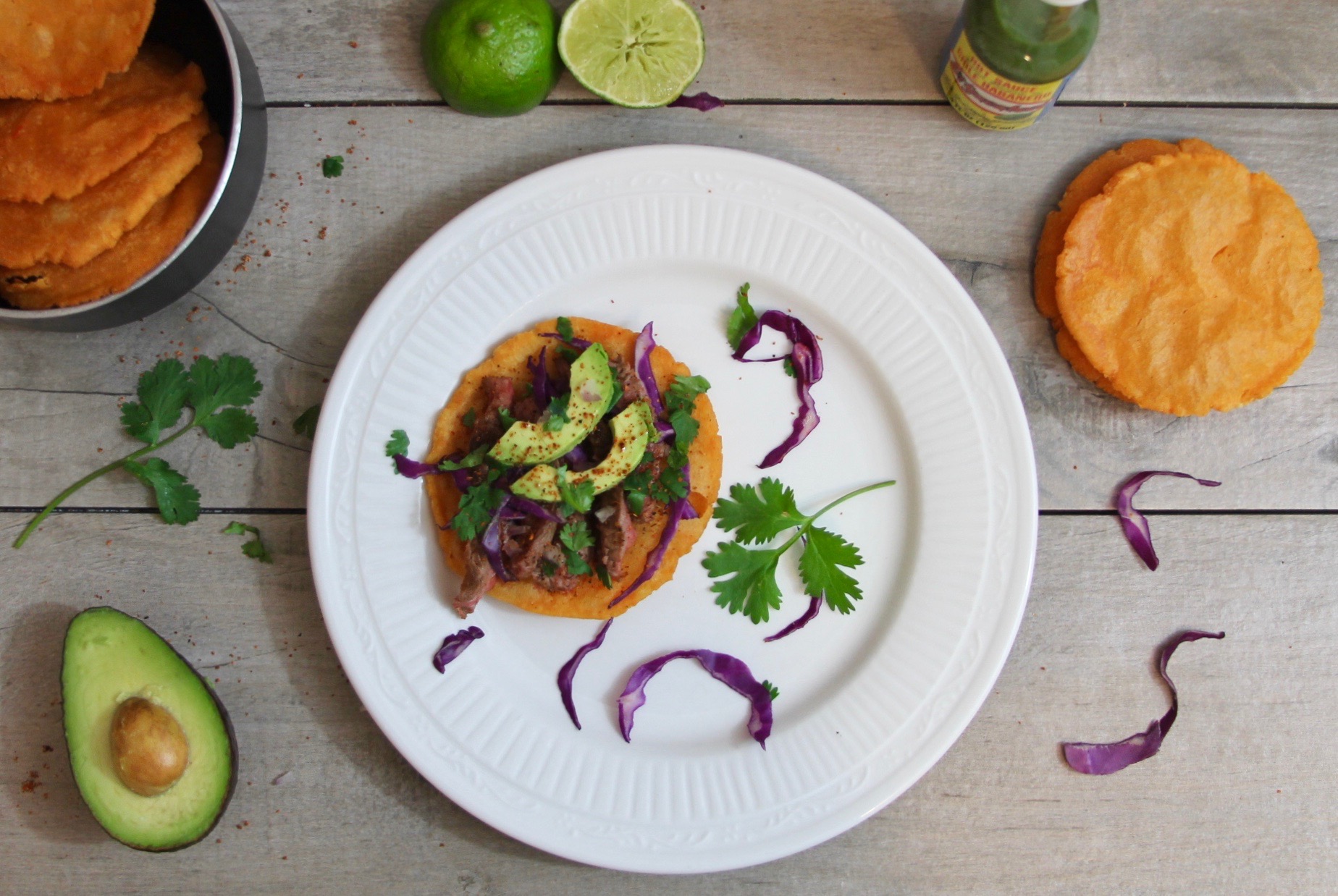 I always stock up with lots of El Yucateco® hot sauce this time of the year because I know that I will be getting together with friends and family to watch the football games and share delicious food. From salbutes and spicy shrimp tostadas to spicy pasta salads, El Yucateco® goes well with everything and is a must have when grilling and cooking game-ready tailgating foods. You can find more great tailgating and homegating recipes filled with flavor HERE.
The El Yucatco® Green Habanero Sauce is made with fresh green habanero peppers, garlic, select spices and seasonings and I really enjoy its fresh taste and I think it goes really well with the citrus marinade.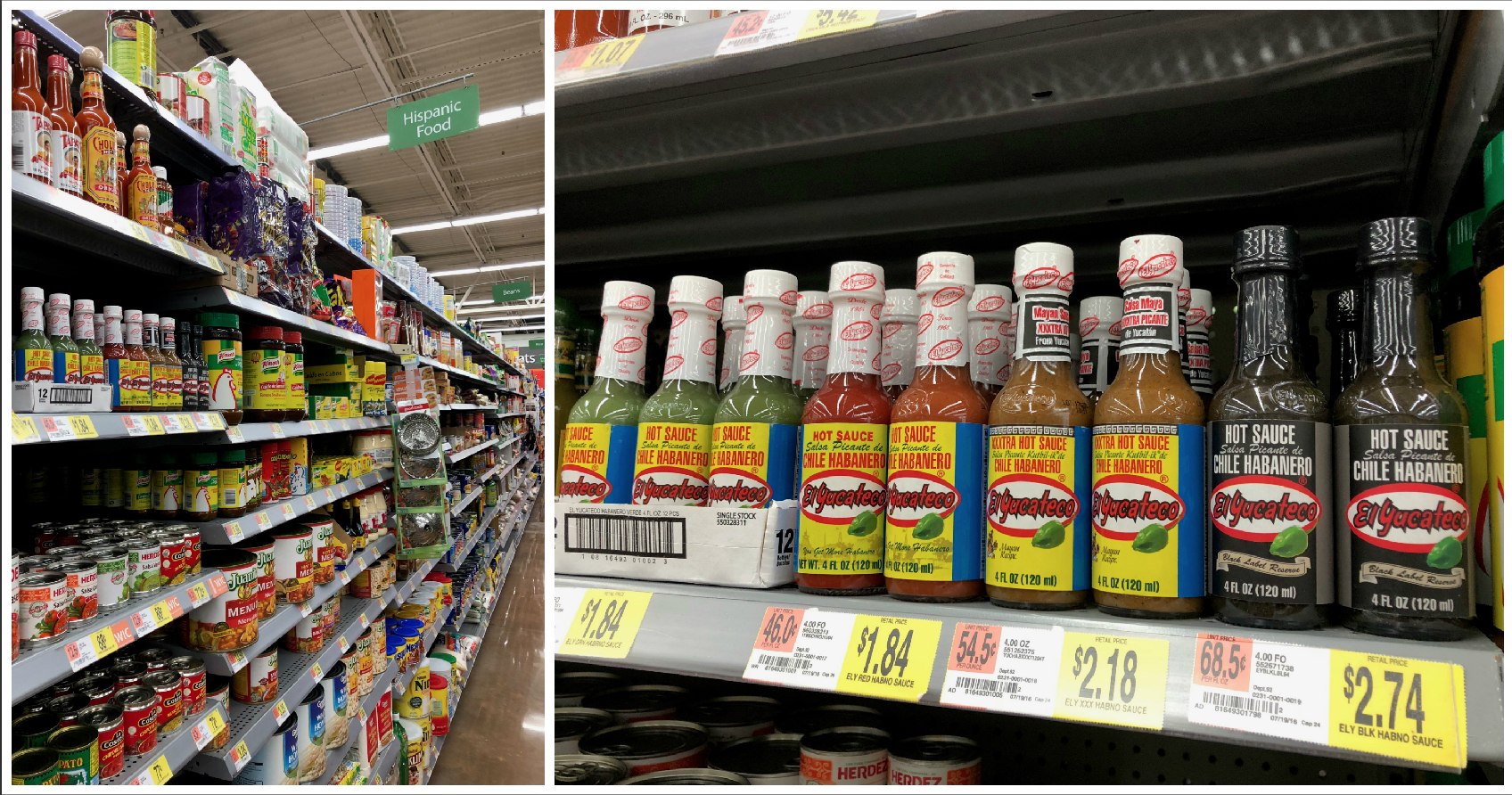 I got both the El Yucateco® green and black label habanero hot sauce at my neighborhood Walmart, you can find it in the Hispanic aislee.

Latest posts by Cesar Diaz
(see all)