Of course pink desserts are the first thing that comes to mind when you think about Barbie party food. If you're looking for the best pink treats for your Barbie party you've come to the right place! Get ready to satisfy those sugar cravings with delicious treats that would make Barbie herself swoon. Whip up a batch of Barbie-themed brownies or decadent strawberry cheesecake bites. But let's not forget the pièce de résistance – a show-stopping pink cake with creamy, dreamy frosting. From pink lady dessert to pink fluff dessert there are so many Barbie dessert options that are perfect for adding to your pink dessert table you will have a hard time choosing!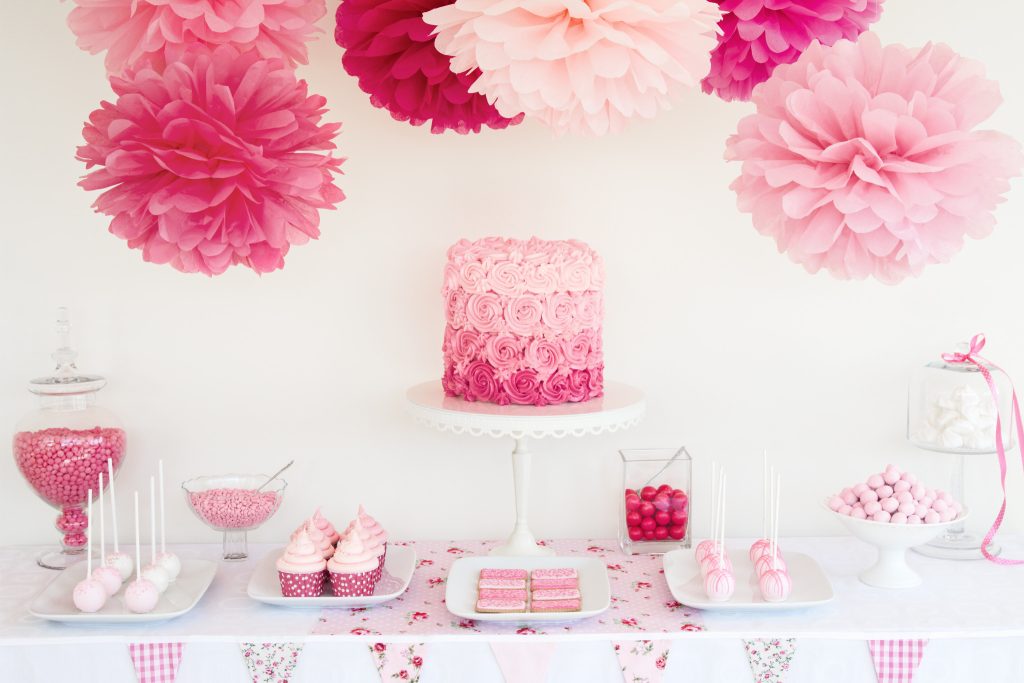 Pink Treats for a Barbie Themed Party for Adults
With the Barbie movie having brought about a complete Barbie Mania, Barbie parties are not just for little girls anymore. Barbie themed parties for adults are in vogue and throwing the best Barbie themed party means you'll need the best Barbie themed desserts!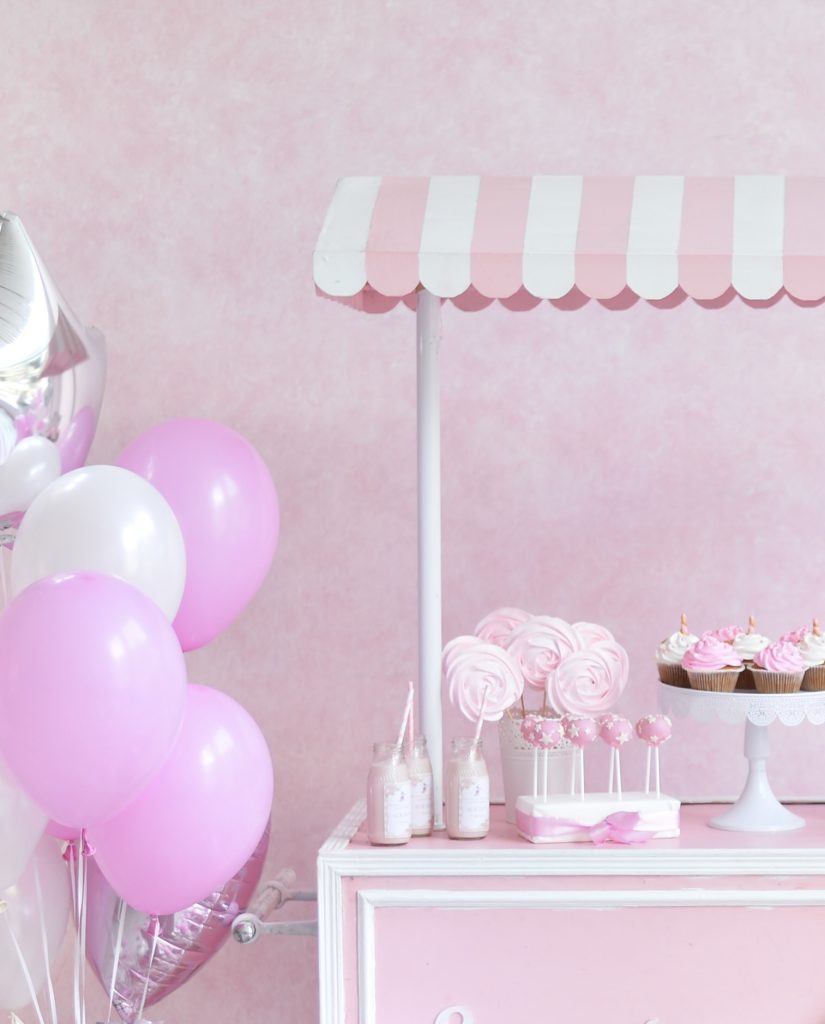 Be sure to check out my Barbie movie party ideas article where you will find the best Barbie themes, Barbie party decoration ideas and Barbie party inspiration. This ultimate Barbie party guide walks you through everything from how to plan your Barbie party and what type of decorations to use depending on whether it's a Malibu Barbie pool party, a Barbie beach party, a Barbie dance party or Barbie movie after party. There's even tips for party decorations for a Barbie and Ken Mojo Dojo Casa House themed party. I've also included what to wear for each themed party and links to where to find the best Barbie movie outfits! So be sure to check it out.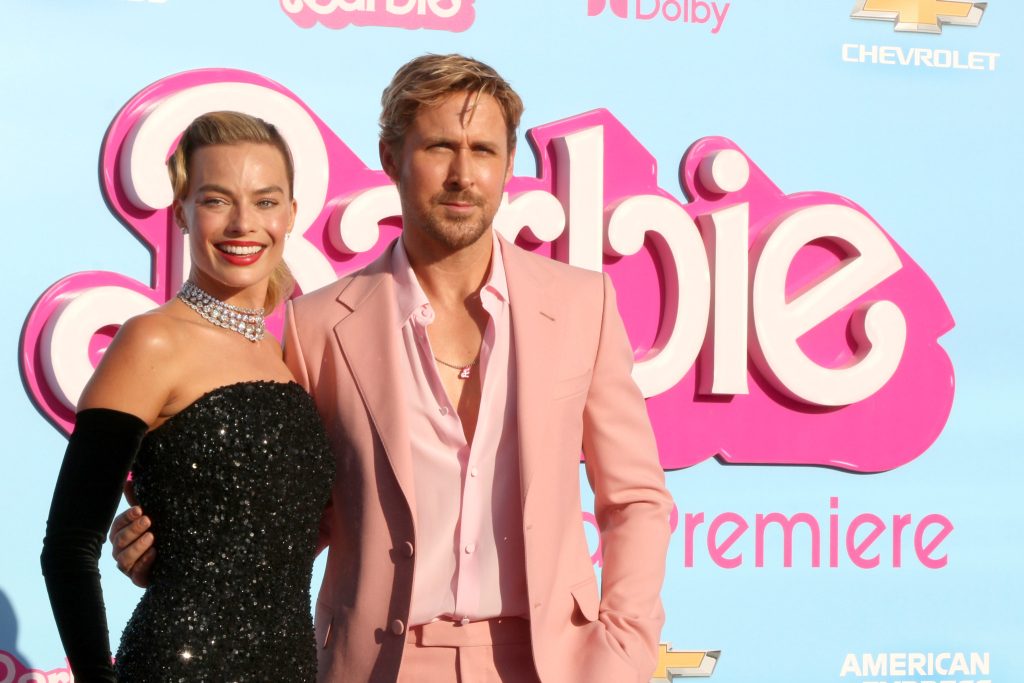 And no adult Barbie party would be complete without some fabulous Barbie drinks. Check out my articles to find recipes for the best Barbie cocktails, Barbie mocktails and other non-alcoholic pink drinks! And check out my recipe for the best Barbie cocktail.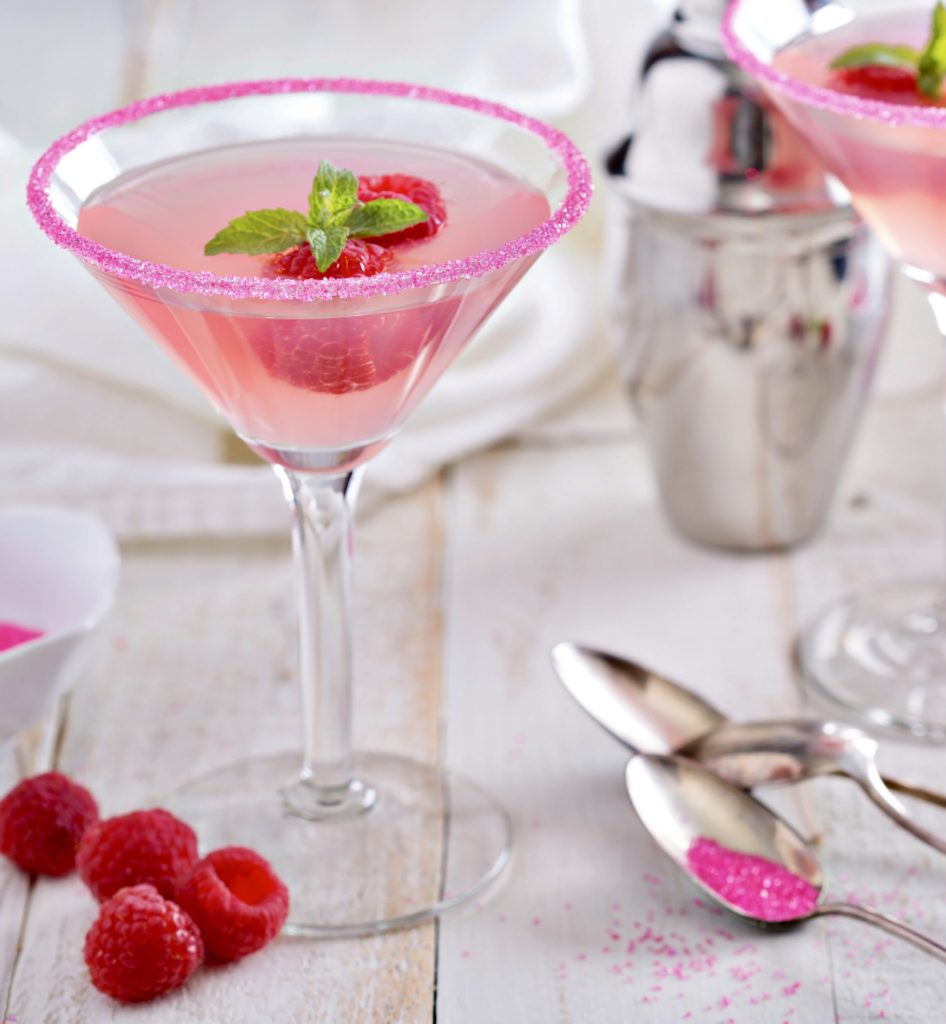 Pretty Pink Cakes: The Best Cakes for Your Barbie Party
If you're throwing a Barbie Movie Party to celebrate a special occasion like your birthday you'll want to include a fabulous cake for your Barbie Party. I have put together a curated list of fabulous pretty pink cakes that will be a hit with every Barbie and Ken in attendance! From pink velvet cake to strawberry cakes, raspberry cakes and even a pink champagne cake you're sure to find the pink cake of your Barbie dreams here!
Get ready to delight everyone with this Pink Champagne Cake recipe! It's got everything you want in a cake – it's moist, it's soft, and it's got the most delicate crumb, it's infused with champagne and it has the most luscious Swiss meringue buttercream frosting on top. And with its beautiful blush color, it's just perfect for a pink-tastic Barbie birthday bash!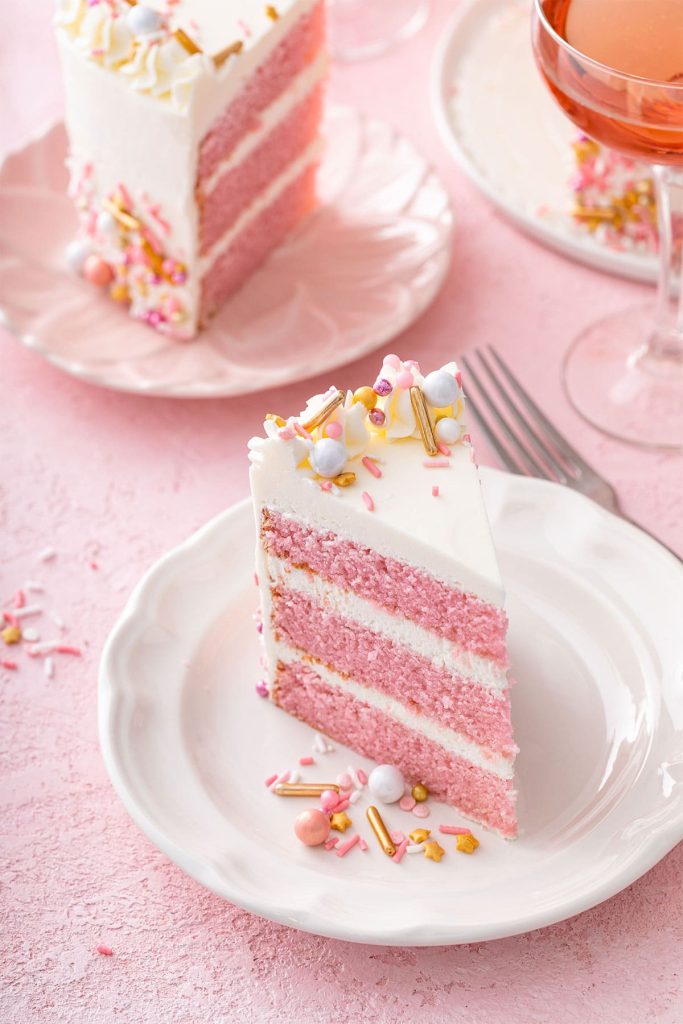 Move over red velvet cake, this is a Barbie party and pink velvet is in! Fluffy, fabulous and gloriously moist and tender and covered in lavish cream cheese frosting. It's got that subtle tang and velvety texture of red velvet cake but without the cocoa.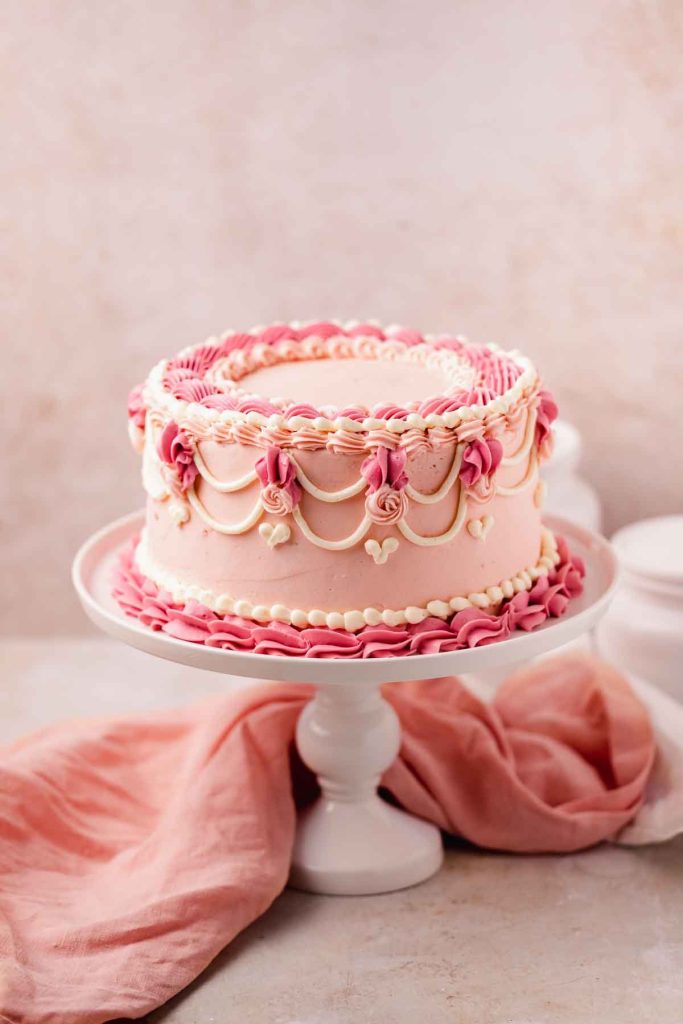 This fabulous and delicious white chocolate cake has two layers of soft white chocolate sponge frosted with fresh raspberry buttercream. This beautiful pink cake will make for a great addition to any Barbie party dessert table.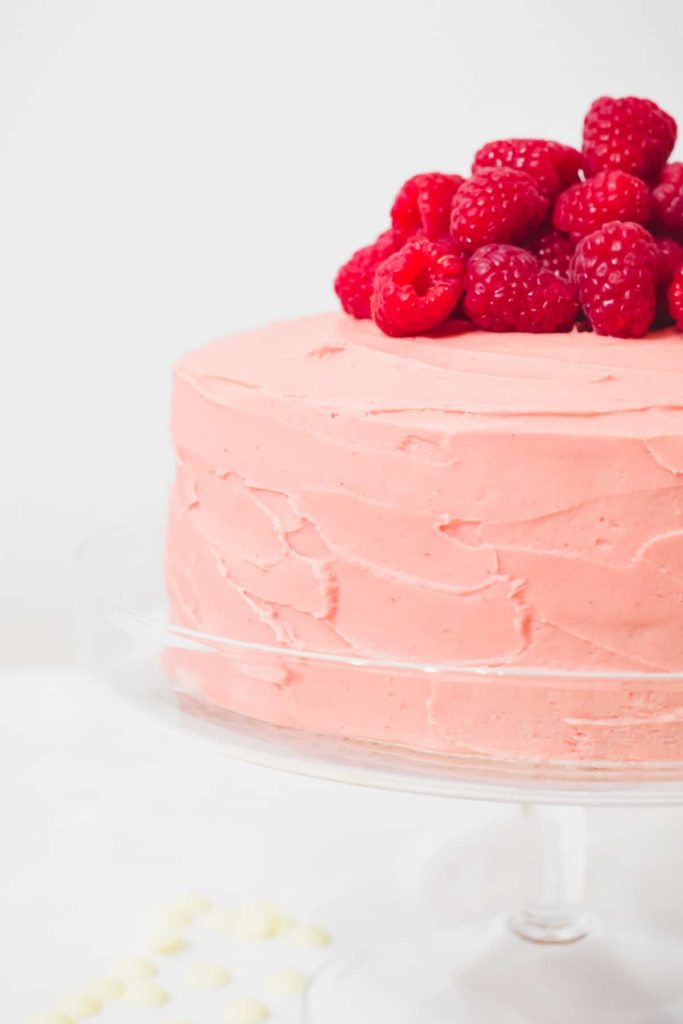 More Pink Dessert Ideas
There are so many options to choose from when it comes to pink desserts fit for the best Barbie Party! Whether you're looking for strawberry brownies or raspberry mousse or even a super cute Barbie themed dessert board there are so many pink desserts. All of these are great options to add to your pink dessert table!
Imagine a dreamy, no-bake raspberry cheesecake mix, casually lounging on a bed of crumbled shortbread or graham crackers. And just for kicks, we've invited a handful of fresh raspberries to the party. It's like a cool, creamy paradise that never needs to see the inside of an oven. Now that's a dessert that even Barbie would envy!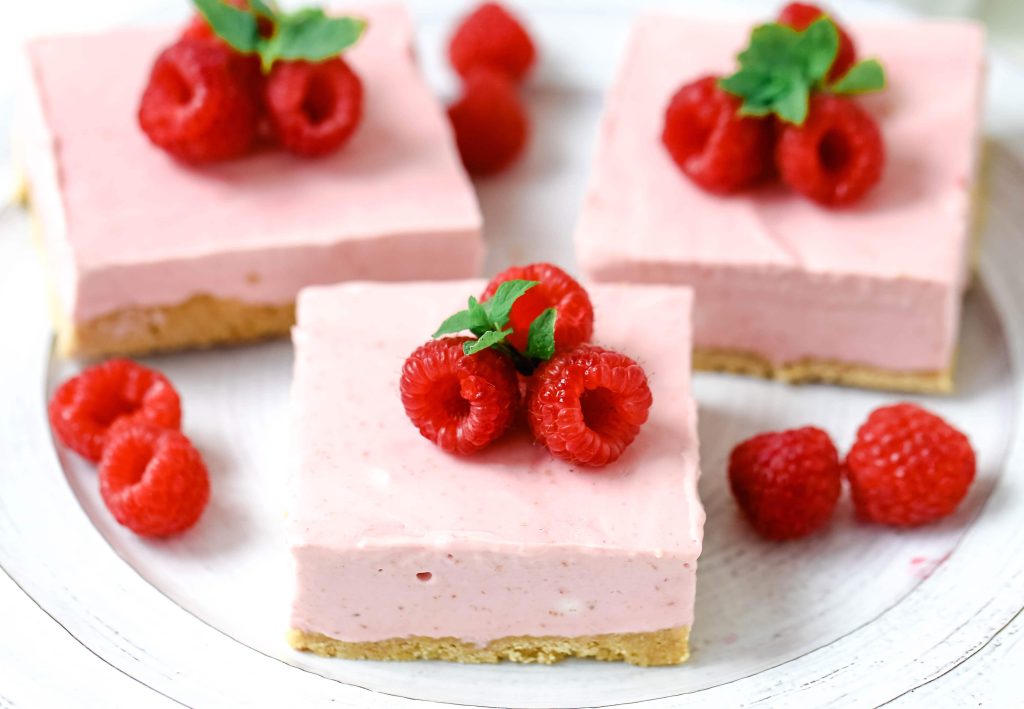 These pretty pink cakesicles are the perfect dessert on a stick to enjoy at your Barbie party. I love that there is no baking required to make these and you can customize them to give them to match your own Barbie vibe. Thes best part is that these cute pink desserts on a stick will not melt like a popsicle. They are perfect if you're going for a beach Barbie party theme!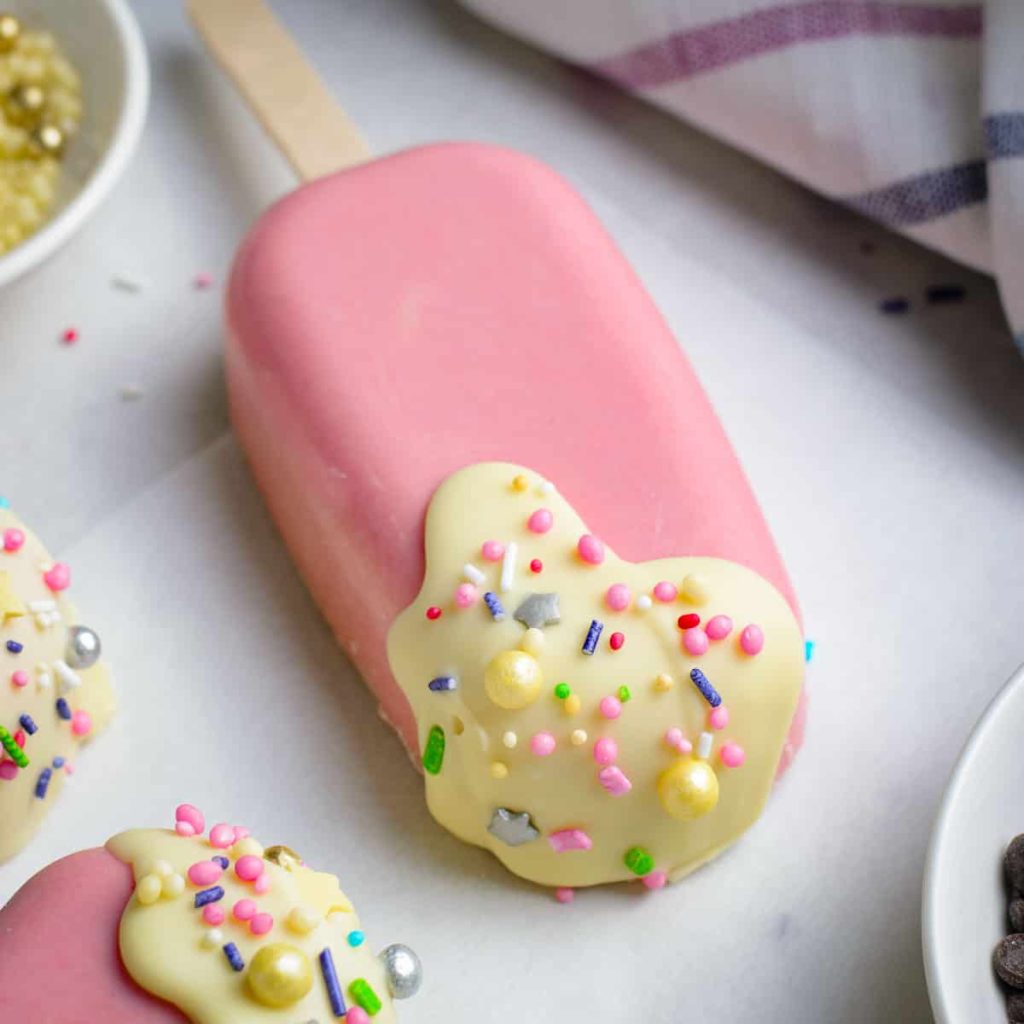 This Barbie themed pink dessert board is so perfect for your party! Filled with sweet pink treats it's sure to be a total hit at your Barbie soiree. I love that this can be customized! If you're in South Florida you can order these Barbie snack trays from Board Oh! Make sure to visit @board_oh_ and give them a follow for more amazing grazing boards!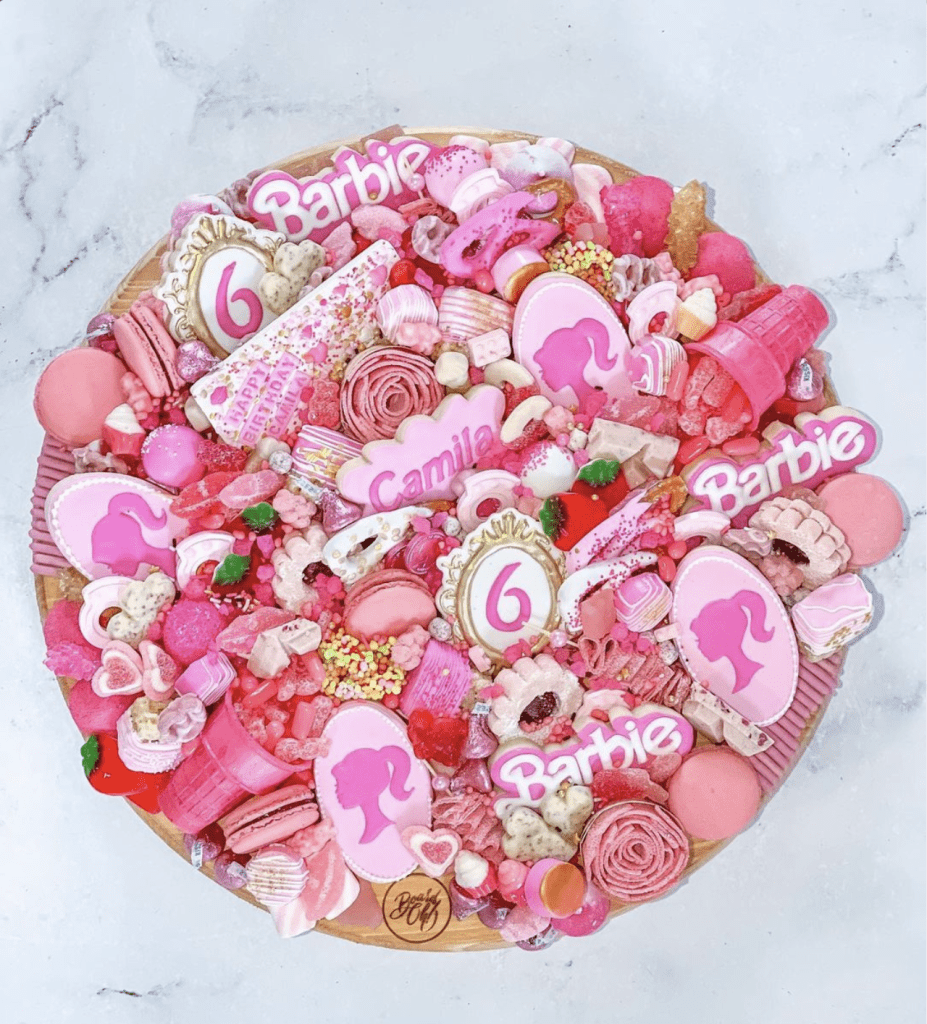 These cookies are not only the perfect Barbie pink hue but they are also delicious and super easy to make with only 4 ingredients. These pillowy soft strawberry cake mix cookies with creamy white chocolate chips are the perfect Barbie party dessert!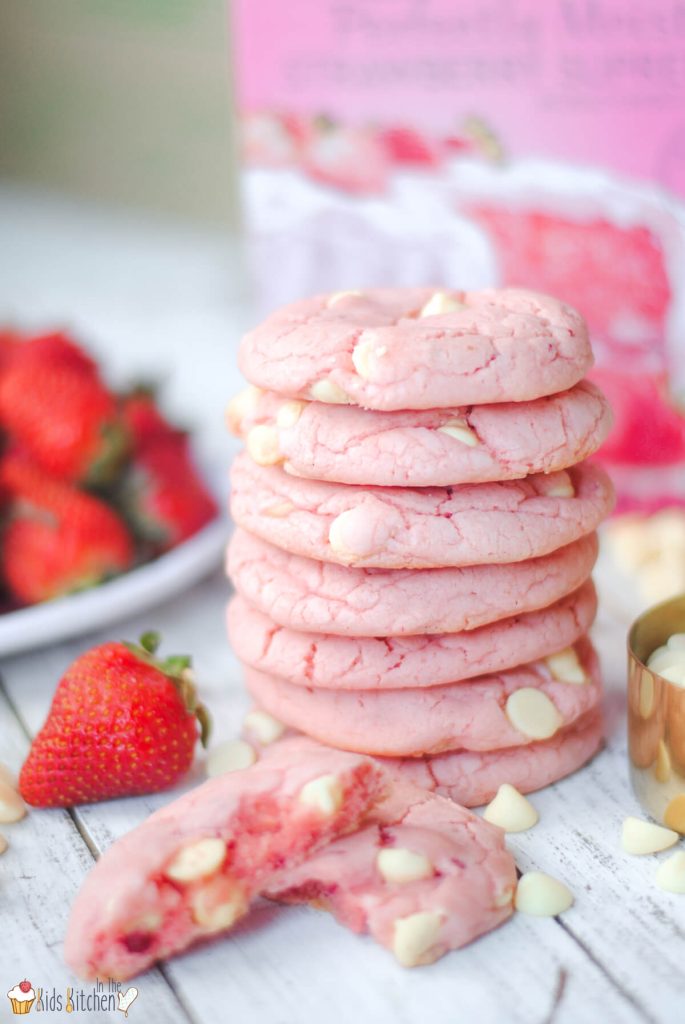 Ready to make your Barbie party a smashing hit? Add these delightful Strawberry Lemonade Bars to your menu! Imagine a buttery shortbread cookie foundation supporting a dreamy, fruity filling that fuses the tang of lemon with the sweetness of strawberries. It's the perfect pink treat for your Barbie-themed bash!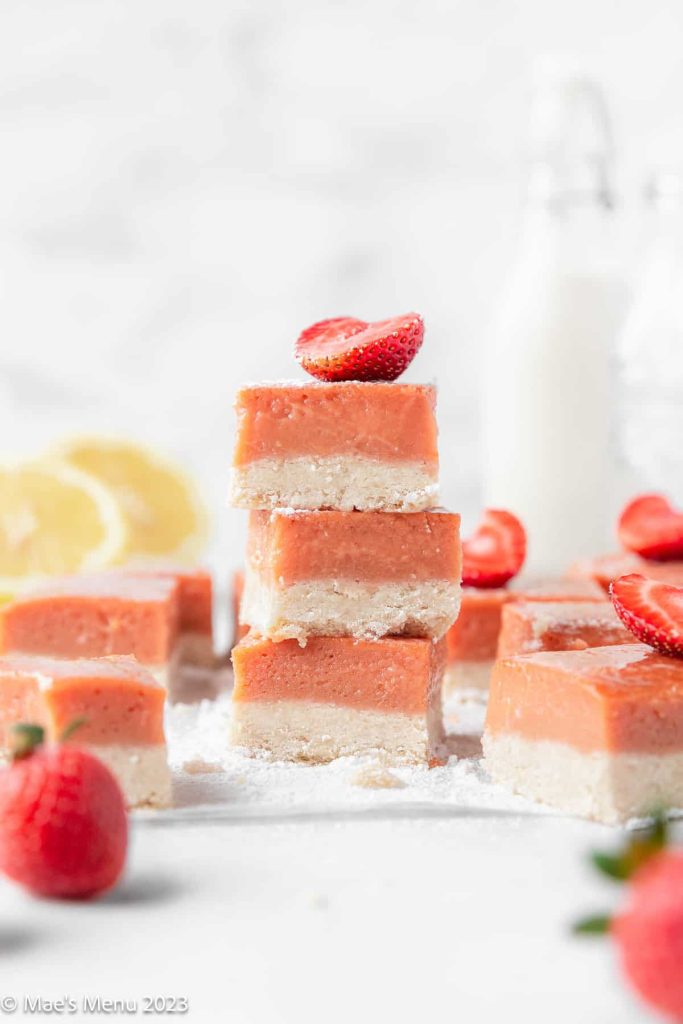 These pink lemonade cupcakes are not only spectacular but they are super easy to make. They are pink and sparkly and oh so delicious! These are perfect for a Barbie beach party or Barbie pool party theme with their springtime or summertime vibe.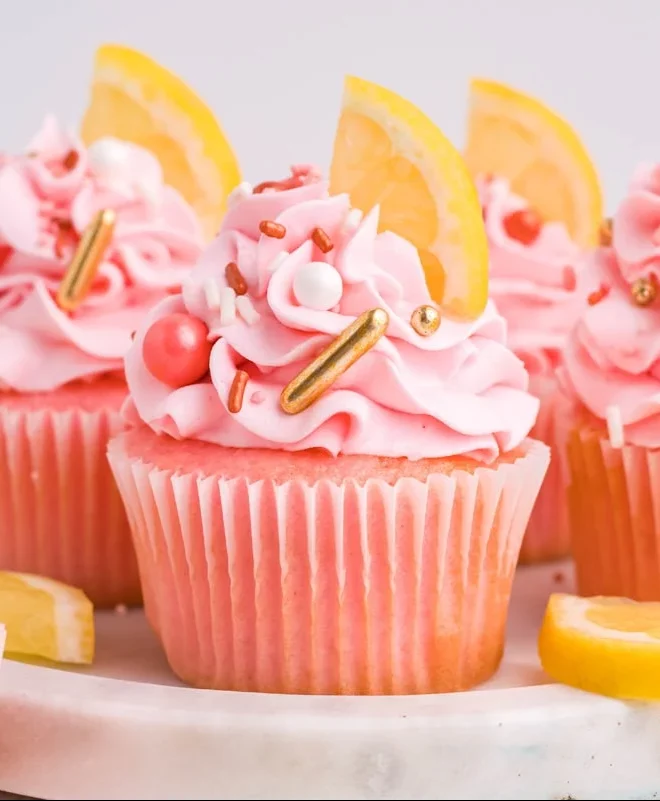 Strawberry Madeleines. Cute, pink, fluffy with soft, sticky bumps and lightly crisp edges. These delicate little cakes are the perfect addition to your Barbie dessert table and are sure to become the talk of the party!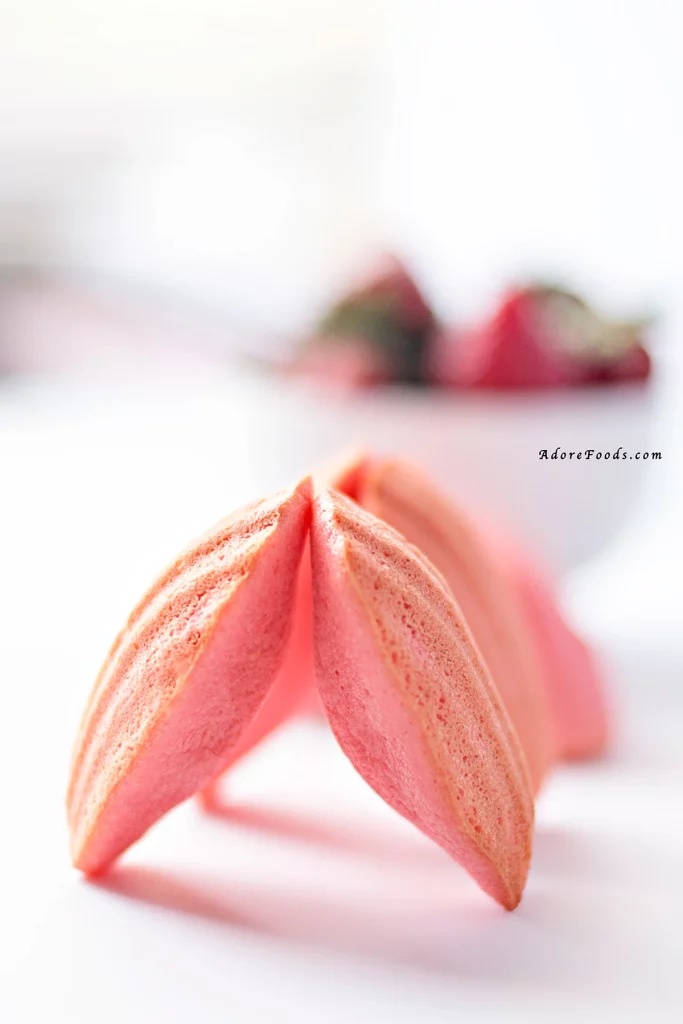 This raspberry mousse recipe is a dollop of delight, offering a tantalizing blend of thick, creamy texture and a fruity raspberry punch. Not only does it make an irresistible standalone dessert, but it also fills cakes with a burst of flavor. Imagine the "oohs" and "aahs" as you serve this up at your Barbie-themed bash – it's pure pink perfection!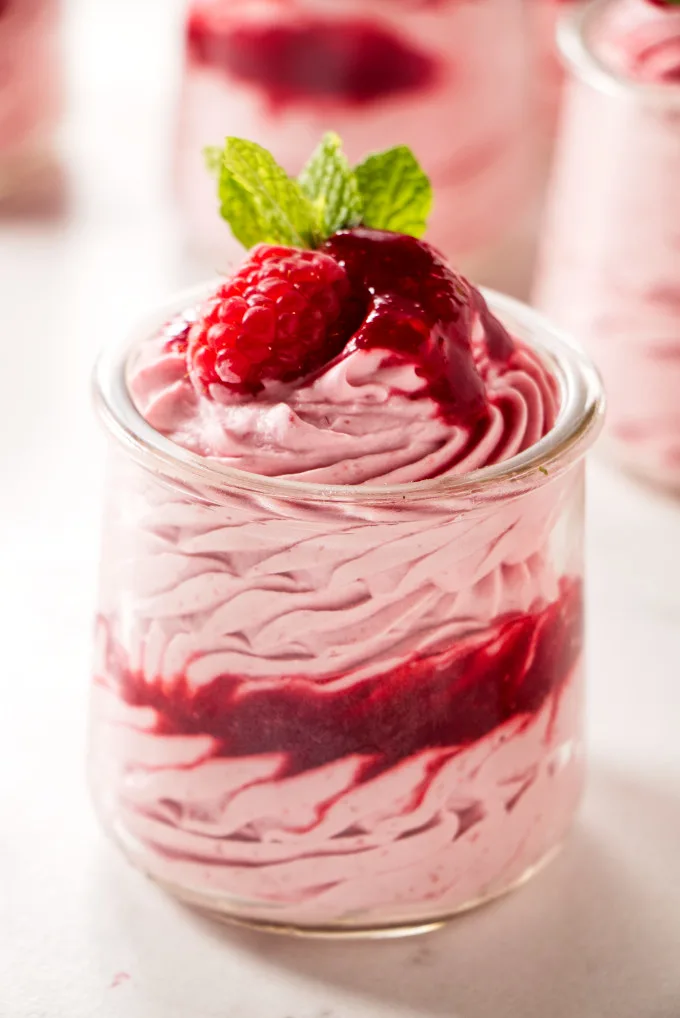 Add a touch of nostalgic Barbie magic to your party with this old fashioned Kool Aid Pie! It's totally creamy, super delicious, and oh-so-refreshing. Plus, it's a breeze to whip up, featuring a homemade graham cracker crust and a vibrant, tangy Kool Aid filling – talk about a simple no-bake pie that's as fabulous as Barbie herself!


Pink cookies, yes please! These raspberry cookies will be a great addition to your Barbie shindig! This quick and easy cookie recipe made with all-purpose flour, luscious white chocolate chips, and the flavor-packed punch of freeze-dried raspberry powder is ready in no time.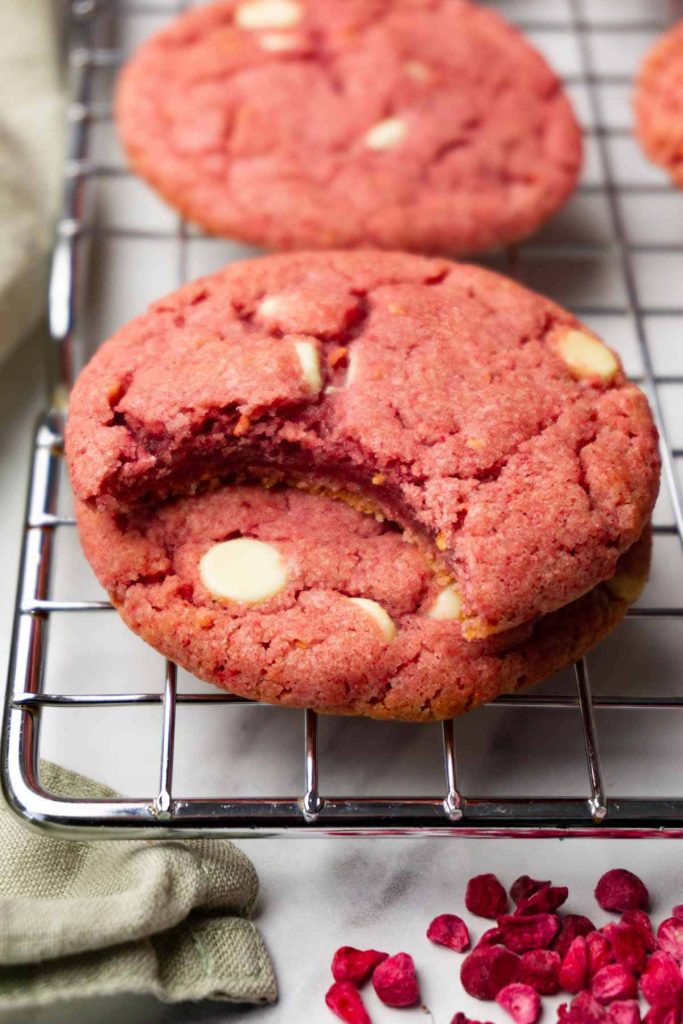 Hey Barbie! These Moscato cupcakes are simply glamorous! With their delightfully moist cake and beautifully swirled pink frosting, they're sure to add that perfect pop of Barbie glam to your party. Plus, they're the ultimate treat for a Barbie themed brunch – oh so classy, right?
This delicious strawberry cream cheese and fruit cookie pizza is the perfect summer dessert to enjoy on your next backyard BBQ or picnic. This fruit pizza is so easy to make and it's my go-to for summer potluck get-togethers. Made with fresh fruit, a soft sugar cookie crust and Tillamook Seriously Strawberry Farmstyle Cream Cheese Spread, this fruit pizza is not just delicious but also beautiful.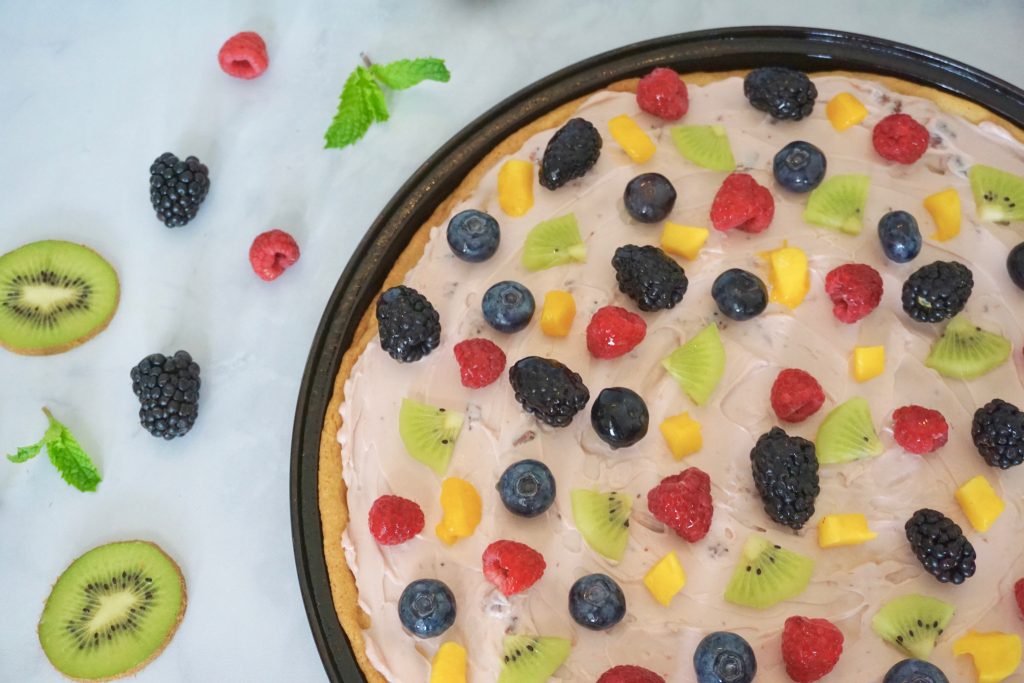 Ready to jazz up your Barbie celebration with a dash of pink? Let's talk about these stunning Strawberry Brownies! They're delightfully chewy, incredibly moist, and the best part? You just need 3 ingredients and a cake mix to whip up these unique, must-try sweet treats.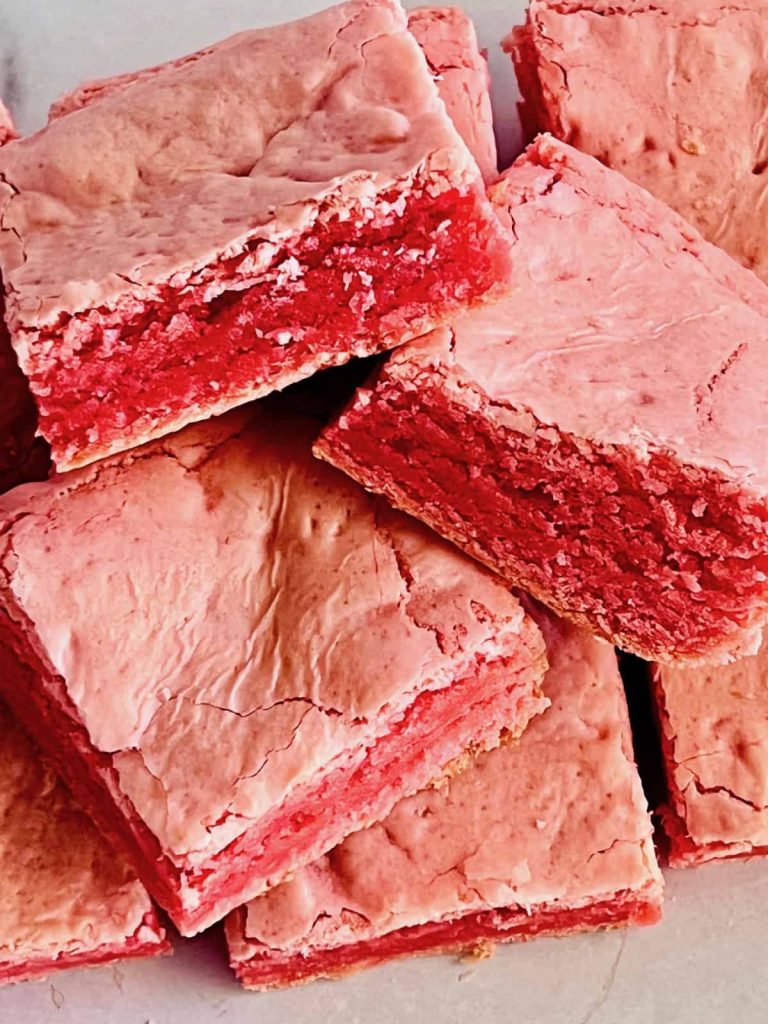 More Ideas For Your Barbie Movie Party
I created this recipe for these fabulously pink Barbie shots inspired in the newly released Barbie Movie. They are the perfect sweet boozy milkshake shots to enjoy at any Barbie soiree. If you are planning a Barbie party make sure to check out my other articles:
Barbie Movie Party Ideas: The Ultimate Barbie Party Guide: filled with Barbie party themes, decor ideas and Barbie activities and games for your Barbie party this is the place to start if you're planning a Barbie bash!

Best Barbie Cocktail: The Pink Raspberry Martini: There are lots of Barbie cocktail recipes out there but for me this Barbie martini cocktail is my favorite, and even better than the Malibu Barbie drink! Yes I'm a martini kind of girl but this pretty pink cocktail fit for a Barbie themed party for adults is fruity and delicious and is sure to appeal even to those Barbies who are usually not dry martini fans.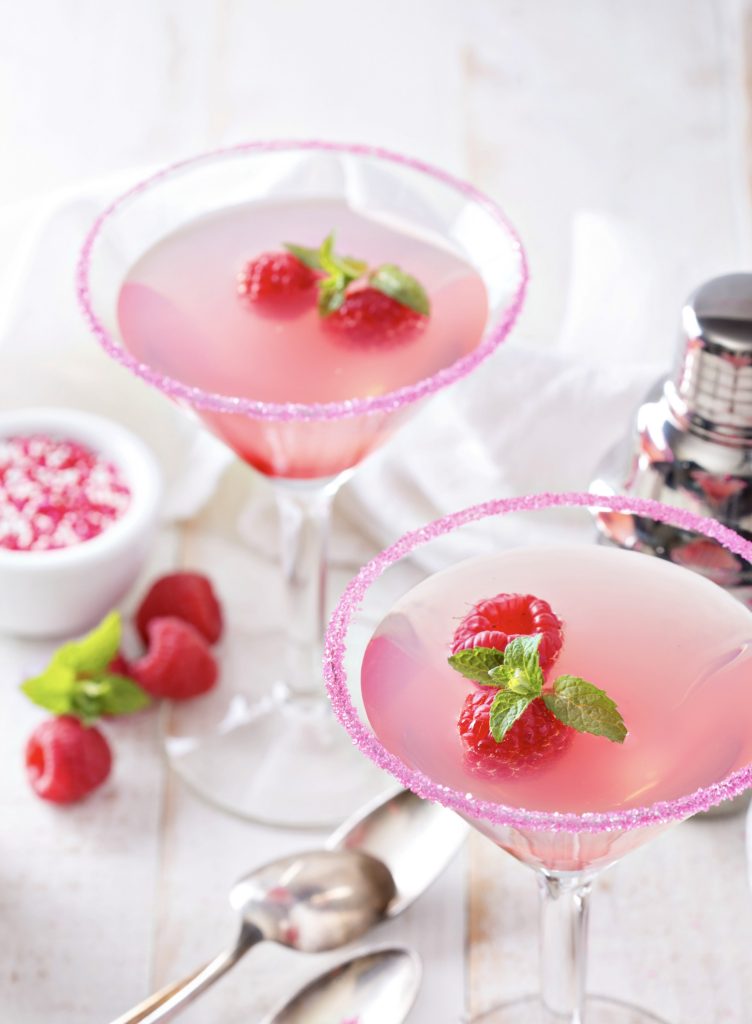 Barbie Brunch Ideas: host the perfect Barbie brunch with these brunch ideas that are as fabulous and playful as she is! From pink pancakes to pink brunch cocktails, these brunch inspirations are all about celebrating in true Barbie style!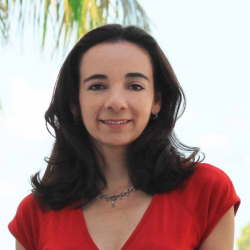 Latest posts by Paula Bendfeldt-Diaz
(see all)