Disclosure: This post may contain affiliate links. However all opinions are mine and are sincere.
I have been using the The Nike+ Stand Alone Sensor for a while, this is my third one, and I recently acquired the Nike+ SportWatch with GPS. Using both devices together has motivated me to run a lot more, I am really happy with my new running gadgets so I thought I would share my thoughts on both The Nike+ Stand Alone Sensor
and the Nike+ SportWatch GPS. One of the things I like the most  is that when you upload all of your information and data on the Nikeplus.com website you can connect with other runners.  This is pretty awesome, you can even see if there are other people running in your area and when you are tracking your progress you get really motivated and this helps you run more and run better.  You can even join challenges online. The Nike+ community is pretty great and supportive and this makes a huge difference in your motivation.I will start off with the sensor first.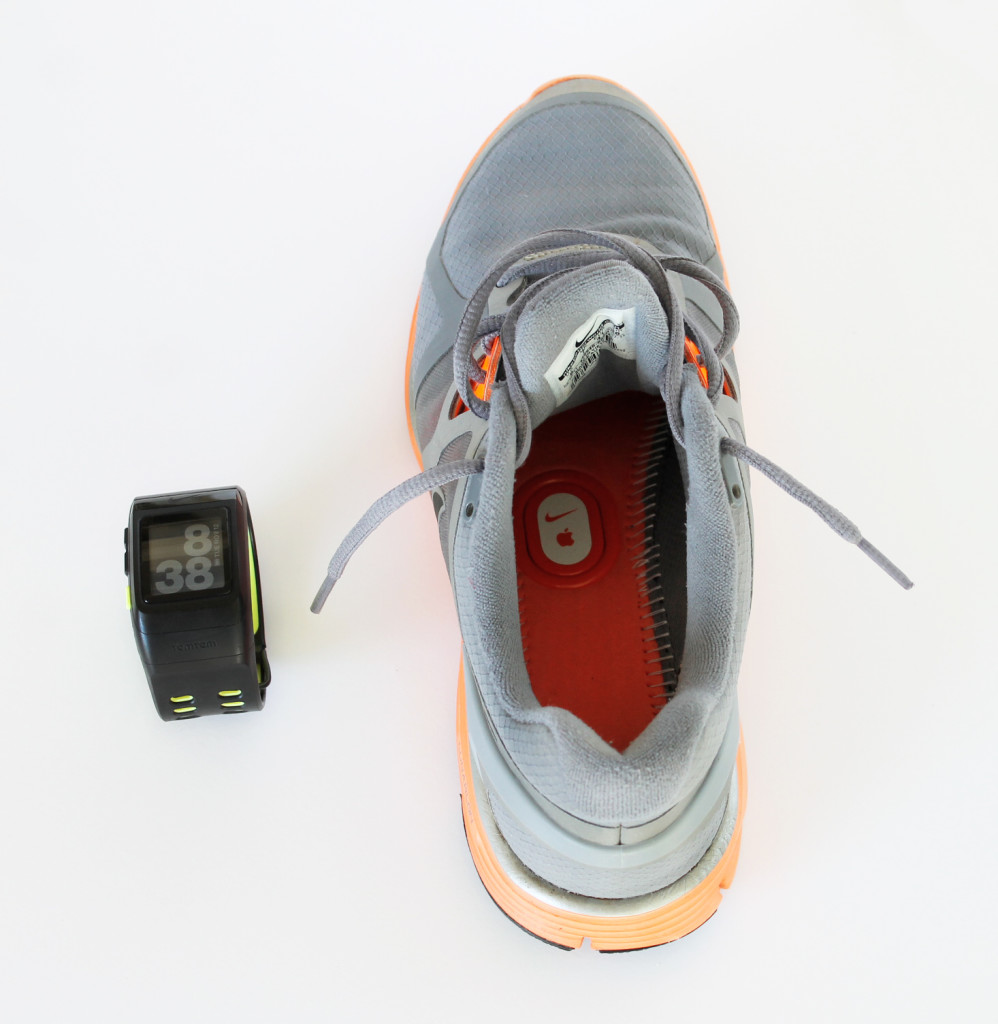 The Nike+ Sensor
This lightweight and convenient little device lets you track the time you run, your distance, the pace at which you are running, the calories you are burning, etc.
You can use the Nike+ Sensor in conjunction with an iPod, an iPhone, Android phone or compatible receiver. I use it with the Nike+ SportWatch GPS.  I love that it works with all operating systems.
The sensor can be used with the Nike+ ready shoes, which have a little space in the sole under the sockliner where the device fits into and you will never know it's there.  The Nike website says this can only be used with the Nike+ ready shoes but the truth is that you can also use the Nike+ Sensor with any other tennis shoes, all you have to do is get one of those pocket sleeves that you can lace up to your shoe and put the Nike+ Sensor in there and it works just as well. I use the Marware Sportsuit Sensor Case for Nike +  when I use my other running tennis shoes.
This device is not just for runners as you can use it for walking too. You can calibrate it on a track and select run when you have the choice to run or walk from there after. You can also use the sensor when you are on a treadmill, which is what I do when I don't have the time to go out to run or the weather is not great and I have to run at the gym.
Some people have found the device to be glitchy but I have used it for a while and have two of them now and never had a problem with the sensor, the watch and the wristband are a different story.
Pros:
Monitors your performance and transmits wirelessly to your device for real-time feedback with the convenience of real time feedback.
The online community is awesome, supportive and motivating.
It's lightweight and you won't feel it.
High quality. I have two and never have had a problem or a glitch with them.
Cons:
The battery is not replaceable so you have to change the device.  I've had one for two years and the battery is still good.
If you have iPhones with GPS technology you can skip this sensor altogether and just download the $1.99 Nike+ iPhone application.
It has to be used in conjunction with something else: Nike+ SportWatch GPS powered by TomTom (sensor included and optional); Nike+ SportBand (sensor included); iPod nano and Nike+ Receiver; iPod touch 2G; iPhone 3GS, or iPhone 4 or Android device with the app.
Price for the Nike+ Stand Alone Sensor Kit: $18.50 on Amazon or $19.00 on the Nike website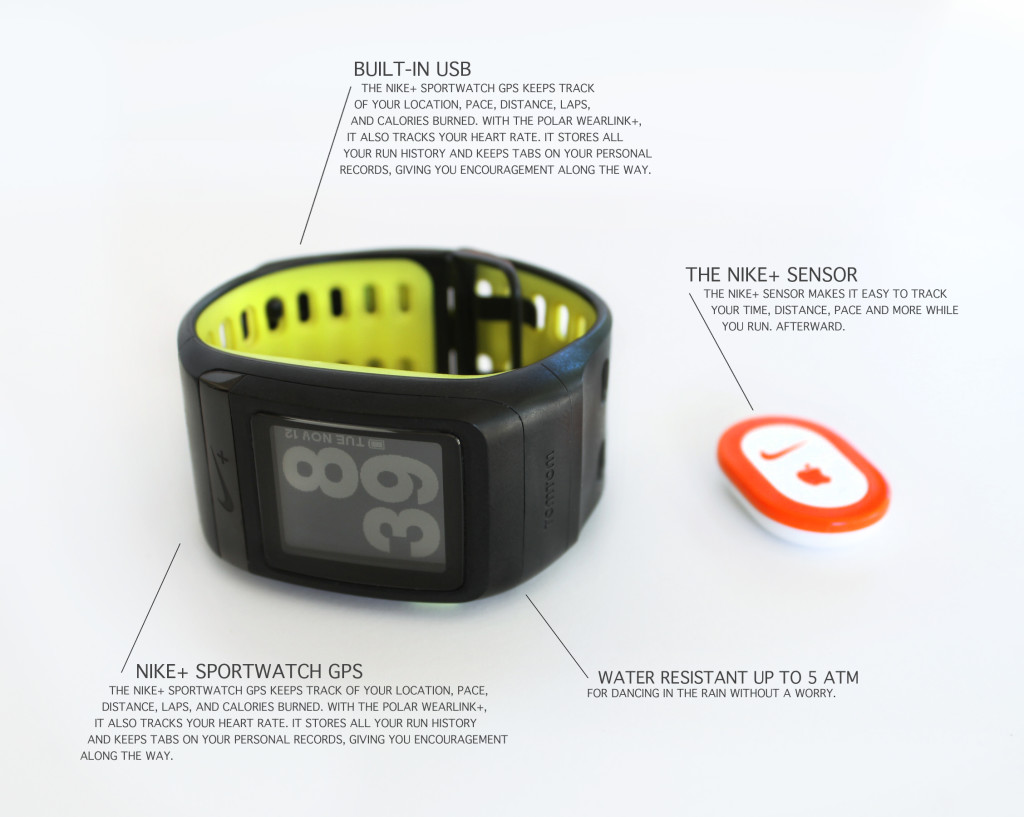 The Nike+ SportWatch GPS
The Nike+ SportWatch GPS will track your time, distance, pace or speed, beats per minute (BPM) heart rate and calories burned and will let you view your mapped route with pace data/changes in elevation. I love getting all of that information and being able to track my route and the fact that this watch is water proof is a also great as I sometimes likes to run in the rain.
When you're ready to go for a run, just press and hold the yellow bottom button and select the run option. The watch will then search for the GPS signal (the GPS radio is built into the watch) .
When you're done, just press the bottom button again to end your workout. The SportWatch will even give you some encouragement by displaying a message like "Great job!" or "Personal best!" . Another thing that I like about it is that it will remind you if you have not run in a couple of days.
I will not lie, this watch is not cheap but it's certainly one of the nicest gps sport watches on the market so if you run a lot or have someone in your family  who is serious about running this would just make the perfect holiday gift.
Pros
It's super easy to use and very comfortable.
It's a great option to use instead of having to take your phone.
It's got a very nice design.
Cons
 It takes a couple of minutes to link up the GPS sensors.
With the previous softwere there where some glitches but those all seem to have dissapeared now, will keep you psoted though.
It's expensive.
Price for the Nike+ SportWatch GPS Powered by TomTom (Black)
: $169.00 on Amazon
Latest posts by Cesar Diaz
(see all)