If you're visiting Panajachel in Guatemala, stopping at the Reserva Natural de Atitlan is a must-do. The Reserva Natural de Atitlan is just a few minutes from Panajachel's town center, a perfect place to enjoy the lush natural beauty of the Guatemalan rainforest. It is definitely one of the best things to do in Panajachel. Here you will find the best hiking trails in Lake Atitlán! And I would argue that the Reserva Natural Atitlán has some of the best hiking trails in Guatemala, with hanging bridges, waterfalls, and breathtaking lake views around every corner.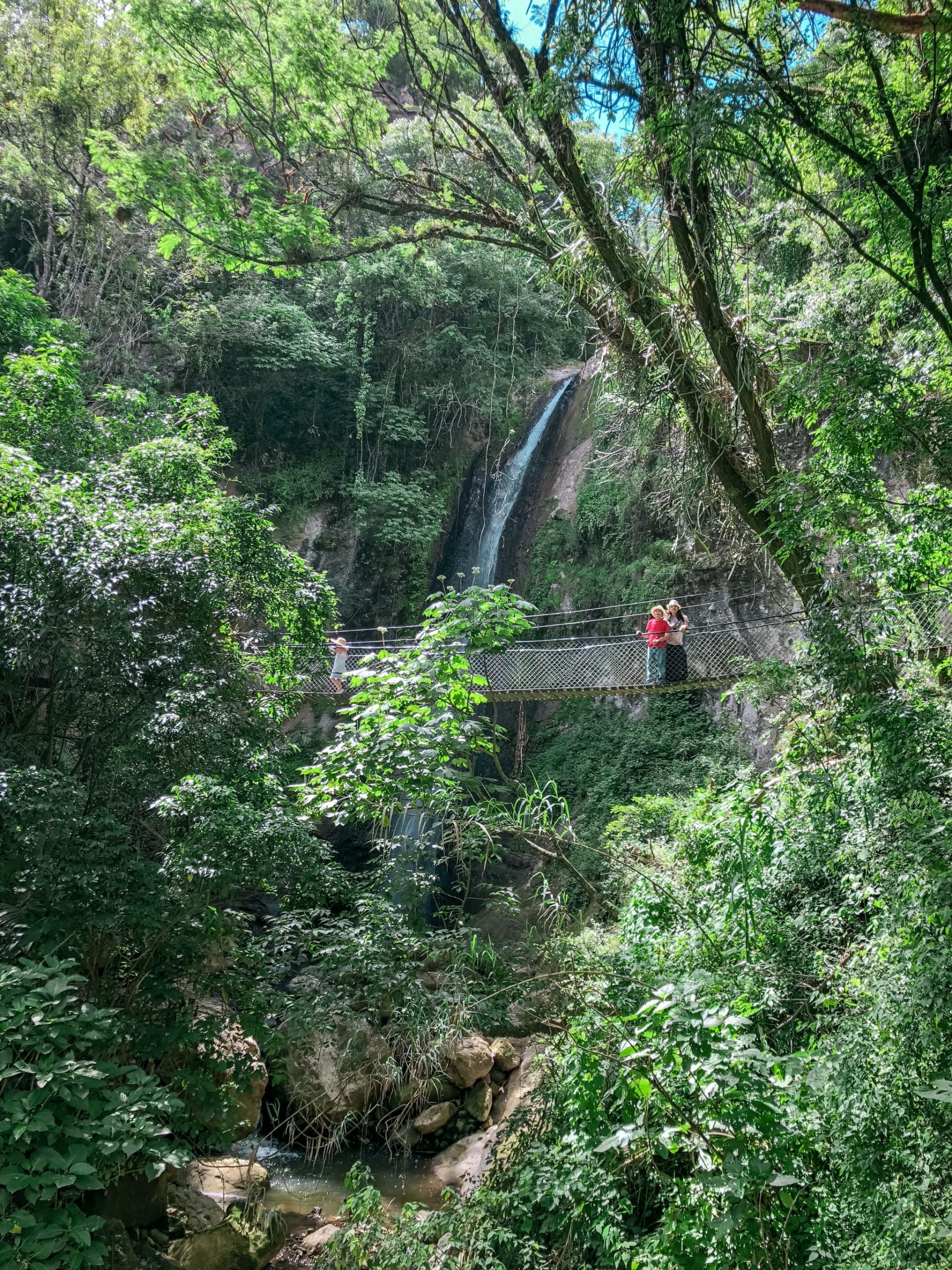 But there's much more to Atitlan's Natural Reserve than just the hiking trails. It's an opportunity to immerse yourself in the rich and biodiverse lake ecosystem. We've been to the Reserva Natural de Atitlan a few times on quick trips to Guatemala. However, if you want to take advantage of everything the park has to offer, I recommend that you stay at the on-site hotel and plan to spend an entire day or at least half a day there.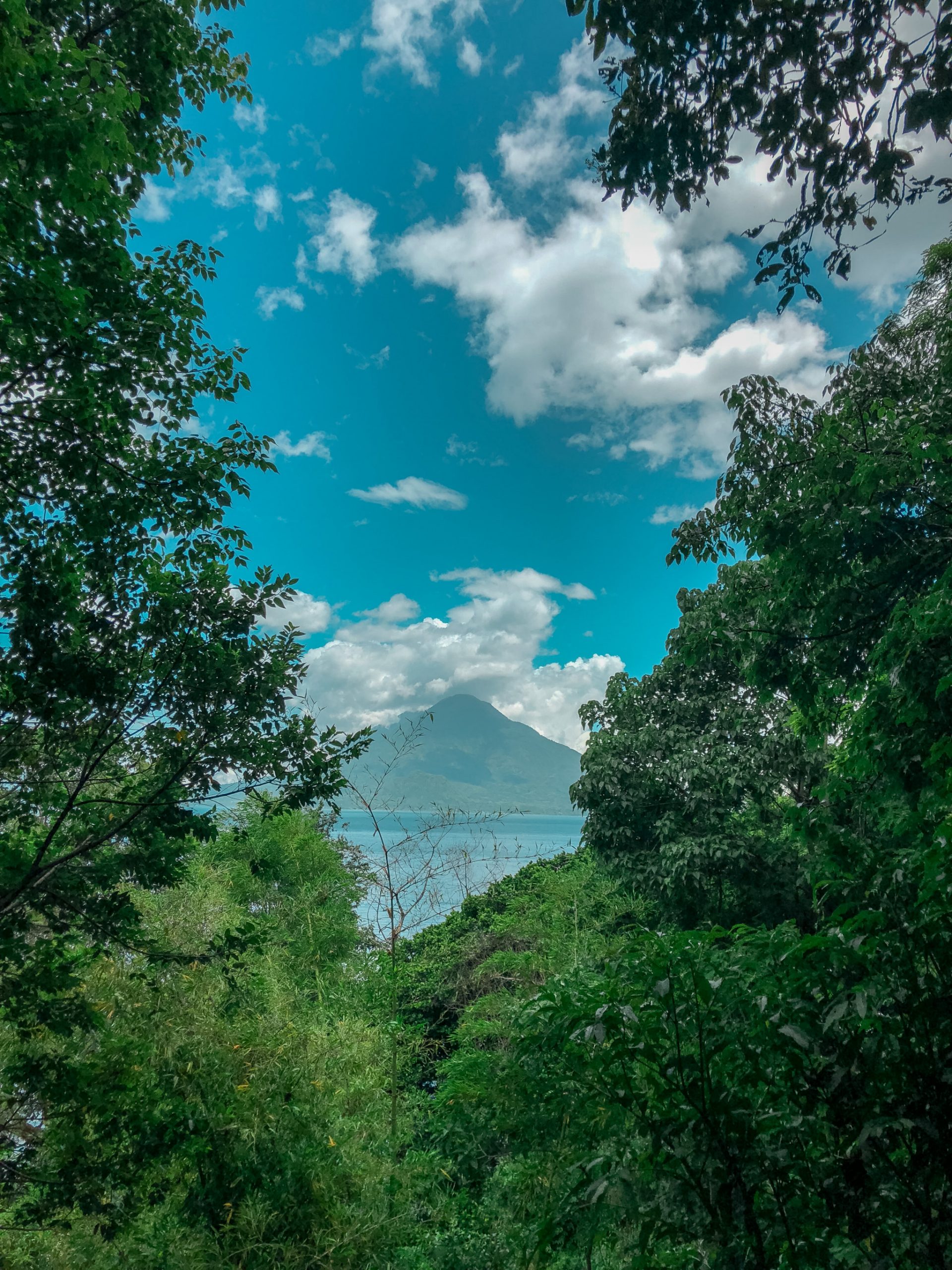 Visiting the Reserva Natural de Atitlán
Here are some reasons why Reserva Natural de Atitlán is one of my favorite destinations in Guatemala. It is a place I return to time every time I visit lake Atitlán.
The Best Hiking Trails in Guatemala Lake Atitlán
Reserva Natural de Atitlán boasts some of the best hiking trails in Guatemala. The courses take you through lush forests with lots of hanging bridges. My favorite thing about these trails is that there are several waterfalls along the way. As you cross some of the hanging bridges on the trails, catch breathtaking views of Lake Atitlán and its surrounding volcanoes.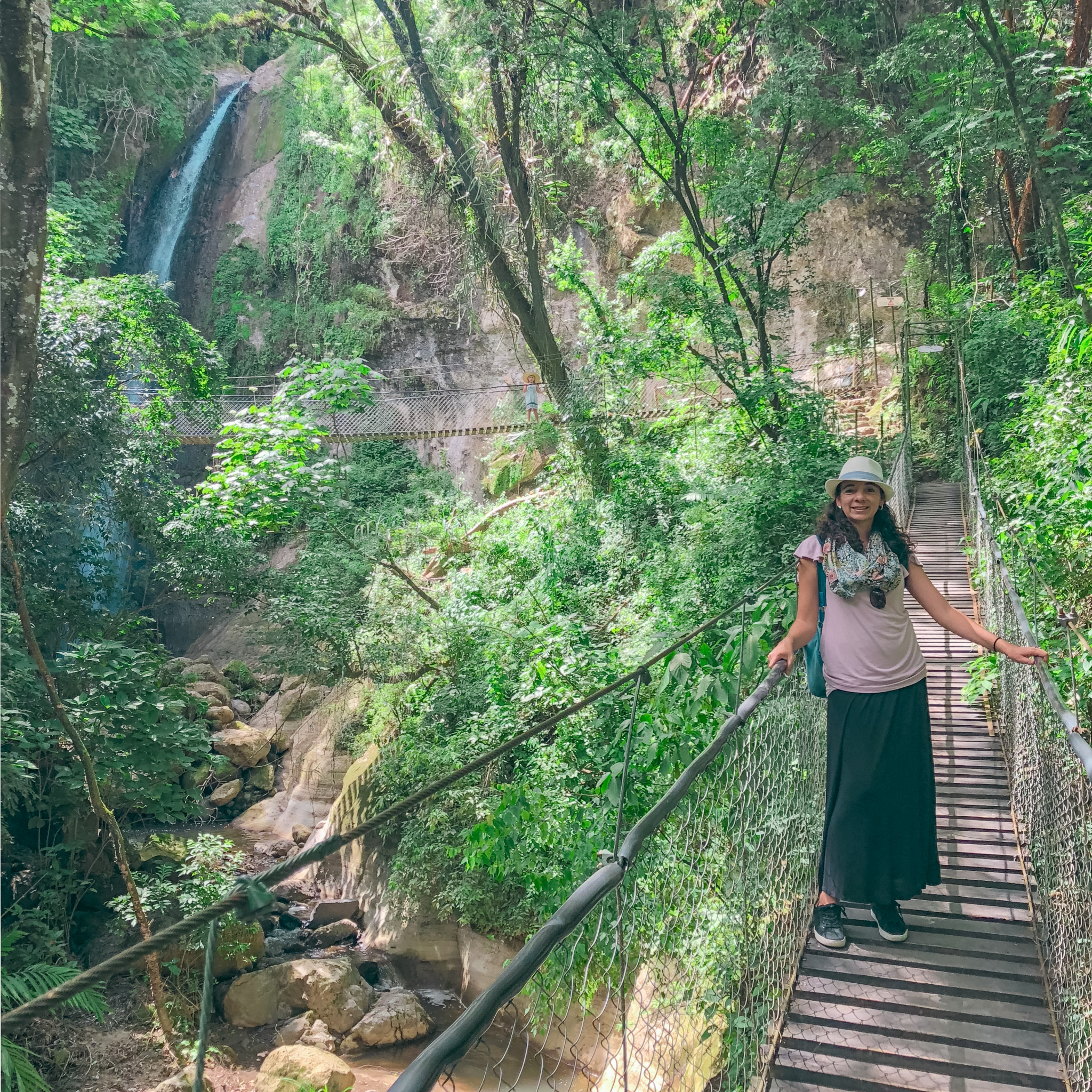 There are many trails to choose from! And each has different views and levels of difficulty so that you can choose the right one. Most of the tracks are easy enough for families with kids. They are all very well maintained and have clear signage.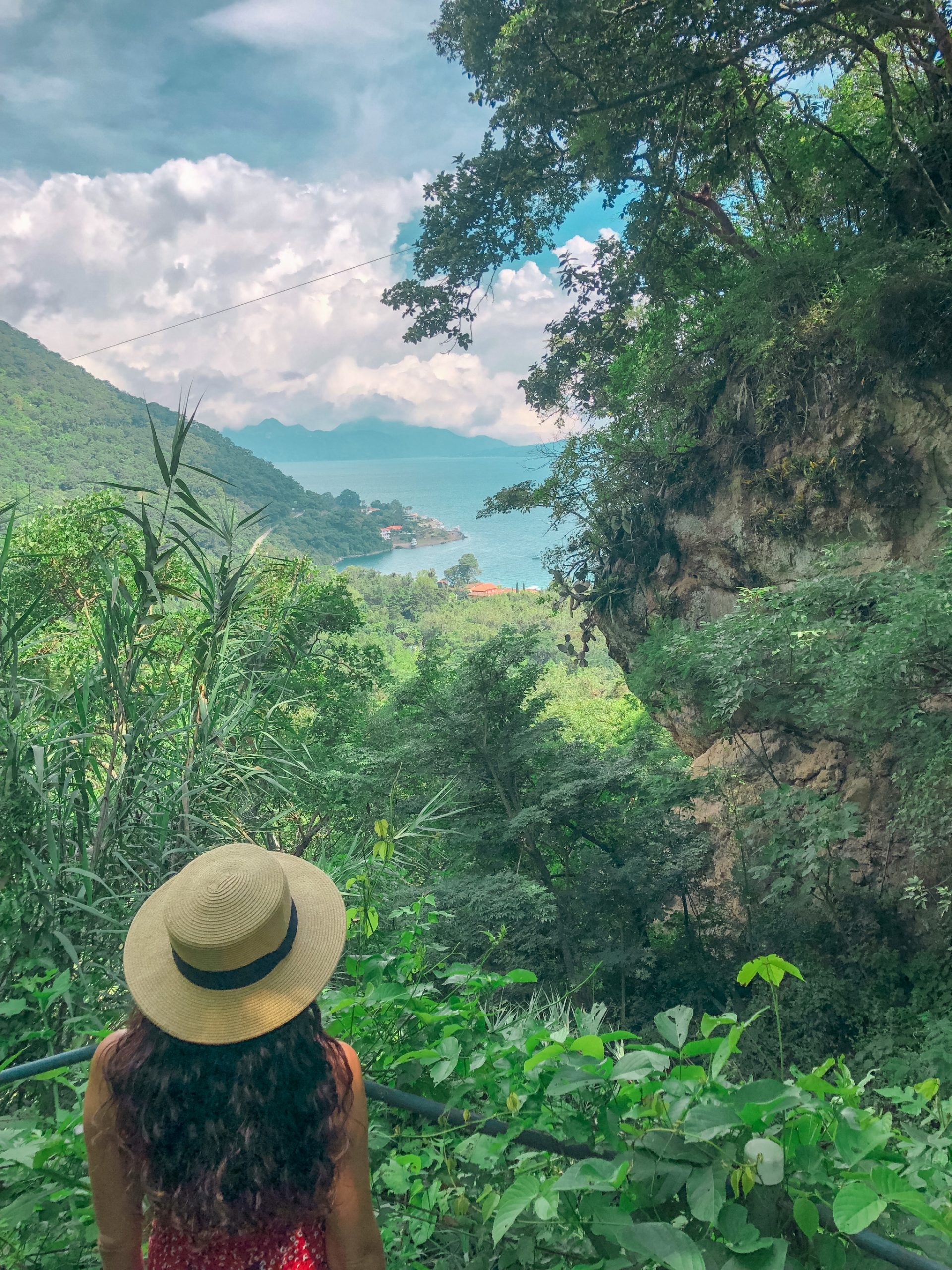 One of my favorite hiking trails takes you to the lakeshore, where you can enjoy time on one of the very few natural beaches on the lake. The best part is that this beach has one of the best views of the volcanos. It is almost always empty, so you'll have it all to yourself.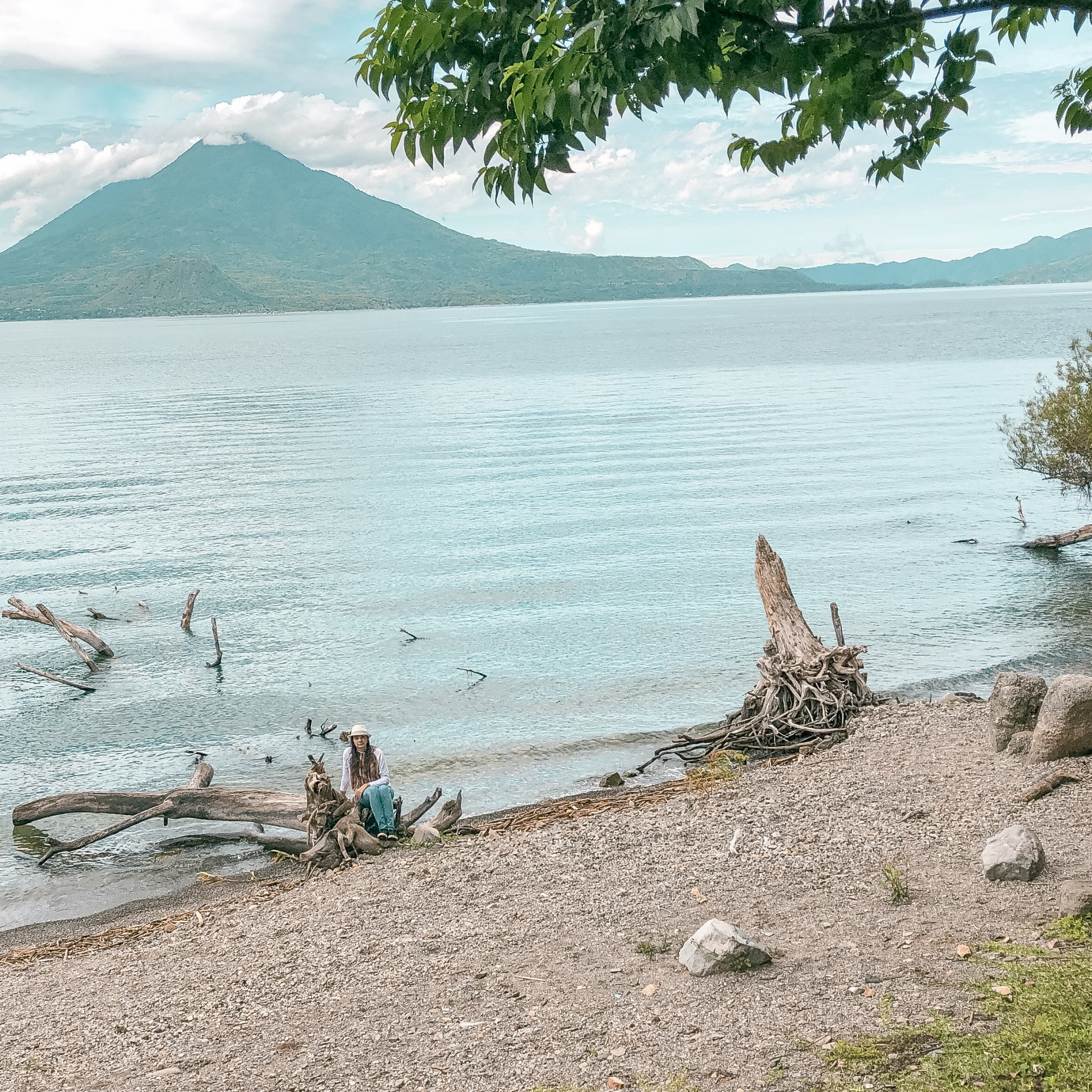 Chasing Waterfalls at Atitlán's Reserva Natural
Many hiking trails at Reserva Natural de Atitlán follow a small river. There are a few waterfalls just a short hike from the entrance of the natural reserve. You can see the waterfalls from the trails and hanging bridges. But if you are feeling adventurous, you can explore them more closely by leaving the trails and going down to the creek below.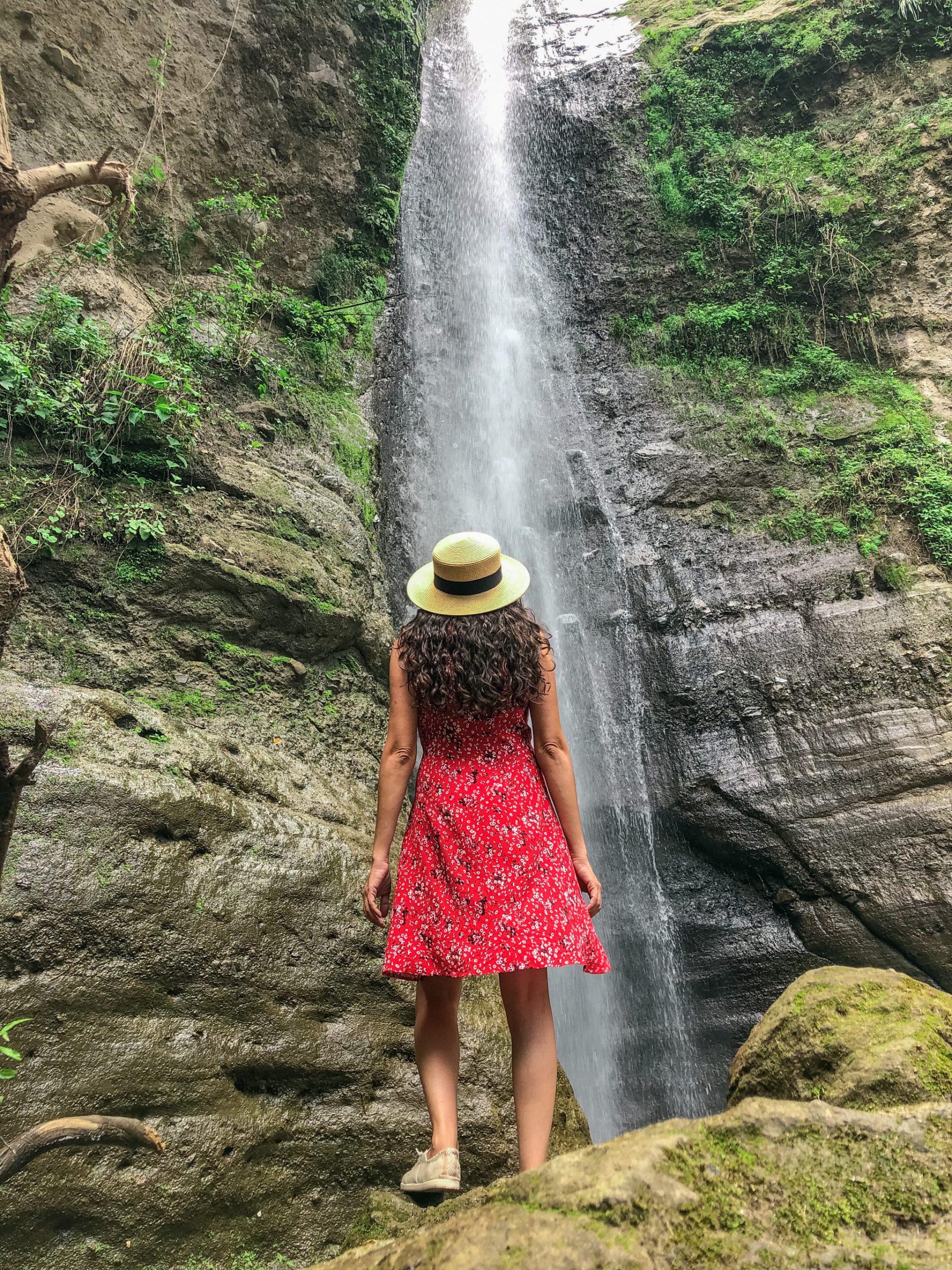 Feed the Monkeys and Coatis
In addition to enjoying the hiking trails with beautiful lake views, we love all the opportunities for interacting with animals in Reserva Natural de Atitlan. Here, you'll get a chance to feed wild coatis and monkeys.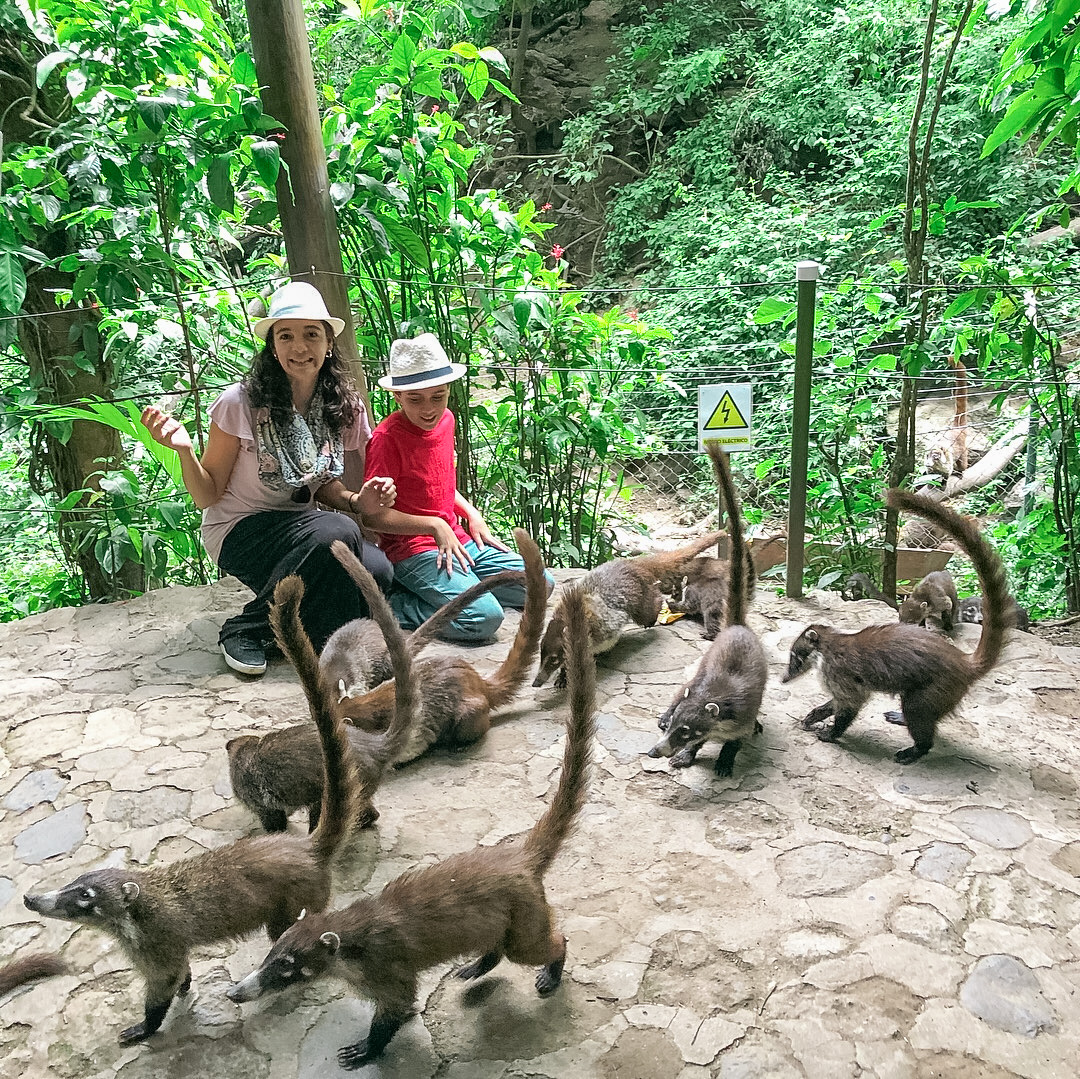 Before you hit the hiking trails, buy fresh fruit at the restaurant, usually bananas. Then, head to the monkey observation deck. From here, you can throw bananas to the monkeys who hang out in a protected and fenced area of the natural preserve.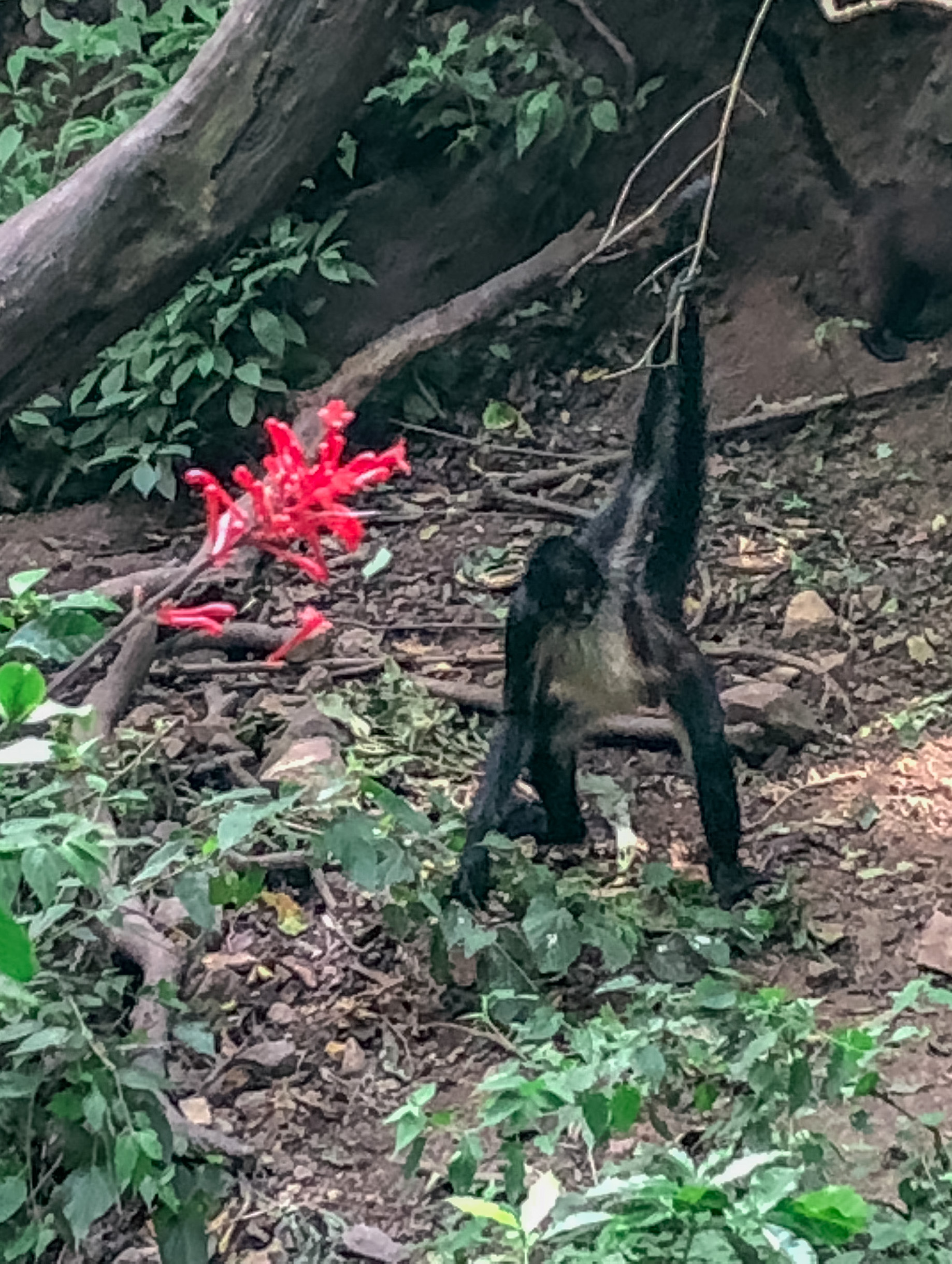 The coatis (or coatimundis) roam freely in large bands of about 20 or more. They usually hang out around the monkey area. Unfortunately, they don't always show up, so getting to see and feed them takes a bit of luck. And if you're fortunate, the band will include baby coatis. They are so cute!
Visit the Butterfly Garden
Reserva Natural de Atitlán houses a fantastic butterfly garden giving visitors a unique experience. Enjoy and learn more about local butterfly species and their life cycle. It is set in a geo-dome, which provides over 12 different species of butterflies. Plus, it has enough space to let these beautiful creatures fly at different heights and provide everything they need to feed and reproduce.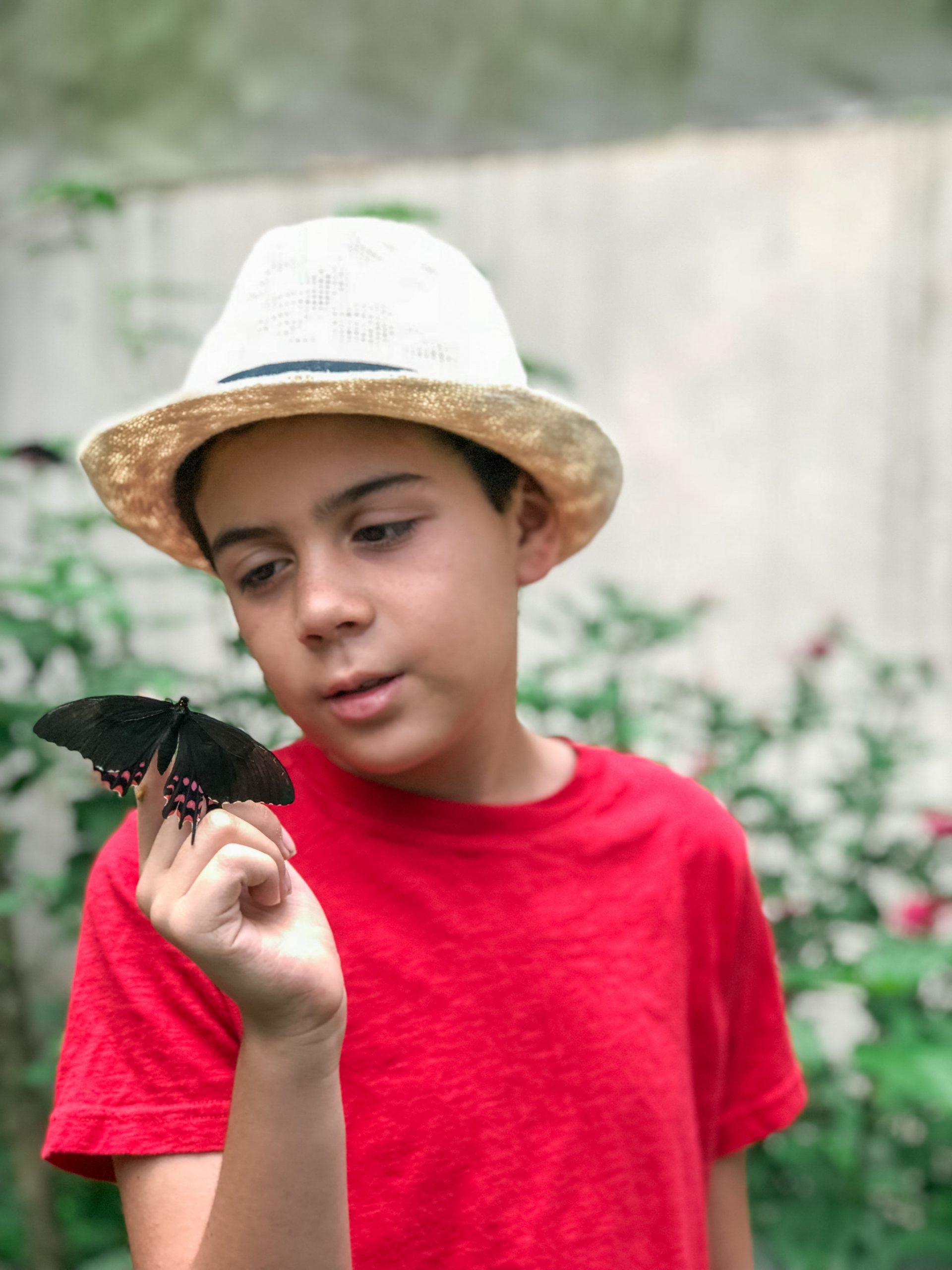 The butterfly garden houses over 1,000 butterflies at any given time throughout the year. There is also an on-site lab where eggs, caterpillars, and chrysalides are studied and cared for to ensure their successful reproduction.
A Thrilling Adventure on Zip Lines
If you're looking for a more thrilling experience, the Atitlan Natural Reserve has two zip line circuits. One crosses the valley, and the other provides breathtaking views of Lago Atitlán, the volcanoes, and the waterfalls. Each zip-line experience is different; one of them is 196ft high! The flying-through-rainforest experience has an additional fee, and you must make reservations on the Atitlán Reserva website.
Staying at the Reserva Natural de Atitlán Hotel
There is nothing quite like waking up to the symphony of the rainforest as the first rays of light appear. Staying in one of the beautiful and eco-friendly rooms at Reserva Natural de Atitlan hotel allows you to immerse yourself in Lake Atitlan's natural beauty.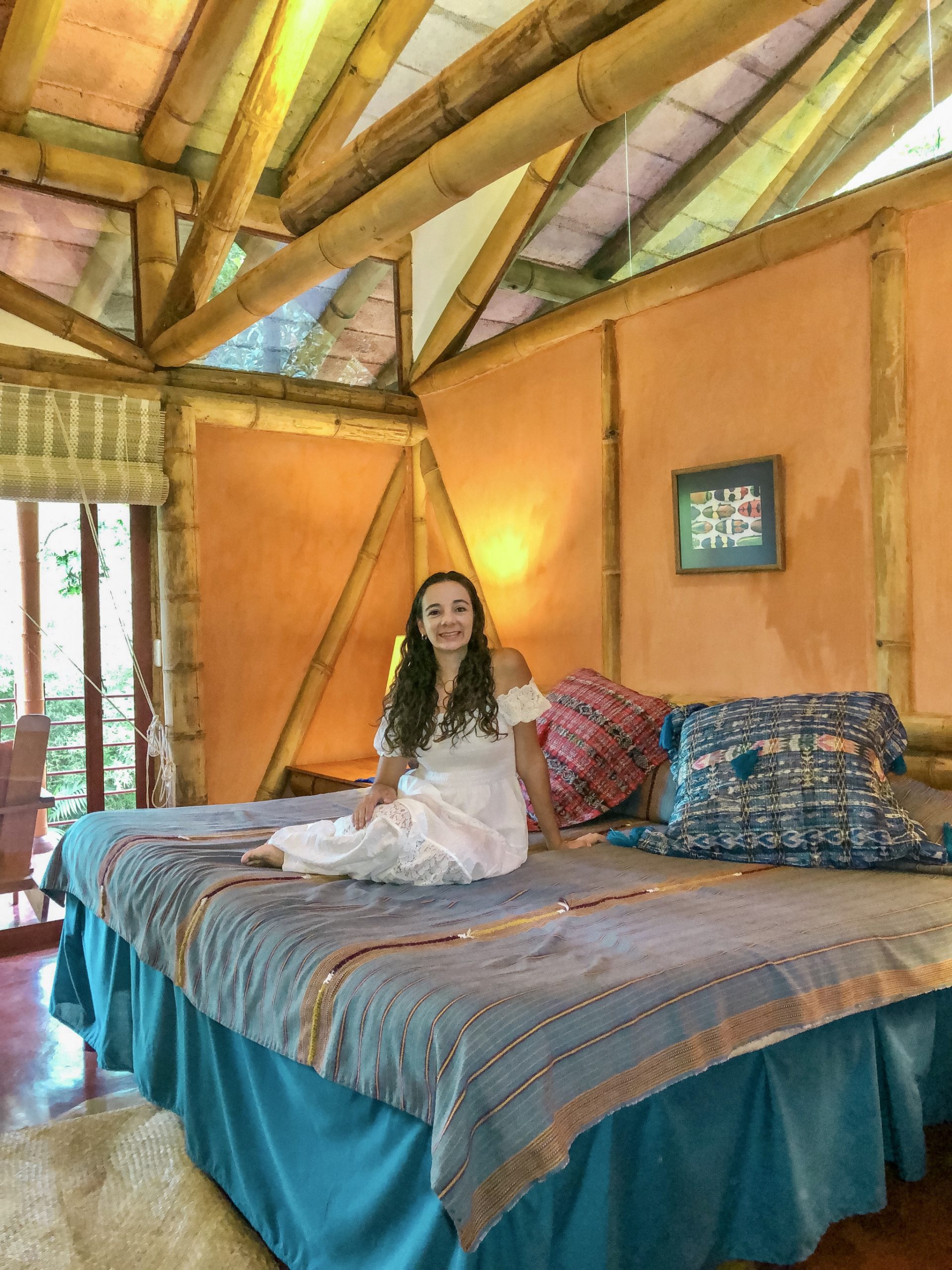 The rooms are rustic and comfortable – perfect for a relaxing escape from the hustle and bustle of life. You might never want to leave this amazing destination surrounded by lush greenery and beautiful views.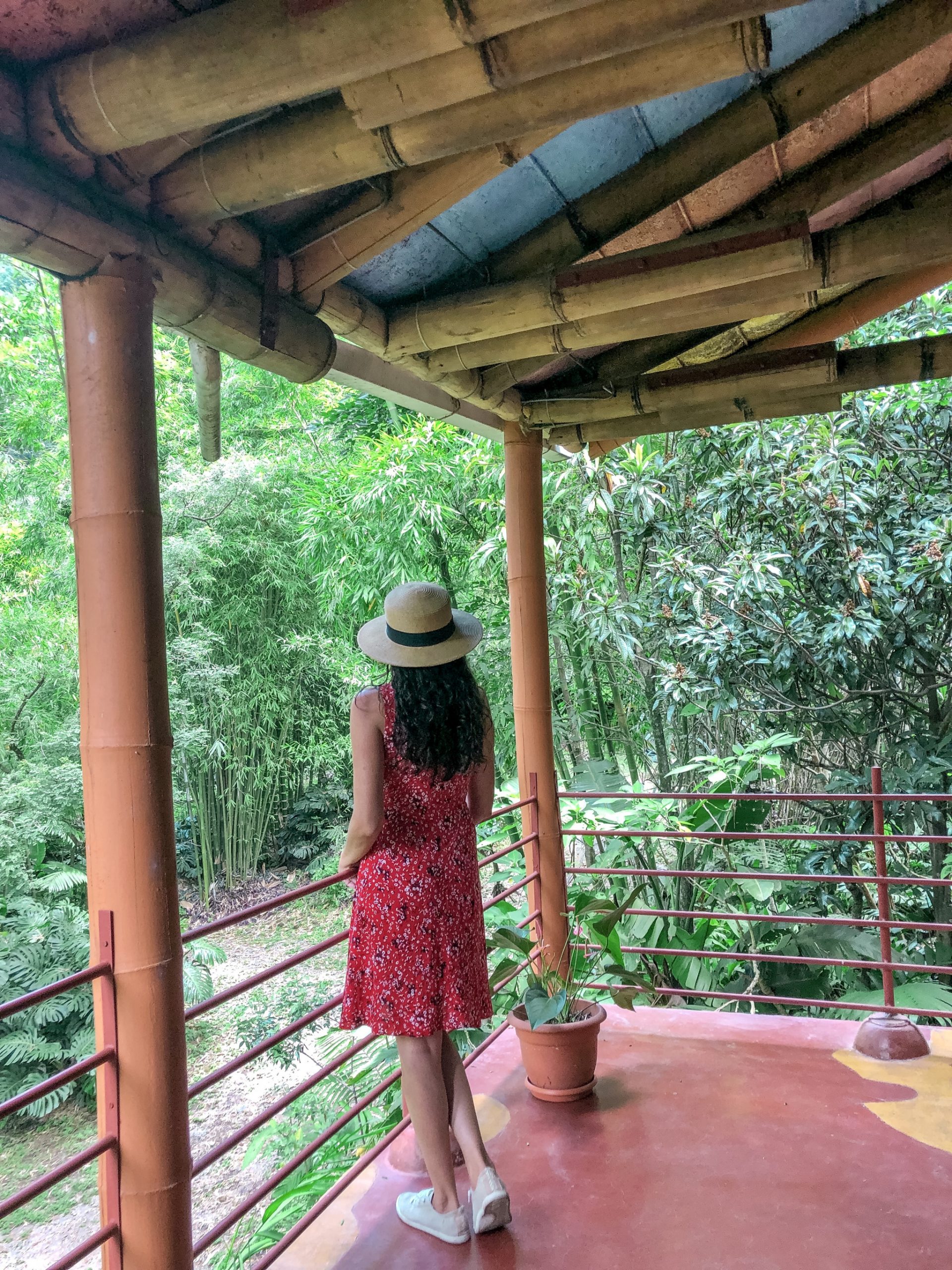 The rooms include Wifi and large bathrooms. It gives it a very eco-lodge vibe. Still, it has modern amenities like Wifi, a coffee maker, a desk, comfortable beds, and beautiful views. The upper rooms feature a balcony that offers stunning views of the surrounding forest.
The Reserva Natural de Atitlán Restaurant
Whether you're staying at the Reserva Natural de Atitlán hotel or need to fuel up after an invigorating hike, there is a fantastic restaurant by the entrance. A few steps from the hotel rooms, it's perfect for breakfast, lunch, or a quick afternoon snack.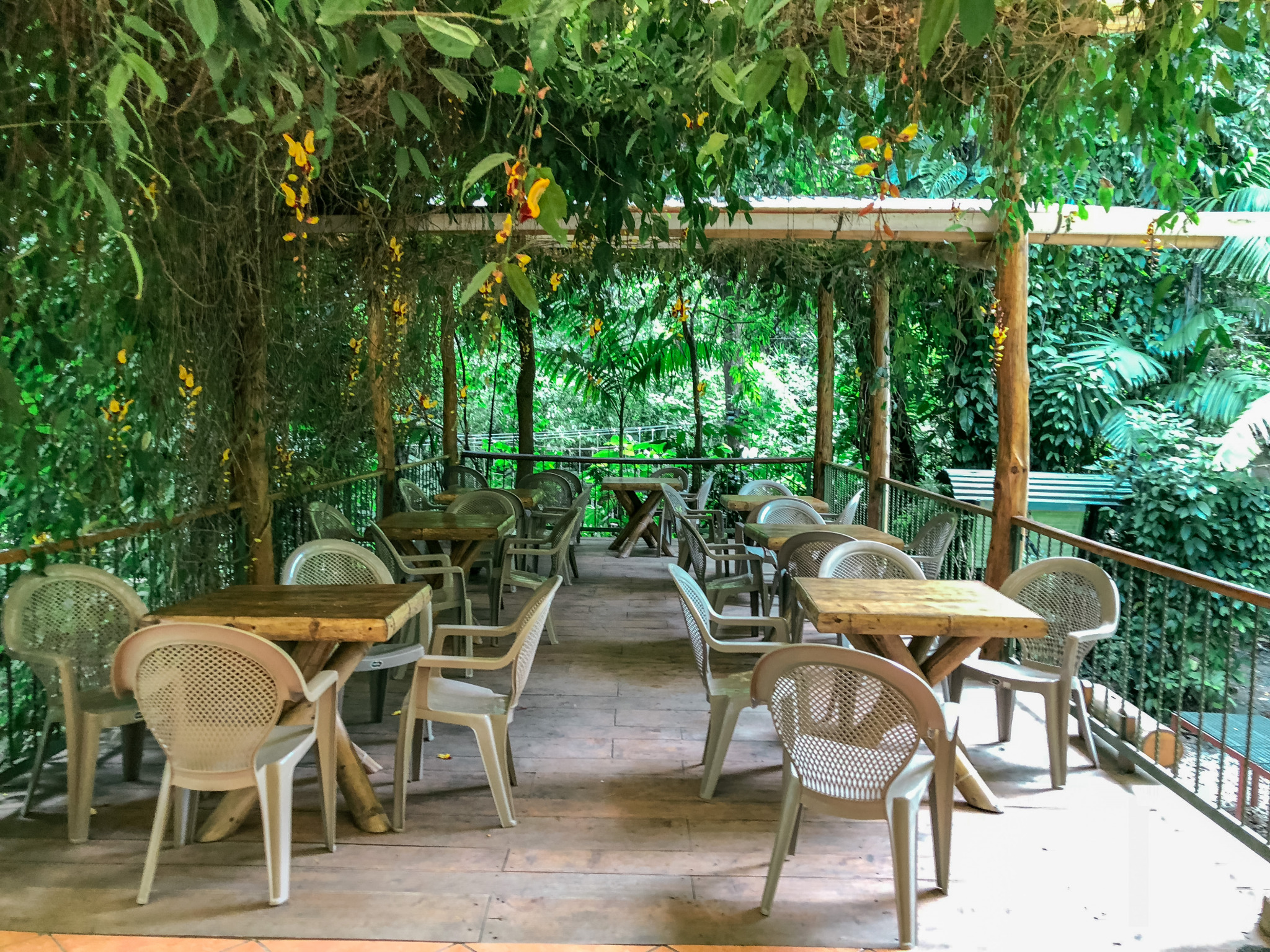 All the tables are outdoors, with a beautiful view of the lush rainforest. And you may even have a furry guest at your table – the reserve's coatimundis love to join diners during their meals!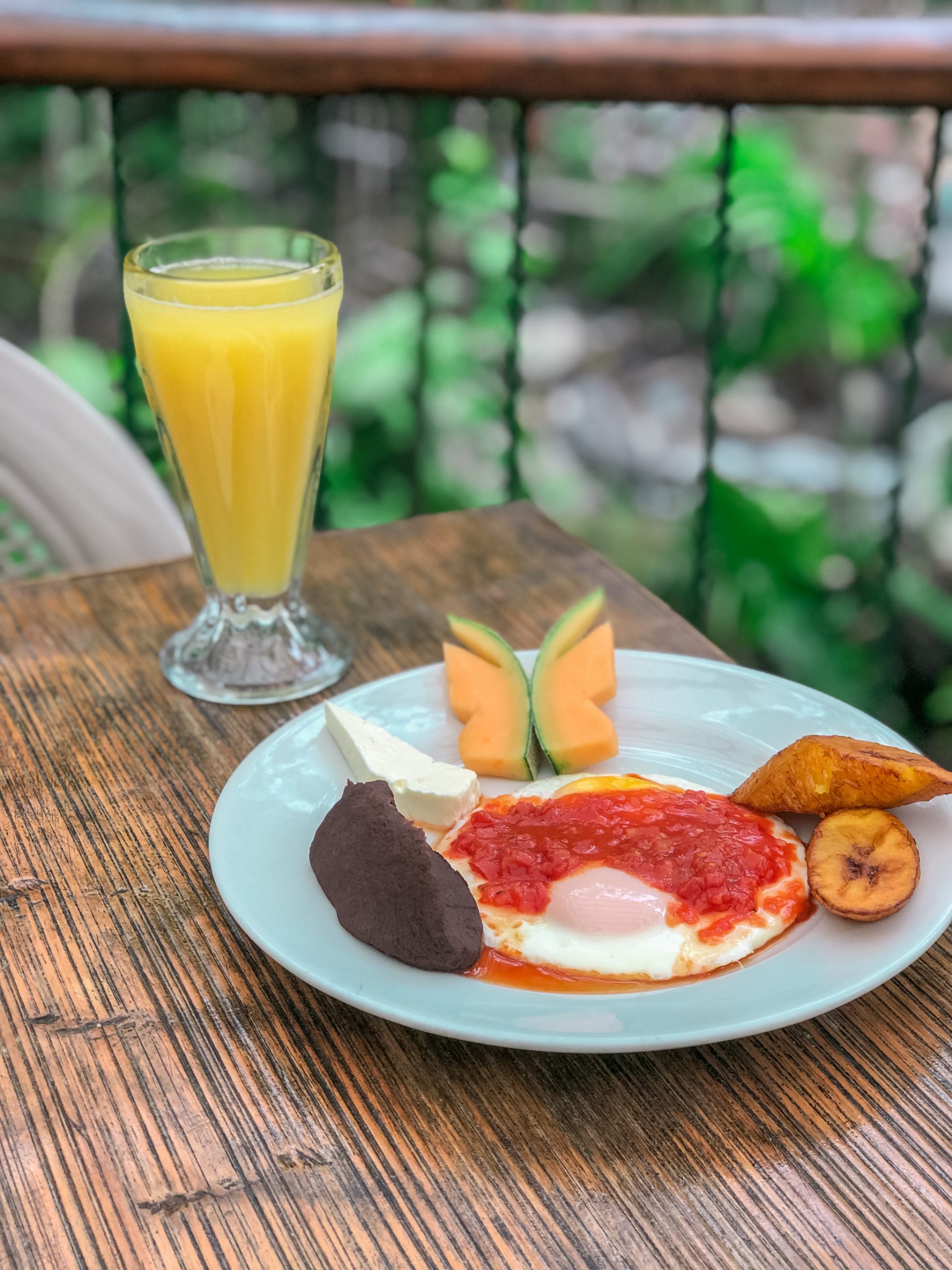 Sustainability at Reserva Natural Atitlán
Reserva Natural de Atitlán is much more than a popular tourist destination in lake Atitlan. The entire reserve, from the hotel to the restaurant, is sustainable. And profits from all activities go toward supporting environmental efforts throughout the area. So spending time at the reserve is a fun activity while visiting Panajachel and Lake Atitlán and a wonderful way to invest in preserving the area's natural beauty. In addition, it is a great way to give back to the destination you are visiting.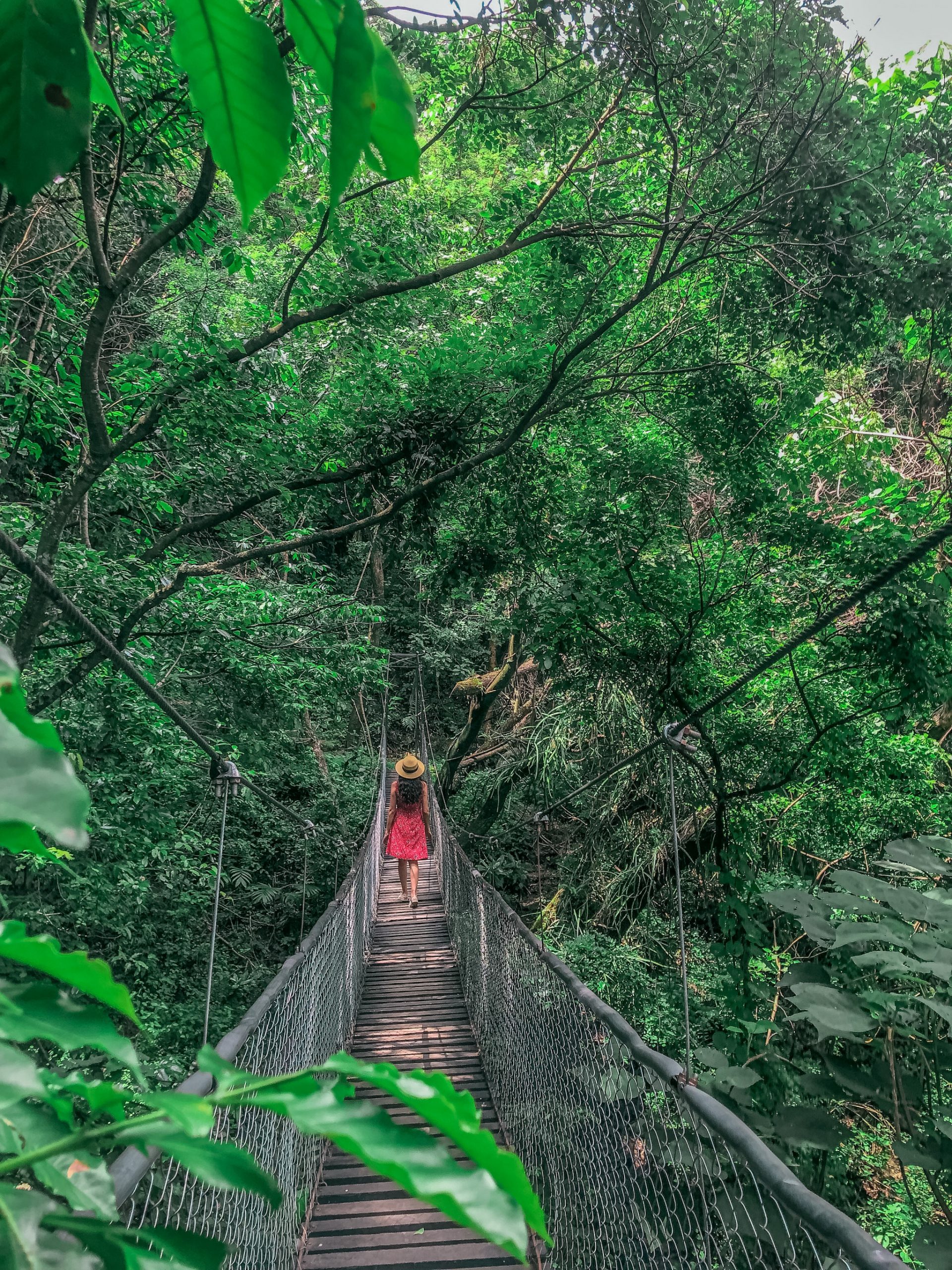 The entry fee to the Atitlán Natural Reserve is Q70 (approx $10) and includes the entrance to the butterfly geodome, access to the trails, the monkey observation area, and the private beach. If you're staying at the hotel, there is no entrance fee. And if you are doing the zip-line adventure, your entry fee is included in the price.
Are you interested in visiting Reserva Natural de Atitlan? Visit their website to learn more and book your room today!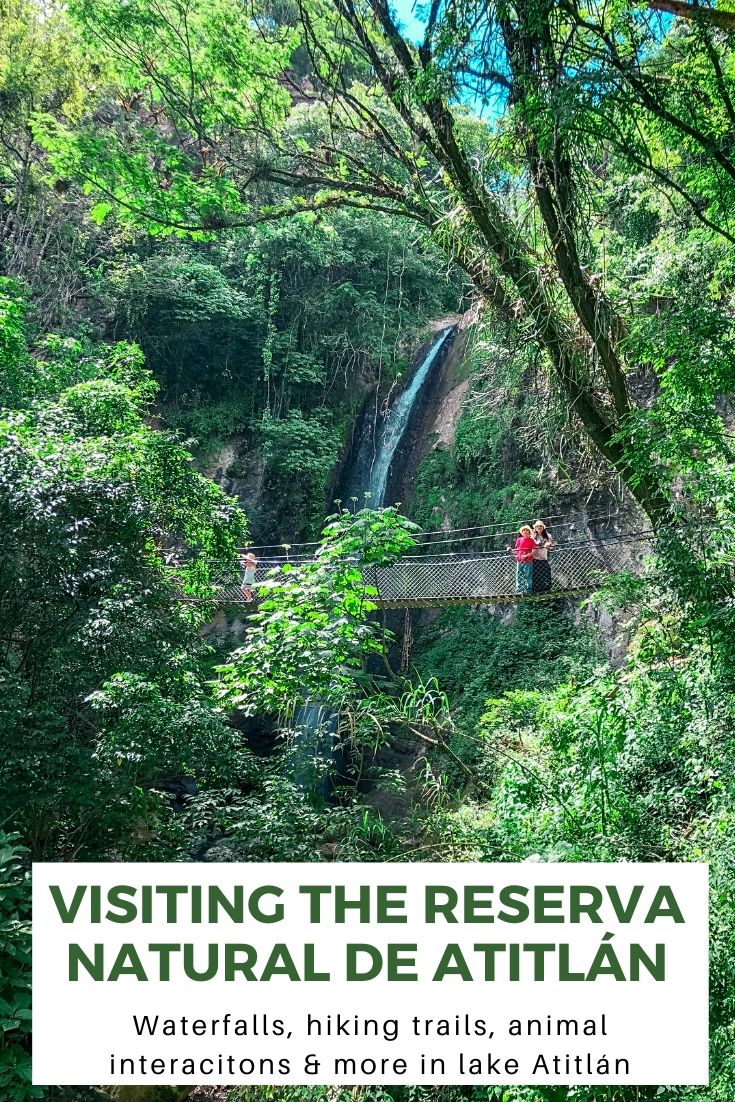 More Amazing Things to Do In Guatemala:
If you're planning a trip to Guatemala or want to come back for more, you've come to the right place! From the best destinations to kid-friendly activities, I'll share my love for my home country. Here are amazing things to do in Guatemala to make your trip a memorable one:
Looking for the best things to do in Lake Atitlán with kids? Here are lots of fun options! It includes all our favorite things to do around the lake, from Panajachel to smaller towns like San Juan la Laguna.
Perched on the mountainside of Lake Atitlán, San Antonio Palopó is a small town that has remained relatively unspoiled. The town's life centers around its ceramics and textiles. With a picturesque church acting as the focal point, San Antonio Palopo is a beautiful place you must see on your next visit to Lake Atitlan.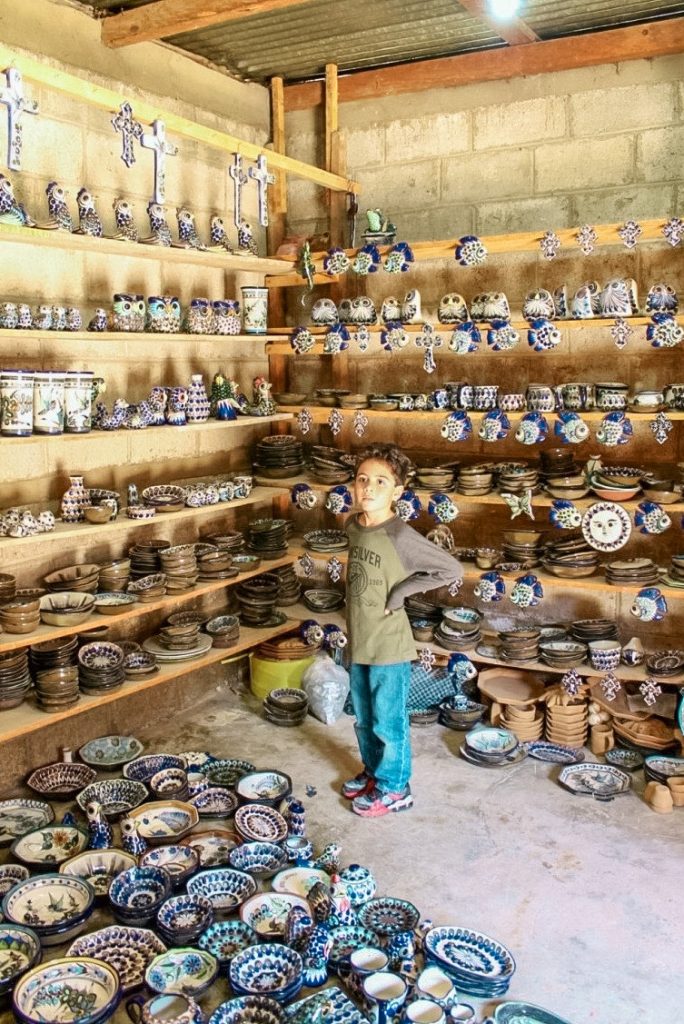 If you haven't walked along beautiful black sand beaches, you are missing out on a magical experience! Some of the best beaches in Guatemala are on its Pacific coasts, places of deep chill, and stunning wilderness. Guatemala's beaches are full of palm trees to relax with an icy beverage on hand.
Here is a guide to visiting Tikal that includes everything you need to know before seeing the most spectacular Mayan ruins in the world. It is a great starting point for enjoying the many adventures the Petén region offers.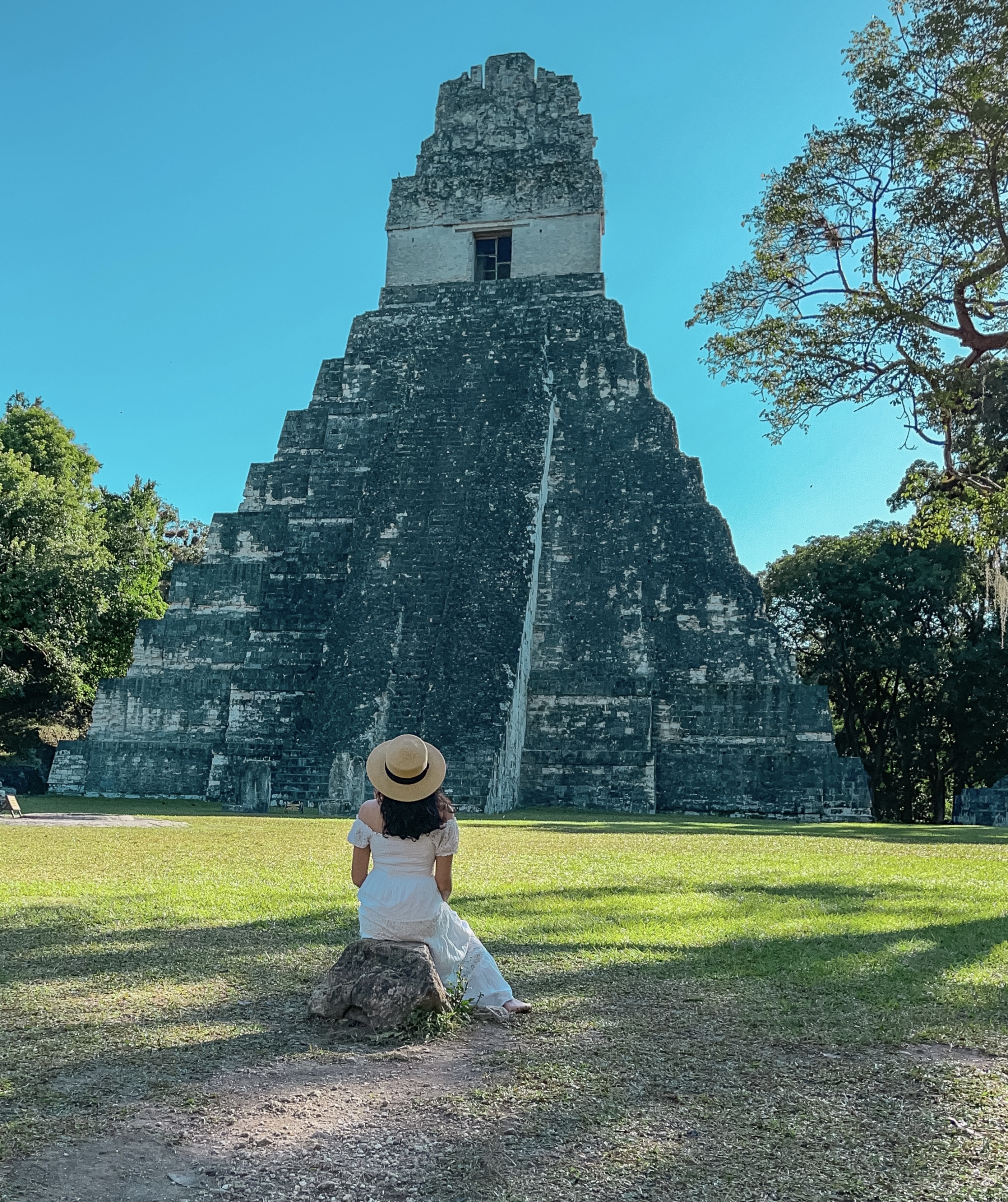 One of the most beautiful destinations in Guatemala, Río Dulce is often overlooked. This area overflows with beautiful nature, colonial history, unique culture, and fantastic food. This quick guide to Rio Dulce covers the best things to do, where to stay, and what to eat.
Declared by UNESCO as a World Heritage Site, Antigua Guatemala is a colonial city rich in history and culture. But finding kid-friendly activities can be somewhat of a challenge. So I wanted to share with you all the best things to do in Antigua with kids. All of these activities are family-friendly but are also great for adults.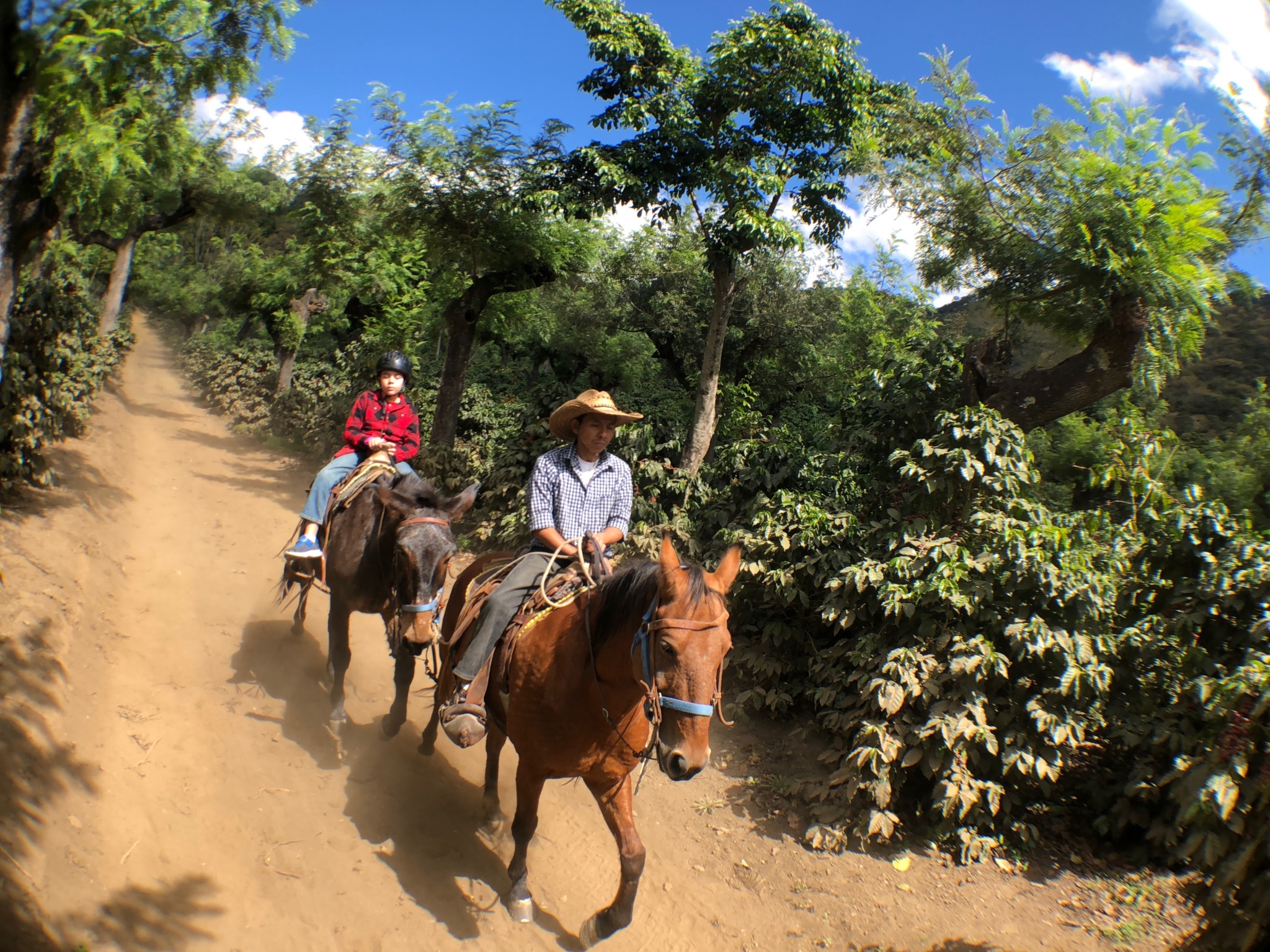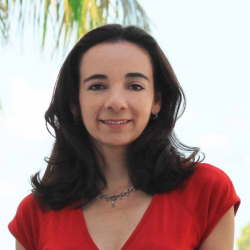 Latest posts by Paula Bendfeldt-Diaz
(see all)